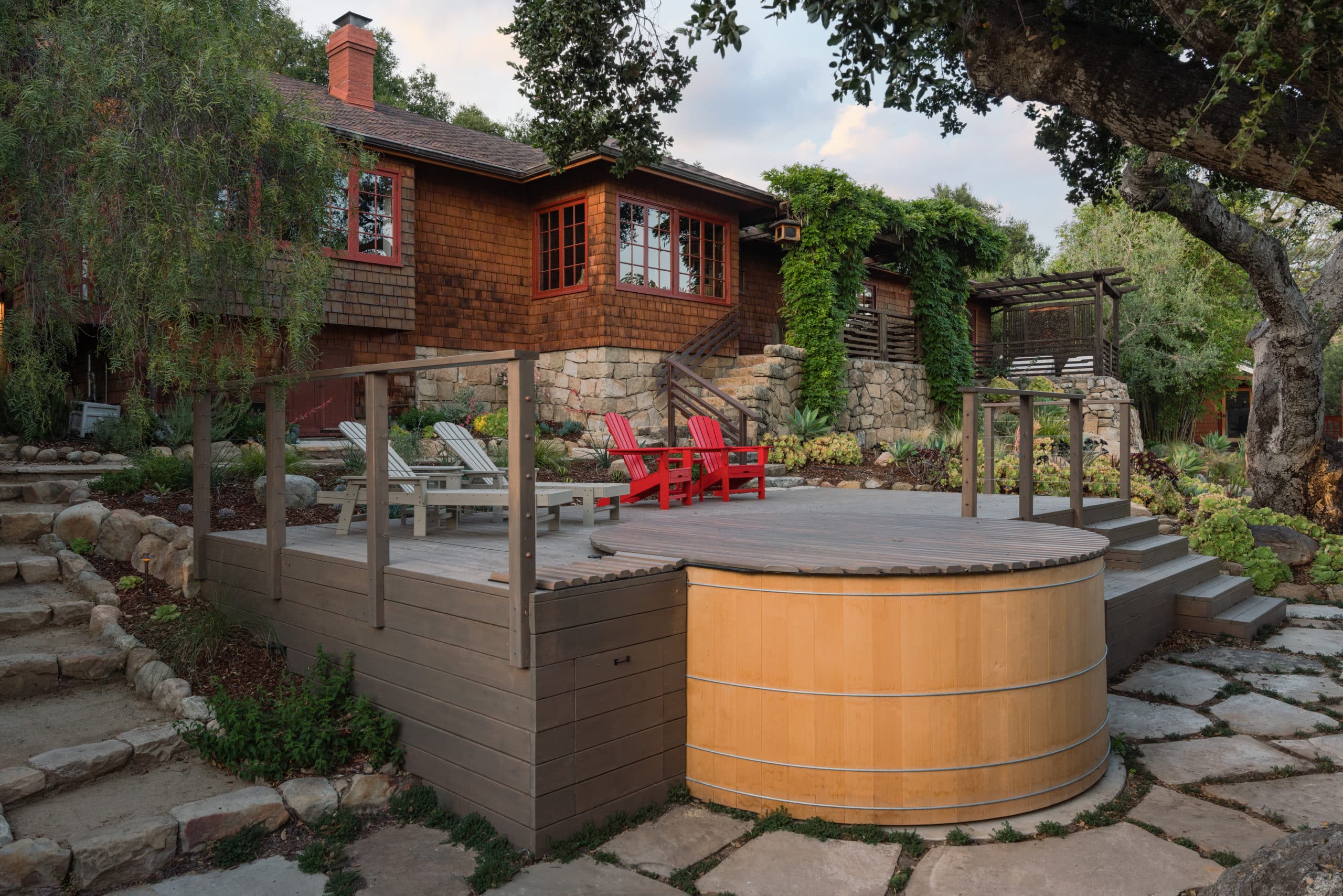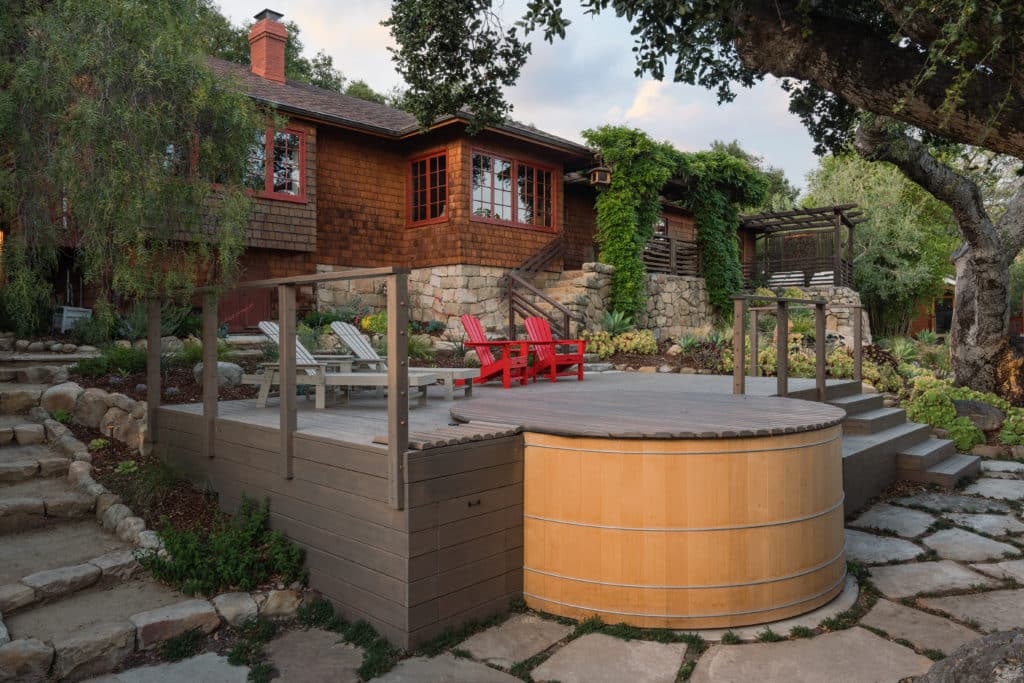 Yardzen client Samantha W. and her family purchased their 1914 craftsman home in Santa Barbara at the height of the pandemic. They loved the property's large, meandering yard with old growth trees and romantic stone terracing, but they wanted to make it their own with personal touches, including a deck for entertaining and a wood hot tub, also known as a barrel tub or soaking tub, for enjoying under the stars.
The Yard
So, Samantha turned to Yardzen to create a rustic outdoor oasis that matched the wood-clad exterior of their historic home. At the beginning of the design journey, Samantha shared photos of the existing yard, which had been neglected by the home's previous owners—several of the plants were either dead or overgrown. Plus, the brick pathways and patios throughout the yard had become unusable.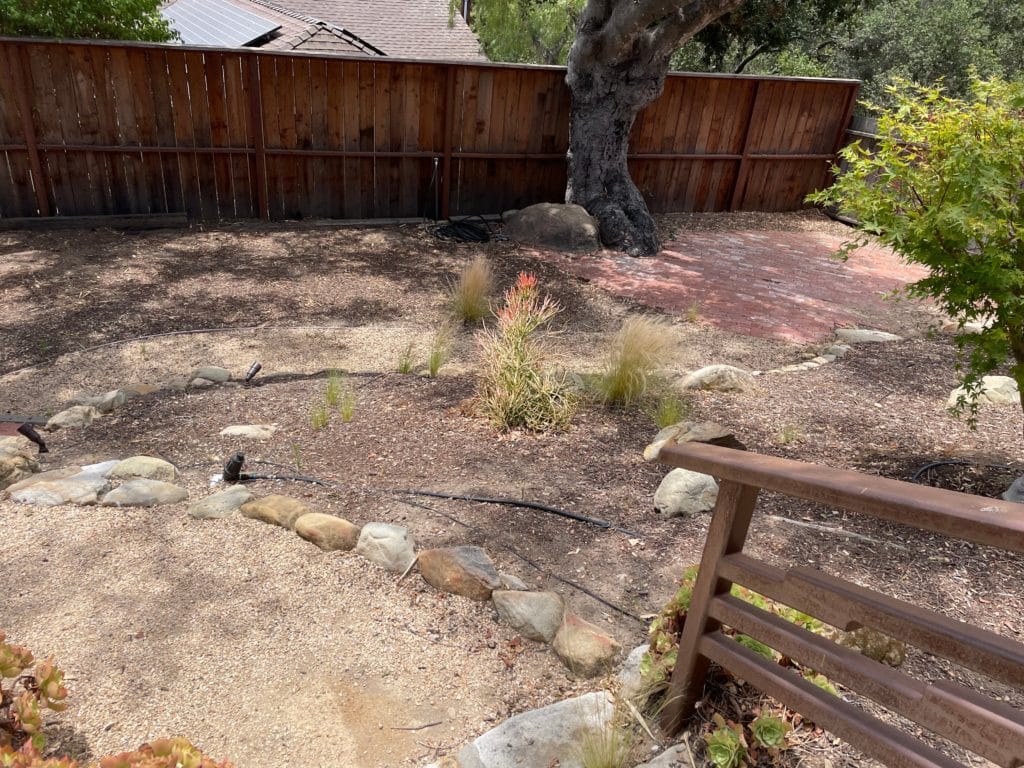 In their onboarding, Samantha and her family shared their preferences for their new yard, including a soaking tub, drought-tolerant groundcover, a modern deck, a paved patio, and plenty of outdoor lighting to illuminate the hilly pathways. Plus, they told their design team all about their stylistic preferences through Yardzen's proprietary style quiz, which indicated that their style is "rustic and relaxed" with "lush and tranquil" planting.
The Vision
Yardzen's design team took Samantha's direction and created an outdoor oasis with all of the elements that the family was looking for, including lush, climate-adapted, pollinator-supporting plantings, new flagstone paths and patios, and of course, a small pool for hot tubs and cold plunges enclosed in a new wood deck with room for seating.
The Installation
After going through Yardzen's iterative design process, our team connected Samantha and her family with a local, vetted contractor in her neighborhood – EcoLawn. They quickly kicked off the work in early 2021, creating a sustainable and relaxing outdoor oasis that beautifully matches the exterior of the historic home.
The centerpiece of the yard is the wood hot tub, also known as a soaking tub, which is set into a new deck that helps blend the yard with the steep slope off of the house. Wood hot tubs have several benefits, including their incredible "cabin-like" smell (especially cedar tubs) and their high-end aesthetics, which are especially well-suited to this property. Plus, they have a smaller environmental impact than plastic varieties. In this yard, the wood hot tub is not only a functional element, but also, it beautifully ties the craftsman exterior to the outdoor spaces.
Interested in a wood hot tub in your yard? Our top picks for wood hot tubs include Forest Cooperage (tubs and saunas!), Gordon & Grant Wooden Hot Tubs, and Northern Lights Classic Cedar Hot Tubs. Check out our list of the best outdoor saunas for more backyard spa inspiration.
Designing your rustic oasis for outdoor living
Yardzen's award-winning online landscape design is tailored to clients in all fifty states in the U.S. and can match your style and needs whether you're looking to create a relaxing outdoor oasis or a family-friendly space for entertaining.
Our design process begins with understanding your space, your aesthetic preferences, and a discussion of your budget and vision to minimize surprises when it comes time to build.
Our top-notch designers then develop a personalized vision for your yard, shared through 3D renderings, 2D plan drawings, and plant and material lists. Your design will capture the look, feel, and function you are hoping for, all while keeping costs within range.
Once your design is complete, we'll help you connect with a local contractor from our Pro Network of vetted professional landscapers to install your new design (if you don't plan to diy).
Ready to level up your landscaping for year-round enjoyment? Work with a professional design that brings your vision to life—create your design profile or explore our design packages today!