Landscape design & build for Los Angeles
Yardzen designs everywhere in the U.S. and the Los Angeles area is one of our favorites. Year-round outdoor living in L.A. means your outdoor space is a top priority. Yardzen is the landscape design platform that can realize your yard's fullest potential.
EXPLORE DESIGN PACKAGES
Design & Build
Once you purchase a design package, your talented team of Yardzen designers will get started on creating a custom landscape design for your unique property. When the design process is done, we'll connect you to a vetted contractor to get the work done. To date, Yardzen has completed over 500 designs in greater Los Angeles.
GUIDE TO DROUGHT TOLERANT LANDSCAPING
Designing a Yard for Los Angeles Turf Removal Rebates
READ NOW > >
Our Favorite No-Grass Front Yard Ideas
READ NOW > >
California Low-Water Landscaping Rebates
READ NOW > >
TRUSTED BY THE EXPERTS


LOS ANGELES, CALIFORNIA DESIGN GALLERY
Simple and thorough online process
Take a style quiz, share videos and photos of your existing outdoor space, and learn about the costs in our Yard Builder™ tool. Our design team will help you at every step of the process.
GET STARTED >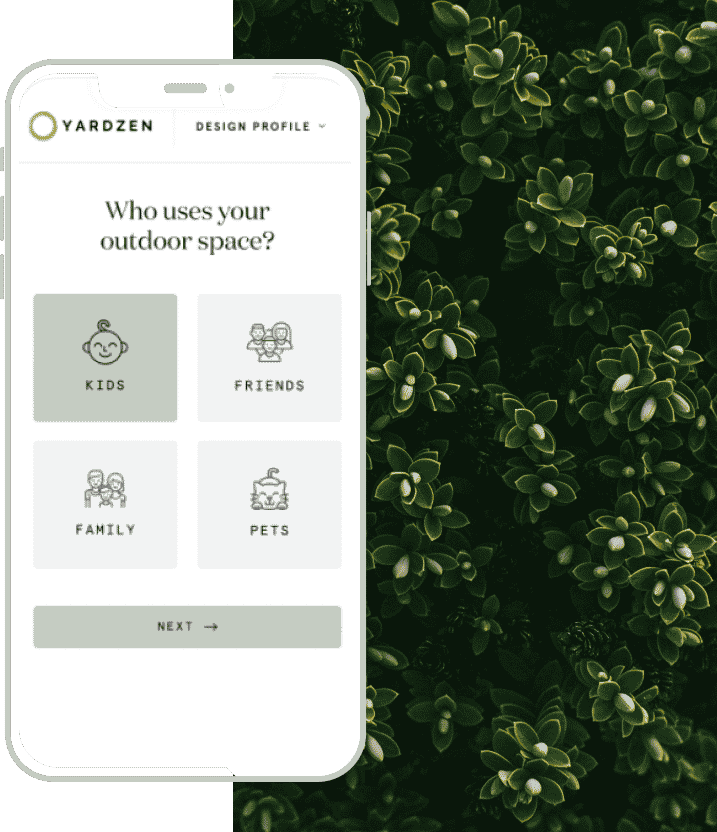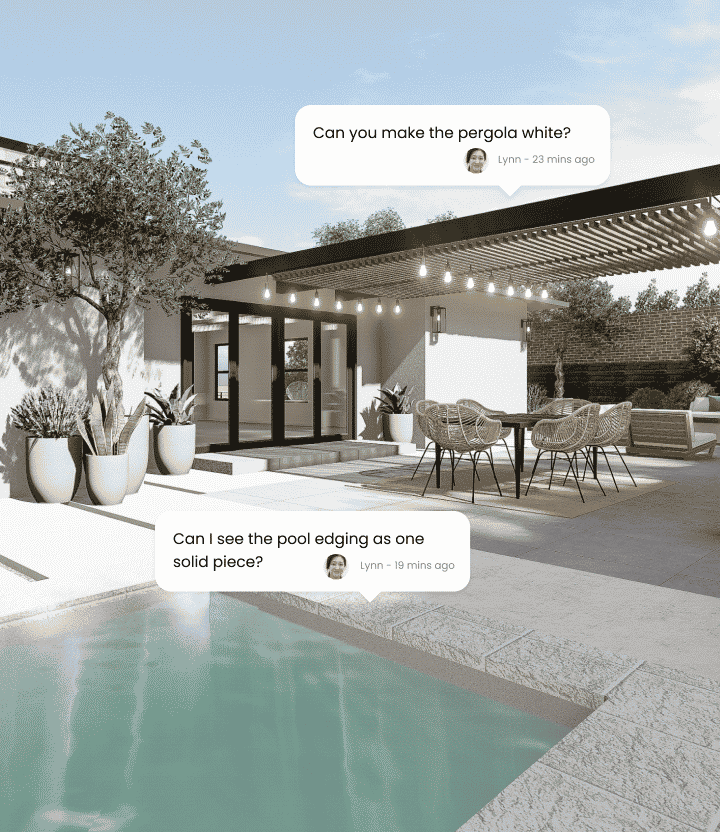 The easiest path to a final design you'll love
Review your first design in our online Feedback Studio. You'll be able to share feedback before we start incorporating your changes. A live design review call is also available to help get your project ready for installation.
GET STARTED >
Built by someone you (and Yardzen) trusts
We'll translate your 3D design concepts into a detailed CAD plan that's ready to install. Next, we'll connect you to a vetted, Los Angeles area landscape contractor who can bring your dream yard to life.
GET STARTED >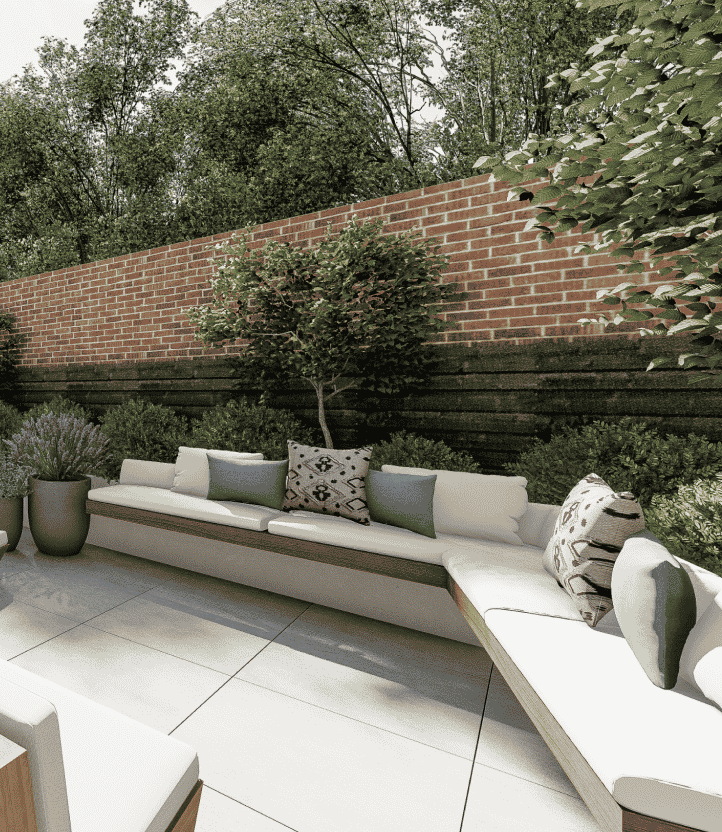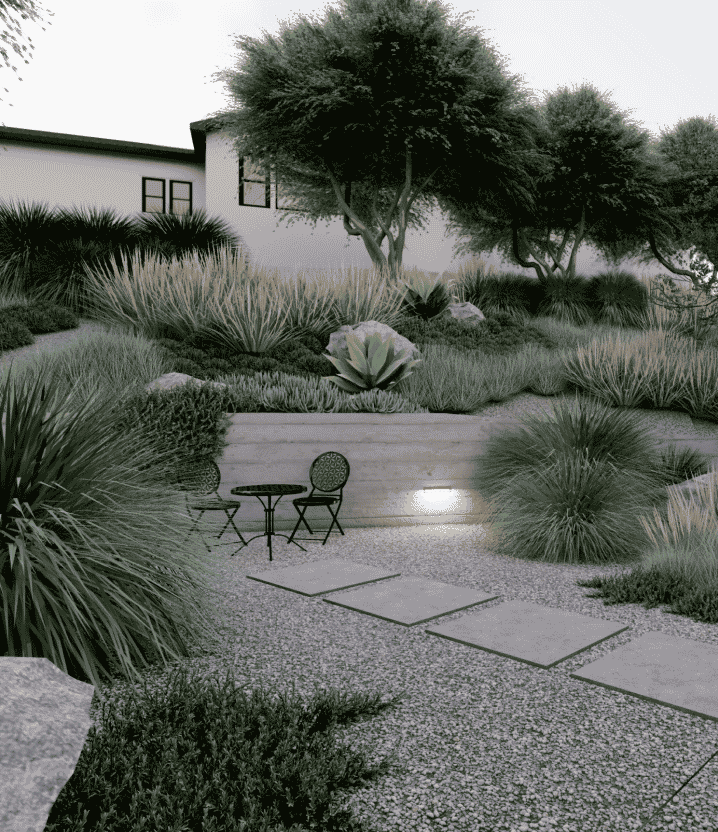 Custom designs for your unique outdoor space
We've built a database of plants, trees, and groundcovers that match to Los Angeles's planting zones, sun/shade/water requirements, aesthetic, and essential features like native plants. Using satellite and aerial imagery, coupled with your photo, video, and factoring in your details, we can create the outdoor space of your dreams.
GET STARTED >
WHICH YARDZEN PACKAGE IS RIGHT FOR YOU?
Take our YardBuilder quiz to find out.
GET STARTED

1. Tell us about your unique outdoor space

2. Answer a few questions about your dream yard

3. Get a personalized design package recommendation
WHAT YARDZEN CLIENTS ARE SAYING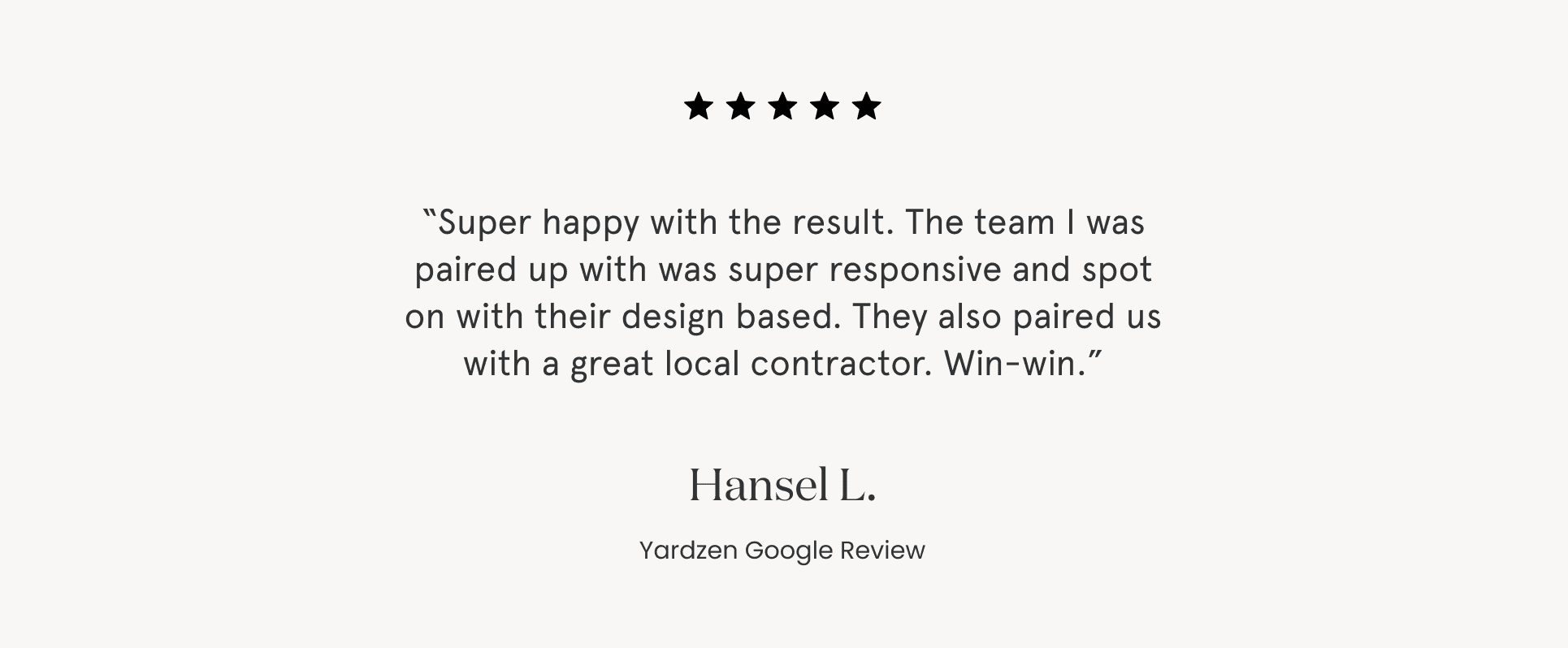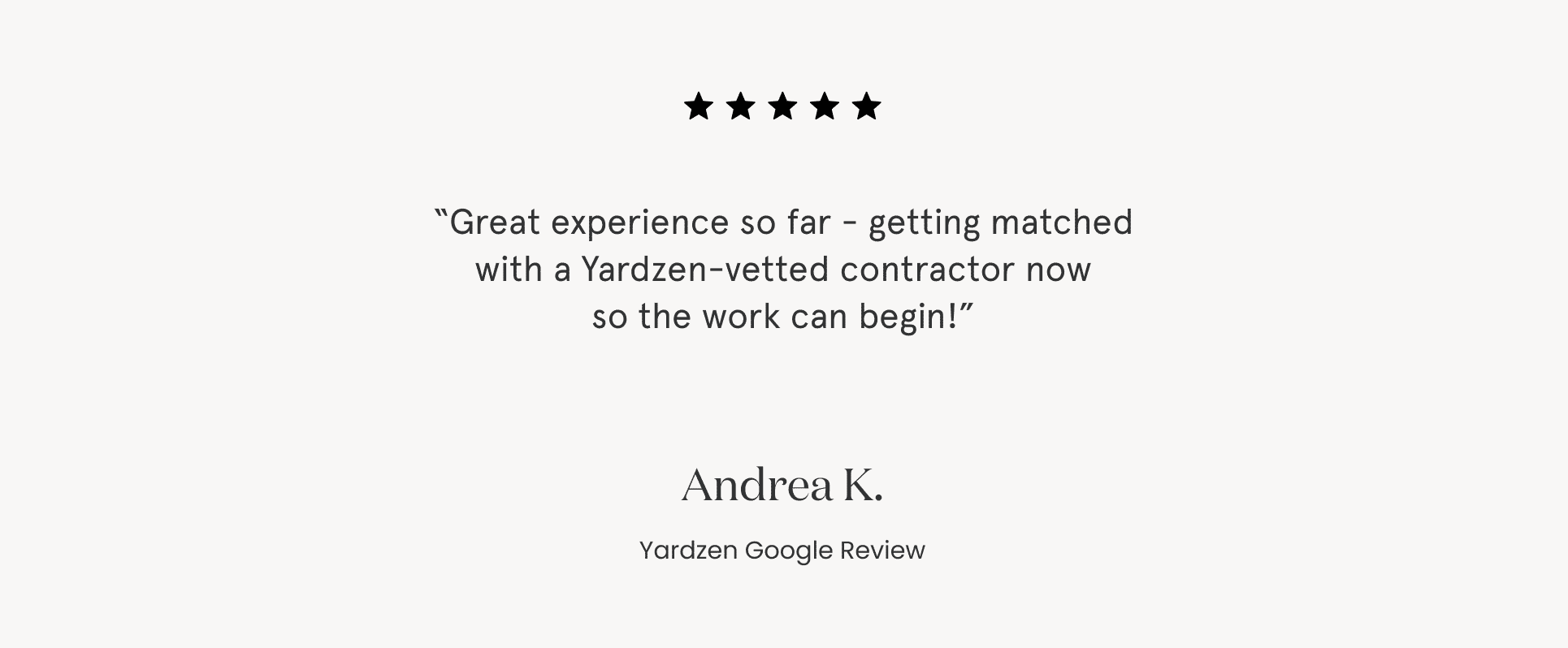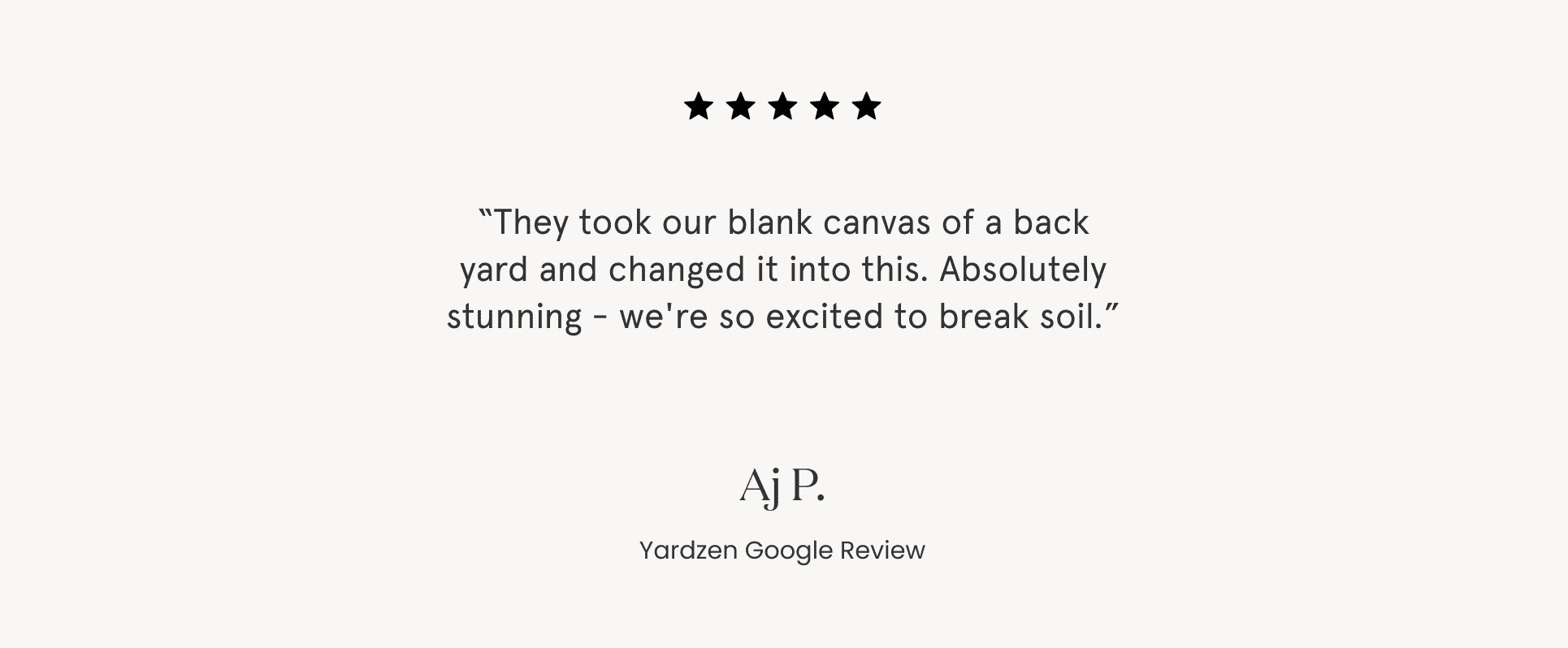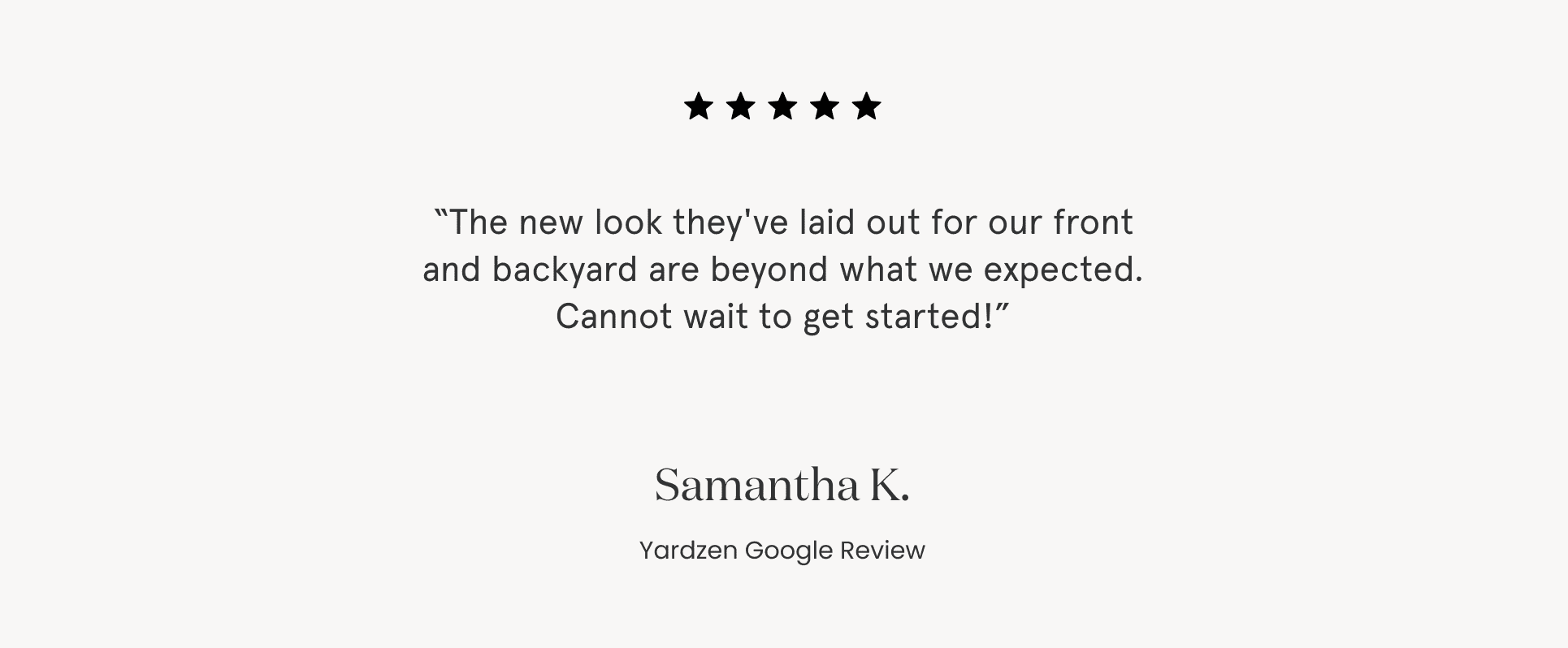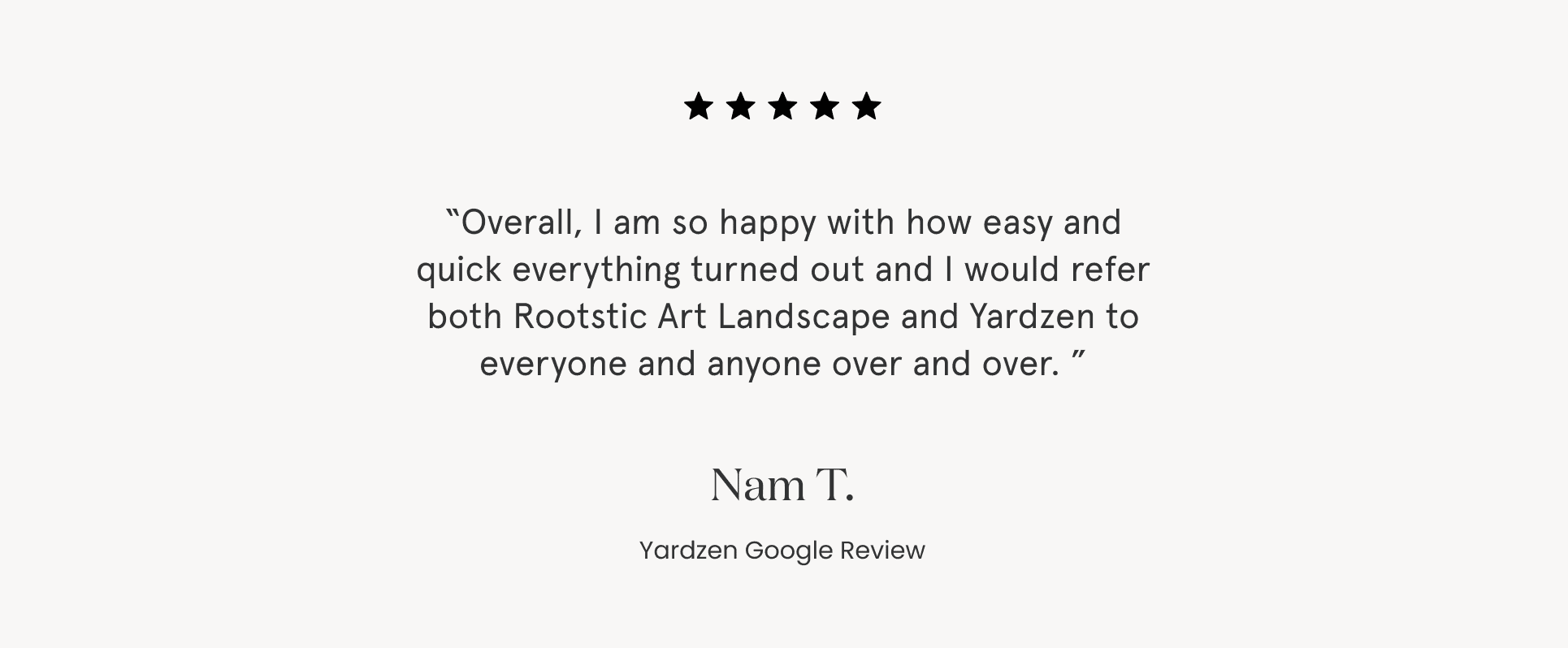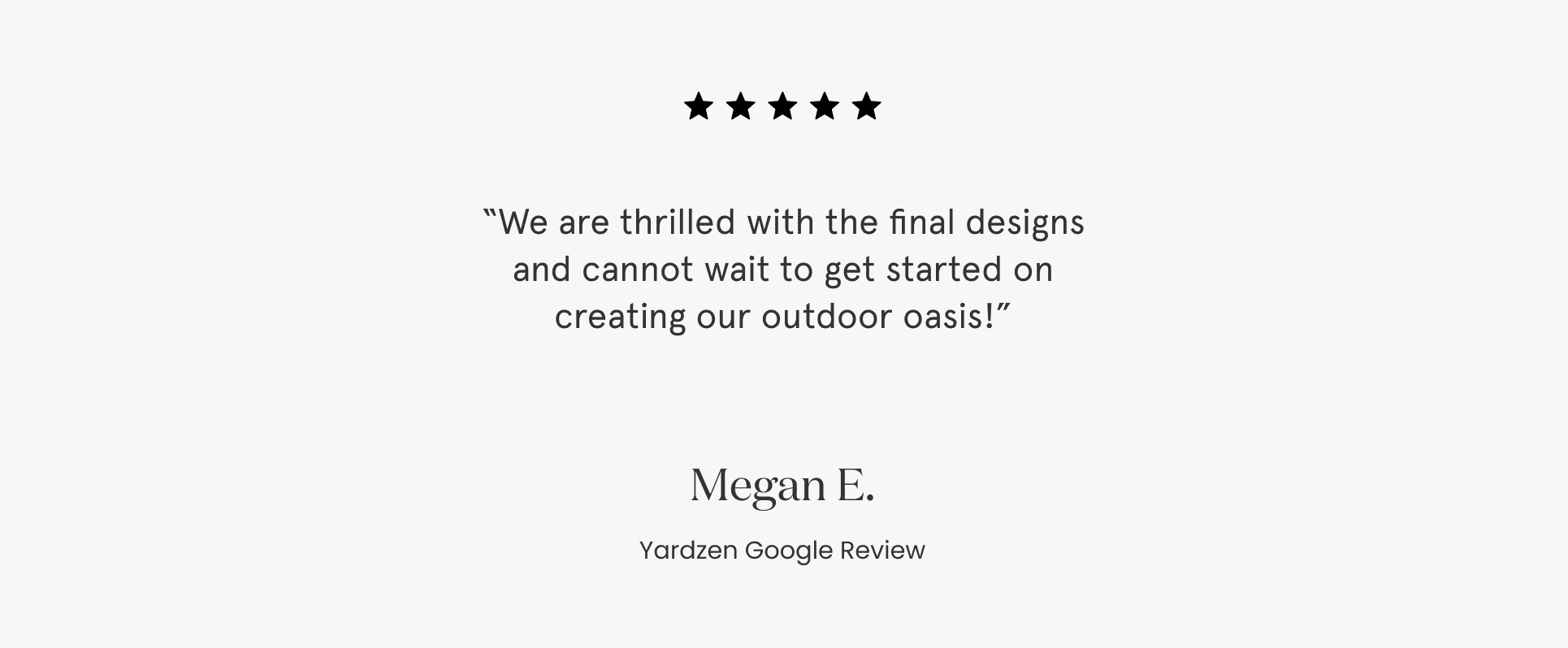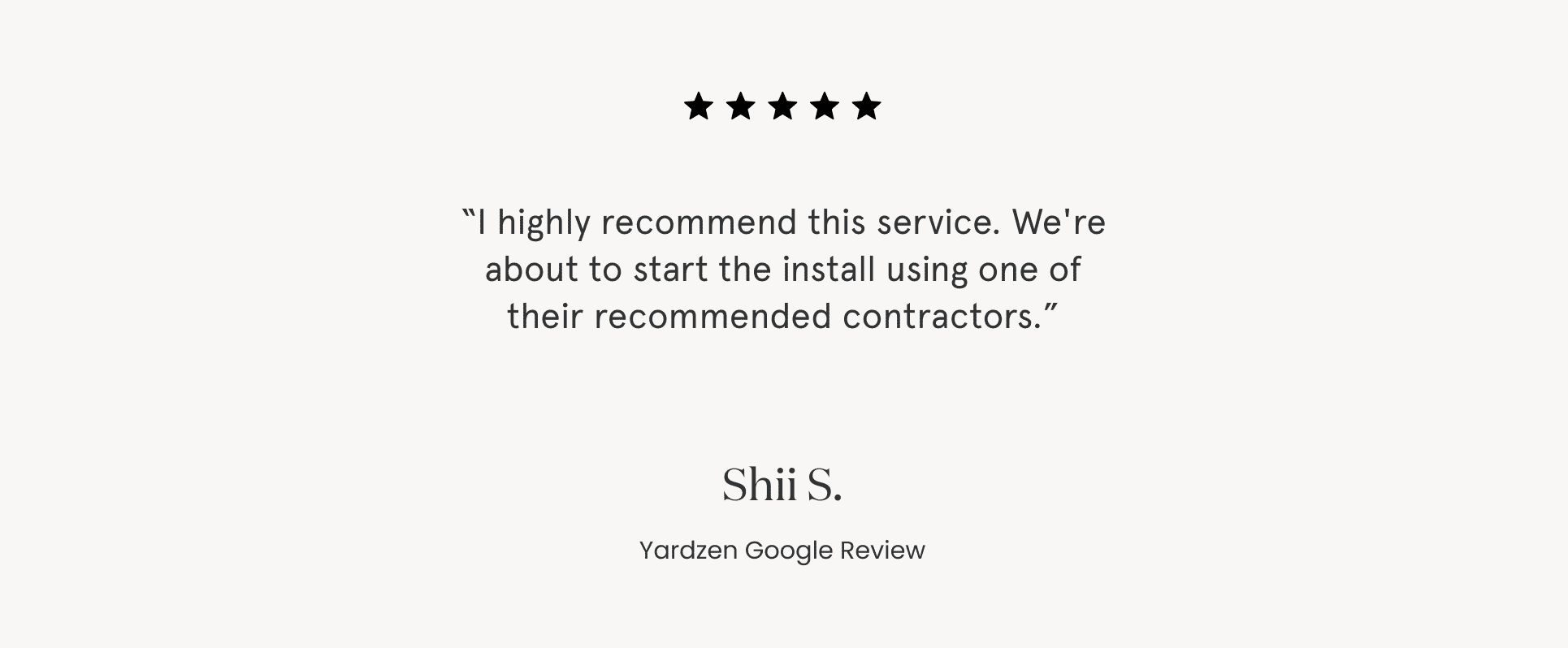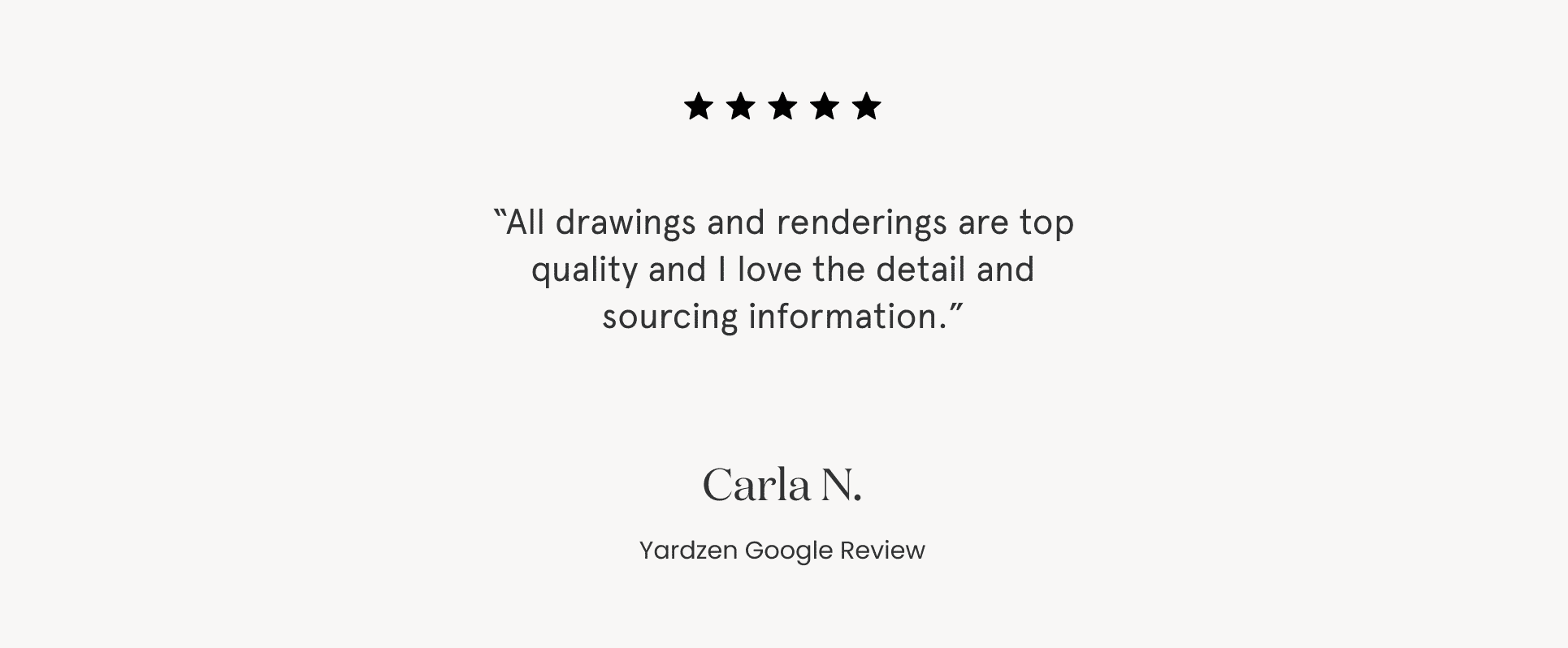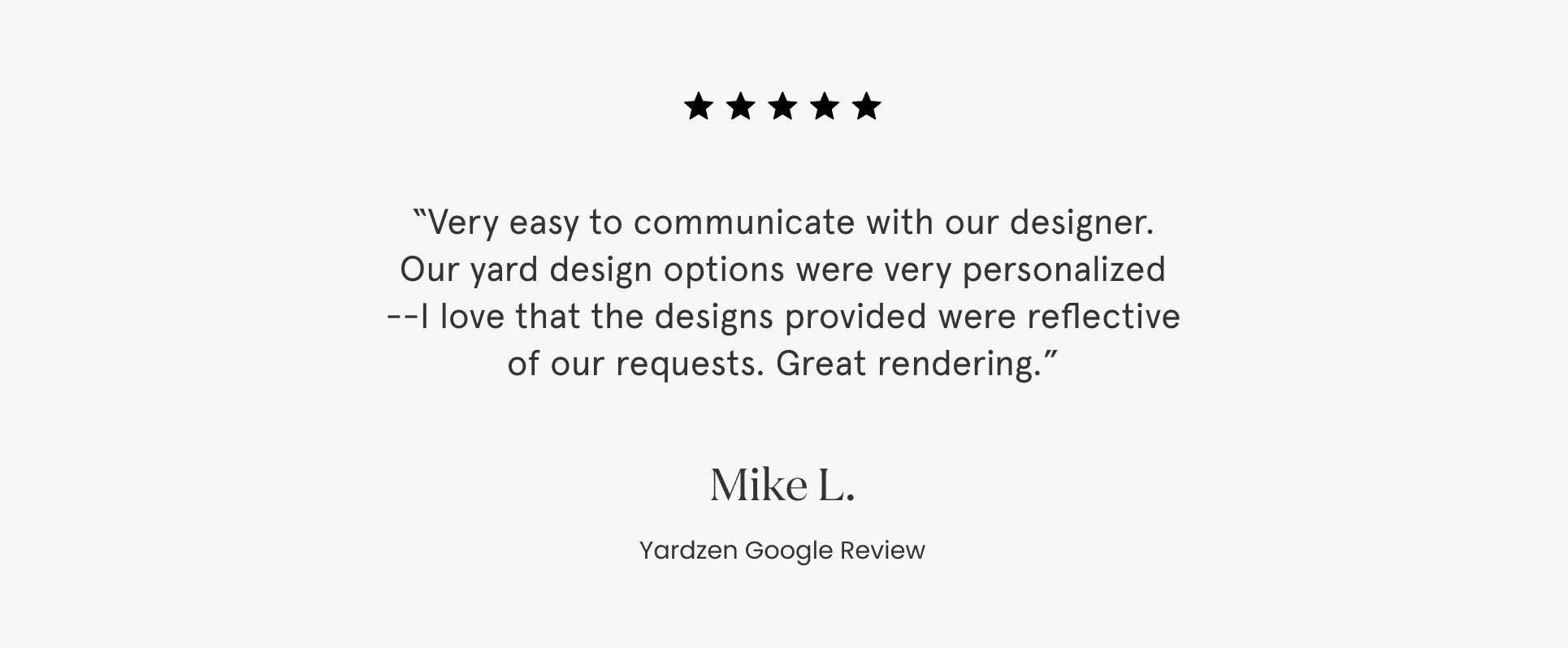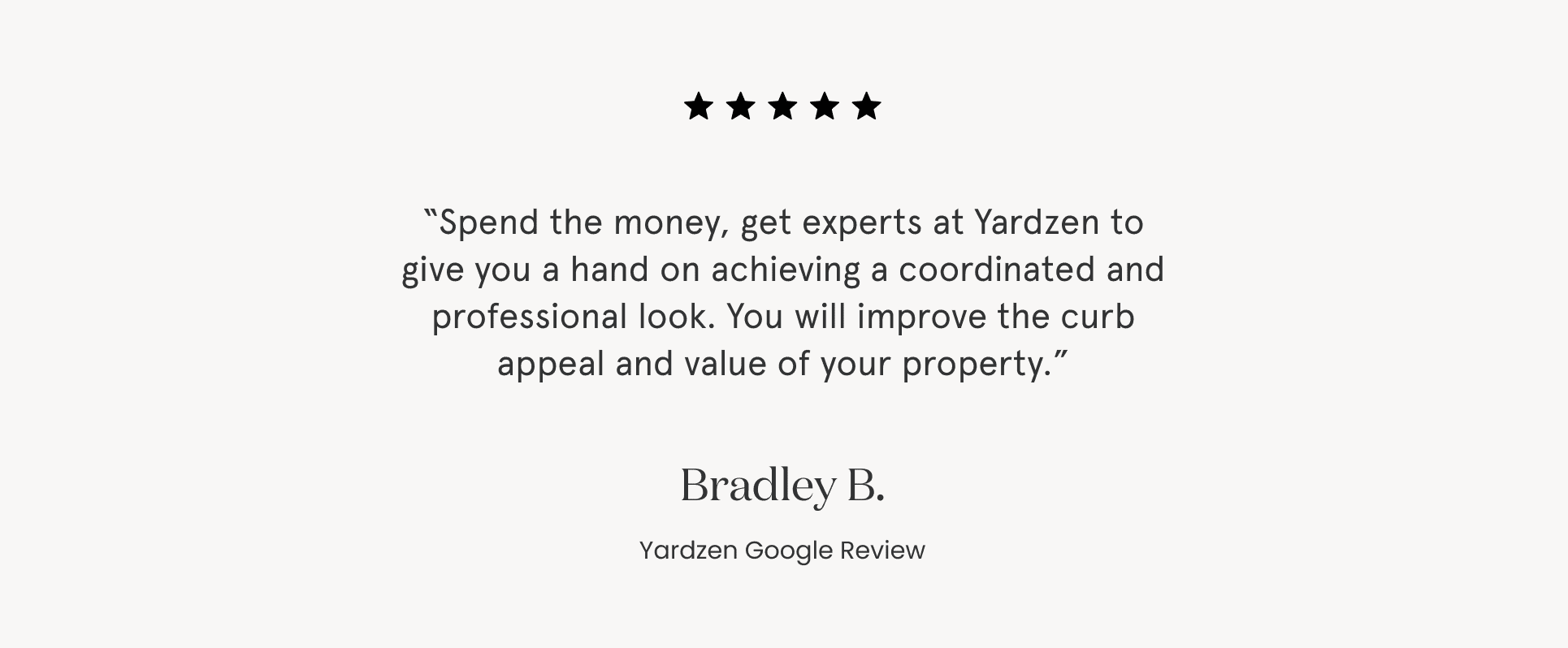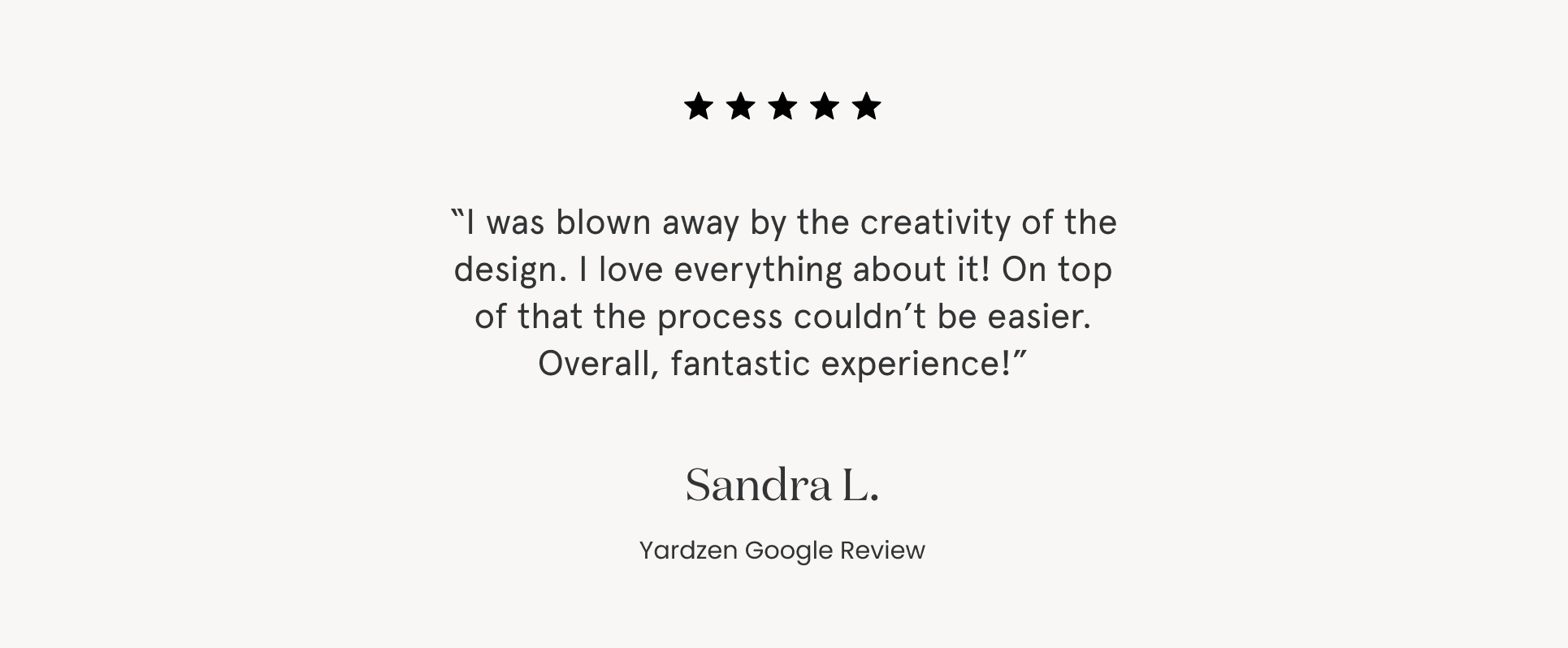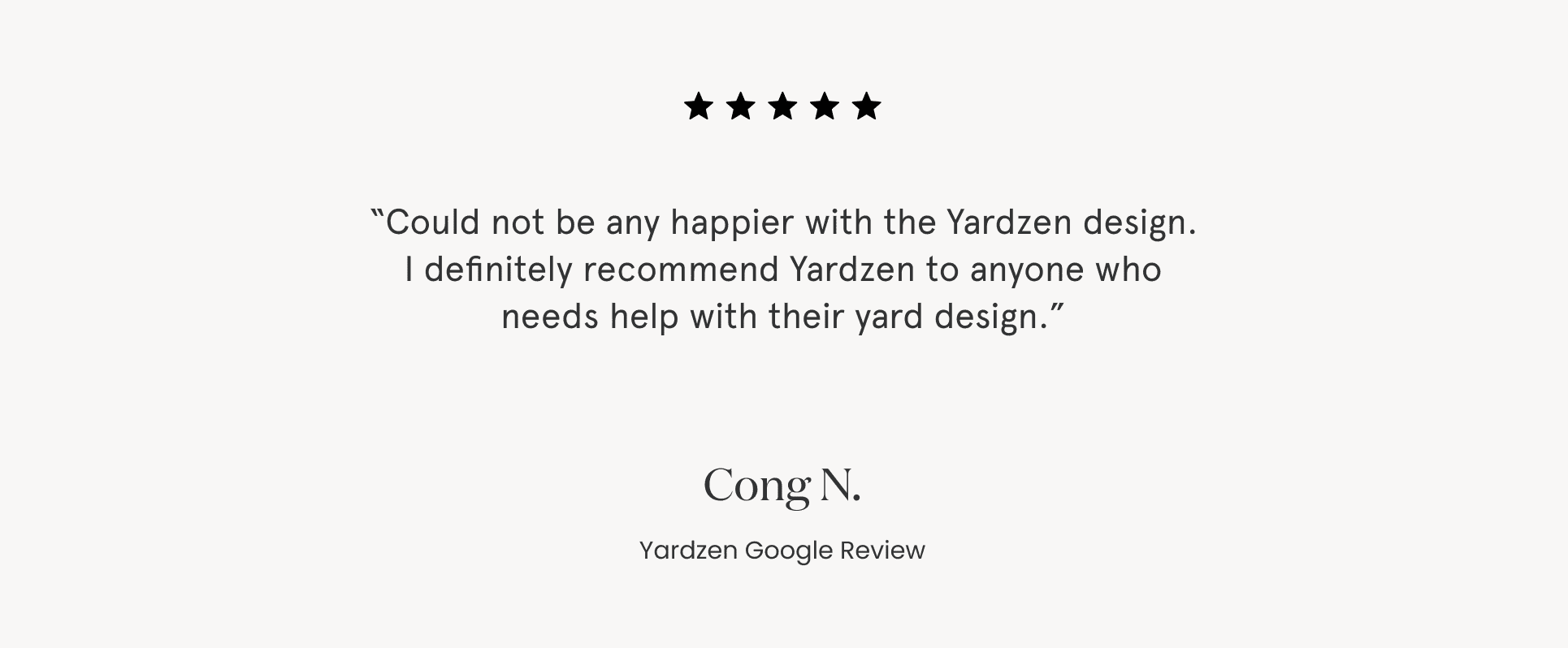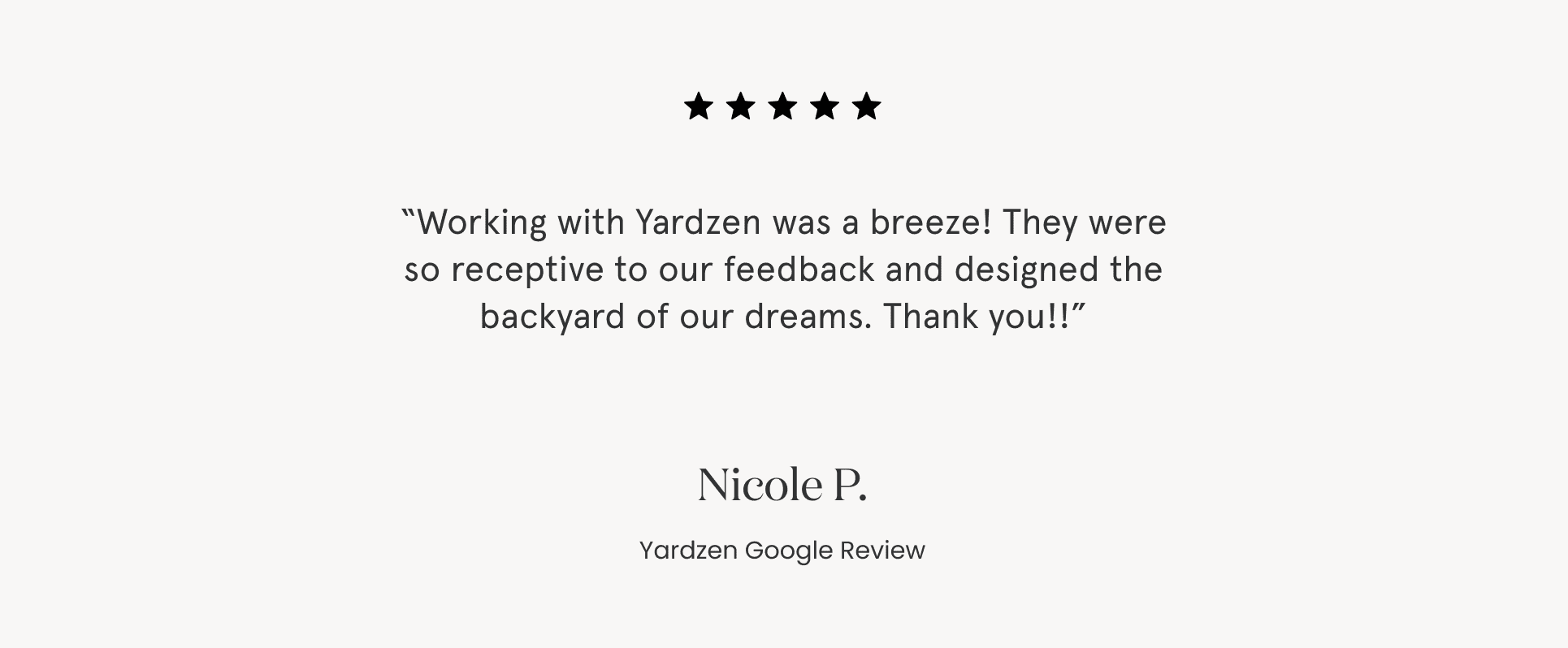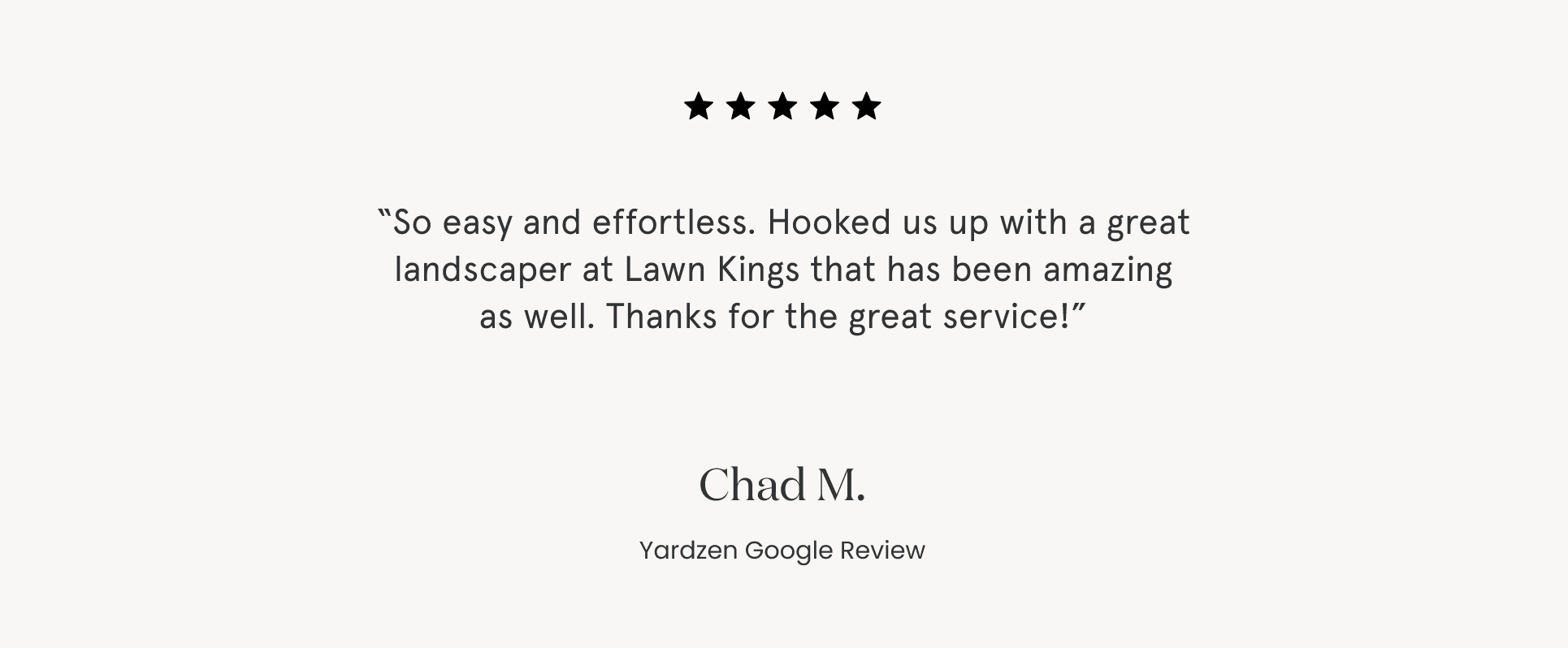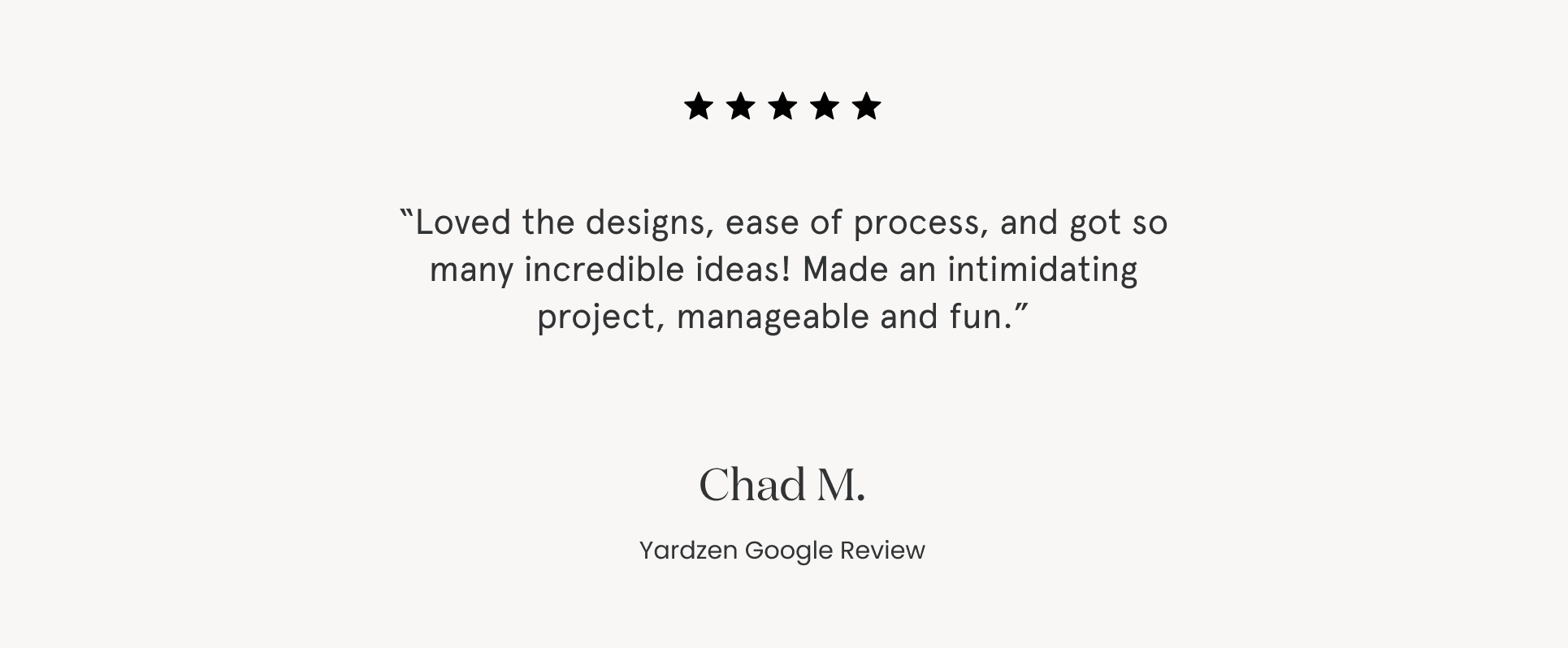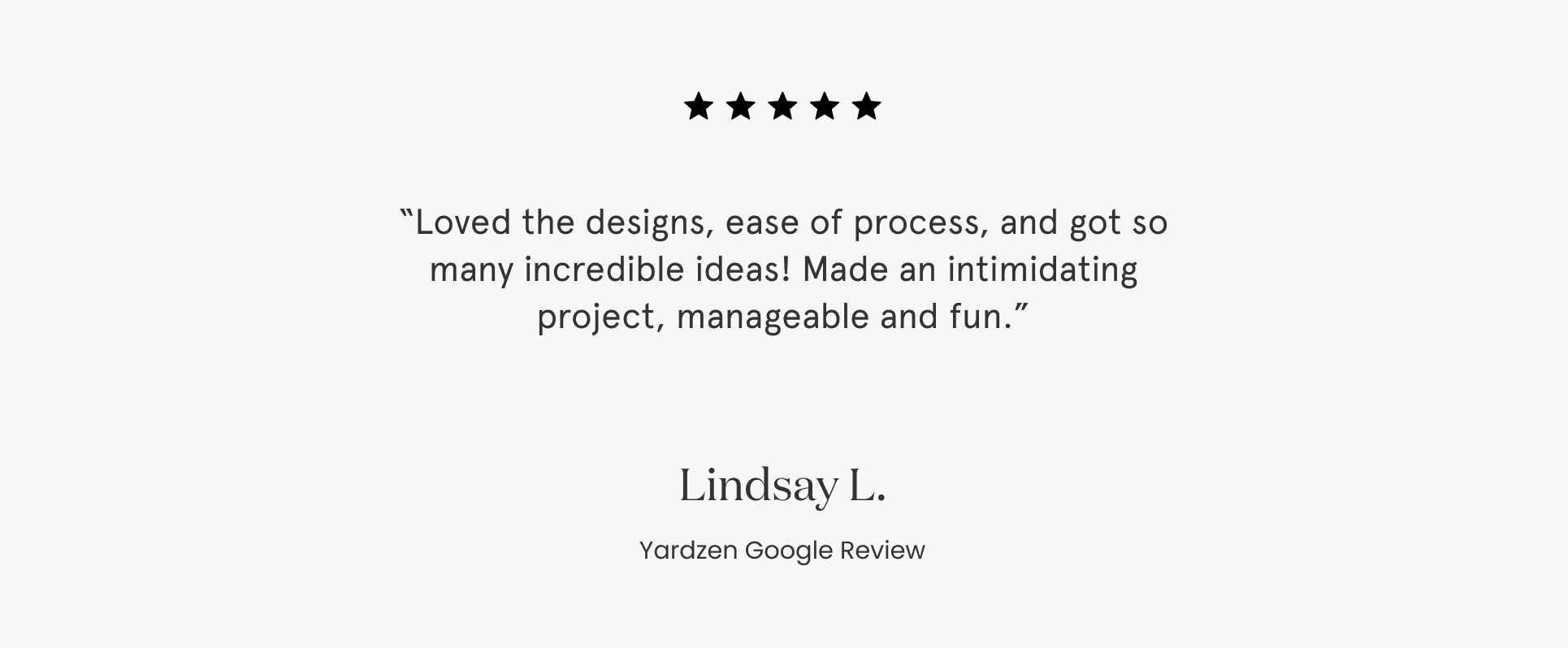 FREQUENTLY ASKED QUESTIONS ABOUT YARDZEN
Do you only design in certain styles?
Yardzen works with hundreds of highly skilled designers who practice in the full spectrum of landscape and exterior styles. We guarantee that we have a designer who specializes in your specific aesthetic.
How do you know the right plants for my property?
We've built a world-class database of plants, trees, and groundcovers that match up to planting zones, sun, shade, and water requirements, styles, and special features, like "deer-proof," "non-toxic for pets," and "year-round blooms."
After you purchase a package, you'll have the opportunity to take a plant-preferences quiz during your onboarding. Additionally, we use satellite imagery, coupled with detailed photos and videos of your property, to assess sun and shade patterns throughout the day. We have a horticulturist who makes the final calls when choosing your design's plant palette.
I have a set budget. How do you keep my design inside of it?
At the beginning of the Yardzen design process, you'll go through our propriety Yard Builder™ exercise to help you understand what configuration of hardscape, softscape, and exterior elements will work in your outdoor space, and at what budget. With that knowledge, you'll share your all-in budget with your design team. (For people who plan to phase their build-out, as many of our clients do, this is the budget for all phases.) Your designer will then create your design with that number in mind. However, there are always variables — like the materials and plant sizes you ultimately choose — that can bring down costs. When we match you with a contractor, budget is usually where that conversation starts. We believe budget needs to be a central part of the process for us to deliver a design you can implement. Please note we recommend a minimum budget of $15,000 to take advantage of our contractor matching services.
How do you find and vet contractors?
We partner only with the best, most responsive and diligent contractors for our clients' projects. We are very intentional about who we bring into our network. Here are some of the following criteria that we make sure our contractors have before bringing them on:
→ Licensing as required by each individual state
→ Professional, personality and exceptional customer service
→ Top notch online reviews
→ Impressive and comprehensive portfolio
→ Worker's Compensation and Employers' Liability Insurance
→ Commercial General Liability
→ Automobile Liability Insurance
→ Professional Liability Insurance
What are Yardzen's sustainability practices?
Our favorite topic! Our core ethos is that anyone who controls a patch of Earth has the potential to affect positive change. We're a team of landscape designers & LEED-certified architects, environmental consultants, conservationists, and even beekeepers. We're here to empower people to make good decisions, which is why we'll lead you toward a low-water yard and educate you about rain catchment systems and why there are better choices than traditional sod. As a general rule, every Yardzen design includes low-water plants and a few attractors that lay the groundwork for wildlife corridors. We believe that if we all do a little we can do a lot.
LOS ANGELES LANDSCAPE FAQS
What design styles are popular with Los Angeles homeowners?
Los Angeles is a beautifully diverse and complex place. Homes come in all shapes, sizes, and styles. Neighborhoods exist in baking hot valleys, cool coastal bluffs, flat urban expanses, and scrubby mountainsides.
With all this diversity, it's no wonder that landscape styles are equally diverse. You'll find traditional hedge and lawn landscapes (though lawns are increasingly being replaced by a variety of different landscape treatments). You'll also find eclectic desert-scapes, with technicolor succulents and mixed gravel ground-covering. Increasingly, you find modern designs leaning heavily on ornamental grasses and xerophytic drought warriors, framed in crisp concrete with decomposed granite to lend a little crunch. For the majority of yards, the style borrows a bit from all of the above, following homeowners' whims. Across the board, however, drought tolerance is a priority, by necessity if not out of willingness.
What are popular features in Los Angeles landscapes?
With year-round gorgeous weather, Los Angeles is ideal for outdoor living. Landscape designs in L.A. make the most of these favorable conditions by incorporating infrastructure for taking the indoors to the outdoors: cooking, dining, lounging, and flexible work/entertaining areas are all landscape staples.
Southern California sun can get intense, and shade features, from trees to pergolas, to shade sails, are accordingly popular. So are water features, from big pools to little pools, to prefab fountains, which are utilized not only to cool the air but to inject a little moment of Zen tranquillity within the bustle of city life.
Drought-tolerant planting is a must. Well-shaded synthetic grass (it gets toasty in the sun) for play or picnic areas is also on the rise, especially among households with small children.
Should I use plants native to Los Angeles in my landscape?
Climate-adapted plants from regions like Australia, South Africa, and the Mediterranean can play an important role in a water-wise landscape. Rosemary, lavender, emu bush, Leucadendron, rock purslane, and fruitless olive trees are some of our favorite climate-adapted species for Los Angeles landscapes, offering beauty and drought tolerance in equal measure.
Having evolved to thrive in local conditions, plants native to the Los Angeles region are excellent choices for water savings. Native plants also go a step further, offering unbeatable habitat value. By including native plants in their landscape designs, homeowners can help in the broader effort to restore biodiversity. California buckwheat, California lilac, Canyon Prince wild rye, Channel Islands Tree Poppy, and a whole mess of sages, including white, black, hummingbird, and Cleveland sage, are all excellent natives available for Los Angeles landscapes.
Looking to max out your bird and bee visitors? Include keystone native species like willow and oak trees, California sagebrush, or coyote bush (the low-growing Pigeon Point cultivar is a popular option).
What are top considerations for Los Angeles landscapes?
Water conservation and fire safety are both important considerations when designing a Los Angeles landscape.
Water conservation is crucial throughout Southern California. Minimizing or eliminating lawns is often the most impactful decision a homeowner can make to reduce their landscape water consumption, though choosing water-wise native and climate-adapted species is also crucial.
Homeowners concerned about fire should work with their designers to incorporate defensible space into their designs. A good maintenance regime is also critical to fire safety – speak with your designer or look up local wildfire resources for guidance on fire-safe landscape maintenance.
With such gorgeous natural beauty in the region, Los Angeles landscapes should capitalize on any views available from a property, especially for those yards in hilly neighborhoods, from Silverlake and Mt Washington all the way to Topanga and Malibu. At the same time, solar exposure should be accounted for – avoid blasting outdoor spaces with harsh late afternoon western light, unless shade trees or structures are being utilized.
Does Yardzen design for wildfire safety?
We are happy to work with clients to develop designs that meet their level of comfort around fire safety. Choosing fire-resistant plant species and following best practices for fire-safe landscape design are options that we encourage our clients to consider, and something our designers are happy to employ at a client's request.
While careful design can help reduce the risk of fire damage, it's important to note there are no fire-proof plants, and maintenance is the most important determinant of a landscape's fire safety.
Want to learn more? Check out the Los Angeles County Fire Department's recommendations for fire-safe landscaping.
When should I start my landscaping project?
Now! Any time of year is great to begin work on a landscape project.
When possible, we suggest utilizing the winter to work through the design phase – this sets you up to get on contractors' books early in the build season, so you can have your design installed and ready to enjoy in time for summer.
If winter has passed, don't worry, it's never too late in the year to begin work on a landscape design project.
BACKYARD IN LOS ANGELES
A moditerranean oasis in the heart of the city, featuring a custom pergola and outdoor kitchen, a low-water, no-mow lawn, mediterranean plants, and ample space for enjoying family and friends. Curious about the term moditerranean? Learn more in our Guide to Landscape Styles.
EXPLORE PACKAGES
"Highly suggest Yardzen. The online process made everything super easy and efficient. Thank you to the entire Yardzen team."
Shannon M., Yardzen client
Yardzen creates local landscape designs in:
Acton, Agoura Hills, Alhambra, Altadena, Arcadia, Artesia, Avalon, Azusa, Baldwin Park, Bell Gardens, Bellflower, Beverly Hills, Burbank, Calabasas, Canoga Park, Canyon Country, Carson, Castaic, Cerritos, Chatsworth, Claremont, Compton, Covina, Culver City, Diamond Bar, Downey, Duarte, El Monte, El Segundo, Encino, Gardena, Glendale, Glendora, Granada Hills, Hacienda Heights, Harbor City, Hawaiian Gardens, Hawthorne, Hermosa Beach, Huntington Park, Inglewood, La Canada, Flintridge, La Crescenta, La Mirada, La Puente, La Verne, Lake Hughes, Lakewood, Lancaster, Lawndale, Littlerock, Llano, Lomita, Long Beach, Lynwood, Malibu, Manhattan Beach, Marina Del Rey, Maywood, Mission Hills, Monrovia, Montebello, Monterey Park, Montrose, Mount Wilson, Newhall, North Hills, North Hollywood, Northridge, Norwalk, Pacific Palisades, Pacoima, Palmdale, Palos Verdes, Peninsula, Panorama City, Paramount, Pasadena, Pearblossom, Pico Rivera, Playa Del Rey, Playa Vista, Pomona, Porter Ranch, Rancho Palos Verdes, Redondo Beach, Reseda, Rosemead, Rowland Heights, San Dimas, San Fernando, San Gabriel, San Marino, San Pedro, Santa Clarita, Santa Fe Springs, Santa Monica, Sherman Oaks, Sierra Madre, Signal Hill, South El Monte, South Gate, South Pasadena, Stevenson Ranch, Studio City, Sun Valley, Sunland, Sylmar, Tarzana, Temple City, Topanga, Torrance, Tujunga, Valencia, Valley Village, Valyermo, Van Nuys, Venice, Verdugo City, Walnut, West Covina, West Hills, West Hollywood, Whittier, Wilmington, Winnetka, and Woodland Hills
Explore other California landscape designs by Yardzen
Huntington Beach, Mill Valley, Napa, Oakland, Palo Alto, Sacramento, San Diego, San Jose, Thousand Oaks, San Francisco, and Ventura