Landscape design & build for San Francisco, CA
San Francisco is one of a kind. Breathtaking views, rollicking coastline, stunning Victorian homes, undulating topography, rich and diverse history, and a dense urban environment unlike anywhere in California all contribute to the San Francisco experience. And yet, these descriptions alone don't come close to encapsulating the place.
EXPLORE DESIGN PACKAGES
Climate & Planting
To be outside in San Francisco is to engage with both the potent energy of a dense city and the raw beauty of the Bay Area: beaches, breezes, boulders, big old trees, and gloriously warm sunlight (when the clouds let it pop through). Despite all the bustle, a backyard in San Francisco can also be remarkably quiet, particularly as you leave the urban core for the outer neighborhoods.
Yards (and homes) in San Francisco tend to be compact. Challenging access, scant privacy, and chilly weather are common obstacles, keeping more than a few people from fully utilizing their outdoor spaces. With the right design, however, SF yards can be mighty, packing loads of function, flora, and flavor into limited space.
Design & Build
Enter Yardzen. Whether you are looking to entertain family and friends, grow your own veggies, increase your privacy, spiff up your planting and hardscape, or simply create a comfortable place to spend more time outside, Yardzen can help you!
We'll work with you to develop a landscape design that achieves the look, feel, and function you are dreaming of for your yard. Even if your yard is small, we've got you covered – we think small yards are some of the most fun spaces to design!
Once your landscape design is ready, we'll connect you with a licensed, vetted contractor from the Yardzen Pro Network to get your design built and get you outside enjoying the good life.
TRUSTED BY THE EXPERTS


SAN FRANCISCO, CA LANDSCAPE DESIGN GALLERY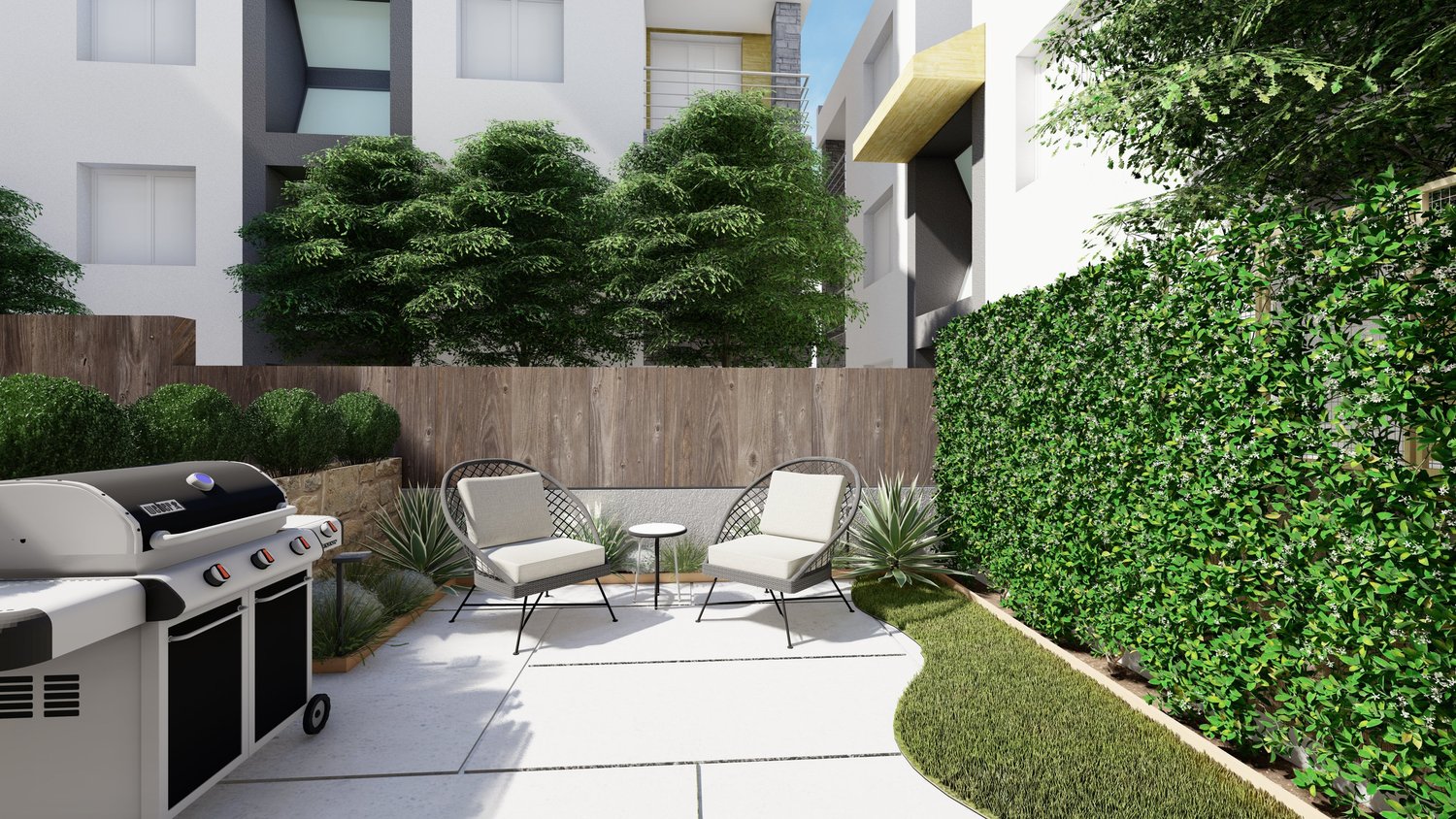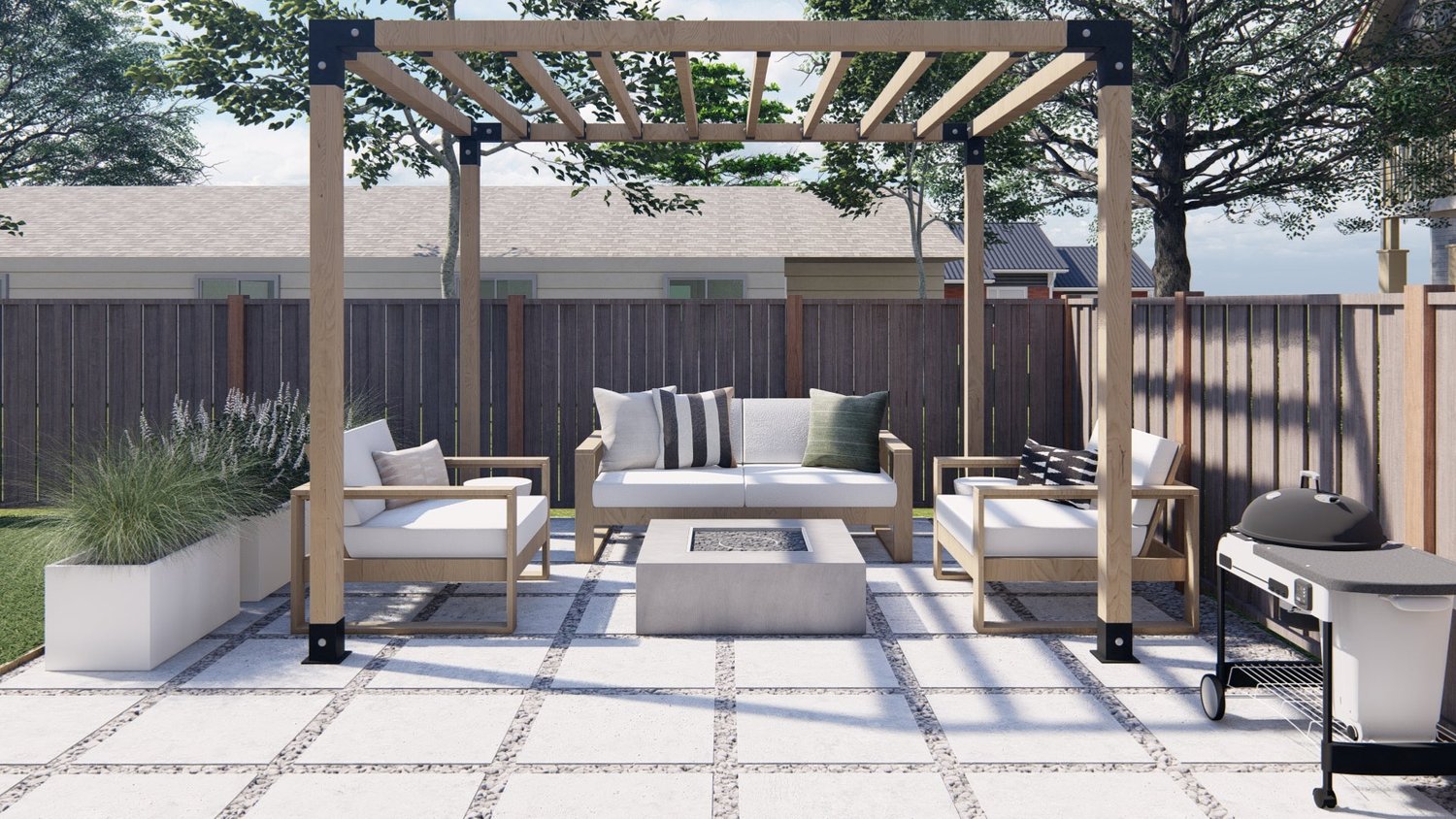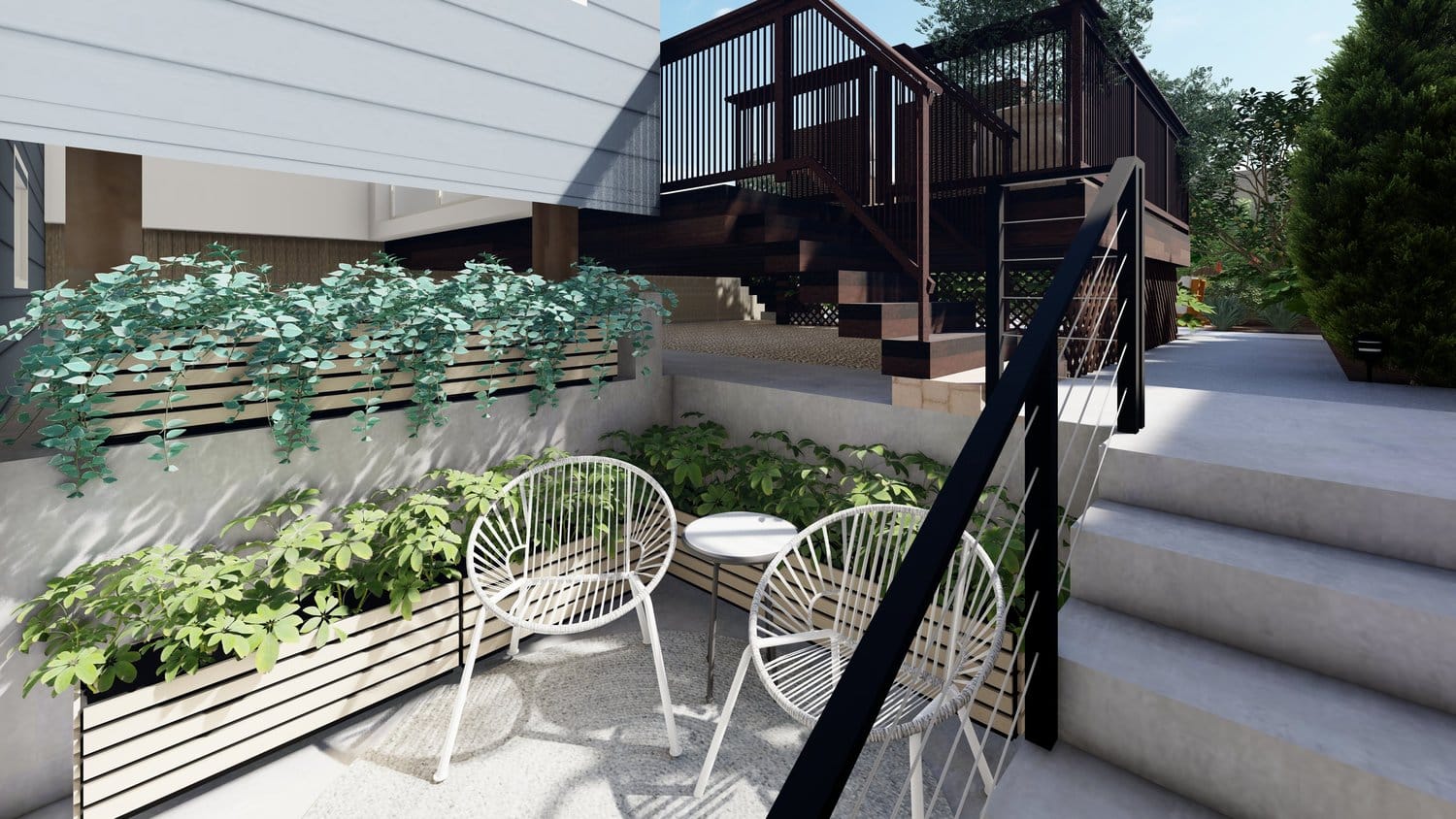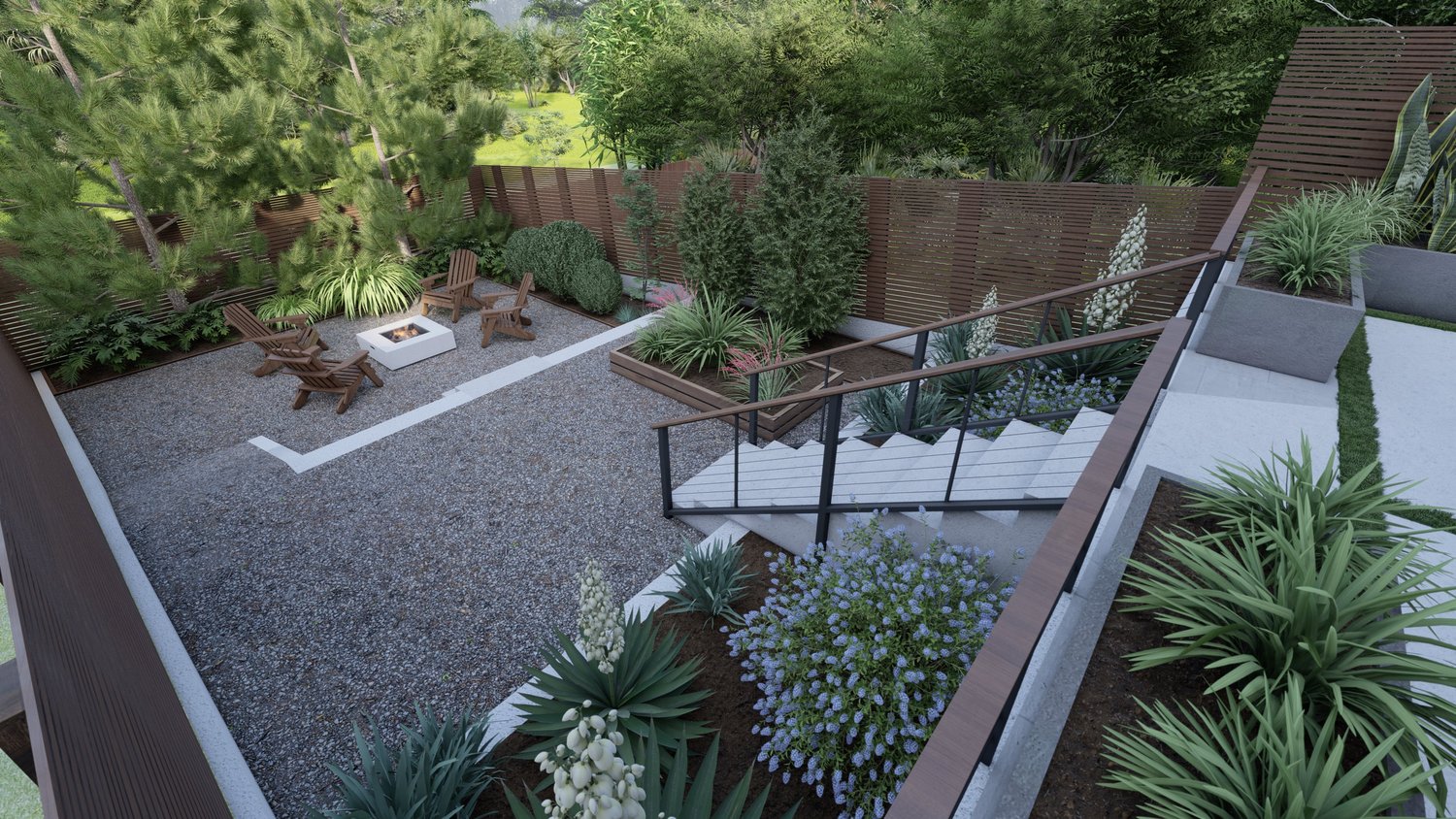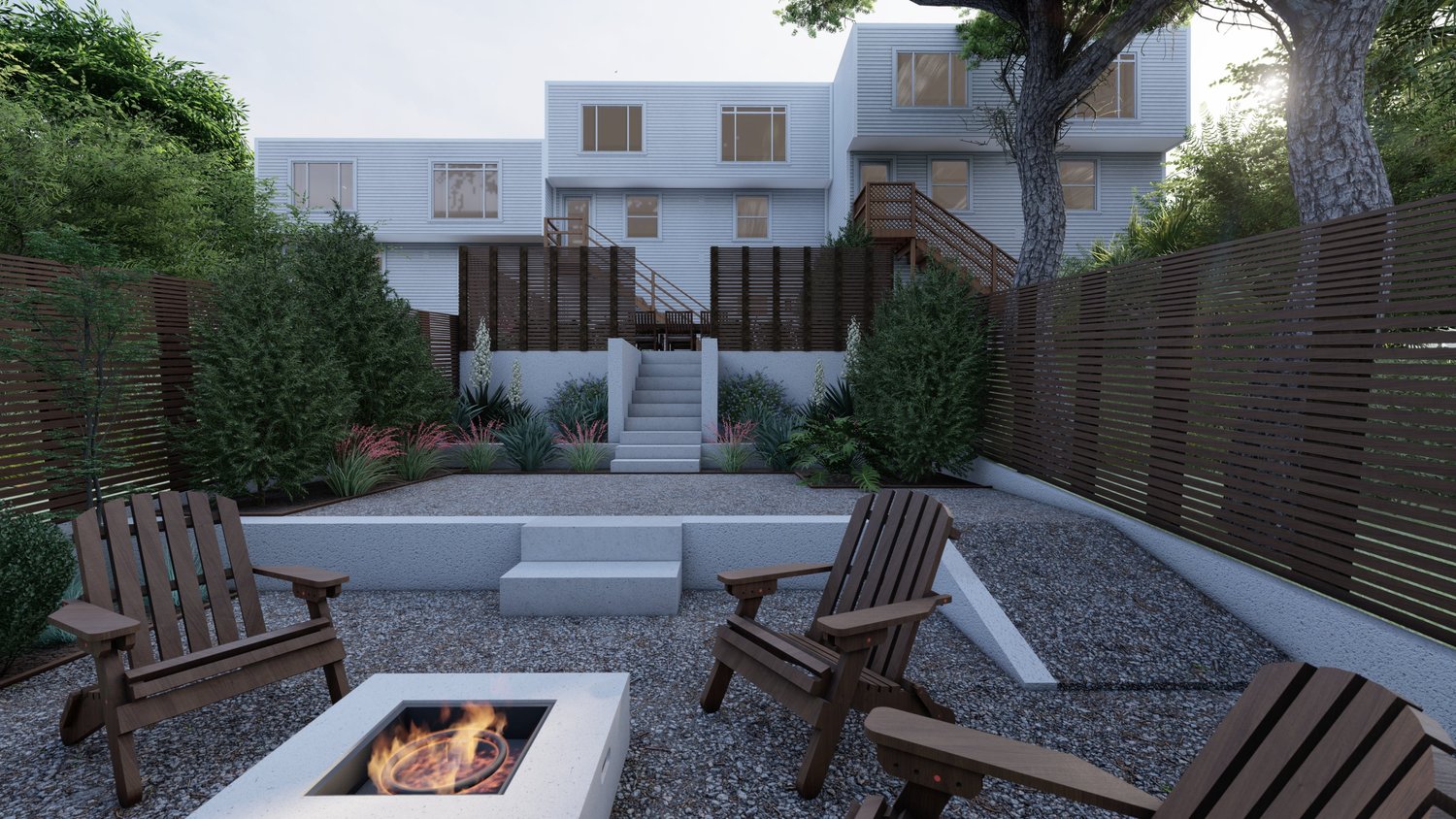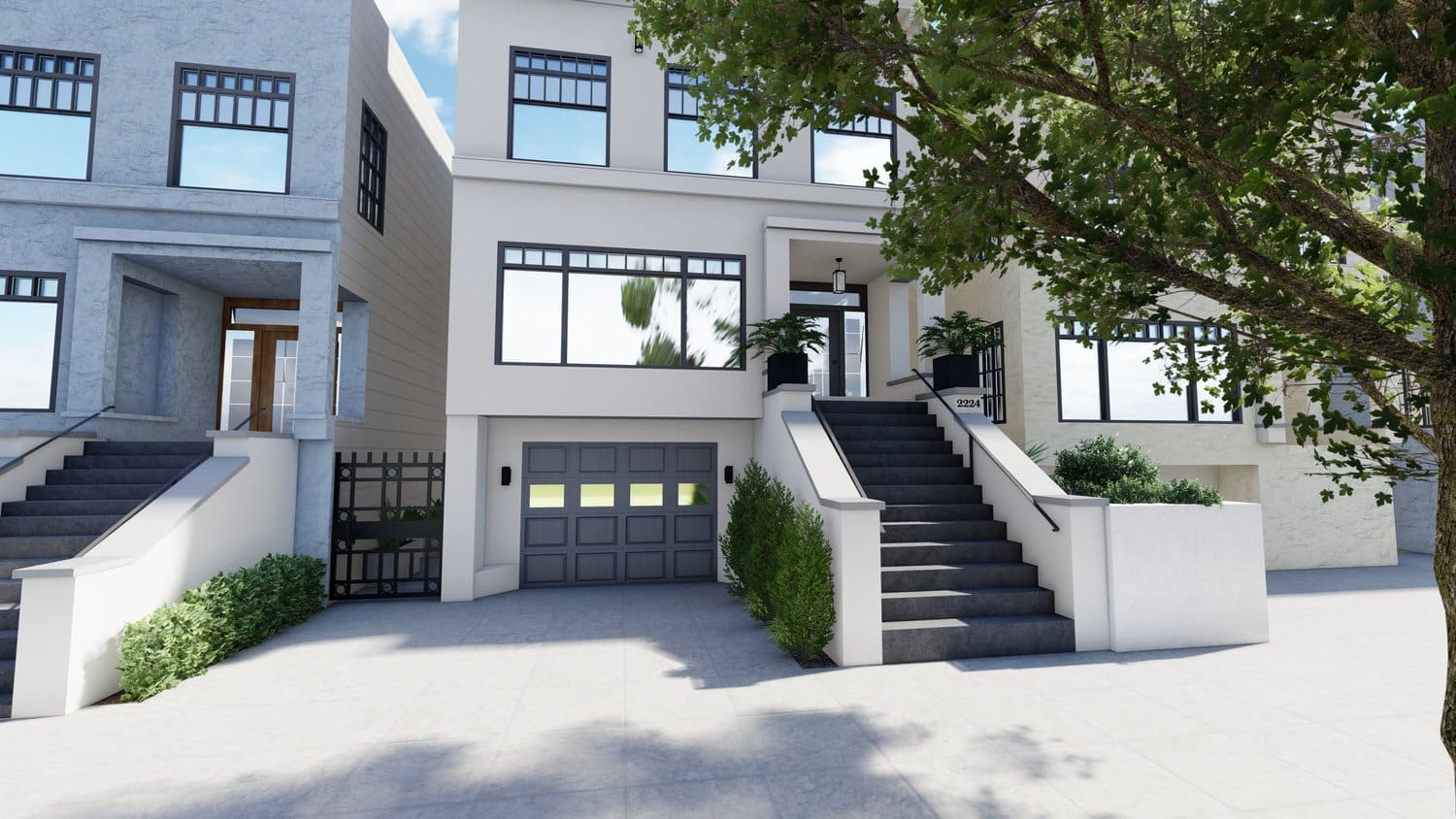 POPULAR AMENITIES IN SAN FRANCISCO YARDS
Simple and thorough online process
Take a style quiz, share videos and photos of your existing outdoor space, and learn about the costs in our Yard Builder™ tool. Our design team will help you at every step of the process.
GET STARTED >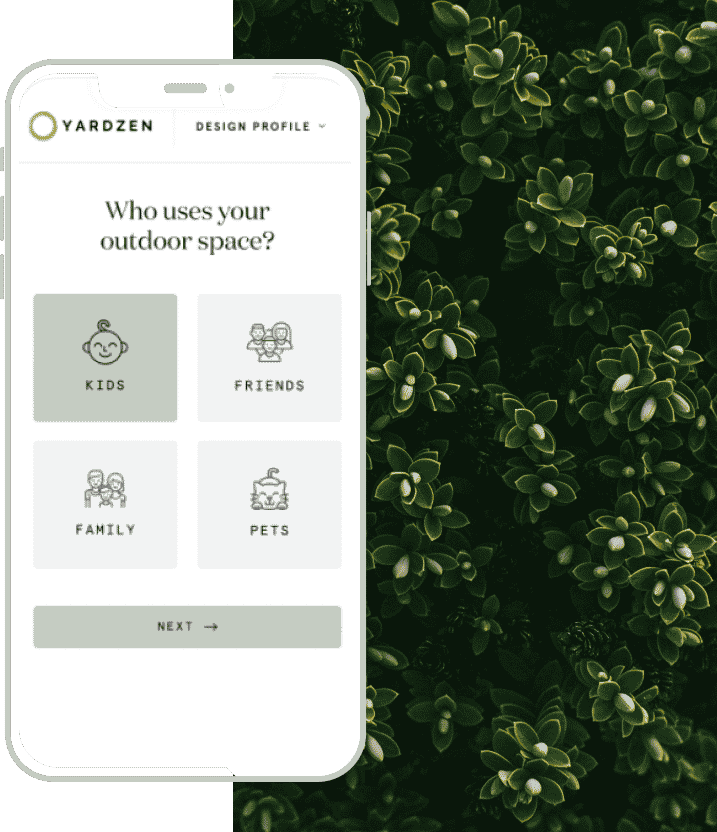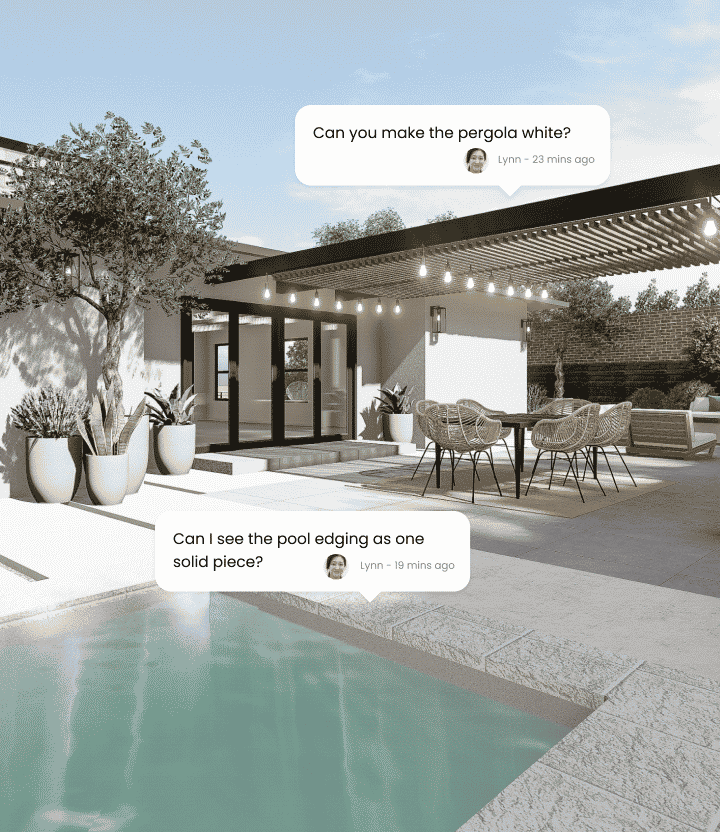 The easiest path to a final design you'll love
Review your first design in our online Feedback Studio. You'll be able to share feedback before we start incorporating your changes. A live design review call is also available to help get your project ready for installation.
GET STARTED >
Built by someone you (and Yardzen) trusts
We'll translate your 3D design concepts into a detailed CAD plan that's ready to install. Next, we'll connect you to a vetted, San Francisco area landscape contractor who can bring your dream yard to life.
GET STARTED >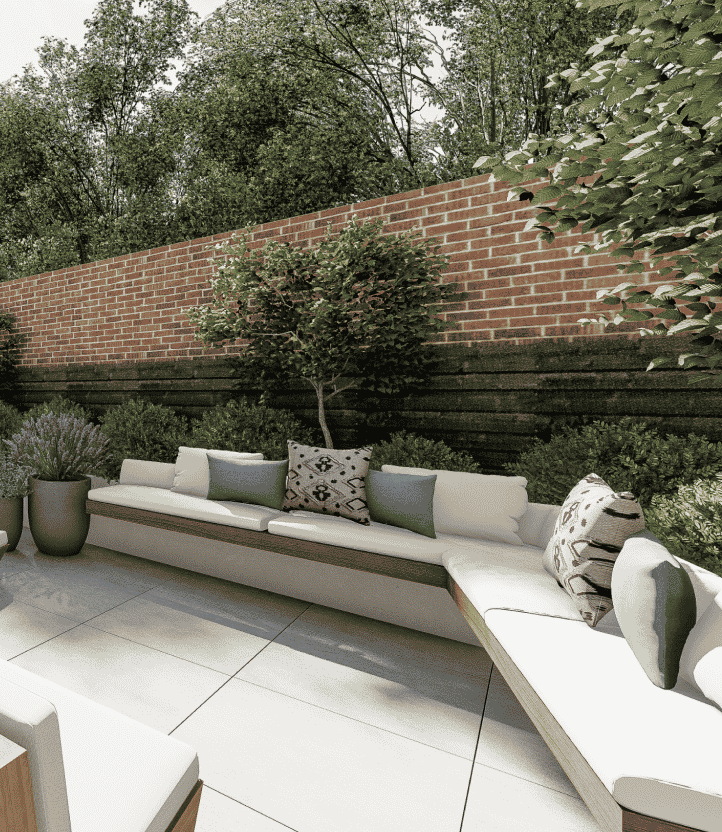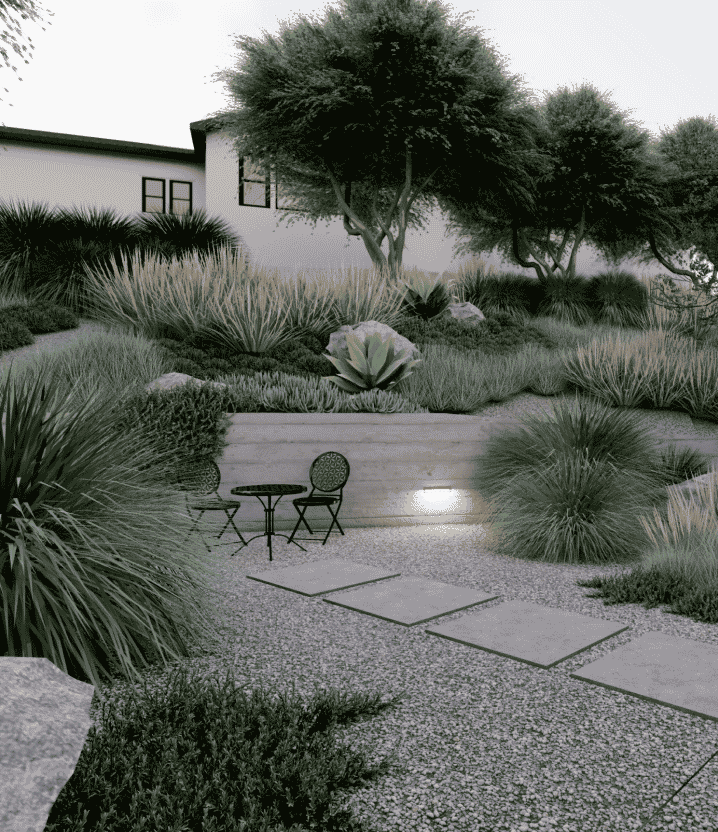 Custom designs for your unique outdoor space
We've built a database of plants, trees, and groundcovers that match to San Francisco's planting zones, sun/shade/water requirements, aesthetic, and essential features like native plants. Using satellite and aerial imagery, coupled with your photo, video, and factoring in your details, we can create the outdoor space of your dreams.
GET STARTED >
WHICH YARDZEN PACKAGE IS RIGHT FOR YOU?
Take our YardBuilder quiz to find out.
GET STARTED

1. Tell us about your unique outdoor space

2. Answer a few questions about your dream yard

3. Get a personalized design package recommendation
WHAT YARDZEN CLIENTS ARE SAYING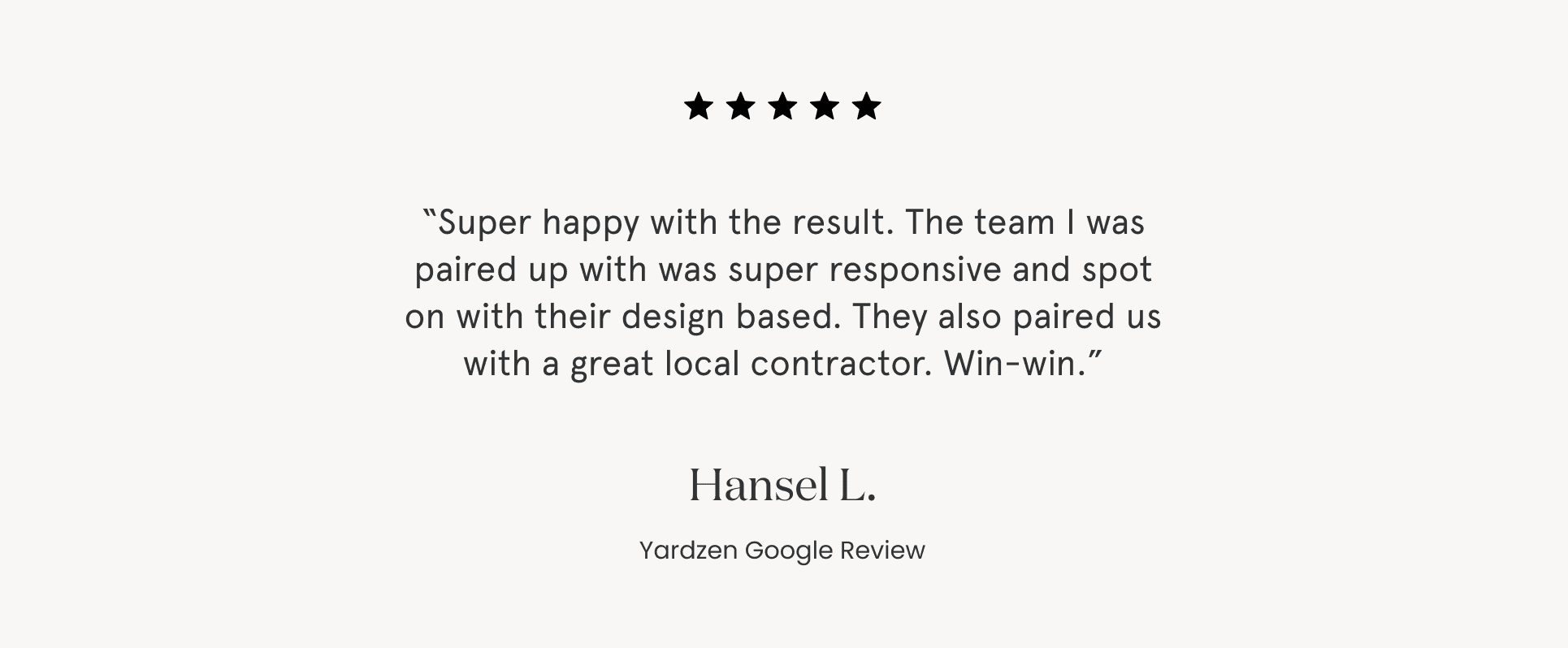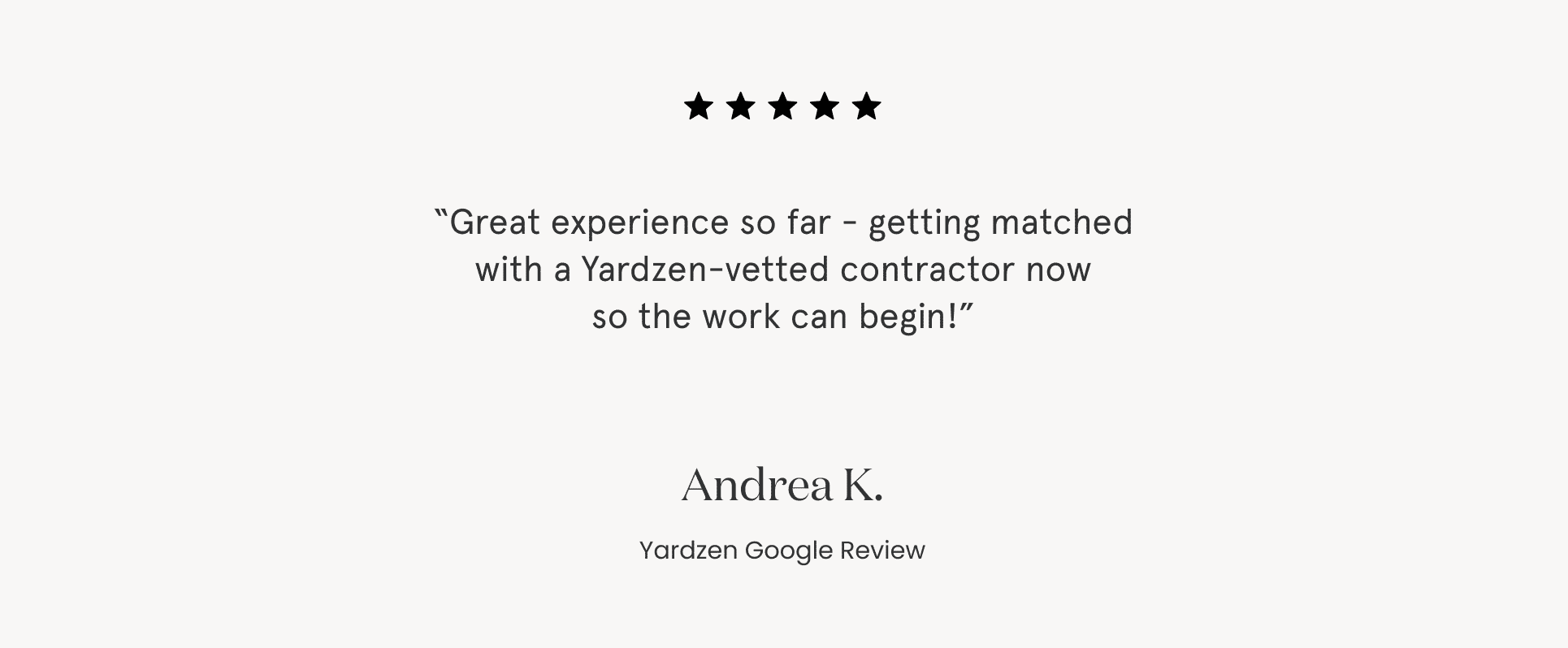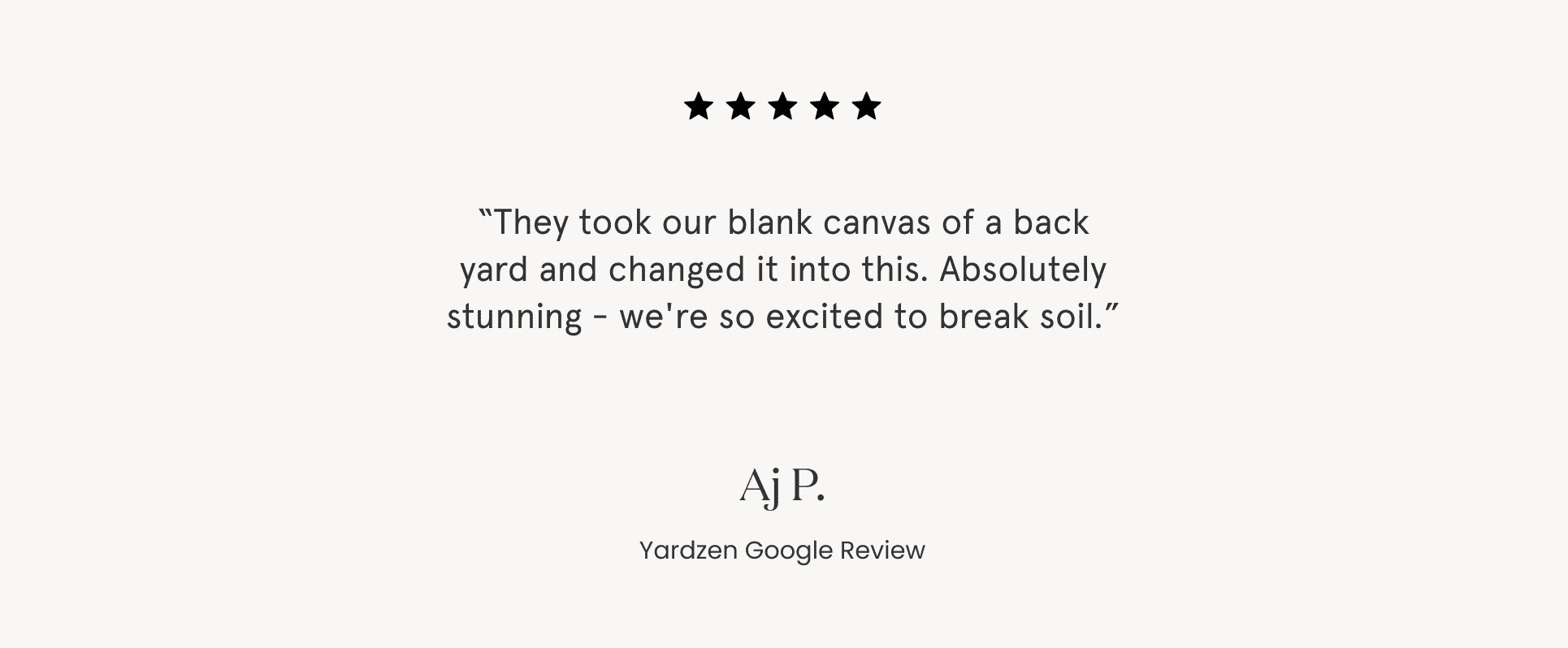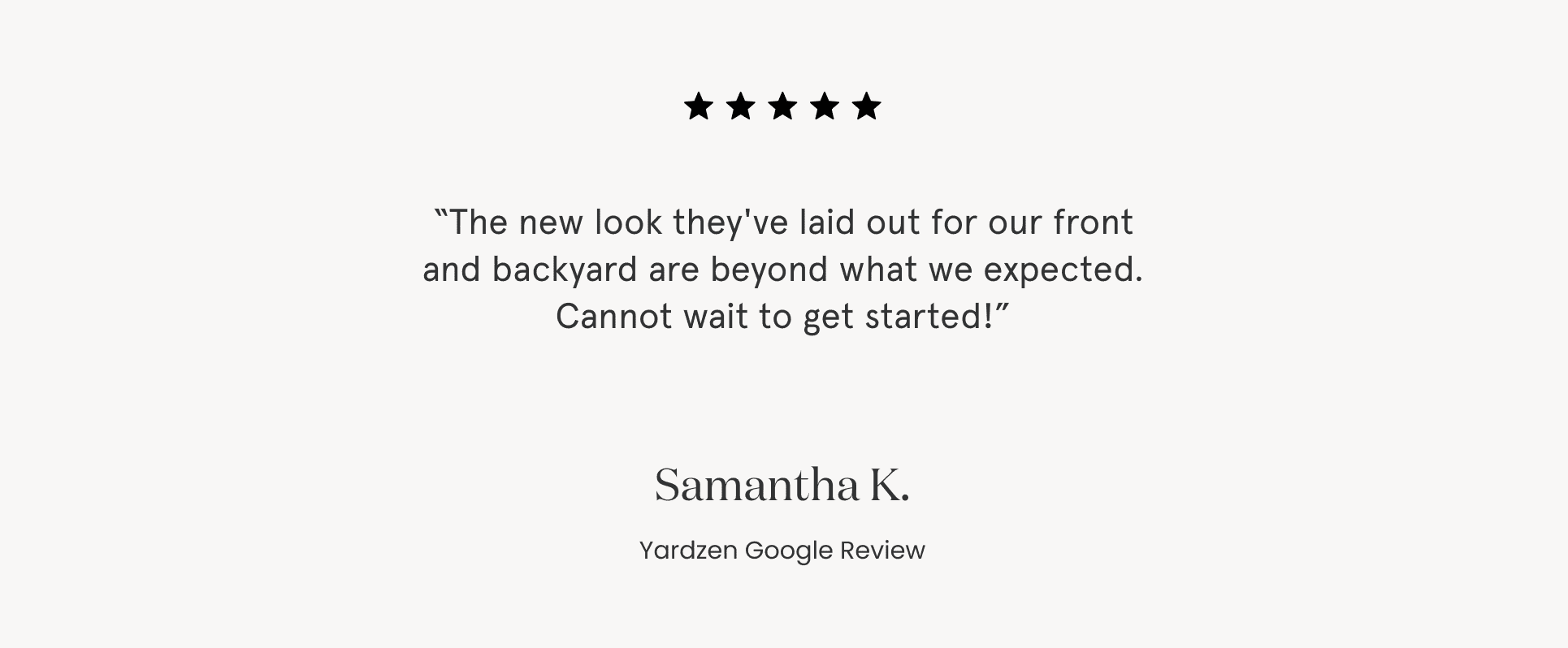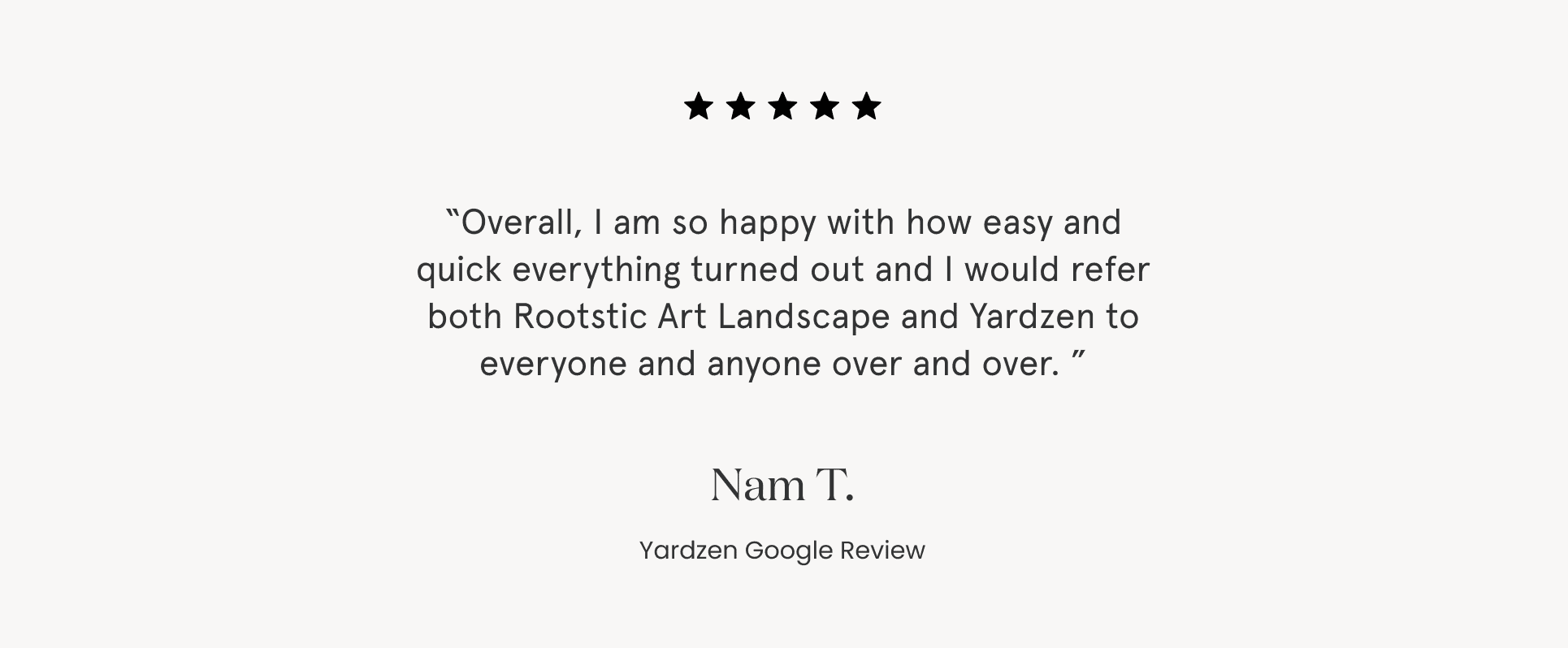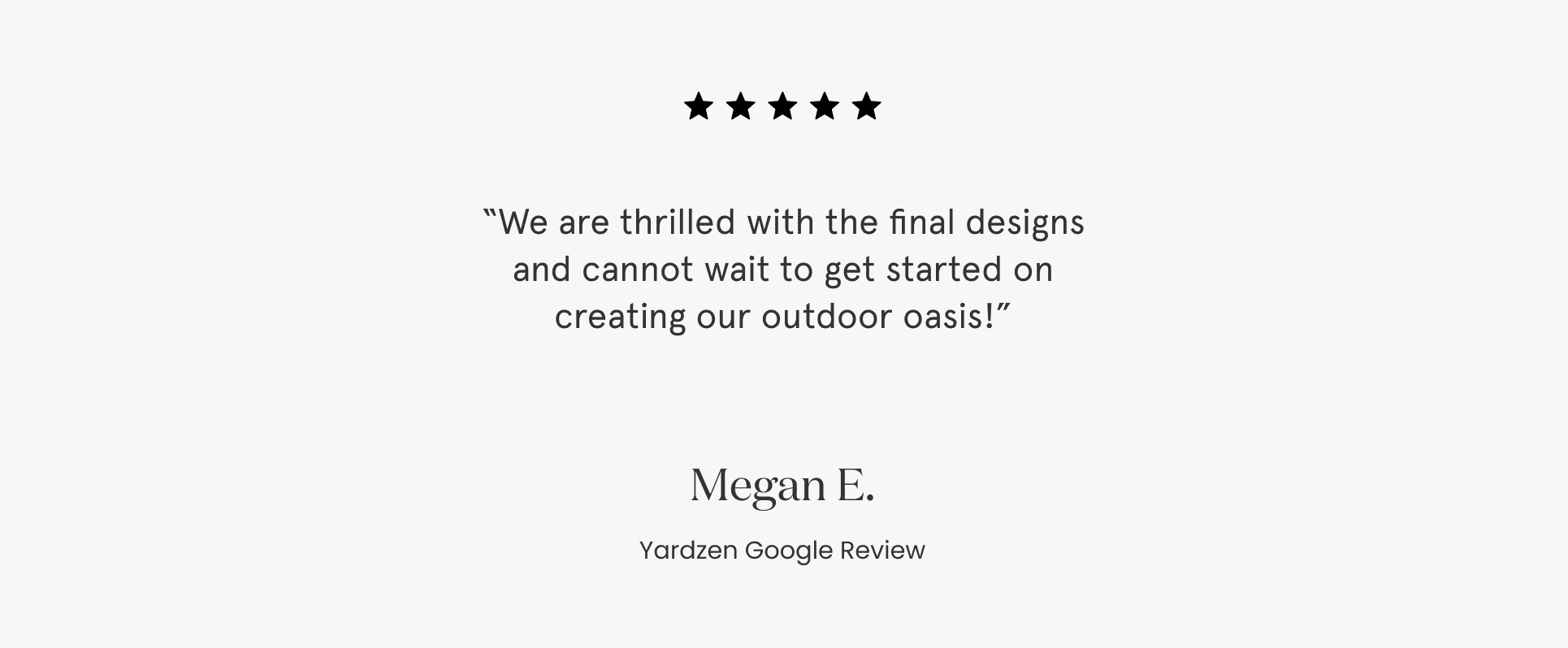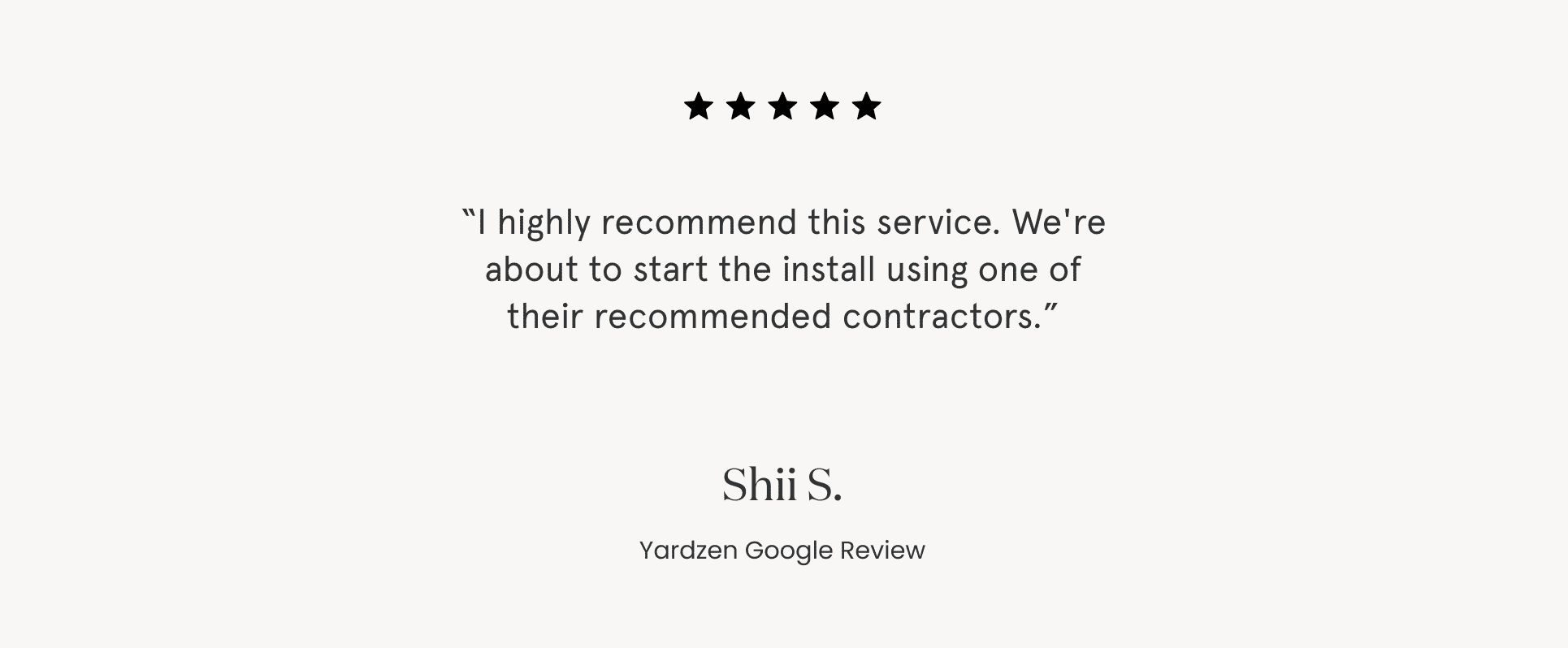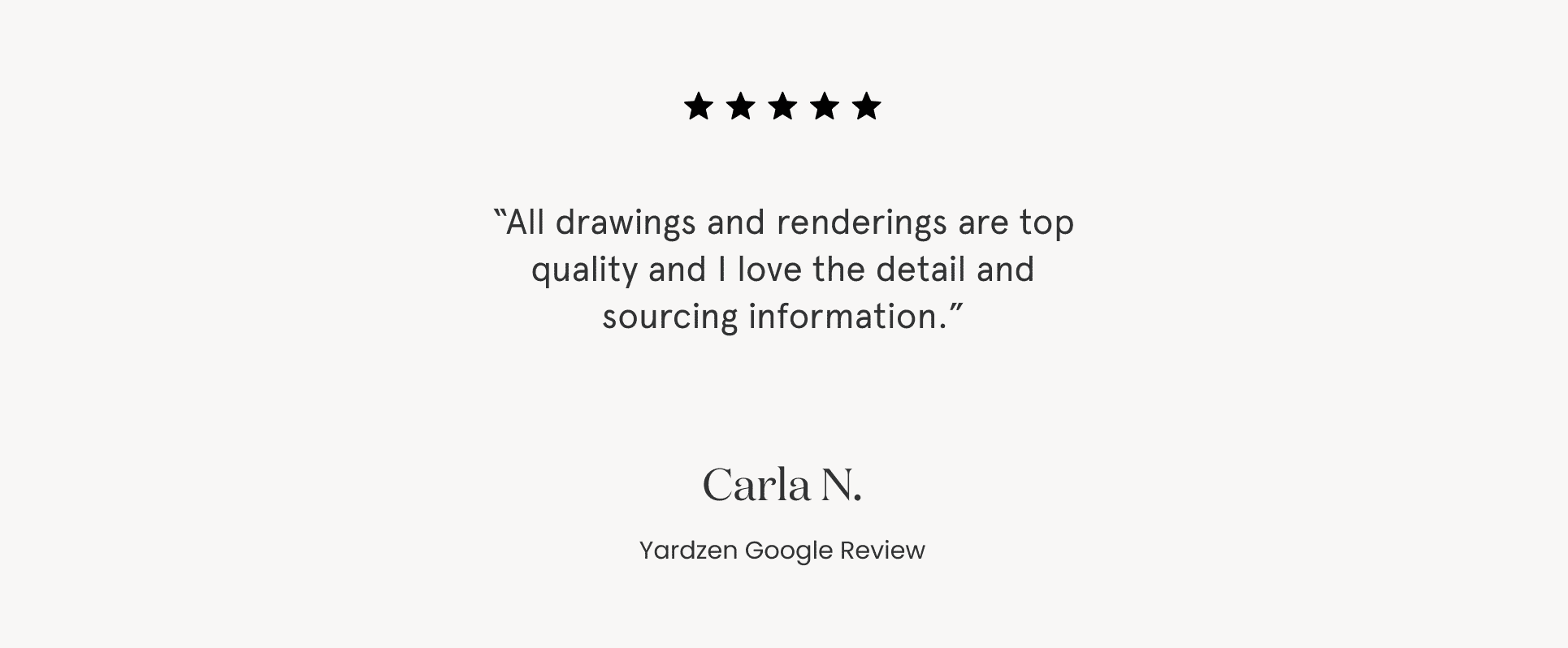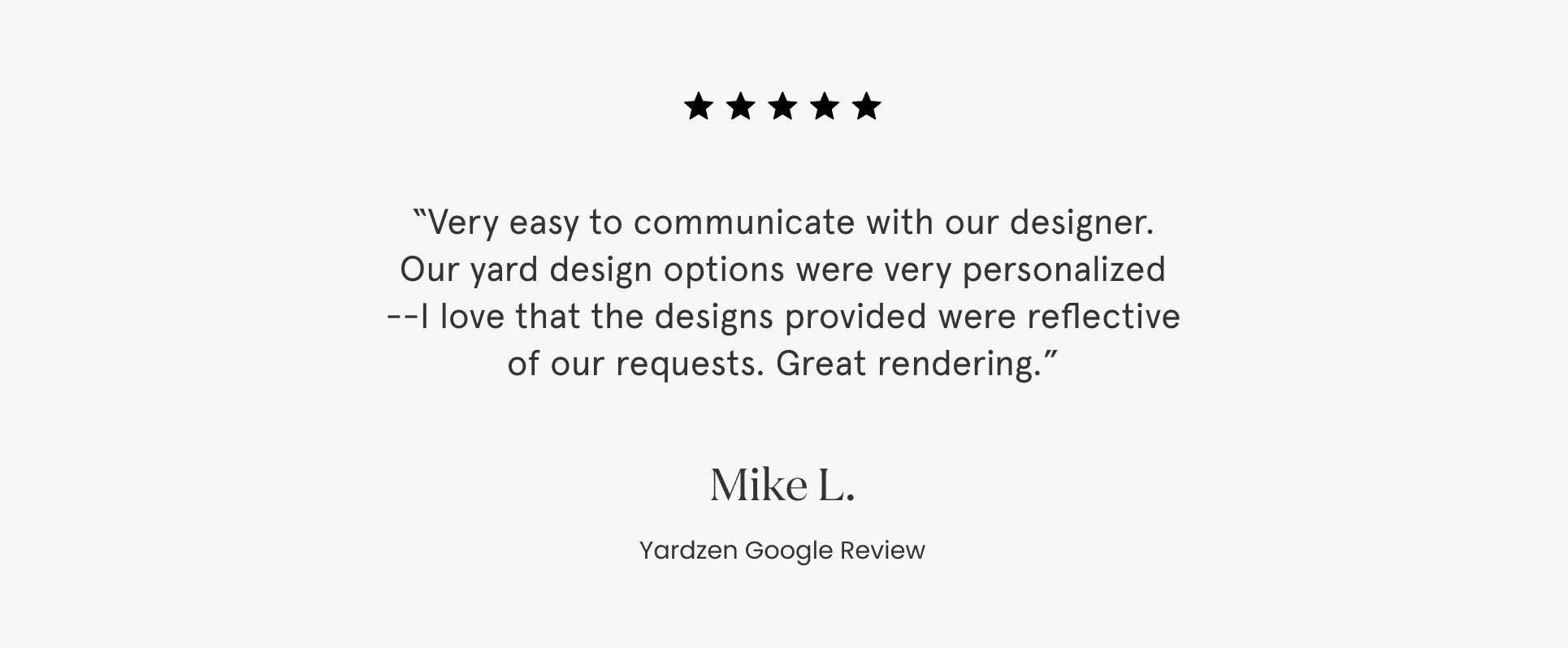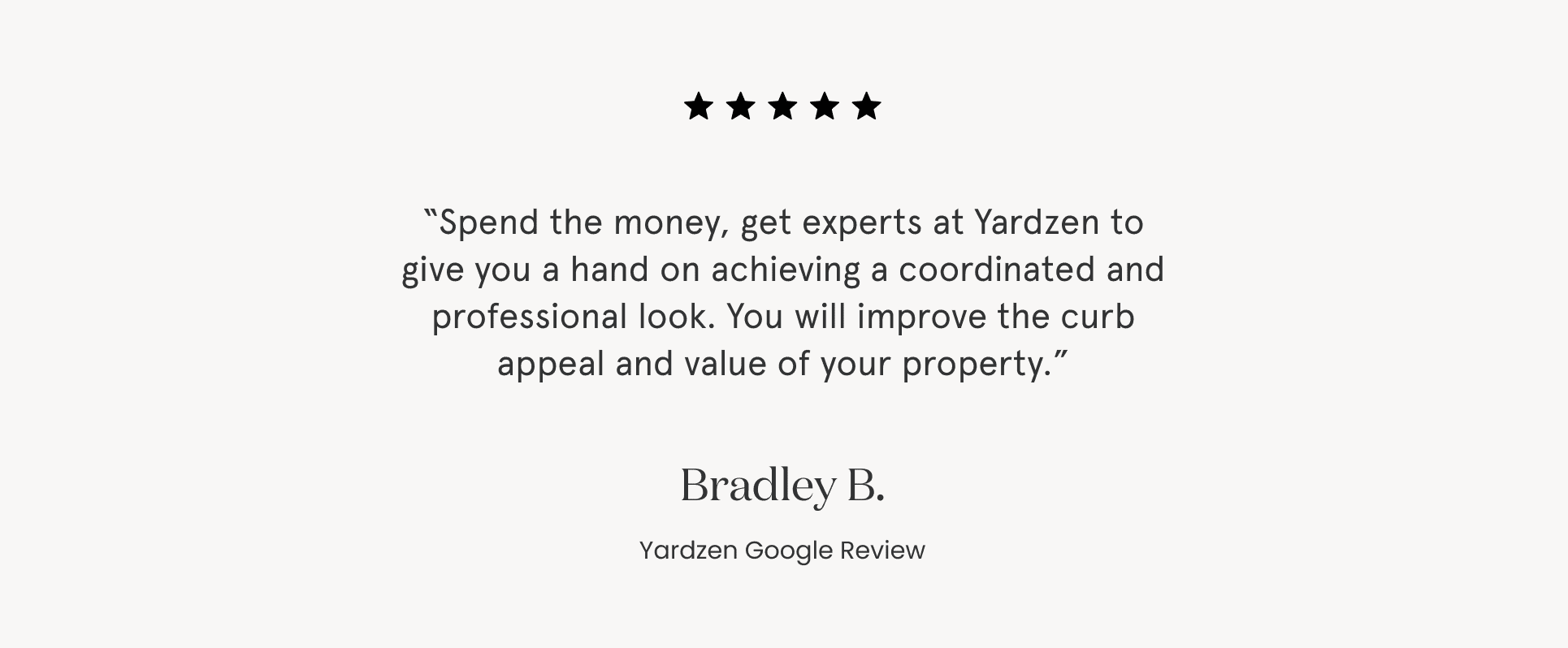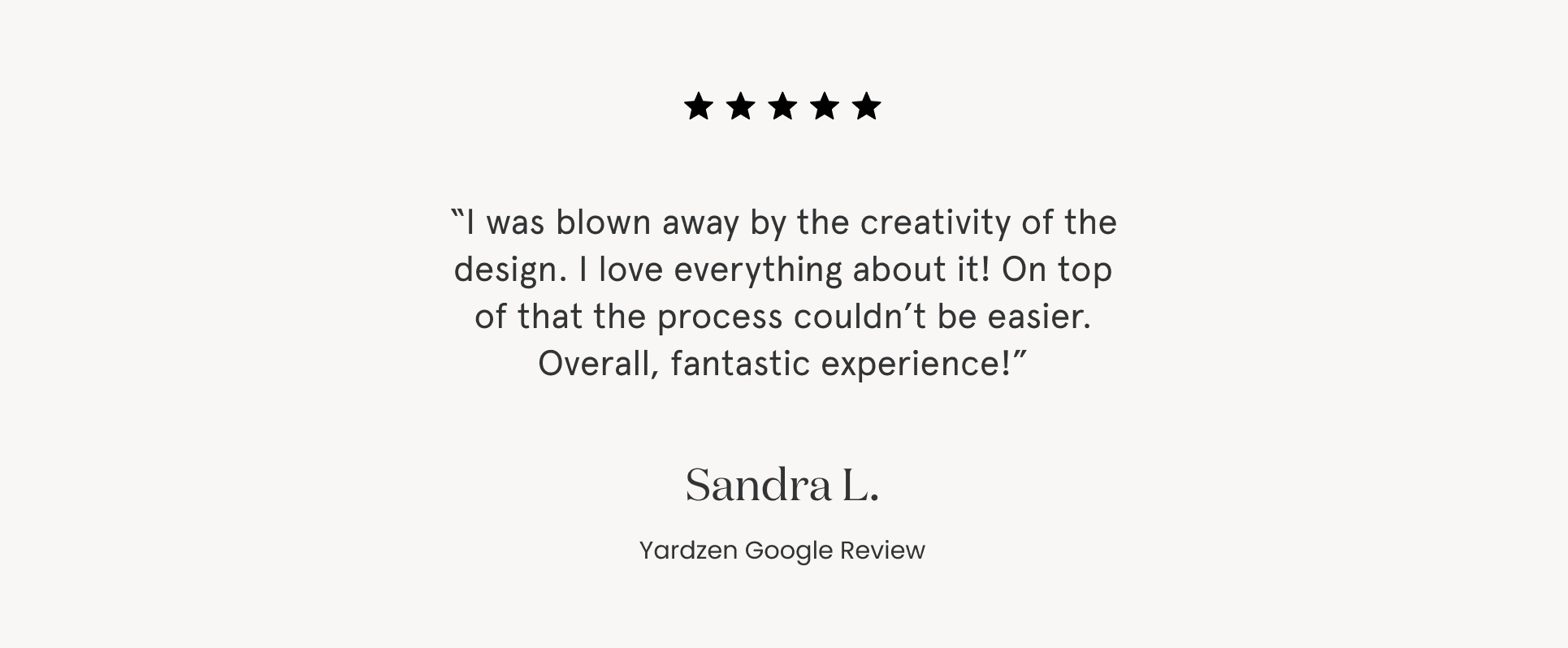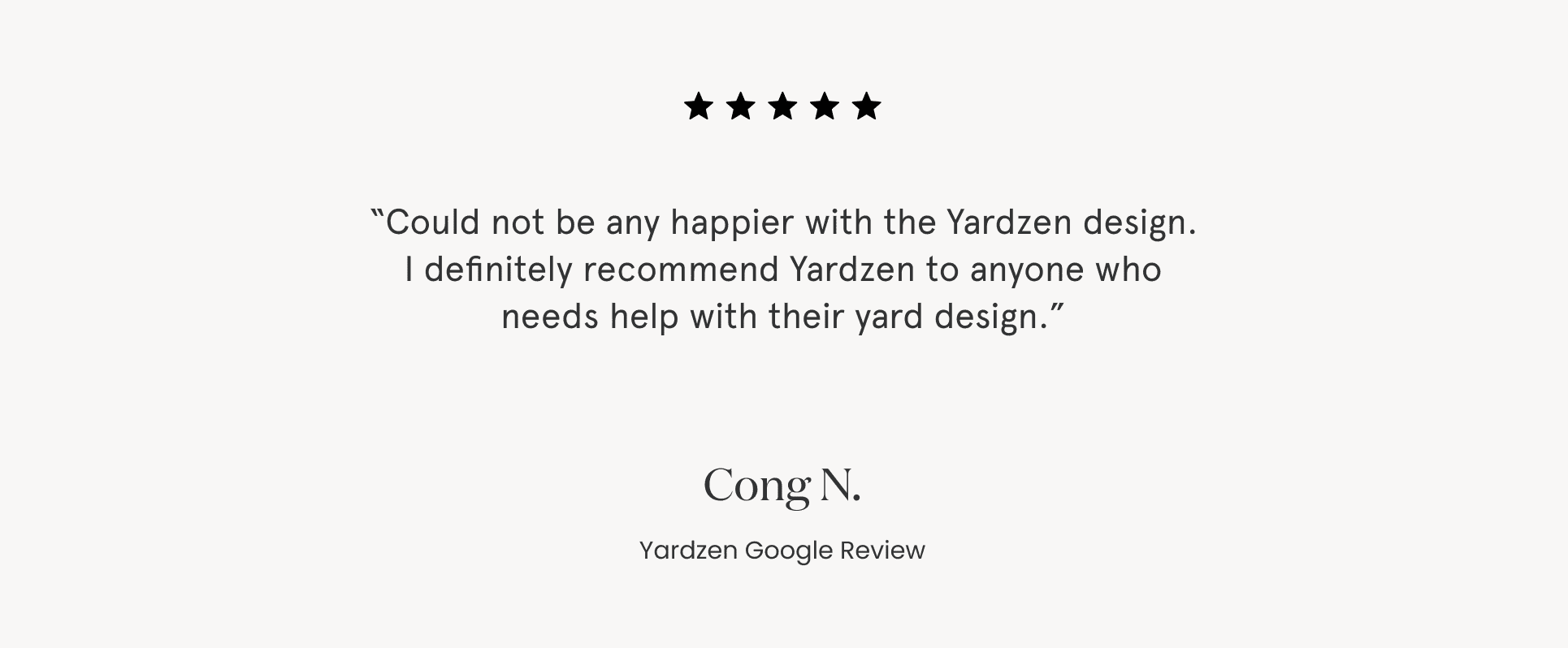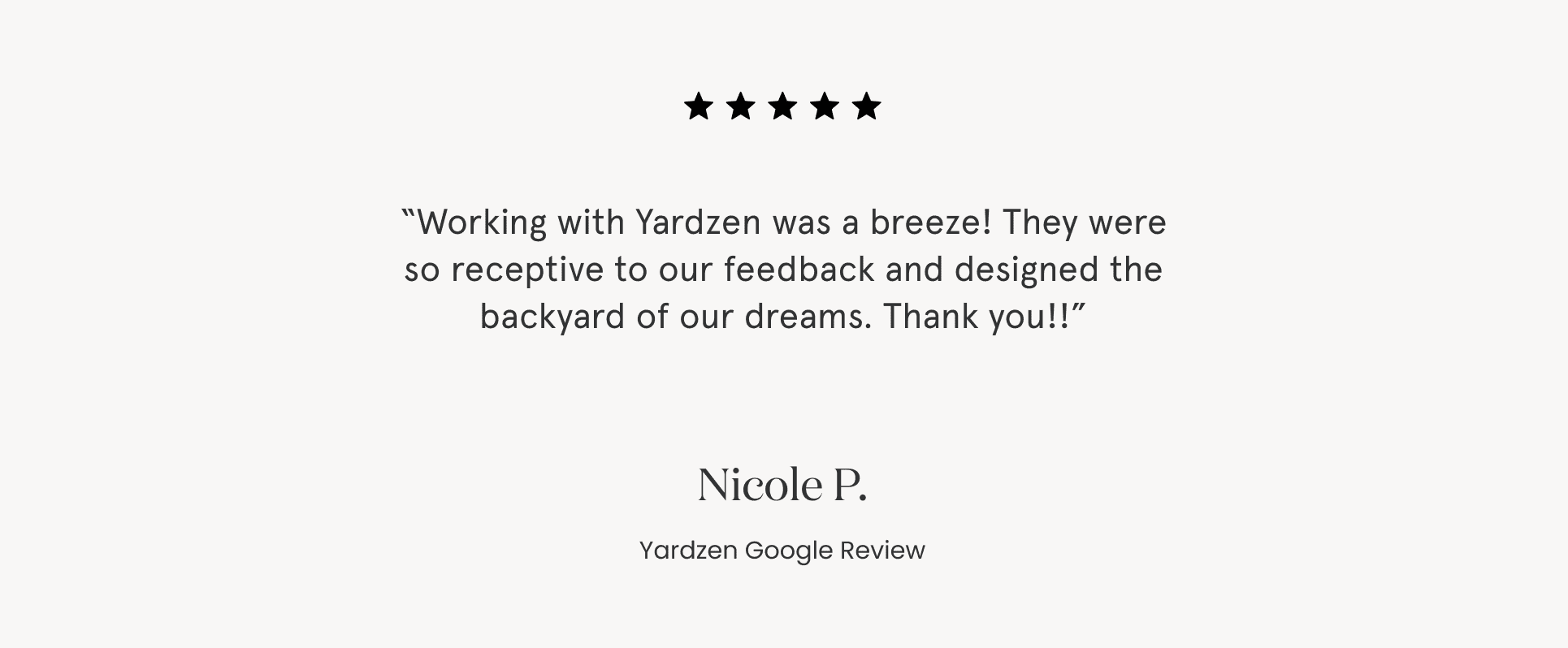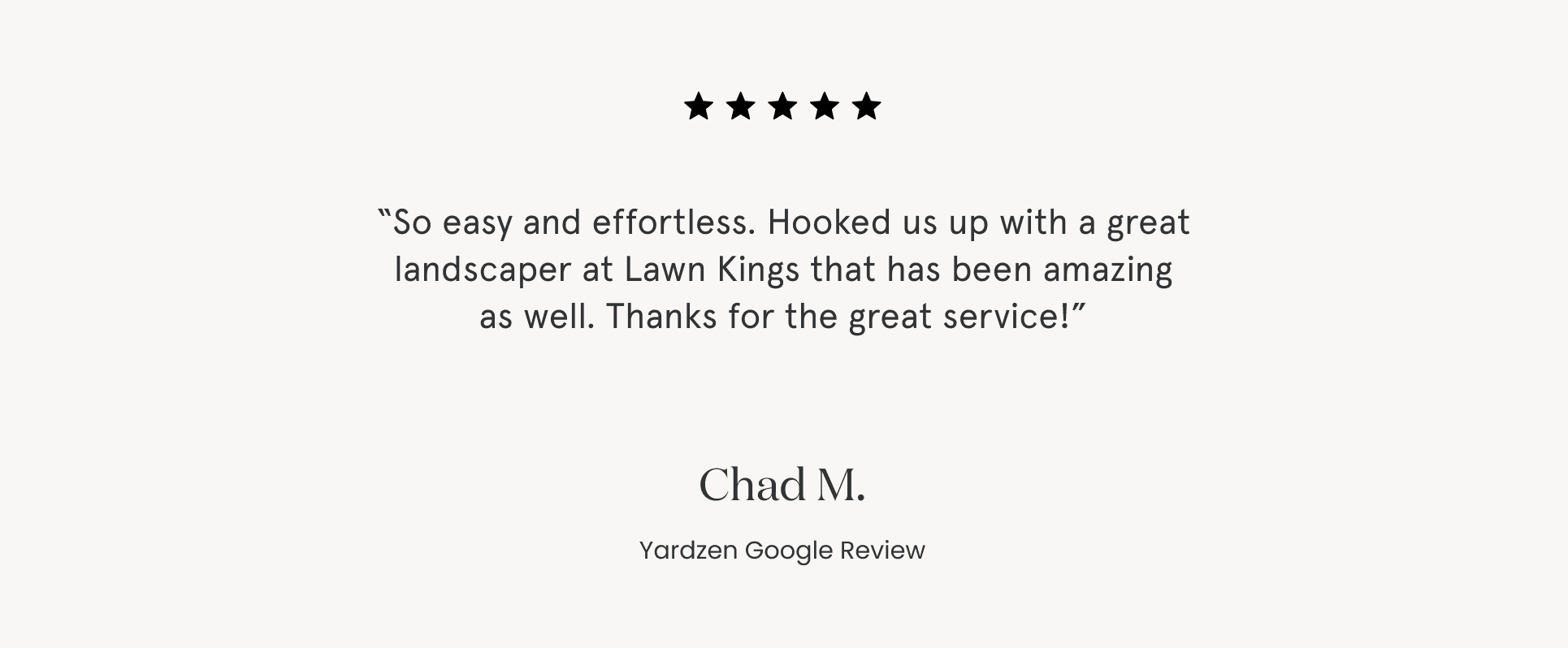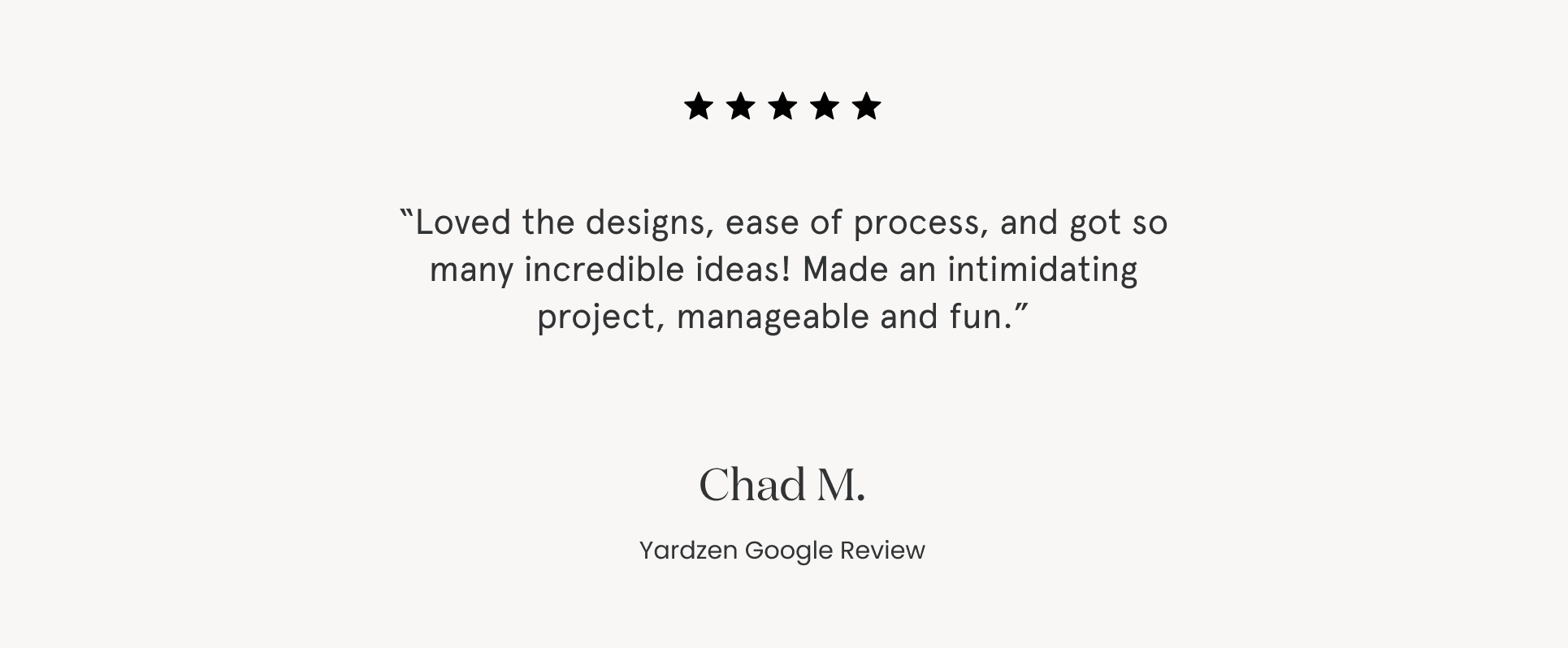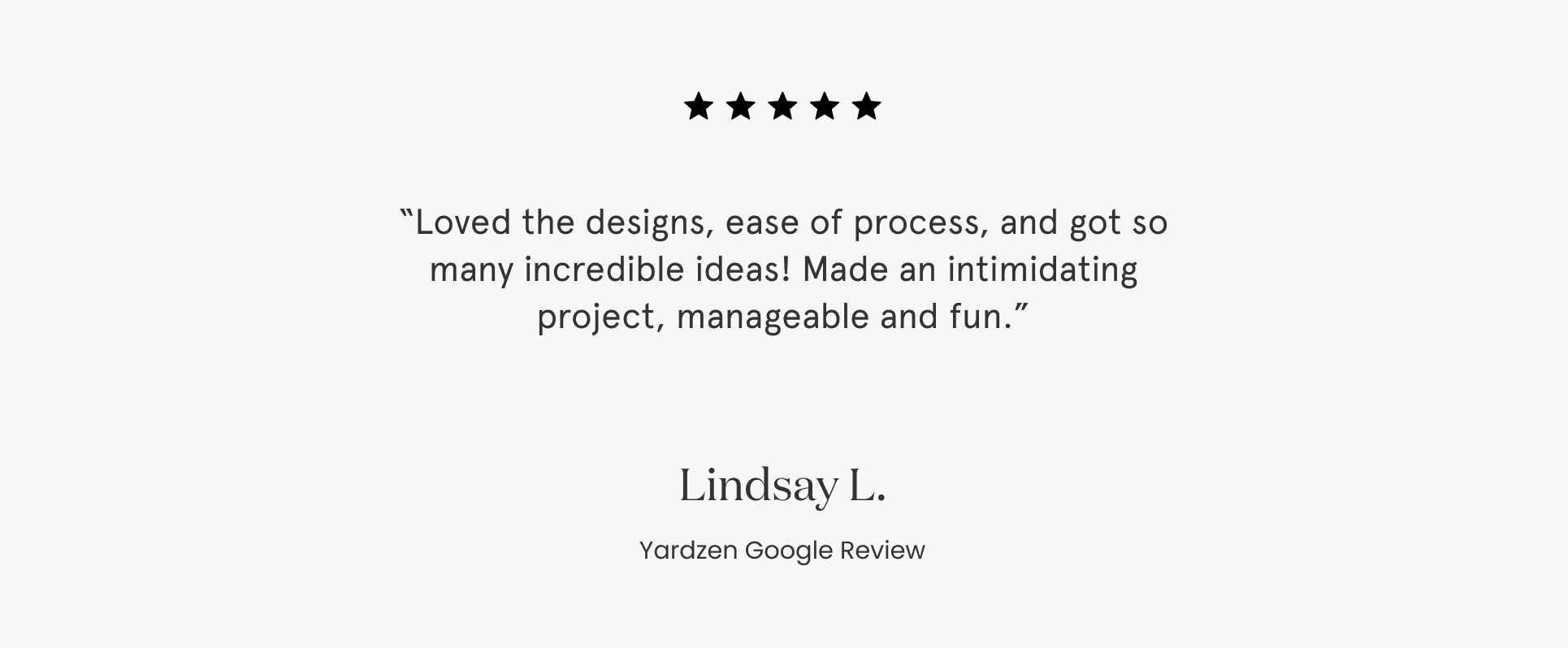 SAN FRANCISCO LANDSCAPING FAQS
What design styles are popular with San Francisco homeowners?
From one San Francisco house to the next, you may find sleek modern designs, formal English hedges, unruly cottage gardens, succulent-heavy xeriscapes, or classic suburban shrubscapes.
As a hub of innovation, it's no surprise that new landscapes often embrace modern styling, be it through monolithic blocks of ornamental grasses, or hardscapes that go heavy on concrete and horizontal wood planks.
Sustainability is also prioritized, both in the prevalent use of native plants, and the even more prevalent commitment to drought tolerant planting.
Not every new San Francisco design looks chicly modern, of course. More than anything, our San Francisco clients want spaces that balance looks with livability, ideally with low maintenance requirements.
What are popular features in San Francisco landscapes?
San Francisco yards get right down to business, looking to efficiently integrate a wide variety of outdoor living resources.
Pergolas are popular, offering shaded outdoor rooms while maintaining an open feel and strong connection to surrounding spaces. Pergolas also work great as infrastructure to mount everything from string lights to rain-proof coverings, to infrared heaters, which are particularly useful in yards that receive limited sunlight.
Outdoor kitchens, dining areas, and flexible lounge zones are extremely popular, as are children's play zones. Strong designs often place these features adjacent to each other, allowing parents to keep an eye on the kids as they enjoy relaxing outdoor time with friends and loved ones.
Dense, tall housing can make privacy a challenge, and privacy solutions, from hedges and trees to overhead coverings, are another common request among our San Francisco clients.
Sloped terrain is also common, leading many residents to seek solutions for creating more usable flat space in their outdoor areas. Solutions to this challenge vary in expense and intensity, from decks and terraces on one end of the spectrum to an emphasis on space efficiency, streamlined programming, and capitalizing on existing flat zones on the other.
Should I use plants native to San Francisco in my landscape?
No matter where you live, native plants are an excellent choice for your landscape. As lovers of the local climate, native plants typically require fewer inputs of water, fertilizer, and maintenance than species introduced from elsewhere. With natives, you can get great plant performance with less expense and fuss.
Native plants also offer unmatched habitat value for local wildlife, and help designed landscapes feel connected to the broader regional landscape.
The climate varies across San Francisco. The best guidance on native species will come from your neighborhood nursery, which will understand these microclimates better than anyone. That said, if you're looking for a few solid natives to get you started, here are a few local favorites:
→ Manzanita
→ Ceanothus
→ California Fuchsia
→ Artemisia
→ Yarrow
→ California Buckwheat
→ Monkeyflower
→ Beach Strawberry
→ Dune Sedge
→ Tufted Hairgrass
→ Toyon
→ Coffeeberry
→ Pacific Wax Myrtle
→ Madrone
→ Coast Live Oak
What are top considerations for San Francisco landscapes?
As a city wrapped in the ocean, San Francisco is frequently cool, windy, and cloudy. Outdoor spaces must prioritize solutions for staying comfortable in chilly conditions, be it by harnessing available sunlight, blocking winds, or providing heat sources like infrared heaters, tower heaters, or even well-styled baskets for blankets. A pop of bright color doesn't hurt either to balance out the gray skies.
Drought affects San Francisco as it does much of California, and planting designs should prioritize water conservation.
With the average yard being fairly small, San Francisco landscape designs must emphasize space efficiency. This means minimizing barriers to circulation, promoting long sightlines to expand the perceived sense of space, and designing flexible spaces that can easily adapt to accommodate a broad range of functions and different numbers of people.
Compact yards also require designs to cut back on clutter, instead emphasizing fewer, more impactful gestures. This applies to both planting a hardscape design.
Sloped terrain leads many homeowners to request terraces or decks in hopes of creating more usable space in their yards. While this is an option, it is cost-intensive, particularly when access is unavailable for earth-moving machinery. Best practices recommend limiting earth-moving and capitalizing on existing flat spaces, but each project is different, and every site offers different opportunities. If you are looking to create more usable space, let your designer know and they'll develop a solution that works for your goals and your budget.
When should I start my landscaping project?
Now! Any time of year is great to begin work on a landscape project.
When possible, we suggest utilizing the winter to work through the design phase – this sets you up to get on contractors' books early in the build season, so you can have your design installed and ready to enjoy in time for summer.
If winter has passed, don't worry, it's never too late in the year to begin work on a landscape design project.
Backyard design for a Yardzen client in San Francisco, CA
"Highly suggest Yardzen. The online process made everything super easy and efficient. Thank you to the entire Yardzen team."
Shannon M., Yardzen client
Yardzen creates landscape designs for properties in and around San Francisco:
Barbary Coast, Castro District, Chinatown, Civic Center, Financial District, Fisherman's Wharf, Haight-Ashbury, Mission District, Nob Hill, North Beach, Potrero Hill, Richmond District, Russian Hill, South of Market, Sunset District, Tenderloin, Treasure Island, Union Square, Western Addition, East Bay, North Bay, South Bay, and Peninsula
Explore other California landscape designs by Yardzen
Huntington Beach, Los Angeles, Mill Valley, Napa, Oakland, Palo Alto, Sacramento, San Diego, San Jose, Thousand Oaks, and Ventura