Landscape design & build for Austin
Yardzen designs everywhere in the U.S. and the Austin area is one of our favorites. Austin grew explosively in the past decade, and we understand why.
EXPLORE DESIGN PACKAGES
Outdoor Living
Nestled in Texas's gorgeous hill country, Austin offers both charming residential neighborhoods and modern urban allure, all seasoned with the city's famed quirky culture. Despite heat that is no joke, people adore the outdoors in Austin, and aren't afraid to sweat in the name of being outside – spend any time along Town Lake, with its legions of paddle boarders and trail runners, and you'll see what we mean.
Terrain & Climate
Luckily, swimming holes (there are hundreds within an hour or so of the city) and an abundant urban forest of native oaks and cedar elms are available to offer some respite from the heat, not to mention a charming and unique landscape identity that makes Austin feel unlike anywhere else. Landscape designs in Austin shine when they merge this hill country character with the city's modern feel, incorporating native plants and affordable, earthy materials like stone into crisp, elegant spaces that merge the indoor with the outdoor.
Design & Build
Whatever your landscape vision may be, Yardzen is ready to make it a reality, working with you to craft a landscape design that achieves the look, feel, and function you are dreaming of, then connecting you with a vetted contractor from Yardzen's Pro Network to get your design built.
TRUSTED BY THE EXPERTS


AUSTIN, TX LANDSCAPE DESIGN IDEAS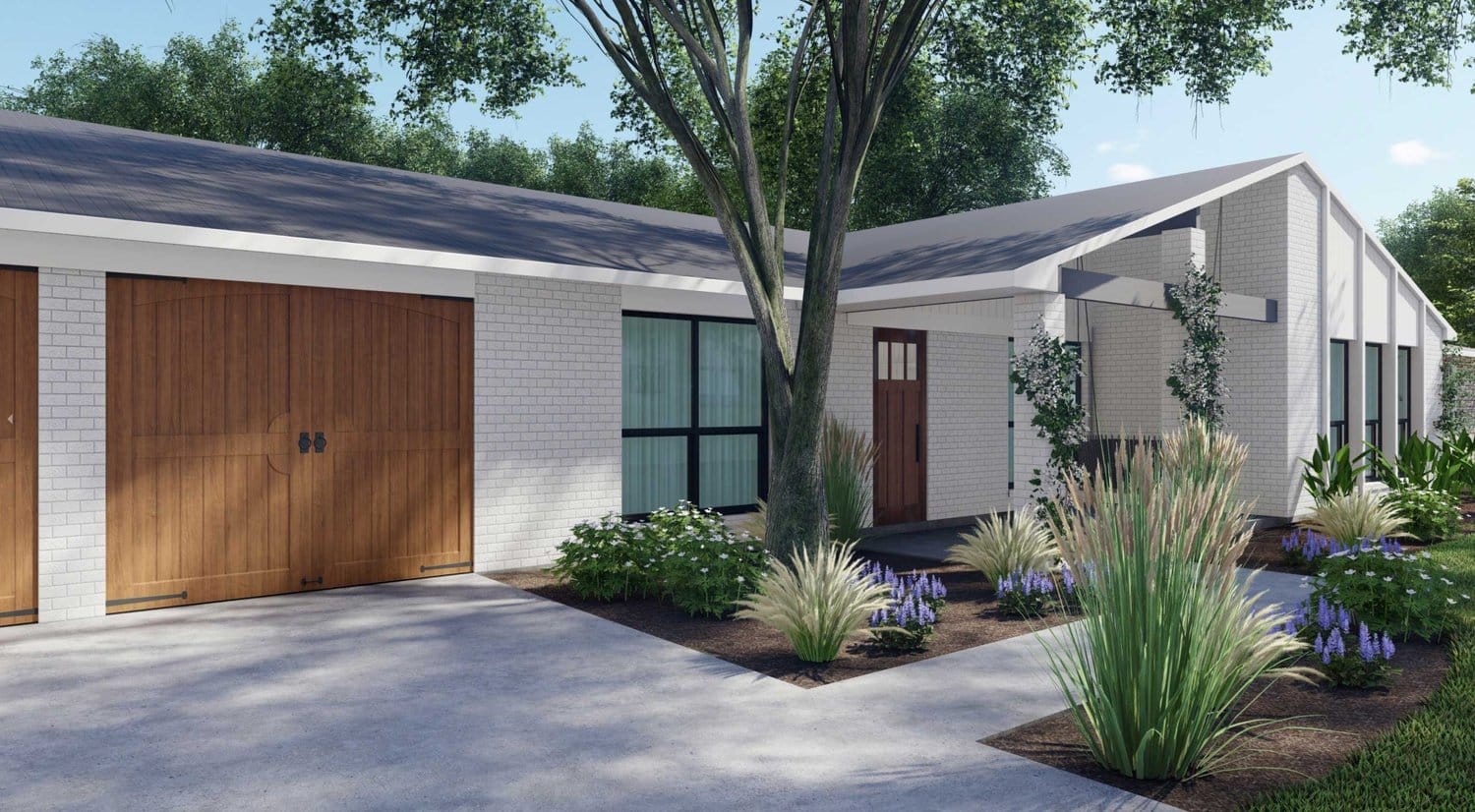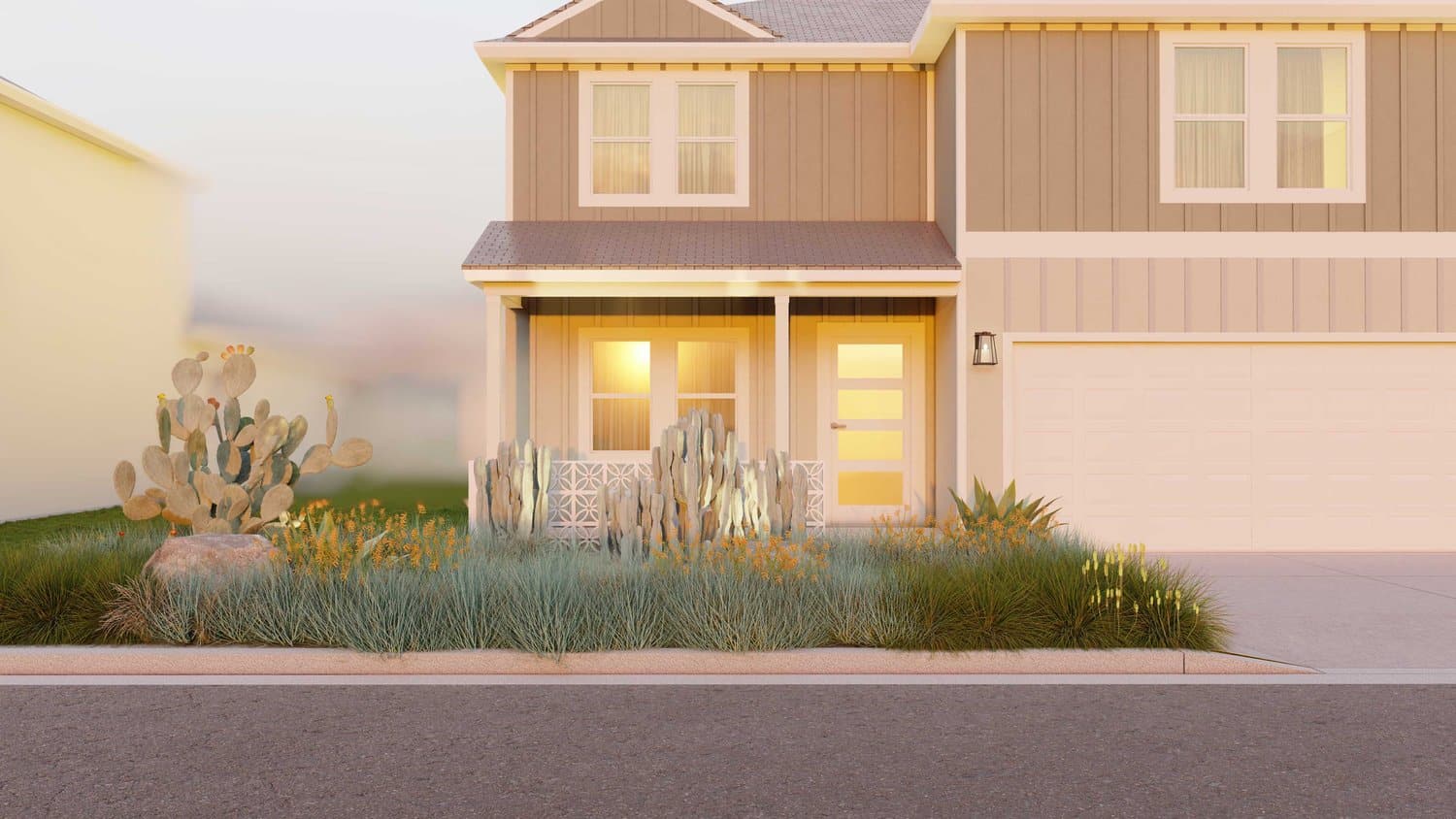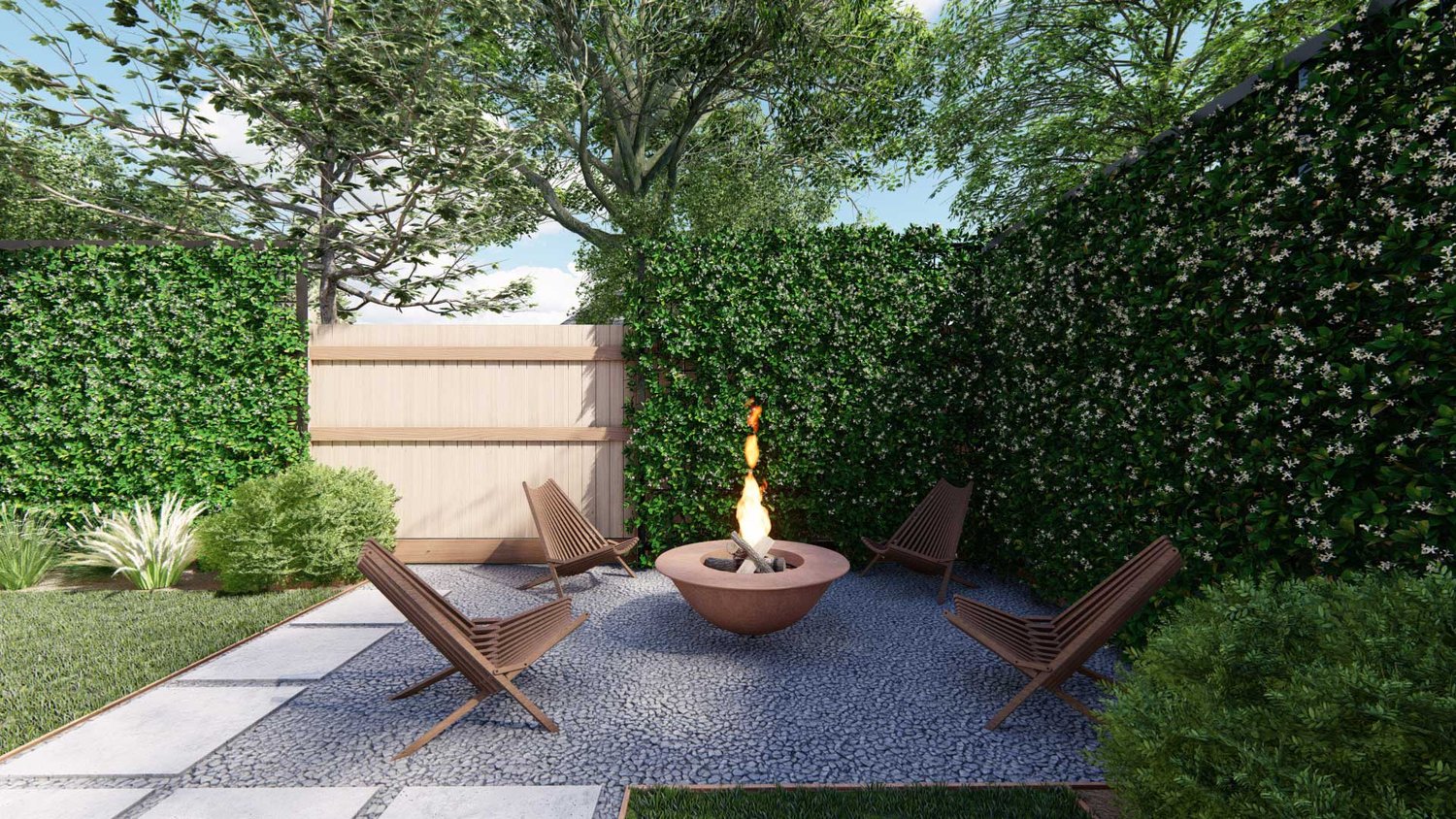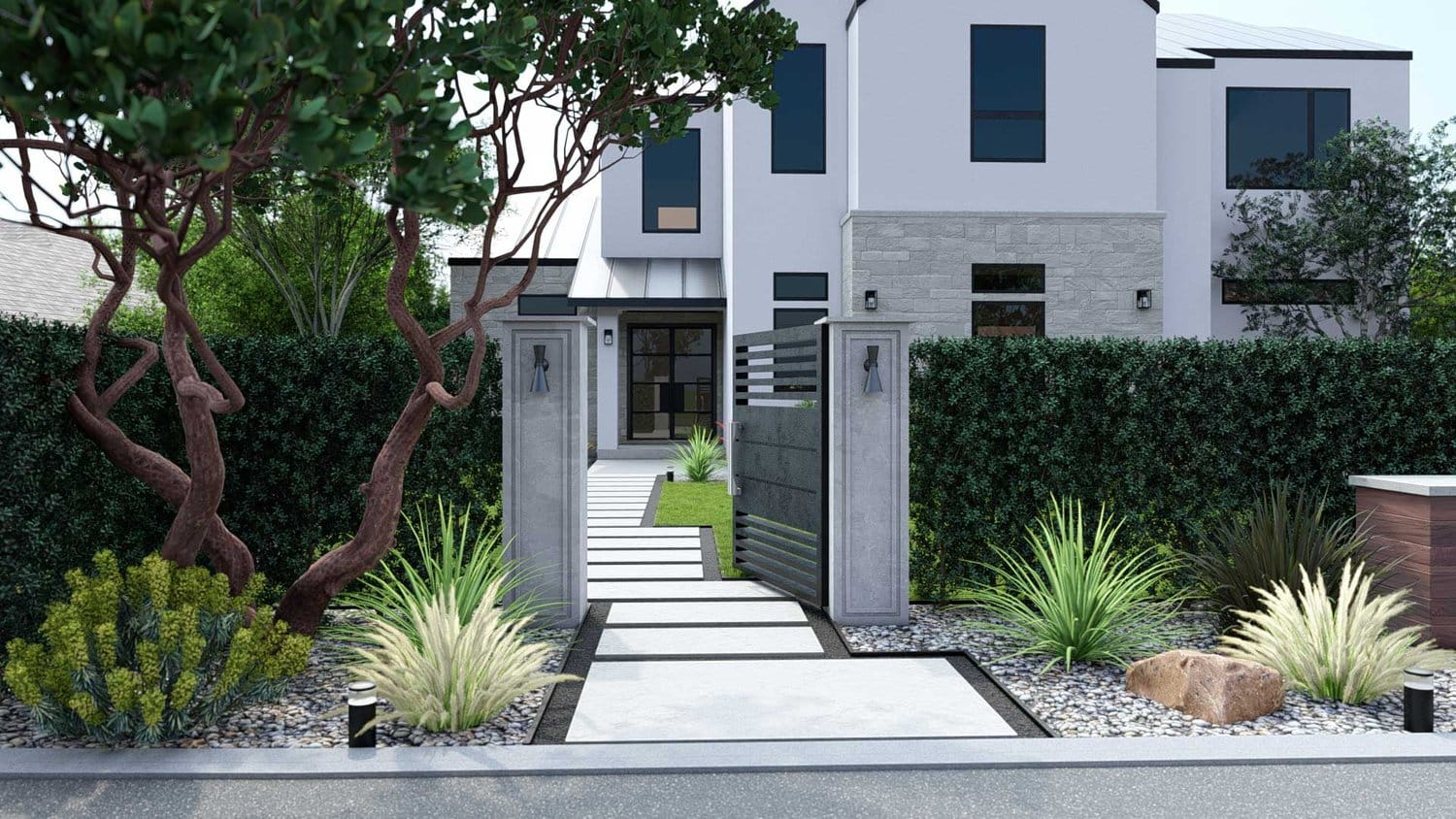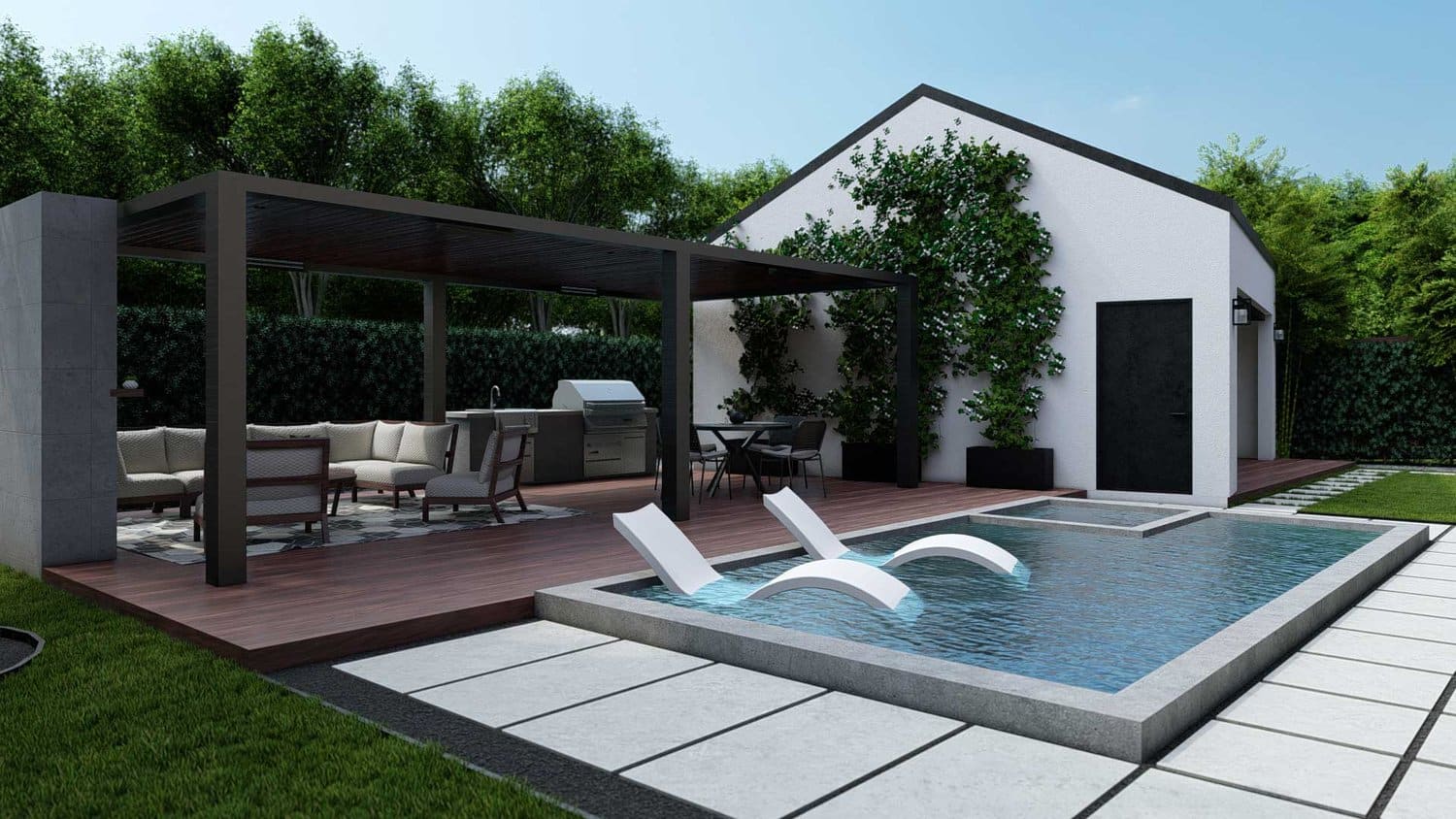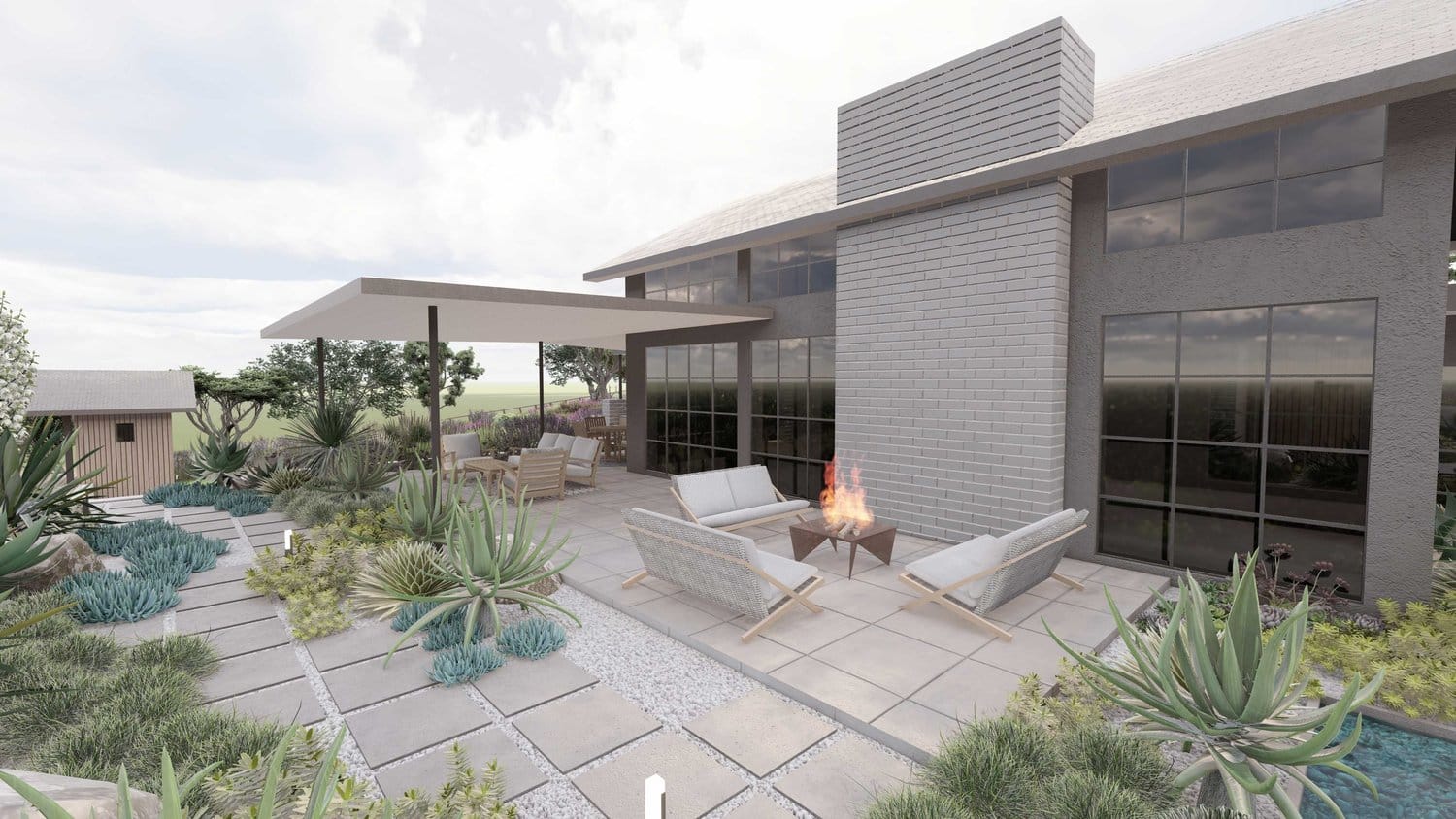 POPULAR AMENITIES IN AUSTIN YARDS
Simple and thorough online process
Take a style quiz, share videos and photos of your existing outdoor space, and learn about the costs in our Yard Builder™ tool. Our design team will help you at every step of the process.
GET STARTED >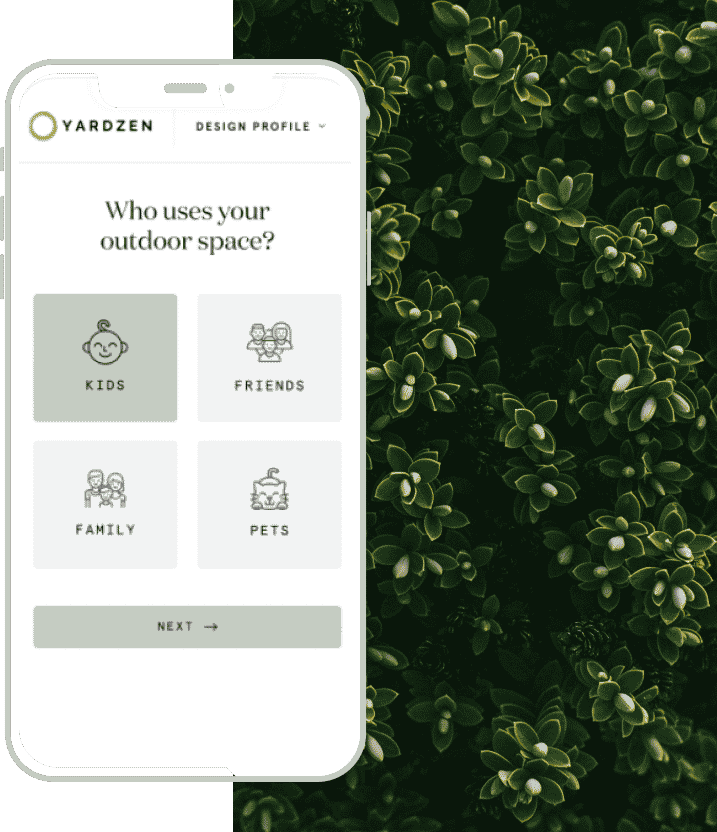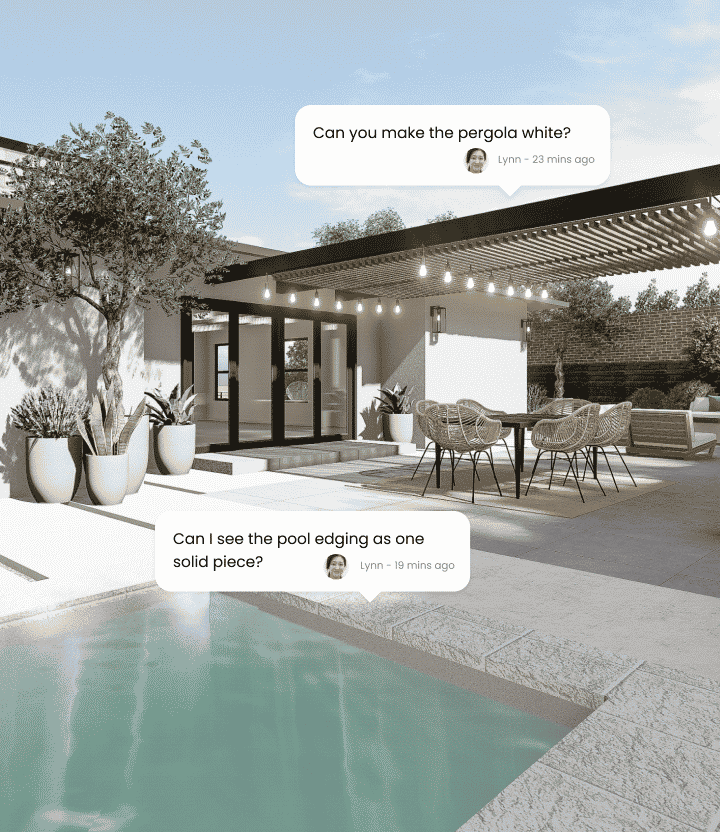 The easiest path to a final design you'll love
Review your first design in our online Feedback Studio. You'll be able to share feedback before we start incorporating your changes. A live design review call is also available to help get your project ready for installation.
GET STARTED >
Built by someone you (and Yardzen) trusts
We'll translate your 3D design concepts into a detailed CAD plan that's ready to install. Next, we'll connect you to a vetted, Austin area landscape contractor who can bring your dream yard to life.
GET STARTED >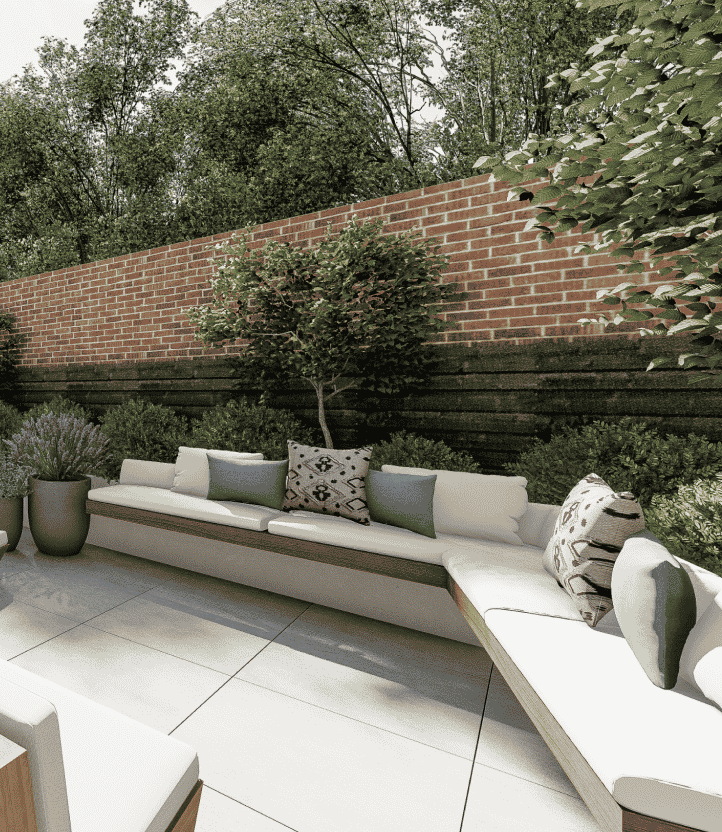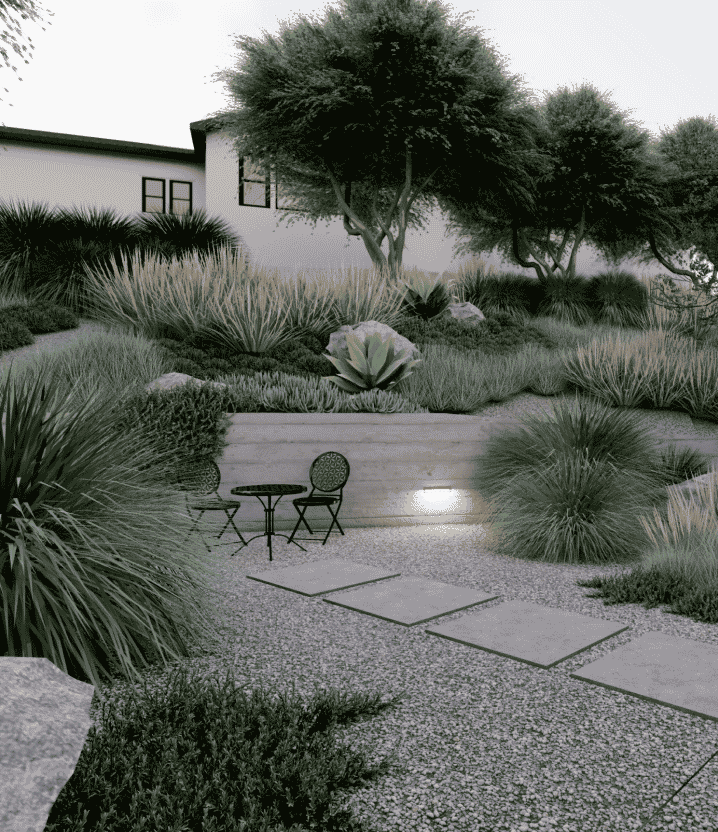 Custom designs for your unique outdoor space
We've built a database of plants, trees, and groundcovers that match to Austin's planting zones, sun/shade/water requirements, aesthetic, and essential features like native plants. Using satellite and aerial imagery, coupled with your photo, video, and factoring in your details, we can create the outdoor space of your dreams.
GET STARTED >
WHICH YARDZEN PACKAGE IS RIGHT FOR YOU?
Take our YardBuilder quiz to find out.
GET STARTED

1. Tell us about your unique outdoor space

2. Answer a few questions about your dream yard

3. Get a personalized design package recommendation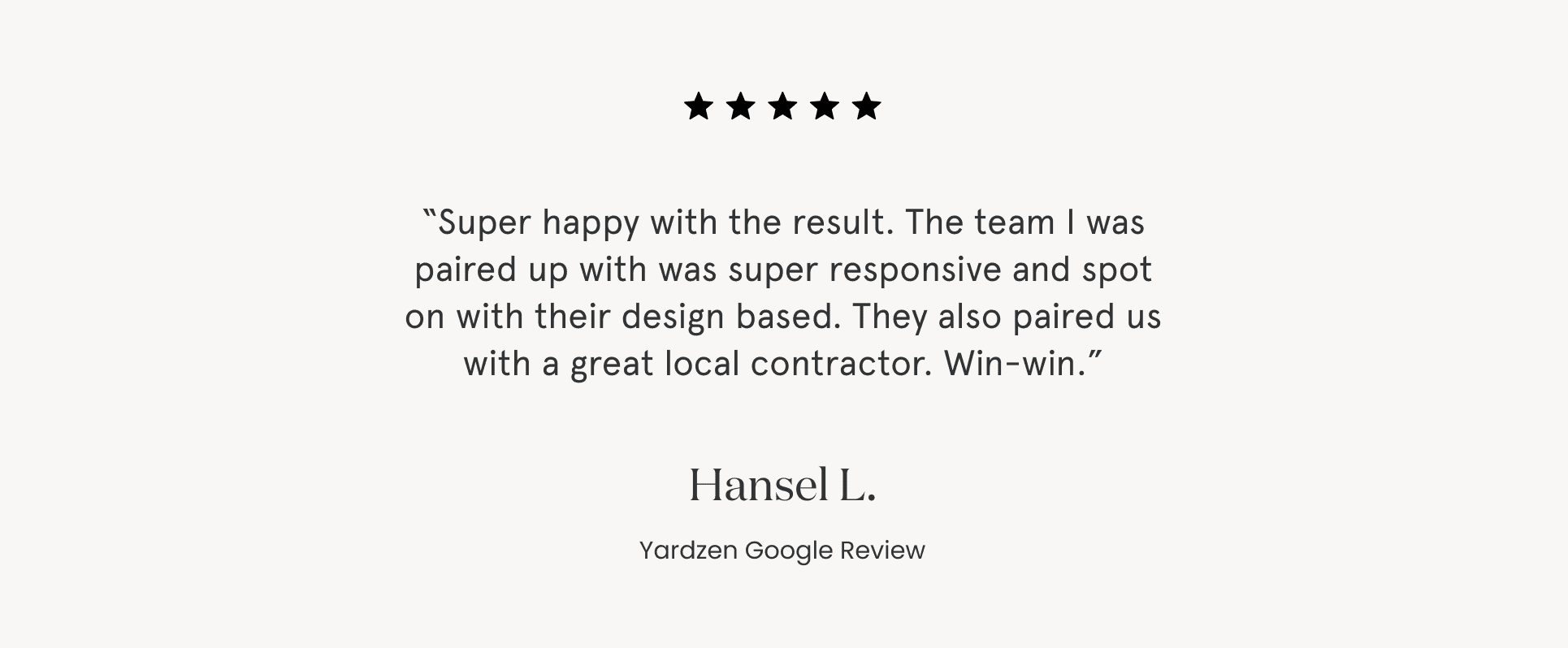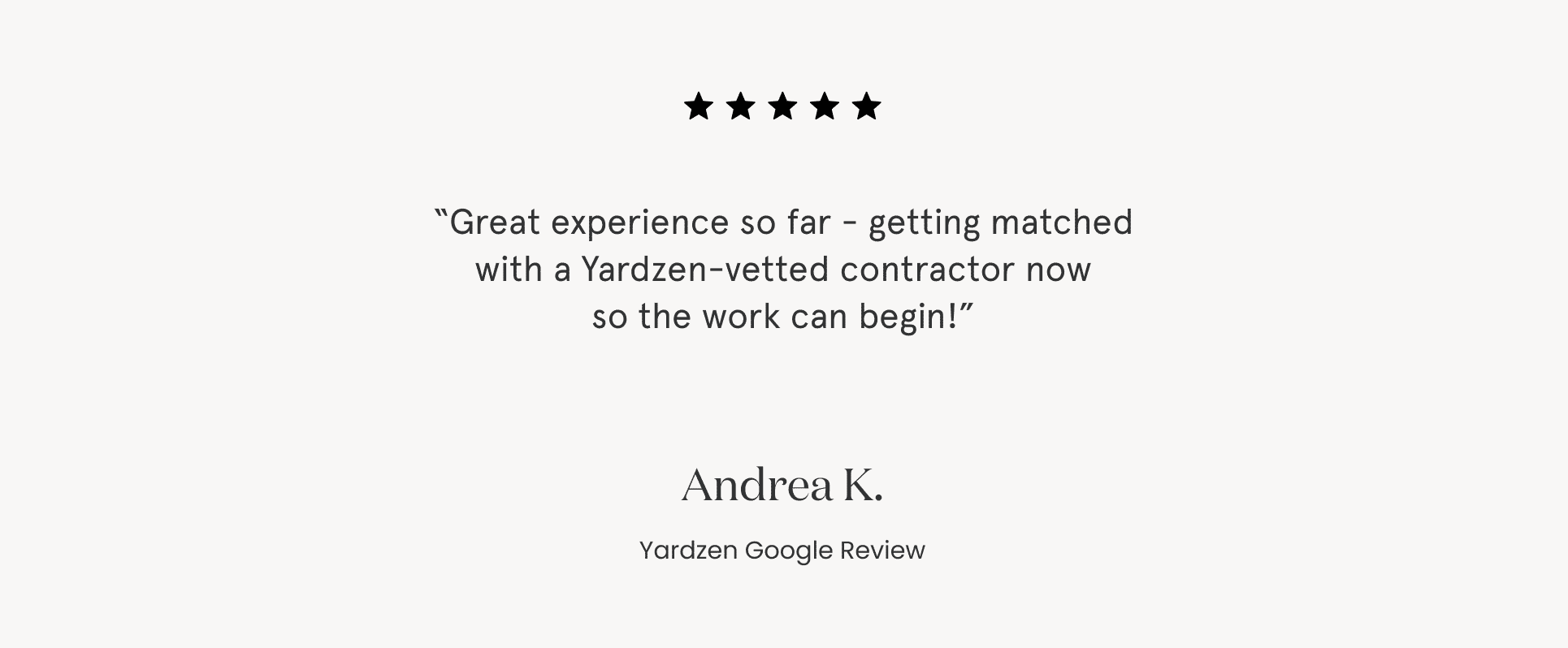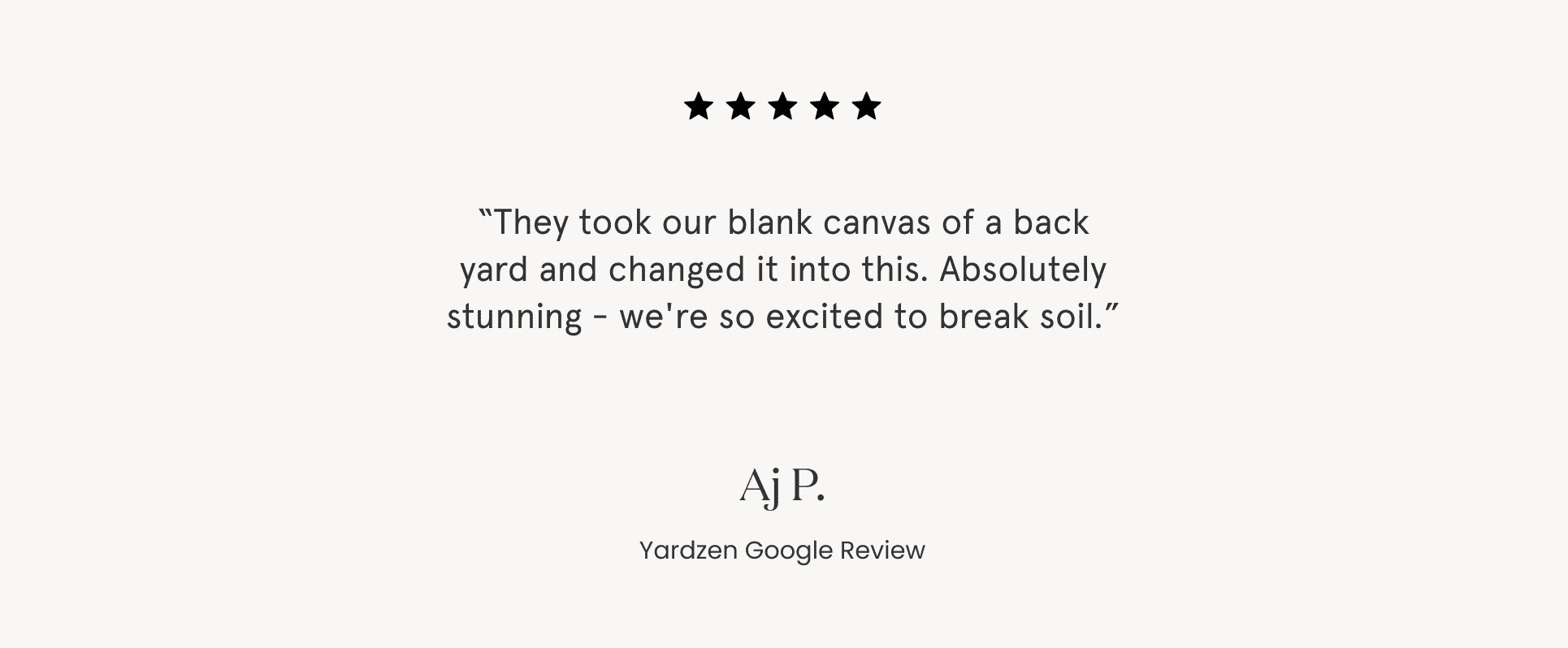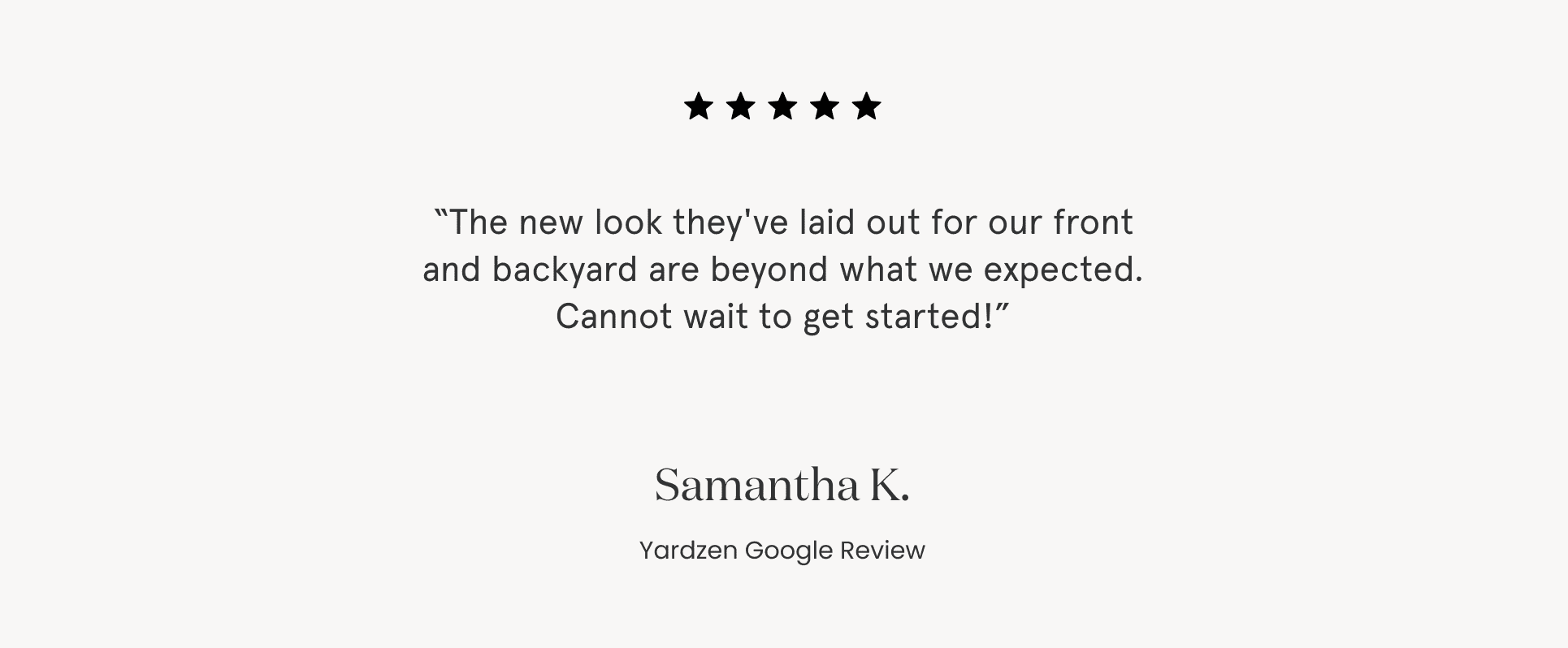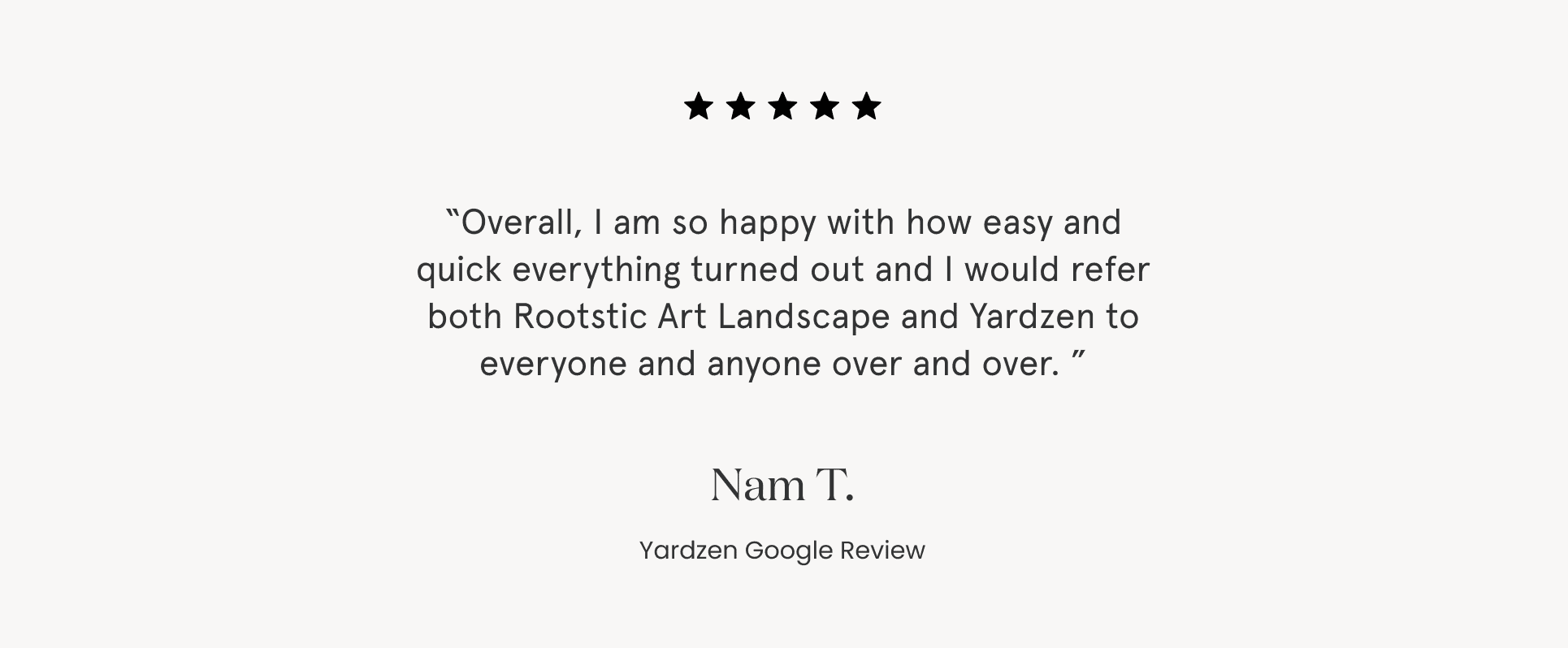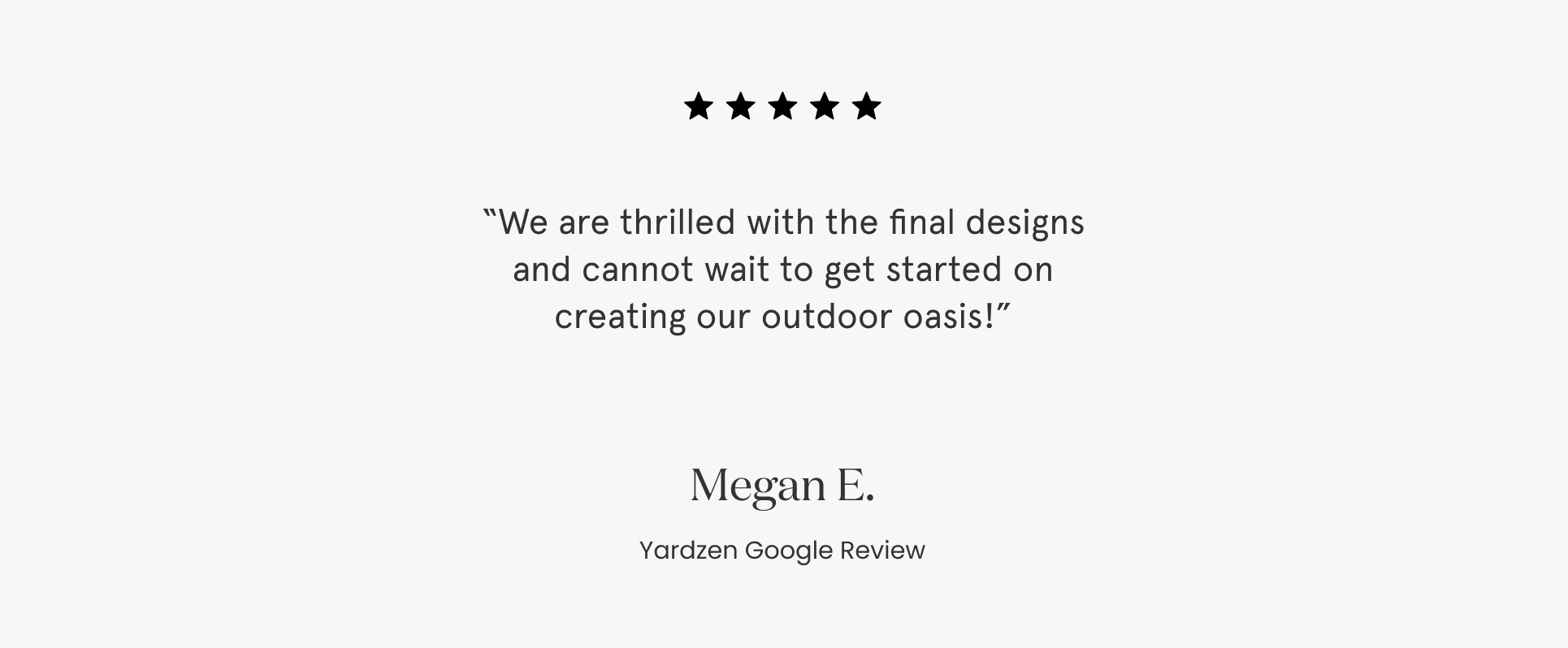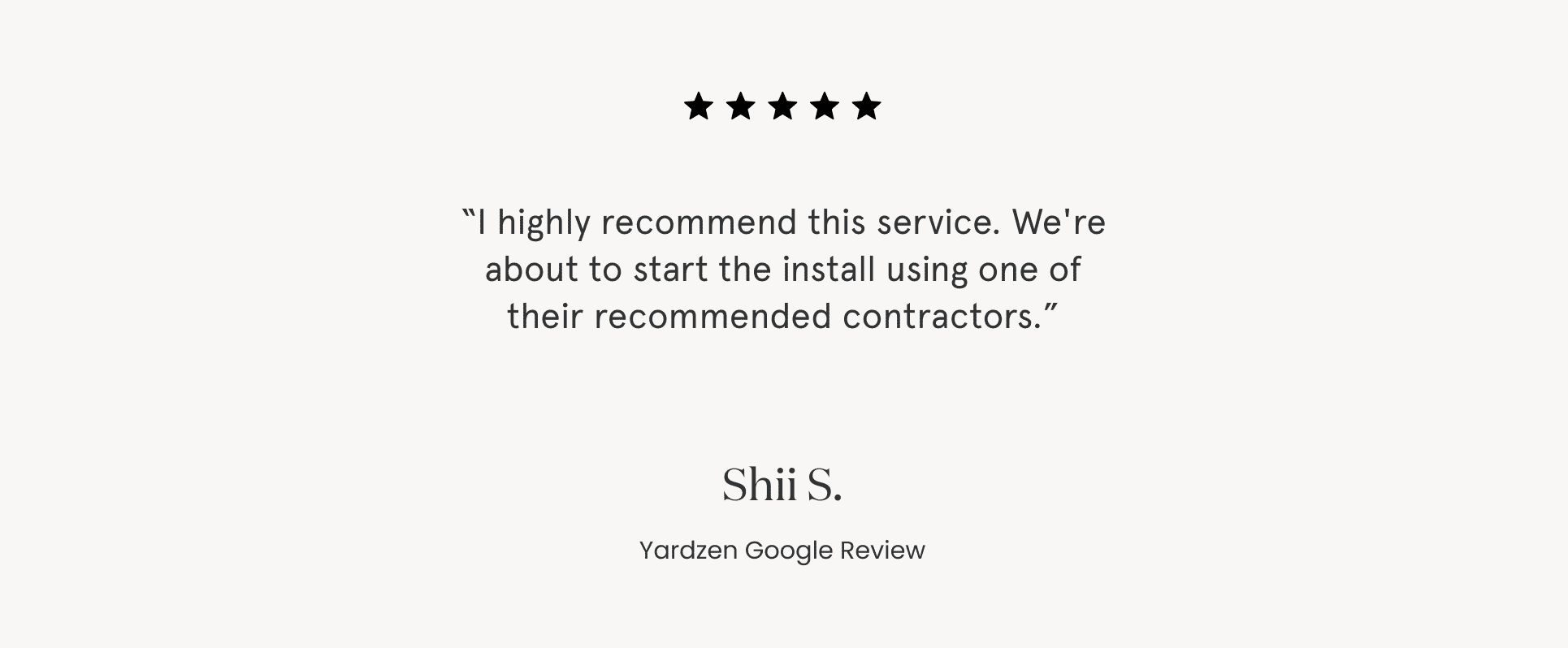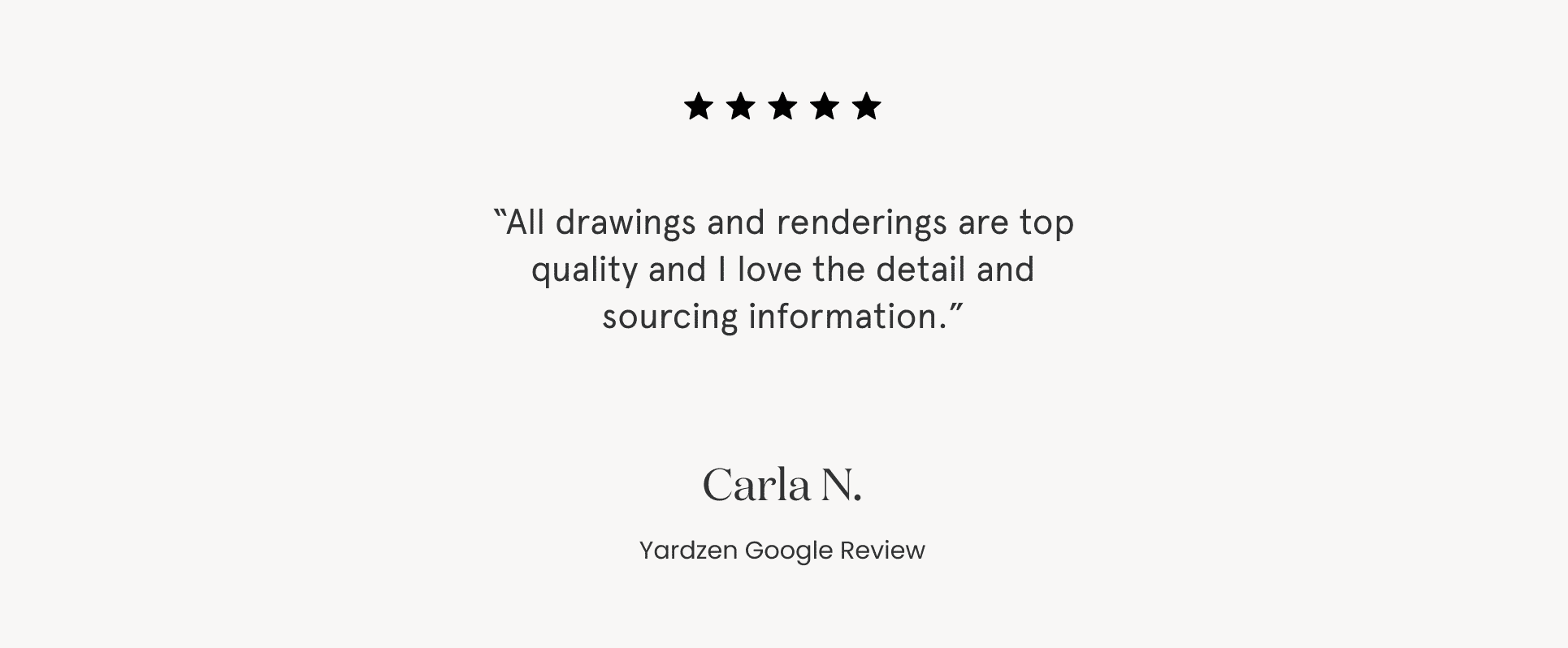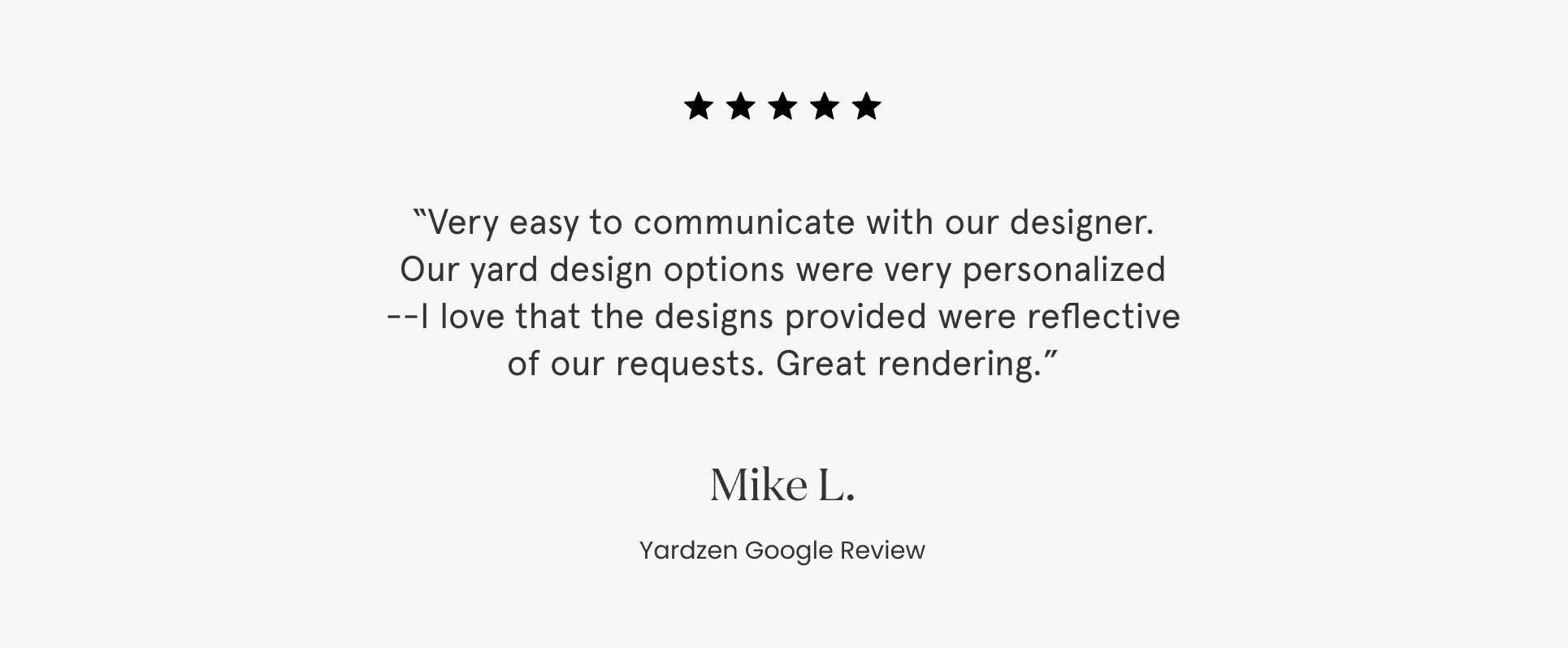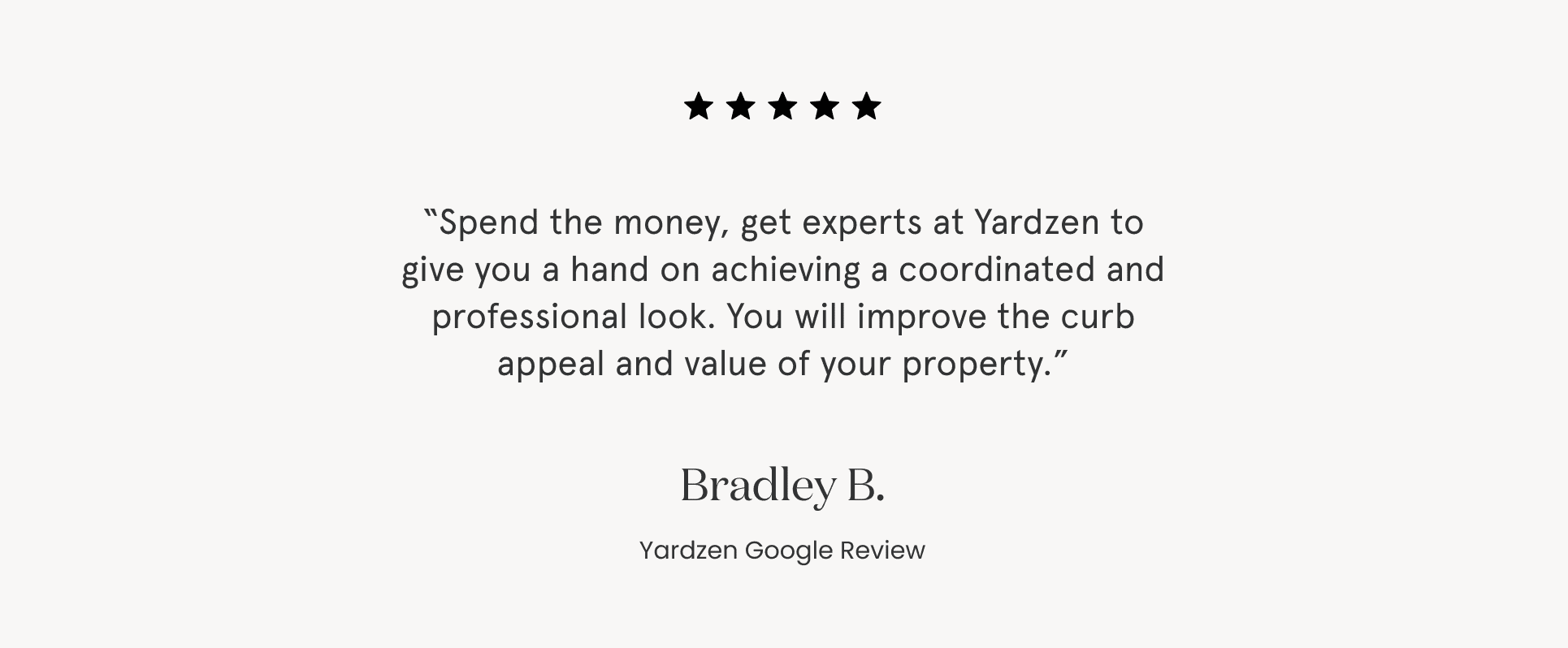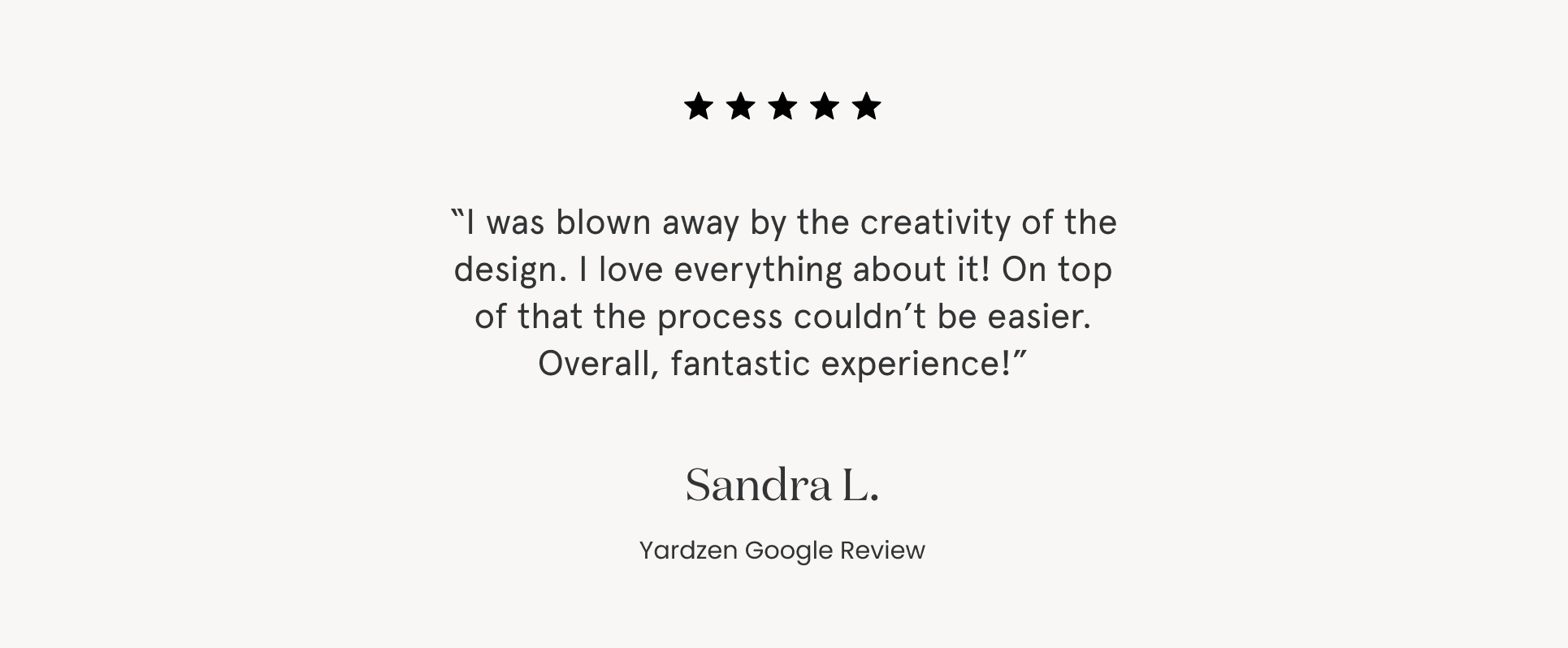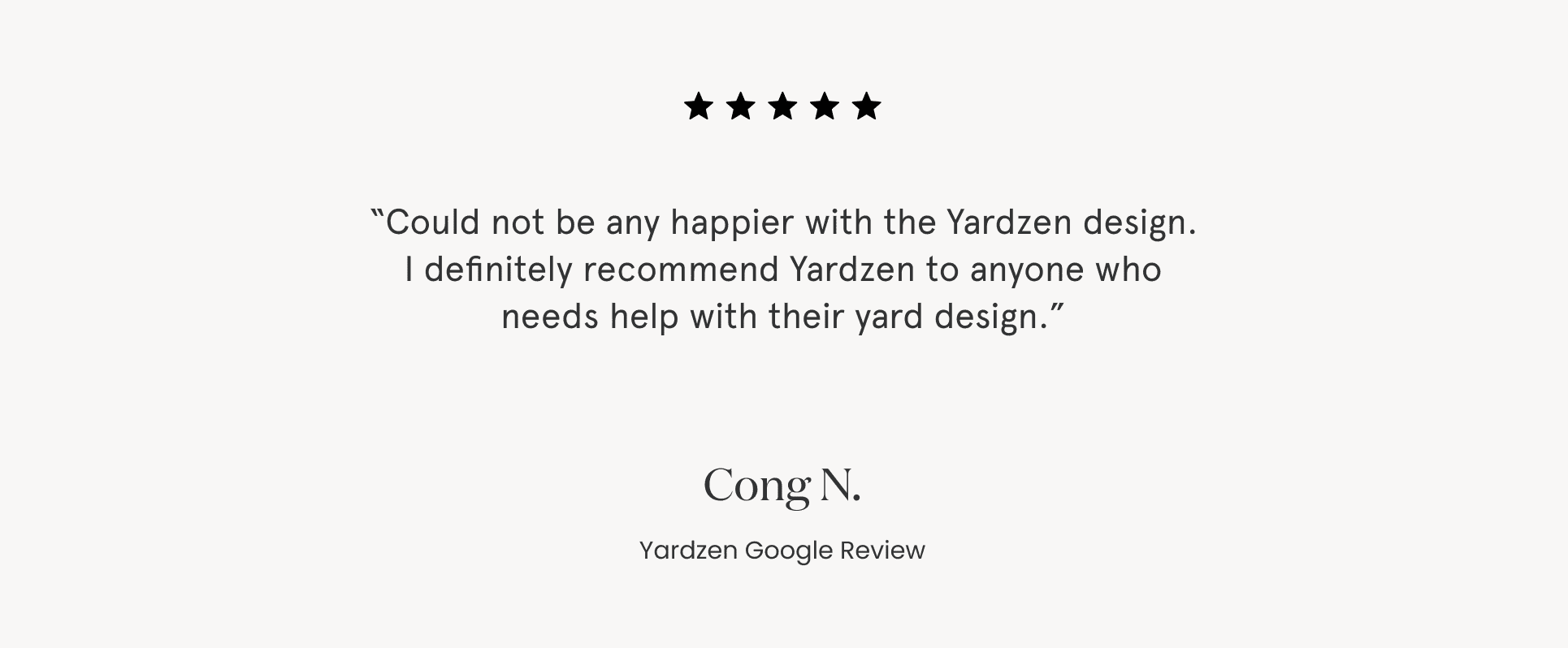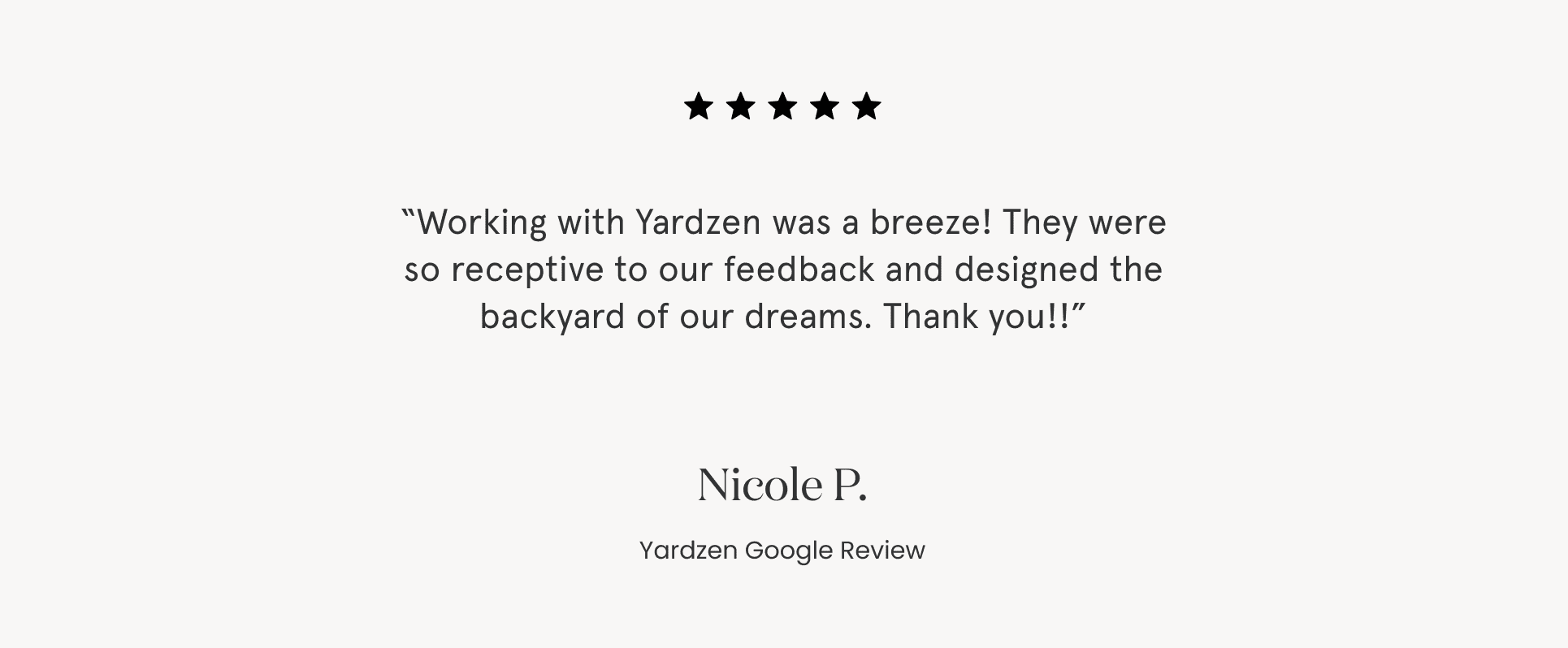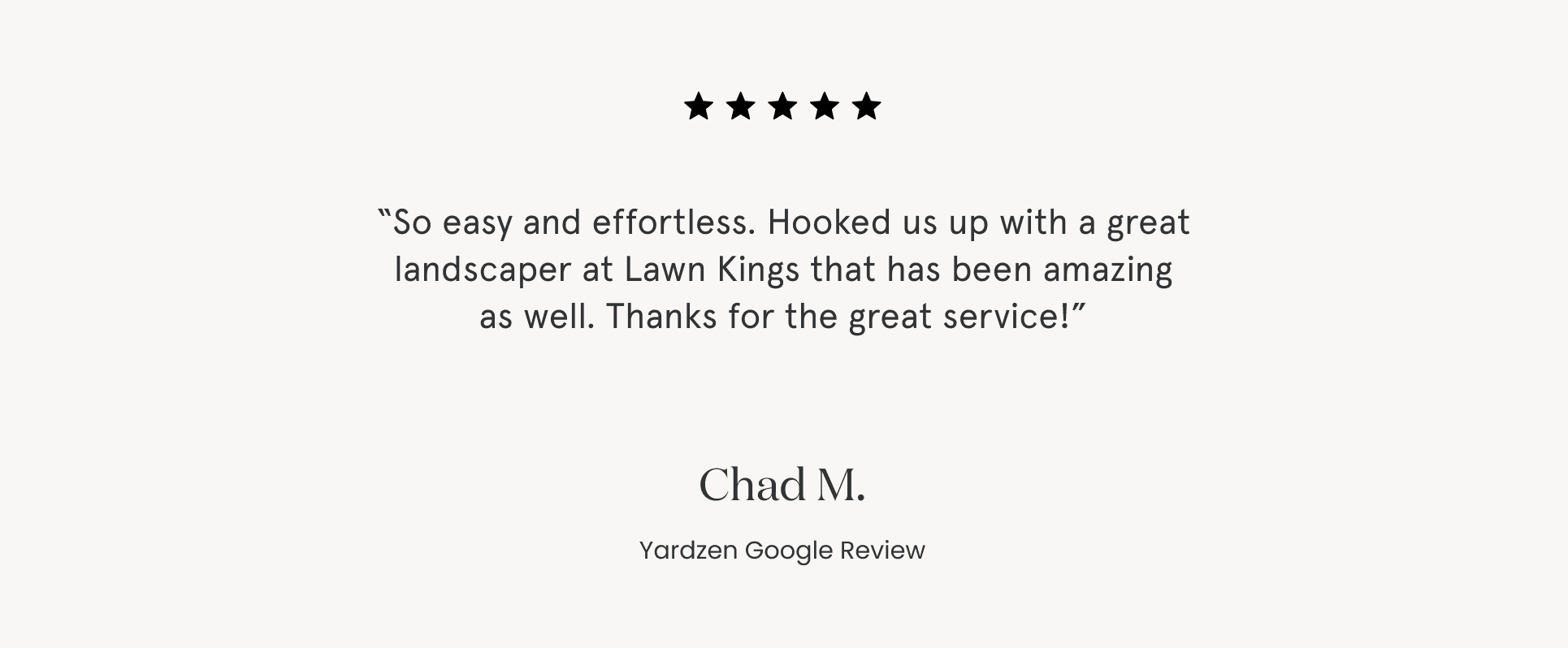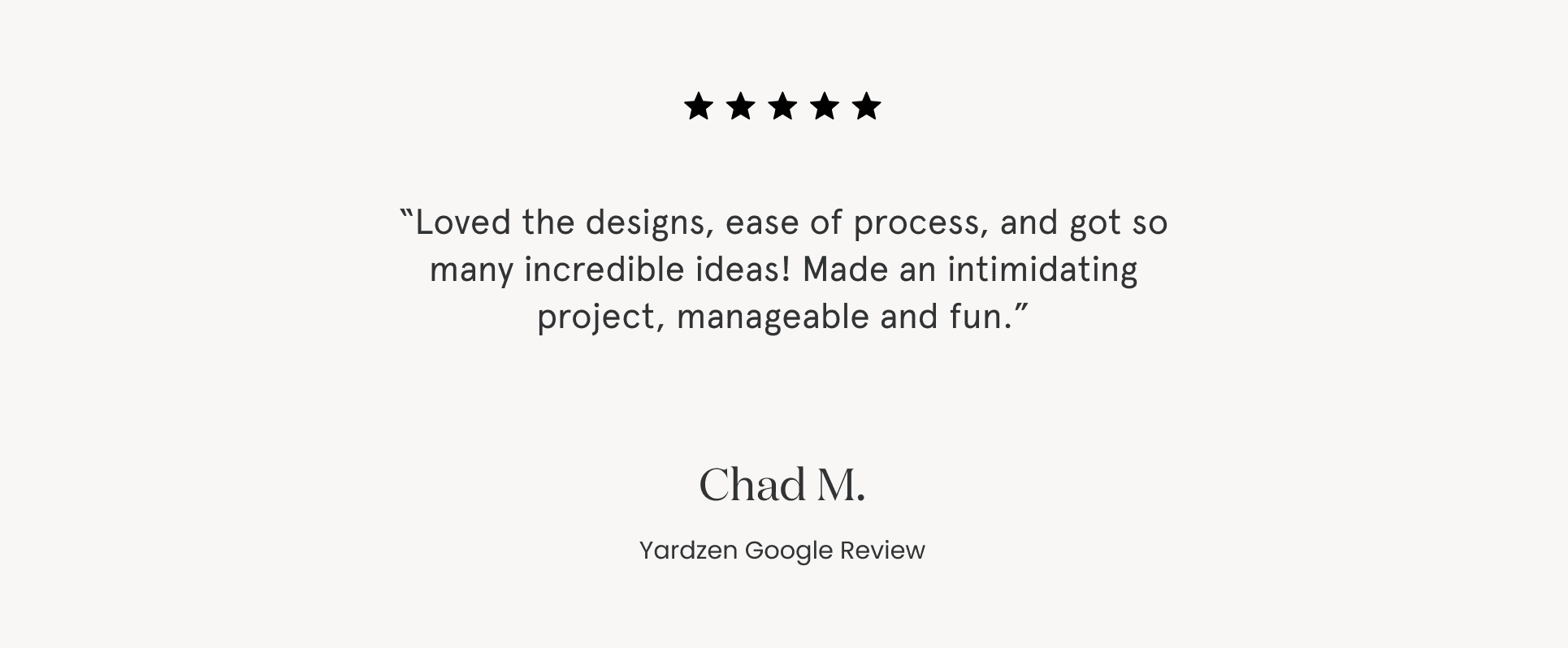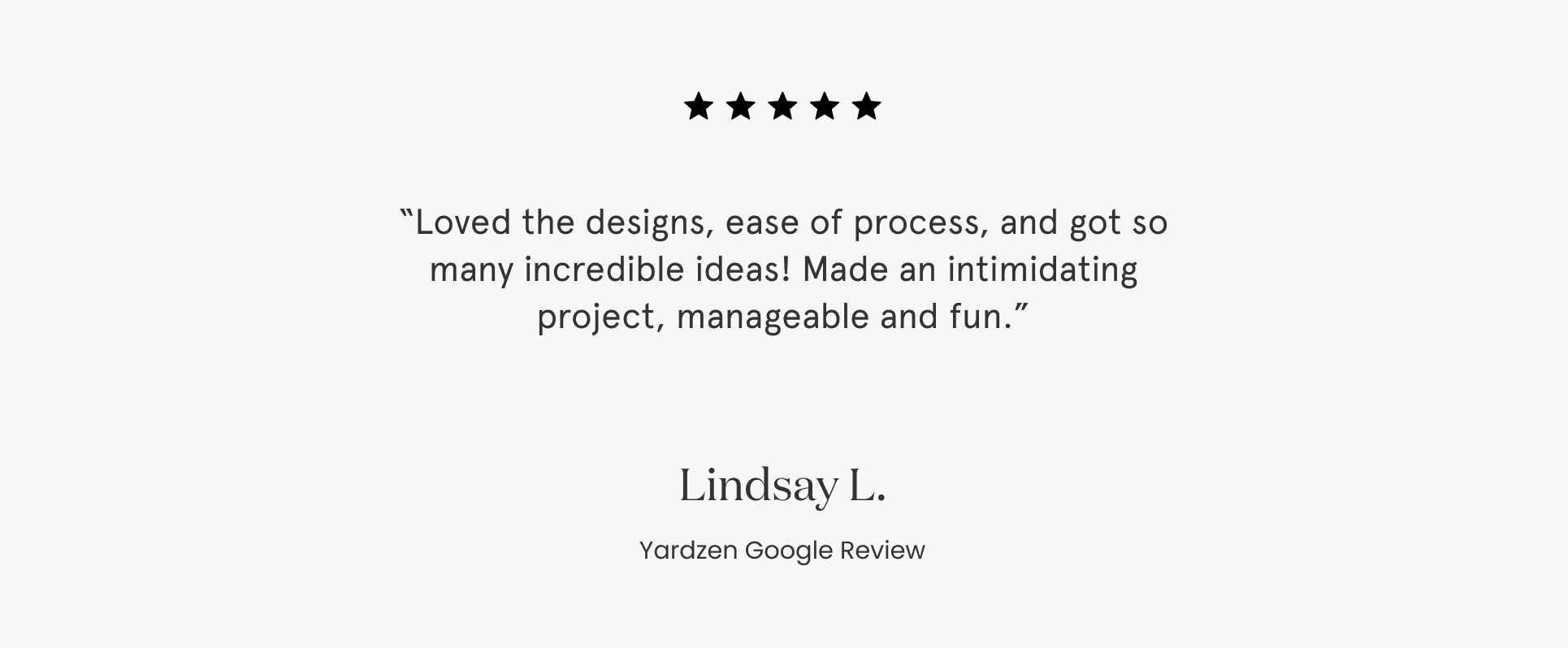 AUSTIN LANDSCAPING FAQS
What are popular features of Austin landscapes?
Home prices may be on the rise, but getting the "Austin look" in your landscape can still be affordable to achieve, thanks in part to a local taste for simple materials like gravel, stone, or decomposed granite, as well as a penchant for uncrowded, modern designs. Corten steel, while more expensive, is another popular material that sits handsomely within the regional landscape color palette.
Native and climate adapted plants are used widely to accommodate Austin's hot and often dry climate. A popular palette includes native ornamental grasses like little bluestem and sideoats grama, sculptural succulents like Agave, and pockets of Texas's trademark wildflowers (bluebonnets, scarlet paintbrush, black-eyed Susans…) for a pop of color.
Water features, a classic landscape element in hot climates, are also prominent in Austin designs. Even in small yards, water features tend to find a way into the mix, from prefab fountains to compact stock tank pools tucked discreetly into corners.
Want to see what we're talking about? Head over to our blog for Texas landscape inspiration and some of our favorite Texas designs, as well as a look at this modern renovation of a hill country backyard.
What are top considerations for Austin landscapes?
Water scarcity is a factor in Austin. We strongly recommend native or climate adapted plants with low water requirements and good drought tolerance.
Counterintuitively, heavy rain is also common in Austin. Planting, especially spreading groundcovers and large canopy trees, can help stabilize soil and reduce the erosion, pollution, and flooding that results from intense rainfall.
Austin's oaks are protected by law, and landscape designs commonly must work around large trees sprouting up in the middle of yards. While this can constrain some design options, we love oaks, and look at them as an asset – there's always a way to work with them!
Landscape trees can also be called upon to provide shade, both over outdoor spaces and houses. Trees can generate significant reductions in home energy use by shading homes from incoming sunlight.
What is Austin's planting zone and what plants thrive there?
Austin falls into USDA zones 8 and 9. It can get cold in the winter, but hot summers are the defining feature of the local climate. Native plants have adapted to thrive in this climate, but plants from the Mediterranean and similar dry-summer climates like Australia and South Africa often perform well in the region.
Should I use plants native to austin in my landscape?
Native plants have a ton to offer.
Ecologically, they are the champions of habitat, and do more to support biodiversity than any non-native species ever could.
Having evolved to thrive in the local climate, they tend to require little if any additional irrigation or fertilizer, making them both low water and low maintenance.
Lastly, being a part of the regional plant community, native plants look "at home", and do much to express regional character when developing a landscape design.
Austin is lucky to have many amazing native plants to choose from, not to mention a world class institution in the Lady Bird Johnson Wildflower Center, which offers incredible guidance to help you determine which natives may be best for your yard.
Looking for some quick tips? Here are a few of favorite plants native to the Austin region:
→ Little bluestem
→ Sideoats grama
→ Black-eyed Susan
→ Red yucca
→ Desert willow
→ Texas sage
→ Autumn sage
→ Dichondra 'Silver Falls'
→ Evergreen sumac
What is xeriscaping and why is it popular in Austin?
Xeriscaping seeks to minimize water usage by using plants that require very little, if any, additional irrigation once established.
While succulents are common in xeriscape designs, any plants that can survive on regional precipitation alone can perform well in xeriscape designs. Native plants feature prominently in xeriscapes, as they have adapted to thrive in their local climate without any additional irrigation or fertilizer.
Drought is a factor in Austin, as is stopping pollution from flowing into the region's numerous waterways, from creeks and swimming holes to large bodies of water like Town Lake. Xeriscaping reduces both water consumption and pollution, by using plants that demand less water and, when natives are used, less fertilizer.
What design styles are popular with Austin homeowners?
While Austin clients request a broad range of styles, we have seen a strong local preference for modern landscape designs. This means straight edges, broad and open boundaries between spaces, minimal ornamentation, and an emphasis on open, free-flowing circulation that stitches yards together into single, cohesive experiences. Austin's take on modern design commonly juxtaposes naturalistic, "messy" planting with crisp hardscape edges – a corten planter with shaggy grasses leaning over the side, a concrete paver path with sturdy groundcovers growing in the gaps.
What hardscaping materials are popular in Austin?
Stone and masonry, particularly limestone, express a strong regional identity. Corten is an upscale but thoroughly rustic material that is commonly used for accent features like showpiece walls and staircases. Large concrete pavers, or "steppers" as they're often called, are routinely used to cut clean, modern paths through otherwise rugged spaces of gravel, decomposed granite, and/or scrubby hill country planting.
When should I get started on my landscape project?
Now! Any time of year is great to begin work on a landscape project.
Utilizing the winter to work through the design phase sets you up to get on contractors' books early in the build season, so you can have your design installed and ready to enjoy in time for summer.
A BACKYARD DESIGNED FOR AUSTIN
A multi-level yard featuring a mix of climate-adapted plants, easy-to-maintain hardscape, and cascading decks. The ideal spot to kick back with friends and enjoy a local brew. Learn more this project's budget in our Guide to Landscaping Costs.
EXPLORE PACKAGES
"Highly suggest Yardzen. The online process made everything super easy and efficient. Thank you to the entire Yardzen team."
Shannon M., Yardzen client
Yardzen creates local landscape designs in and around Austin:
Bastrop, Elgin, Smithville, Alamo Heights, Balcones Heights, Castle Hills, China Grove, Cibolo, Converse, Elmendorf, Fair Oaks Ranch, Grey Forest, Helotes, Hill Country Village, Hollywood Park, Kirby, Leon Valley, Live Oak, Lytle, Olmos Park, Saint Hedwig, San Antonio, Schertz, Selma, Shavano Park, Somerset, Terrell Hills, Universal City, Von Ormy, Windcrest, Lockhart, Luling, Martindale, Mustang Ridge, Niederwald, Uhland, Bulverde, Garden Ridge, New Braunfels, Marion, New Berlin, Santa Clara, Seguin, Staples, Bear Creek, Buda, Dripping Springs, Hays, Kyle, Mountain City, San Marcos, Wimberley, Woodcreek, Bee Cave, Briarcliff, Creedmoor, Jonestown, Lago Vista, Lakeway, Manor, Pflugerville, Point Venture, Rollingwood, San Leanna, Sunset Valley, The Hills, Volente, Webberville, West Lake Hills, Bartlett, Cedar Park, Florence, Georgetown, Granger, Hutto, Jarrell, Leander, Liberty Hill, Round Rock, Taylor, Thorndale, Thrall, and Weir.
Explore other Texas landscape designs by Yardzen
Dallas, Houston, and San Antonio