Creating a Private Oasis in Miami with Yardzen
"We always dreamed of having our own, private oasis in the middle of the city," said Yardzen client Anna Anisin.
She and her husband had oases in mind when they bought their Miami home, which featured an expansive, albeit mostly empty, yard. "It was so large, and a blank canvas," she explained. "The possibilities of what could be done were pretty limitless."
Blank canvas, indeed. The yard did include a mature privacy hedge and a covered deck area—both excellent assets —but most of the space was little more than overgrown lawn.
Dreams are one thing, making them a reality is another. To develop their blank canvas into the yard of their dreams, Anna turned to Yardzen for a backyard design.
The Vision
Anna's "oasis" had to meet a few requirements.
First, it needed several outdoor living spaces to gather, cook, and relax. "We enjoy entertaining guests and family," she explained.
As plugged-in professionals, Anna and her husband also liked to host local industry dinners. Their design would need areas to accommodate colleagues as well as loved ones. "Lots of areas for entertainment were super important to us in this design," she said.
Their yard also needed to accommodate their own family. With a young baby and a couple dogs and cats, they needed space for their creatures to play, along with opportunities to relax themselves. No surprise that Anna's chef husband also wanted a vegetable and herb garden.
Finally, the oasis had to have the right look. As self-described fans of Mid-Century Modern style, Anna and her husband wanted a bright, beachy design that showcased the clean lines and open feel of modern landscapes.
All this, while sticking to a restrained budget. The yard may have felt limitless, but remodel costs could not be.
The Landscape Design
To fulfill Anna's vision, Yardzen designed a series of outdoor rooms, each offering something unique: a fire pit, a poolside cabana, a lounge space for cocktails, a covered porch for dining. These spaces flow seamlessly from one to the next as you move through the yard's walkways, linked by strong sightlines, cohesive planting, and bold paver paths.
At the center of it all: a new rectangular swimming pool. "The pool is part of the entertainment, but it's also a huge center for our family gatherings," Anna explained.
The water feature is flanked by seating areas with modern outdoor furniture. At one end, the fire pit, furnished with a low-slung sectional and speckled with dappled light from a grove of adjacent palms. At the other, the cabana, whose handsome construction makes it as much a sculptural feature as a resource for relaxing by the pool.
Round the corner from the cabana to the side yard, and you encounter another sequence of spaces.
The original covered deck comes first, refurbished as an outdoor dining area. From its elevated perch, diners get clear views of the entire side yard – great for keeping an eye on kids during a morning coffee break or evening dinner party.
Continue down a grass-strewn paver path and you come to a second lounge space. Seating with blonde wood and big white cushions beckons guests to kick back, while the absence of boundaries around the space keeps it feeling expansive and interconnected with the rest of the yard.
Just beyond the lounge, you come to a play lawn with custom corn hole boards, painted to match a trio of raised veggie beds that sit just off the lawn's edge.
"The grassy areas are great for our son and pets to run around and play," says Anna, who adds, "The veggie and herb garden planters have also been great to use for cooking, and they tie the yard together quite nicely."
Planting throughout the garden design eschews floral color in favor of dense green foliage. The existing privacy hedges remain, while new palms and strappy ornamental grasses ramp up the tropical feel of the space.
The Build
When it came time to install their new design, Anna and her husband worked with their Pro Network contractor to make a few adjustments. This is common practice—read more in our "Making Design Changes After Landscape Construction Begins" blog post.
For one, they simplified the hardscape paver paths, which feature oversized concrete rectangles interspersed with low planting. By opting for fewer, larger concrete pads, they were able to cut back on labor, and expense.
They also introduced glass fencing to both their upper deck and around the pool. Opting for glass was worth it, not only to keep kids safely separated from the pool, but to preserve the long sightlines that were crucial to the open, modern feel of the design.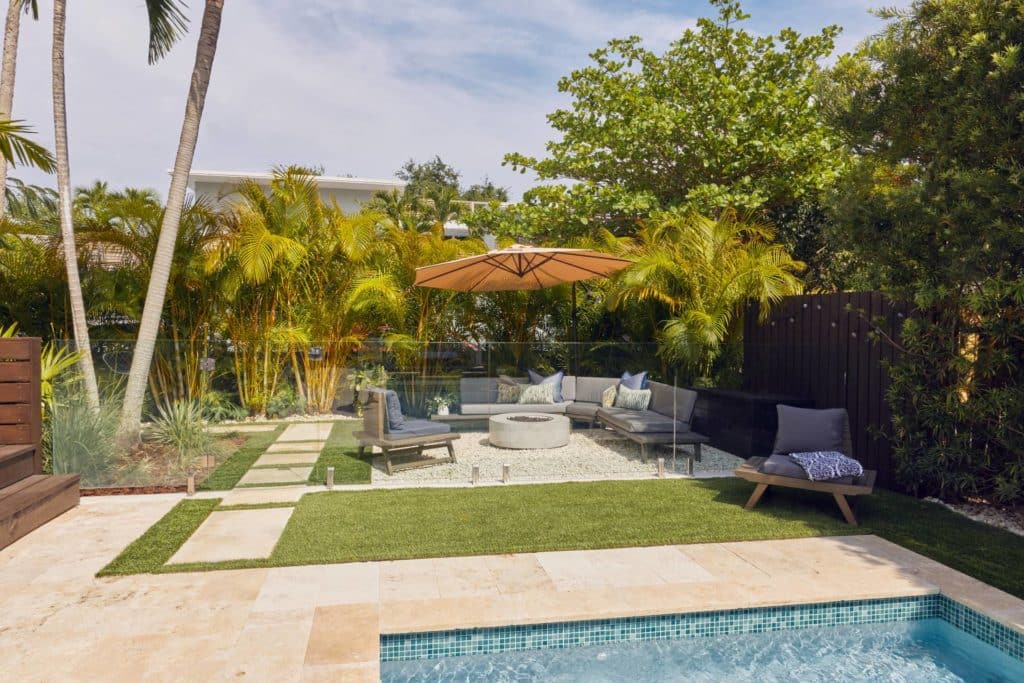 The Result
How did the design turn out? Fabulously, according to Anna.
"It's just an awesome one of a kind vibe overall, a mix of tropical chic lifestyle with mid-century modern design touches – right on point of what we wanted!"
"It's hard to leave this paradise we created," she continues. "Most of all it's heartwarming to watch our son swimming in the pool, playing in the sandbox, and running carefree through the yard."
Curious to see more design ideas? Check out more of Yardzen's South Florida designs and client before and after photos.
Designing a Landscape Tailored to Your Needs
Yardzen's award-winning online landscaping design is tailored to homeowners in the Miami area and across the United States. Our design process begins with understanding your space and a discussion of your budget and vision to minimize surprises when it comes time to build.
We want to make sure our team of professional landscape architects and designers can personalize your yard, delivering a vision that includes what's most important for your outdoor life, style, and unique environment while keeping costs within range. We do this by utilizing our in-house Build Team made up of former landscape contractors with years of experience and our Pro Network of vetted professional landscapers across the country.

Ready to level up your home improvement with a professional landscape design? Yardzen can help. Create your design profile or explore our design packages today!