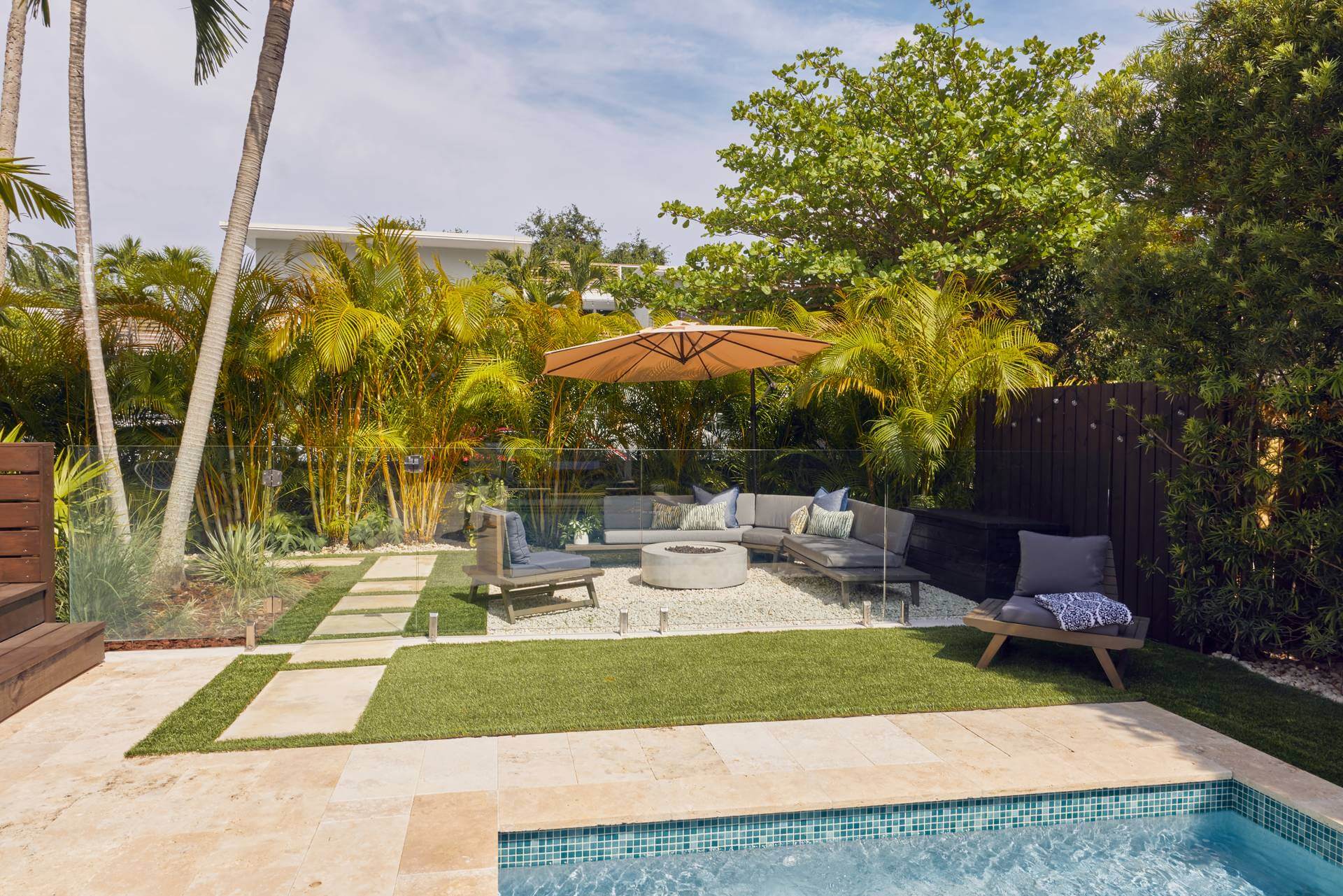 If sunshine and tropical weather are your thing, South Florida has you covered.
In this land of year-round outdoor living, landscape design can help you stay cool and comfortable through the hot season. From shade trees to pergolas, plunge pools to water features, Yardzen has done it all, helping our clients to spend more time outside in their South Florida landscapes.
Below, we'll take a look at some of our favorite South Florida landscape designs.
01 Secret Garden in Surfside, FL
Some designs start from scratch, others build upon what's already there.
With an existing pool, elegant stone paving, and wrap-around privacy hedges, this South Florida yard was well on its way to being a private oasis, but it needed more: more functions, more defined spaces, more lush planting.
To do the trick, this design leans into the axis established by the pool, adding a fire pit at one end and a bistro set with vibrant turquoise chairs at the other. A modern aluminum pergola shades the bistro seating, draped in fragrant jasmine vines.
To ramp up the lushness, an array of tropical plants, from native Sword Ferns, to chunky Philodendrons, to the otherworldly Cordyline 'Torbay Dazzler', are spread across the property, adding interest to the existing planting while heightening the sense of privacy from outside world.
Don't forget the kiddos! To give them a bit of fun, a large existing tree gets a playful makeover courtesy of a platform tree house and a pair of rope swings.
---
Featured Plants
02 Low-Maintenance Oasis in Miami, FL
Yardzen kept it clean and modern for this low-maintenance oasis. A sleek rectangular pool, spacious TimberTech deck, and versatile charcoal pergola set the stage for a variety of activities in and out of the sun, while string lights lend a hint of playfulness to a comfy lounge area. Tropical planting surrounds the scene, lending lushness that contrasts elegantly with the clean hardscaping.
To get more from their small front yard, the design provides a casual fire pit zone, perfect for an evening outdoors with friends and neighbors.
---
Featured Plants
03 Functional Style in Palmetto Bay, FL
High style and high function are the guiding lights of this design.  Furnishings and plantings follow a strict palette of white, blonde, and cool grays, establishing an intentional, cohesive feel throughout the yard.
A broad and open layout allows for free-flowing circulation between a variety of spaces, from fire pit, to dining, to poolside lounging. From any corner of the yard, sightlines are luxuriously long, expanding the sense of perceived space.
The pergola is the jewel of the yard, with a delicate screen of blonde boards offering support for a gorgeous Pink Bower Vine. Elegant stone paving complements large paver walkways, whose grass-filled gaps lend nice visual contrast, not to mention pleasing foot-feel for shoeless pool-goers.
---
Featured Plants
04 Modern Bohemian in Anna Maria, FL
Florida-friendly landscaping is the star of this show, with native Paurotis Palms towering over an understory of Cat Palms, strappy tropical perennials, and lush ground cover planting.
The hardscape tucks comfortably into this lush setting, with outdoor spaces arranged to take in the tropical view, or bask beneath it, as with a crisp row of poolside chaise lounges. Modern Bohemian styling lends charm to otherwise minimal spaces, as do colorful metal chairs, which are as durable as they are playful.
---
Featured Plants
05 Ooutdoor Living in Surfside, FL
This family-friendly yard packs a lot into a small space. The design offers a series of living spaces for cooking and dining, poolside lounging, playing, and relaxing, creating a highly functional space that maintains a comfortably modern feel throughout.
Robust tropical landscaping casts a verdant atmosphere across the entire yard, while also providing privacy from the neighbors.
---
Featured Plants
06 Clean Lines in West Palm Beach, FL
Palm trees, thick shrubs, and tropical perennials fill this yard's planting beds, enveloping the space in green. The pool is the marquee feature, and seating areas throughout the yard maintain a strong visual connection to it, giving the yard an open, flowing feel.
Linear lawns surrounding the pool lend softness to the scene, while oversized pavers add an extra dash of modern style.
---
Featured Plants
07 A Buena Vista in Hialeah, FL
When you've got a view like this, you should use it for all its worth. This backyard landscape does exactly that, using a simple, clean lawn to create an infinity edge that seamlessly bonds the scenery with the yard.
Cooking and dining smartly tuck under a side pergola, while the covered lounge area squarely faces the water – a perfect backdrop for relaxing times with loved ones.
Low maintenance plants along the sides of the yard – including South Florida native plants – work overtime in this design, framing the vista, providing privacy from the neighbors, and lending a tropical feel throughout the space.
---
Featured Plants
08 Beachy Palette in Miami, FL
This Florida yard projects a tropical garden feel onto orderly garden beds. Rhythmic rows of leafy green planting establish a series of green walls – in one case literally, with a grid of leafy greens along a facade of vertical planks creating a striking accent wall.
Furnishings and materials stick to a beachy palette of pale neutrals and whites – as with the leafy, bloomless plants, texture is key in the hardscape and furnishings, from sun-bleached wood, to wicker furniture, to canvas cushions.
With few flowering plants, the abundant blooms of White Oleander command the front yard landscaping, offering a lovely display for the neighbors while carrying out their practical function as a privacy screen.
---
Featured Plants
09 Xeriscape in West Palm Beach, FL
This South Florida garden incorporates drought-tolerant, low maintenance landscape plants to survive the dry season with little additional irrigation.
The garden design goes heavy on ornamental grasses, with succulent accents from Agave Americana. The result lends a little dry climate flair to the yard, and pairs nicely with the mixed forest of palms, pines, and oaks surrounding the property.
---
Featured Plants
10 Less Is More in Miami, FL
The paver patio steals the show in this design. Shot through with grass-filled gaps, the patio acts as a visual gradient, transitioning you from the rich green of the lawn to the cool gray of the covered concrete patio.
Palm trees and chunky container plants frame the patio, lending pleasing symmetry to the layout, while mixed plantings of dense shrubs, flowering perennials, and breezy grasses tuck into the in-between spaces to ramp up the lushness throughout the design.
Being a compact yard, the design maintains clear, long sightlines to maximize the perceived size of the space.
---
Featured Plants
11 Private Retreat in Fort Lauderdale, FL
This yard for a busy working couple needed to tick a few boxes: low maintenance, privacy from the neighbors, and a luxurious but orderly feel. This design succeeds on all three points.
A rich green hedge keeps things private while expressing tidy formality, as do monolithic blocks of bamboo, snake plant, and false agave. More mixed planting beds offer a nice counter-balance, softening things up without creating a mess.
With the pool dominating the center of the yard, hardscape design stays open and minimal, leaning on a palette of light colors to establish a consistent, crisply modern aesthetic.
---
Featured Plants
12 Pocket Jungle in Naples, FL
This design transforms a compact yard into a lush Floridian retreat. The space-efficient pool tucks neatly in a corner, with lush tropical planting bounding it on two sides. A white pergola and elegant stone pavers establish an upscale, resort-like atmosphere.
Despite being an enclosed space, the layout remains broad and open, with only small punctuations of leafy green planting interrupting the otherwise boundary-less design. Combined with the large ceiling apertures and wide, unimpeded sides of the pergola, the space maintains an expansive feel while offering shelter from the elements.
---
Featured Plants
13 Clean & Green in Plantation, FL
To create an understated, elegant retreat, this design employs a limited palette of tropical plants whose repetition projects a sense of cohesiveness across the property. Plants are largely deep green, with a few floral bursts lending interest at key moments.
Hardscape stays simple and site-sensitive, with spare but comfortable furnishings and cool-toned paving maintaining a spacious, calm sensibility throughout the design. Tall planting adjacent to vertical elements like a shade sail and modern horizontal board fence establishes a theme of lushness that is hammered home by dense understory planting.
---
Featured Plants
Frequently Asked Questions About South Florida Landscaping



South Florida landscape designs embrace the hot, tropical climate by including cooling features, from shade trees and pergolas to pools of all sizes. They also incorporate features to let you enjoy the cool evening hours, like hot tubs, fire pits, and bistro lighting.

Outdoor living is big in South Florida, and designs meet this demand by bringing indoor activities outside, from outdoor kitchens and dining zones, to flexible lounge areas that can be tuned to suit any activity or group size.




South Florida landscapes are at their best when they embrace the region's tropical identity. Palms, ferns and other tropical planting with deep green foliage and bold bursts of color are staples, and lend a luxurious lushness to outdoor spaces.

Hardscape materials tend toward bright colors, complementing the abundant sunshine. White stucco, bright concrete, and stone in cool gray tones are common, and contrast elegantly with deeper hues of planting.




No matter where you live, native plants are a great idea. Having evolved to thrive in the local climate, native plants typically require fewer inputs of water, fertilizer, and maintenance than species introduced from elsewhere. This translates great plant performance with less expense and fuss for homeowners.

At the same time, native plants offer unbeatable habitat value for local wildlife, and help designed landscapes feel connected to the broader regional landscape.




South Florida landscapes should pay heed to the broad temperature range, intense summer heat, and wet conditions of the region. This means picking native and climate-adapted plants with a proven record of landscape performance. It also means designing for rain by maintaining plenty of permeable surfaces to slow runoff and capture water onsite.

With such natural beauty, landscape designs should be a resource for outdoor living in any season, keeping you cool in summer, warm in winter, and able to accommodate a variety of outdoor activities, from cooking and dining, to playing, to working, to relaxing with family and friends.




Now! Any time of year is great to begin work on a landscape project.

When possible, we suggest utilizing the winter to work through the design phase – this sets you up to get on contractors' books early in the build season, so you can have your design installed and ready to enjoy in time for summer.

If winter has passed, don't worry, it's never too late in the year to begin work on a landscape design project.
Designing a South Florida Landscape Tailored to Your Needs
Yardzen's award-winning online landscaping design is tailored to clients in South Florida. Our design process begins with understanding your space, and a discussion of your budget and vision to minimize surprises when it comes time to build. We want to make sure our design team can personalize your yard, delivering a vision that includes what's most important for your outdoor life and unique environment in South Florida while keeping costs within range. We do this by utilizing our in-house Build Team made up of former contractors and our Pro Network of vetted professional landscapers across the country.
Ready to level up your home improvement with a professional landscape design? Create your design profile or explore our design packages today!