When it comes to landscape design, San Diego County is tough to beat.
From year-round outdoor living spaces, to California native and water wise landscaping, to all manner of cooling features from pools to pergolas to patio covers, San Diego landscape designs are some of the prettiest and most livable you'll find in Southern California.
Below, we'll take a closer look at a few of our favorites!
01 PRIVATE AND PLAYFUL
Top priority for this backyard design? Privacy. A row of fast-growing, low water Spartan Junipers does the trick, establishing a dense screen and crisp formal frame around the yard.
Planting softens as you approach the yard's interior, with drought tolerant plants from the Mediterranean and South Africa like Lavender and Cape Rush mingling among native grasses and groundcovers like Purple Needlegrass and Emerald Carpet Manzanita.
A modern wood pergola defines a flexible outdoor space, cooled by breeze and dappled shade, and within spitting distance of both an outdoor kitchen and a fire pit. The result? A free-flowing space for entertaining that can adapt to a variety of group sizes and activities.
---
FEATURED PLANTS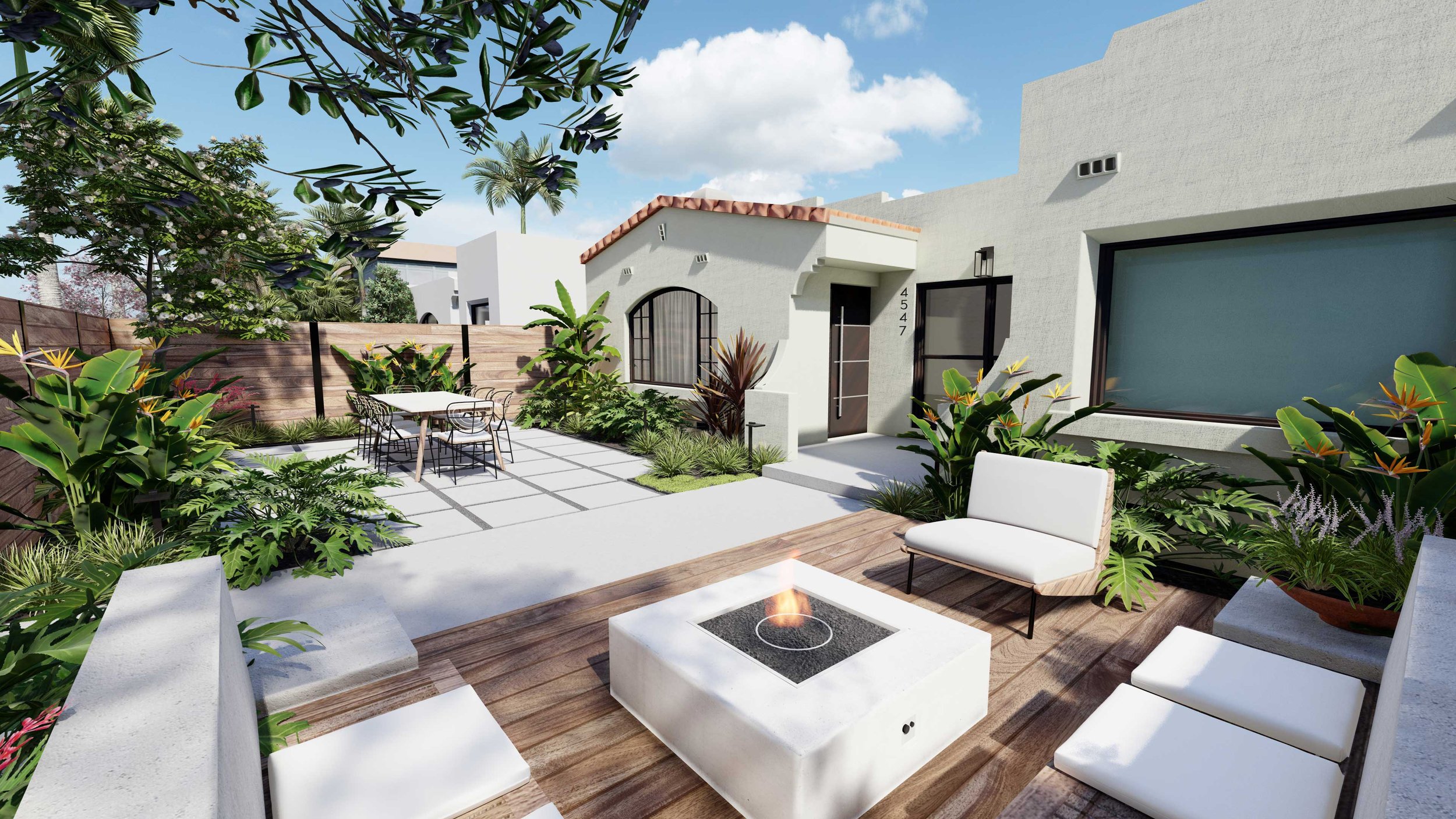 02 UPSCALE AND INVITING
Looking for maximum openness and a modern feel, these San Diego homeowners asked Yardzen to reimagine their front yard as an upscale but inviting lounge space.
A restrained material palette of wood, concrete, and oversized pavers oozes modern cool, as does the linear fire feature. Green-forward tropical planting contrasts compelling with the hardscape, with colorful accents from Bird of Paradise and Cordyline 'Purple Tower' adding a little levity to the scene.
The central walkway shares two broad, unobstructed edges with the dining and lounge zones, allowing for easy circulation while maxing out the perceived sense of space.
---
FEATURED PLANTS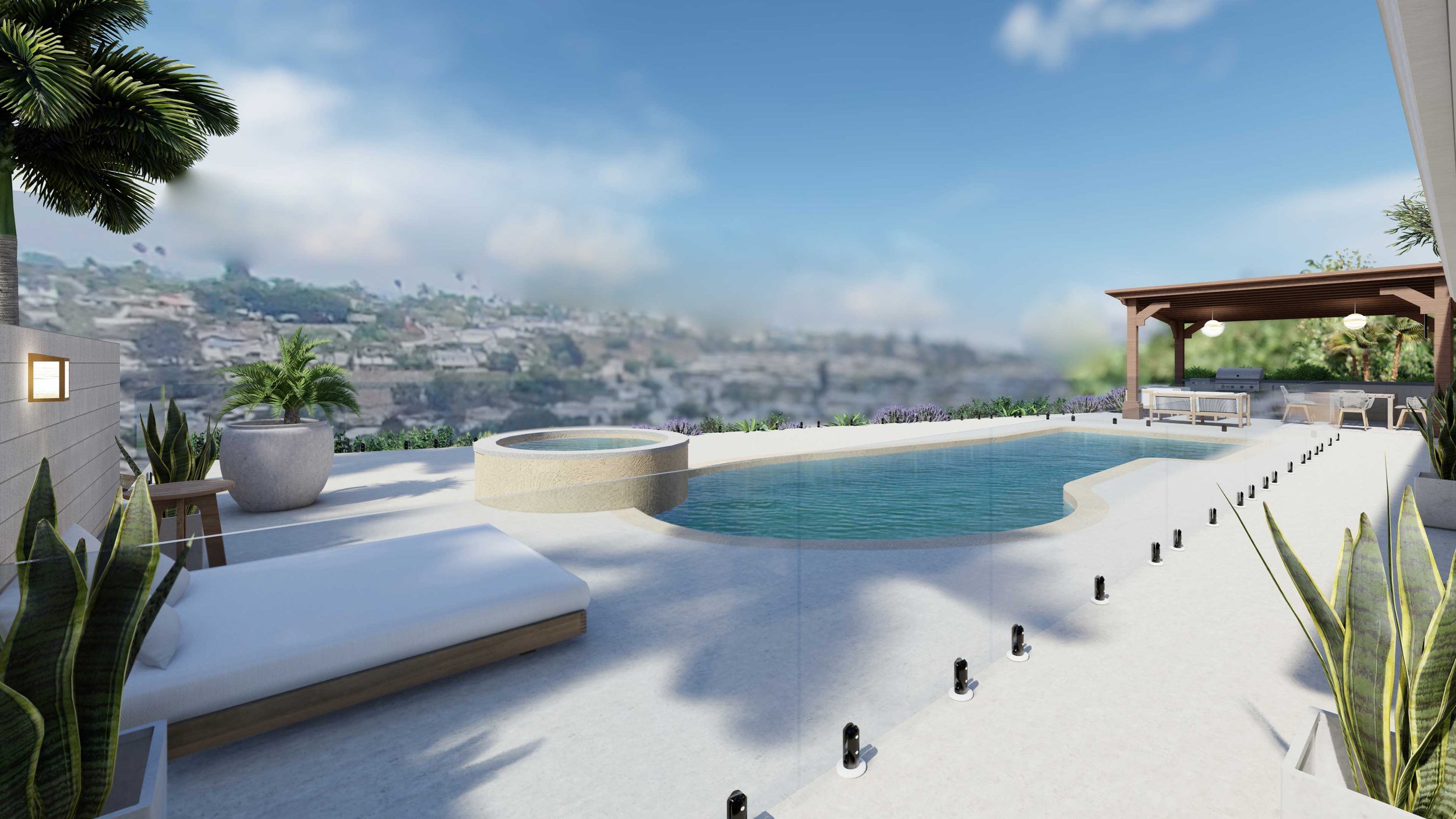 03 THE VIEW'S THE THING
Sometimes, the best landscaping idea is to simply get out of the way of what's already there.
This design makes the most of spectacular mountain scenery by orienting the pool and hot tub to face it, and keeping plants and furnishings clear of the view.
Palm trees perched above the retaining wall cast shade and tropical vibes across the pool deck, and loom above a simple but elegant daybed that is artfully framed between two sculptural snake plants, a low maintenance succulent favorite for Southern California designs.
---
FEATURED PLANTS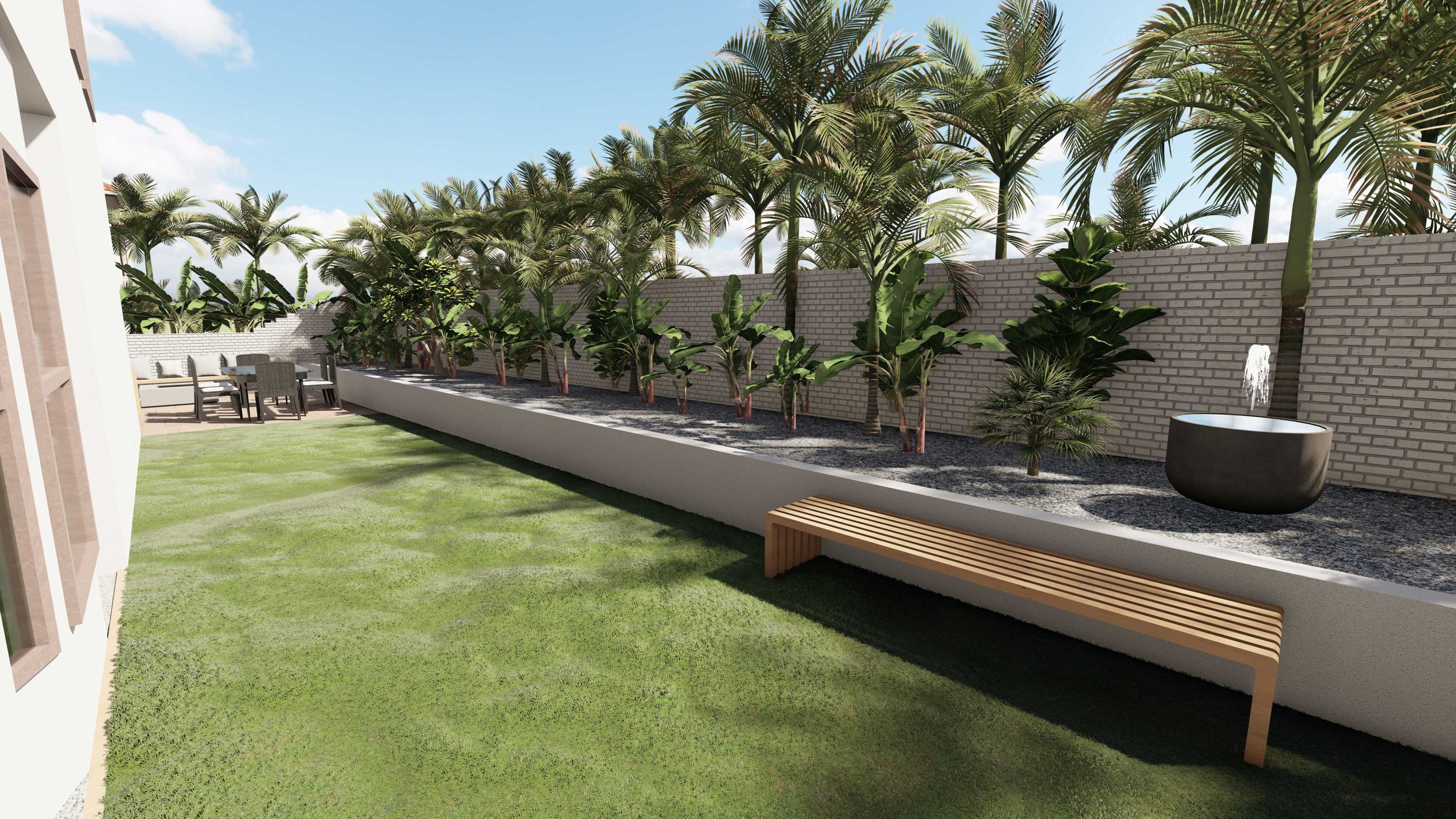 04 MINIMAL MEETS LUSH
This Encinitas side yard design makes the most of a long and slender space. A wide cantilevered bench sticks to the periphery, doling out a healthy dose of modern style while offering room for an entire party's worth of guests to take a seat.
Picking up the theme from neighboring banana trees, a row of dense tropical planting lines the pool along the property edge. A crisp paver path interlaced with artificial turf traces the opposite edge, counterbalancing the planting's fullness with a minimal, open feel. Yin and yang, with a pool in the middle!
---
FEATURED PLANTS
05 SOMETHING FOR EVERYONE
Looking to accommodate both adults and children, the owners of this San Diego backyard turned to Yardzen for design ideas.
The result has something for everyone. A patch of artificial grass offers a low maintenance, flexible play space for the kids, while a rustic but stylish fire pit beneath a string light canopy gives the adults a comfortable space to lounge in, day or night. Desert succulents and California native plants lend rustic flair to balance out the upscale wood and concrete materials palette.
---
FEATURED PLANTS
06 DESERT MAKEOVER
This San Diego home's front yard garden gets a desert makeover in this Yardzen design.
By replacing water-intensive shrubs and flowers with drought tolerant, low maintenance species, this xeriscape design scores a win for water conservation as well as style.
To ramp up the desert look, the garden design uses gravel mulch and decorative boulders, both colored to evoke the pale oranges and tans of the regional landscape.
Anchoring everything is a gorgeous Desert Museum Palo Verde, whose yellow blooms, sculptural form, and unique green branches make it one of our favorite Southern California specimen trees.
---
FEATURED PLANTS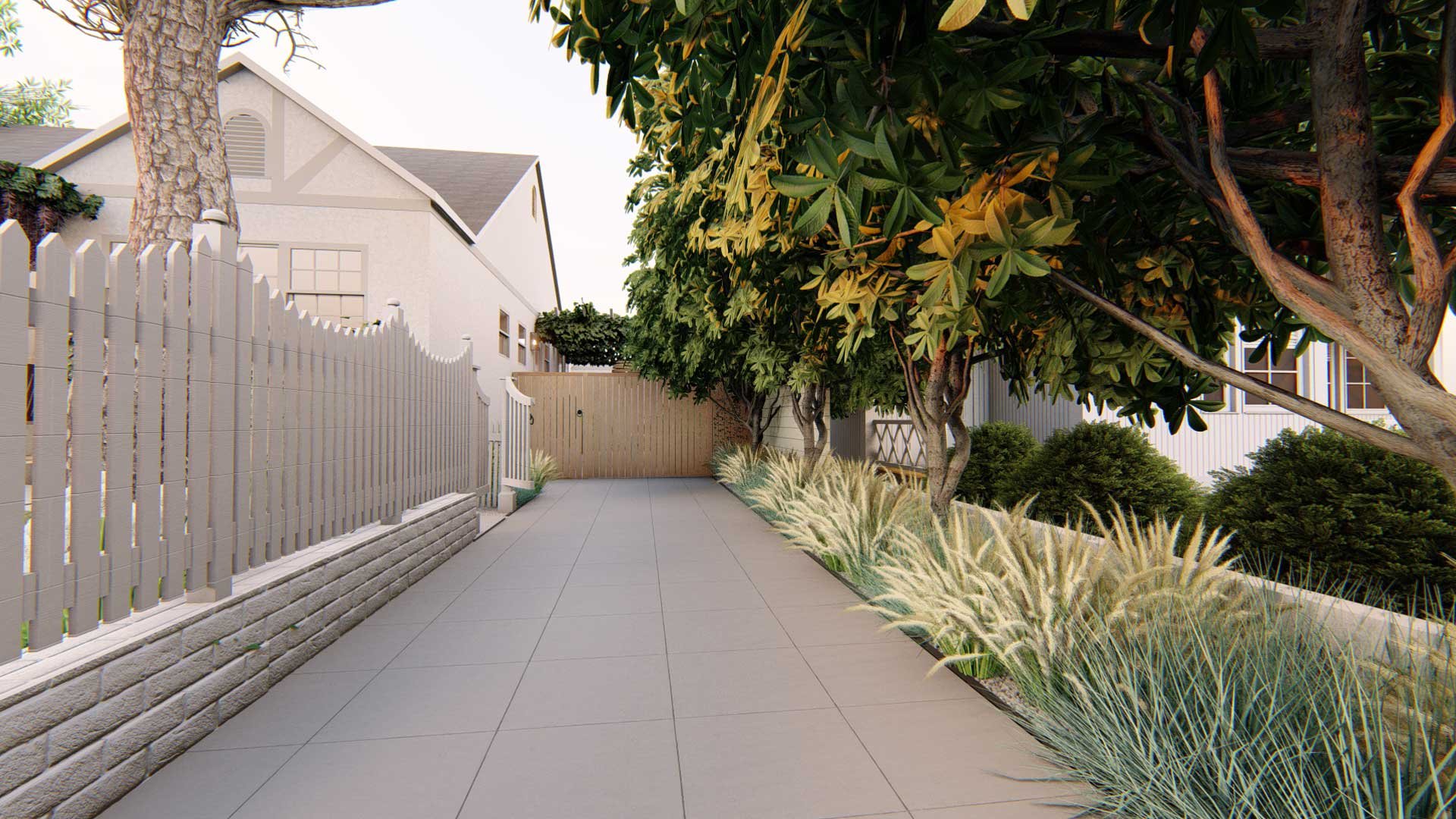 07 A VINE TIME INDEED
Who wouldn't want to spend a hot afternoon lazing in this lush covered patio?
With the lilac vine canopy stealing the show, the rest of the design wisely stays simple, keeping things cost-effective by leaning on plants and furniture to establish a new vibe amid existing paving.
The hammock is a great touch, keeping the view from indoors largely clear while offering a delightful experience to would-be loungers.
---
Featured plantS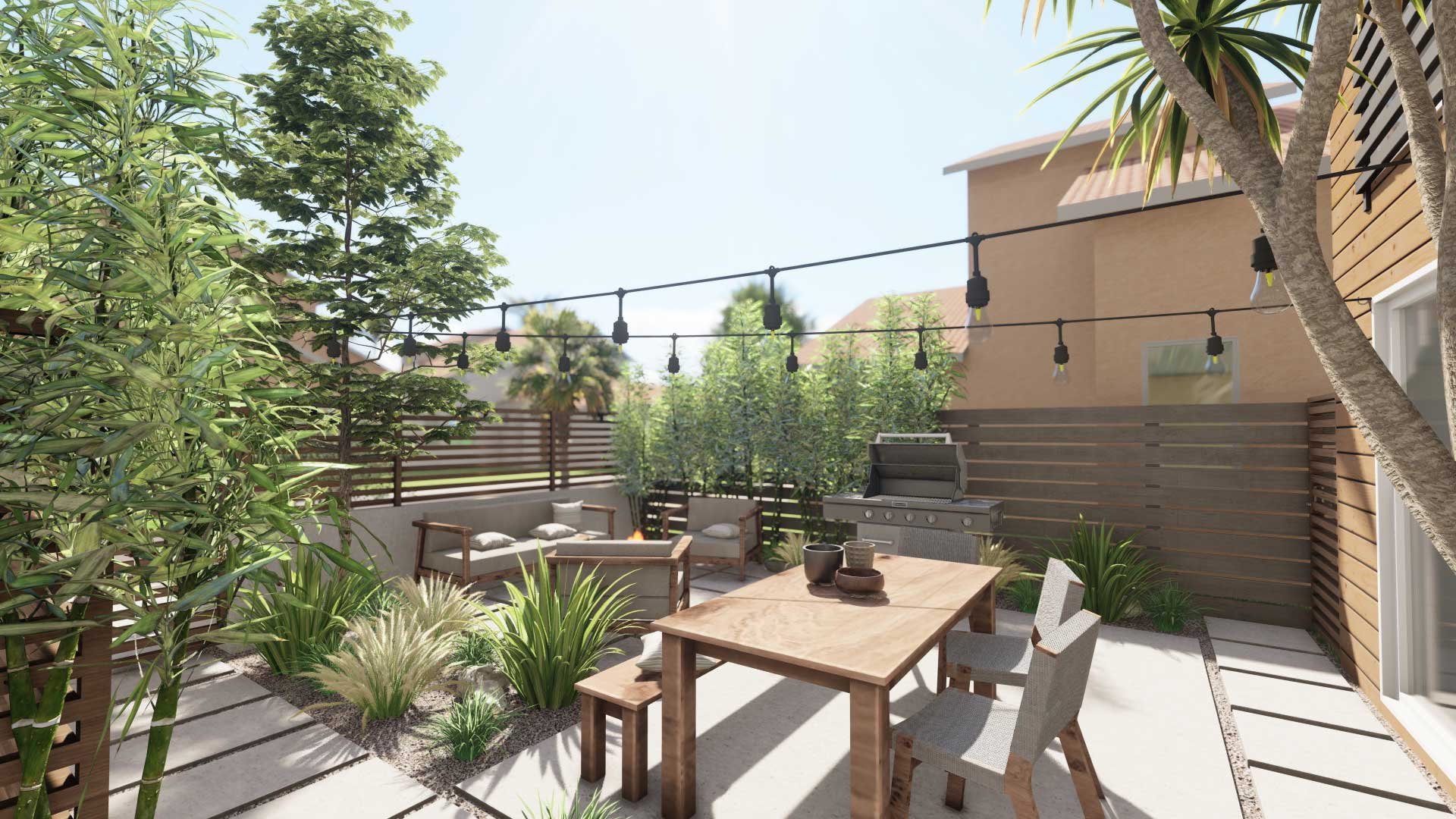 08 SMALL BUT MIGHTY
We love small yards! A good design can pack a lot of style and function into tight spaces, and this project does exactly that.
Clumping bamboo along the edges sets the tone, drawing the eye upward to expand the perceived sense of space, while providing shade, privacy, and a delightful swooshing sound when the breezes blow.
Oversized concrete pavers establish a modern feel while defining separate paths and spaces. Orderly rows of Berkeley Sedge soften the space up while maintaining the geometric feel of the paving. Each paved feature – path, fire pit, cooking station, dining zone – flows seamlessly into the next, eschewing barriers in favor of an open layout that makes the most of the available space.
---
Featured plantS
DESIGNING A SAN DIEGO LANDSCAPE TAILORED TO YOUR YARD
Yardzen's award-winning online landscape design is tailored to clients in San Diego and across the US. Our design process begins with understanding your space, and a discussion of your budget and vision to minimize surprises when it comes time to build.
We want to make sure our design team can personalize your yard, delivering a vision that includes what's most important for your outdoor life and unique environment while keeping costs within range. We do this by utilizing our in-house Build Team made up of former contractors and our Pro Network of vetted professional landscapers across the country.
Ready to level up your home improvement with a professional San Diego landscape design? Create your design profile or explore our design packages today!