In terms of landscape, Sacramento is where big things meet. The city rests at the confluence not only of two rivers, but of two geographic features: the massive Sacramento Valley, and the grand Sierra Nevada mountains, whose foothills stand guard just a short drive away.
The best Sacramento area landscape designs pay tribute to this unique geography, using natural elements to reflect the river, valley, and mountain ecosystems that help form the city's identity.
With toasty summers and pleasantly cold winters, they also prioritize outdoor living, helping homeowners to spend more time outside enjoying their unique and lovely slice of California.
From Auburn to Elk Grove, Yardzen has helped homeowners all over the greater Sacramento area get the most from their yards. Below, we'll take a look at a few of our favorite Sacramento designs.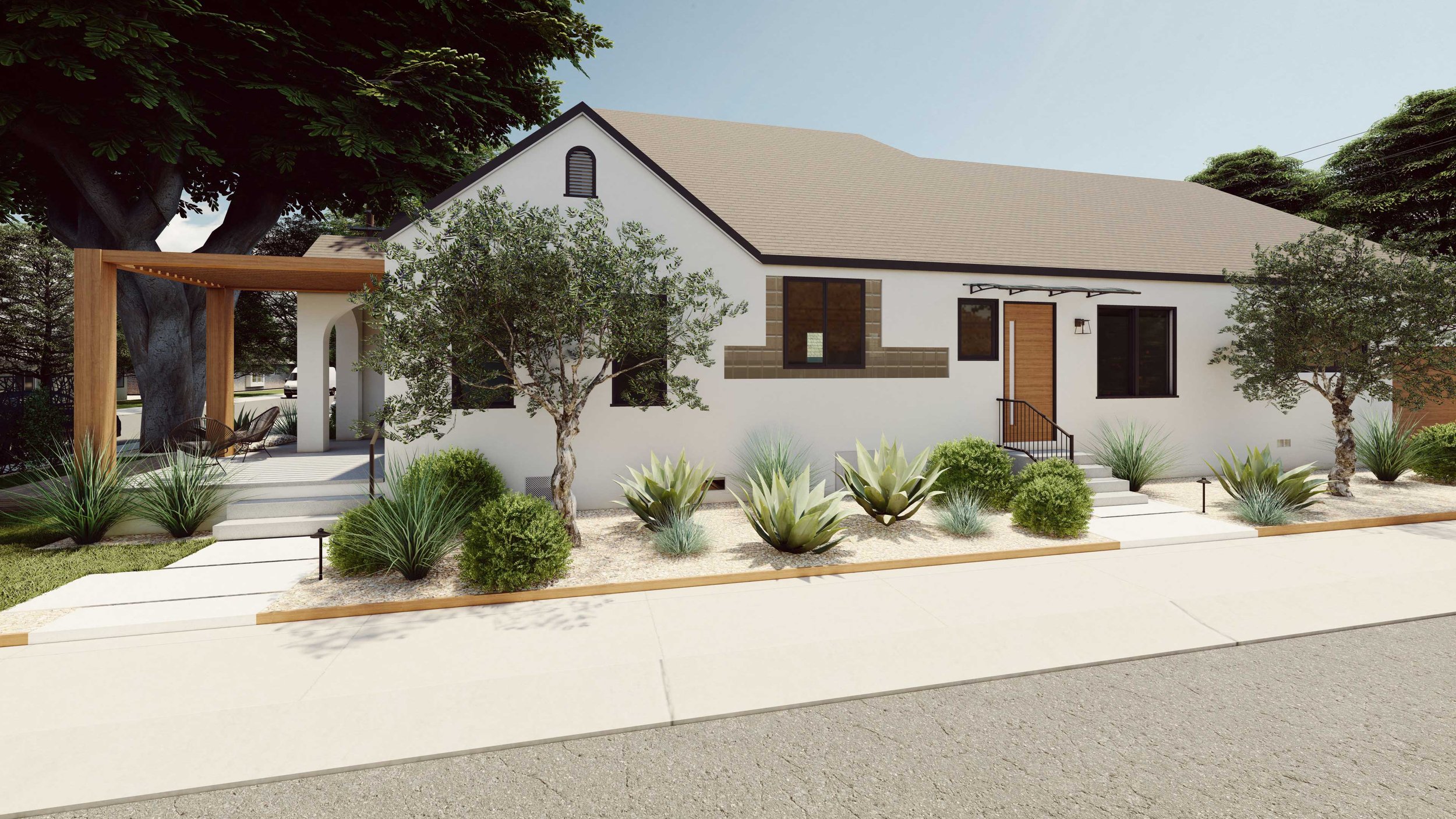 01 SOCIAL FRONT YARD
This design delivers on the clients' request for a flexible front yard social space.
White stucco retaining walls support an expanded front patio, elevated to be flush with the front door for that coveted indoor/outdoor feel. A handsome wood pergola extending off the front facade continues the theme by defining a minimal and comfortably shaded outdoor living room.
One step down, a minimalist wood deck ramps up the modern vibes, offering a versatile, shaded space to accommodate any number of activities. Big, open boundaries between the patio and deck help to link the spaces, making each feel larger and encouraging circulation between them.
For front yard party types, this design is a winner.
---
FEATURED PLANTS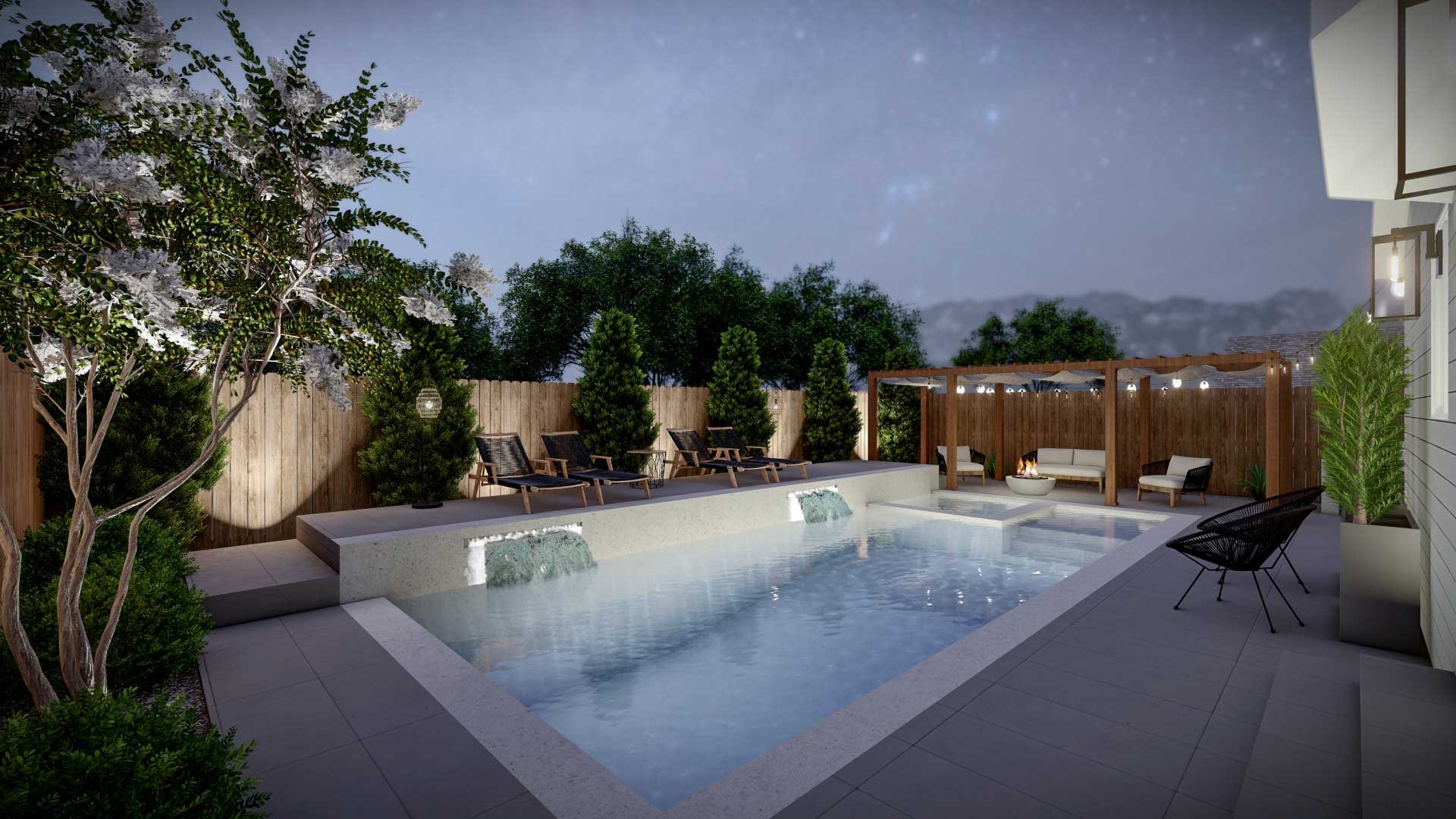 02 BEAT THE HEAT
It bears repeating that summers in the Sacramento area are hot.
To beat the heat, this Folsom family came to Yardzen for help reimagining their backyard pool area. The goals: more space for kids to play, lower maintenance planting, and an overall boost in style.
This design nails each goal, with a versatile artificial turf play zone for the kiddos, beds of drought tolerant planting to soften hardscape edges, and modern pergolas and furnishings throughout. Factor in the new outdoor kitchen, and you have clean and adaptable outdoor space built for summers outside.
---
FEATURED PLANTS
03 STYLIST AND SPACE EFFICIENT
This Sacramento landscape design makes the most of a shared townhouse backyard and a limited design budget.
The design uses lightweight seating, which can be easily moved to maintain a clear walkway between buildings, or stored to make space for larger events. An outdoor rug distinguishes a lounge zone within the patio, while also saving the expense of replacing existing pavers.
Gravel mulch picks up the color scheme from the rug, as do the chairs and cushions. In this allegiance to a limited color palette, both hardscape and softscape features establish a cohesive look and feel across the space.
Trees situated along east and west fences provide shade in the morning and afternoon hours, and help to draw the eye upward to help the compact space feel larger.
---
FEATURED PLANTS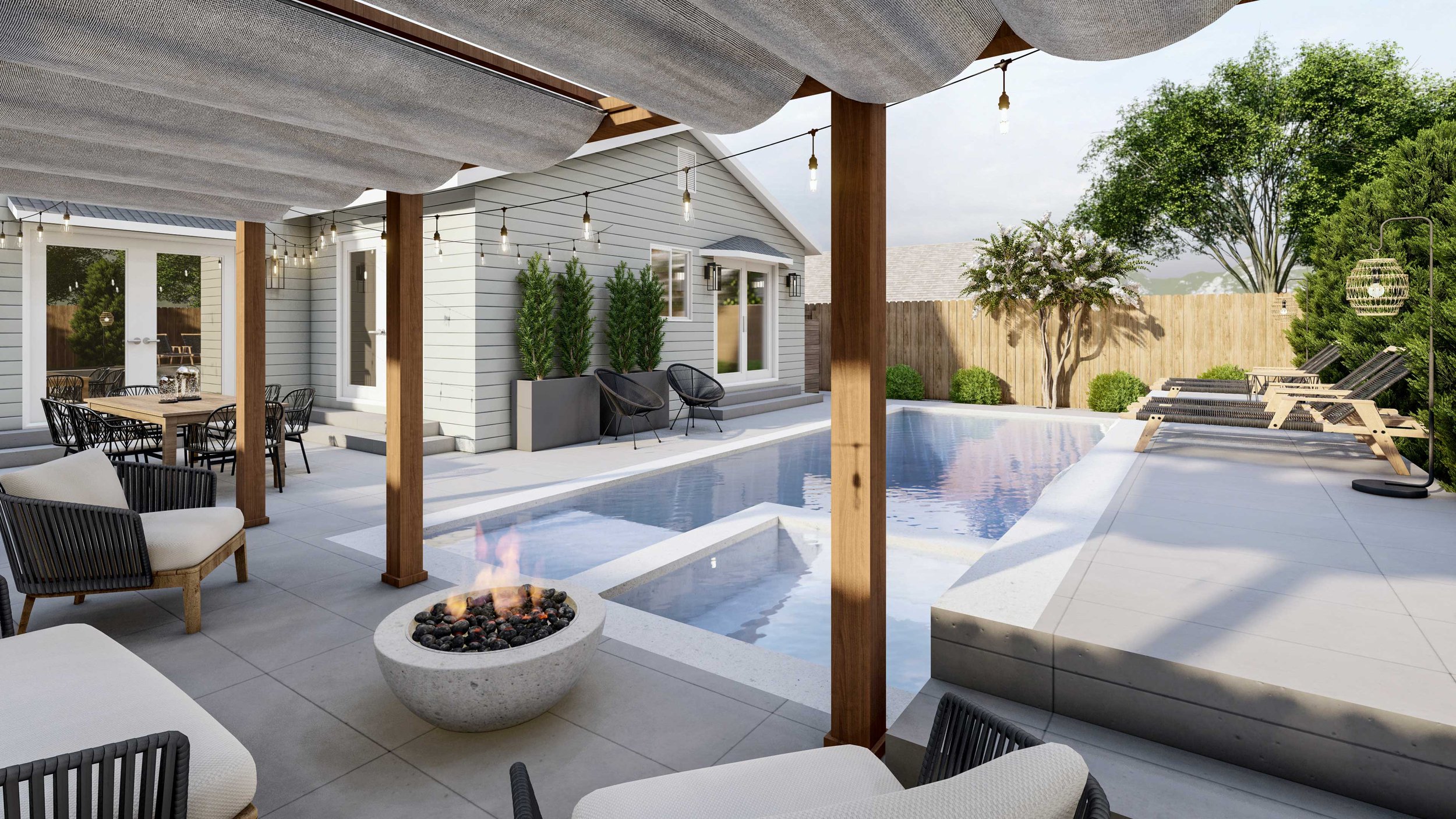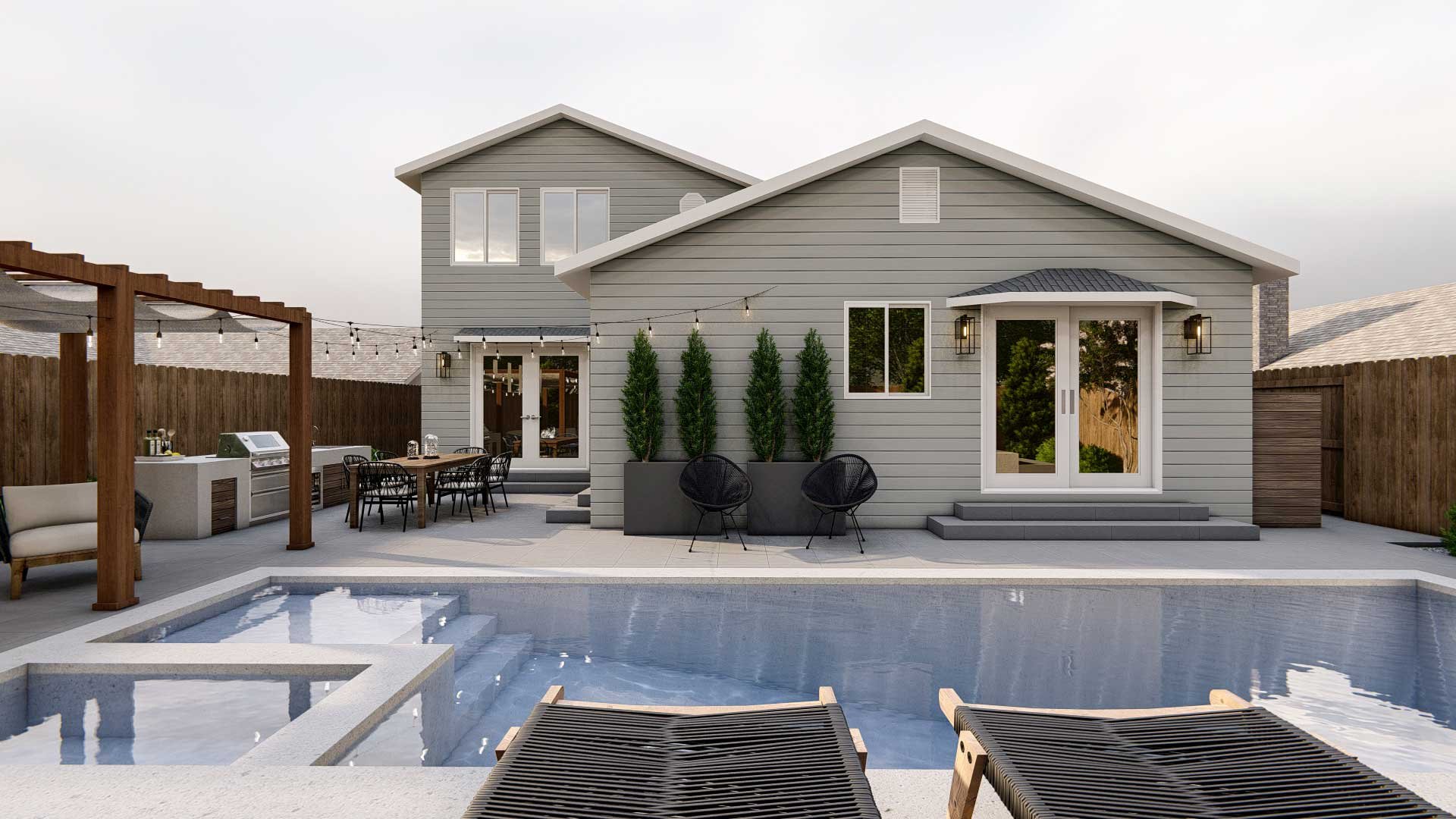 04 HERE'S LOOKING AT YOU
This drought tolerant landscape design beckons you outside by situating a row of luxurious, begging-to-be-used chaise lounges on an elevated platform directly across from glass living room doors. Just beyond the sunbathers' toes, twin waterfalls spill from a crisp concrete wall into the pool, adding even more allure to the living room view.
To the side, a large pergola with a retractable canvas canopy maxes out shade coverage during the day while keeping night sky views available during evenings spent around the fire pit.
A cooking and dining area rounds things out, sited just off the interior kitchen for easy trips indoors to grab ice and extra utensils.
The garden design skips fuss (and expense) by opting for water-wise, climate-adapted species like the Mediterranean Bay Laurel and Australian Blue Flax Lily.
---
FEATURED PLANTS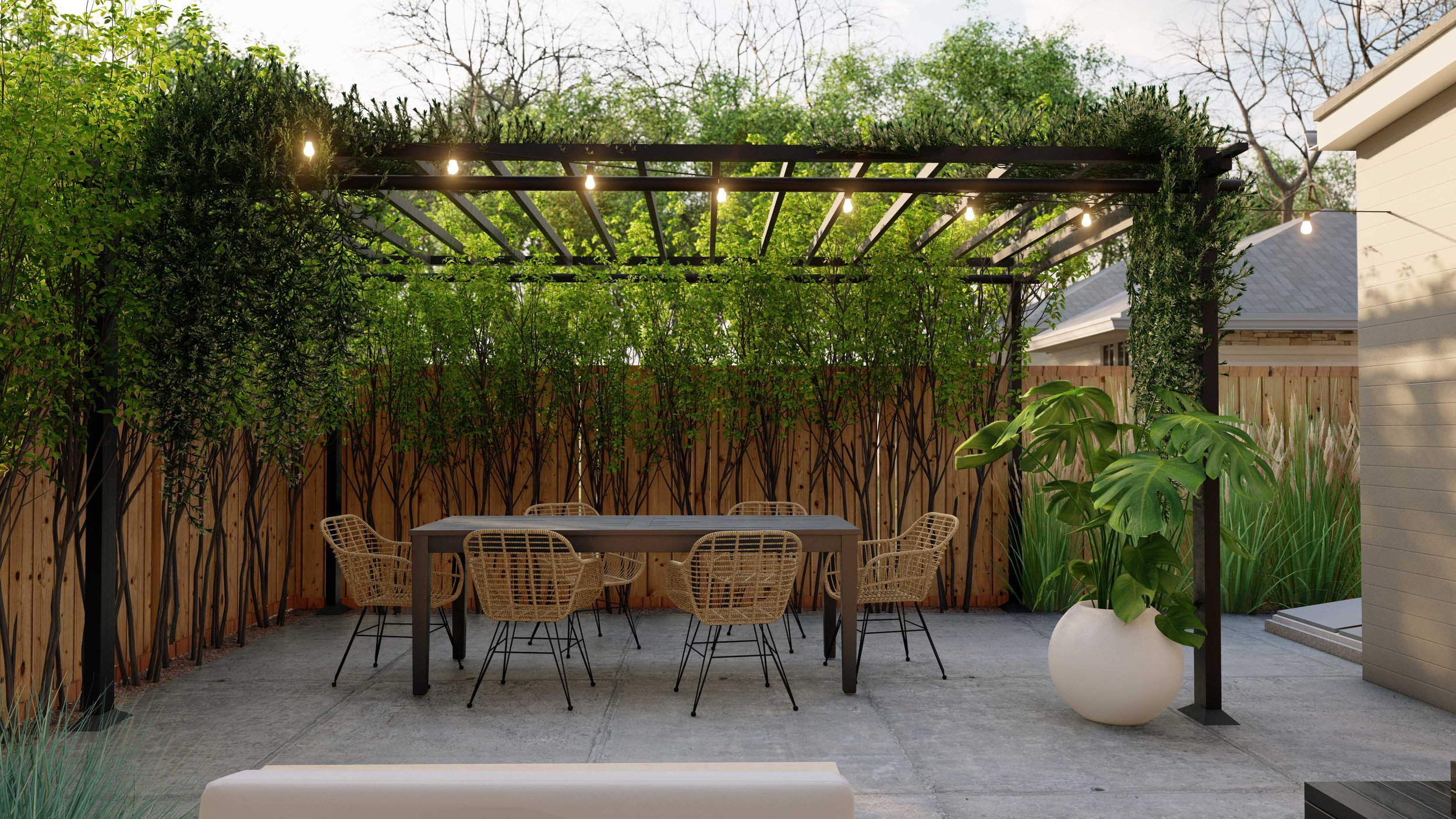 05 THE GREEN ROOM
Plants define the room in this new landscape design.
Walls: a fine-textured screen of Italian Buckthorn for privacy and shade. Ceiling: a climbing Star Jasmine vine, casting shade and sweet fragrance beneath it.
A minimal black pergola takes the baton from the Jasmine, forming a slatted ceiling to cast a little shade (or a lot when a removable shad cloth is attached) while supporting string lights for evening glow. Low slung, modern dining furniture looks at home in a uniform field of stately gray paving, cementing a calm and upscale aesthetic.
Off-screen (but within earshot) a small water feature nestles within a planting bed, offering a soothing burble to the already serene environment.
---
FEATURED PLANTS
06 CONTEMPORARY OASIS
We love the careful balance of looks and performance in this contemporary backyard oasis.
Horizontal wood walls and fences complement a low-slung deck, while beachy, minimalist chairs and bright concrete pool decking express a decidedly modern feel. The deck sits just high enough to accentuate a tree-shaded corner seating area, making it feel connected to both adjacent and distant spaces in the yard.
A lawn runs right up to the pool, creating a barrier-free play zone for kids to get their energy out in any season.
Planting throughout the design is water-wise and drought-tolerant, with a combination of native and climate-adapted plants, including Mediterranean fruitless olive and dwarf strawberry trees, and Texas/Mexico native Dichondra 'Silver Falls', a crowd-pleaser groundcover for spilling over retaining walls.
---
FEATURED PLANTS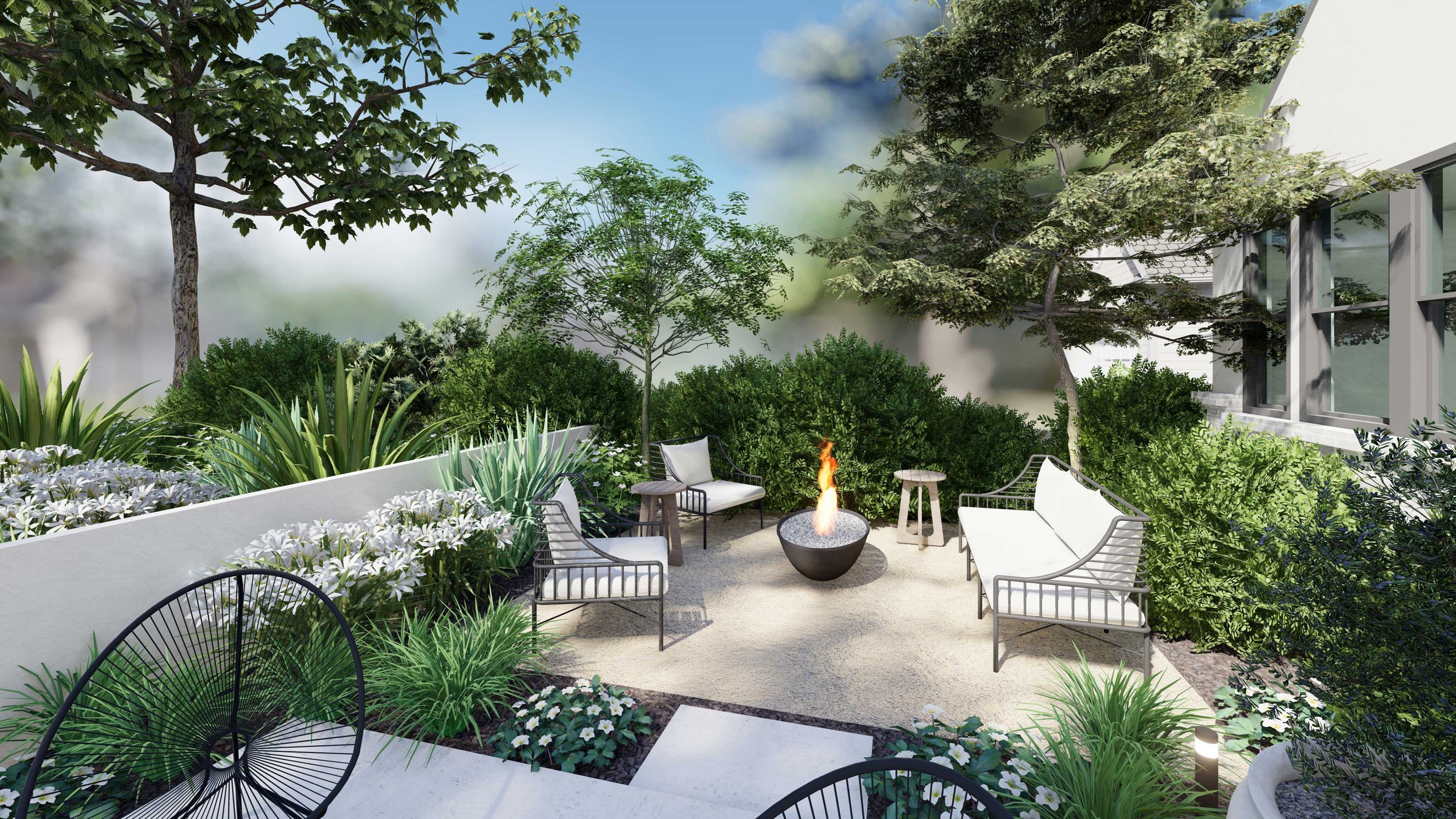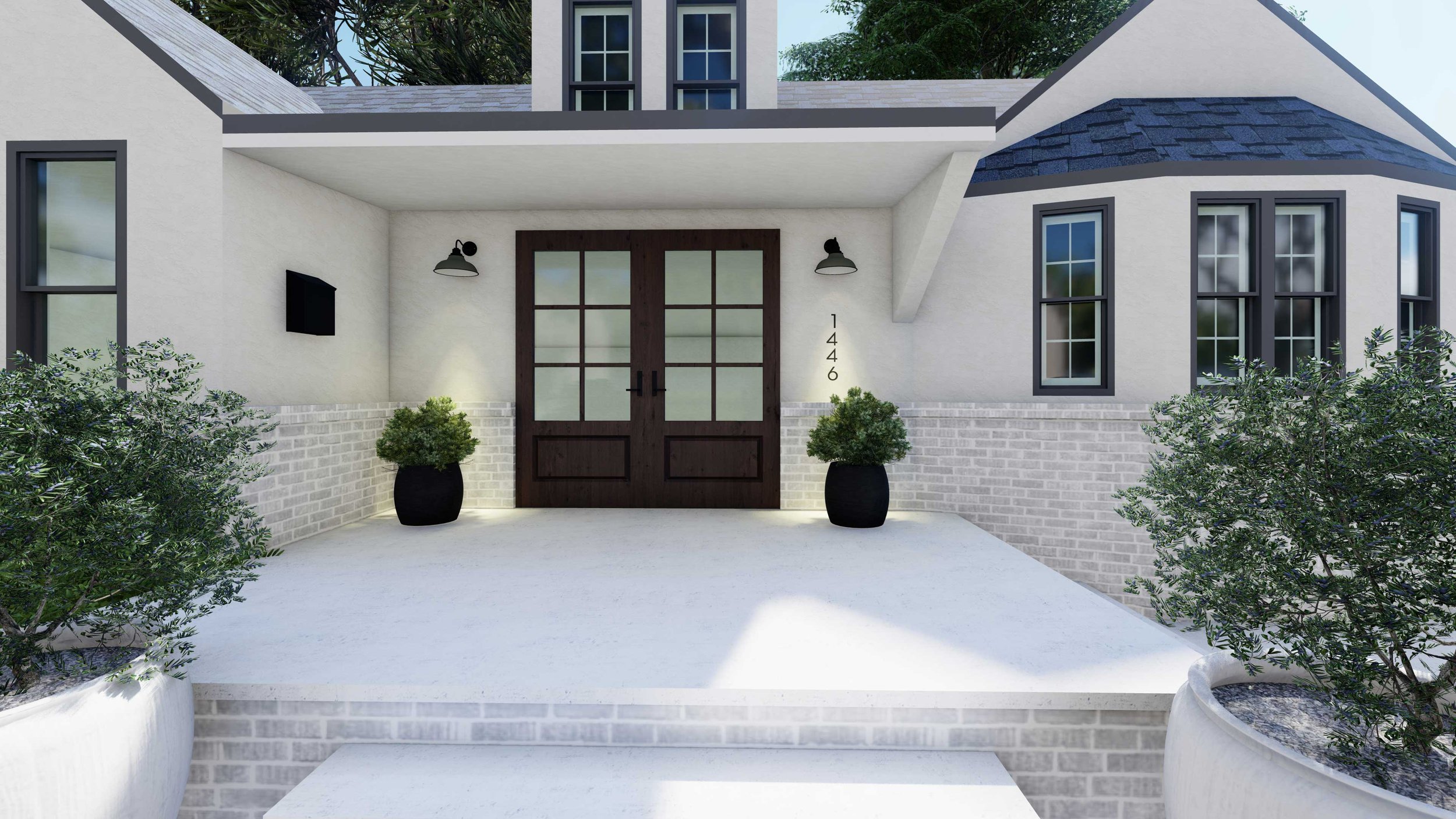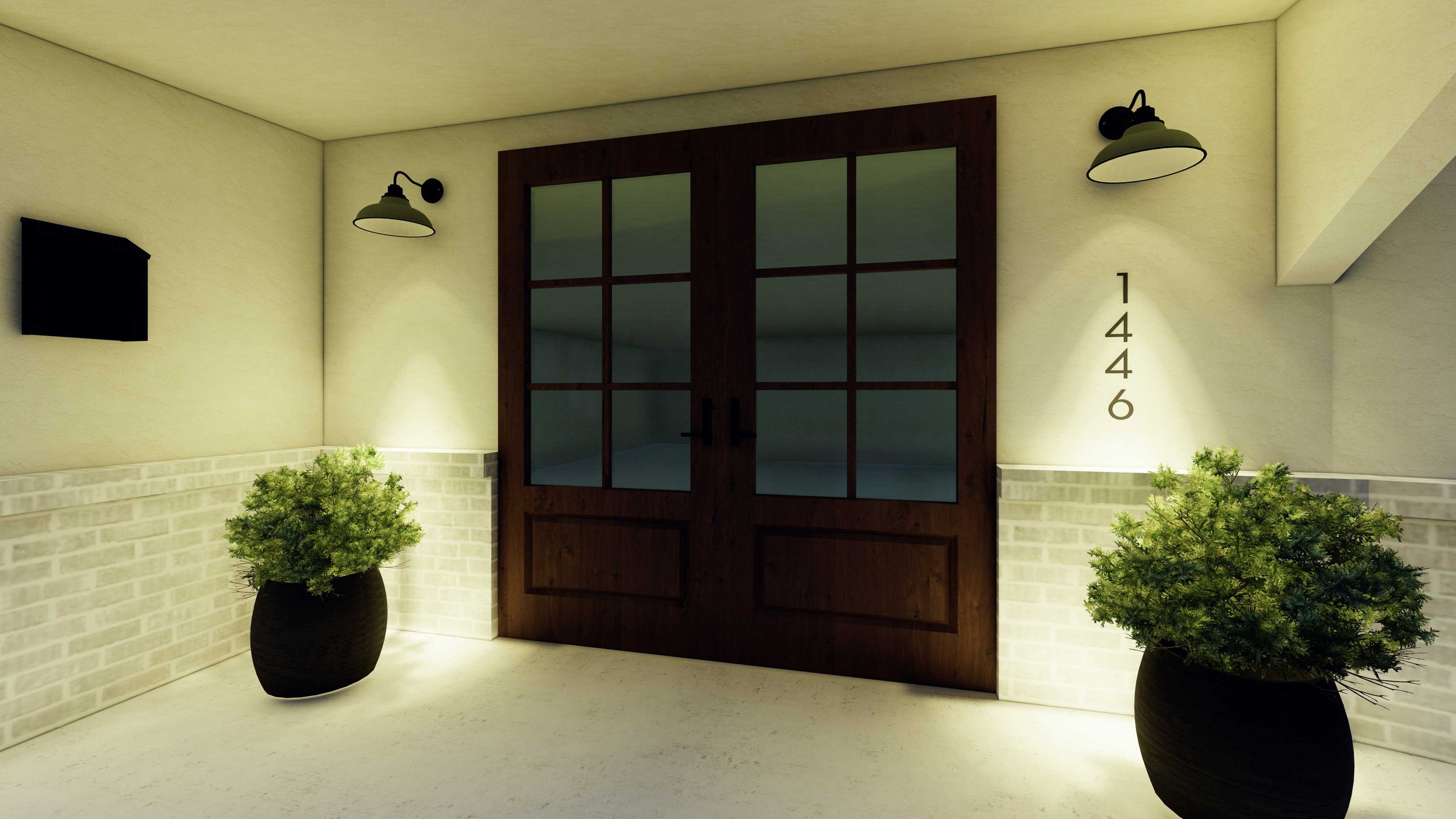 07 MODERN BOTANICAL GARDEN
This front yard landscape project had two goals: boost curb appeal and fulfill the client's dream of a "modern botanical garden" experience. The client enlisted Yardzen's design services to translate these goals into a built reality.
Lush, foliage-forward planting presents a loosely symmetrical design, divided evenly by an axial path of large concrete pavers interspersed with gravel gaps. Here and there, groundcover creeps across the path edges, a small but meaningful gesture to let us know that plants are running the show.
Low water plants like the bushy 'Little Ollie', a water-saving drip irrigation system and a blanket of brown bark mulch allow the homeowners to have the densely planted scene they hoped for while prioritizing water conservation.
---
Featured plantS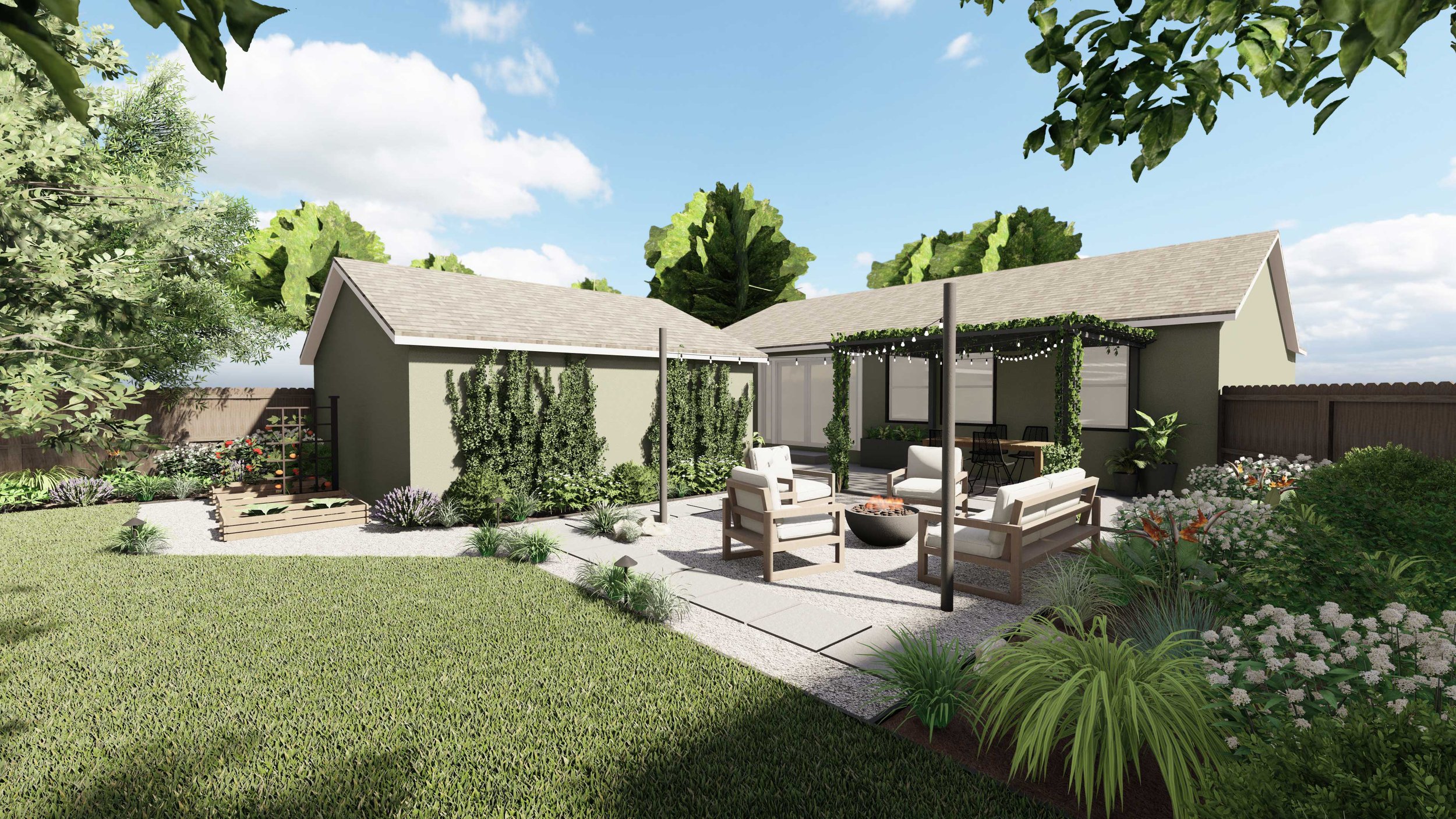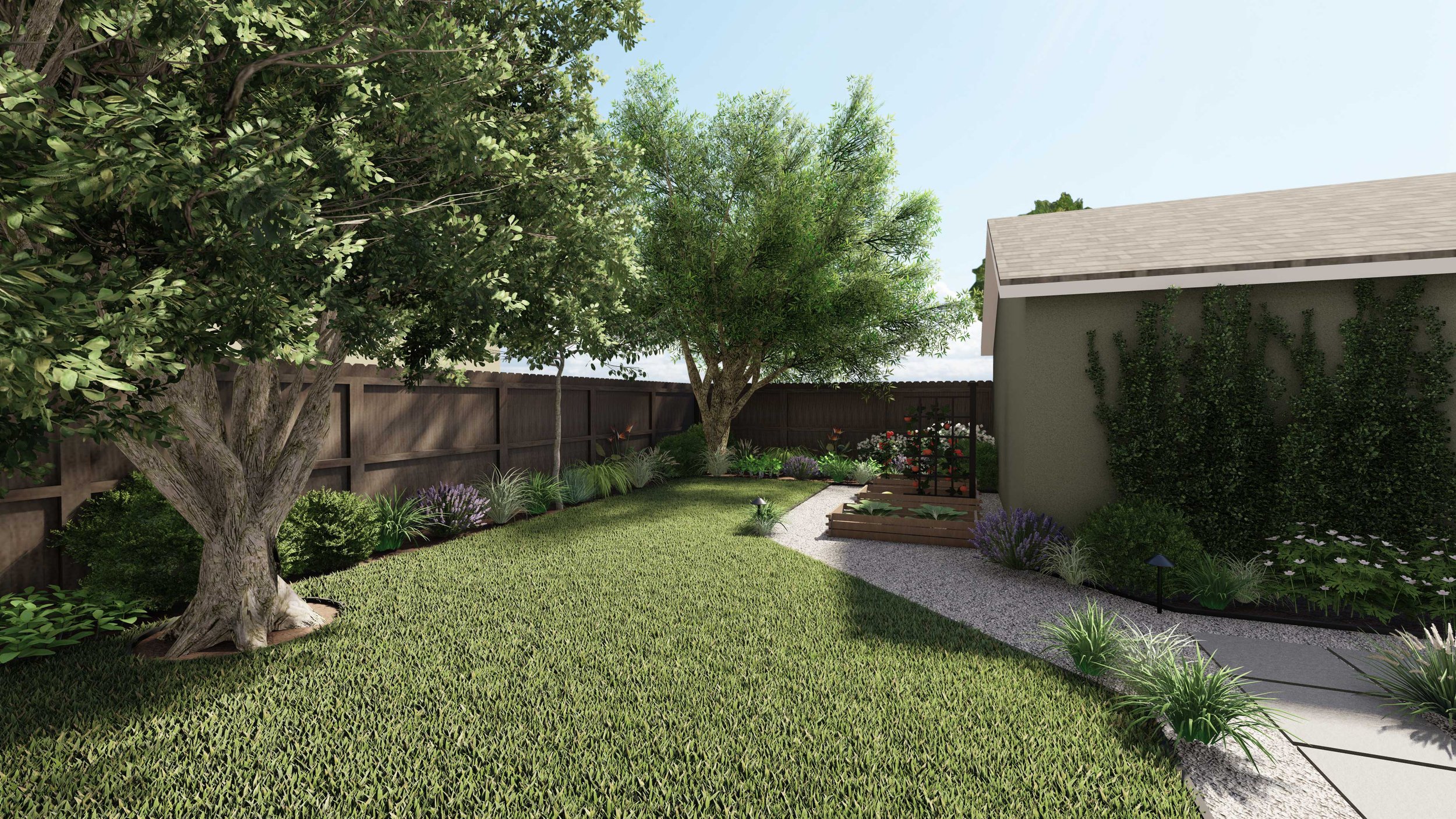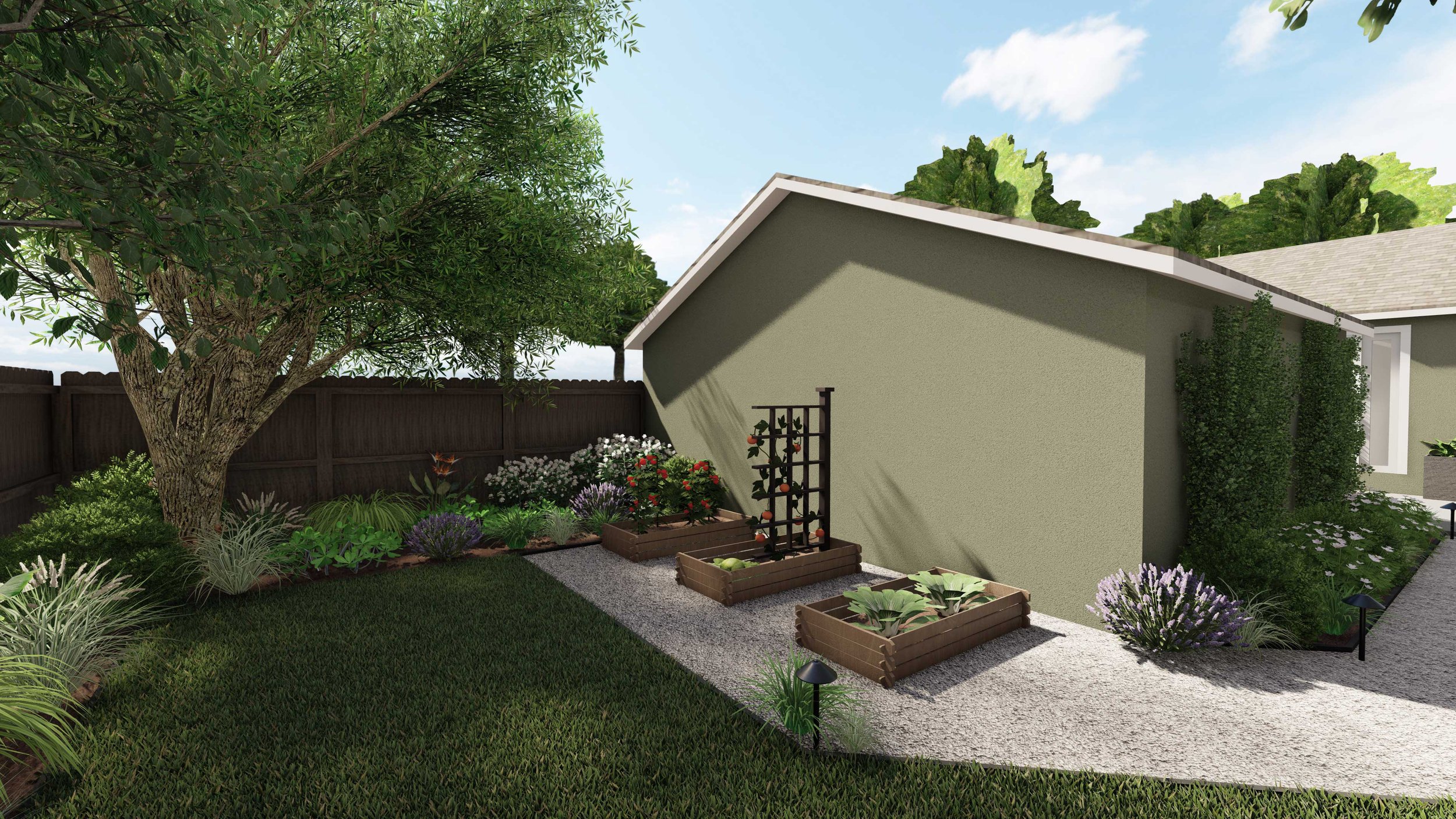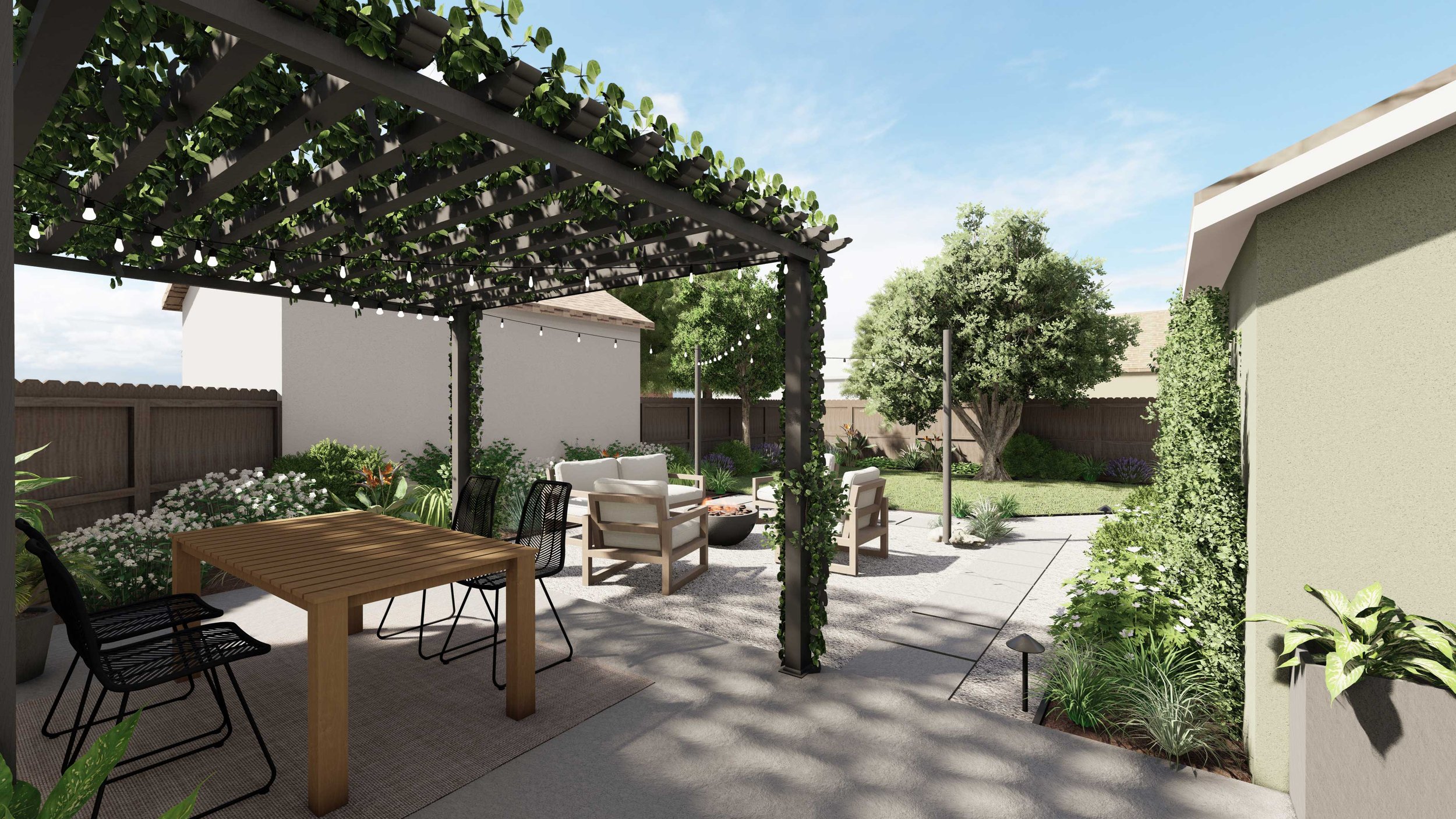 08 NATURAL BEAUTY
Looking for cost-effective design ideas to create a relaxing, natural environment, this client came to Yardzen to reimagine their backyard.
The result? A simple but effective series of spaces that offer style, function, and a variety of experience without breaking the bank.
The dining area dresses up an existing concrete slab with an outdoor rug and prefab aluminum pergola, which casts cooling shade with the help of the fast-growing creeping fig vine.
The dining area gives way to a fire pit patio, paved in crunchy gravel with string lights swooping overhead. A stylish path of precast concrete pavers cuts across one edge, linking the patio to the rear lawn, which was left broad and undivided to offer maximum value as a play surface for the homeowner's three young children.
The side yard offers additional functionality with a small edible garden.
Each space meets the next with broad, clear boundaries, encouraging free-flowing circulation while fostering a sense of connection among the distinct zones.
---
Featured plantS
DESIGNING A SACRAMENTO LANDSCAPE TAILORED TO YOUR NEEDS
Yardzen's award-winning online landscaping design is tailored to clients in Sacramento. Our design process begins with understanding your space, and a discussion of your budget and vision to minimize surprises when it comes time to build.
We want to make sure our design team can personalize your yard, delivering a vision that includes what's most important for your outdoor life and unique California environment while keeping costs within range. We do this by utilizing our in-house Build Team made up of former contractors and our Pro Network of vetted professional landscapers across the country.
Ready to level up your home improvement with a professional landscape design? Create your design profile or explore our design packages today!