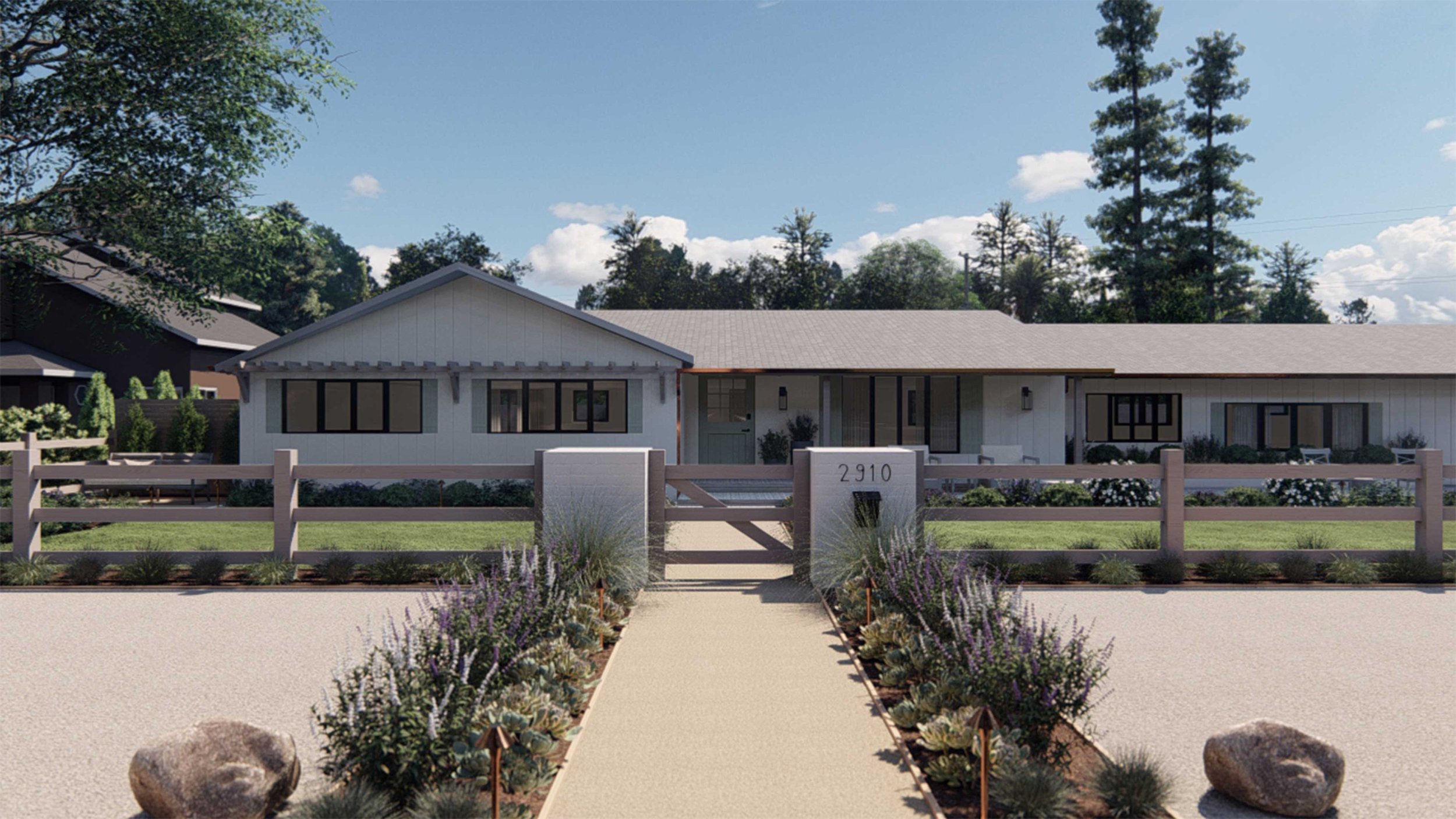 Ranch houses: low, wide, and iconic, they dominate many suburban neighborhoods across the country, particularly in southern, sunnier climes.
While the classic ranch style homes from mid-century planned communities were famously similar to one another, later iterations of the style embraced custom architectural adaptations like split-level floors, vaulted roofs, and oversized modern glazing. Today, many young homeowners are renovating their ranch style houses to emphasize the clean lines and indoor-outdoor aspirations of modernist architecture.
The simplicity and adaptability of ranch homes offers a blank canvas to landscape designers – by and large ranch house landscaping is free to move any direction a homeowner or designer may wish to go. In any style, landscape design has a huge influence on how ranch homes are perceived.
Below, we'll take a peek at several ranch home landscaping ideas, sharing tips along the way for getting the look, feel, and function you are dreaming of for your ranch house yard.
Modern Farmhouse Style for a Ranch Home
These young homeowners in California's Central Valley sought a landscape that put a modern spin on classic farmhouse style.
The fence demonstrates the balance between modern and traditional that Yardzen struck in this design: rectangular concrete bollards frame the front gate, injecting modern lines and materials into an otherwise humble split rail fence design. The central decomposed granite path similarly encapsulates the modern farmhouse look, welcoming visitors with a pleasing rustic crunch underfoot, while leading to a pair of staggered, oversized entryway steps that are overtly modern in style.
Plants are arranged with geometric formality, framing an axial front path and a kids' play lawn of locally-grown, low-water native sod. This formal layout is countered by a rustic, sun-bleached collection of species, from the pale blue of Festuca glauca to the silvery-green of Little Ollie dwarf olive bushes. The overall look feels right at home in the dry, rural grasslands of the Valley, but also stands out for its confidence and focus.
Dry Meadow Planting in Rancher Front Yard
Oversized modern pavers boldly announce the modern intentions of this Los Angeles ranch house design, and playfully contrast with informal drifts of planting. Gaura lindheimeri, California Fuchsia, and Yellow Kniphofia (love those spikes!) provide bold pops of color at staggered heights, creating a layered display that doubles as a pollinator buffet.
Masses of silvery-blue Canyon Prince Wild Rye lace between these accent moments, stitching things together to create a unified, naturalistic planting design.
Tan gravel mulch underlies the scene, casting a warm glow that is inviting and a little rugged, a pleasant counterbalance to the cool blue and clean lines of the concrete path and front porch.
Tropical Hideaway at a Ranch-Style House
The owners of this Central Florida ranch home had two wishes for their front yard: create a lush, tropical garden, and breathe some much needed life into their bare bones front patio.
Done and done. Starting with nothing but a lawn and a lonely existing palm tree, the design adds densely planted garden beds to line the edges of the path, patio, and front of the house.
Plant selection offers no shortage of eye candy: pink bursts of Gulf Muhly grass, chartreuse sprays of Foxtail Ferns, delicate Fortnight Lily blooms, and elegant Agaves, holding their motionless poses against a backdrop of swaying, strappy perennials. New stands of Paurotis and Sabal Palms give company to the existing tree, and lend a little privacy to the front patio.
A new black pergola and sleek seating in beachy blondes and grays upgrades the front patio from an underused nook to a stylish and functional living space. The color selection complement the house's black and white scheme while balancing modern style with comfort and approachability.
Forest Retreat at Idaho Ranch Home
Yardzen's assignment: bring the regional forests to this Idaho yard, but in a contemporary way that boosted their curb appeal. The front yard landscaping design responded to this challenge by celebrating trees.
A steady rhythm of tall, slender evergreens reaches above the eaves, accentuating the home's low, wide design. Taller existing trees tower over each end of the front facade. Deciduous Eastern Redbuds – a hit with local fauna – elegantly frame the view from the street.
A fresh coat of stately midnight blue paint recedes the house even further into the background of the scene, while bright blonde fence boards and delicate white flowers drag the eye to the foreground while nodding to the forested theme.
Cumulatively, the effect is of a house tidily nestled within a forest, more than happy to let the trees do the talking.
Lush Outdoor Rom in Ranch Backyard
A long white pergola branches off the back of this Texas ranch home, defining a new outdoor room while preserving open edges and free-flowing circulation.
Dense planting clusters beneath one end of the pergola, highlighting a soothing palette of greens, whites, and lavender. By sharing a ceiling with the dining area, the planting projects softness across the entire scene – you get the sense of cooking and eating in a conservatory, minus the glass walls.
The overall design dissolves the boundary between indoor and outdoor areas by creating a transitional space that is functional, comfortable, and attractive. In so doing, it also achieves a complete makeover of the ranch exterior without any remodel of the existing home – pretty neat trick!
Get Woodsy with Rancher Exterior Remodel
A New Jersey family wanted to revamp both their yard and their house style – it was time for a fresh look. Lucky for them, design ideas were waiting just over the fence in a tall patch of forest.
The big move: new wood siding for the home's exterior, which balances a high-end modern look with a cozy cabin vibe. A handsome Japanese soaking tub repeats the warm hue of the siding, while a back deck, branching off the elevated living room of the split-level ranch house, opts for a deep chocolate brown to contrast and highlight the house's new look.
Garden design within the yard uses soft ornamental grasses to connect the house to the landscape, while crunchy gravel and stepping stones emphasize the organic feel of the space.
Orchard Lounge in Ranch Home Side Yard
Beach meets orchard in this San Diego ranch house's side yard.
The design makes the most of limited space and a limited budget, using precast concrete pavers set in smooth pea gravel to create a barefoot-friendly path and seating area. Teak chairs with weather-resistant cushions stand up to the salty air, and offer a peaceful, sweet-smelling retreat thanks to adjacent rosemary, sage, and citrus.
The theme of edible planting continues in pockets along the path, with a focal lemon tree punctuating the path's end. The pleasant garden walk doubles as a source for herbs to use at the backyard's outdoor kitchen.
Flower Power Adds Colors to Rancher Landscaping
An outdoor transformation to this Houston ranch house took it from tan and drab to blue and blooming.
The homeowners wanted to hang on to a traditional feel, but needed more color in their lives. Yardzen's front landscaping responded with flower gardens boasting a balanced blend of lively flowers and rich greenery.
The design enlists Azalea, Camellia, Gaura, Agapanthus, and native all-star Gulf Muhly to cast rich pinks and cool purples across the yard. Rounded Boxwoods, upright Aspidistra, strappy Flax Lily, and large-leafed Caladium balance out the bold colors with a richly-textured, abundantly green backdrop.
The planting area adopts a long, arcing edge, which de-emphasizes the rectangular form of the ranch house while allowing more room for the expansive planting design to do its thing. Tucked among the dense planting, a pedestal stone water feature lends a little southern charm and offers migrating birds a drink and a bath.
Rustic & Refined Ranch-Style Home
These Utah homeowners were all about outdoor living, and wanted low maintenance backyard landscaping to help them spend their outdoor time relaxing rather than working on the yard. Challenge accepted!
First order of business: native plants along the house and fence. Having evolved locally, these species need little help to thrive, minimizing water, fertilizer, and any other maintenance requirements.
Next up: connect the yard to the house.
A TimberTech deck links the elevated split-level ranch home with the lower backyard, eschewing handrails in favor of a broad stair to maximize the sense of connection between spaces.
The fire pit area carefully aligns to the French doors, luring people outside. With gravel groundcover, decorative boulders, a loose ring of deep gray Adirondacks, and a native Serviceberry punctuating the edge, the fire pit zone balances modern cool with the raw materials of the wild Utah landscape.
Traditional Charm of Ranch-Style Homes
If it ain't broke, don't fix it. This classic brick ranch house embraces the archetypal ranch landscape of lawn, foundation planting, and focal trees to delightful effect.
The house sits deep within a Georgia property blanketed in rain-watered grasses, including a broad existing front lawn prized for family soccer games.
Flower beds extend in either direction from the front door, featuring orderly patterns of green shrubs and traditional favorites like Hydrangeas and Catmint.
A modest stepping stone path cuts a curved line in response to the arcing driveway, both helping to soften the rectangular architecture.
At the path's end, a peaceful seating area sits tucked beneath a large existing tree's canopy – perfect for a quiet read or an evening cocktail.
Creating a Landscape Design to Complement Any Ranch-Style Home
Yardzen's award-winning online exterior and landscape design service is tailored to homeowners across the U.S.. Our design process begins with understanding your outdoor space, style, garden ideas, and a discussion of your budget and vision to minimize surprises when it comes time to build.
Our top-notch designers then develop a personalized vision for your yard, shared through 3D renderings, 2D plan drawings, and plant and material lists. Your design will capture the look, feel, and function you are hoping for, all while keeping costs within range.
Once your design is complete, we'll help you connect with a local contractor from our Pro Network of vetted professional contractors to install your new design (if you don't plan on a diy build).
Ready to bring your landscaping ideas to life at your ranch home? Create your design profile or explore our professional exterior, side yard, front yard, and back yard landscaping design packages today!