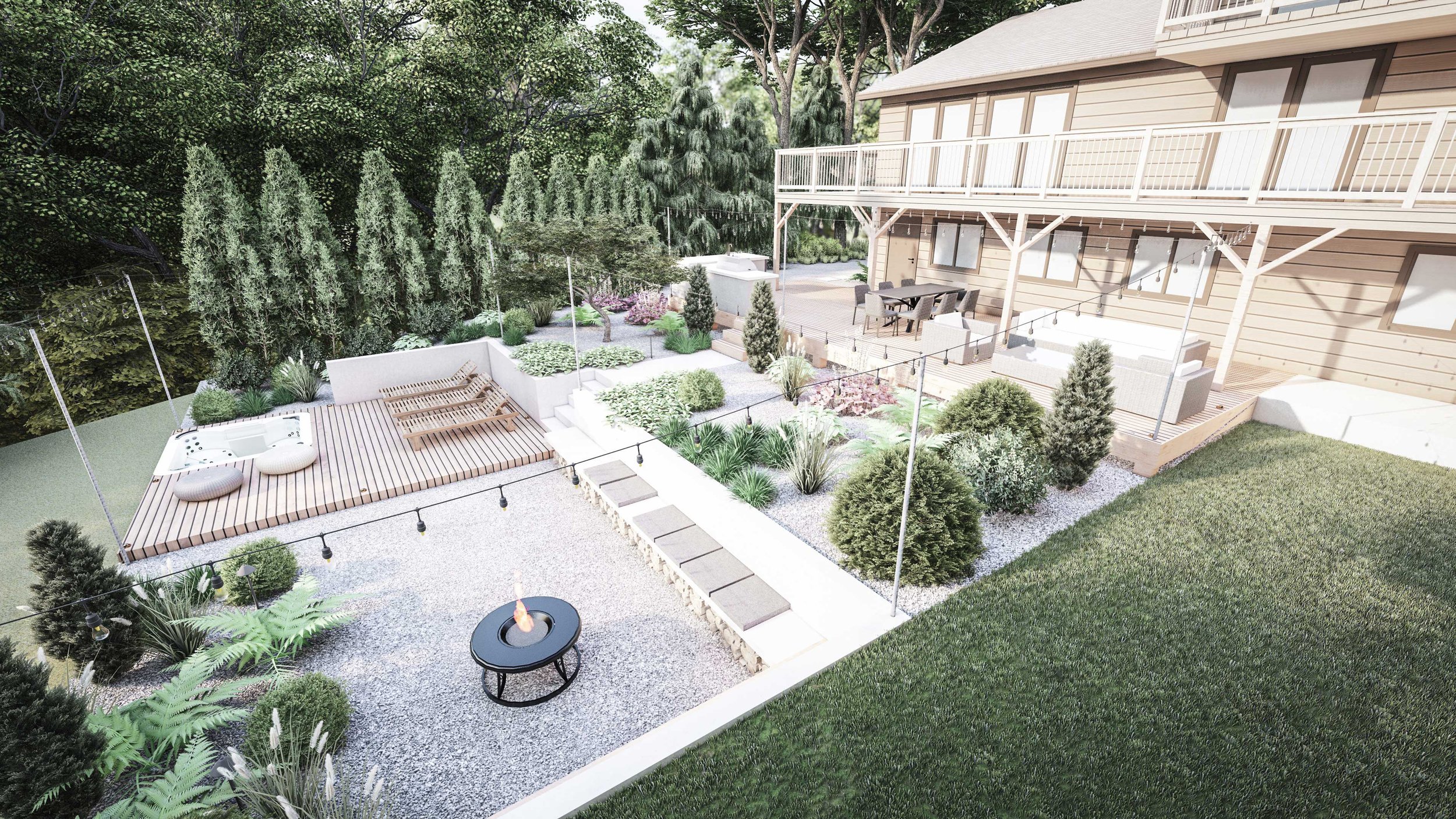 Maybe it's the photo-ready Oregon light, or the abundant Northwestern green at every turn, but something about Portland makes for exquisite landscapes.
Take a look below to see a few our favorite Yardzen landscape designs from the Portland area.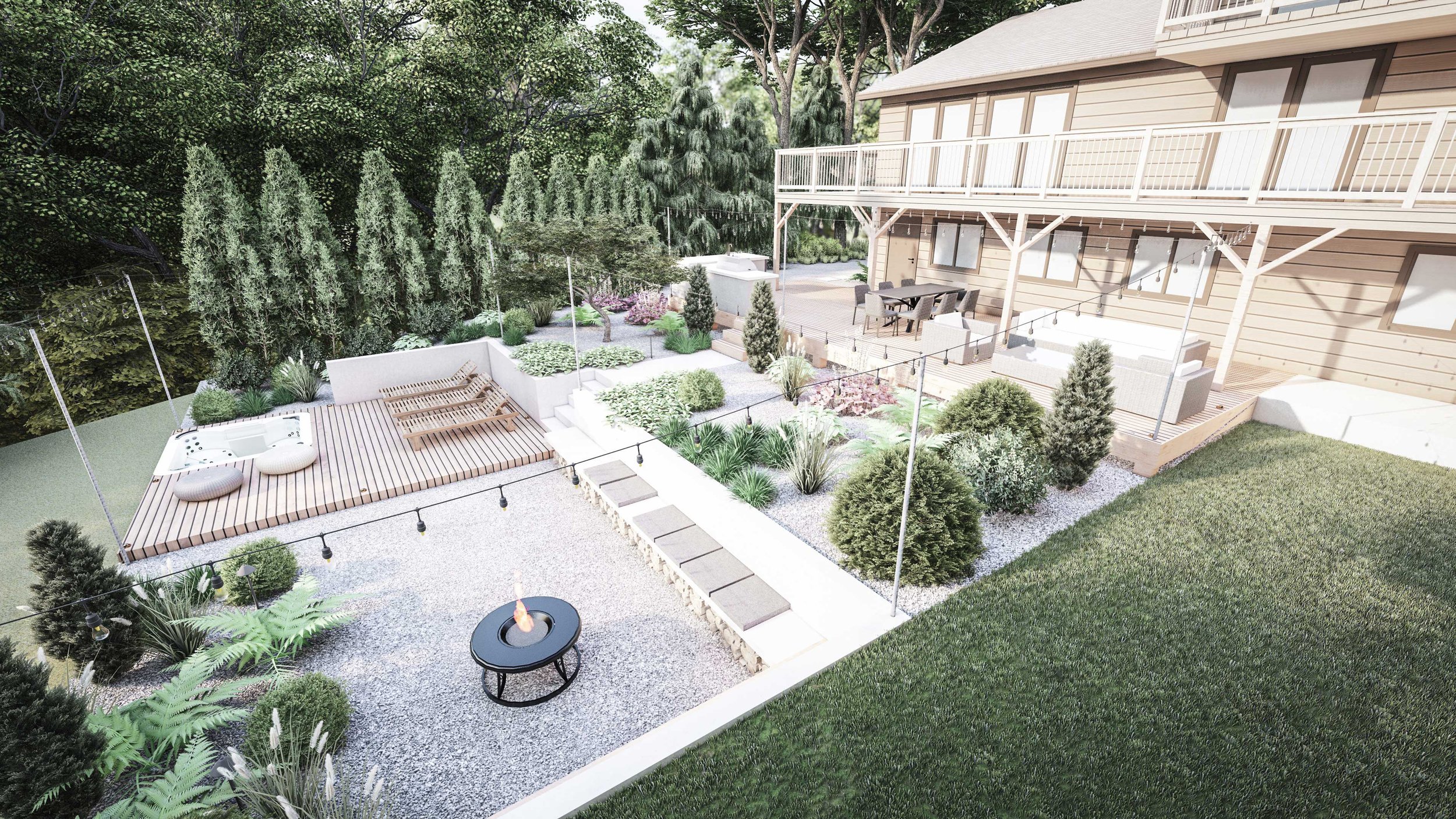 01 WOODSY MODERN
The trick with slopes is to work with them. In this modern Portland design, two decks, a hot tub, and a sunken fire pit all dodge expensive earthwork by embracing the yard's downward descent. Crisp concrete retaining walls carve out clean boundaries and announce a decidedly modern vibe, which is fortified by blonde decking and stylish furniture in beachy neutrals.
The result is a series of spaces, each spilling into the next, that collectively form a spacious, versatile, and extremely inviting scene.
Add in some classic Pacific Northwest conifers and punctuating pockets of evergreen shrubs, ferns, and grasses, and you've got a woodsy modern retreat that is begging to be used.
---
FEATURED PLANTS
02 EASY BREEZY
Naturalistic masses of grasses and flowering perennials envelop this soothing backyard seating area. Oversized pavers with permeable gaps and gravel paths offer casual cool, while standing ready to deal with Portland's frequent downpours.
A white-blooming Natchez Crape Myrtle presides over the scene, implying an outdoor room while leaving the patio's edges free and clear to strengthen its connection with the surrounding yard. String lights offer cost-effective but charming landscape lighting to keep the outdoor entertainment going on into the night.
---
FEATURED PLANTS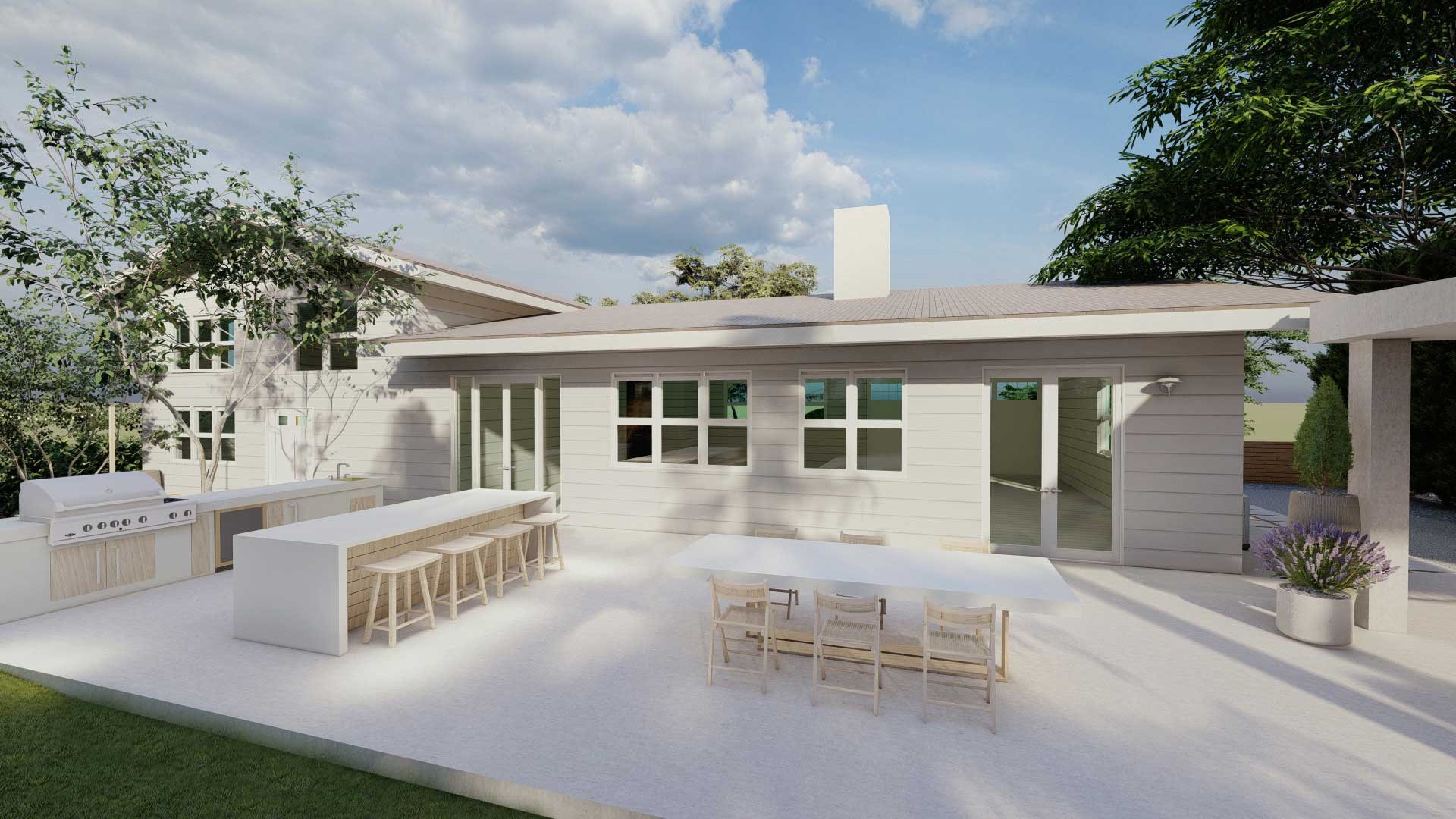 03 FAMILY FUN
This design is tailor-maid to provide versatile outdoor living space for the homeowners' large family. Bar seating at the galley kitchen lets kids and guests enjoy a snack or drink while keeping the chef company, while the more formal dining zone preserves a wide path for rambunctious children to zoom between the house and lawn at a full energy-purging sprint.
Open space on the concrete patio also saves room for kids to play with wheeled toys, while providing an adaptable but attractive surface to accommodate any number of gatherings or activities.
A perimeter of trees rounds out the scene, counterbalancing the flat and open hardscape with height and softness. Smaller scenes of climate-adapted and native plants complement the rugged backdrop while punctuating key moments.
---
FEATURED PLANTS
04 LIGHT SHOW
Radial string lights and a fire pit light up this Portland landscape. Responding to a request for entertainment space, this design offers up a stylish and spacious patio with a massive bench big enough to welcome the whole party to enjoy the fire together.
With hardwood planks perched atop a concrete seatwall, the bench expresses a distinctly modern look, which reverberates in the oversized concrete pavers with gravel-filled gaps.
Layered rows of ornamental grasses billow softly beyond the bench, their movement contrasting compellingly with the motionless bulk of the concrete.
The string lights connect to a pergola at their opposite end, lighting the way between the fire pit and a sheltered outdoor dining space, a simple gesture that does much to activate both spaces.
---
FEATURED PLANTS
05 STEPPING UP
This front yard garden design dresses up a steep walkway with dense, foliage-forward planting. Plants stick to a controlled palette of silvery blues and deep greens, with limited white floral accents, a cool feel to match the shaded environment.
Along the sidewalk, a gravel-mulched parkway strip doubles as a rain garden, with Emerald Carpet Manzanita ground cover and Ice Dance Sedge helping to slow and trap water before it reaches the street.
Beginning with the rain garden, plants stair-step up in layers as they approach the house, aided by the raised planter along the front edge of the property. The clean lines of the concrete planter lend structure and a sense of intentionality to the shaggy planting.
---
FEATURED PLANTS
06 LIFTING UP THE LOWER TIER
A challenging tiered yard is handled adeptly in this Portland landscape design. Cooking, dining, and lounge zones spread efficiently across the lower patio, leaving plenty of space to walk and to rest.
In a gesture of material continuity, the paving portrays a gradient: solid concrete beneath the patio cover, giving way to gravel-gapped concrete pavers in the dining zone, in turn spilling on to a simple gravel walkway.
Across from the patio amenities, a fresh coat of white paint and a narrow bed of drought tolerant plants and bark mulch provide a cost-effective solution to refresh and soften an existing cinder block wall.
A focal point Japanese Maple positioned at the head of the stairs helps to activate the upper tier while tipping its hat to the homeowners' affinity for Japanese gardens.
---
FEATURED PLANTS
07 FANCY DINNER
Cut stone paving and a richly-hued in-ground deck create a striking display in this upscale Lake Oswego design.
Slate gray planters with delicate Golden Goddess Bamboo beat a steady rhythm around the marquee patio, implying a boundary while maintaining long views and an open feel. Evenly spaced Snowmound Spiraea repeat the planters' rhythm in flower beds along the back fence.
Flagstone paths weave through the lower lawn, drawing curves that indicate a more casual ambience than the linear formality of the dining patio.
---
Featured plantS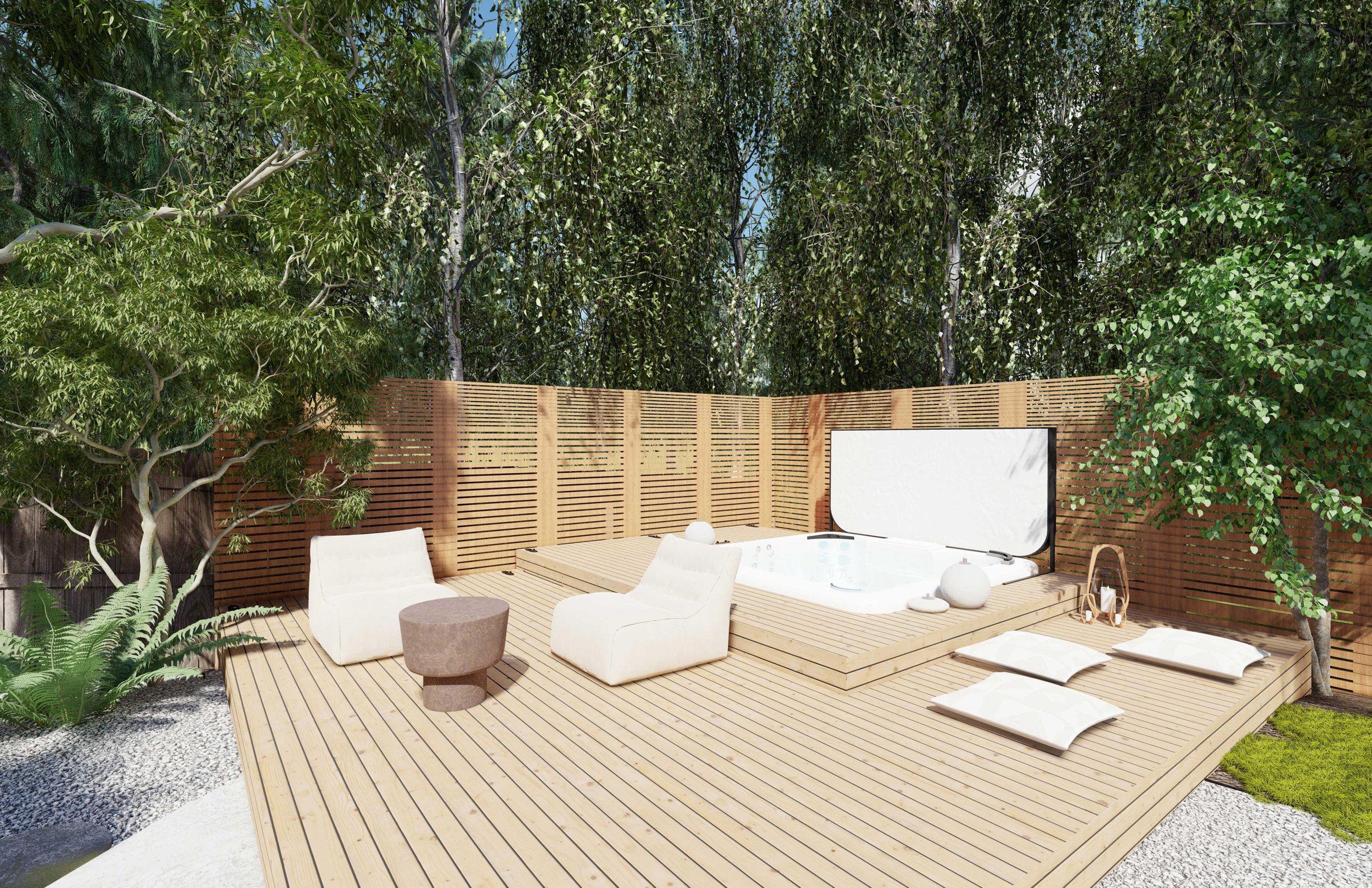 08 MODERN MAGIC
Scratch mowing, fertilizing, and other pesky lawn care off this busy homeowners' to-do list. This design skips lawn in favor of Irish Moss ground cover planting, which has the added benefit of making shady spaces look downright magical. Adding to the forest fairy tale are delicate accents of Western Sword Fern punctuating the turns along a modern paver path.
Glowing red bursts from understory superstar Forest Flame Pieris nod to Japanese garden style, as do rock accents, large and small, spaced along the water and throughout the garden.
Cool gray concrete and low-profile decking maintain broad and clear edges, allowing viewers from any part of the yard to bask in the beauty of this storybook landscape.
---
Featured plantS
DESIGNING A PORTLAND LANDSCAPE TAILORED TO YOUR YARD
Yardzen's award-winning online landscape design is tailored to clients in Portland and across the US. Our design process begins with understanding your space, and a discussion of your budget and vision to minimize surprises when it comes time to build.
We want to make sure our design team can personalize your yard, delivering a vision that includes what's most important for your outdoor life and unique environment while keeping costs within range. We do this by utilizing our in-house Build Team made up of former contractors and our Pro Network of vetted professional landscapers across the country.
Ready to level up your home improvement with a professional Portland landscape design? Create your design profile or explore our design packages today!