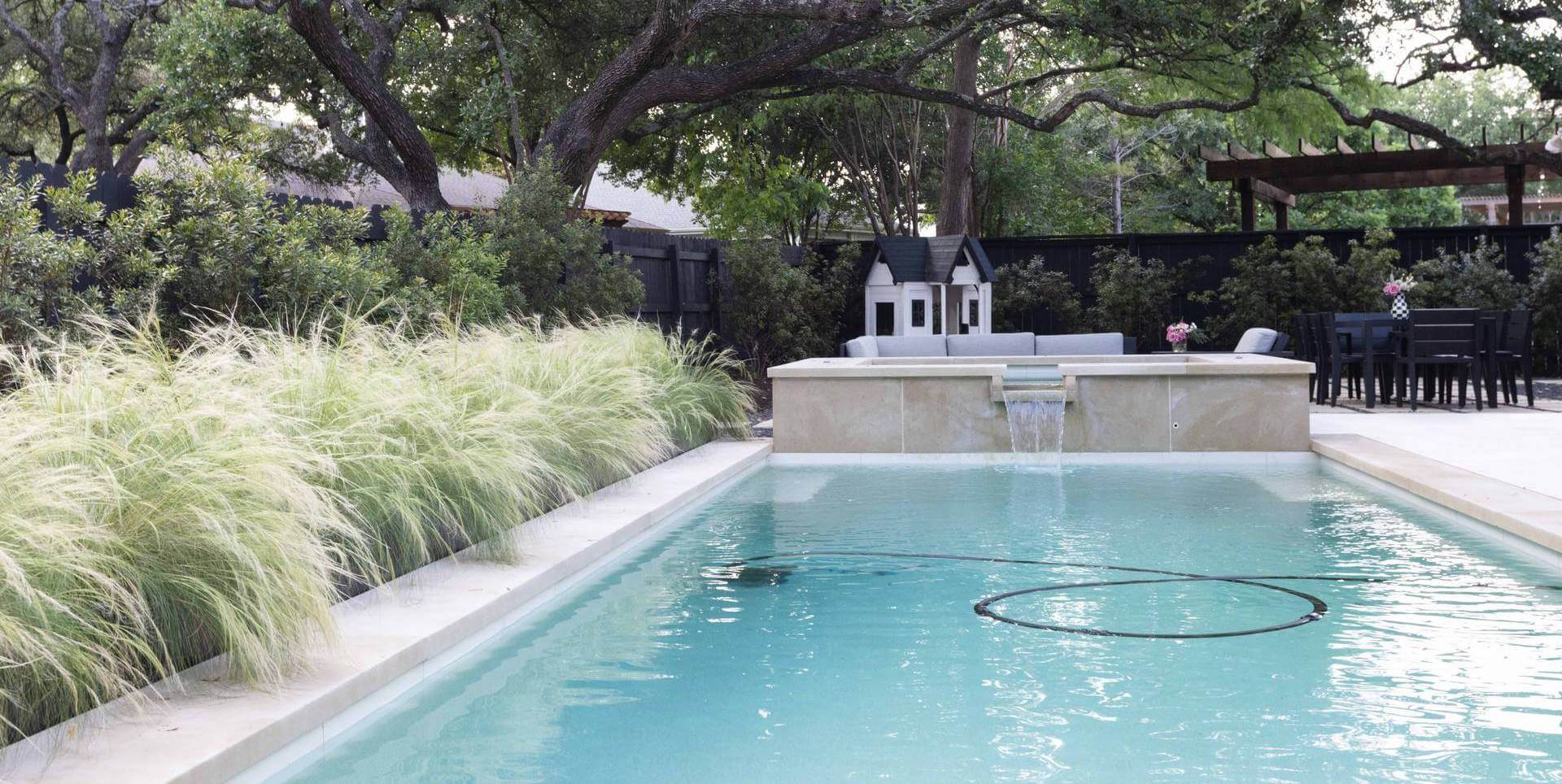 Plunge pools have skyrocketed in popularity over the last year. They are a "hack" for better outdoor living—because with lower pool maintenance and installation cost than a regular pool, small plunge pools not only allow homeowners with smaller lots to enjoy all the benefits of a backyard pool, but typically have a much lower price tag.
Are plunge pools expensive?
"Plunge pool", also called a "cocktail pool", is a catch-all term for any small, deep pool—they are a much smaller pool, and therefore typically cheaper, than traditional pools. Aside from the cost to install by the pool builder, plunge pools tend to cost less over time in water and maintenance compared to a full-size swimming pool, making them an excellent choice for anyone on a tighter budget—or with a small backyard.
There are a lot of options for taking the plunge with a small backyard pool, and each comes with its own benefits and costs. Options on the higher end of the price range are typically custom concrete, vinyl, or fiberglass in-ground swimming pools. Above-ground plunge pools are a good mid-range option and are available in various materials and with a variety of features. The cheapest option for adding a plunge pool would be to opt for alternatives including stock tank pools and higher-end hot tubs.
How much does a plunge pool cost?
The typical plunge pool costs anywhere from $25,000 to $70,000+ with materials and installation. Here we'll walk you through a few of the most popular types of plunge pools and the typical associated costs. Prices shared are estimates based on our clients' yard renovation projects, but any project to install a plunge pool will depend on unique circumstances including square feet, materials, features, and amount of labor required for installation.
Concrete Ground Plunge Pool Costs
Custom concrete in-ground pools are the most expensive option, topping out at around $70,000-$85,000 to build a plunge pool that is top-of-the-line and the same quality as a traditional custom full-size pool, but is "cocktail" or "plunge"-sized (called a "ground plunge pool").
Fiberglass or Vinyl Ground and In-Ground Plunge Pool Costs
A vinyl or fiberglass prefab pool typically costs less than a custom concrete ground pool, but homeowners should still expect contractor estimates to be over $20,000 (and as much as $50,000) for prefab plunge pool installation using any material. Specific costs for installing a prefab plunge pool will come down to manufacturer, size, material, and the labor required based on site conditions and whether you're installing in-ground or above ground.
For example, Liesure Pools is a popular manufacturer of in-ground fiberglass pools and now offers a plunge-sized option, and according to their website—the pools themselves start at $25,000 before any shipping or installation costs.
Pre-fab above-ground plunge pools are typically at the lower end of the prefab price range mentioned above. Above-ground pools provide the same smaller size water feature perfect for relaxation—and can look just as "finished" with proper pool design like landscaping or a pool deck.
Endless Pools is a company that sells small above-ground pools designed for low-impact fitness with swim jets and options for in-pool treadmills, but their most affordable option is also usable as a recreational plunge pool or space for water aerobics and starts at only $13,000—plus shipping and installation costs.
Soake Pool is one of our favorite manufacturers of above-ground precast concrete plunge pools. Their pools are one of the highest budget options for an above-ground plunge pool starting at $24,500. However, these pools give you the best of all worlds—they have heaters so they can be enjoyed year-round—as a plunge pool on warm days and a Jacuzzi-alternative during chilly days or evenings.
Costs for Plunge Pool Alternatives: Hot Tubs or Stock Tank Pools
Stock tank pools (aka "hillbilly pools") could cost you as little as $600 for the tank itself and all the materials for installation. This is a good option for DIYers and those who want a dipping pool and won't mind missing out on the full plunge pool experience with a deeper pool.
For more inspiration, check out this DIY, and these articles from Sunset, Apartment Therapy, and Dwell!
Hot tubs are another great alternative if spending $10,000 minimum on an outdoor water feature isn't in your budget. Most hot tubs cost much less than that baseline, but of course, the highest-end hot tubs can easily cost much more.
If You're Saving Up for Your Dream Plunge Pool…
But seriously—don't discount blowup pools! There are several attractive and durable options on the market, like this beauty from Mylle. Blowup wading pools are a backyard-favorite for casual parties and socializing among many Yardzen staff!
Work with a Yardzen designer to create a vision for your dream backyard
Yardzen's award-winning online landscape design is tailored to clients in all fifty states in the US.
Our design process begins with understanding your space, your aesthetic preferences, and a discussion of your budget and vision to minimize surprises when it comes time to build.
Our top-notch designers then develop a personalized vision for your yard, shared through 3D renderings, 2D plan drawings, and plant and material lists. Your design will capture the look, feel, and function you are hoping for, all while keeping costs within range.
Once your design is complete, we'll help you connect with a local contractor from our Pro Network of vetted professional landscapers to install your new design.
Ready to see a plunge pool in your dream backyard? Create your design profile or explore our design packages today!