The Yard
Edith and Bobby loved spending time in the backyard of their 1926 Seattle bungalow.
An avid gardener, Edith presided over an impressive array of vegetables, herbs, and fruit trees. Together, the couple enjoyed lounging on their deck, which featured a wrap-around stair and an expansive wooden pergola. Overhead, a giant Wisteria and one hundred year-old grapevine wove densely through the pergola beams.
A large lawn blanketed the middle of the yard – a favorite sunny patch of their dog, Niki. All told, there was much to love, and yet, things needed a big upgrade.
"Our yard was just an inherited non-design," Edith explained. "Everything was old and falling apart." Indeed, their fence needed replacing. Spaces sprawled haphazardly across the yard, leaving large areas unutilized. The old vines, while venerable, were overgrown and disrupting circulation.
The Vision
Fans of modern design, Edith and Bobby dreamed of clean lines complemented by lush planting in a range of soft colors – white, lavender, chartreuse, maroon, and plenty of green.
They also hoped to impose order on their space via a logical, functional, and attractive layout. Crucially, their new yard must require less maintenance (no more mending fences!). Above all, they wanted their space to be calm and welcoming, with more privacy from their neighbors and a range of small spaces for them and their friends to enjoy. "Neat but comfortable," was their concise way of describing the vibe.
In Seattle, comfortable means at least a little sun. While increasing privacy would be crucial, so would preserving sun exposure into their yard. It goes without saying that Edith's vegetables and herbs needed to stay, too, though they could move, as could the smaller fruit trees (fig, persimmon, dwarf peach). Again, sunshine would be a must to keep her crops happy.
Edith and Bobby had a clear vision, but they needed help pulling it together into a single, cohesive design. "The dilemma for us was mixing the 1926 cottage style house with new aesthetics," she explained.
To solve this dilemma and make their vision real, they reached out to Yardzen.
The Design
Right away, Edith and Bobby knew they were on the right track. "We got the design and said 'oh, we like this!'" she laughed.
It's easy to see why they were pleased. The new design had a clear layout, characterized by straight lines and open edges in the modern style they hoped for. A downsized central lawn remained for the dog to enjoy, flanked to the north by a lounge zone with a fire pit, and to the south by a dining area shaded by a new fiberglass pergola in a crisp dark gray.
For an added dash of tranquility, a prefab fountain burbled near the lounge, while small canopy trees flanked the seating for privacy. To make way for the lounge zone, the edible garden was relocated to the back fence, where it continued to receive ample sunlight.
The southern side yard, where privacy was most crucially required, featured an alternating planting of Italian cypresses and tall ornamental grasses, creating a rhythmic, lush barrier compact enough to suit the narrow space.
Behind this ran a new stretch of fence, which lined the entire backyard. Edith and Bobby wanted a new, more modern fence style, and they got it: horizontal wood boards formed a solid barrier to 6', above which floated thinner parallel boards that acted as a lattice for vines, which sprouted periodically along the rear and side fence lines.
To amplify the modern feel, oversized concrete "steppers" were used for paths through each side yard, and as a stylish paving choice for the dining area. The lounge stuck with gravel for ground cover, offering a more rustic alternative to the comparatively sleek dining space.
Happy and excited to get started, Edith and Bobby moved quickly into the installation phase.
The Installation
How was it moving from design to construction? "We had a pretty easy flow," said Edith. "We had a good referral." The installation itself proceeded quickly. Edith described how the process felt: "They came in, started work, and it was done."
A few things did adjust between the design and the final installed yard.
Working in the Fall – at the end of the planting season – a few of the plants specified in their design were sold out, and required substitutions. This was an easy fix; they worked directly with their contractor and local nursery to replace the missing plants with similar species that perform well (and require minimal maintenance) in Seattle's climate.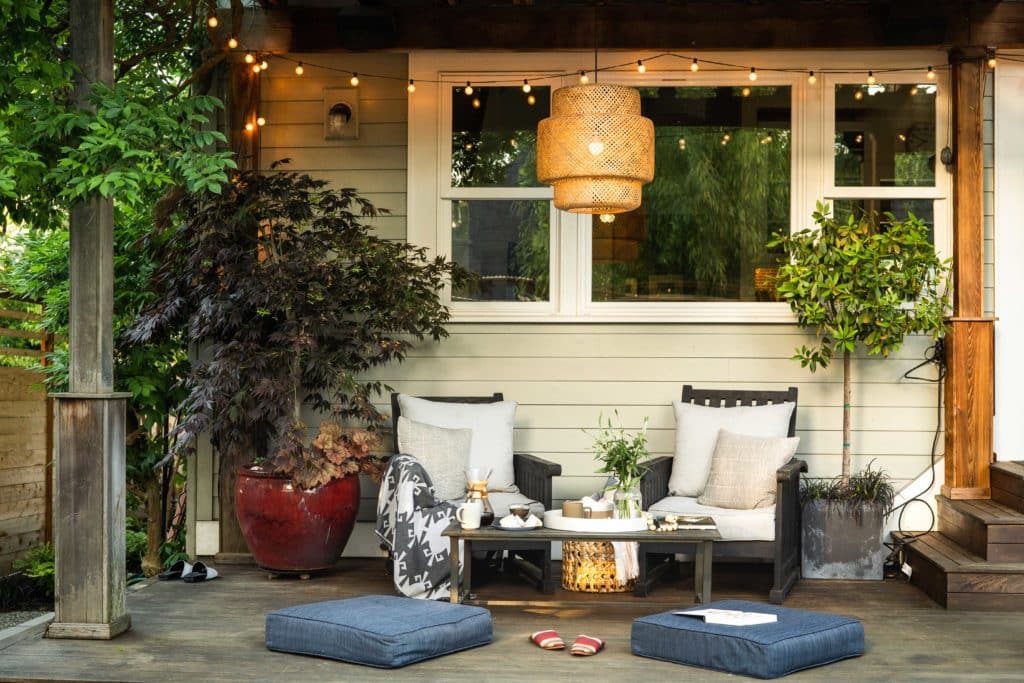 They also made the decision to replace the Italian cypress privacy trees from their design with coral bark Japanese maples. This choice was driven by a few factors.
First, after asking their designer to replace an existing mature maple at the corner of their dining area with a pergola, they reversed course, keeping the maple and ditching the pergola. "The maple didn't shine like it does now when it was surrounded by messy things before," Bobby explained. In the new design, the maple does indeed shine, shedding dappled light across the dining area, and lending a dramatic, colorful backdrop.
With this marquee maple remaining, it only made sense to use more compact Japanese maples in the southern side yard, establishing a maple theme to help unify the planting design. Tucked neatly along the fence, the canopies of the Japanese maples are more effective at blocking the view of the neighbor's house than the columnar cypresses would have been. Their airy, fine-textured canopies also establish a gentle atmosphere, literally brushing your body as you enter the backyard, as if you were being prepped for a spa treatment.
The fire pit and water feature also remain unrealized. Edith and Bobby liked the concept, but are still hunting for prefab features that perfectly suit their taste. For the time being, the installed design allots space for each feature to tuck in when the time comes.
To tick the box of providing multiple seating areas, a woodsy wooden bench nestles among fence line planting, and a patterned hammock dangles between two posts on an underutilized nook of the existing deck. These options add to the seating areas of the lower yard, along with new, more contemporary seating on the main pad of the deck.
As for the ancient vines, Edith and Bobby kept them, albeit with a haircut to keep them tidy and avoid any impediment to circulation.
All in all, the finished product is a smash hit, not only with Edith and Bobby, but with their friends. "We get so many compliments on our yard!" Edith said. "Our friends volunteer our house for their parties," she laughed.
Edith goes on, "I like the tidiness and the calmness. It's not completely minimalist, but it's a minimalist look."
Asked how he feels about his new yard, Bobby says, "I think it turned out really nice. It's very peaceful," adding, with a wink, "It's yard Zen."
Designing a modern yard for style and function
Yardzen's award-winning online landscaping design is tailored to clients in all fifty states in the U.S. Our design process begins with understanding your space, your aesthetic preferences, and a discussion of your budget and vision to minimize surprises when it comes time to build.
Our top-notch designers then develop a personalized vision for your yard, shared through 3D renderings, 2D plan drawings, and plant and material lists. Your design will capture the look, feel, and function you are hoping for, all while keeping costs within range.
Once your design is complete, we'll help you connect with a local contractor from our Pro Network of vetted professional landscapers to install your new design.
Ready to level up your curb appeal or backyard landscaping with a professional design and remodel that brings your vision to life? Create your design profile or explore our design packages today!