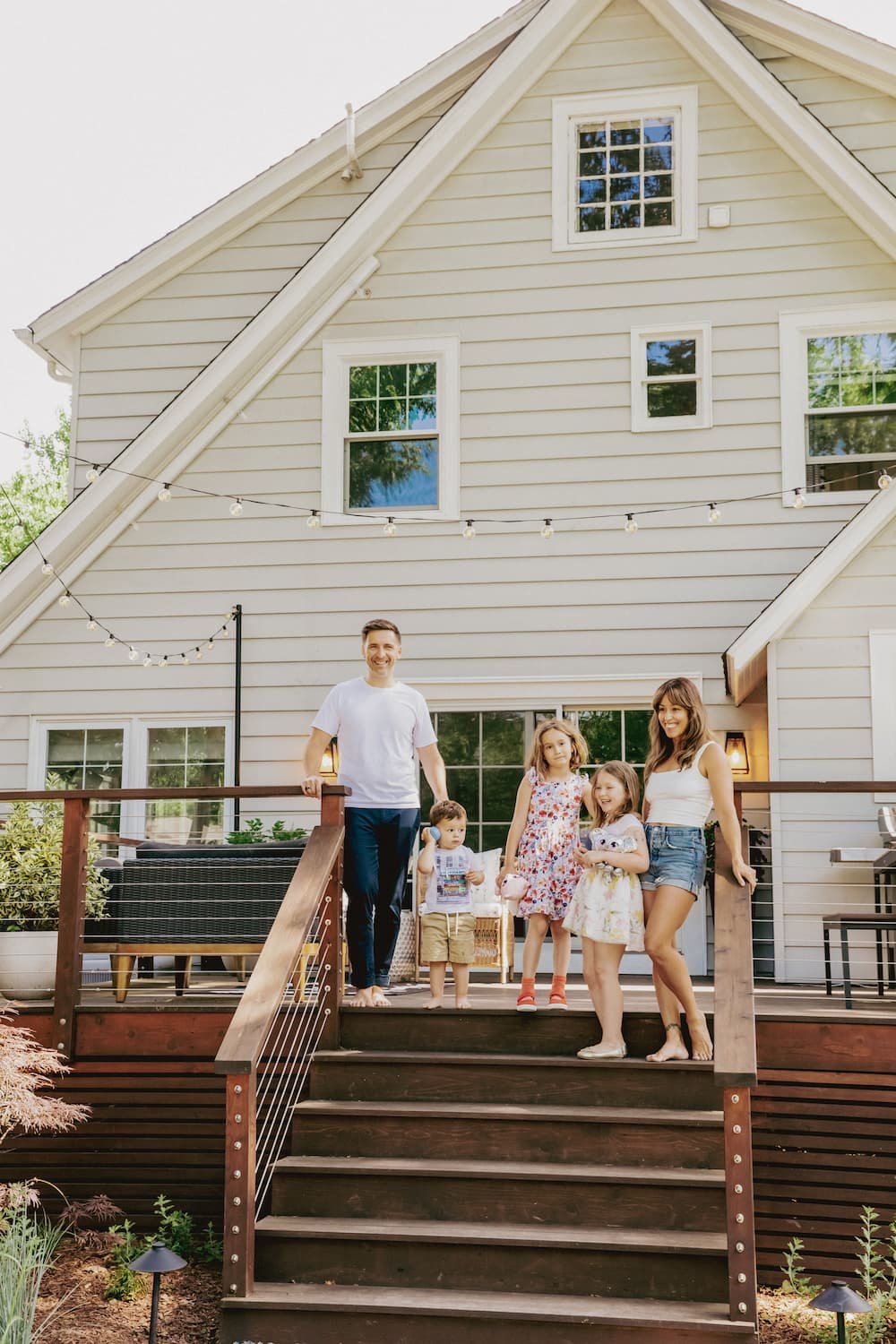 Some designs call for a head-to-toe makeover. Others require targeted problem solving and a bit of spiffing. Interior designer and homeowner Julieta Alvarez came to Yardzen seeking the latter.
Her family's modern home in New Jersey had a lot going for their outdoor space. A beautiful deck with cable railings perched off the back door, six steps above their lower yard. A fire pit zone anchored the other end of the backyard. Large existing trees offered shade, birdsong, and general pleasantness throughout the property.
In short: the yard had good bones. So why were they looking for a new landscape design?
The Challenges
On its way to a backyard garage, Julieta's driveway widened, dragging a curving edge in front of her deck – much to her chagrin.
"My main challenge was working out a pretty walkway from the deck to the garage; but without having any curves," she said. "I wanted a modern look with straight lines."
She also wanted a fence, and for good reason – her current yard flowed directly into her neighbors with no separation whatsoever. A new tall fence would screen out her neighbors' property, contain her three young children, and establish some much needed privacy.
In front and back, Julieta hoped for more, better planting, something that went beyond her existing rounded shrubs and filled in the awkward gaps in her planting beds.
And then there was the firepit. The location was right, but the space needed definition. As Julieta explained, "I wanted to design the firepit area in a nicer way and make it an oasis with surrounding plants for privacy."
Julieta's ideal design would address all of these issues, while also strengthening the sense of cohesiveness across her yard. It would also keep costs to a minimum.
The Design
Yardzen's design rose to these challenges.
First and foremost: the path. The design ditches the existing curving walkway with varied stepping stones in favor of a wide, straight path consisting of large concrete slab pavers set in a bed of pea gravel. Concrete paver, or "stepper" paths are one of the most popular hardscapes used for modern design styles including mid-century modern and moditerranean. Discreet black path lights tuck along the concrete slab walkway's edges, activating the yard for nighttime use.
The new walkway design's ample width, which exceeds that of the stairs, allows it to absorb the driveway's curve while maintaining a comfortable walking surface to carry people across the yard. The pavers adapt to the path's shifting width by transitioning from parallel rows of squares at the base of the stairs to a single row of rectangles as you approach the fire pit.
A grid of the same square pavers and gravel cover the new concrete patio in the fire pit area, dramatically strengthening its definition as a distinct space. Here too, the design plays with the pavers' dimensions: a spine of rectangles runs up the middle, while fields of squares spread off to each side. All in all, and as requested, straight lines and a modern feel define the scene.
To further emphasize the fire pit area, the design flanks its entrance with dramatic Bloodgood Japanese Maples, along with floral accents from Russian Sage and the grassy foliage of native Pennsylvania Sedge. This same Japanese Maple appears again aside the deck stairs, a bold gesture to visually link each end of the backyard.
In a similar vein, plant species are repeated throughout the design to establish a cohesive, consistent feel across the property. A blend of grasses, including native favorites Switchgrass and Little Bluestem, as well as traditional standbys like boxwood and Hydrangea, contribute to a planting palette that balances a soft, meadowy feel with an intentional, contemporary look.
To address Julieta's fencing concerns, the design splits responsibilities between fencing and planting.
Along the back and the western side yard of the property, the design runs an evenly spaced row of Rocky Mountain Junipers, a cold-hardy evergreen with a bold upright habit and striking blue foliage. New fencing runs behind the Junipers along the back of the yard, but to reduce expenses, the design omits fencing along the western edge. As a whole this approach looks sharp, and creates a tidy, semi-permeable privacy screen that is cost-effective and neighborly, yet still provides a comforting sense of separation from the outside world.
The New Yard
How was Julieta's experience getting her Yardzen design built?
"Very good," she said. "I pretty much told the contractor to follow the renderings as best as possible and was there making sure that happened."
A strong design and Julieta's collaborative attitude made for a smooth installation process. "There were a few changes we needed to make but they were minor," she said. All in all, the contractor installed Julieta's design efficiently and as envisioned.
Her favorite detail? "The walkway to the garage and the firepit area," she said. We agree! Gazing down from the deck, the new path is a natural focal point that beckons people to cross the concrete steps and enjoy the lower yard, while the revitalized fire pit area pulls people in with new gravity, activating the previously underutilized back half of the yard.
DESIGNING YOUR MODERN LANDSCAPE FOR OUTDOOR LIVING
Yardzen's award-winning online landscaping design is tailored to clients in all fifty states in the U.S. Our design process begins with understanding your space, your design ideas and aesthetic preferences, and a discussion of your budget and vision to minimize surprises when it comes time to build.
Our top-notch designers then develop a personalized vision for your yard, shared through 3D renderings, 2D plan drawings, and plant and material lists. Your design will capture the look, feel, and function you are hoping for, all while keeping costs within range.
Once your design is complete, we'll help you connect with a local contractor from our Pro Network of vetted professional landscapers to install your new design (if you don't plan to diy).
Ready to level up your curb appeal or backyard landscaping with a professional design and remodel that brings your landscaping ideas to life? Create your design profile or explore our design packages today!