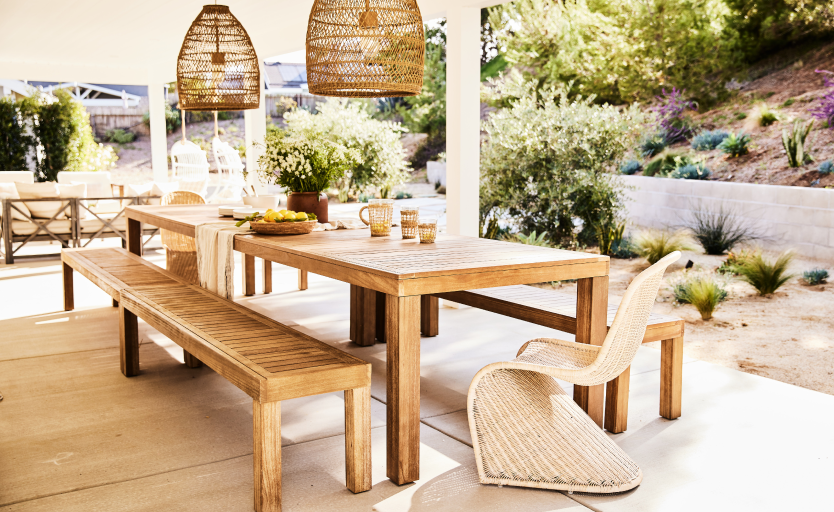 Outdoor style is defined by the sum of the parts. In the best designs, planting, materials, furnishings, and decorative elements all work together to collectively express a focused look and feel.
These landscape design ideas from Yardzen's world-class team of landscape architects and designers will get you thinking about your style. Are you formal or informal? Are you French Country, Moditerranean, Contemporary, or somewhere in between? See what excites you and inspires you to upgrade your yard design.
A handful of elements may indicate particular styles – modern corten planters, traditional stone fountains – but in general, style is a team effort, not something defined by individual objects.
Below we'll share some tips for thinking about style, and describe a few fundamental outdoor styles to help you zero in on your own preferred look and feel.
---
HOW WE THINK ABOUT OUTDOOR STYLE
There are lots of named styles out there—new ones pop up routinely. Assigning clear definitions to them, let alone getting everyone to agree on those definitions, is tricky.
To get around this issue, we'll first cover four key terms: modern, traditional, formal, and informal. Each of these terms has specific physical characteristics associated with them. These are generalized descriptions, but as rules of thumb, they're useful for referring to specific, tangible design characteristics.
THE STYLE SPECTRUM
Now think back to geometry class and the x and y axes. When thinking (or communicating) about style, try visualizing each axis as a spectrum:
On the x axis, you have modern at one end and traditional at the other.

On the y axis, you have formal at one end and informal at the other.
This framework is a simple tool to break any particular style down to definable characteristics. Is a design boxy, curvy, or somewhere in between? Is its planting loose and naturalistic, or rigid and geometric?
Most people prefer styles that fall somewhere in the middle – they could want a modern look with a few traditional accents, or formal planting with a few moments of naturalness.
The point is not to waste much time pinpointing particular styles on this framework, but to encourage you to think of style in terms of basic building blocks: what forms, materials, and elements are working together to achieve a style? If you find the fundamental pieces that work together to achieve a cohesive style, you can use them to achieve your own style goals.
By focusing on tangible, physical characteristics – straight vs. curved lines, amorphous vs geometric planting – you'll be able to clearly express your style goals, and will be more successful in discussing style with your design team.
MIXING AND MATCHING
Some common landscape styles apply primarily to planting (grassland, tropical, and desert styles are a few that we'll look at in a bit).
Planting styles like these can mix and match with styles on the modern-traditional spectrum:
a modern desert design

a traditional tropical design
You can then further modify by choosing a level of formality:
a formal modern desert design (rectangular spaces, straight concrete paths, rigid rows of succulents and desert shrubs, corten steel accents, dramatic uplighting)

an informal traditional tropical design (loose arrangements of ferns, perennials, and trees, gently arcing edges, natural stone walkways seated in deep green grasses, white rock accents)
When developing an outdoor design, you should feel free to create your own style by manipulating these three fundamental characteristics: planting style, design style, level of formality. Innovation is welcome!
PLANTING AND GARDEN STYLES
Now that we know how to think about style, let's look at some established examples in landscape design renderings:
CONTEMPORARY STYLES
Contemporary landscaping is a reimagining of several styles, from traditional to desert. In most contemporary garden design, we see clean lines and neutral tones.
Contemporary yards tend to make use of a lot of hardscaping, which stylistically, creates eye-catching contrasts and angles, and functionally, creates an easy-to-maintain space. We love using cooler-toned hardscaping, like concrete, pea gravel, and lighter woods. Popular plants include agave, grasses, palms, and textural shrubs, like White Sage.
For furniture, consider simple pieces that mimic the clean lines of the space.
MEADOW & GRASSLAND
Grassland planting style has a backbone of ornamental grasses punctuated by occasional perennial accents and the odd shrub or non-flowering perennial for textural contrast. In the wild, grassland plants grow in large, swooping "drifts" (clusters of a single species), densely covering the ground and changing character with each season.
To evoke these drifts, cluster grassland plants in masses – this makes designs legible from near and far. Don't intermix too much – the goal is fewer, more emphatic planting gestures.
Whether arranged in neat rows or loose masses, clean hardscape boundaries make striking frames for these loose plantings.
We recommend using native plant species when creating a grassland-inspired design – they'll require the least help from you to succeed. Bouteloua gracilis, Schizachyrium scoparium, and Panicum virgatum are all excellent grasses with broad native ranges, well-suited to anchor grassland designs.
We also love mixing ornamental grasses, like Silvergrass, Lomandra, Fountain Grass, Cape Rush, Pink Muhly Grass, and Boulder Blue Fescu , to create a modern, organic look that mimics the look and feel of a warm, wild, summer meadow.
TROPICAL
Tropical planting style features large-leafed, deep green species, and is characterized by lushness, verticality (tall palms, giant bird of paradise), and occasional bold bursts of color (Hibiscus and Bougainvillea are crowd-pleasers).
Tropical planting is dense – there shouldn't be much open ground. It's also layered, and fairly intermixed.
Many tropical species enjoy some shade, having adapted to life beneath tree canopies. Many also require a good deal of water, having evolved in wet climates.
When designing tropical gardens in dry climates, take care to select species with lower water demands. Drought tolerant palms (there are several), pineapple guava, and red hot pokers, along with the aforementioned bird of paradise and Bougainvillea, can all withstand dry spells.
XERISCAPE
Xeriscape is a landscaping style and practice that requires little to no irrigation. Xeriscape yards often contain a mix of permeable gravel or mulch and native or climate-adapted plants that will thrive in your yard with little human intervention. Xeriscape yards are super low-maintenance and great for the planet! Plus, the neutral style works beautifully with all home types.
DESERT
Like xeriscaping, desert-style landscaping relies on permeable gravel groundcovers, like pea gravel and decomposed granite, and adds the beauty and intrigue of drought-resistant and drought tolerant plants adapted to survive in hot, dry climates. cactus, agave, and succulents. Consider adding boulders to round out the space. It's good to note that cacti, agave, and succulents grow well in many regions outside of the arid Southwest. Check out this Sunset article to see beautiful cactus landscaping ideas in the PNW.
Many desert plants have the gravitas to hold their own as accent plants. Succulents like Agave attenuata, Echeveria elegans, or Aloe 'Blue Flame', along with desert favorites Red Yucca, New Mexican Privet, and Desert Museum Palo Verde, all beg to be used as accents in planting designs. Avoid putting too many of these bold species near each other – give each their own space to shine.
Plants in desert designs have more space between them. Place decorative boulders (aim for 2' or so in length, placed individually) or limited mats of xeric groundcover (Sedum species are great) in the gaps between moments of planting.
Default to tan gravel as a mulch, colored to match the tan decomposed granite zones that are de rigueur in desert designs.
Whether structured or naturalistic, stick to a loose rhythm of planting, open space, planting when composing desert designs. Better too open than too stuffed.
SOUTHWESTERN
Just as you might have guessed, Southwestern landscapes recall the colors, textures, and forms of America's Southwest. A mix of warm white built-ins, gabion stone walls, and wood mingle with cactus and pea gravel, which crackles under foot, transporting you to the sun and warmth of one of our country's most beautiful regions.
COASTAL
Coastal yards have a relaxed, breezy feel. A mix of gravel hardscaping and billowy plants, like ornamental grasses, gives the feeling of windswept seascapes. Add rustic wood elements, like fences, steps, and edging to recall driftwood—pair lounge-worthy furniture and salty decor to complete the look.
WEST COAST
Don't let the name fool you! This style works beautifully in any state. It embodies a feeling: warm, sunlit days fading into cool evenings around the fire pit, the faint sound of the ocean waves in the background. Dense plantings of pollinator-loving plants, like lavender, salvias, rosemary, and native grasses, give the space a warm, soft, and natural feeling.
The smooth contours of pea gravel and decomposed granite work beautifully in these yards, especially when paired with wood furniture, like Adirondack chairs—perfect for relaxing after a day in the mountains or at the beach.
FAMILY FRIENDLY
Yardzen is a company founded by the parents of two young kids, so kid-friendly (and pet-friendly) outdoor spaces are ingrained in our company's DNA. One common misconception about family-friendly yards: they need to have plastic play structures and sandboxes. Not so fast—we love creating functional and beautiful kid-friendly spaces that encourage both the young and old to move their bodies, exercise their imagination, and interact with nature.
EDIBLE GARDEN
According to our 2020 Trends Report, edible gardens are more popular with homeowners than ever before–over 50% of our clients want some edible element in their yard, whether that's a fruit tree, an herb garden, or raised beds.
When it comes to your yard, there are many attractive ways to incorporate edible plants. Fruit trees and herbs, like rosemary and sage, grow beautifully in many climates, and work well in pots and in the ground, mixed among your non-edible plants.
One of the best ways to get the whole family involved in growing your food is by creating raised beds, which are easy to access and maintain. Raised beds come in all shapes, sizes, and styles, including wood, stainless steel, and corten steel. And, for those of you who have farm animals, we can design chicken coops and animal pens, too!
TRANSITIONAL
Blending traditional and contemporary styles, transitional gives a name to clients who want to borrow elements from distinct landscaping genres—and helps create compromise between partners with very different landscaping ideas.
TRADITIONAL STYLES
"Traditional" landscaping isn't going anywhere—it's one of our most requested styles! A palette of whites and greens reign supreme: trimmed lawns (including sustainable alternatives), neat hedges, and shapely, white flowering plants.
Hardscaping choices tend to be simply elegant: bluestone pavers, pea gravel, and brick. Important to keep in mind: because traditional yards are orderly and pristine, they tend to require a lot of maintenance.
FORMAL TRADITIONAL
Formal traditional gardens emphasize structure and geometry. Think of estate gardens from England or France, with crisp hedges and organized rows of flowers.
Domestically, this style is commonly associated with New England and the South, though traditional formal gardens can be found virtually anywhere in the US. The common use of boxwood hedges is a nod to the traditional formal style.
Skip ornamental grasses, and lean on medium to dark green shrubs like boxwood or Pittosporum. Pro tip: save yourself maintenance work by letting these plants grow naturally rather than trimming them into a hedge.
Plant parallel lines of white or pale blue flowers like Hydrangea, and blend in green textural accents like chunky Hostas or vertical arborvitaes.
Frame windows with pyramidal evergreens or columnar shrubs, and add container plants in large decorative pots to flank doorways or punctuate the corners of outdoor spaces.
When possible, designs should anchor around a strong central axis – you'll see a lot of straight lines, despite the design being "traditional". Lean on symmetry, and stick to a limited material palette to express structure and control. Splurge on stone paving for key patios, then get casual with crunchy gravel for paths and seating areas that are further from the home.
STANDARD TRADITIONAL
Standard traditional designs borrow a bit from cottage and a bit from formal traditional to create tidy but comfortable designs. Among folks with traditional tastes, this is the most commonly requested style.
You'll see curving edges to paths and patios, a moderate amount of flower color in a relatively wide color range, and paving in warmer neutral hues, particularly in more arid regions. Natural shaped stone paths are a yes, large rectangular concrete pavers are a no.
Plant layout in this style varies with client preference. A blend of some straight rows, usually near paved spaces, along with more naturalistic placement in further reaches is commonly requested, but be careful to maintain a consistent feel in your plant layout. Ornamental grasses (which tend to evoke a modern feel) are often downplayed in favor of perennials and shrubs.
Furnishings are medium to upscale, with moderate ornamentation. Minimalist or mid-century modern pieces are not a great fit for this style. Iron or teak chairs with luxurious cushions are.
COTTAGE GARDEN
English cottage gardens are one of the earliest landscaping styles, dating back to the 1400s. Often described as an informal take on the formal yard, these yards often feature a dense mix of multi-colored flowering plants.
The cottage garden style today is traditional and informal. Planting is full and highly intermixed, with loads of colorful flowers mixed among shrubs and perennials. The effect is ebullient and a bit unkempt.
More refined yards, like the one featured here, bring in the colors and blooms of traditional cottage gardens but pare down the density. Hardscape in these gardens often features organic shapes, like rounded pavers.
Plants often rush up to paved edges at shin to thigh height. Pro tip: limit plant height along paved edges – taller plants make spaces feel crowded.
Paving in cottage gardens is humble and rustic. Curving brick, roughened cobbles, gravel, or natural-shaped stone paths are common.
Furniture should be second-fiddle to planting. Tuck a bench or white wrought iron table in a corner beneath a canopy tree, with planting wrapping the edges of the space. Furniture can have ornamental flair, but should not be fancy – things fit in best when they're a little weather-beaten.
CRAFTSMAN
Traditional craftsman homes feature low-pitched roofs, horizontal lines, detailed woodwork, decorative elements, and colorful accents. Craftsman-style landscaping mirrors these architectural traits, and often feature a dense planting of low-lying plants that add color and texture.
Popular plants include small trees, like Japanese maples, feathery grasses, and climate-adapted, flowering shrubs. Hardscape choices often include mulch, wood decks and fences, and organically shaped pavers.
FRENCH COUNTRY
French country yards are a sensory experience—site, smell, hearing, taste, and touch come alive in these beautiful landscapes. At the intersection of several different styles, like Rustic and Traditional, we love mixing lavender, olive, and lemon trees with lawn and hedges, like Sweet Bay (pictured here). Many different types of hardscaping work beautifully with this style, including pea gravel, decomposed granite, pavers, and cement.
MEDITERRANEAN
Mediterranean yards make use of the organic shapes, textures, and colors of the natural world. Think warm tones, rounded edges, wood elements, stone features, and flowering plants. These yards are casual and inviting, encouraging family and friends to enjoy an evening at a farmhouse table or cook in a wood-fired oven.
RUSTIC
Rustic yards emphasize the organic and the natural. Think: wood, mulch, gravel, and informal plantings of full, textural plants. In these yards, we took a modern approach to rustic design, featuring strong wood accents in the plants and hardscape, and combining them with more modern elements, like built-ins and concrete pavers.
MODERN STYLES
MODITERRANEAN
The Moditerranean look was popularized by the woman who perfected modern Mediterranean style, Joanna Gaines. Moditerranean is the least modern of the modern looks. It blends traditional and modern elements – for example, a tiered stone fountain at the end of a modern paver path.
Moditerranean yards feature clean lines and neutral colors. Planting leans on cool colors and silvery greens with few, if any, flowers. Rosemary, lavender, olive trees, and the occasional Agave accent (an actual Mediterranean plant) are all staple plants.
The modernness of Moditerranean strips down a more traditional Mediterranean look and feel down to its most simple and beautiful elements. We love using greige hardscaping in these style yards—pea gravel, cement, and bluestone—and styling the space with a mix of old and new decor in woods and metals.
Furniture and decorative elements have a big impact on just how modern or traditional a Moditerranean design may feel. Wrought iron furniture? More traditional. Teak chairs with no arms? More modern. You have freedom to find your comfort zone.
MODERN FARMHOUSE
The modern farmhouse style is great for homes with that farm-y architecture. White paint and dark trim on the home are popular choices to clean things up while still looking rustic. Modern farmhouse yards mix the rustic and traditional feel of the farmhouse with modern elements, like grasses, climate-adapted plants, angular pavers, and abundant hardscaping.
Plant densely, emphasizing grasses and perennial blooms. Keep colors relatively muted, and emphasize foliage that is in the light green, silver, pale blue spectrum. Yarrow and Russian Sage are great options to poke through ornamental grasses, with Artemisia offering some lower textural contrast.
Give planting areas clean, straight edges. Narrow mown lawn boundaries are a go-to "cue to care" to make the wilder plantings of this style feel intentional.
Plant trees for shade and focal points – Redbuds are a great option for winter interest (and good habitat plants!).
Take advantage of split rail fences or X-fences to add farmhouse charm. Burst plants through these fences – it adds to the sense of vitality. For an even more agrarian touch, use galvanized steel troughs as planters.
Paving can skew a little more modern. We love whitewashed herringbone brick for patios, and precast large concrete pavers set with gravel gaps for principal paths. Secondary paths can be simpler, paved with decomposed granite or gravel – just don't bring DG all the way to a doorway to avoid scratching interior floors.
MODERN MINIMAL
Modern minimal designs reduce everything to the essentials. Spaces are rectangular with broad, clear edges to maximize a sense of openness. Materials skew toward cool grays. Darker shades tend to evoke a more formal feel.
Planting is typically arranged geometrically, often with large gaps between plants. Decorative rock – blue-gray Mexican pebbles or dark gravel are popular choices – is often employed as a mulch or to fill unplanted spaces.
Pro tip → Take care when using gravel mulch, as it absorbs heat and can increase soil temperature in sunny zones.
Plants tend to be planted monolithically – a strand of a single ornamental grass species swaying in the wind next to a clean concrete edge is a classic, and attractive, move. Texture, height layering, and foliage color are the principle variables. Flowers are uncommon in this style.
Careful curation is the name of the game – less is more, in terms of variety and quantity. Materials, furnishings, and plants should all be chosen with care.
MODERN BOHEMIAN
Modern bohemian designs embrace variety. Furniture is mixed and matched, with white fabric, wicker, and warm wood tones ruling the day. Accessories like container plants (get something dark and leafy), string lights, and outdoor rugs (keep them neutral) are all staples. Spaces should have a lot of "stuff", yet still feel breezy and comfortable, and be easy to navigate.
The abiding vibe is bright, airy, and fun. Plants should seek lushness, but keep it climate appropriate. In drier regions, lean on grasses and drought tolerant perennials, as well as native ferns in shadier zones. Some species variety is ok, but don't get too mixed.
Plant layout should lean toward the informal – arrange plants in naturalistic clusters, emphasizing height layering and textural variety to create a sequence of scenes interspersed by openness.
DESIGNING A LANDSCAPE TAILORED TO YOUR STYLE
Yardzen's award-winning online landscaping design is tailored to fit clients all over the U.S. Our design process begins with understanding your space, and a discussion of your budget and vision to minimize surprises when it comes time to build.
We want to make sure our design team can personalize your yard, delivering a vision that includes what's most important for your outdoor life and unique environment while keeping costs within range. We do this by utilizing our in-house Build Team made up of former contractors and our Pro Network of vetted professional landscapers across the country.
Ready to level up your home improvement with a professional landscape design? Create your design profile or explore our design packages today!