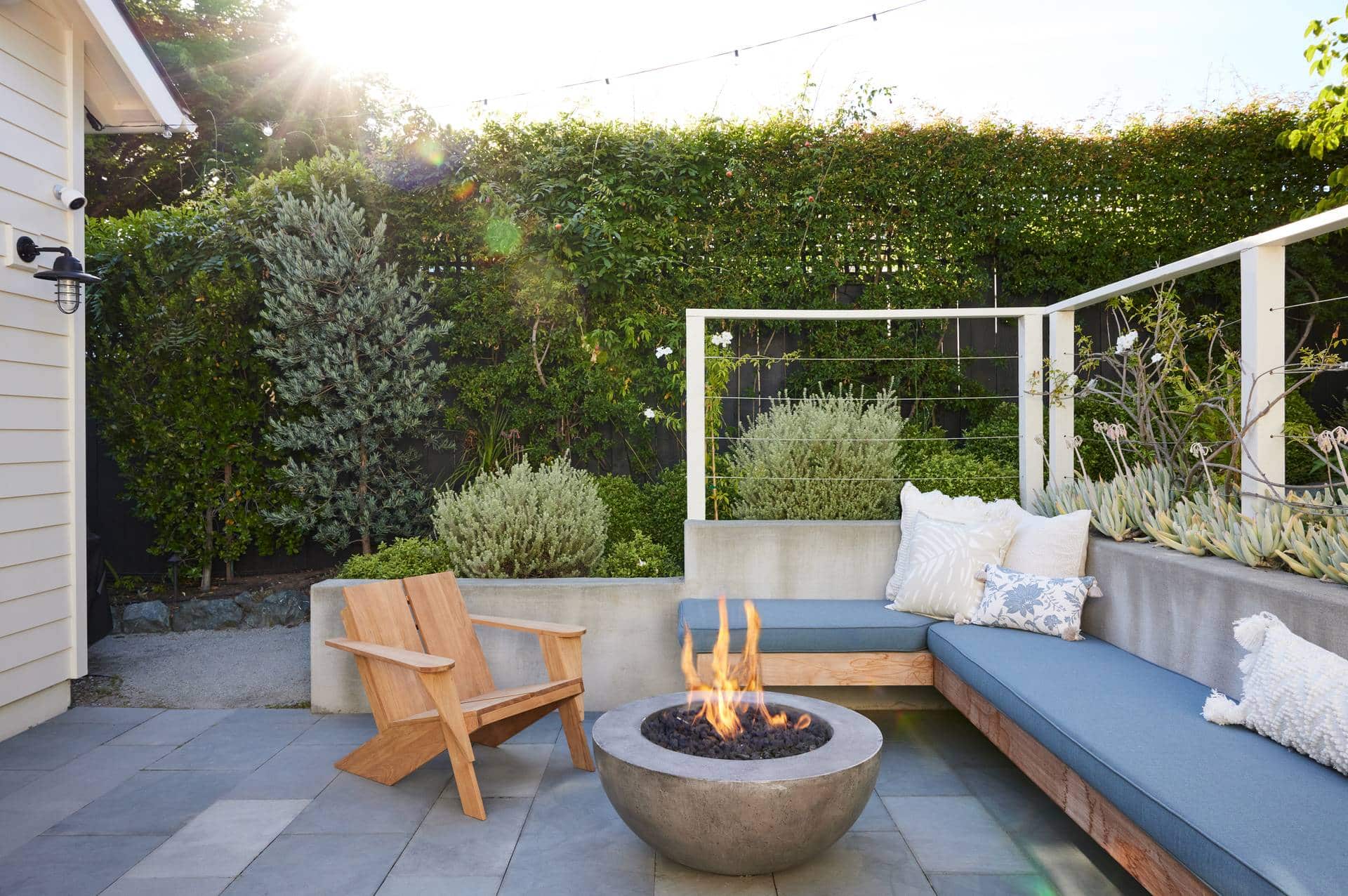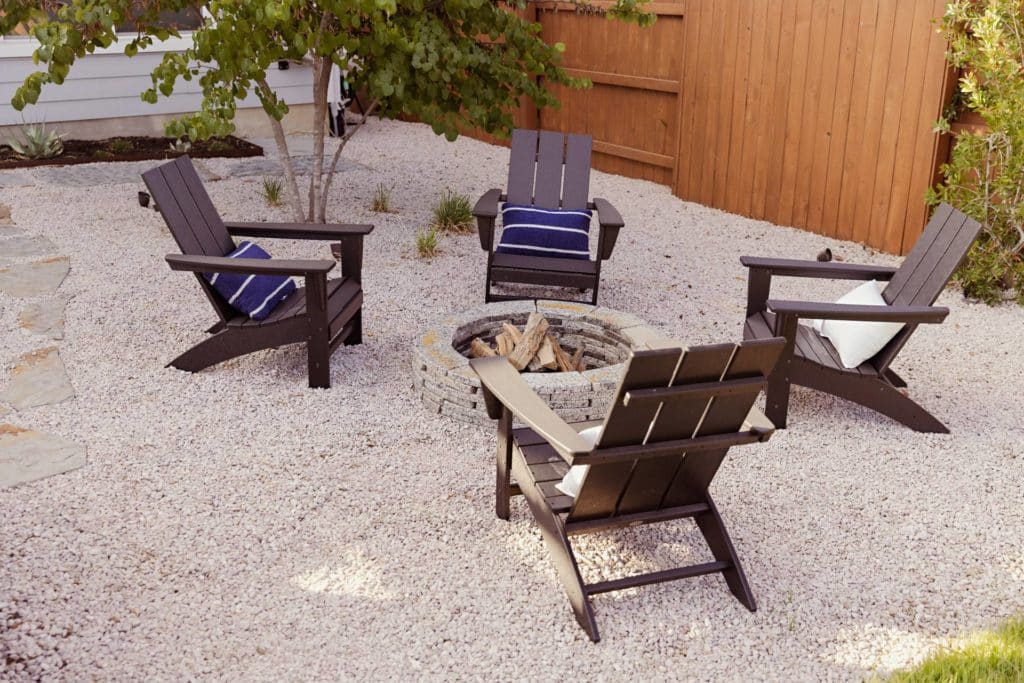 Fire pits are hot right now.
Terrible jokes aside, fire pits really are quite popular, ranking among the most commonly requested features in Yardzen designs. No matter where they live, how big their yards are, or what they hope to spend, people want fire pits.
How fortunate then that fire pits plug in beautifully to virtually any yard. You can throw together a rustic DIY fire pit for peanuts, but you can also go all-out with custom add-ons like built-in seating, bespoke shade structures, and high-end natural stone or paver patios.
But how much does a fire pit area actually cost? Great question.
To give you a clearer understanding of what kind of fire pit area you can get at different budget levels, we'll break down the costs of several fire pit designs, each representing a different price tier. We'll start with the most cost-effective approaches, and work our way up to more cost-intensive examples. Read on to learn how to build a fire pit that suits your space, style, and budget.
Fire Pit Costs by Budget
$1,000 Fire Pit
The trick with lower-cost fire pit areas is to keep things rustic and casual.
This design demonstrates this approach, using gravel for a cost-effective (and permeable) groundcover material, and comfortable but affordable seating. Throw in a few container plants for softness and spatial definition, and you're in business!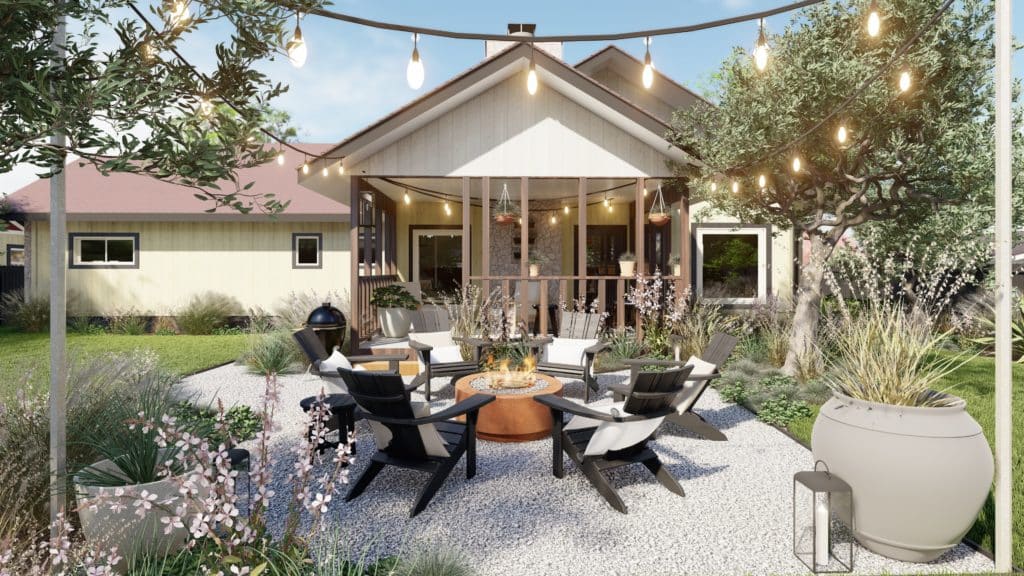 To keep costs around $1,000, we'd suggest the Solo Stove Elemental Series in their Clay color, a warm neutral hue reminiscent of corten steel. Solo Stoves are amazing, offering the portability and affordable cost of wood burning fire pits with the smokeless experience of a propane tank or built-in fire pit. They're also remarkably adaptable, plugging seamlessly into a wide variety of design styles.
For seating, we're partial to the Tamarack Chair by CleverMade, which balances comfort and looks with an attainable price. We love how the lightweight design of the chairs makes it easy to move them around, allowing the space to quickly adapt to different light conditions, functions, and group sizes.
$2,000 Fire Pit
This backyard fire pit area takes the same approach as the $1K design, but levels everything up a bit.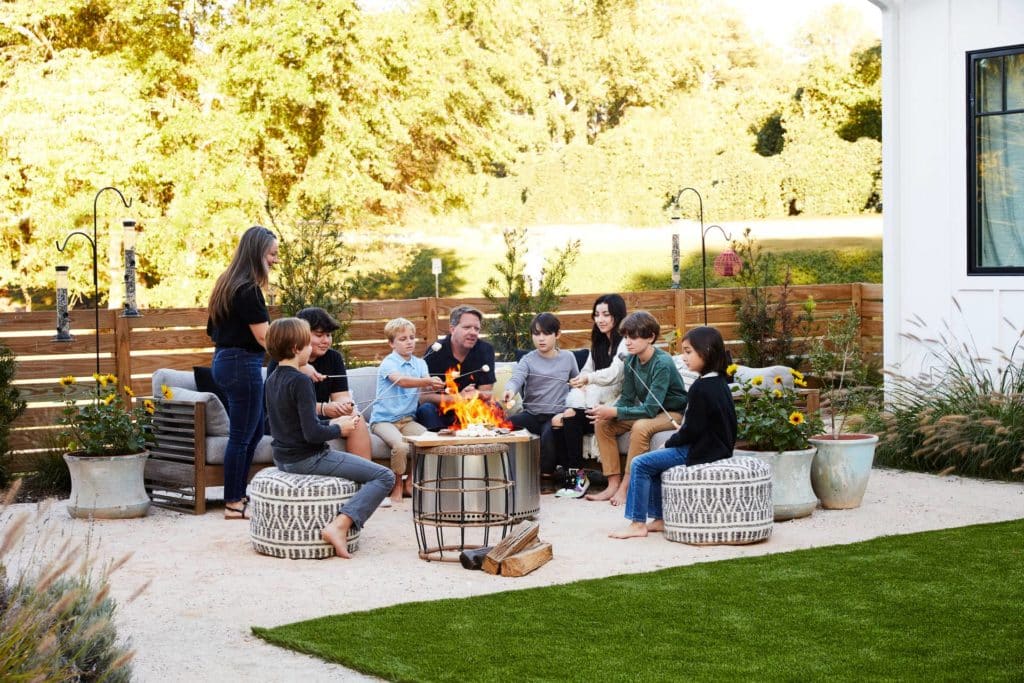 In lieu of standard gray, the design uses a bone-white decorative gravel, rounded to feel nice on bare feet.
We stick with the Solo Stove stainless steel fire pit, but size up from the Bonfire to the Yukon. The larger fire pit size is a great call, making it easy for the whole family to sit at a comfortable, s'mores-able distance.
Furniture in the seating area is just as versatile as the previous design, but a bit more upscale. Patterned poufs and a wicker and metal side table can be moved to wherever they need to be (or tucked out of sight when more open space is necessary). An existing sectional sofa tucks efficiently into the corner, offering a plush seating alternative that's great for two people to stretch out, or, as shown here, for a whole gang of folks to crowd together.
Glazed plant containers round things out, once again providing soft accents and visual framing to the scene.
$5,000 Fire Pit
A step up in cost allows these homeowners to furnish their fire pit area with CB2's Sunset Teak Lounge Chair, whose armless design encourages lounging but is equally amenable to cozy seat-sharing (it's also great for playing guitar by the fire).
The steal here is the vintage outdoor fireplace, picked up for under $1000. The bold color gives the space pizazz, while the exaggerated height dresses up the otherwise plain facade and draws the eye to the peak in the home's roofline for a pleasing moment of symmetry.
Add in some cost-effective string lights and basic gravel, and you have yourself a charming and comfortable outdoor living room.
$10,000 Fire Pit
At a total cost of $10K, we can start to play with paving. This New Jersey outdoor fire pit area interlaces 2'x2' concrete pavers with a grid of decorative gravel. While these "steppers" are commonly poured on site, you can often find prefab square pavers at Home Depot or other landscape supply outlets. If you do go the prefab route, watch your fingers and your back—these things are heavy!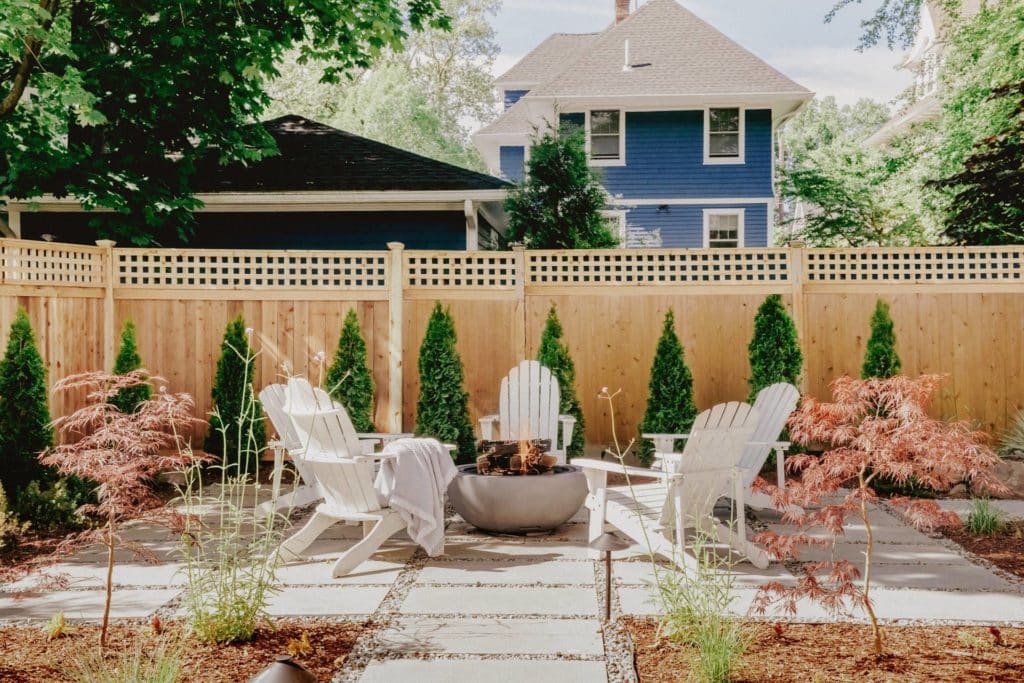 With roughly half the budget spent on paving and gravel, the remainder covers the cost of perimeter planting, seating, and the propane fire pit.
The regular rhythm of evergreens along the fence riffs on the geometric arrangement of the paving, and offers both privacy (once the plants mature) and winter interest (fire pits are one of those VIP landscape elements that can be used even in snowy weather). Framing from a pair of Japanese maples also emphasizes the geometric feel of the space. From the outside, the trees ramp up the drama of the entrance to the fire pit area. From inside, their canopies will provide a cozy sense of enclosure.
The fire pit itself is a showpiece, with a graceful curving form that feels a little bit modern, a little bit Zen. Classic Adirondacks counterbalance the high-style fire pit with an inviting, homey aesthetic. Choosing white is a smart play, helping to keep things bright when the weather turns chilly.
$15,000 Fire Pit
Bring the price range up to around $15K and you get this striking modern fire pit design.
The big move here is the custom concrete fire pit, whose broad ledge doubles as a foot rest or table. The natural gas fire pit is connected directly to the gas line—this adds to fire pit installation costs, but ensures easy and reliable use.
With the lion's share of the budget going toward the fire pit, the design opts for cost-effective gravel groundcover. To further cut costs, the design utilizes existing patio furniture, and tucks into a nook created by existing concrete pony walls.
Opting for concrete to match the fire pit to the walls sets up a cohesive relationship between new and existing features. It also prepares the space for future updates in furnishings—concrete looks great with pretty much any colors you throw at it.
A couple cheeky tiki torches and some potted tropical plants add a dash of tropical calm, keeping the space inviting while preserving its style-forward looks.
$20,000 Fire Pit
A further step up in budget makes for a big difference in this design.
This design stretches its $20K budget by leaning hard on prefab features.
The concrete fire pit is prefab, fueled by a propane tank cleverly disguised as a side table.
The aluminum pergola is prefab, too. Factoring in installation, it comes in at an average price around $8,000. That's a big investment, but pretty cheap as pergolas go. For the owners of this design, the investment was worth it, allowing the fire pit area to double as a shaded daytime lounge zone.
The other big investment, also coming in around $8K, is the TimberTech composite decking. Together with the pergola, the decking defines the fire pit area as a distinct outdoor room, yet it's open edges and low profile preserve a strong sense of connection to the surrounding yard.
With the remaining budget, this design adds a decorative outdoor rug and some comfy seating, both of which literally soften the space and cultivate a comfortable, inviting atmosphere.
$30,000 Fire Pit
The added investment to this gorgeous fire pit patio pays off in upscale looks and exceptional performance.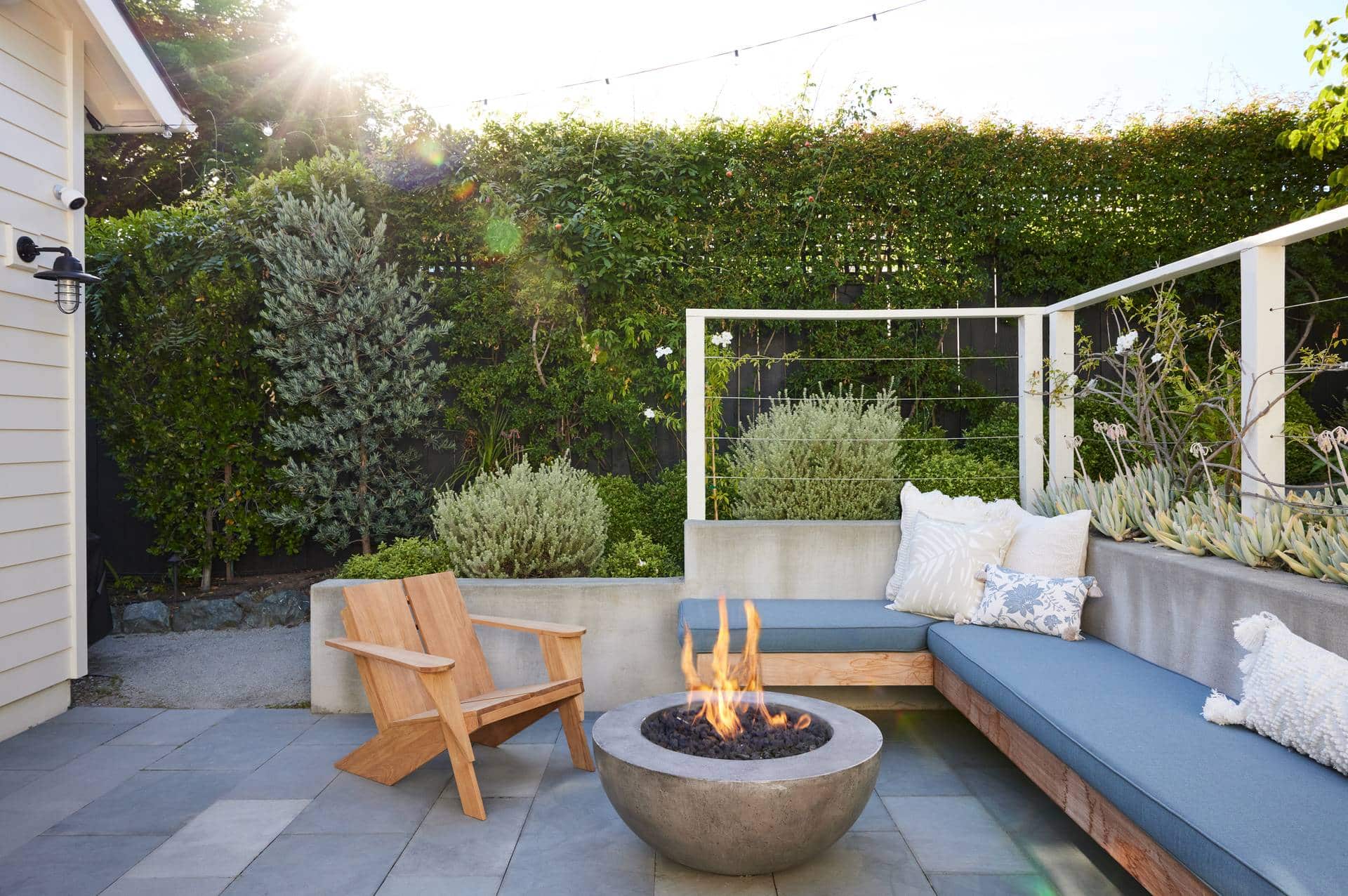 Let's start with that built-in seating. The clean lines of the concrete retaining wall and wood bench make for a showpiece modern design feature. Matching the bench cushions to the muted blue of the paving is a nice touch, introducing some calming color to make sure the space feels inviting despite its high style. Choosing a warm, auburn wood tone for the bench and matching Adirondack makes an equal boost to the design's approachability.

The cantilevered construction of the bench, along with the complex task of building the concrete retaining wall, drive up the costs of this feature; all together, the bench and wall would take up about half of this space's $30K budget.
The cut stone patio gives a major lift to the look of the space, but it also is extremely functional. Stone is about as durable as paving materials get, and the mortar-set installation creates a slip-resistant walking surface that is safe and sturdy for people of all mobility levels. Factoring in the premium material and the concrete base required for the installation, costs would run around $10K for this paving design.
The majority of the remaining budget would go toward the stylish modern concrete fire bowl, which is directly connected to the underground gas line. Hard-lined installations like this are easy and reliable to use, and help to keep patio spaces open and clutter-free by eschewing an above-ground propane tank.
The fire bowl cheats toward one corner of the bench, making it easy for people on the bench and in surrounding chairs to huddle close to flame. If that constitutes the intimate corner of the bench, the other half of the bench constitutes and open and flexible space, suitable for laying down, dragging up a table, or simply getting out of the way when a lot of open floor space is needed.
Designing to Your Landscaping Budget
At Yardzen, we discuss your budget at the start of the landscape design process to minimize surprises when it comes time to build. We want to make sure our design team can personalize your yard, delivering a vision that includes what's most important for your outdoor life and unique environment—while keeping costs within range. We do this by utilizing our in-house Build Team made up of former contractors and our Pro Network of vetted professional landscapers across the country.
Ready to level up your home improvement with a professional landscape design? Create your design profile or explore our design packages today!