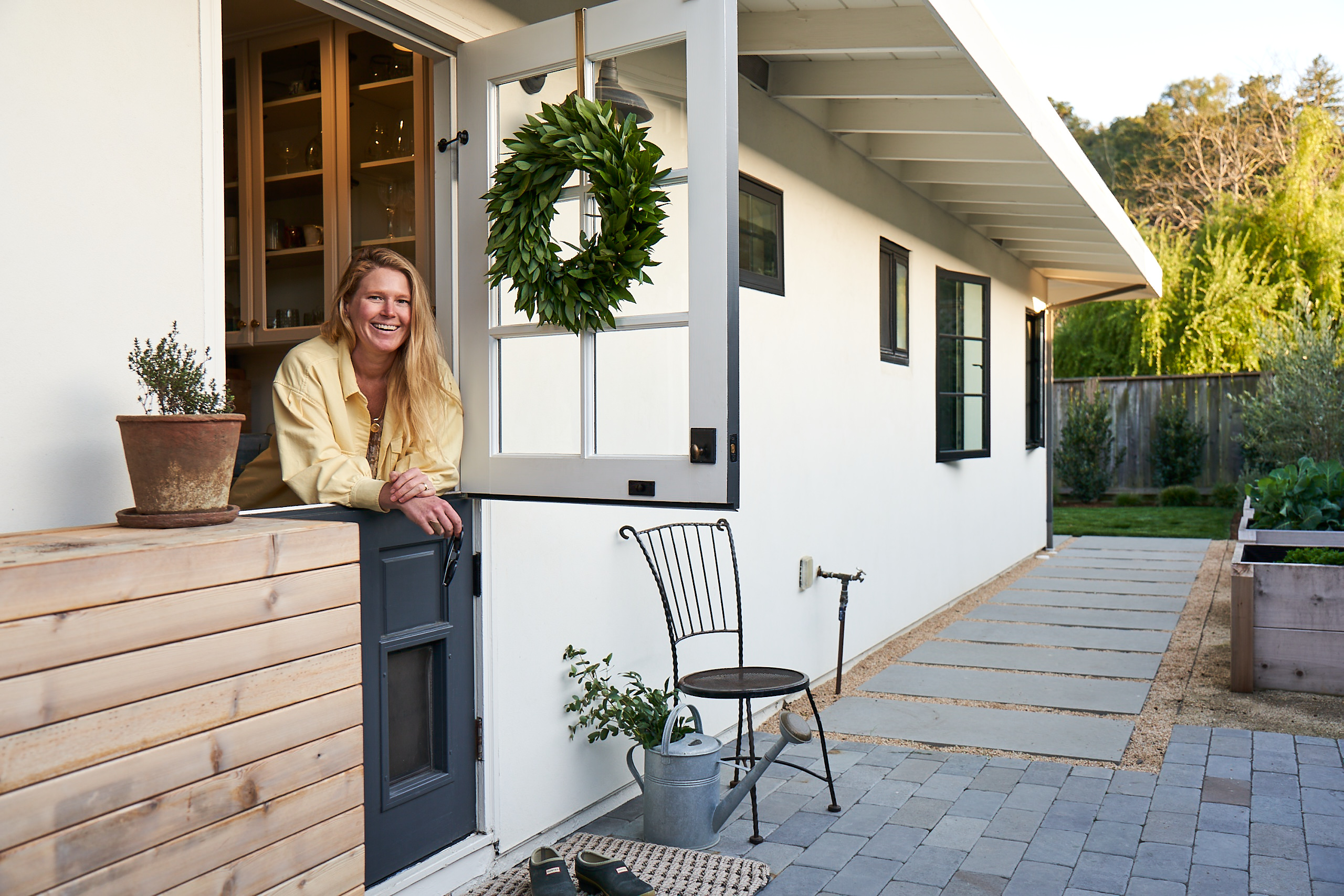 Mckenzy Golding, a professional skier turned marketing executive turned interior designer, bought a charming bungalow in Mill Valley with her husband, Teddy, in 2019. The home and yard had great bones, but it needed a significant overhaul. In the interior, McKenzy set to work designing the space, finding inspiration from her beloved California (she was born and raised in Lake Tahoe) and her world travels, including European mountain ski towns. As the interior came to life, she discovered her love for interior design and began her own interior design company, Goldenbird Design (@goldenbirddesign), which now has clients throughout the Bay Area.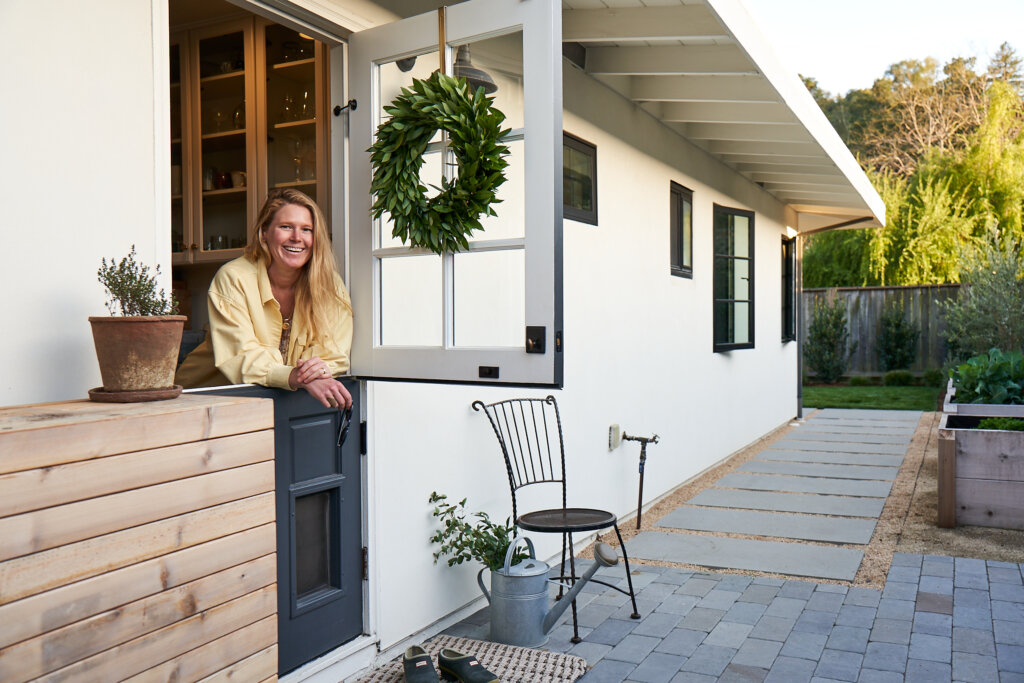 In the yard, McKenzy had some ideas about how to bring her California-meets-ski-chalet aesthetic to life, but for plants, materials, and layout, she turned to the professionals at Yardzen. In collaboration with Yardzen's design and horticulture team, she created a yard that achieved many of her goals, including an edible garden, low-water and pollinator-loving plantings, a fire pit with built-in bench, and a bluestone paver patio for dining. Plus, tucked on the side of the house, a copper-pipe shower for warming up after hikes, surfing, and adventures with her dog, Revi, through Marin.
When they first bought their home, the yard was in "rough shape," according to Mckenzy. "There was plenty of space, but it wasn't well utilized or well cared for." The new homeowners had a sense of what they wanted to do with the yard– to create outdoor rooms for dining, gathering, gardening, and sunbathing – but, "it's good to know what you don't know. And, I didn't know anything about landscaping." So, they brought in the experts at Yardzen.
Mckenzy and Teddy found the Yardzen design process to be very "collaborative" and were impressed with the team's "openness to working with our ideas and bringing them to life." They describe their designs as a "perfect visual representation of the thoughts that had been stuck in their head." For them, "the designs were invaluable in conversations with contractors and bringing the vision to life."
In particular, they wanted their yard to feel like an extension of their small, 1200-square-foot house. Mckenzy, ever the designer, "approached the space as different rooms. Teddy and I talked a lot about the purpose of these rooms, and how and when we would use the spaces." Then, they worked with their Yardzen design team to bring that functionality to life through expertly selected plants and materials.
In the end, they achieved just that – a backyard with distinct spaces for gathering, including a breakfast nook off the kitchen's dutch door, raised beds for edible gardening along the side yard, a small lawn for Revi, a built-in bench and fire pit for gathering with friends, a patio with dining table, and an outdoor shower. Tying all of the outdoor rooms together is one of Mckenzy's favorite details – the bluestone pavers sourced from a local vendor, which evoke the feel of English cobblestones. Mckenzy describes the pavers as "chalk-full of nicks and cracks and color variation. They're perfectly imperfect – just the way I like them." (Learn more about Organic style, this year's top outdoor aesthetic!)
When asked what else Mckenzy loves in the yard, she says "everything, and I genuinely mean that." A couple of design details worth noting are the built-in, raw cement bench around the fireplace, which "grounds the space in ways furniture simply can't." And, she's "a big fan of the outdoor rain shower. We use this shower most days in the summer, and it always boosts my mood. We also use it as a dog wash."
Mckenzy and Teddy use their Yardzen yard "everyday." Their yard "serves as the foundation for so many moments for us – however big or small," including enjoying a cup of coffee or watching the dog play outside at dusk. And, this summer, they are looking forward to growing heirloom tomatoes in their raised garden beds. "Last summer's harvest was the some of the best tomatoes I've ever had."
Designing Your Dream Yard on a Budget with Yardzen
Looking to make improvements to your yard to help increase your outdoor enjoyment and property's value? Yardzen is here to help.
Yardzen's award-winning online landscape and exterior design is tailored to homeowners in all fifty states in the US, and can incorporate a broad range of amenities and outdoor styles.
Whether your goal is improving curb appeal, adding functional spaces, or giving the yard a full overhaul, we can create a design that meets your needs and style preferences.
Our design process begins with understanding your space, your aesthetic preferences, and a discussion of your budget and vision to minimize surprises when it comes time to build.
Our top-notch designers then develop a personalized vision for your yard, shared through 3D renderings, 2D plan drawings, and plant and material lists. Your design will capture the look, feel, and function you are hoping for, all while keeping costs within range.Once your design is complete, we'll help you connect with a local contractor from our Pro Network of vetted professional landscapers to install your new design.