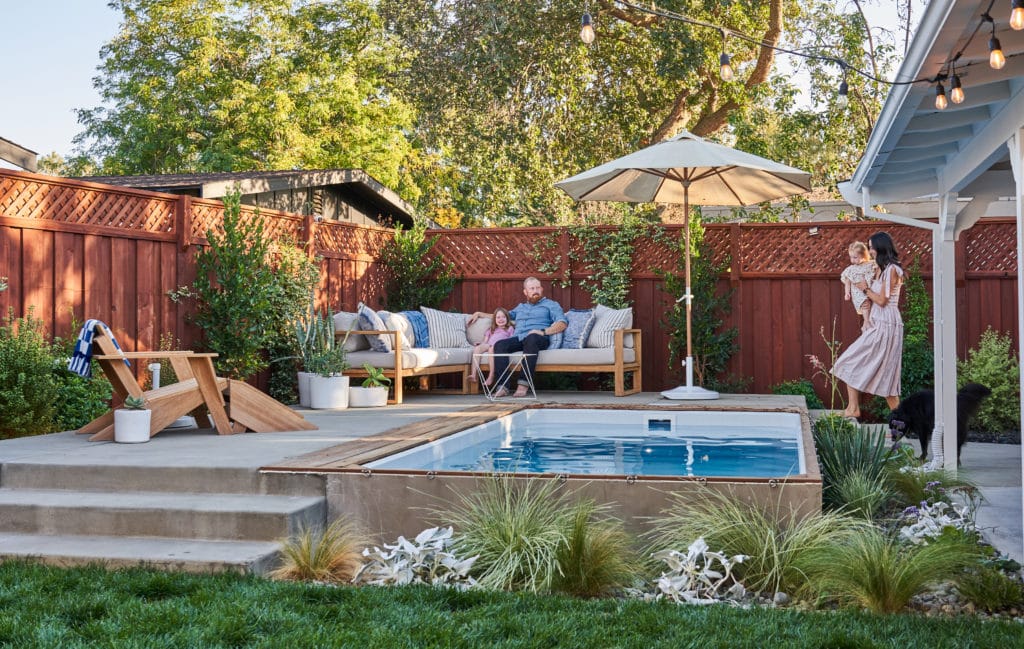 When first-time homeowners Kristy and Peter, along with their two girls Finley and Ellie, moved into a classic 1960s rancher with all-original details in 2021—their first project was an exterior transformation. The top priorities: updating the "muddy" paint, reconfiguring the garage, and landscaping their yard for year-round outdoor living.
Kristy, a florist, who owns the build-you-own-bouquet mobile flower truck "Poppy the Flower Truck" (check it out on Instagram, @poppytheflowertruck), followed Yardzen online for a while. As soon as she and Peter closed on their home, they purchased a Yardzen package and got to work reimagining their backyard into a kid-friendly space that would encourage all-seasons outside play.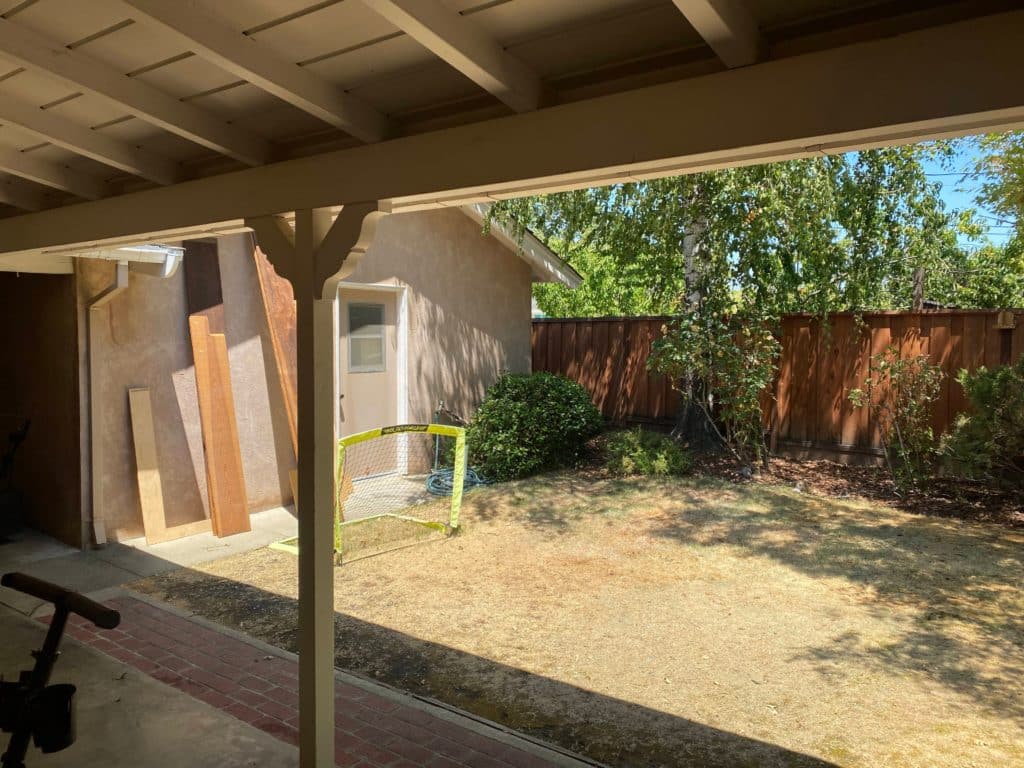 The Yard
When Kristy and Peter purchased their home, they were stumped about what to do with their long and narrow backyard. Not only was the size and shape a challenge, but so was the mishmash of styles and elements, including a bamboo screen, clothesline, rock piles, and a small water feature that the girls quickly turned into a mud pit.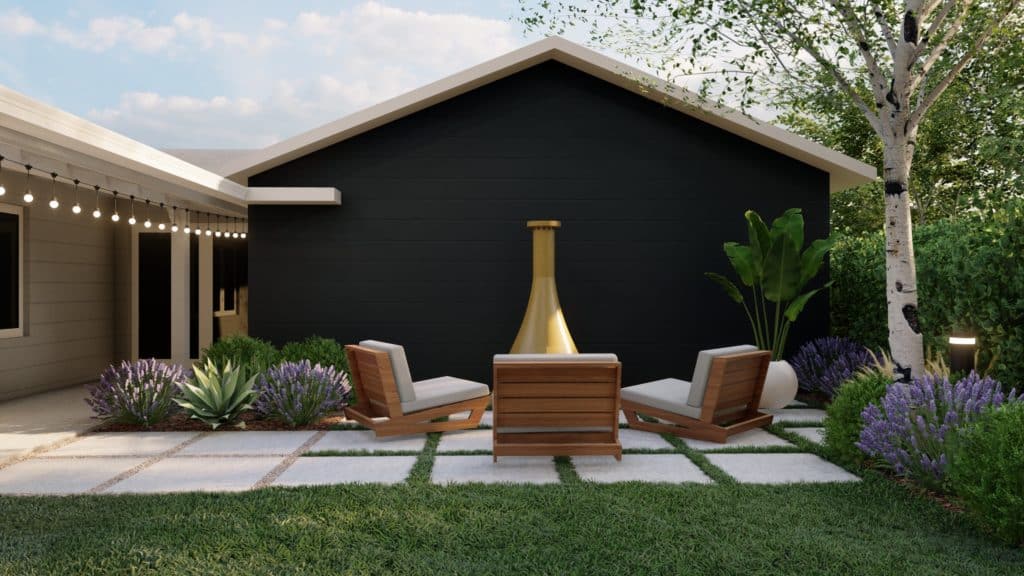 The Vision
Kristy and Peter had a sense for how they wanted their yard to look and function, but they had no idea how it would all fit together in their yard, so they enlisted the help of Yardzen. Their priorities:
A concrete plunge pool with saltwater and solar pool heater to keep cool during the hot summers and warm during colder seasons (they live in Livermore, CA, which regularly tops 100 degrees). They specifically opted for a small pool (aka plunge pool or cocktail pool) over a traditional pool, in-ground pool, or hot tub for cost effectiveness, flexibility, the low-impact on the environment (less pool water!), and because of the relative minimal maintenance required.
A small lawn for the kids and pets to play.
"Adult" entertaining space that would make use of mid-century modern fireplace they salvaged from a home in Washington. (Fun story about the fireplace: they brought it down from the PNW in the back of their Subaru and carted it between rentals for many years because they knew they wanted it in their home one day).
A simple outdoor kitchen with space for multiple gadgets, including a Traeger grill and Green Egg.
The Yardzen team executed on their wishlist, creating an outdoor space that Kristy and Peter loved. Eager to get started enjoying their outdoor space, they broke ground in the spring of 2021, just a couple of months after purchasing their home.
The Installation
Kristy and Peter ended up following the layout of their Yardzen design very closely with only a couple of small changes.
On the outside of the garage, they opted to use the same white as their home's exterior instead of a charcoal "statement" wall.
Instead of pavers in the firepit area, they used gravel for cost savings. They love how the gravel turned out – the girls call it "their beach."
Because of the price of lumber, they decreased the size of the wood pool deck and opted mostly for concrete.
They decided to save the outdoor kitchen for a later phase of their home renovation.
Otherwise, Kristy and Peter achieved everything they wanted in their Yardzen transformation, creating an oasis for their family that they use every single day.
One thing that Kristy and Peter especially love about their yard is how well it transitions between the seasons, achieving their goal of year-round outdoor living for their family. After the pool installation they were plunging into a cold water swimming pool during hot days and as the weather cooled, easily and inexpensively heating their above-ground pool using a solar heating system. And, of course, their vintage fireplace—which they piped with gas—keeps them warm well into the evenings, setting the scene for family s'mores and date nights after the kids are asleep.
Designing a yard for year-round outdoor living
Yardzen's award-winning online landscape design is tailored to clients in all fifty states in the U.S. Our design process begins with understanding your space, your aesthetic preferences, and a discussion of your budget and vision to minimize surprises when it comes time to build.
Our top-notch designers then develop a personalized vision for your yard, shared through 3D renderings, 2D plan drawings, and plant and material lists. Your design will capture the look, feel, and function you are hoping for, all while keeping costs within range.
Once your design is complete, we'll help you connect with a local contractor from our Pro Network of vetted professional landscapers to install your new design (if you don't plan to diy).
Ready to level up your landscaping for year-round enjoyment? Work with a professional design that brings your vision to life—create your design profile or explore our design packages today!