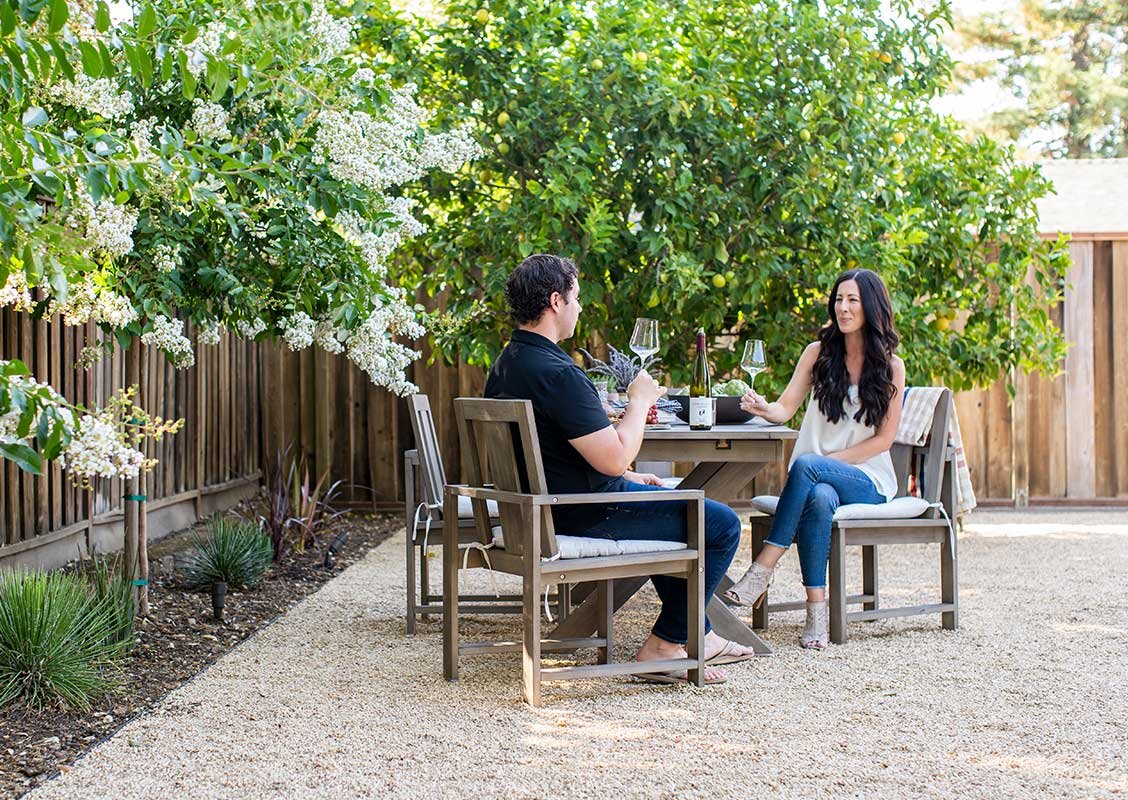 Gravel is one of our favorite hardscaping elements. It's low-maintenance, inexpensive, and incredibly durable. In recent years, gravel has become one of the most popular landscape design treatments, even replacing lawns and traditional ground covers.
Gravel landscape works beautifully in many applications—patios, paths, ground cover, and in between pavers—and it adds timeless organic style and an elegant neutral tone to any yard. Gravel comes in many shapes and sizes, ranging from superfine decomposed granite to large stones like river rock.
Interested in using gravel in your landscape design? We include hardscape recommendations in our Full Yard and Partial Yard Packages. Read on to learn more about the different types of gravel.
Decomposed Granite
Decomposed granite is the finest of the gravel options. It has the look and feel of coarse sand and is typically tan or gray. Landscape designers use decomposed granite in several ways: as mulch, loosely sprinkled at the base of plants; with a stabilizer, which makes a compact surface for patios and pathways (pictured below); and, with resin, which creates a hard surface for driveways.
Pea Gravel
We're seeing pea gravel everywhere these days. It's beautiful as a patio, path, ground cover, mulch, and in-between pavers. Pea gravel is often gray, but colors also include tan, white, and dark brown. Pea gravel is one of the most inexpensive gravels, and it has many benefits. It's easy to install, drains well, and is an excellent weed blocker. The biggest downside: pea gravel isn't firm underfoot, so it's not the best option for patio furniture or kids on bikes.
Black Basalt
Black basalt is beautiful in modern landscape designs. The dark color creates eye-catching contrast and clean lines. In its smaller form, it can be used as mulch, a ground cover, and in between pavers. Basalt has sharp edges, so it's not used for patios and pathways. Large black basalt rock is beautiful in Gabion walls.
River Rock
River rock is a large gravel option with several applications. River rocks range in size, from 1″ to 5″, and come in a wide variety of colors. Landscapers often use river rock for drainage, but it also works beautifully as a ground cover, mulch, edging, and in-between pavers.
Wondering what kind of gravel is best for you and your yard? Schedule a design consult today.