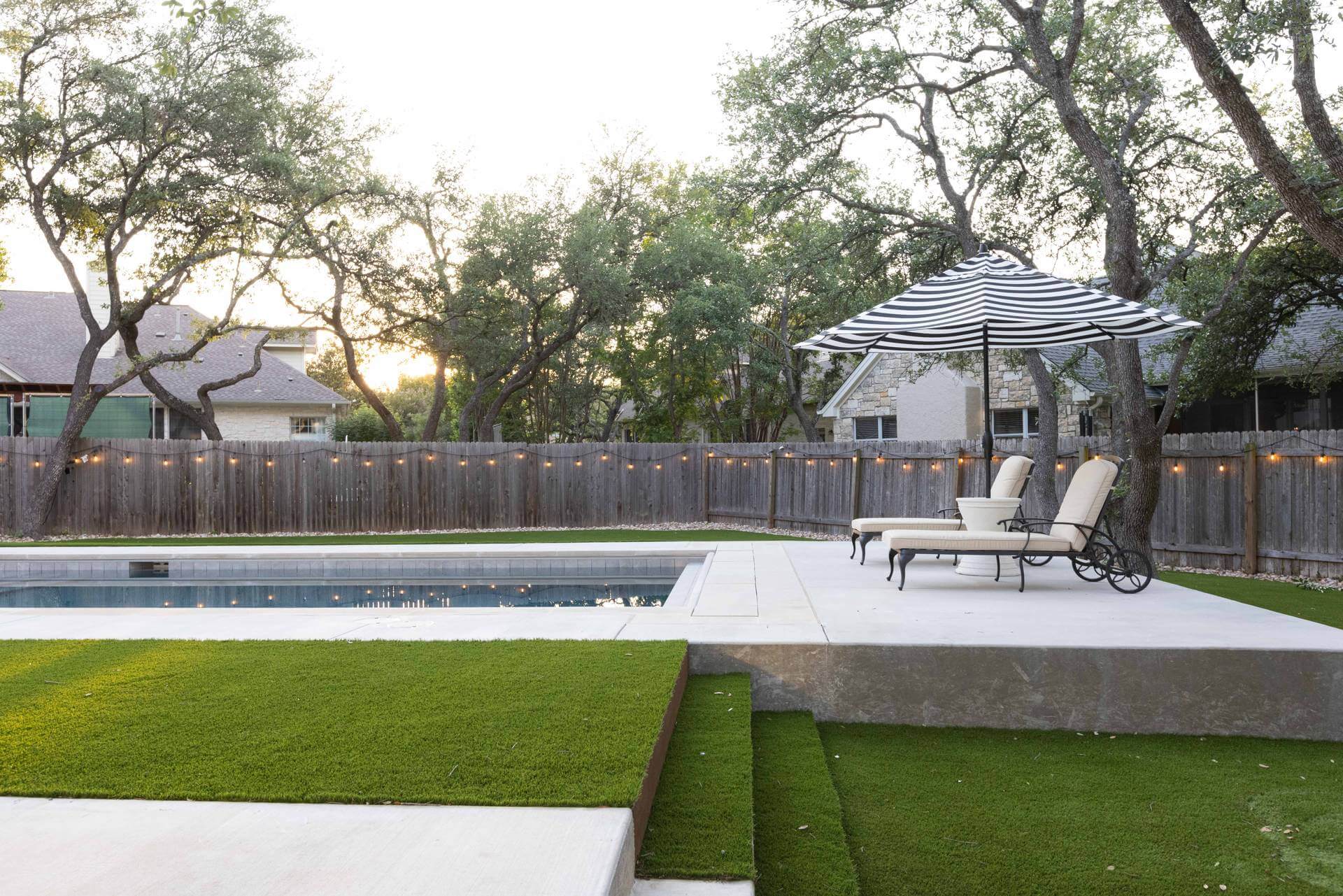 Every year, lawn care consumes trillions of gallons of water, millions of gallons of gas, and millions of pounds of pesticides. Traditional turfgrass provides little to no habitat for pollinators and other animals and plants that make up a healthy, diverse ecosystem. At Yardzen, we're on a mission to improve green spaces and encourage dynamic habitats through our American Rewilding Project. So, we tapped our Head of Horticulture, Zolene Quindoy, and our Design Director, Kevin Lenhart, to weigh in on all things grass and grass alternatives for homeowners looking to make the switch from traditional lawns to eco-friendly options.
Grass-Alternative Plantings to Replace a Lawn
Yardzen's Head of Horticulture, Zolene Quindoy , on grass alternatives:
Lawns can be a good option for places with enough summer rain to help keep it naturally irrigated, but for drought-prone areas (like much of the American West), lawn alternatives that are drought-tolerant or use native plants are much more eco-friendly, and in many cases, more economical. Keeping a traditional lawn healthy and green all year long is anything but low-maintenance and usually requires supplemental irrigation, fertilizer, and often herbicides/pesticides to address weeds, pests, and disease issues. Factor in the fossil fuels used if you have a gas-powered lawnmower, and the environmental costs quickly add up!
For small areas, non-grass species can be a great fit. Low-growing perennial ground covers can be used to create a soft natural carpet or fill in between pavers and stepping stones. Many species are durable enough to tolerate occasional foot traffic and there are species suitable to both sunny and shady areas. Check out your local nursery for ideas on what will work best in your area. Species will vary regionally, but some options include:
Silver Carpet (Dymondia margaratae)
Full Sun to Partial Shade

Hardiness Zones: 9-11
Creeping Thyme or Woolly Thyme (Thymus spp.)
Full Sun

Hardiness Zones: 4-9
Kurapia / Frogfruit (Lippia nodiflora)
Full Sun to Partial Shade

Hardiness Zones: 8-10
Silver Ponyfoot (Dichondra argentea)
Full Sun to Partial Shade

Hardiness Zones: 8-11
Roman Chamomile (Chamaemelum nobile)
Full Sun to Partial Shade

Hardiness Zones: 5-8
Blue Star Creeper (Isotoma fluviatilis)
Full Sun to Part Sun

Hardiness Zones: 5-9
Corsican Mint (Mentha requenii)
Full Sun to Partial Shade

Hardiness Zones: 7-11
Stonecrop (Sedum spp.)
Full Sun

Hardiness Zones: 3-9
Baby's Tears (Soleirolia soleirolii)
Part Sun to Shade

Hardiness Zones: 9-11
In general, planted lawn alternatives work best in areas where there will not be frequent foot traffic. Unless you plan to actively use your lawn – for example, for sports or for young kids' play areas – consider replacing your time (and resource)-intensive ornamental lawn with an alternative material.
If you do need to maintain a lawn area, minimizing the square footage or using a no-mow or meadow grass can be a great way to reduce your impact on the environment. If you're looking for some alternative plantings to traditional lawn, consider the below:
"No-Mow" Lawn Alternatives
Usually a blend of creeping and clumping Fescue varieties. Does actually require occasional mowing and raking out old material to keep it healthy and looking tidy.

You can select low-water no-mow varieties that require much less water and fertilizer than a traditional lawn, and the little maintenance required also reduces the carbon footprint compared to mowing with a gas-powered mower.
Meadow Grasses
These are usually not true "grass" species, but a closely related plant called sedge (Carex sp.). Species used will vary regionally, but some common varieties are Carex praegracilis, C. pansa, and C. texensis.

Great for stabilizing slopes
Buffalo Grass (Buchloe dactyloides)
North American native grass that comprised the short grass prairies that American Buffalo once roamed.

Requires ~75% less water than a traditional lawn and is considered drought-resistant. May be mowed to more closely resemble a traditional lawn, or left to grow out to its full height of 8-10″.

Turns buff/golden-brown in winter, but quickly greens up in spring
Material Grass Alternatives in Landscape Design
If you're ready to give up grass altogether, Yardzen's Design Director and Landscape Architect, Kevin Lenhart, has a few favorite options:
In addition to planting alternatives, landscape designers can also use materials like gravel, decomposed granite, or bark mulch as part of a lawn-replacement design. Because lawns often cover large areas, the best approach to replacing is often a balance of several elements: a gravel seating area, a meandering DG path, and expanded planting areas with bark mulch interspersed between plants. You'll want to take care to blend these elements harmoniously, but each can be a reliable tool to call upon when working to replace a large lawn area.
Gravel as a Grass Lawn Replacement
Gravel is inexpensive, looks attractive in a number of different landscape styles, and is easy to install. It comes in a broad range of colors, shapes and sizes, and can easily be repeated elsewhere in a design to build a cohesive aesthetic. Gravel also allows water to quickly drain through it, and slows the flow of overland water, leading to improved drainage and reduced flooding risk relative to solid paved surfaces. The trick is don't go overboard – tasteful application here and there is lovely, but large expanses of gravel can be expensive and a little bleak in the wrong context.
The environmentally-minded consumer will want to ask their local supplier where their gravel is sourced from – best to avoid gravel mined from river beds, and to favor gravel sourced from nearby quarries. Gravel is a mined material, so limited application, in general, is a safer bet for minimizing the environmental impact of your design choices.
Decomposed Granite as a Grass Lawn Replacement
Decomposed granite is crushed rock tamped into place to provide a more stable walking surface that does not give underfoot like gravel. Because it is compacted, it does not drain as quickly as gravel, though it is permeable. Decomposed granite is also a handsome material, and looks particularly attractive in desert or Mediterranean landscapes. Pro tip: don't run DG right up to your door – it sticks to shoes and can scratch wood floors. As long as you get a few footsteps in on another material before walking inside, you should be ok.
Bark Mulch as a Grass Lawn Replacement
Unlike gravel and DG, bark mulch is not a particularly nice material to walk on. It is, however, a wonderful, and necessary, addition to any planting area, and can be an important part of any lawn replacement design. Here's a winning strategy: create a few carefully orchestrated compositions of ornamental plants, and intersperse them with open areas of bark mulch and patches of low groundcover plants.
What About Artificial Turf?
Adam Messner, Yardzen Co-Founder and COO, on turf:
When I consider all of the resources required (i.e., water, fertilizer, time, gas and emissions) to maintain a green lawn I don't think it pencils out. I'm from Michigan and I love the smell and feel of cut grass, but our family decision to install synthetic grass here in California 10 years ago was one of the best exterior upgrades we've made.

It still looks great, has held up well and as California enters a brutal drought year, water conservation will be more important than ever before. Synthetic grass manufacturing has gotten better, many manufacturers are US-based and the aesthetics have improved too. In my opinion, there's never been a better time to install synthetic grass, especially in the Western states.
Get started with your lawn-free (or low-water) landscape design by Yardzen
Yardzen's award-winning online landscape design is tailored to clients in all fifty states in the US. Through the American Rewilding Project, we are committed to creating designs with climate-adapted plants and water saving landscaping in drought-prone regions unless homeowners specifically opt out.
Our design process begins with understanding your space, your aesthetic preferences, and a discussion of your budget and vision to minimize surprises when it comes time to build.
Our top-notch designers then develop a personalized vision for your yard, shared through 3D renderings, 2D plan drawings, and plant and material lists. Your design will capture the look, feel, and function you are hoping for, all while keeping costs within range.
Once your design is complete, we'll help you connect with a local contractor from our Pro Network of vetted professional landscapers to install your new design.
Ready to level up your curb appeal and sustainability with low-water landscaping ideas? Create your design profile or explore our design packages today!