How much will it cost to improve your home's curb appeal with an exterior renovation? The size, scope, and location of your project, not to mention the quantity and types of materials and plants used in your exterior design, all factor into a project's bottom line.
When thinking about cost, also consider that landscaping and exterior remodels have a great return on investment—not something you can say for every home improvement project. According the the American Society of Landscape Architects, landscape improvements alone return 100-200% their cost by upping the home's value the next time it hits the real estate market.
We'll walk you through a few of our favorite Yardzen exterior makeovers, sharing the average costs of the most common features. It's important to note that like any home remodeling project, these figures are approximate and subject to fluctuation depending on things like labor costs and what you diy—but they'll give you a general idea of what to expect.
Use these prices to help you decide where you want to spend and where you want to save. As you make your material choices, remember that durability can be worth investment – a little more money up front can lead to overall savings in the long run.
EXTERIOR HOME RENOVATION COSTS
---
Before & After – Tulsa, OK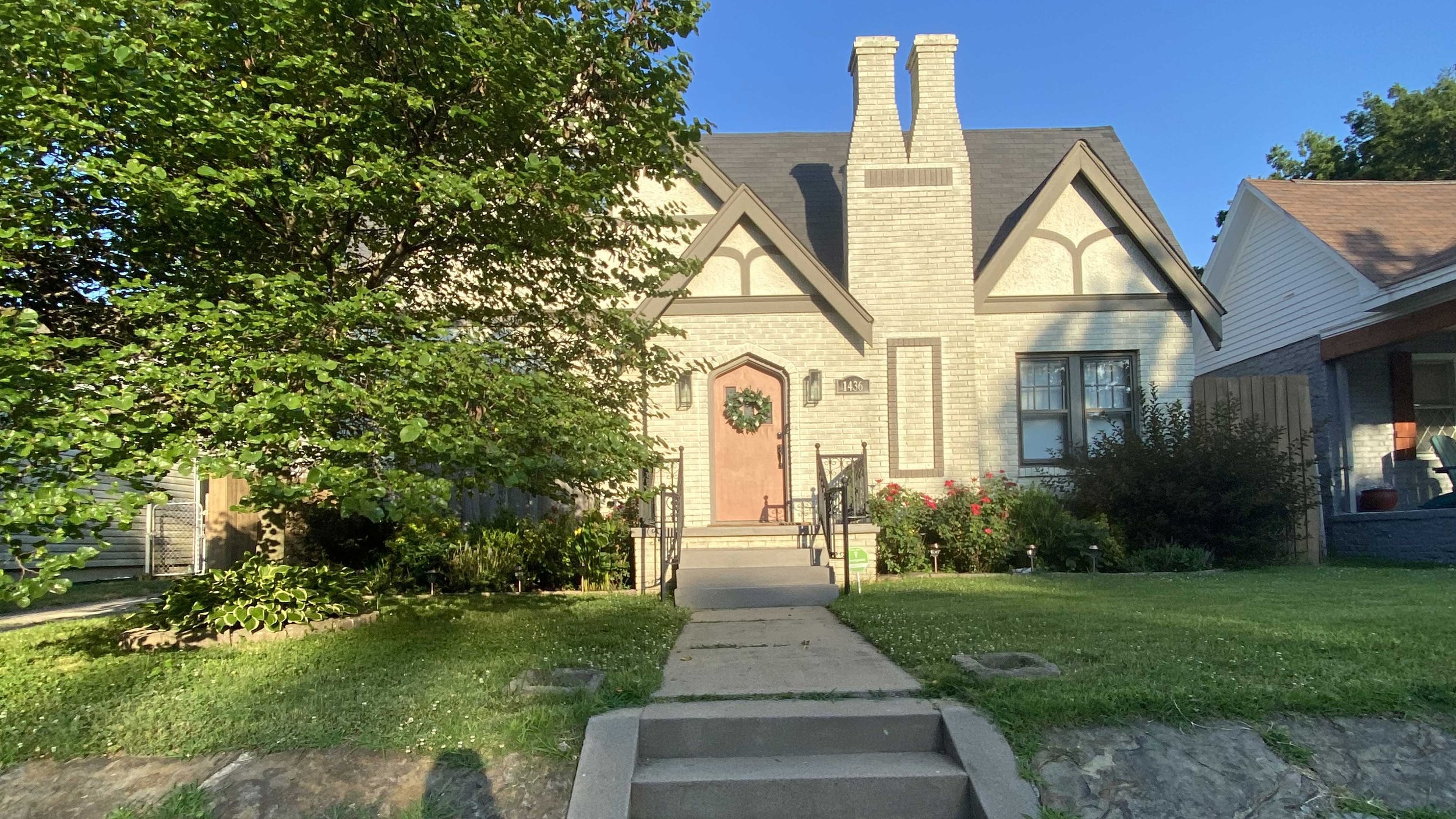 REPAINTING A HOME EXTERIOR
$3 – $4 PER SQUARE FOOT
High-quality paint can push your prices north of $4/SF, but the good stuff tends to offer better protection from the elements for your siding, offsetting future material maintenance or replacement costs. Need exterior paint color inspiration? Read our post on choosing exterior paint colors.
INSTALLING A NEW ROOF
$8,000 – $50,000
Roofing prices depend heavily on material selection. All prices below are for a roughly 2,000 SF roof.
NEW SIDING
$5 – $60 PER SQUARE FOOT
Siding selection for your house exterior is an aesthetic and functional decision, and material costs vary significantly, as the square footage prices below indicate.
*Fiber cement offers the look of wood with superior durability. Upfront investment in fiber cement or other more durable siding types is offset by avoiding repairs or replacement of weathered wood siding down the road.
NEW FRONT DOORS
$2,000 – $10,000
Don't underestimate the impact that a new front door can have on your curb appeal. Many homeowners get new windows or doors with energy efficiency in mind, but the front door is the natural focal point of the front of the home.
Single doors occupy the lower end of the range, while folding doors fetch the highest prices. Doors are a boutique product, and their prices range as broadly as those of furniture, hardware, or lighting fixtures, but this cost range covers the most common selections we see in Yardzen projects.
LANDSCAPING INSTALLATION COSTS
---
Before & After – Denver, CO
LANDSCAPE DEMOLITION
$5 per square foot
This includes removal of average-sized paving, walls, structures, and other basic features.
Demolition of pools and larger paved or structural features can take longer to execute, resulting in higher total demolition expenses.
Before & After – Encinitas, CA
NEW PAVING
$15 – $60 per square foot
Paving prices vary with material, size, finish, vendor, and region. It's also common to have different contractors bid the same paving at different prices. Here's a quick snapshot of the spectrum.
Before & After – Carmel Valley, CA
NEW GRAVEL
$6 – $12 per square foot
Before & After – Scotch Plains, NJ
NEW DECK
$65 per square foot
Wood prices are through the roof, and a wood deck can easily cost north of $65/SF. Composite decking and railing, once a premium option, is now often cheaper than a redwood or cedar deck, coming in around $65/SF. Composite offers greater durability and lower maintenance than wood, and boasts a strong sustainability pedigree (if you're browsing composite products, we suggest TimberTech).
Before & After – Farmington Hills, MI
BUILT-IN FEATURES
Before & After – Phoenix, AZ
NEW PERGOLAs
$8,000 – $25,000
We refer specifically to pergolas: four- or six-post structures with a non-solid roof, seated in concrete footings. These prices do not refer to closed-roof structures like gazebos or California rooms.
Prefab pergolas are cheaper than custom designs. Prices range widely, but typically run from $8,000 to $15,000 for an average-sized pergola, with installation and delivery included in those figures.
Lumber pergolas tend to cost the most, aluminum and fiberglass land in the middle, and small vinyl pergolas cost the least. Wood pergolas are not suitable for certain climates (Arizona, for example), and they require more maintenance, accruing a higher lifetime cost than pergolas built from more weatherproof materials.
You can purchase some low-cost prefab pergolas for $2,000 – $3,000, but be warned that installation is tricky, commonly costing up to $4,000 on top of purchase and delivery price. As pergola size or complexity increases, so does price. Complex custom builds easily reach $20,000 or higher.
Before & After – Huntington Beach, CA
OUTDOOR KITCHEN
$10,000 – $25,000
Outdoor kitchens add a whole new living space to your home, facilitating outdoor celebrations and entertaining.
Appliances are the biggest factor affecting kitchen price. Grills, cook tops, and fridges each run for a few thousand a piece. Pizza ovens in particular can add up to $10,000 to a kitchen's price tag.
Adding appliances can also Add expenses to connect utilities like electrical for fridges, gas for grills and sewer for sinks. $10,000 is a reliable starting point. Design features and added appliances add expense to this base price.
Before & After – Austin, TX
NEW POOLS
PREFAB: $30,000 – $60,000
CUSTOM: $80,000 – $150,000
Prefab pools typically sell for $20,000 – $40,000, but delivery and installation routinely add $10,000 – $20,000 in expenses.
Above-ground pools cost less than in-ground, and site accessibility can mean the difference between a cheap and easy or a difficult and costly delivery of your prefab pool.
Custom pool pricing varies with the design, but we rarely see one installed for under $80,000. It's safe to assume a price in the $100,000 to $150,000 range when going custom.
Before & After – Chandler, AZ
NEW SPAS
PREFAB: $6,000 – $10,000
CUSTOM: $20,000 – $30,000
Prefab fiberglass spas are the most cost-effective option when installed above ground. Any hot tub must be installed on a pad, typically a small concrete slab, and utilities must be extended to reach it.
In-ground hot tubs add excavation, drainage, and development of solutions to access the spa's control panel to the list, generating additional expense. Custom spas, installed partially or fully beneath the ground, are essentially small custom pools, and their pricing reflects this.
Before & After – Salt Lake City, UT
LANDSCAPE LIGHTING
$2,500 – $10,000
Minimizing the extension of electrical conduit to power lighting can help to keep costs down, particularly when conditions make trenching difficult.
That said, the price of light fixtures and quantity used in a project and quantity of light fixtures are primary factors affecting lighting cost – affordable fixtures and modest light quantities will generate a lot of savings on your lighting expenses.
SPECIMEN TREES
$800
This price is an average for a 24" box tree, typically the biggest size used on residential projects. That being said, tree prices very significantly by species. It's not uncommon to see marquee trees sell for a few thousand dollars.
---
CREATING AN EXTERIOR DESIGN TAILORED TO YOUR NEEDS
Yardzen's award-winning online landscape and exterior design service is tailored to homeowners in all fifty states in the U.S. Our design process begins with understanding your space, your aesthetic preferences, and a discussion of your budget and vision to minimize surprises when it comes time to build.
Our top-notch designers then develop a personalized vision for your yard, shared through 3D renderings, 2D plan drawings, and plant and material lists. Your design will capture the look, feel, and function you are hoping for, all while keeping costs within range.
Once your design is complete, we'll help you connect with a local contractor from our Pro Network of vetted professional contractors to install your new design.
Ready to have a home that makes a great first impression? Create your design profile or explore our professional landscaping and exterior design packages today!