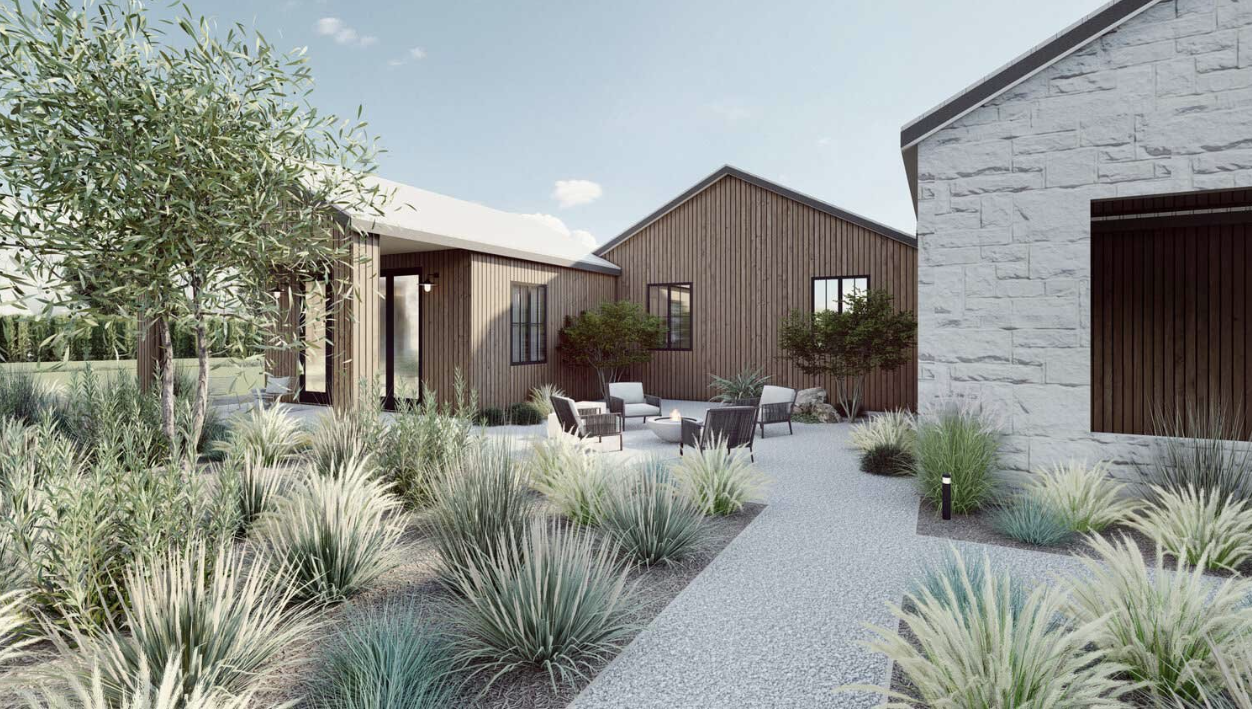 Pathways are a fundamental building block of landscape designs, right up there with functional spaces and planted areas.
When you design a pathway, you choreograph an experience for someone moving through the landscape. You also define the edges of adjacent spaces, influencing their size, shape, and sense of connection to other parts of the yard.
Below, we'll dive into the nitty gritty of garden pathway design, taking a look at style, material, size, form, planting, lighting, and other factors that influence the look, feel, and function of paths. We'll also share some pathway ideas along the way for inspiration!
GARDEN PATH FORMS
---
Straight Paths
Straight paths are the default in modern designs, especially when arranged in parallel and perpendicular segments. You'll also see straight paths in formal traditional designs, often as a central axis (more on this below).
Straight paths provide fast, direct routes, and create rectangular spaces along their edges – this is part of their appeal in modern landscapes.
Curving Paths
Curving paths are the default for traditional designs, particularly traditional informal or "cottage garden" styles.
By taking a more meandering route, curving paths offer a slower, more contemplative experience than straight paths. They also lend themselves to concealing and revealing key views in a landscape.
Curving paths create organically-shaped spaces along their edges, and are well-suited to designs that seek a naturalistic look.
Pro Tip → Err on the side of long, graceful curves. Tight, wavy curves are awkward to walk along, and tend to look less attractive both as paths and spatial boundaries.
GARDEN PATH SIZES
---
WIDE Paths
A typical path is 3' to 4' wide. Above this width, paths feel increasingly grand, and command more attention. In general, wide paths should be primary paths with plenty of foot traffic and visibility.
Added width also comes in handy on humbler working paths, where vehicles, large wheelbarrows, or other equipment must be accommodated.
Paths leading to front doors are perfect candidates for extra width, lending grandeur and organization to front yard designs – just make sure the front entry lives up to the drama of the path pointing at it.
Pro Tip → 5' or 6' is typically wide enough to feel special. Paths wider than 6' can start to feel like a two-lane experience – picture broad gravel thoroughfares in estate or botanical gardens.
narrow Paths
3' is a comfortable width. Below that, things get tight. It's fine to provide a path surface as narrow as 2', but maintain at least 3' of clear space in the area above the path, where people's bodies will pass.
Narrow widths are appropriate for secondary paths – routes with less visibility and less frequent use. Forested or densely planted areas, peripheral zones, and narrow spaces are classic candidates for secondary paths.
Pro Tip → Organic materials like natural stone, pea gravel, or even wood chips and mulch look at home as narrow path surfaces. Conversely, narrow bands of solid paving often seem incomplete, as if a third of their width was never installed.
SPATIAL ORGANIZATION
---
Tracing Paths
Tracing paths wind around the edges of different zones in a landscape – it's as if the lounge areas, fire pits, and outdoor dining spaces were created first, and the paths had to make due weaving around in the spaces that remained.
Tracing paths make for visually complex and experientially pleasing designs. The twists and turns hide and reveal views, create pockets for focal planting, and help designs feel less formulaic.
At the same time, they can make for inefficient circulation, and result in underutilized remnant spaces. Careful design can navigate these challenges!
Slicing Paths
When paths slice through spaces, they split them into smaller, separate zones. Some paths try to minimize this impact by sticking to the edges of spaces. Others cut right through the middle, establishing strong central axes to anchor adjacent spaces.
Pro Tip → Keep paths as far to the edge of play fields as possible. This maintains a continuous, safe play surface, uninterrupted by paving or other path materials.
Implied Paths
Implied paths indicate a route without using a distinct pathway material or defining clear pathway edges.
You can imply a path simply by leaving an area clear to pass unobstructed across a space – a strip on a paved patio uninterrupted by any furnishings, for example.
You can also imply a path by positioning two path segments across from each other on either side of a dividing area. Rather than have a path cross a sports field, have it stop at one edge and resume directly across on the opposite edge.
GARDEN PATH MATERIALS
---
Concrete Slab
Concrete slab is the most cost effective and adaptable hard paving material. Its practicality makes it immensely popular as a hardscape material, including as a path surface.
Concrete looks at home in virtually any style, though it is most celebrated in modern designs, which proudly showcase it at every opportunity.
Pro Tip → Concrete is great, but large expanses of it feel uninviting. Try score joint patterns or textural treatments to subdivide slabs into more human-scaled units.
Steppers
Steppers are large, square or rectangular concrete pavers interspersed with evenly spaced gaps of groundcover planting, stone, gravel, decomposed granite, or even synthetic grass. They're essentially a modern take on stepping stones, and make for beautiful garden paths.
Steppers photograph well (a big reason why they've been trending for years) and they're often used for visual impact. A clean stepper path slicing through a front garden makes shaggy ornamental planting look stylish and intentional, and boosts curb appeal.
Pro Tip → The gaps in stepper paths are poorly suited for wheels, and can pose a trip hazard to people with mobility challenges. Consider who is using the path and what they're using it for before committing to a stepper surface.
Precast Pavers
Precast concrete pavers balance cost-effectiveness with looks, function, and durability. Many pavers can be installed to be permeable, as well, helping to reduce flooding and water pollution while recharging groundwater supplies.
There are more options for paver size, shape, and appearance than you could count. This translates to abundant opportunity for designers to develop a look that perfectly suits your unique style, be it old world cobblestones, sleek linear pavers, or something in between.
Pro Tip → Select solid-toned pavers in three slightly different colors, distributed randomly throughout a pattern. This introduces subtle contrast and pleasing visual interest to paved spaces.
Natural Stone
Few scenes conjure a fairy tale feel better than a stone pathway winding its way through lush planting.
Allow groundcover planting like Corsican mint or creeping thyme to lace between large, natural-shaped flagstones in your stone path, or sub in pea gravel or larger, smooth decorative stones like Mexican pebbles for a low maintenance approach.
Space the stones to accommodate a 2'-3' stride – this will comfortably facilitate a leisurely pace of travel down your stone walkway.
Pro Tip → Use fewer, larger stones. This cuts down on seams and makes for a nicer walking experience.
Wood Boardwalk
Boardwalks evoke fond memories of beach days, and have a softness to them that pairs perfectly with windblown grasses and feathery perennials.
For a more modern take, install wood paths flush with the surrounding ground – this contributes to a stronger sense of connection between paths and their surrounding spaces. Be warned, though: in-ground installation can double construction costs.
If that's a reach, design your boardwalk to be a single step up. This maintains strong ties with surrounding spaces, but also offers a fun, elevated perspective to view the yard from.
Brick
Dark red brick pathways have an overtly traditional feel. Slap a coat of white paint or semi-transparent whitewash on them, and they become more adaptable, sliding effortlessly into contemporary design styles.
When in doubt, use herringbone for brick paths – it's a classic pattern for a reason.
We prefer orienting herringbone patterns at 45 degrees, to point in the direction of travel, but opting for a parallel/perpendicular layout will reduce costs by eschewing paving cuts along the path edges.
Decomposed Granite
Typical DG offers a slightly loose, slightly crunchy, firmly compacted surface that is pleasant to walk on and won't give way under (most) high heels.
Tan colored DG perfectly complements landscapes in dry climates, while the cool gray of "blue" DG feels most at home in colder northern regions.
Pro Tip → DG will stick to your shoes. Be sure to provide a mat or different surface to knock particles off your feet before walking indoors from a DG path.
Gravel
Humble gravel is one of the most versatile and effective materials you can use in a landscape design, path designs included.
Gravel paths are cost effective, permeable, simple to install (they're about as easy as DIY garden path installation gets), and look good in virtually any style. They're also delightfully crunchy underfoot.
Gravel paths present an opportunity to evoke the regional landscape in your outdoor spaces. Locally-sourced stone brings the look of regional rock to your yard, and cuts down on the vehicle emissions needed to get the stone from its source to your yard.
Pro Tip → Gravel is easy to walk on, but larger decorative stones are not. Keep stone sizes under an inch for a safe and comfortable walking surface.
Mulch
Mulch is the least formal material you could select for a path surface, best suited to secondary paths in designs with verdant, woodsy vibes.
As with gravel, keep mulch particles smaller to provide a more comfortable, even walking surface. Also like gravel, mulch paths are one of the easiest DIY projects around.
GARDEN PATH LIGHTING
Path lighting should provide even, glare-free illumination. Choose fixtures that direct light downwards – that'll handle the glare issue.
Placing lights roughly 15' apart usually achieves even illumination, though it's wise to check the recommended spacing for any particular fixture you use.
Unless your path is quite wide, you only need to place fixtures along one side, either alternating sides or carving a straight line as you proceed down the path. Be sure to place lights at each end of the path for wayfinding ease and visual punctuation.
When placing fixtures, tuck them into softscape just adjacent to paths, with low planting at their base to knit them into the scene.
Pro Tip → People often go overkill on lights. Use enough to achieve safe illumination, but no more. Opt for simple fixtures that don't hog the spotlight.
PLANTING AROUND PATHS
Planting dramatically affects the feel of paths. Tall planting blocks views and restricts space around the body, making paths feel smaller and more separated from their surroundings.
At the same time, tall planting also makes paths feel more private and enclosed. Plant-shrouded paths can create dramatic moments when they open onto wider areas.
Low planting (thigh height max, typically closer to knee height and below) allows for long views across the yard and plenty of space around the body. This makes paths feel open, roomy, and more connected to surrounding areas.
This sense of connection can be emphasized by leaving gaps in planting along garden walkway edges. Unbroken rows of planting barricade paths from their surroundings. By introducing some gaps in edge planting, paths and adjacent spaces can share edges, encouraging more free-flowing circulation. This is a popular approach in modern designs, and helps small yards of any style feel a little bigger.
Allow plants to get a little messy along path edges. Foliage overlapping path surfaces expresses a casual feel and creates a compelling contrast between clean hardscape and looser planting.
Choose soft, spine-less species for path edging, like ornamental grasses or perennial groundcovers. Work your way from low to tall plant heights as you move away from the path edges.
GARDEN PATH EDGING
As fans of free-flowing circulation, we prefer edging that remains relatively flush with the surrounding surfaces. This eliminates trip hazards, and encourages people to roam in whatever direction they wish to go. Thin strips of wood or inconspicuous plastic edging typically do the trick for this approach.
If you want to elevate the look a bit, strips of metal edging, particularly rust-colored corten steel edging, will give your modern vibes a big boost.
On the opposite end of the style spectrum, a row of small stones or bricks laid end-to-end will hem travelers in while expressing a distinctly traditional garden style.
Pro Tip → As with lighting and other objects inserted into landscape designs, we generally advise a low-profile approach. Let the landscape do the talking, not the edging.
SLOPED GARDEN PATHS
Safety is the top concern with paths on sloped landscapes. Anytime slopes climb above 8% – picture the steepness of a wheelchair ramp – you'll want to add steps. If using a loose material like gravel or DG, you should use steps with even gentler slopes. Include handrails when steps climb more than 30", or if the homeowners have personal mobility challenges.
Paths traversing slopes should avoid pronounced cross-slopes. This often requires low retaining walls along both sides of a path, though routing your path through existing flat spots will minimize the extents of your wall work.
Pro Tip → Because slopes are so visible, paths on slopes should be capitalized upon as visual resources. Use the path to establish a route not only to walk on, but for people's eyes to follow as they gaze uphill. Wind paths between trees, hide and reveal turns in the path with planting, link focal moments with the defined line of the path.
CREATING A LANDSCAPE DESIGN TAILORED TO YOUR NEEDS
Yardzen's award-winning online exterior and landscape design service is tailored to homeowners across the U.S.. Our design process begins with understanding your outdoor space, style, garden ideas, and a discussion of your budget and vision to minimize surprises when it comes time to build.
Our top-notch designers then develop a personalized vision for your yard, shared through 3D renderings, 2D plan drawings, and plant and material lists. Your design will capture the look, feel, and function you are hoping for, all while keeping costs within range.
Once your design is complete, we'll help you connect with a local contractor from our Pro Network of vetted professional contractors to install your new design (if you don't plan on a diy build).
Ready to bring your landscaping ideas to life? Create your design profile or explore our professional exterior, side yard, front yard, and back yard landscaping design packages today!