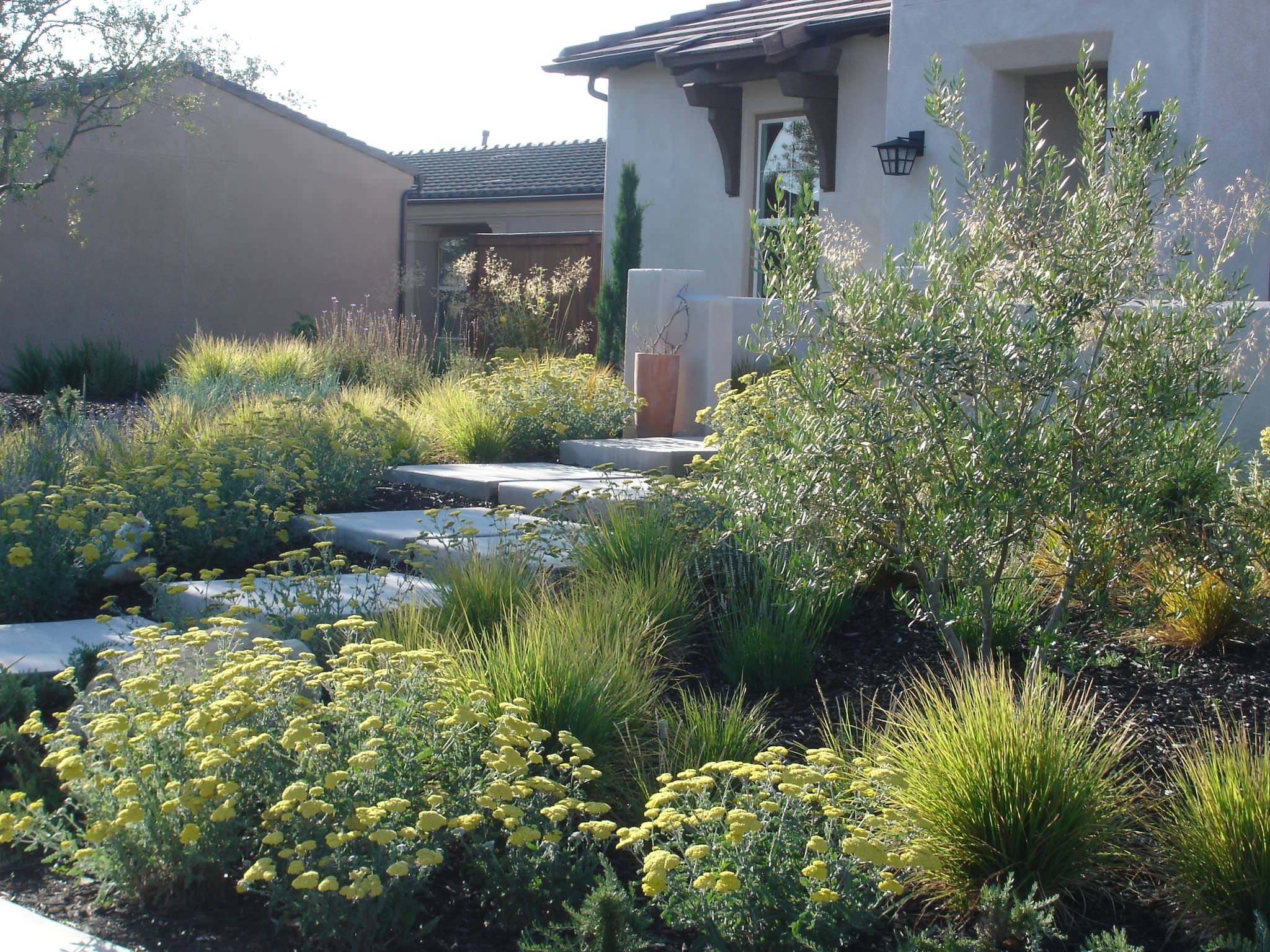 For the better part of a century, lawns were the default for American front yards. They remain incredibly popular today, but standards are shifting quickly.
So far in 2022, 80% of Yardzen clients requested a landscape design that did not maximize the use of lawn—and 37% requested no traditional lawn at all, instead preferring artificial turf or grass-alternative planting and hardscaping.
Why go grass-free?
Lawns are the most maintenance-intensive part of a landscape, requiring regular mowing, weeding, fertilization, and a great deal of irrigation to stay green and tidy. With all this upkeep comes fuel consumption and exhaust emissions from mowing, pollution from fertilizers and pesticides, and excessive water consumption in the midst of record drought.
The sheer ubiquity of lawns also represents a staggering missed opportunity. Replacing just a modest fraction of our lawns with native plants has the potential to restore habitat and ecosystem function on a massive scale.
Realizing all this, many homeowners are thinking twice about front yard lawns. But what does a lawn-free front yard look like? Being so accustomed to lawns, it can be difficult for us to conceive of alternate approaches for our front yards.
Time for some inspiration! From meadows, forests, and desert oases, to outdoor living spaces, vegetable gardens, and fire pits, front yard landscape design is expanding in delightful new directions.
Below, we'll take a look at several lawn-free front yard landscaping ideas to get your wheels (but not your lawnmower wheels) turning.
Shaggy Chic
This Southern California front garden lets groundcover plants do their thing, spreading widely to plug gaps between taller accents of ornamental grasses, potted Agaves, and decorative boulders. Blue Spruce Sedum, Emerald Carpet Manzanita, and Huntington Carpet Rosemary split the groundcover duties, creating an impressionistic mosaic of shifting colors and textures that is low maintenance and easy on the water bill.
Contrast is beautifully controlled across the design: grasses blow in the wind next to stock-still boulders and Agaves; rangy plants breach the crisp edges of the oversized paver path; the strict geometry of the porch-path axis is countered by fluid masses of planting.
As icing on the cake, canopy trees cast dreamy, dappled light across the whole scene.
Bring the Wilderness Home
This design passes on lawn in favor of a wilderness-inspired scene, right down to a front yard "campfire" zone.
A blend of drought-resistant plants, including several native species, occupy a sizeable chunk of the perimeter, welcoming birds and other pollinator species while establishing a calming, natural backdrop to the seating area. Gravel, selected to evoke the colors of river rock, provides a cost-effective groundcover and a satisfying crunch underfoot. Decorative boulders play a similar trick, looking like they were plucked right from a national park (don't worry, they weren't).
To balance out all this naturalism, the design weaves in several modern hardscape features: oversized concrete pavers, sleek path lights, embedded stair lights, and horizontal wood fencing.
Classic Cottage Style Garden
Go flowers go! Cottage gardens are on the rise, characterized by abundant blooms, densely planted flower beds, and long lists of annuals and perennials (we prefer perennials – less maintenance).
This design packs the flowers in, but sticks to a restrained color palette of mostly shades of pink and lavender, save for a few pops of yellow. Plant heights swoop upward as you approach the front door, helping to stitch the front porch into the overall scene.
Wisely, the path lets the plants hog all the complexity, opting for a clean and simple straight lines that contrast nicely with the billowing fullness of the garden design.
Modern Makeover
Speaking of restrained color palettes, this stunning design goes all in on silvery blues, with a few blonde accents to guide your eye from sidewalk to door.
The emphasis is on fine textures, namely from layered masses of ornamental grasses and a spread of pea gravel mulch. Thick-leaved Agaves pop boldly against this backdrop.
The undulating edges of the planting are framed by elegant concrete paths. The main path is spruced up with strip lighting along the stairs, a small but powerful detail to express an upscale, modern feel.
Interested in these blue species for your landscape? Consider Festuca glauca, Leymus 'Canyon Prince', Senecio mandrilascae, and Agave attenuata.
Dry & On The Rocks
This design boosts curb appeal while keeping costs to a minimum. Tan gravel – cheap, attractive, and reminiscent of the regional landscape – spreads across the yard, while decorative boulders provide low maintenance accents to punctuate open spaces.
Two stately olives hold court, casting dappled shade on the porch and fire pit while providing focal points to visitors coming in from the sidewalk. Low water planting graces the edges, joining forces with the rocks to evoke the feel of the regional landscape.
A precast paver path adds graphic appeal while defining a few sub zones within the expansive front yard. The fire pit and fun blue water feature help to establish a pleasant outdoor space for evenings under the stars.
Floral & Fun
There's no denying it: lawns are great for games.
Not to worry! Lawn alternatives have come leaps and bounds since the old days. Today's artificial turf is a fabulous surface for games, sports, and general merriment of all stripes.
This yard dedicates sizable space to a play area for adults and kids (we all need to have fun, right?). Waist-high, layered planting and a showpiece wood panel shield the turf from the street, while mixed rows of Yarrow, Lavender, and the low water Boxwood replacement Olea 'Little Ollie' establish a formal boundary around the play space. Further back, taller grasses and bold red blooms add a little zing to the planting design, luring visitors around the corner to the backyard.
Social Front Yard
Crunchy gravel and decomposed granite, stone retaining walls, undulating edges, abundant plants and abundant space? Sitting here seems quite nice, indeed.
And that's the point. Whether spending time with family, friends, or soon-to-be-friends, this social front yard uses simplicity to its advantage, adapting effortlessly to whatever social occasion may arise.
The dense, drought tolerant plants – heavy on Rosemary, Lavender, and Westringia 'Grey Box' and presided over by a showpiece Olive tree – are varied but cohesive, establishing a welcoming garden scene that invites the neighbors to join the fun. Those big, bold Bougainvilleas don't hurt, either.
Dreamy Desert
Succulent Agaves, a focal Candelabra Cactus, and an even bigger Yucca tree hold up the stiff and spiky side of things in this design. Soft grasses and delicate perennial flowers counter with inviting softness. Boulders, meanwhile, evoke both the flagstone facade of the house's front wall and the textured gray of the driveway.
All together, these elements produce an exceptionally cohesive desert design that feels of a piece with the architecture.
And if that isn't enough, this landscape comes with the added perks of low water demands and no mowing.
Manza-neto!
A pair of Howard McMinn Manzanitas steal the show in this Oakland front yard. Their architectural form and ruddy bark cut an artful figure, flanking the front path as if it led through a sculpture garden.
The ground level plants don't slouch, either. The dense design boasts a broad array of textures but a restricted color palette. Plants start low at the sidewalk and gradually swoop upward to embrace the elevated front porch. Drought tolerant favorites like Lavender Cotton, Foxtail Fern, and Atlas Fescue comingle with traditional staples like Iceberg roses, Baby Gem Boxwoods, and Agapanthus.
The result is an eclectic blend that leans on greens and pale blooms to create a varied yet cohesive foundation, all in support of those showstopper Manzanitas.
Scrub Up Nicely
This Texas Hill Country design emulates and elevates the regional scrub landscape, blending natives like Sideoats Grama and Mexican Sage with well-adapted, low water all-stars like Artemisia 'Powis Castle', Fragrant Sumac, and Russian Sage.
As a whole, the design offers an alternating sequence of enclosed rooms and open clearings. Plants cluster in naturalistic masses, interspersed by low canopy trees, boulders, and open spaces surfaced with decomposed granite. You could do a lot with these open spaces: let kids run wild, entertain friends, or have a meditative moment.
It's not easy to design spaces this large, but by cuing off nature, the design succeeds at providing a space that balances naturalism with function.
Front Perch
As anyone who has built a retaining wall will attest, it's best to work with slopes, not against them.
This yard does just that, perching a simple-yet-stylish seating area atop a front yard hill
Tan gravel provides a cost-effective surface that echoes the warm neutral color of the house. Charcoal Adirondacks and a concrete side table and fire pit remain cohesive with the scene while pushing things toward a more modern aesthetic.
The hill itself is reimagined as a sloped garden bed, planted with a range of ornamental grasses and shrubs that blow in the wind, or whenever a car drives by. Understory trees loosely flank the seating area, offering a little privacy while implying the limits of this inviting outdoor room.
Clean & Calm
This small front courtyard design keeps things simple and pretty flanking a wide herringbone path with drought tolerant winners including Creeping Thyme, Little Bunny Dwarf Fountain Grass, Aeonium, and Bush Anemone.
The design works with the long and narrow shape of the space by embracing axiality. A broad herringbone path forms the spine of the space, terminating at a low profile front porch, whose weathered hue compliments the white walls and blonde wood of the house and furnishings.
The porch space boils down to the essentials: two comfy chairs, and two potted white Bougainvilleas, which lend both softness and height to the space. The lack of clutter keeps the the doorway clear and the atmosphere peaceful.
Gorgeous Grasses
Minimalism is the rule in this austere front yard landscape for a modern country home.
Monolithic rows of grasses stair-step toward the front facade, entering the frame without blocking the view out from the windows.
Silver-blue Festuca glauca repeats the strategy along the base of a pale stone retaining wall, hiding a few cylindrical path lights in its midst.
The planting is showy and restrained at once, free from ornament but undeniably eye-catching.
The hardscape practices similar restraint. A simple concrete paver path interlaced with gravel branches off the existing gravel driveway, sticking to the limited color palette of bleached grays and steely browns.
Front Yard Forest
Why not go big? This Utah design certainly does, showcasing a mixed grove of existing Birches and conifers. With such dramatic bones in place, the design was able to take a light touch, clearing out underbrush to offer plenty of open mulched space for kids to frolic and adults to stroll.
Tough evergreen shrubs maintain some ground-level color through the winter months, while a few patches of low groundcover and select decorative boulders provide just enough added detail to lend interest to the scene while keeping circulation open and flowing.
For kids, this is a dream come true setting for a game of tag. For adults, it's a stylized and dramatic immersion in nature.
---
Get started with your lawn-free (or low-water) landscape design by Yardzen
Yardzen's award-winning online landscape design is tailored to clients in all fifty states in the US. Through the American Rewilding Project, we are committed to creating designs with climate-adapted plants and water saving landscaping in drought-prone regions unless homeowners specifically opt out.
Our design process begins with understanding your space, your aesthetic preferences, and a discussion of your budget and vision to minimize surprises when it comes time to build.
Our top-notch designers then develop a personalized vision for your yard, shared through 3D renderings, 2D plan drawings, and plant and material lists. Your design will capture the look, feel, and function you are hoping for, all while keeping costs within range.
Once your design is complete, we'll help you connect with a local contractor from our Pro Network of vetted professional landscapers to install your new design.
Ready to level up your curb appeal and sustainability with low-water landscaping ideas? Create your design profile or explore our design packages today!