Well-designed front porches are objects of envy: charming, attractive, and oozing with good vibes. But then, the opposite also applies: absent of design, porches run the risk of looking lonely, cluttered, and unappealing. Yikes! As with anything, there's no free lunch. If you're lucky enough to have a porch, it's on you to keep it attractive, inviting, and functional.
Good news: this is easy to do, and doesn't have to cost very much at all. (Tip: because many porch designs don't involve any digging or actual construction, porches make for great intro projects for aspiring DIY-ers). Not every porch is the same, and there are many details to consider when sorting out how to best design in and around a porch. No ready-made formula exists. That makes porch design sound hard, but it's no trickier (and usually easier) than taking on any typical landscape design project.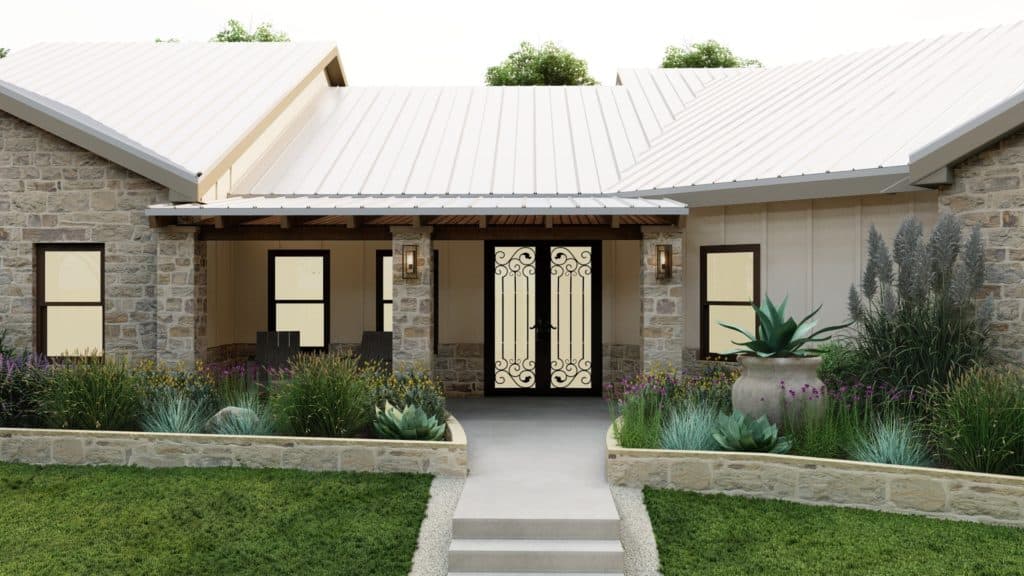 If you're in the market for a porch makeover, our advice is to tackle the job with the same goal-driven approach that should be taken when designing a landscape. Let's walk through exactly what that means.
Goals for Front Porch Design
What do you want from your porch?
Attractive
There are three audiences for your porch: the market, the neighbors, and you.

Market: Being super visible from the street, porches have a big influence on a home's curb appeal.

When it comes to attracting homebuyers, having a porch at all is a leg up (as mentioned, people covet porches). Investing to make that porch zing when viewed from the street capitalizes on your opportunity, and pays off in increased appeal to buyers.
Neighbors: Concerned for how neighboring properties could affect their own home values, neighbors tend to appreciate having a block full of well-kept landscapes.

A well-designed porch is as important as a well-designed yard to projecting a sense of style, tidiness, and intentionality to the neighborhood.
You: It's your home, and you deserve to like how it looks. All concerns about the market and the neighbors aside, designing a porch to suit a homeowner's personal style is meaningful to their everyday satisfaction with their home.
Functional
Porches are viable outdoor spaces, available to use for a range of functions. Provided the intended use will meet the aesthetic bar for being on display to the neighborhood, porches are ready to take on anything they can physically fit: dining, cocktails, play zones, gardening, flexible social space… you name it.
Enjoyment
Porches bring all sorts of pleasant things to mind: rocking chairs, mint juleps, neighborly hellos, evenings with rambunctious kiddos, stolen moments of tranquility. These are places to enjoy yourself. Porch design should put a premium on creating a space ripe for such enjoyment.
Goal-Driven Porch Design
How can porch design achieve these broad goals?
Designers need to focus simultaneously on the big picture and the little things.
Big Picture:
Positioned as it is, the porch is the intersection between architecture (the house) and landscape (the yard). It straddles the border between interior and exterior design sensibilities.
This means that porches bear a lot of responsibility for making architectural and landscape elements work together as a cohesive whole. (Achieving a cohesive look – where the cumulative choices of planting, hardscape, and exterior home design elements all feel like components of a single, unified design vision – is the holy grail of curb appeal.)
Pulling this off requires different choices in every project, but you can stack the odds in your favor by using consistent palettes of plants and materials.
Complement or repeat colors, textures, and materials from yard-level hardscape on the porch and the home's exterior. Add container plants to your porch that have similar textures, habits, and colors as planting in the main yard. The goal is not for everything to match, but to create a very obvious and harmonious dialogue between design elements across the landscape, porch, and home.
Little Things:
Harmony in the big picture comes only through careful attention to detail. The way a design deals with individual elements has a big effect on the overall look, feel, and function of a porch as a space unto itself. At the same time, the details of a design also dictate how well the porch, house, and landscape come together as an overall design.
What details are we talking about? Let's take a look.
Front Porch Features and Design Ideas
Front Door
Front doors are a natural focal point. They also get a lot of use. All this attention makes a strong case for using design elements to accentuate front doors.

Here's your chance to build cohesiveness and create visual interest: pop some container plants on one or both sides of the entryway. Perhaps the plants resemble the lower yard. Perhaps the containers are a shade of concrete that alludes to pavers running through the yard.

You can also play with material and color. Use a wood tone that echoes furnishings or other design features, or choose a bold color that complements the house color while also alluding to flowering perennials in the landscape.

In this manner, you can deploy the look and feel of other parts of the yard as porch design details. It's fine for the link between design zones to be subtle – harmony is the priority, not obviousness.
Windows
Think of the indoor and outdoor experience when designing around windows.

Viewed from indoors, windows are best left unobstructed to allow daylight in and give folks a clear view of the outside world.
Viewed from the street, windows are better responded to than ignored. Use plants to frame them, and organize furnishings in relation to windows so as to create a clean and obvious visual rhythm. Windows are highly visible, so you've got no choice but to respond to them.

Again, expressing a deliberate relationship between elements on the porch and the home (i.e. the window) is the main goal. Things don't necessarily need to align tickety-boo, but the relationship between window and porch elements should feel intentional.

When possible, the lower yard can align focal elements like new trees to major exterior windows. In this scenario, the porch's job is to get out of the way, perhaps providing some appealing foreground fun but generally ceding attention to the focal element in the lower yard.
Railings and Stairs
Boundaries heavily influence the way spaces feel. Spaces with imposing, opaque boundaries feel more isolated and enclosed, and have less free-flowing circulation. From the outside, they discourage approach. Spaces with clear, porous boundaries flow seamlessly into each other, and feel more expansive and interconnected with their surroundings. Viewed from outside, they feel welcoming.

In general, the openness and interconnectivity that comes with open boundaries is desirable in a landscape design. It's especially useful for making small front yards feel larger, or for expressing a modern design aesthetic.
When it comes to porches, the edges are typically covered by railings or stairs. This is often necessary for safety – for elevated porches above 30", guardrails are a requirement, while lower porches may have the option to use or skip them. Wide stairs are a deck-design trick to avoid guard rails, but they don't always look right when adapted to porches.

Open edges along a porch – achieved through wide stairs or a lack of guardrail – contribute to a stronger connection between the porch and the front yard. That being said, rails are typical of porches, and a little feeling of enclosure is nice on a porch. Not having any rails can seem a little naked, though it can be pulled off in more modern aesthetics.

If you ask us, the trick is to land somewhere in the middle: have a rail or boundary to define a separate space, but maintain plenty of visual interconnection between the porch and the surrounding yard.

When choosing railings, opt for a design that incorporates plenty of gaps to allow light through. The more visually permeable the railing, the more it will feel like an open boundary, and the stronger your bond to the lower yard will be. Open railings also project a more inviting feel, and encourage neighborly interaction.

Your railing design need not be fancy – simple wood pickets are a tried and true solution.
Furnishings
Seating, tables, outdoor rugs, and a whole range of decorative items all fall under the "furnishings" category. When choosing furnishings, consider both the view from the street and the view from within the porch. Bigger items like sofas will have more influence on the street view than small items. Cramming in too many small items runs the risk of things looking cluttered and illegible from the street.

That being said, small details breathe personality into a porch. As with anything, strike a balance. Choose a few favorite small elements to hang onto – a tabletop plant, a basket for blankets (also a practical option) – and skip the rest.
When selecting larger furnishings, consider how the space will be used, and take care to leave space for circulation – spaces don't feel great when they're stuffed to the gills with furniture. Furniture should also be selected for durability. Choose items that will stand up to life outside.
On large porches, outdoor rugs can be great for defining a distinct sub-zone without resorting to physical boundaries. They're also pleasant in barefoot climates.
Open Space
Elevation and footprint are fundamental variables for porch design.
Elevated porches have built-in spatial separation from the yard, not to mention a default traditional feel. Porches at-grade with the yard are take a little more work to achieve curb appeal pop, but have the advantage of a shared, passable boundary – great for kids who want to run freely between yard and porch.
You can do the same things regardless of whether a porch is high or low, but it's advisable to play to the strengths of each scenario – let the elevated porch be a distinct, highly displayed gathering space of some form, and let the at-grade porch be a little more fluid, periodically spilling its function out into the main yard.

Footprint (the size of the porch) is obvious in its influence on design. Big porches can accommodate more people, and may even have room for two distinct zones (that's where outdoor rugs can be helpful). Small porches require boiling down to the essentials. Commit to a use (ideally one that can accommodate a few different functions – eating, cocktails, coffee, reading, etc) and avoid crowding the space with extraneous items.
Planting
Planting is crucial to porch design. Greenery softens the environment and provides a means to engage with broader landscape design through repetition of species or physical traits. Don't allow plants to gobble up too much space on porches – porches are small enough, and need to preserve all the open space they can.

Potted plants are the name of the game on porches. Hanging baskets are great for keeping floor space clear, and they have big-time Southern charm. Windowboxes, hung from railings or windowsills also stay out of the way, and are great if you want a farmhouse or cottage garden vibe.
Climbing plants also keep floors fairly clear, though they do require a container on the ground. Wind vines around railings, or, when privacy is necessary, grow them on a trellis to create a screen to block the view from your next door neighbor.

For containers on the ground, we advise one of two approaches: large containers, placed individually, or clusters of a few flower pots (we like groups of 3), each a different size. The single container approach works in any style; the clustered approach is a little more on the homespun, casual, Bohemian side. In general, we advise opting for fewer, larger containers for a more legible and less busy design.
Position container plants in corners, or framing doorways or sofas. Narrow, wide planters sit well beneath windows. Large containers are great for tall plants, which help to expand the perceived sense of space by drawing the eye upward. Feel free to include two or three species in a single large container: a vertical species, a low textural foundation plant (low ornamental grasses are often nice), and a groundcover to cascade over the edge of a container.
Evergreen species are a good idea to preserve year-round interest, but don't be afraid to blend in some seasonal blooms if it suits your overall planting style. Opting for low-maintenance species is also a good call – for fans of flowers, save yourselves fuss by steering clear of annuals in favor of perennial species.

In drier climates, succulents make for excellent porch plants. We're partial to small succulents used as tabletop decorations. Take care to avoid spiky species, unless they'll be tucked safely out of reach.
Whatever plants you choose, consider the species being used in your overall garden design. Look for themes in color, texture, and habit, and try to continue those themes in your porch planting. If the plants will be happy in the conditions, you can also outright repeat species from your garden beds in porch containers.

Also consider light. The roof over porches often equates to part- or full-shade conditions for plants. This may mean that some of your favorite species are off-limits, but it's much better to choose a plant that will be happy with the light conditions than it is to force your favorite plant into an environment where it will struggle. Hostas are a reliable, shade-loving textural plant for wetter climates, and ferns are a no-brainer across the country (go with a native species).
Lighting
You don't need a ton of lighting on a porch. In fact, too much lighting eliminates the ebb and flow of emphasis across a design, calling too much attention to lesser details and stealing potency from intended focal points. As with anything related to porch design, consider both the view from the street and the experience from within the porch when designing lighting. To max out nighttime appeal, focus lighting on focal points, and stick to as few focal points as you can stand (the fewer there are, the more powerful each will be).

Front doors are natural focal points, and should be the first priority for lighting. Use attractive wall sconces to illuminate front doorways, and take care to choose fixtures that suit your overall style.
If you plan to use your porch after sunset, you'll also want enough lighting to read a book, or at least to visit with a friend. Sometimes the wash from front door lighting is sufficient, but when it's not, lighting embedded in the ceiling of the porch is a great solution. Install these lights with a dimmer to keep light from getting too bright, and turn off the lights when you go inside to minimize light pollution and disruption to local ecosystems.
Lighting is also a safety concern. Landscape lighting should illuminate the route up and down porch stairs to allow for safe circulation. Recessed lights, which sit within the riser of stairs, look dynamite in contemporary design styles. Those seeking a more subtle look can mount deck lights to the posts of stair handrails.

Front Yard Landscaping Ideas
Landscape design immediately surrounding the front porch can be tuned to help with the overarching goal of cohesive curb appeal, but it can also have a positive impact on the porch environment.
Trees are almost always a great idea. Use trees to shade porches from harsh afternoon light.
Planting habitat-rich natives (oaks are the best) will also grace your porch with birdsong.
Foundation planting runs along the base of wall that porches float above. Plants included in foundation planting designs have the most obvious dialogue with plants on the porch – take care to establish some kind of thematic connection between them.

Boxwoods and Hydrangeas are staples of traditional foundation planting styles, though we suggest taking a more drought tolerant twist by using lower water hedge species like Dwarf Myrtle or Olea europaea 'Little Ollie', and expanding your floral palette to include habitat-rich, pollinator-supporting natives like Yarrow, Coneflower, Beebalm, and Asters.
Modern design styles tend to lean more heavily on ornamental grasses. Gulf Muhly is a champion in the South and East, where it's pink blooms put on a spectacular late summer/fall show.

Rather than expose lots of open mulch area, utilize the groundcover species from container plants to spread and fill gaps between larger ornamental foundation plants. This is a cost-effective way to achieve a dense planting design, and comes with a host of ecological and maintenance benefits.
Rock gardens are a good option for those seeking a to minimize irrigation and maintenance, and are particularly attractive in arid climates where the wild landscape itself is dry and rocky.

We do recommend incorporating a few focal elements into rock gardens – a decorative boulder, a tree, a patch of ornamental planting – to ramp up their visual appeal.

Avoid getting too fussy with tricky edging or multiple rock types. Keep things clean and simple, and lean on rockbeds to be background elements rather than a standout features.
When tight quarters make it tricky to comfortably fit a water feature on a porch, try integrating a water feature into a foundation planting design. Layer low plants in front and around the sides, and taller plants in back – this helps to weave the water feature into the planting design, giving it that crucial sense of belonging.

Crucially, keep the water feature within earshot of seating on the porch, so guests can enjoy the calming sound of burbling water.
Get Started With Your Landscape Design by Yardzen
Yardzen's award-winning online landscape design is tailored to clients in all fifty states in the US. Through the American Rewilding Project, we are committed to creating designs with climate-adapted and habitat-providing plants as well as water saving landscaping principles in drought-prone regions unless homeowners specifically opt out.
Our design process begins with understanding your space, your aesthetic preferences, and a discussion of your budget and vision to minimize surprises when it comes time to build.
Our top-notch designers then develop a personalized vision for your yard, shared through 3D renderings, 2D plan drawings, and plant and material lists. Your design will capture the look, feel, and function you are hoping for, all while keeping costs within range.
Once your design is complete, we'll help you connect with a local contractor from our Pro Network of vetted professional landscapers to install your new design.
Ready to level up your curb appeal with a professional custom landscape design? Create your design profile or explore our design packages today!