As we settle into a new school year, it's a great time to consider how our yards can include opportunities for children to learn and grow.
There's much to be learned from spending time outside, and the benefits of outdoor learning are not limited to facts about plants, birds, and bugs. For children, time outside is a chance for self-discovery. (Through the pandemic, it was also a lifeline to sanity and well-being.)
Outside, children can move, imagine, explore, and create in countless ways. Every experience teaches them a bit more about the world, and a lot more about themselves. Give kids the freedom and space to dig, stack, climb, splash, sweep, swing, and smash as they see fit, and their actions will fuel a virtuous cycle, where curiosity begets yet more curiosity.
There's no shortage of ideas for making a yard a space for kids to learn and grow – homeowners and designers can pick and choose from a huge list of field-tested tricks, or they can develop their own new outdoor features for kids to enjoy.
To get your wheels turning, let's take a look at a few of our favorite outdoor learning environment features. Along the way, we'll share tips for making your yard an enriching and fun space for children that adults can enjoy, too—and if you're in the market for kid-approved yard decor, check out our staff favorites.
Make Peace with Mess
For young children, getting messy is essential to learning (and quite fun). Case studies even show that exposure to dirt helps kids develop stronger immune systems.
For kids to reap the full benefit of their outdoor spaces, adults must make peace with the mess that tends to accompany children's development.
But what about my gorgeous landscape?
Let's allay some fears: as we welcome messiness in the name of outdoor learning, we can still maintain attractive, intentional and (yes) clean landscape designs.
How?
The solution differs for every yard, but here are a couple tips:
Designate kids' zones
Encourage kids to go wild in certain parts of the yard, while reserving other areas for adult uses. In truth, the entire yard will get played in at some point, but it's fairly easy to concentrate messiness in certain areas.
Manipulate sight lines
It's good to position kids' play areas in spaces where parents can easily keep an eye on things. At the same time, you can disguise a lot of the untidiness that children create with a well-placed tree or planting area. A strong focal point will pull attention to itself, and away from less tidy corners.
Choose a forgiving style
A minimalist modern look where everything is just so will have a harder time absorbing the chaos of children. Opting for a style that is a little more casual goes a long way toward making the occasional stray dirt pile feel insignificant.
Be patient
Kids grow up fast (faster than some plants, it should be noted). Before long, they won't cause as much mess, and your yard can return to a more pristine condition.
So what kind of messes are we talking about?
Messiness can be thought of more positively as acting on opportunity.
Time outside gives kids the opportunity to do things they can't do indoors: splashing in mud and water; stacking rocks, sticks, and other big objects (we're partial to giant building blocks, but your average cardboard box does the trick, too); digging in the dirt; sculpting wet sand; loading, moving, and dumping out toy trucks, buckets, and wheelbarrows.
Such actions are the raw materials of creative play, and easy to encourage.
Splash
From temporary kiddy pools, to permanent water features rugged enough to resist toddler hands, providing a safe and clean source of water unlocks worlds of fun and learning. And if it rains, use those puddles!

Tip: Install a shallow water feature with recirculating water, low to the ground and in a well-shaded area, and watch birds flock to it. Kids can splash one day and bird-watch the next. (You'll also lend a hand to migrating species by giving them a water source!)
Dig and Haul
Plastic shovels, rakes, brooms, buckets, wheelbarrows, wagons, even toy dump trucks – furnishing your kids with equipment to move rocks, dirt, and other materials facilitates enriching play, and offers little ones an opportunity to try their hand at landscape architecture, building motor skills and exploring how materials balance in the process.
Work Zones
To keep kids from digging up your plants, allocate an open mulched area in a nice spot of dappled shade for kids to dig.
Sandboxes
Quality outdoor learning spaces allow kids to get their hands into a variety of materials and textures.

For kids, sandboxes offer a different digging medium, a new setting for make-believe, and, when dampened, a safe and easy-to-use building material for piling and smashing.

For adults, sandboxes also put a nice, clean frame around the play site, which goes a long way toward making them look like intentional components of a landscape design.

A few tips and notes of caution for sandbox care:
Rake sand regularly to remove debris, clumps, and foreign material
Replace sand periodically to keep it sanitary.
Take care to only use natural river sand or beach sand. Avoid products made from crushed limestone, marble, or crystalline silica (quartz), or any products that are obviously dusty, as such products can pose serious health risks to children.
Don't let your sandbox become a restroom for animals. Cover sandboxes when not in use, and keep pets away.
Before you cover them, allow sand boxes to dry out to prevent bacterial growth.

Move
Being outside offers kids a chance for physical activity that can't be replicated indoors. Climbing, sliding, scrambling, balancing, burrowing, swinging – it all improves strength, balance, coordination, and general physical health. The fresh air isn't bad, either.
This opportunity to become more physically adept is in turn an opportunity to build confidence. For exhausted parents, it's also an opportunity to purge their kids' boundless energy.
How can we optimize our yards for physical play?
Flexible Open Space
Design doesn't need to be complicated. Simple, safe open spaces enable a wide range of activities.

By avoiding permanent fixtures, open areas can be like stages, allowing an ever-shifting array of play equipment to be added and removed as kids' play preferences evolve.

Make open areas comfortable by shading them with canopy trees, and surround them with pockets of sturdy, attractive planting. Weave features with good play potential into the edges of open spaces. Boulders, logs, and small hills or depressions are great for creative play, and are easy to pass off as integrated features of a grown-up landscape design.

Tip: Open areas are great for pets too, and provide a great space for kids to learn to love and respect animals from an early age.
Nature Play
Structures and store-bought play equipment are fine, but so are things you find in the yard. Getting kids to engage with things like wood, stone, and dirt makes the natural world familiar, and fosters curiosity to engage with nature.

Bury large-diameter logs upright for a hopping trail, or leave logs on their side as a bench/balance beam.

Cut back on your maintenance by leaving sticks and fall foliage on the ground for kids to sweep, pile, and stack.
Utilize Slopes
Homeowners often bemoan sloped yards, but for kids, slopes are a blast.

Stack boulders on a slope to create a rock scramble. Embed slides into slopes (be sure to provide a soft, flat landing pad). Use stacked stone walls to create small terraces with safe access paths to create elevated outposts for make-believe. Tie a rope or net climber to a sturdy anchor for kids to haul themselves uphill. Or, just let your kids run up and down a hill. The simplest solutions often are the best
Utilize Trees
Trees are an amazing resource for children. String slack lines, zip lines, hammocks, or other climbing toys between trunks. Hang swings from sturdy branches. Opt for strong, low-branched trees great for climbing. Trees also bring birds, squirrels, and insects to the yard, populating play spaces with the sounds and activities of the natural world.

And don't forget about stumps – if you have to remove a tree, consider keeping the stump. Kids love a podium.
Play Structures
Large or small, play structures can be great, but they come with pros and cons.
Pros:

Well-designed structures offer a variety of play options in a space-efficient manner.
Play structures that mix rooms, like forts or play houses, with physical play features like swings and ladders create opportunities for physical and creative play.

Cons:

Kids eventually outgrow their toys, and play structures are no exception. Before you invest, consider the structure's likely lifespan.
Structures are large, and can gobble up a yard. Even if their footprint may be small, play structures' physical presence looms large, and can tilt a yard toward feeling like a playground. This effect can be mitigated by opting for structures with a natural aesthetic, and by using trees, planting, and careful siting to minimize the visual impact of play structures on the surrounding yard.
Hard and Soft Play Surfaces
Wheeled toys and basketballs are better on paving. Soccer and tag are better not on paving.

Providing a mix of hard and soft surfaces facilitates the widest range of activities for children.

For hard surfaces, young roller skaters, scooter-riders, and skateboarders will appreciate a surface with fewer seams, like a concrete slab.

Wood decking is acceptable, but is prone to splintering. If you're after the look of wood, we suggest opting for composite decking like TimberTech instead.

For soft surfaces, unfortunately there is no magic solution.

Among groundcover planting options, lawn offers the best resistance to foot traffic, but it requires lots of water and maintenance. If you're going for lawn, try to use low-water native sod varieties to reduce water demands, especially if you live in a dry climate or drought-affected region. More importantly, limit the scale of your lawn: give kids enough room to play, and no more.

Other groundcover species can handle some foot traffic, but won't survive daily activity. Walkable species like Sedum, creeping thyme, or clover are excellent for filling patches along the edges of main play spaces, but aren't ideal for play fields that will be used regularly.

Artificial turf can require less water than lawn (though it still needs to be washed), but it can get very hot in the sun. More troubling, turf has a limited lifespan, and research already shows that artificial turf disposal is linked to significant pollution concerns. As with lawn, we recommend limiting the extent of artificial turf areas.
Tumbled bark mulch and gravel are viable alternatives, though parents need to watch little ones prone to putting such materials in their mouths (lawn poses the same challenge). Bark mulch is a bit better for running on – gravel can be easier to slip on.

Rubberized play surfaces are fine in a small extent, but tend to look unattractive when they cover too much area. If you opt for this route, choose subtle colors, and make sure the materials you select are non-toxic, safe for falling, and resistant to heating up in the sun.

With no clear favorite option for play surfaces, a blend of a few materials if often the best solution. Use a single material for spaces allocated for running – you don't want to switch from grass to mulch in the middle of a soccer game. Coordinate groundcover material changes to changes in the overall design – new space, new groundcover

Tip: If space is tight, err on the side of soft, permeable surfaces, not only for fall safety, but to help with onsite water management.

Explore + Imagine
Time outside can move, shake, and stretch children's minds as well as their bodies.
A well-designed learning space offers established paths and spaces for children, but it also offers space for kids to carve their own paths and create their own worlds.
Nooks and Crannies
Provide a range of spaces with different sizes, shapes, and personalities to give kids different spatial stimuli to react to.

Use trees and tall shrubs to create cool spaces with a high degree of enclosure – such spaces are great for secret hideaways, stationary activities, or even outdoor classrooms.
Round the corner from tall trees and shrubs to create a conceal/reveal effect, where enclosed, private spaces open onto long views and expansive spaces. These moments of dramatic change are fodder for young imaginations.

In addition to safe paths, leave space here and there for kids to wind their own improvised paths across planting areas. Such secret passageways will happen whether you want them or not – you may as well plan for them.
Hideouts
Forts, playhouses, or even the shelter of a low-slung tree create the perfect space for children to let their imaginations roam. Make sure hideouts offer shade – they make for a great retreat for restful play after running around in the sun.
High and Low
Kids are short, and they're dying to know what it feels like to be tall.

Give them the chance to get a taller perspective by providing things like rocks, stumps, or elevated platforms to safely ascend. If there's a chance to get low – a grotto, a swale, a sunken courtyard – all the better.

Access to new perspectives fuels curiosity. Provide kids with a variety of vantage points, and they'll work them all into their play.
Create
Room to make a mess means room for arts and crafts.
Work portable easels and whiteboards for painting and drawing into outdoor learning areas. Activate playhouse walls or the back of garages with chalkboard paint or magnet boards. No open walls? Go wild with sidewalk chalk.
Hang on to large boxes, extra lengths of pipe, and other craft materials, and let kids develop their own (temporary!) sculpture gardens. 



Better yet, incorporate natural materials like leaves, branches, seed pods, and the like to create everything from collages to ephemeral sculptures, a la Andy Goldsworthy.
Designate a weatherproof space to tidily store art materials, and make sure to only use non-toxic, washable media to protect your home and yard from errant brushstrokes.
Stimulate the Senses
Including a variety of textures, colors, smells, and sounds throughout a yard creates a rich outdoor environment for children, encouraging them to mentally map moments in the yard by their characteristics – the squishy mulch, the colorful pot, the sweet-smelling flower.
Gravel and decomposed granite provide a satisfying crunch for paths or gathering spaces.
Water features with bubbling or cascading water produce calming sounds and cool microclimates.
Outdoor rugs and soft seating plush up patios playspaces.
Brightly colored seating options and plant containers catch the eye and set a playful tone.
Sensory gardens apply this multi-sensory thinking to plants, blending edible, scented, colorful, fragrant, or compellingly-textured plants into a planting design.
Sensory gardens can be concentrated in a single outdoor area of a yard (this yields the most potent sensorial wallop), or distributed in pockets across a yard. Either way, the benefit for kids is significant, welcoming them into the wide world of plants through direct physical experience.
Interested in starting your own sensory garden? Here are a few recommended species to get you started:
Touch
Include a range of textures, smooth to fuzzy, rigid to soft.
Calandrinia spectabilis
Stachys byzantina
Pennisetum rubrum or 'Little Bunny'
Muhlenbergia capillaris
Aeonium 'Zwartkopf' or 'Sunburst'
Sedum 'Blue Spruce' or 'Angelina'
Kalanchoe luciae
Taste/Smell
Include edible and sweet-smelling plants.
Herbs:

Thyme
Oregano
Rosemary
Mint (tip: plant mint in containers to stop aggressive roots from spreading)

Edible flowers:
Scent:

Lavender
Gardenia
Jasmine
Osmanthus
Sound
Build ambience by including plants that swish and rasp in the wind.
Bamboo
Grasses
Oaks (also habitat plants par excellence)
Quaking aspen
Bright colors
Prioritize native, drought tolerant flowering plants that support pollinators like birds, bees, and butterflies. The visiting creatures will add color and sound, further enriching the sensory experience. The flowering plants below have large native ranges, come in a variety of colors, and will reliably attract pollinators.
Echinacea
Coreopsis
Monarda
Achillea
Ask you local nursery for more local native pollinator flower suggestions!
Grow (Literally)
Tending a vegetable garden fosters a sense of pride and responsibility, and offers parents a constructive activity to share with their kids.
Taking ownership over a crop of veggies can also help to steer tricky eaters toward healthy eating habits.
Try growing colorful vegetables like rainbow chard, and root vegetables like carrots and beets, which can feel like buried treasure when unearthed.
Fruit trees can be great too, just be mindful of thorns.
Safe + Inviting
The occasional tumble or scrape is part of growing up, but avoiding real injury is critical when designing for kids.
Skip plants that are sharp or toxic, and keep sharp corners from decks, walls, or prefab plant containers away from areas where roughhousing is likely to happen. Use guardrails to avoid large drop-offs from elevated decks or terraces (building code accounts for this, but it bears repeating).
Safety is a must, but outdoor spaces for children should do more than be safe – they must inspire, delight, and encourage.
In designing growth and learning experiences into a yard, a bond with family can be encouraged as well. Place "adult zones" like gathering spaces and seating areas adjacent to "kids zones" like open play areas, and allow the boundary between each area to be wide and clear. Kids and family can flow naturally from one space to the next, giving kids the impression that family and play are a single, intertwined phenomenon.
Clean-Up Time
Cleaning up toys is a time-honored, kid-reviled, extremely important ritual that sows the seed of responsibility in early childhood. Just as parents should provide resources for outdoor education and play, so too should they provide accessible, weatherproof storage for kids to store their toys and other knickknacks. Enforce its use, and you'll safeguard your yard from being overtaken by colorful play equipment.

Self-clean-up is important too. An outdoor shower, sink, or (at a minimum) hose-down station is a good touch, particularly with yards (or children) prone to mud.
Doormats are a must, and shoe storage are super helpful for keeping interior floors clean.
Speaking of shoes, galoshes for puddles and crocs for sand boxes can both be stored outside, and can help to minimize mess without sacrificing experience.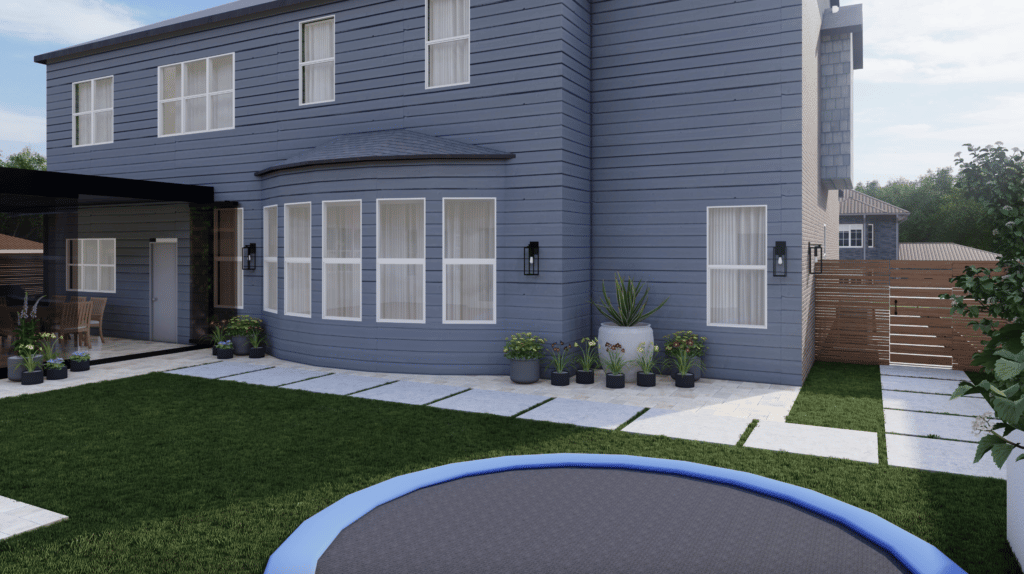 Get Started With Your Kid-Friendly Yard Design by Yardzen
Yardzen's award-winning online landscape design is tailored to clients in all fifty states in the US. Through the American Rewilding Project, we are committed to creating designs with climate-adapted plants and water saving landscaping in drought-prone regions unless homeowners specifically opt out.
Our design process begins with understanding your space, your aesthetic preferences, and a discussion of your budget and vision to minimize surprises when it comes time to build. Our team has created landscape designs for thousands of parents wanting to create not only a safe yard for their little learners, but one that can function as an experiential outdoor learning space for restless youngsters after school is out.
Our top-notch designers then develop a personalized vision for your yard, shared through 3D renderings, 2D plan drawings, and plant and material lists. Your design will capture the look, feel, and function you are hoping for, all while keeping costs within range.
Once your design is complete, we'll help you connect with a local contractor from our Pro Network of vetted professional landscapers to install your new design.
Ready to level up your outdoor space? Create your design profile or explore our design packages today!