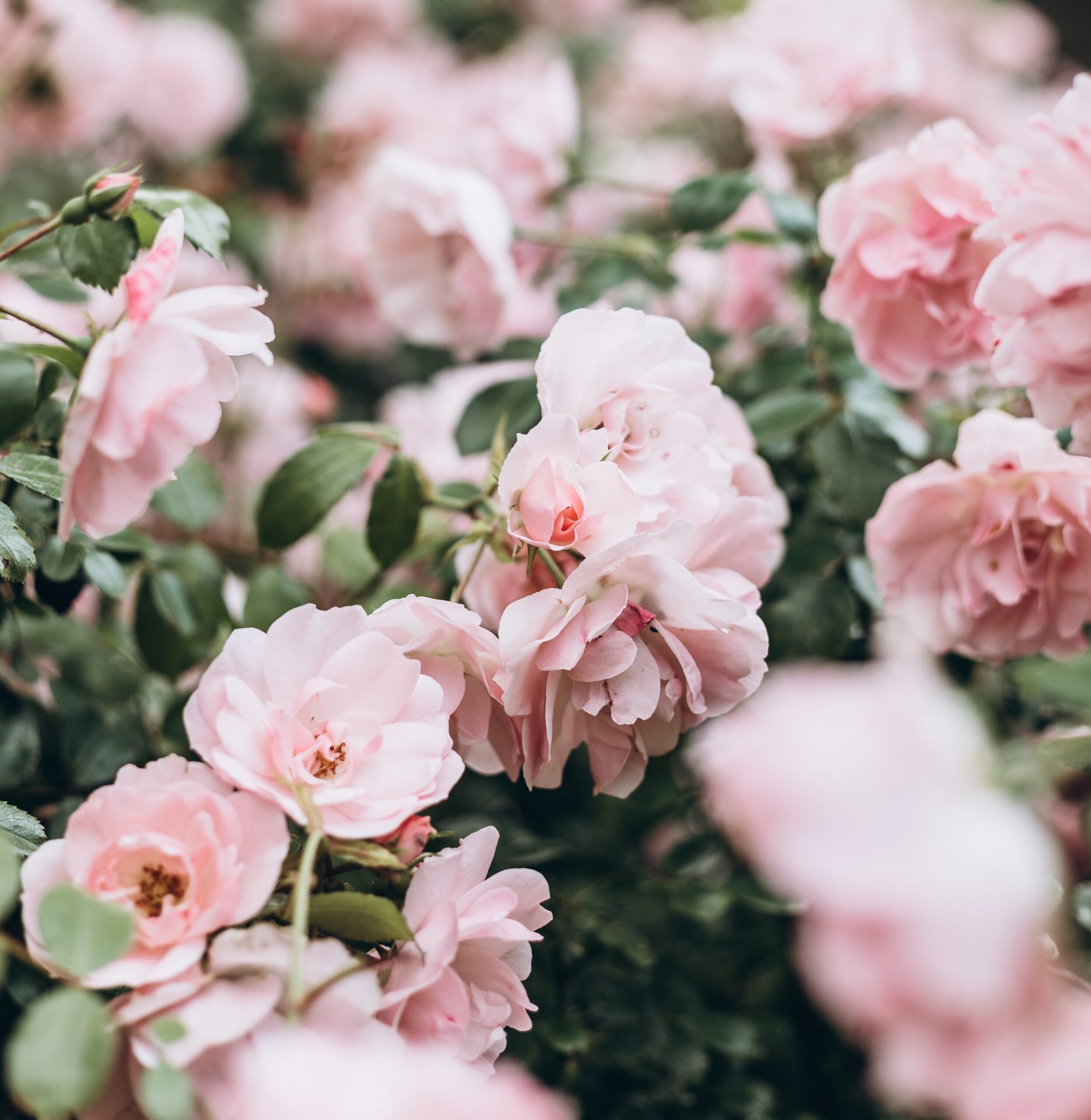 Roses are red (or blue, or pink, or orange, or white, or lavender…) How can you do better than giving roses to a loved one? How about giving them roses that you grew yourself?
For millennia—actually about 5000 years—roses have been a garden staple. They remain ridiculously popular, aided and abetted by a mammoth list of species and cultivars. You can find roses in a huge assortment of colors, sizes, forms, and habits. They can be bushy shrub roses, prostrate groundcovers, or climbing vines.
A quick search uncovers dozens of rose care articles: evidence of the robust rose gardener community, and, more dauntingly, of the complexity you can run into when growing roses.
Fear not! While some roses can be tricky, a great deal of them are no harder to care for than your average flowering shrub. Despite their diversity, most roses benefit from the same few basic care tips that beginners should keep in mind. We'll dig into those below, and suggest some carefree rose varieties to set you up for growing success.
CARING FOR ROSES AND ROSE BUSHES
PLANT YOUR ROSES AT THE RIGHT TIME
Plant roses in early spring after the final frost. Choose a sunny, well-draining location, and amend the soil in your rose bed with organic matter to ensure proper nutrient supply (more on soil and sun below).
PLANT ROSES IN PROPER SUN
Roses love sunlight, 6-8 hours of it per day, to be exact. This being said, don't go overboard – protect roses from scorching afternoon sun, particularly in hotter climates. If your yard doesn't offer full sun, you can seek out more shade-tolerant rose varieties—of which there are several (check out this roundup of shade roses from The Spruce).
PROPER DRAINAGE FOR ROSES
Roses do not like "wet feet". Particularly if you are in dense clay soil, you'll want to amend with organic matter to improve drainage and keep your roses happy and healthy. If your area gets a lot of rain and you're particularly concerned about drainage, digging the planting hole deep enough to add a layer of gravel at the base could help prevent wet feet as well. Planting your roses a few feet apart from one another will also improve air circulation and reduce disease.
HOW TO WATER ROSES
Roses require regular water to thrive. This means about 1" – 2" of water per week throughout the growing season. If you have quick-draining sandy soil, a little extra water will be necessary. The reverse goes for slow-draining clay soil. When you water roses, soak them deeply to encourage the roots to spread out. Take care to avoid getting leaves wet, as this can encourage mildew or other ailments. A soaker hose or drip system can help ensure water goes directly to the soil and not on your rose's leaves. Using mulch around the base of your rose plant will help retain moisture if you live in a drier environment and have sandy soil (or if you just don't want to use as much water!)
FERTILIZING ROSES
Fertilizer is crucial to achieving those big rose blooms, but it also helps with leaf and root development and fortifies roses' ability to resist pests and diseases. As a general rule, apply compost or other organic fertilizer products on a monthly basis. If you'd rather skip the monthly chore, use slow-release organic fertilizer products like fertilizer spikes. Slow-release fertilizers also have the added benefit of being less likely to draw aphids to your roses, since these pests love feeding on nitrogen fertilizers.
When selecting fertilizer, always go for organic. Synthetic fertilizers contribute to pollution in groundwater and local waterways, and do not offer the long-term soil health benefits that you get from organic amendments. One note of caution on organic fertilizer: animal products like bone meal can be irresistible to dogs and other creatures. Fortunately, there are plenty of organic fertilizers out there that are pet-safe and won't attract unwanted guests to your garden.
Different fertilizer products offer different nutrients, and the type of rose and variety of soil on your site will determine which specific fertilizers you should apply. It's helpful to speak with your local nursery or garden professional to ensure you choose the right products, but a general all-purpose organic fertilizer is often sufficient.
PRUNING YOUR ROSES
Pruning encourages new growth in roses, and can keep them healthy by improving airflow around the plant (useful for discouraging fungal diseases like powdery mildew and black spot ). Prune roses heavily in the early spring, by removing any dead, damaged, or unwanted canes. You can also trim lightly throughout the growing season.
Some species will bloom repeatedly if you deadhead them, cutting off old flowers to allow new ones to develop. Some people enjoy picking up the pruners and shears, others do not. If you fall into the latter set, seek out "self-cleaning" cultivars like the Rainbow Knock Out, which bloom repeatedly without deadheading.
OUR FAVORITE CAREFREE ROSES
There are hundreds of roses out there. To ease your search, here are a few of our no-fuss favorites:
DESIGNING A BOTANICAL LANDSCAPE TAILORED TO YOUR NEEDS
Yardzen's award-winning online landscape design service is tailored to clients in all fifty states in the U.S. Our design process begins with understanding your space, your aesthetic preferences, and a discussion of your budget and vision to minimize surprises when it comes time to build.
Our top-notch designers then develop a personalized vision for your yard, shared through 3D renderings, 2D plan drawings, and plant and material lists. Your design will capture the look, feel, and function you are hoping for, all while keeping costs within range.
Once your design is complete, we'll help you connect with a local contractor from our Pro Network of vetted professional landscapers to install your new design.
Ready to level up your home improvement and curb appeal with a professional landscaping project for your yard or home exterior? Create your design profile or explore our design packages today!