If you're looking for a unique and relaxing experience that blends the health benefits of indoor sauna therapy with the beauty of nature, outdoor saunas provide a sense of privacy and seclusion while allowing you to enjoy the fresh air and natural surroundings—all from your own backyard.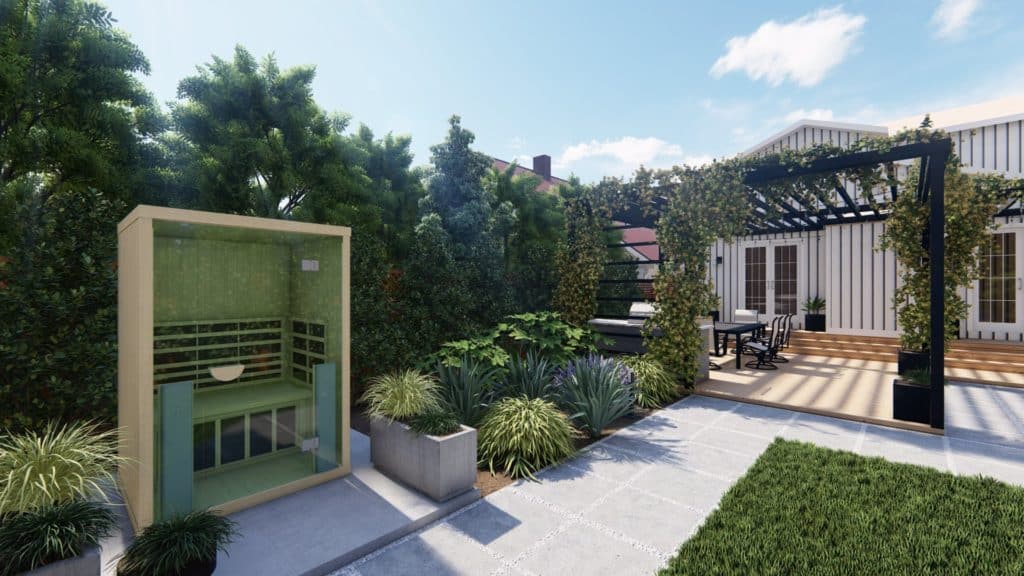 There are many types of saunas on the market today, and finding one that suits your needs can seem daunting—but it doesn't have to be. A few considerations like insulation, durability, and size can help you find the right outdoor sauna to suit your needs.
As the largest nationwide landscape design company in the United States, we've done a lot of research on available options—and have been able to crowdsource a list of the best outdoor saunas for 2023 from thousands of Yardzen client landscape designs.
7 Outdoor Saunas Most-Loved by Our Clients
Best Outdoor Barrel Sauna: Almost Heaven Salem Standard Barrel Sauna
Best Outdoor Infrared Sauna: Clearlight Sanctuary Outdoor 2 Full Spectrum Infrared Sauna
Best Canadian Hemlock Sauna: SunRay Saunas Eagle Outdoor Traditional Sauna
Best Outdoor Sauna for Groups: Clearlight Sanctuary Outdoor 5 Full Spectrum Infrared Sauna
Best Outdoor Sauna Kit: Cedarbrook Sauna Outdoor PreFab SaunaKit + Heater + Accessories
Best Hot Tent/Portable Sauna: Esker Arctic Fox Winter Camping Hot Tent
Best Luxury Sauna: Heartwood Saunas Ora Outdoor Sauna With Glass Wall
---
Price: $7,774.00
Exterior size: 72"W x 47"D x 77H"
Interior size: 71"W x 39"D x 71"H
Capacity: 2-person sauna
Type: dry heat or steam sauna
This is the best barrel sauna on our list and is also the most popular overall with Yardzen clients—it was included in over 27 Yardzen landscape designs this year.
This top-quality home sauna is designed for both indoor and outdoor use and is made of durable tempered glass and cedar wood, known for its natural resistance to rot and insects. You also don't have to worry about the moisture damage to the bottom of the sauna as it's erected on polymer support cradles that lift the undercarriage up off the ground. So, you can rest assured the sauna will stand the test of time.
The sauna is assembled using a ball and socket profile held by stainless steel bands and minimal fasteners. This configuration maintains a reliable seal while allowing the lumber to contract and expand—and keeps the sauna looking rustic, perfect for traditional or modern bohemian landscaping styles.
Moreover, the Salem Standard Barrel Sauna is designed with comfort in mind. The spacious interior has ample room for two people to stretch out and relax. And, the cedar wood on the interior is smooth and comfortable to the touch. There's a bench in the sauna where you can sit or recline as you wish.
The sauna includes a powerful best-in-class electric heater capable of reaching temperatures of 175-185 Fahrenheit in 45 to 60 minutes if well installed. The heater produces a deep, penetrating heat, effective at relaxing muscles and improving circulation. You can also place sauna stones (included in the kit) on top of the heater and wet them to create a steamy, humid environment. This will help open up the airways and improve respiratory function. You can also upgrade the heater from a standard 4.5kW to a 6kW.
So, whether you're looking to improve your overall health and well-being or simply want to relax and unwind after a long day, the Salem 2-person standard barrel sauna is an excellent choice for flexibility of features, durability, and style.
As of writing, this sauna is on sale from My Sauna World for $ 5,053.
Price: $8,699
Exterior size: 57"W x 52"D x 80"H
Interior size: 21"W x 46"D x 71.5"H
Capacity: 2-person sauna
Type: infrared sauna
This sauna is great for indoor and outdoor use and is made from a sturdy, lightweight frame featuring a durable, water-resistant cover—it's also the second-most popular sauna with Yardzen clients and was included in over 26 of our landscape designs this year.
The sauna uses infrared heaters to warm the air inside of it. The infrared heaters are designed to penetrate the body, improving circulation while reducing muscle tension and alleviating joint pain during and after your sauna session.
The boxy profile and Cedartec® Eco-Certified Exterior siding makes this sauna look excellent in modern style landscapes, while the mahogany interior mimics the look of a traditional cedar sauna interior.
The built-in chromotherapy lighting system uses different light colors to help you relax and soothe the body. You can adjust the lights based on your mood or to help with specific health concerns. For instance, blue light is often used to help with anxiety and insomnia, while the red color is suitable for muscle soreness and inflammation. The sauna can help with various health conditions, including fibromyalgia, arthritis, and chronic fatigue syndrome.
Moreover, this infrared sauna is easy to set up and use. It has a remote control that allows you to adjust lighting, temperature, and timer settings. You can also listen to your favorite playlist from the built-in speaker system.
The sauna holds up to two people at a time. The outside of the sauna is made with engineered wood, while the inside features Canadian mahogany. The sauna also features thick double pen glass, EMF/ELF shielding with the lowest levels in the industry, and the double wall tongue and groove walls are well-insulated to keep the heat in.
The Clearlight Sanctuary Outdoor 2 Full Spectrum Sauna is selling for $7,999.
Price: $5,535
Exterior size: 51"W x 51"D x 98"H
Interior size: 45"W x 45"D x 73"H
Capacity: 2-person sauna
Type: dry sauna
This high-quality traditional sauna is also the most affordable on our list—and is great choice for homeowners that want to experience the benefits of traditional sauna at home, but don't need all the flexibility of a large, multi-function sauna or alternative heat sources.
The eagle outdoor traditional sauna features a straightforward design with a shingled roof and 44" bench, providing a spacious and comfortable environment for you and one other person—but is comparatively small and compact; therefore easier to transport and install.
This outdoor traditional sauna is made from aged Canadian hemlock wood for extended durability. The wood is resistant to insects and rot, and offers a beautiful appearance. The exterior is also protected with a clear coat of sealant which enhances the sauna's natural beauty and further protects the materials from the elements.
The sauna features a double-paneled wall construction that offers superior retention of heat powered by a 4.5 kW electric heater that maintains temperatures of up to 170 degrees Fahrenheit.
Additional features include:
A Bluetooth speaker system
Chromotherapy mood lighting
A hygrometer
An air purification system
A sand timer
The Eagle Outdoor Traditional Sauna is currently on sale now for $3,690. Get yours today to enjoy a relaxed and refreshing outdoor sauna experience.
Price: $9,799
Exterior size: 82.25"W x 51.5"D x 80"H
Interior size: 76.75"W x 47"D x 71.5"H
Capacity: 5-person sauna
Type: infrared sauna
If you're looking for a sauna your whole family or a few friends can enjoy with you, this sanctuary 5-person outdoor sauna is an excellent choice (more than 10 Yardzen clients have opted for this model in their designs so far this year). This high-quality sauna is expertly designed for outdoor use thanks to its weather-resistant design.
The sauna comes equipped with a full-spectrum infrared heating system that provides all wavelengths 100% of the time to optimize your sauna experience. The wavelengths from this modern heater penetrate the skin more deeply than traditional sauna heaters.
The interior of this sauna is spacious enough to accommodate up to five people comfortably. Moreover, the sauna is equipped with a built-in audio system, allowing you (and your friends) to listen to music or podcasts while you detoxify and enjoy some good moments.
The outside of the Sanctuary Outdoor 5 Full Spectrum Infrared Sauna is made from engineered wood, while the inside features Canadian mahogany. This makes the sauna durable and resistant to various elements.
You can control your sauna remotely thanks to the state-of-the-art digital sauna control that combines with a sleek mobile app. Other unique features include a 36-hour programmable timer, built-in charging and audio station, EML/ELF shielding with the lowest levels in the industry, and furniture-grade cabinetry with 8mm thick glass door and double pane windows.
This sauna allows you to enjoy all the benefits of sauna therapy conveniently and effectively in the comfort of your backyard. Add it to your wellness routine now and get it on sale for only $9,099.
Price: $8,743
Exterior size: 5'8" x 7'8"
Interior size: 5" x 7"
Capacity: 4-person sauna
Type: Dry heat or steam sauna
Do you want a larger capacity, high-quality outdoor sauna and are willing to DIY to lower cost? Get this Outdoor Pre-Fab Sauna Kit + Heater + Accessories designed by Cedarbrook Sauna. It is the best outdoor sauna kit that includes everything you need to build a sauna in your backyard, including a prefabricated sauna room, pre-built insulated panels, a high-quality heater, and a range of accessories.
Also, design and layout consultation are all included in the price—and the retailer's site offers in depth step-by-step assembly instructions and videos—there's even phone and email available if you have any questions during the build.
The sauna is made of high-quality 100% Western red cedar wood—including the frame that guarantees excellent durability and insulation. The standard sauna rooms have clear cedar tongue, groove interiors, and knotty bevel siding exteriors. The high-quality heater is designed to provide consistent heat throughout the sauna room and comes equipped with a cutting-edge control panel, allowing you to adjust the temperature and timer to your desired settings.
What's more, the sauna has more room allowing you to stretch out. The interior measures 5 feet by 7 feet and can accommodate up to 4 people comfortably.
This Outdoor Pre-Fab Sauna Kit comes with various accessories to enhance your sauna experience. They include;
Sauna wall light
Bucket + liner + wooden ladle—for pouring water over the heater to create steam
Cedar sauna headrest for added comfort
A thermometer and hygrometer to measure temperature and humidity inside the sauna
Cedar slider vents to control airflow
Cedar vent grills
Also, you can customize your outdoor sauna to suit individual needs and preferences. This Outdoor Pre-Fab Sauna Kit + Heater + Accessories is currently on sale for $8,460.
Price: $935
Packed dimensions: 30cm x 22cm x 55cm (12" x 8.5" x 21.5"
Center peak: 7'5"
Sidewall height: 18"
Overall area: 9'x9'
Capacity: 2-person sauna
Type: hot tent
The Arctic Fox Winter Camping Hot Tent is a specialized tent by Esker for use in cold weather conditions and was designed for winter camping, but is perfet for a rustic backyard sauna experience.
This five-sided portable tent has a built-in stove jack allowing you to set up a small wood stove inside the tent to keep you (and one other person) warm. The tent is made from Sunforger 10 oz "army duck cotton" to keep you dry while inside it. The tent also features an adjustable air vent allowing for a more precise temperature control within the tent. The vents also make it easier to clear out smoke from stove start-ups.
It also features a two-way zippered opening that makes it easier to access the tent and has enough space in the interior for one to two people who can relax or sleep comfortably. You can zip the door open from the top or bottom, giving you more airflow control. The tent also features sewn loops in the panels, allowing you to use a drying line.
Esker tents are made in Ontario and complies with all Canadian tent and fire safety regulations. It's also easy to set up because it doesn't need a pole kit to erect.
You can get the tent on sale now from Canadian Outdoor Equipment at only $890.18
Price: £22,000
Exterior size: 2.5mm L x 2.4mm W x 2.35mm H
Capacity: 4-person sauna
Type: dry heat or steam sauna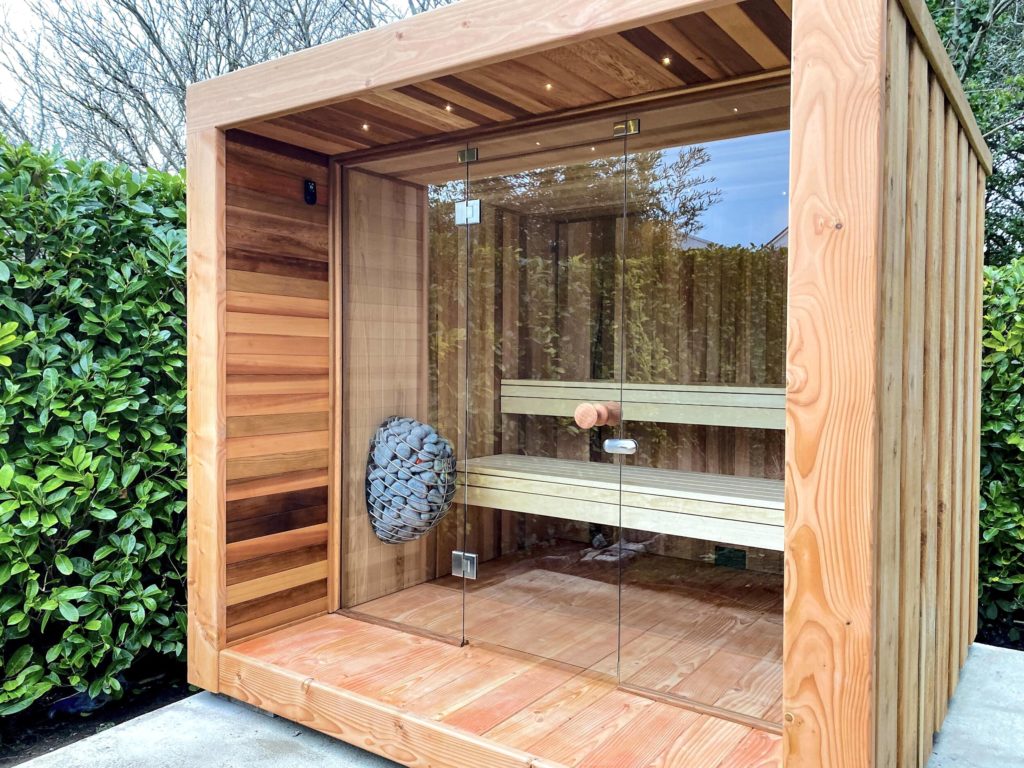 Heartwood Saunas presents a luxurious and contemporary addition to any backyard or patio space—the Ora Outdoor Sauna With Glass Wall. This sauna is an excellent option for anyone wanting to create the feeling of a resort-style Finnish sauna at home.
The Ora outdoor sauna is the best luxury sauna designed explicitly for outdoor use. The sauna is made from cedar grown locally to the factory in Wales and is built to withstand the elements. Cedar is naturally resistant to rot, insect attacks, and decays and resists moisture absorption. As a result, your sauna will stand the test of time with minimal maintenance requirements. The full glass wall with a central frameless door gives you a panoramic view of the surrounding environment.
Additionally, the Ora's interior is spacious and comfortable, with plenty of room for up to four people to sit or lie. The sauna is heated using a high-end electric stove—the HUUM DROP, which is both beautiful and fits more sauna stones than a typical wood-burning stove (and comes with a 5-year warranty).
The sauna also features a classic flat roof that keeps the structure low in height while allowing enough headroom. The rich tones of the vertical internal cladding and the two-tier floating benches create a tranquil and minimalistic feel that is warm and inviting. The glass wall and doors also provide natural light for reading and relaxing.
The Ora Outdoor Sauna is an excellent choice, whether you have a small backyard or want to create a luxury spa-like experience fit for Finland.
Other notable features include;
Subtle warm white LED downlight
Overhanging porch area with towel hooks
Premium knot-free vertical tongue and groove internal cladding
So if you want to experience a peaceful retreat and escape the stresses of daily life while enjoying the benefits of heat therapy and relaxation, get this high-end sauna for £22,000 ( about $27,000 U.S.).
A Shoppable Landscape Design Tailored To Your Style and Needs
Outdoor saunas are the ultimate indulgence for anyone looking to escape the daily grind and relax in the comfort of their backyard. They are a luxurious way to pamper yourself with the benefits of heat therapy in the great outdoors. If your search for an outdoor sauna is part of a larger outdoor renovation, Yardzen is here to help with your entire landscape design—including recommending elements and products from the best outdoor living brands.
Yardzen's award-winning online exterior and landscape design service is tailored to homeowners across the U.S.. Our design process begins with understanding your outdoor space and style—and a discussion of your budget and vision to minimize surprises when it comes time to build.
Our top-notch designers then develop a personalized vision for your yard, shared through 3D renderings, 2D plan drawings, and plant and material lists. Your design will capture the look, feel, and function you are hoping for, and will be outfitted with materials and elements from our retail partners that you or your contractor can actually purchase.
Once your design is complete, we'll help you connect with a local contractor from our Pro Network of vetted professional contractors to install your new design.
Ready to bring your dream yard to life? Create your design profile or explore our professional exterior, side yard, front yard, and back yard landscaping design packages today!