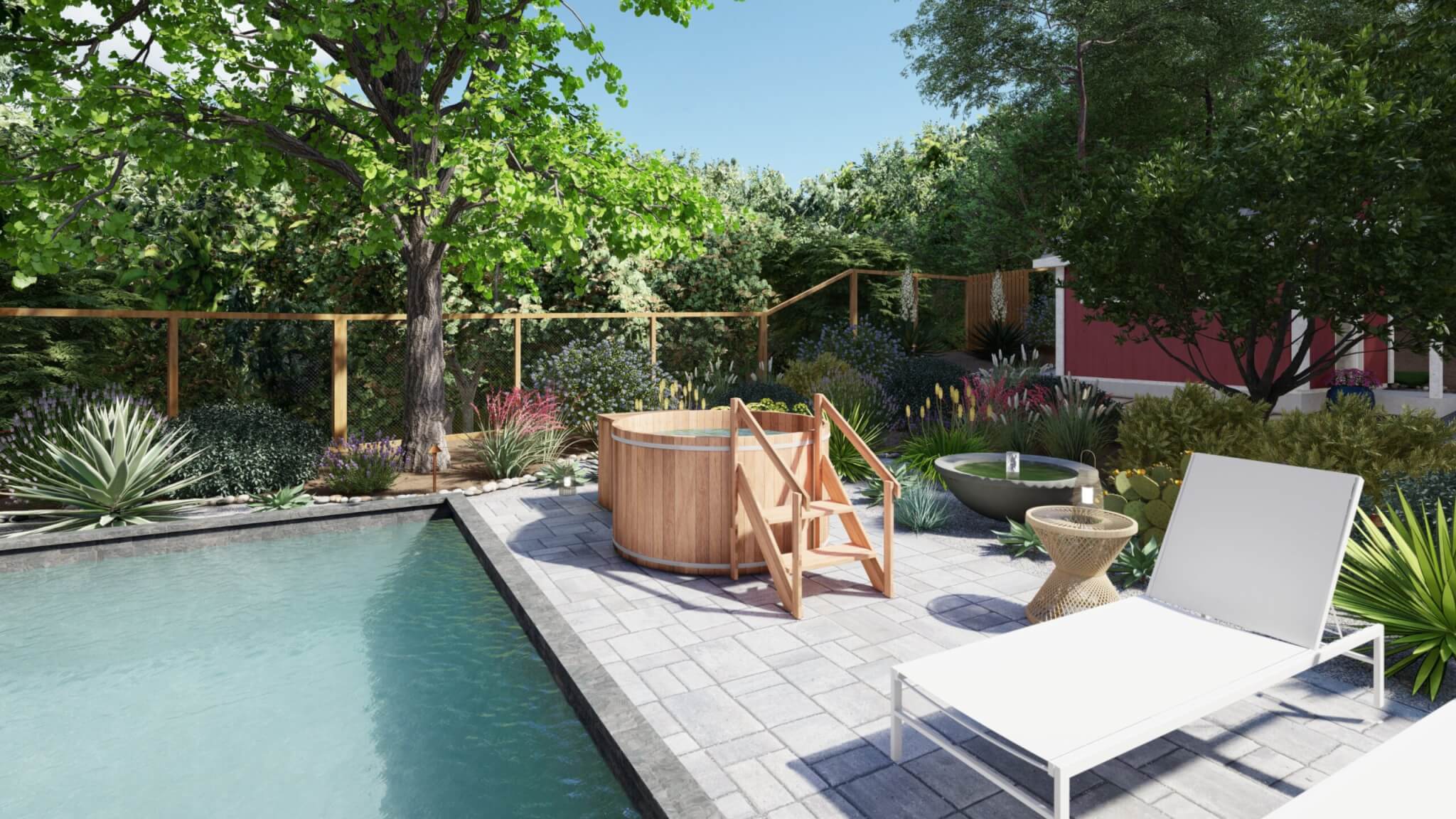 Lately, it feels like everyone is taking the plunge… the cold plunge! Spend any time on Instagram or TikTok and you'll likely come across a celebrity, wellness guru, or influencer recording their daily dip. While this may seem like a new fad, the idea of exposing yourself to the cold for your health isn't new.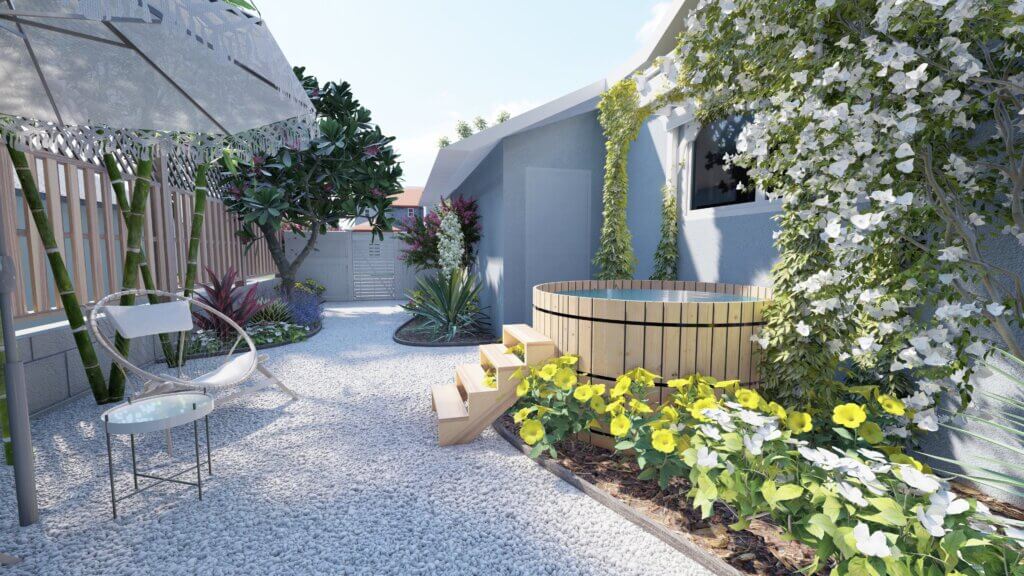 Wim Hof, inventor of the Wim Hof Method, helped popularize this practice in the 2000s and early 2010s when scientists began studying his seemingly super-human athletic abilities and he published his book Becoming The Iceman. One of the three pillars of his method is exposing your body to cold temperatures, which is now linked to various health benefits. Scientists' evidence proves that cold exposure speeds up metabolism and minimizes inflammation, sore muscles, and swelling. Moreover, cold body therapy may help you get better sleep, improve your mental health, and boost your immune system.
According to a report by Data bridge market research, the global cold plunge pool market value is expected to grow 5.40% per year between 2022-2029, reaching 409 million USD by 2029. While this forecast is focused on the use of cold plunge tubs in commercial settings or professionally by healthcare professionals, many homeowners are looking for ways to incorporate this beneficial wellness practice in their daily routines at home—and the market is responding with more at-home cold plunge tubs with excellent features.
As the largest nationwide landscape design company in the US, we crowdsourced a list of the best cold plunge tubs for at-home outdoor use with feedback from our team of landscape designers (and client wishlists). Below are nine options that are durable, functional, and often—stylish!
9 Best Outdoor Cold Plunge Tubs For 2023 Most Loved by Our Clients
Price: $1,999 (without chiller; tub is $4,598 with chiller add-on)
Size: external diameter: 37″, side wall height: 40 ½"
Dry weight: 250 pounds
This tub is perfect for creating a daily ritual to boost your overall health in your own backyard. The Alaskan Cold Plunge Tub from Redwood Outdoors is the most preferred outdoor cold plunge tub by Yardzen clients due to its simple and rustic aesthetic and reasonable price point. It's also small enough to squeeze alongside a hot tub or sauna to replicate the Finish tradition of jumping in the snow between sauna sessions.
The natural wood gives the tub a warm and inviting feel while the smooth and sleek finish on the interior offers a modern touch. The tub can work in a range of landscaping styles including rustic, modern, and Japanese-inspired. If you want to make plunging part of your everyday routine and enjoy all the benefits of cold therapy, we recommend this outdoor cold plunge tub.
The Alaskan Cold Plunge Tub comes fully assembled and features a hard plastic liner fully fitted to the inside with a bench for comfortable seating. The entire tub exterior is covered with spruce Scandinavian thermowood for sustainability and extended durability.
Moreover, this tub is super customizable depending on your needs. It has no chiller, so cooling the water (unless it's cold outside) involves adding ice to your tub—but Redwood Outdoors offers add-ons including a chiller or chiller/heater combo unit if you'd like to take a cold plunge without the need for ice, or if you'd like to use your tub as a hot tub on occasion! Other add-ons include a matching lid and thermometer to gauge water temperature.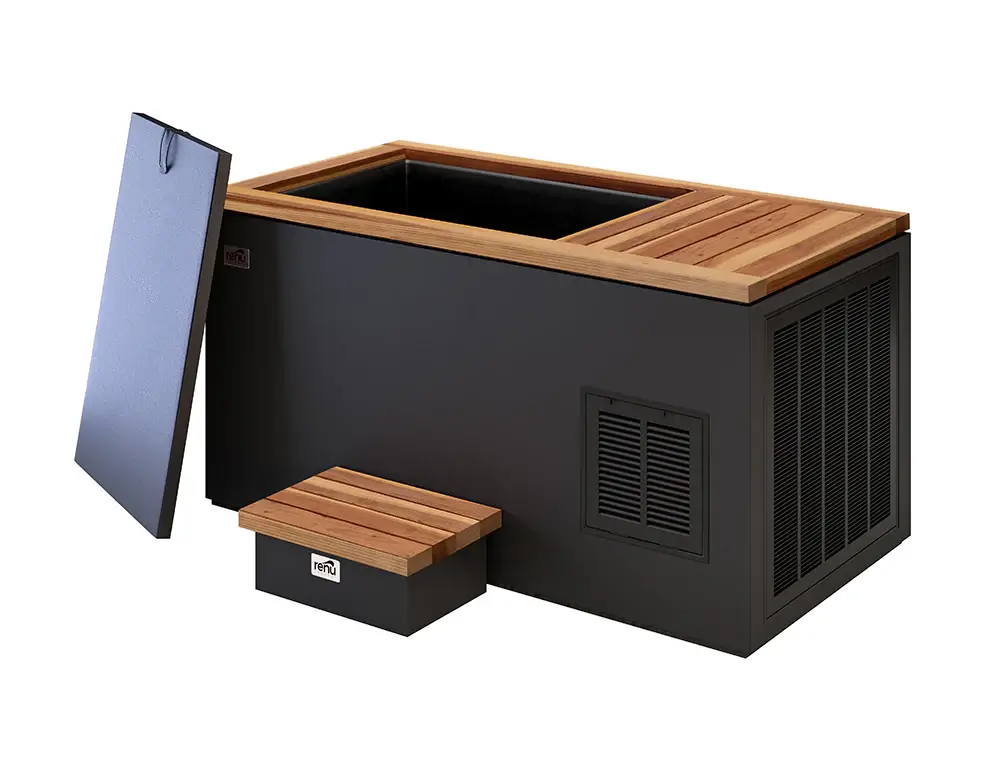 Price: $9,699.99
Size: exterior dimensions: 64″ x 33″ x 34.25″, tank dimensions: 36″ x 24″ x 30″
Dry weight: 375 pounds
The Cold Stoic plunge tub from Renu Therapy boasts a higher price tag than the top tub on our list (by around $5,000)—but it has some pretty impressive feature additions, plus a generous 5-year limited warranty.
The tub uses Renu Therapy's "always cold and clean technology" with its built-in chiller that that claims to be ultra-efficient and able to cool the water to as low as 36 degrees F, and advanced filtration and ozone purification system that eliminates the need to add any kind of chemical or "shock" to sanitize the water. An insulated lid is also included in the base cost which helps keep the water at your desired temperature.
This outdoor plunge tub comes in a standard size that should be comfortable for most folks up to 6'5" in height and/or 250 lbs (they have a few other models that accommodate larger frames) and has a programmable thermostat that helps you control the water temperature. The tub holds about 80 gallons and weighs approximately 1040 lbs when filled with water. Lastly, it is suitable for either indoor or outdoor use—but we love how the modern aesthetic of this tub pairs with modern-style landscapes.
The Cold Stoic tub is hand-made in the USA and designed in Southern California. The tub comes with a matching handmade step tool for easier access, and is customizable with different base colors and your desired wood for the breath deck.
Add-on features include a spa light feature with red and blue lenses which adds light to your cold plunge tub.
Price: $2,640 (starting price for 4' silver option)
Sizes: 2' x 4' x 2' or 2' x 5' x 2'
Dry weight: 4': 100lbs, 5': 120lbs
The Portal by Polar Monkeys comes in two distinct sizes, 4ft, and 5ft, to suit your needs. The 4ft option is comfortable for users up to 5'8", so if you're taller than average, opt for the larger size.
A basic setup of the Portal includes a steel tank with inlet/outlet connections and a drain valve to make emptying the tub easier—the 5ft tank has the capacity to hold 170 gallons, while the 4ft tank holds up to 120 gallons.
The steel material used is highly durable, helping your outdoor cold plunge tub stand the test of time. You also have four color options to choose from: silver, white, black, or with limited edition artwork.
The 5ft tank also comes with a 1HP water chiller, while the 4ft tank features a ½ HP water chiller. Both tanks come with a pump, filter, and hoses. Add-ons available for this outdoor tub include an insulated tub cover, one filter replacement cartridge, and a smart plug.
This tub isn't everyone's favorite given its aesthetics may be limiting to your landscaping style. The "stock tank" look may blend well into rustic, modern farmhouse, or funky exteriors—but not everyone is a fan. Overall however, this cold plunge tub offers important features at a low price point, which we are fans of.
Price: $4,990
Sizes: standard: 67″ x 31.5″ x 24″, Plunge XL: 73″ x 32.5″ x 27″
Dry Weight: 150 pounds
The Plunge tub has a sleek and modern aesthetic that would work well in any contemporary outdoor setting.
The tub uses circular filtration, ozone sanitation, and a 20-micron filter to offer cold, clean water for a safe and therapeutic experience. You can choose between a standard or XL Plunge based on your size and preferences.
The Plunge tub is made from fiberglass and acrylic with a reinforced metal base for extended durability. The Plunge is built to withstand the elements and is perfect for indoor or outdoor use (and would look at-home either way). The underside of the tub is filled with insulation to prevent condensation—a nice feature that allows you to use this tub indoors without worrying about damaging flooring that isn't waterproof.
This tub will cool water down to 39 degrees (slightly higher than other tubs listed here which generally cool down to 36 or 37 degrees F, but the benefits of cold water therapy can be experienced at much higher temps). The Plunge has many add-ons included in the base price like an insulated spa cover, an underwater light (great for anyone anticipating taking nighttime outdoor cold plunges), a cell phone holder, and… a randomly chosen rubber ducky.
Price: $6,900 (original tub)
Size: interior: 47.3″ x 31.5″ x 24.0″, exterior: 51.1″ x 49.2″ x 28.0″
Dry Weight: 176 pounds
Experience the world's only cedar plug-in ice bath with the Odin Ice Baths plunge. This tub can reach 32 degrees F, delivering one of the coldest soaks of all tubs listed here.
The tub features a filtration system that uses an ozone generator and a pleated sediment filter to sanitize, clean, and keep the water clear, with an optional upgrade to add UV filtration.
Another feature that makes this tub unique is its cooling method: most plunge tubs use an external chiller, but the Odin tubs use an integrated compressor built into the tub surround for improved energy efficiency.
This outdoor cold tub comes in a few upgraded versions: the main differences in the more-expensive options being commercial-level filtration and higher HP compressors for more frequent use, and a "dual" size option that is large enough for group plunges.
The Odin tubs are made from 316 stainless steel and 100% clear western red cedar for increased longevity. The tub is handmade to your liking and offers a sleek and modern feel.
You don't have to worry about installation as the tub is fully built on a pallet—no plumbing is needed. You only need a simple connection of a standard 10 amp household power socket and you're good to go.
The noise of the compressor is similar to that of a standard household fridge. Lastly, the insulated lockable spa lid is custom fit to your tub to keep cold air in, making your plunge more economical.
Price: $15,999.99
Size: tub: 48″ x 24″ x 22″, frame: 80″ x 39.5″ x 28.5″
The Mini-Me boasts impressive features similar to other tubs on this list like 20 micron filter and ozone (chemical-free filtration), the ability to maintain a cold temperature as low as 36 degrees, and an included insulated spa cover—all with a 5-year warranty.
The biggest difference with this cold plunge tub is that it uses "high-flow" technology so the water is constantly circulating, keeping your body temperature from lowering the ambient temperature of the water around you. According to BlueCube, this maximizes your cold adaptive response and is key to breaking the thermal layer and experiencing the true water temperature.
BlueCube tubs are also American made and come with a 30-day money back guarantee. While they are designed for indoor and outdoor use, they recommend placing the tub in the shade if used outdoors, or they won't honor their warranty. The tubs are made from stainless steel with a wooden deck for durability.
Something to keep in mind is that the Mini-Me model is advertised as comfortable for users up to 5'11" or 275lbs+, so if you're 6ft or taller, you'd probably want to opt for one of the larger (and pricier) models.
Overall, these tubs offer a sleek and modern style that reflects their focus on durability and functionality.
Price: $4,990
Size: 47″ x 25″ x 24″
Dry Weight: 25 pounds
The Edge Tub is an excellent option for those looking for an affordable and functional outdoor cold plunge tub, but aren't too worried about aesthetics. This tub is the world's first all-in-one portable cold tub that allows you to reap the full benefits of cold body therapy.
The tub is engineered with military-grade drop-stitch inflatable technology making it highly durable, and comes with an air pump and carrying backpack for easy transport and re-inflating.
The tub's easy set-up takes about 15 minutes. Moreover, the tub doesn't sacrifice standard features included with non-portable cold plunge tubs like an insulated cover and filtration and sanitation systems to keep your cold water clean. The Edge Tub's 1.0 Wi-Fi-enabled chiller cools the water down to 37 degrees F—or heats it to up to 105 degrees F for use as a hot tub.
The tub is suitable for indoor and outdoor use and though inflatable and portable, this tub is sturdy and meant to be permanent.
Price: $12,850 (standard length)
Size: 66″ x 31¼" x 33″
Dry weight: 350 pounds
The Morozko Ice Bath tub is the best ice bath product on our list. The tub maintains water temperatures as low as 33 degrees F and makes its own ice—even when outdoor temperatures are as high as 110 degrees F. The tub's filtration system also prevents water in the tub from freezing solid if outdoor temps drop to 0 degrees F.
The standard Morozko Tub is handcrafted in Phoenix, AZ with a 3-year warranty and features a high-quality 16-gauge stainless steel tub with an angled back, a cedar frame, and marine-grade plywood for extended longevity. 60" and 72" lengths are available as options.
Morozko Forge uses microfiltration and ozone disinfection to keep your cold water crystal clear and outfits its tubs with a digital temperature controller for complete control of your cold water immersion.
Price: $7,357 (on sale now for $6,253)
Size: 65" x 65" x 36"
Dry Weight: 200 pounds
Northern Lights chiller tubs allow you to enjoy both the full benefits of cold water therapy and the luxury of a traditional cedar hot tub. While their main product offering is cedar hot tubs, the company offers an add-on that includes their Arctic Heat Pump designed to both cool or heat your water efficiently with a digital temperature controller.
You don't need a separate external temperature controller, as the refrigeration unit comes equipped with a digital temperature controller.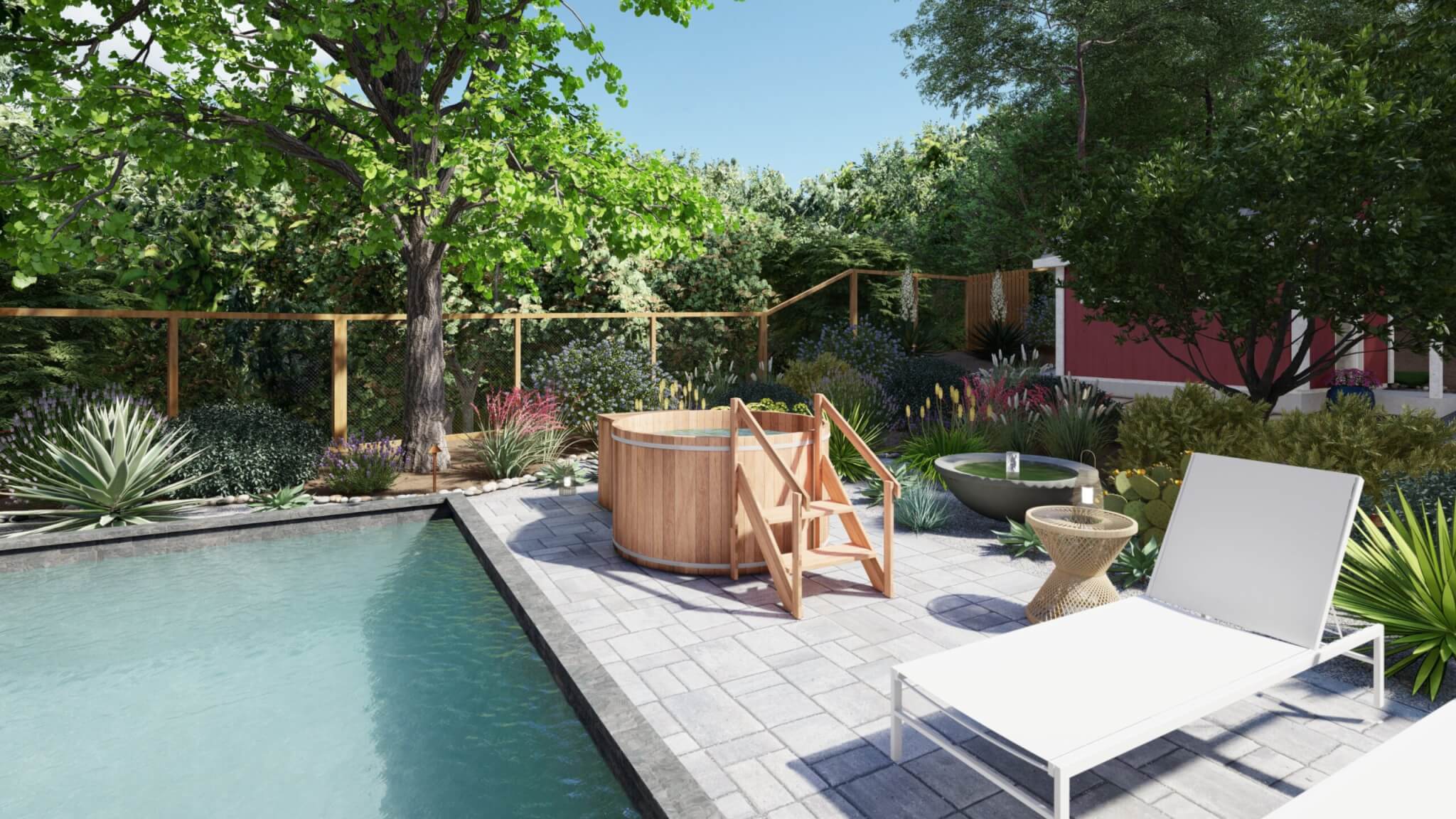 While you can use their Arctic Heat Pump to turn any of their cedar tubs into a cold plunge, they recommend opting for their 5ft deep tubs since that size allows you to experience full body cold immersion and the option to stand rather than sit while you reap the benefits of cold plunge.
The package linked here includes a 5ft cedar tub, the Arctic Heat Pump, circulation pump, filter, all hardware needed for connecting these components to the tub, and an R-14 insulated cover. Add-ons are available at different price points for things like an optional cedar shelf and stairs, hydrotherapy jets, and custom colors or upgraded insulation for your tub cover.
DIY Options for At-Home Outdoor Cold Plunges
The options above are the best turnkey solutions for a durable and functional dedicated outdoor cold plunge tub. However, they may not be right for your budget or priorities. If you're into biohacking your way to improved well-being in your own backyard but don't mind spending a little extra time and effort, consider making your own.
At the most basic level, all you need to start is a durable container in your yard—some companies like Ice Barrel specifically make these bare-bones containers for cold exposure training. Of course it won't have a chiller, so you'll need to add ice to the container every time you want to enjoy a cold bath soak. It also won't have a filtration system so you'll need to replace the water often or use chemical sanitation.
Another more affordable and less permanent option is to opt for a foldable bathtub or inflatable tub designed for travel and portability. These tubs are typically designed for traveling athletes that don't have access to a permanent tub but need a cold plunge nearby for soreness and muscle recovery.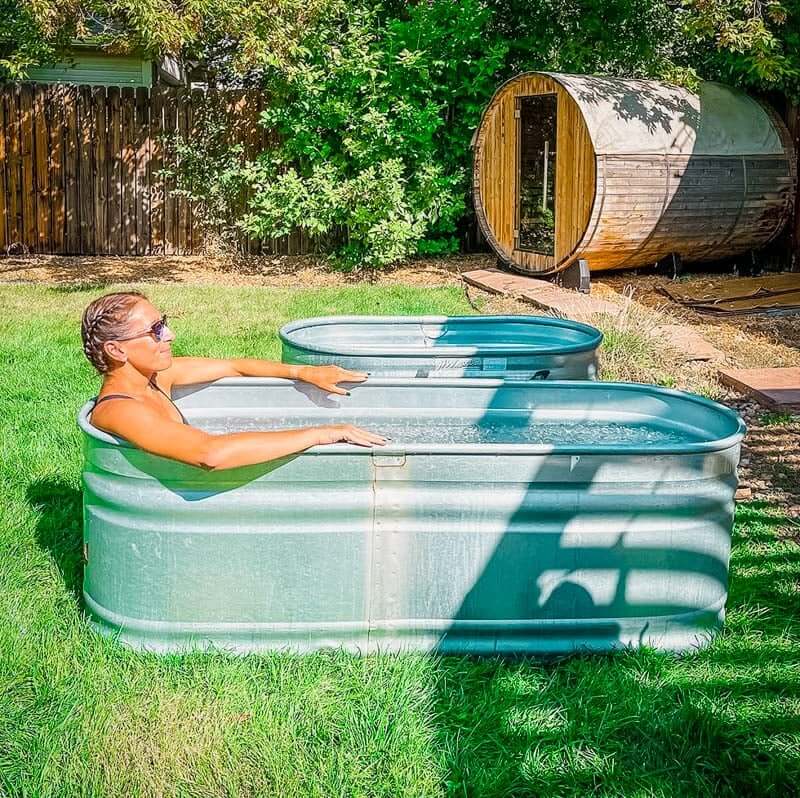 Lastly, you may be able to use an existing water feature in your yard like a plunge pool or stock tank pool for an outdoor cold plunge experience. Again, since there is no chiller you'll have to rely on the water being cold from ambient temperatures or cool the water yourself using ice. If you're unsure if cold water therapy is right for you—start with a cold shower and see if it's something you want to add to your routine long term.
Outdoor Cold Plunge FAQs
What are the benefits of using an outdoor cold plunge tub or ice bath?
Using an outdoor cold plunge tub or ice bath can provide numerous health benefits, including improved circulation, reduced inflammation, increased metabolism, and faster recovery from physical exertion. Cold water immersion can also help with stress reduction and promote overall well-being.
What size should I choose for an outdoor cold plunge tub or ice bath?
The size of your outdoor cold plunge tub or ice bath will depend on your personal preferences and the available space in your outdoor area. You should consider whether you'd want to lay down in the tub, or whether you'd prefer to stand, the number of people who will be using it at once, and the available space in your yard area.
How do I maintain an outdoor cold plunge tub or ice bath?
To maintain an outdoor cold plunge tub or ice bath with no filtration system, you should use approved chemical sanitation methods as well as drain and clean it regularly to prevent the buildup of bacteria, algae, and other contaminants. For cold plunge tubs that include sanitation and filtration systems, consult the manufacturer for specific maintenance requirements, but these generally include regular changing of the filter and periodic replacement of tub water—depending on frequency of use. It's also important to use a skimmer to remove any debris that crept into the tub from the outdoors, and cover the tub when not in use to prevent debris from entering.
What materials are best for an outdoor cold plunge tub or ice bath?
The materials used for an outdoor cold plunge tub or ice bath can affect its durability, maintenance requirements, and overall aesthetic. Common materials used for outdoor cold plunge tubs or ice baths include cedar wood, stainless steel, and acrylic. Wood is often used for its natural aesthetic, while stainless steel and acrylic are more durable and require less maintenance.
How much does an outdoor cold plunge tub or ice bath cost?
The cost of an outdoor cold plunge tub or ice bath will depend on several factors, including the size, material, and features. Generally, smaller tubs made of less expensive materials can cost a few thousand dollsars, while larger, more advanced models can cost tens of thousand of dollars. It's important to research and compare prices before making a purchase to ensure you're getting the best value for your budget. Low-budget solutions for an outdoor cold plunge experience using basic durable containers such as a Rubbermaid stock tank or existing water feature in your yard.
Get a Shoppable Landscape Design Tailored to Your Needs and Style
Outdoor cold plunge tubs have been linked to multiple health benefits, which explains their rising popularity. Lucky for us, that means a ton of options are now available. We hope you can use this guide to find a tub that hits on your priorities, looks great in your space. and is in-budget. If your search for an outdoor cold plunge tub is part of a larger outdoor renovation, Yardzen is here to help with your entire landscape design—including recommending elements and products from the best outdoor living brands.
Yardzen's award-winning online exterior and landscape design service is tailored to homeowners across the U.S.. Our design process begins with understanding your outdoor space and style—and a discussion of your budget and vision to minimize surprises when it comes time to build.
Our top-notch designers then develop a personalized vision for your yard, shared through 3D renderings, 2D plan drawings, and plant and material lists. Your design will capture the look, feel, and function you are hoping for, and will be outfitted with materials and elements from our retail partners that you or your contractor can actually purchase.
Once your design is complete, we'll help you connect with a local contractor from our Pro Network of vetted professional contractors to install your new design.
Ready to bring your dream yard to life? Create your design profile or explore our professional exterior, side yard, front yard, and back yard landscaping design packages today!