Fire pits: we love them. So do a whole lot of other people – they're among the most commonly requested features in Yardzen designs, and for good reason.
Most obviously, fire pits offer a way to extend the outdoor season by keeping you toasty when the weather turns cool. If outdoor living is your aim, fire pits are your ally, especially in colder regions. But fire pits offer more than just heat! They make for dramatic focal points in an evening landscape, and provide a prominent canvas to express landscape style. Unlit (and, in some cases, lit), they're great as a footrest, drink ledge, or even an informal seat.
Above all, fire pits anchor and activate gathering spaces. Their greatest utility is in their power to bring family and friends together to enjoy each other's company. So how does one best integrate a fire pit into their landscape design? The answer will vary depending on your functional and stylistic goals.
To help you develop your own design ideas, we've collected 61 of our favorite fire pit designs below, offering our take on what makes each of them shine (pun intended) along the way. Grab some s'mores and take a look!
---
Yardzen's favorite fire pits
---
01 Open Plan For Any Plan
This open plan deck can adapt to just about any event you throw at it. A nice-but-approachable sectional sofa seating and bench seating along the dining table stand ready for groups big and small. The fire pit makes sure the party can continue into the evening. The broad wraparound deck stair lets people of all edges flow on and off the deck to a lower play lawn – perfect for kids to ramble below while parents keep a watchful eye up above.
02 Lean & Green
To suit a long and narrow seating area, the design opts for a rectangular concrete fire pit, complemented below by a carpet of herringbone brick and above by a twinkling ceiling of string lights. Monolithic rows of planting frame the scene in green.
03 Rustic & Refined
The clean lines of oversized pavers and a modern square gas fire pit contrast with crunchy gravel and naturalistic planting to create a scene that is informal, welcoming, and stylish.
04 Embrace Color!
Sapphire blue furnishings take a color cue from the expansive sky views in the background, binding this tucked-away fire pit to the broader design through a common color theme. The pop of color is soothing and fun, and helps to activate the space by catching people's eye.
05 Simple Backyard Fire Pit
Planting above, gravel below, fire bowl in the middle – sounds like camping! With plenty of framing from adjacent trees and planting, this space-efficient design is simple by design, minimizing clutter and maximizing openness.
06 Open & Interconnected
A large paver patio plays home to a sequence of spaces: kitchen, dining area, fire pit. You can envision the evening starting at one end and proceeding to the other. The pergola overhead offers shade for cooking while the fire feature remains exposed for evening stargazing.
07 Fresh & Clean
This newly-installed San Francisco fire pit positions trees at the corners of a paver pad, kept compact to preserve plenty of open space for kids and dogs to play. As the tree canopies fill in, the space will grow more enclosed (and cozy), and will be shaded by dappled light.
08 Desert Oasis
A pergola with shade sails and curtains creates a cool refuge in this landscape design. The white stucco fireplace and bench seating keep the look clean and bright, a compelling contrast with the dark greens and organic forms of the succulent garden.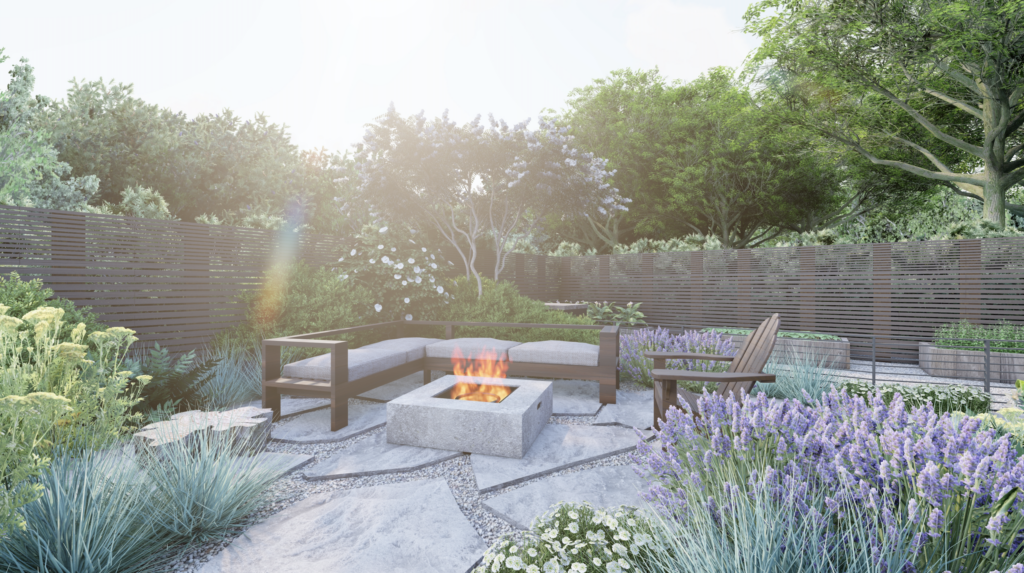 09 Cottage Corner
A square fire put tucks into the nook of a corner sectional, ceding the spotlight to the lush planting in this cottage garden design. To minimize its visual impact, the fire pit matches the color of the flagstone.
10 Floor & Ceiling
This design calls upon a large in-ground deck and fiberglass pergola to establish a large outdoor room, in which the fire pit has pride of place. An outdoor rug defines a more intimate zone within the outdoor room. Adjustable louvers in the pergola adapt to cast shade through changing light conditions.
11 A New Room
A concrete driveway is transformed into an outdoor room by a pergola and a fireplace. Vines, perennials, and a spread of groundcover planting bring the softness, the fire brings the coziness.
12 Resort At Home
Choose your favorite spot: the cafe seating by an outdoor fireplace, a push lounge atop grass-laced pavers, or a crunchy path for strolling a perennial garden. You can't lose.
13 Clean Lines
Concrete and wood – a classic modern materials palette – express simple, elegant forms in this design. The choice of gray concrete for the fire pit melds it with the surrounding floor, while the bright white of the bench and rosy hue of the wood evoke the warmth and comfort of Mediterranean patios.
14 Casual & Composed
The fire pit seating area is the hub of the wheel in this design – access it via a wide step down from the deck, a slanting path of grass-set pavers, or a humble gravel path lining the back fence. Open edges and a consistent planting palette keep the whole scene cohesive and flowing.
15 Black, White & Wood
A black steel wood-burning fire pit gives a subtle nod to the material palette of this outdoor living room: white concrete, black cushions and wood seating. A margin of green softens things up.
16 Don't Forget Your Sunscreen
A cantilevered arbor and translucent curtain provide crucial shade from afternoon glare to this wide-lipped stone fire pit and wicker sectional. Beyond the curtain: veggie beds, trellised vines, and neighboring tree canopy, along with rustic decomposed granite on the ground – a whole fleet of rustic elements to balance out the clean concrete paving of the fire pit area.
17 Campfire Retreat
This ADU gets a treat: a lush campfire zone, ringed in dense planting and furnished with easy-to-move seating.
18 Separate & Connected
A double-sided fireplace divides the lounge and dining areas in this backyard design. Clear views above (and through!) the fireplace manage the trick of making the spaces feel both separated and connected at once.
19 Spanish Patio
This desert design does well by using trademark Spanish patio details: white stucco, black metal, and earthy-red paving. Succulent planting with tan gravel mulch puts a desert twist on it, and makes for a fine pairing with the hardscape.
20 Poolside Lounge
A fire pit is the centerpiece of a poolside lounge zone, aligned on-axis with the pool to provide a focal point for night swimmers. The broad lip of the fire pit doubles as a tabletop for snacks and drinks during the daytime.
21 Board Form Flair
The wood grain texture and parallel lines of a large board form concrete fireplace, flanked by a clean stack of logs in a minimal metal frame, set a stylish, minimalist tone for this modern outdoor dining area.
22 A Swinging Good Time
Swing benches are the best, gently rocking you into peaceful bliss as you enjoy an evening chat with family or friends. Among their many benefits, pergolas offer perfect support for hanging seating. This design doubles down on the swings, sticking to a tight color scheme of auburn wood and bone whites.
23 Gather In The Gravel
A uniform application of gravel stitches several distinct seating areas into a single flowing space. The style is rustic and casual across the board, from the dappled light cast by the mature tree canopy, to the wood farm table and metal fire pit.
24 Bright Woods & Cool Grays
Like the sun amongst the clouds, blonde wood details shine against a backdrop of cool gray materials. The fire pit, aligned with the pergola and dining table, casts an inviting glow that beckons visitors to enjoy after-dinner stargazing.
25 Simple & Effective
A horizontal wood fence creates a warm backdrop to this simple but cozy fire pit zone. Vines atop the fence offer softness and the rustle of leaves Spring through Fall. Flexible seating can scoot or be whisked away to adapt to various group sizes or functional needs. The deep, small-diameter concrete fire bowl allows for a proper flame while keeping everyone close.
---
Yardzen's favorite fire pits
---
26 Water & Fire
With a view like this, the design just needs to get out of the way. A few Adirondacks, a welcoming circular layout, and your work is done.
27 Rusty Reds
A freestanding corten steel fire bowl commands the spotlight in this poolside patio. Tan decomposed granite complements the rusty red material, which is repeated poolside in a showpiece plant container.
28 Palm Springs Oasis
This low-maintenance landscape sets a rough-hewn fire pit and a plush, oversized lounge zone at opposite ends of a central pool – shade in one direction, crackling fire and the night sky in the other. The axial layout and strong sight lines link the spaces and create a seamless, flowing feel across the yard.
29 Marshmallow Time
A delicate pair of aspens shimmer in the background of this casually elegant fire pit lounge. Crunchy gray decomposed granite and dense planting allude to the earthy escape of camping, while modern furnishings in warm neutrals elevate the look.
30 Fire Nook
Space is tight in this compact yard, but a notch in a tiered deck lets visitors plunge into a cozy fire space, before or after plunging into the corner hot tub. The geometric wood-burning fire pit complements the modern deck design.
31 Organic Lines, Traditional Feel
Even without the putting green, this space would feel like a lovely country club pool deck. Natural stone paving and gracefully curving pool and paving edges embrace a flowing, traditional feel.
32 Footrest For The Panorama
A broad, arcing bench takes in a sweeping view of this large yard. A wide rectangular fire pit lets you kick up your feet and enjoy the view.
33 DIY-Friendly
DIY projects succeed or fail based on their complexity (and the brave installer's experience!). Here, prefab elements, gravel groundcover, and low maintenance native and climate-adapted planting make for a relatively simple install.
34 Constructed Canopy
A custom cantilever pergola will soon be overtaken by lush vines, leaning over this simple wicker couch and fire pit table like a luxurious green awning. By only extending the pergola part-way over the seating, the design keeps the space feeling expansive and well-connected to the surrounding yard.
35 Green Wall
A robust hedge of West Coast native Pacific Wax Myrtle gives this cobble-floored fire patio a nice green hug, setting a verdant, cozy vibe. A potted olive tree and a handful of succulents toss in some Mediterranean flair, pairing well with the European feel of the paving.
36 Embrace The Axis
The landscape architecture for this long, narrow yard embraces the linear form, aligning one space after another along a common central axis, parallel to the back of the house. The fire pit glows as the terminus.
37 Get Tropical!
A patinated fire bowl, beachy seating, low-key string lighting, and chunky green plants set a charming tropical vibe. Who wouldn't want to hang out here?!
38 All In On Brutalism
Brutalist design is famed for its embrace of concrete and clean, unadorned forms. The abundance of concrete in this design establishes a unifying palette, but it also makes the teak bench and row of fruitless olives pop with intensity.
39 Traditional Charm
Floral planting, sweeping curves, and a handful of Adirondacks demonstrate how the classics never go out of style.
40 Bask In The Scenery
If you've got a view, use it for all it's worth! A stunning lakeside panorama sets a foolproof scene for a brick fire pit area, furnished with classic white seating to complement the nearby white picket fence.
41 The Classic Yard
Here we see how the removal of barriers enables spaces to flow seamlessly into each other. A basket weave brick patio, a patch of lawn for the kids and dog to play, and, one tier up, a well-composed array of drought tolerant grasses – that's all there is here, and yet it all clicks together perfectly. Comfortable, approachable furnishings and a fire table with a family-friendly heat shield round out the picture.
42 Dappled Light
The shade of a mature oak is hard to beat. This fire pit sets up shop beneath a mature canopy, doubling as a cool seating area by day.
43 Modern Desert Retreat
An expansive Joshua Tree backyard takes on the feel of a desert resort, complete with custom bench seating around an elegant stone fire pit.
44 Fire Where You Fancy
A portable fire bowl lets these young homeowners set up camp wherever they please. A grid of concrete pads provides an upscale but flexible surface for entertaining. Further back, a modest-sized dining table nestles between a pair of leafy trees, achieving a cozy sense of enclosure while commanding long views of the open plan yard.
45 Fun In The Flowers
A delicate array of flowers layers up to a row of fine-leaved privacy trees, with a stone patio plunked in the middle to soak in the beauty.
46 Fixed & Movable
Fun, flexible seating complements a long built-in cantilever bench in this backyard fire pit design. A potted lemon tree announces the boundary of the space while keeping circulation in and out wide open.
47 Safe & Stylish
To keep kids safely restricted from the pool or fire pit, this young family settled on transparent glass safety fencing, which preserves views and a sense of connection between the spaces. A cluster of lush palms looms above the fire pit, while tall hedges run parallel to the pool. In either case, the ambiance is lush.
48 Green Curtain
A massive existing hedge envelops this modern backyard design. With so much green in the background, the design can lean into minimalism without becoming cold. A single focal tree, open layout, and low-slung furnishings cohere into a clear design vision.
49 Woodsy In New Jersey
This newly-installed New Jersey design rings a crisp paver patio with upright evergreens and a pair of Japanese maples. In time, the space will take on the feel of a woodland clearing, albeit one with clean modern styling and a gorgeous urn-shaped fire pit.
50 Big On Benches
For this big family, an extensive built-in bench was just the thing, offering space for large groups, not to mention some fun ledges for young rascals to play on. The central fire pit helps to justify the U-shape, and sets the scene for social nights outside.
51 Woodsy Option
Tucked beneath a stately tree canopy, this stone fire pit zone offers a rustic alternative to the more polished gathering spaces elsewhere in this large back yard.
52 Curated Materials
Knowing what to leave out of a design may be even more important than knowing what to include. This design keeps tight control on materials, sticking to a palette of white, black, and a few roughed-up grays. Even the wood looks aged like it was pulled from the ocean. The texture from the fire pit, plant containers, and seating create a pleasing contrast with the clean surface of the concrete paving and fiberglass pergola.
53 Garden Party
Situated at the end of a quiet, verdant garden path, and tucked to the side of the main action in this large backyard, the fire pit zone in this design has an air of privacy to it, like a secret garden only the lucky few know to visit. The sense of escape is a pleasant contrast to the other, highly interconnected spaces in the design.
54 Break Up The Expanse
Large paved expanses of a single material can feel uncomfortable and cold. The fire pit zone defines a distinct zone within the paving simply through its furnishings. This breaks up the scene into smaller, human-scaled spaces, creating a more comfortable feel across the backyard.
55 Fire Bowls On Deck
This gorgeous scene uses teak furniture and a warm neutral rug to imply a room within an expansive TimberTech deck. A black fire bowl strikes a strong contrast with the furnishings and makes for a compelling visual anchor, night or day. Stainless steel cable railings are the secret sauce, preserving clear views and a sense of connection with the forested surroundings.
56 Set A Rhythm
Pergola – open fire pit – pergola: the rhythm in this layout is clearly defined. Open edges and a unifying paver path allow each space to flow seamlessly into the next. With no ceiling to rely on for spatial definition, pockets of attractive, drought-tolerant planting step in to distinguish the fire pit as a zone in its own right.
57 Pool, Putt, Pitt
This yard is all about relaxing: a dip in the pool, a few putts on the green, or feet up with friends around the fire pit. Boxwoods, mondo grass, and a large container tree keep the planting palette centered on true-to-deep-greens to support a tranquil feel.
58 Separate By Design
Safety fencing and a grade change separate the fire pit from the pool area, and that's ok! Fire pits' strong appeal and compatibility with rustic spaces make them well-suited to further-flung, hard-to-activate parts of a yard. This example isn't exactly distant from the action, but even if it were, the fire pit would hold its own.
59 Outdoor Living Room
A comfy sofa and matching lounge chairs surround a wide rectangular fire pit, while full planting and graceful curving edges evoke the softness of the furnishings. The hogwire fence keeps kids and dogs contained while maintaining sightlines through to the adjacent forested area.
60 Terrace Lounge
A clean and simple fire pit commands a terrace in this large yard, one of several outdoor living spaces for visitors to choose from. Massed planting and abundant tree canopy establish a lush, wooded setting, which the minimal terrace design wisely cedes attention to.
61 Corner Pocket
Space efficiency is a priority in small yard designs, and this one achieves it with grace. The fire pit tucks compactly but comfortably into the corner, and space is afforded for ornamental planting and a prefab water feature, which while not purely functional, play a key role in establishing a tranquil, inviting atmosphere.
---
Yardzen's Favorite Fire Pits
---
Creating Fire Pit Landscaping Ideas Tailored To Your Yard
Yardzen's award-winning online exterior and landscape design service is tailored to homeowners with both large and small yards in all fifty states in the U.S. Our design process begins with understanding your outdoor space, style, and a discussion of your budget and vision to minimize surprises when it comes time to build.
Our top-notch designers then develop a personalized vision for your yard, shared through 3D renderings, 2D plan drawings, and plant and material lists. Your design will capture the look, feel, and function you are hoping for, all while keeping costs within range.
Once your design is complete, we'll help you connect with a local contractor from our Pro Network of vetted professional contractors to install your new design.
Ready to enjoy some s'mores around the fire pit in the outdoor living space of your dreams? Create your design profile or explore our professional backyard landscaping and exterior design packages today!