Homeowners Zoë Kim, an author and minimalist, and her husband, decluttering expert Matt Paxton, designed their modern farmhouse-style single-family home with the help of an architect. (Check out Zoe's lifestyle brand @raisingsimple, focused on practical ways for families to approach the minimalist way of life). When designing the Suwanee, Georgia home, she was drawn to the modern farmhouse look for its clean and simple style, and she wanted her landscaping and outdoor spaces to reflect that same organic, casual, and low maintenance look – "minimal, but cozy," Zoë said.
With their family of seven children, ages 7-15 (combined from former marriages), they would need to extend the liveable area of the 2,700 square foot house into their outdoor living spaces, including a detached ADU design (accessory dwelling unit) for Zoë's mother to live on the property in an in-law unit. A backyard with multiple functional spaces was essential for keeping everyone entertained and sane.
As a new construction home, their yard was a blank slate when they started the landscape design process. They turned to Yardzen to help them organize their vision into a cohesive and liveable design that would serve their large combined and multi-generational household with more outdoor square footage to enjoy.
The Yard
After Zoë and Matt designed and built their dream home, they had a vision for their outdoor spaces that involved a Mediterranean-inspired garden space, a saltwater pool, raised edible garden beds (Zoë is also a horticulturist), and multiple spaces for gathering outdoors with their large family.
With the ADU taking up a portion of the backyard, they wanted to ensure they not only got the flow right from space to space, but that the new ADU had its own landscaping, giving it distinction as a separate living space from the primary residence. Because their home sits between two roadways, they also needed more privacy and separation from vehicle and foot traffic.
For the front yard, Zoë wanted to stay away from traditional plants like boxwood and magnolia in favor of softscapes that are low water and easy to maintain. She wanted to create a walkway and entrance from the curb that was inviting, but at the same time, simple and low maintenance.
They had a clear idea of how they wanted to use the space, but they needed help envisioning how all the different pieces would fit together. "We were living in the home for a year with a bunch of red clay dirt and seven kids in the backyard," said Zoë. A functional and experience-driven backyard couldn't come soon enough.
The Vision
With Georgia's temperate climate, Zoë and Matt knew they would be spending a significant amount of time outdoors year-round. They designed their home with a beautiful covered outdoor living room and fireplace that opens up to the backyard, where Zoë and Matt can watch the kids play in the pool, or enjoy a drink after bedtime. They wanted the rest of the space to flow seamlessly from there.
Their priorities for the backyard:
Creating an at-home retreat: "I want to feel like I'm on vacation at home," Zoë explained. They requested multiple zones for gathering, dining, play and relaxation. A yard designed for everyday use, including an outdoor kitchen, dining table, raised edible gardens, fire pit, hot tub, and of course a water feature—the large saltwater pool (which they can also heat in the winter!)
Privacy fencing for the backyard and guest house
Modern, Mediterranean-inspired, sustainable and low-maintenance garden design
Distinct landscaping and pathways to help create flow throughout the space and separation for the guest house
A small grass or turf area for the kids to run around or play with the dog
For the front yard, they wanted to create an inviting walkway and simple landscaping with an organic and natural look that also gave some separation between the yard and road.
The other houses in the neighborhood don't have driveways or garages in the front, but traditional front porches. Zoe wanted that same inviting feel and requested a walkway that would draw your eye to the front porch and welcome guests in. "I wanted it to read "come over and have some tea."
The Design
With such a distinct vision and abundant space to have fun, Yardzen created a design that balanced both their minimal, warm, cozy style with the need for multiple functional spaces and room to move easily throughout.
In order to keep an orderly and clean look, most of the planting is done against the new fencing and alongside pathways next to the home and guest house. The soft tones of the lavender, olive bushes and trees, evergreens, and soft ornamental grasses create a Mediterranean-inspired look with lots of visual interest and texture.
To create sufficient seating by the pool, Yardzen designed a pool deck with space for chaise lounges and a separate pea-gravel lined fire pit area surrounded by three outdoor couches.
A vine-draped pergola covers an outdoor dining table that sits adjacent to the outdoor living room. The extra dining space leaves room for poolside snacks or entertaining friends on a warm night.
The back entrance to the guest house features olive trees, lavender and evergreens paired with gravel hardscaping, a small seating area and new horizontal fencing to create its own private outdoor oasis.
The front yard design moves the mailbox from the driveway to the new front walkway. Two steps and a brick pathway surrounded by low maintenance and pollinator species create a soft and natural-looking focal point that invites guests into the home.
Overall, the design allows you to flow from one space to the next and leaves open sightlines for a family-friendly space.
The Installation
For Zoë, having Yardzen take all the puzzle pieces of her design vision and lay them out together in photorealistic 3D renderings not only helped her better understand the flow of the space, but make decisions on where to edit out elements that didn't serve her family's immediate lifestyle.
Zoë and Matt stayed true to their Yardzen designs, but made a handful of changes to best reflect their needs:
Realizing they wanted more room for their family to play and move around the pool deck, they chose to remove the pergola dining area and outdoor kitchen. With ample room on the pool deck, they decided they could always add these elements later.
To provide more privacy for the guest house and room for walkways to enter and exit, they cut out some of the grass area and moved the seating and firepit area from the pool deck (abutting the ADU's living room windows) to the side of the guest house.
To cut down on costs and create a softer look that paired with the tan pea gravel in their driveway, they chose stone pavers in lieu of a solid concrete path for their front yard walkway.
Given the proximity to the pool and the potential for grass debris, they opted for turf for the small play area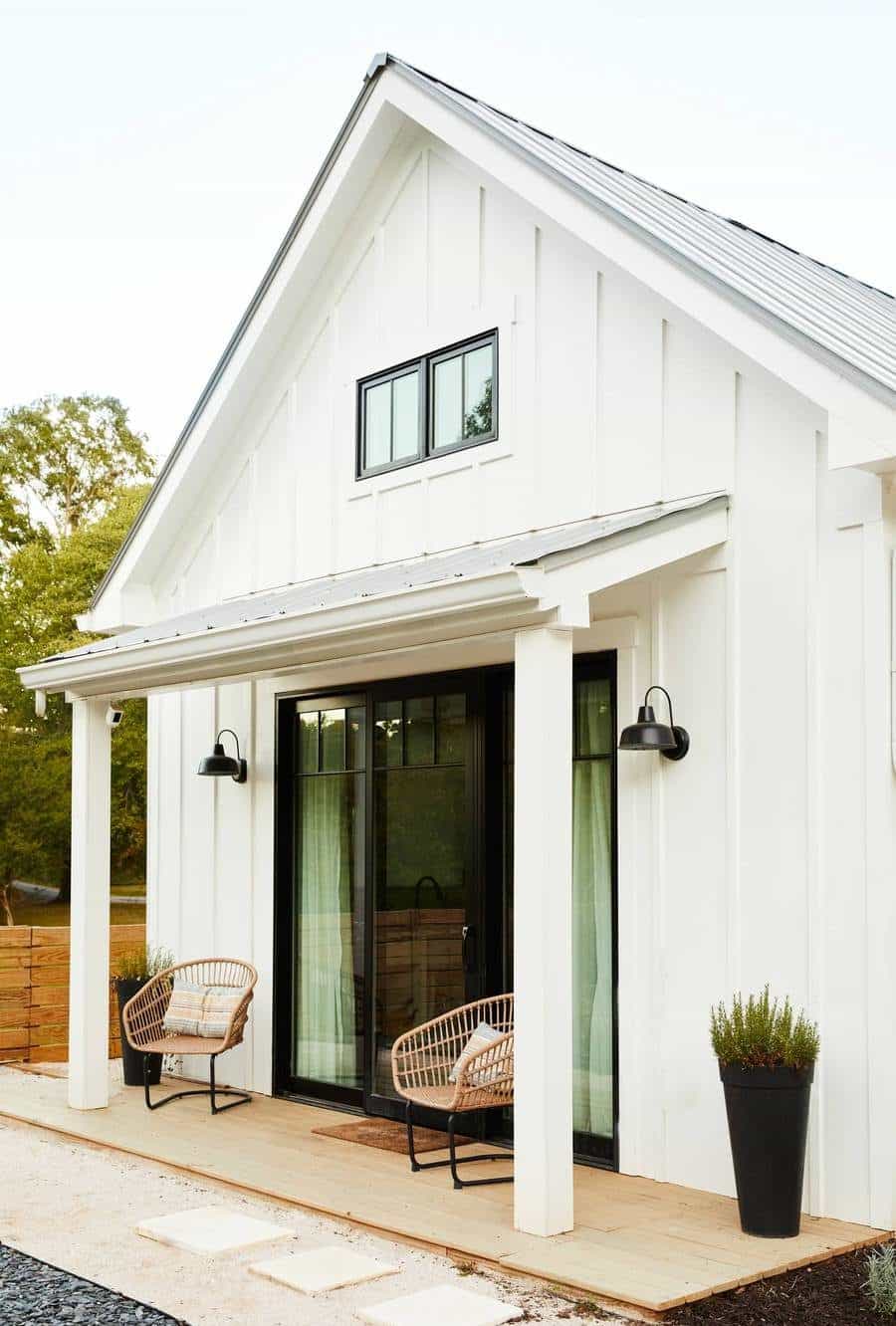 From backyard pool parties and gathering around the fire pit with s'mores to sitting on the front porch waiting for the bus, the kids have been in the yard every day since it's been finished. Zoë and Matt plan to heat the pool over Thanksgiving and Christmas breaks as well, so they foresee lots of use when the weather cools. They love that they've been able to create a yard that fits their family's lifestyle and needs perfectly. As Zoë said, "So often in outdoor spaces, people want to think about the "look" first, but it's really about how your family will use the space." We agree — it's all about creating experiences in your backyard!
DESIGNING A FAMILY-FRIENDLY OASIS FOR YOUR YARD
Yardzen's award-winning online landscaping design is tailored to clients across all fifty states in the U.S., from Suwanee to San Francisco. Our design process begins with understanding your space, your aesthetic preferences, and a discussion of your budget and vision to minimize surprises when it comes time to build.
Our top-notch designers then develop a personalized vision for your yard, shared through 3D renderings, 2D plan drawings, and plant and material lists. Your design will capture the look, feel, and function you are hoping for, all while keeping costs within range.
Once your design is complete, we'll help you connect with a local contractor from our Pro Network of vetted professional landscapers to install your new design.
Ready to level up the landscaping of your ADU project, backyard remodel, or other outdoor space? Create your design profile or explore our design packages today!