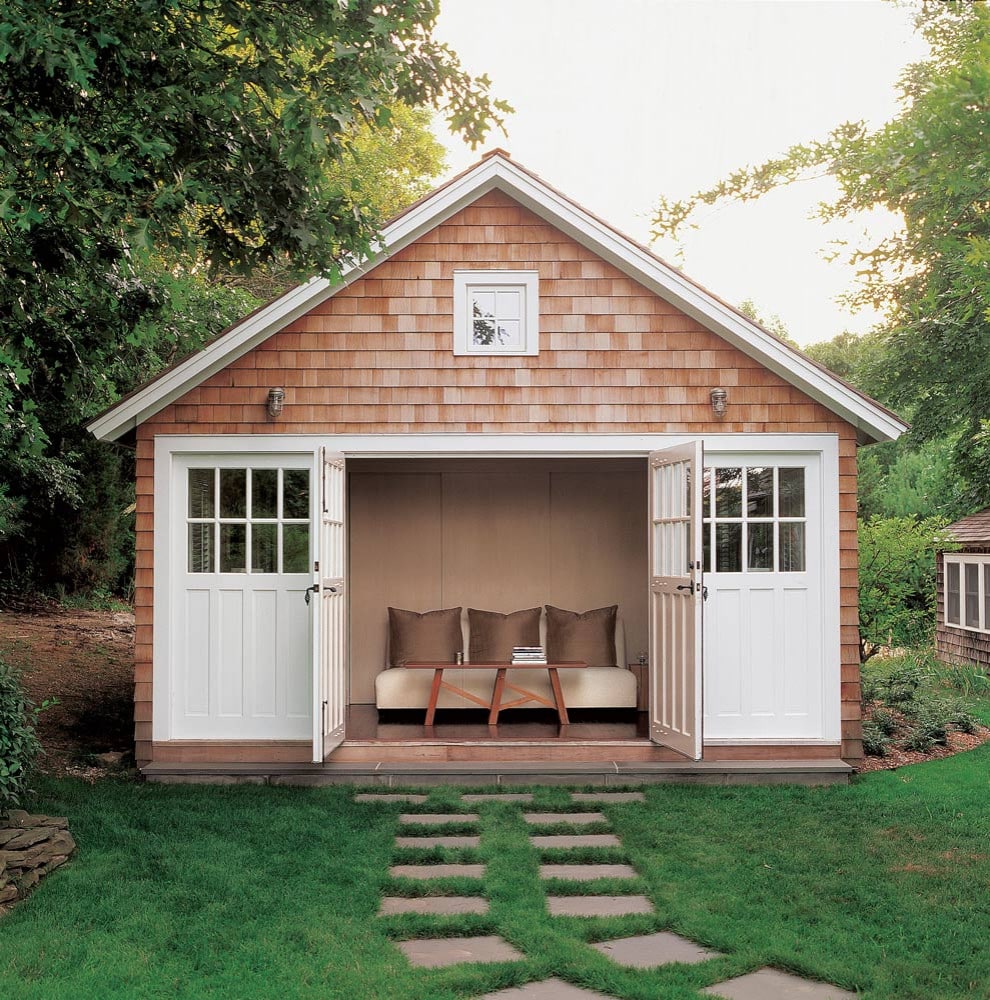 The humble shed is having a moment. Prefab options from companies like Studio Shed are getting better and more widely available, and creative uses for designing in and around modern sheds are popping up everywhere.
What's so special about sheds?
Versatile: Art studio, guest room, personal getaway, playhouse, or good old fashioned outdoor storage building—today's shed can seemingly do it all.
Space Efficient: Sheds make the most of limited square feet, and are great at activating underutilized corners in a yard.
Affordable: With enough bells and whistles, sheds can get pricey, but a basic small shed costs as little as one to a few thousand dollars. That low price tag encourages experimentation (hence the proliferation of creative garden shed ideas out there).
To help you navigate the fun new world of backyard sheds, let's take a look at some of our favorite twists on what can be done with a shed, and run through a few tips to maximum style and function.
Creative Shed Design Ideas
Most of us think of sheds as places to stash a lawnmower or pile boxes that won't fit in the attic.
Pull back from the outdoor storage shed archetype, though, and what you've got is an outbuilding that can be used for just about anything. Sheds are particularly useful as a home for noisy, messy, or private activities that you may want to separate from the main house.
To get your gears turning, here are a few of the most popular uses for outdoor sheds among Yardzen clients:
Rustic Garden Shed
Pots, gloves, shears, shovels—it's all got to go somewhere. A well-organized simple shed is a boon to any home gardener, particularly when it offers substantial storage space for gardening tools.
Take advantage of wall hooks to store large items likes rakes or wheelbarrows vertically. This keeps limited floor space clear and cuts back on clutter.
Add a potting bench to turn your space into a potting shed, or go with a prefab greenhouse to turn your shed into an insulated growing space.
Work Shed
A work shed offers do it yourself-ers space to store tools (tool shed) and to do work (workshop).

Run a workbench along one side, with drawers below and wall-mounted storage above.
Hang bulkier items like sawhorses or planks in the rafters, and efficiently tuck woodworking equipment into corners, wheeling machines into the open when you need to use them.
Bike Storage
Bikes are a source of infinite joy, but they can be a pain to store.
A little shed outfitted with bike racks can tidily and efficiently protect bikes from the elements while avoiding a Marie Kondo horrorscape of bikes scattered willy-nilly across a garage floor. Wall-mounted bike racks can help keep the shed footprint to a minimum—small enough for many side yards.
Make sure it's easy to get your bike in and out of your storage shed—if it's too tough, you'll be discouraged from using your bike, and that would be a shame.
Opt for wide, easy-to-open shed doors such as double doors, and be realistic about your comfort level using elevated vs. ground-level bike racks.
Wood Shed
In the past decade, the wood pile has become a preferred architectural detail, stacked within minimalist metal frames along the walls of hip restaurants and modern homes.
firewood sheds typically store wood indoors, where it will stay dry and ready to use in a fire pit or stove. That said, if you prefer to bask in the trendy, woodsy vibes of a visible wood pile, you can add an outdoor wood storage structure along the side of your shed, leaving the interior for other uses.
Either way, a shed can help you stay campfire ready.
Personal Space
She Shed, Man Cave, They Getaway—call it what you will, it can be nice to have a room of one's own.
Approaches to such personal spaces vary as widely as people themselves, but comfy seating is a must.
We suggest operable windows to allow in daylight and breezes. A small porch space outside the door can offer an alternative environment to cozier interior spaces.
Exercise + Meditation Retreat
Room to run is fun, but you can achieve a lot for your physical and mental health in a small space.
Weightlifting, spinning, yoga, pilates, HIIT, boxing, meditation—there's no shortage of shed-sized activities, nor of ways to outfit a shed as a personal wellness space.
Again, we suggest prioritizing natural light via windows and skylights, and good ventilation, to ensure a pleasant environment. Good speakers are a nice touch, too.
Kid's Playhouse
Playhouses are fabulous for children, especially when complemented by other outdoor learning and play spaces like sensory gardens and nature playscapes.
Kids are small, and playhouses can be too, making them low cost and easy to tuck into even the most compact yards.
Don't worry about stuffing them full of built-in features—a permanent bench can be nice, but in general aim for an open interior space that can easily adapt to a rotating cast of toys and furnishings as kids grow and tastes change.
If you want to go the extra mile, incorporate Dutch doors and pass-through windows with serving ledges.
From a parent's perspective, the best playhouses double as storage spaces for play equipment. Low Montessori shelves and bins that fit beneath benches make for a simple and tidy approach to storage.
Creative Studio
Adults can have their own playhouses, too!
Sheds make for excellent creative spaces, especially when they can be sited at a distance from the neighbors.
Painting studios require little more than good light (and, ideally, a sink). Writers really just need coffee and a desk.
Music studios are trickier. It's no problem to play acoustic guitar with the door shut, but drums will blast sound right through most shed walls.
If your musical tastes do skew toward the loud, have no fear – there are ways to add extra soundproofing to a shed, particularly if you're the handy type (10 minutes on google will supply you with a range of soundproofing how-tos).
Workspace
With work-from-home seemingly here to stay, a dedicated office outside of the house (but still "at home") can mean the difference between a parade of distractions and a focused, productive day.
Home offices require little space and few amenities, making them a perfect tenant for a small shed. For the habitual snackers among us (author included), office sheds also keep the kitchen safely out of arms' reach.
Perhaps most importantly, backyard office sheds reintroduce the separation of work and living spaces, which goes miles toward maintaining a healthy work/life balance.
Bar Shed
Event spaces (or particularly social homeowners) can retrofit sheds to be remote cocktail bars. A mini fridge, cooler, and mixing surface is all you need to set up shop.

This approach comes in handy as an auxiliary drinks station at large events, where the main bar may get overwhelmed, and guests may seek a quiet moment in a more distant neck of the woods.
Throw in large pass through windows or a Dutch door with a ledge to ramp up the bar vibes.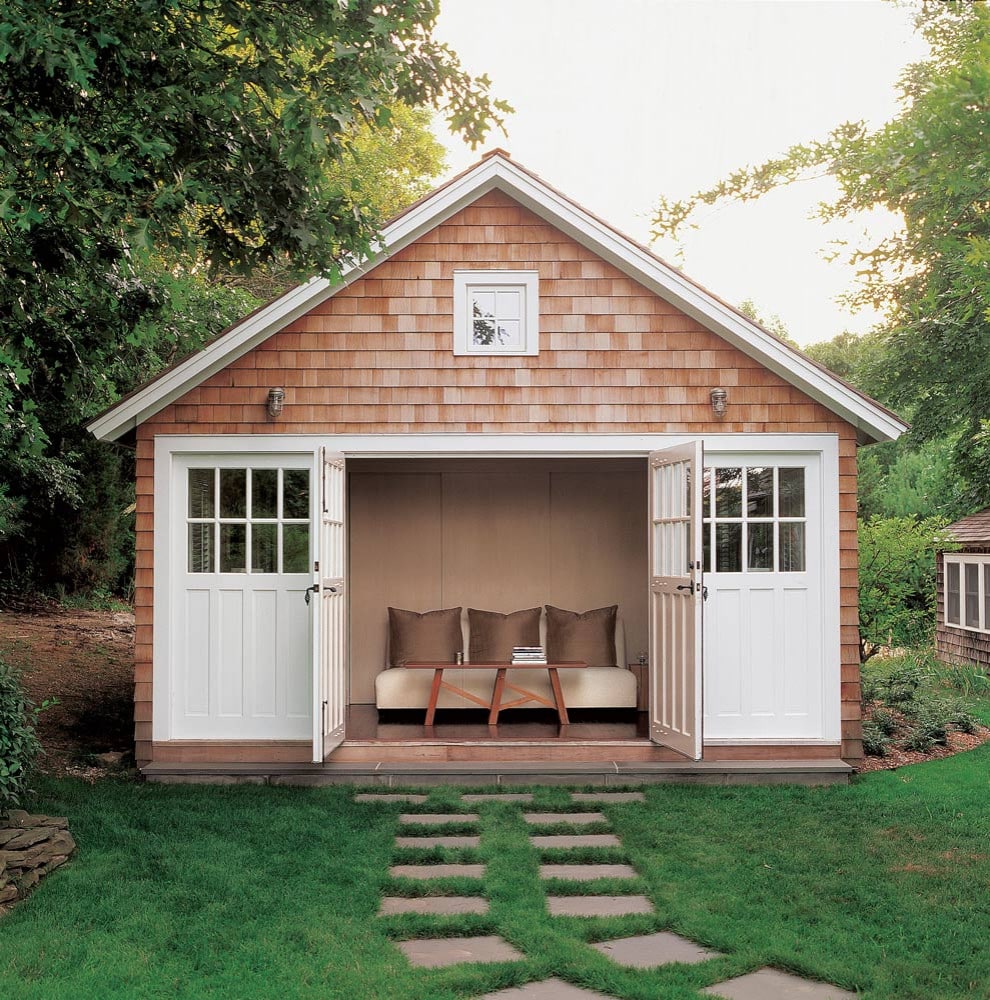 Living Space
On the topic of living spaces, those willing to invest a bit more can develop sheds into small but well-appointed residences.
Be it a guest house, a tiny house, or an accessory dwelling unit (ADU), sheds that are designed with the same care as a typical home can offer a viable, comfortable, and private place for people to stay.
Adding cooking and bathroom facilities is necessary for long-term occupation, and comes with increased costs and regulatory oversight.
Be that as it may, in scarce housing markets, making living spaces from sheds can be an excellent strategy for creating more space for people to stay, and can become an added source of income for homeowners willing to take on the work of managing a rental unit.
Storage Shed
Among all the new ways that sheds are being utilized, let's not forget that they are still great for simply storing stuff.
If storage is your goal, just make sure your shed is protected from the elements, and that the items being stored will hold up to fluctuating outdoor temperatures.
Skip The Walls
For those just looking for a roof to relax beneath, pergolas and gazebos can be a great option.
Like sheds, you can find plenty of excellent prefab options for these overhead structures, which will save you the cost of a custom build without any sacrifice to style or function.
Get Started With Your Landscape Design by Yardzen
Yardzen's award-winning online landscape design is tailored to clients in all fifty states in the US. Through the American Rewilding Project, we are committed to creating designs with climate-adapted and habitat-providing plants as well as water saving landscaping principles in drought-prone regions unless homeowners specifically opt out.
Our design process begins with understanding your space, your aesthetic preferences, and a discussion of your budget and vision to minimize surprises when it comes time to build.
Our top-notch designers then develop a personalized vision for your yard, shared through 3D renderings, 2D plan drawings, and plant and material lists. Your design will capture the look, feel, and function you are hoping for, all while keeping costs within range.
Once your design is complete, we'll help you connect with a local contractor from our Pro Network of vetted professional landscapers to install your new design (if you don't plan to diy).
Ready to level up your outdoor space and live better outside? Create your design profile or explore our design packages today!