No need to pack up the yard when the air starts to cool. Fall is the perfect time to spend warm days and cool nights outside with friends and family. Picture this: you and your loved ones are gathered around the fire pit as the air starts to crisp. Your feet are propped up on the edge of the firepit and you can feel the warmth of the fire travel through you. Your friend sits  beside you on the cozy sectional and hands you a mug of hot spiced cider. The bright autumn sun descends into the horizon, but you stay illuminated beneath the glow of twinkling string lights. Nights like these are magic, and become even more so with some of our favorite features like fire pits, long dining tables with room for everyone to have a seat, and lighting that creates a sense of ambiance.
Kick Up Your Feet in Santa Clarita, CA
Time spent together outdoors is time well spent. This project in Santa Clarita, CA showcases a flawless layout for propping your feet up and enjoying your loved one's company. Native plants were selected to frame the living space giving it the feeling of being an outdoor room. Warmer-toned gravel was selected for underfoot to keep the space bright and welcoming. The wood-burning chiminea works to provide warmth on cooler days, and leaves you with the scent of campfire in your hair as you rest your head on your pillow at night.
This New Jersey Project is Ever-Green
This property in Montclair, NJ features evergreen trees that provide year-round interest throughout the changing of seasons. The yard feels alive even in the coolest of months and offers a fire pit to gather around and warm up. Learn more about the planting styles and element details of this Northeastern project here.
Fall Harvest in Upstate New York
It's truly something special to see your landscaping transform with the seasons, whether that be bright blooms in the spring, fresh fruits in the summertime, or a full harvest in the fall. This property in upstate New York boasts a bounty of squash and other vegetables that a ripe for the picking in Autumn. Our mouths are watering for the dishes that can prepared with garden-fresh zucchini, butternut squash and pumpkin!
Everyone Has a Seat at the Table in Alligator, MS
Talk about a long dining table! This family from Alligator, MS loves to host their loved ones on holidays as the air starts to cool. This beautiful setup was arranged for a Thanksgiving celebration. The established trees and glow of the candles make for a magical dining experience. The magic continues as you meander to the outdoor fire pit where you're et with twinkling lights overhead. Adirondack chairs, the wood-burning fire pit, and pea gravel patio help to give this space a rustic vibe while the lanterns create a refined-boho aesthetic. We're inspired to host our next holiday beneath the canopies of trees and glittering lights!
Warm Up in Mill Valley, CA
There's something just so calming about gazing at the sky while enjoying an outdoor shower. This is a feature that can be used year-long, whether it be for rinsing after an afternoon swim or to soothe your muscles after a long hike in the Autumn air. Pair this with a seat next to the fire pit, and you've secured yourself the perfect evening plans. We're so inspired by the transformation of this space! See for yourself, here.
Get Cozy in Akron, OH
Timbertech is one of our favorite products to work with due to its unmatched durability and longevity. This deck space in Akron, OH feels like it's own private oasis tucked away in the woodlands. The fire pit creates the ultimate gathering space, and the string lights add a bit of sparkle to any night. The rug in this space also helps to make it extra cozy!
Pops of Color Throughout the Year in Livermore, CA
We love the pop of color that this chiminea adds to this intimate space. We can only imagine the days and nights that are spent in this space with loved ones reminiscing and creating new memories. This Livermore, CA property has so many great features that can be used across all seasons.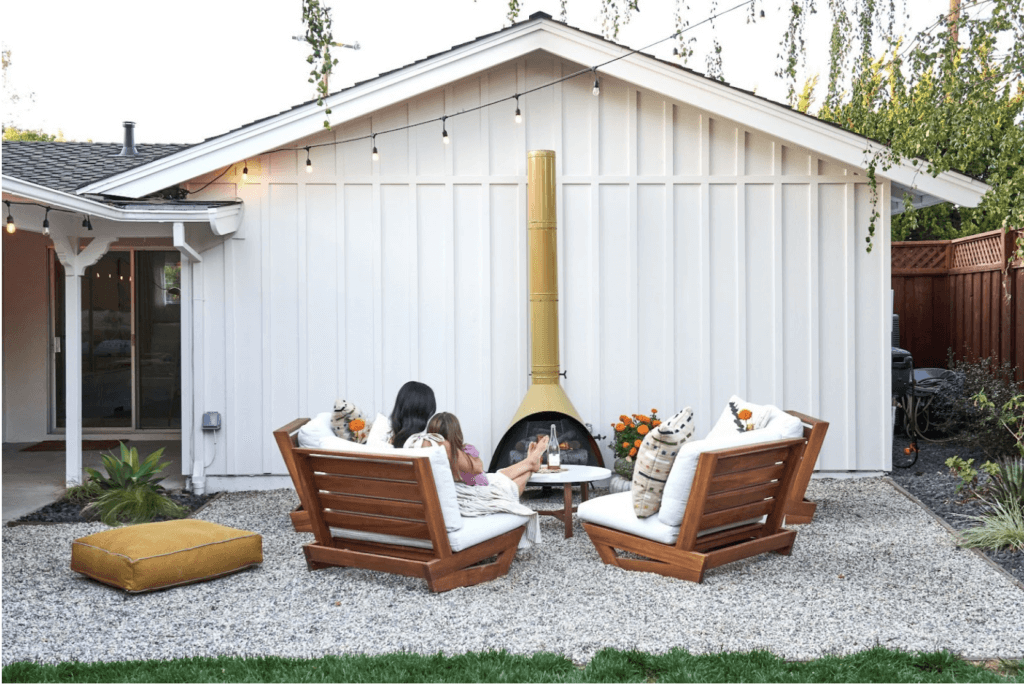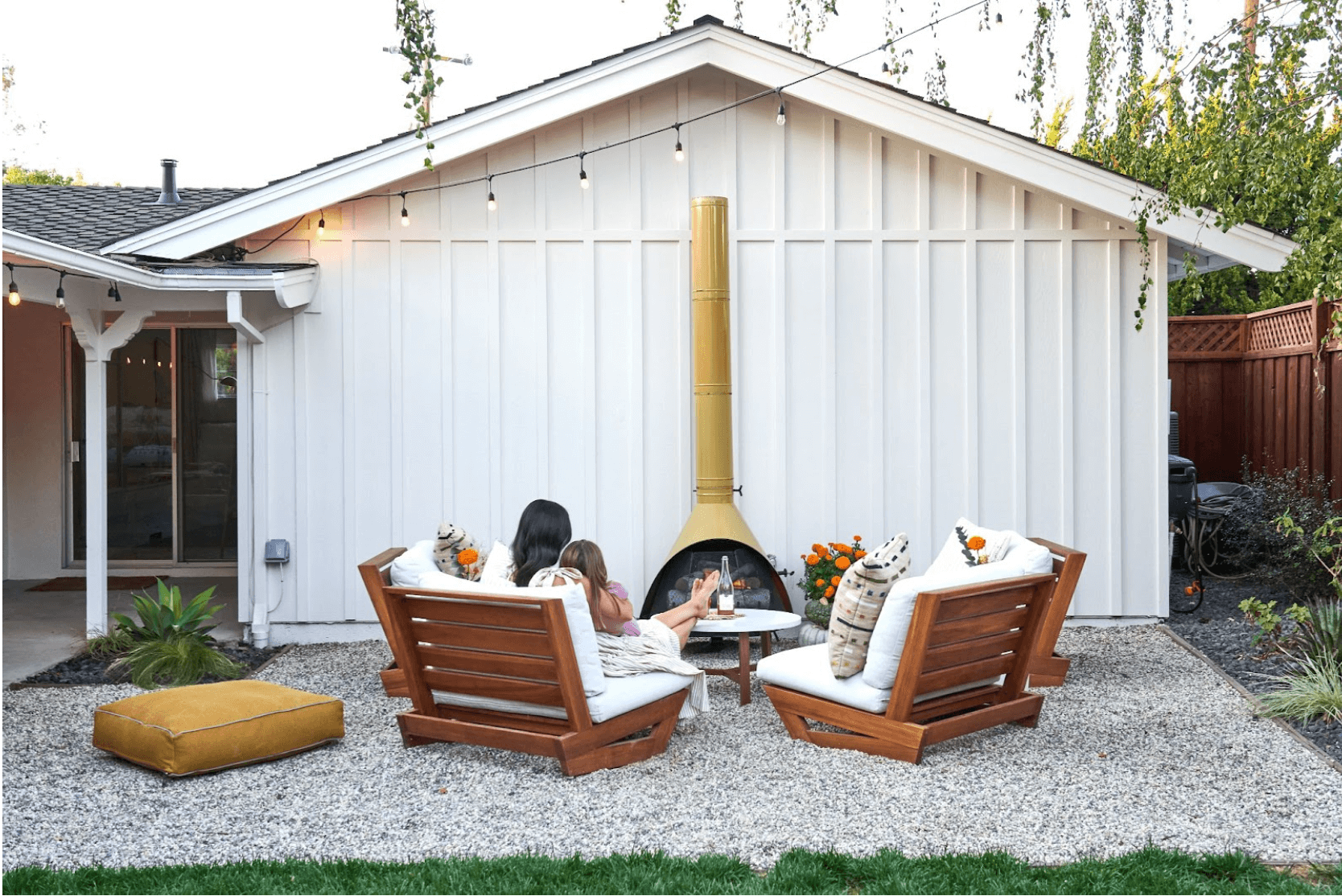 Enjoy the Outdoors – Rain or Shine in the Pacific Northwest
We love twin flames! This property in the Pacific Northwest has two fire features. The fire pit is perfect for propping your feet up and making s'mores with your family. This space has a comfortable, casual feeling for clear nights with a pea gravel patio and versatile seating options ranging from the L-shaped sofa, to the pouf ottomans that can double as footrests. On colder or damper Autumn days, the covered patio provides protection from the elements as well as a bit of extra insulation to keep the heat from the fireplace in. The added lanterns amplify the ambiance in this already dreamy space. Take a look at all of the other beautiful details included in this project!
S'more Time Outside in Suwanee, GA
From summer through winter, this family from Suwanee, GA love to spend quality time outdoors together. The couch is perfect for snuggling beneath a blanket on a brisk autumn day, and the versatile fire pit provides warmth and ambiance. This project also features artificial turf to keep the space green year-round. Read more about this family-friendly retreat in our recent blog post!
Year-Round Outdoor Room in Austin, TX
As the blazing heat of the day turns into cool fall nights in Austin, Texas, this pergola offers both shade coverage and wind protection. The slated wall creates additional privacy to create an intimate space. The pavers flush in the gravel make this outdoor living space barefoot friendly, so there's no need to track down a pair of shoes before heading outdoors. The cozy couch, fire pit, and hanging chair make this the perfect space for enjoying the changing of seasons.
Low Maintenance Living in Los Angeles, CA
With fall comes, well, falling leaves. We love recommending Decomposed Granite (DG) for patios where messy plants are a concern, since it's super easy to rake & blow debris from. Compared to other materials, there's no worry of a DG patio mixing with your lawn or ending up where it's not meant to be. This project in Los Angeles, CA showcases a minimalist fire pit space that's equally aesthetically pleasing as it is functional. The paver pathway leading to this outdoor living space draws your eye to the cozy configuration, making the fire pit a focal point.
Warmed-Toned & Welcoming in Livermore, CA
Long dining tables like the one showcased in this Livermore, CA design are perfect for hosting outdoor gatherings with all of your friends and family. The sage green exterior taps into the feeling of fall while creating a welcoming ambiance. This table would allow for quite the spread on Turkey Day, and the large neighboring sectional space provides the perfect after-dinner spot to digest & continue spending time with the ones you love most. The TimberTech decking is not only extremely durable, but creates a sleek look. No need to worry about missing a step at night, the embedded lighting around the deck's edge creates perfect nighttime visibility.
Twinkle Lights on the Hillside in San Rafael, CA
String lights are the ideal way to light up any night. As the days begin to get shorter, you can continue to enjoy spending time outdoors beneath the glow of outdoor lighting. String lights tie in seamlessly with any design and help to increase ambiance. This property in San Rafael, CA shows off the glow of the lights against the darkening pink sky. This deck space showcases a heater for dining & relaxing on cooler nights, as well as a welcoming fire pit space that's perfect for entertaining.
A Hot Tub Beneath the Sky in Santa Barbara, CA
This project in Santa Barbara, CA features a cedar wood hot tub, which is an ideal way to unwind and keep warm. Nothing quite beats the feeling of sinking into a hot tub on a cool day. Combine this with stars overhead on a dark night, and you've achieved the ultimate level of relaxation. Check out this blog post to see how this yard came to life!
Private Showing in Oakland, CA
Movies on the big screen are always in season.This courtyard transforms into a private theater complete with all the luxuries you could want. As the weather turns cool, this family in Oakland, CA stays toasty with the help of this retro-inspired chiminea and cuddles on the couch as they watch a movie beneath the stars.