2023 is a year of Yardzen yard transformations across the country! From the Bay Area to Denver to Boston, and everywhere in between, Yardzen's design and build teams are creating new outdoor spaces for tens of thousands of families. Of these people, over 90% are adding native plants in their yards and reducing resource-guzzling lawn, and overwhelmingly spend more time outside – on average, Yardzen clients spend an additional 10 hours/week outside after completing their installation!
As we look to 2024, we're more excited than ever to help clients create beautiful, functional, and sustainable yards that do good for their families, communities, and the world!
Heated Plunge Pool Creates All-Seasons Yard
A kid-friendly yard in the Bay Area created for year-round play and entertaining, including a salvaged vintage fireplace and a heated, saltwater plunge pool perfect for chilly evenings. Read the blog post about the transformation and explore our guide to Plunge Pool Design.
Modern Farmhouse Landscaping in Atlanta, GA
Updated Rancher Inspired by Wine Country
A young family of four purchased a rundown rancher in their hometown and renovates the interior and exterior to reflect their love of the look and feel of California's wine country, including an abundance of lavender flanking their front walk. Read the blog post. Find more inspiration in our Guide to Ranch House Landscaping.
Northeastern Yard in Montclair, NJ
Stunning Outdoor Room in Austin, TX
A customer pergola made by Yardzen's ProNetwork contractors creates a stunning outdoor room for all-seasons enjoyment, including a beautiful new couch, swinging chair, and fire pit. Thank you to our client, @imagrace, for sharing your beautiful new space. See more of our favorite pergola designs.
Historic Bungalow with Edible Garden in the Pacific Northwest
An avid gardener purchases an early 1900s bungalow in Seattle and turns to Yardzen to help create a modern space that still honors the home's history. See more photos here!
Coastal Farmhouse in Solana Beach
A California room with farmhouse-inspired details creates the perfect setting for year-round outdoor dining in this landscaping and exterior transformation. Plus, modern mediterranean plantings, including olive trees and agave, creates a beautiful, low-water yard. Learn all about this transformation and see more photos here.
Cozy Backyard Hangout in Denver, CO
A haphazard backyard becomes a family's favorite cozy hangout thanks to Yardzen's design and build teams. Thank you to our fantastic contractor, Grey Rock, for sharing!
Elegant Drought-Tolerant Landscaping in Laguna Nigel
An Orange County home near the ocean becomes a multi-generational hangout – complete with fire pit, hot tub, grill, and outdoor seating. Plus, the front yard goes front water-guzzling to drought-tolerant with the addition of turf, gravel, and mulch. Thank you to our fantastic partners, Morse Landscaping, for sharing!
Social Front Yard with Desert-Inspired Plantings & Hardscape in Phoenix
From an unused lawn front yard to functional curb appeal with flowering shrubs, pollinator-supporting plants, and a dining table and fire pit. We love this Phoenix home!
Traditional Home in Boston with Classic Landscaping in Front & Back
A classic, colonial home in the suburbs of Boston receives a Yardzen makeover, including several climate-appropriate plants, a new paver patio with room for outdoor entertaining, and a fire pit with adirondack chairs and a Solo Stove. Learn all about the Yardzen design and build on Jenna Kate's blog!
Coastal Grandma in Pensacola, FL
This beautiful backyard on the coast of Florida's panhandle exudes the charm of the coastal grandma aesthetic, featuring warm woods and whites and the organic textures of the gravel underfoot.
Modern Bungalow in Long Beach, CA
This adorable bungalow in Long Beach, CA has its own Instagram handle – @theblancobungalow. For this family, drought-tolerant landscaping (they used turf) and beautiful functionality were top priorities, including a social front yard, a hand-tiled front porch, and a built-in stucco bench for a fire pit.
An Ohio Transformation in Partnership with TimberTech
An outdated outdoor space and home exterior take center stage in this midwestern yard transformation, featuring a new deck from our partner, TimberTech!
Modern Backyard with Plunge Pool in Portland
A modern entertainer's yard with industrial details in Portland! We love the bold choices throughout, including a plunge pool with wood deck and wrought iron pergola.
Moody Seattle Backyard
A bold PNW backyard makes beautiful use of the homeowner's love of black and white details. The deep charcoal exterior creates a stunning contrast with the light concrete and gravel, and outdoor furniture, including striped poufs and an umbrella, tie it all together. See more photos here!
An Entertainer's Miami Yard
The couple that lives here–a chef and an entrepreneur– love to host their wide network of friends in their Miami yard, so they turned to Yardzen to make it the ultimate entertainer's outdoor space with a pool, cabana, edible garden, fire pit, and outdoor lounge.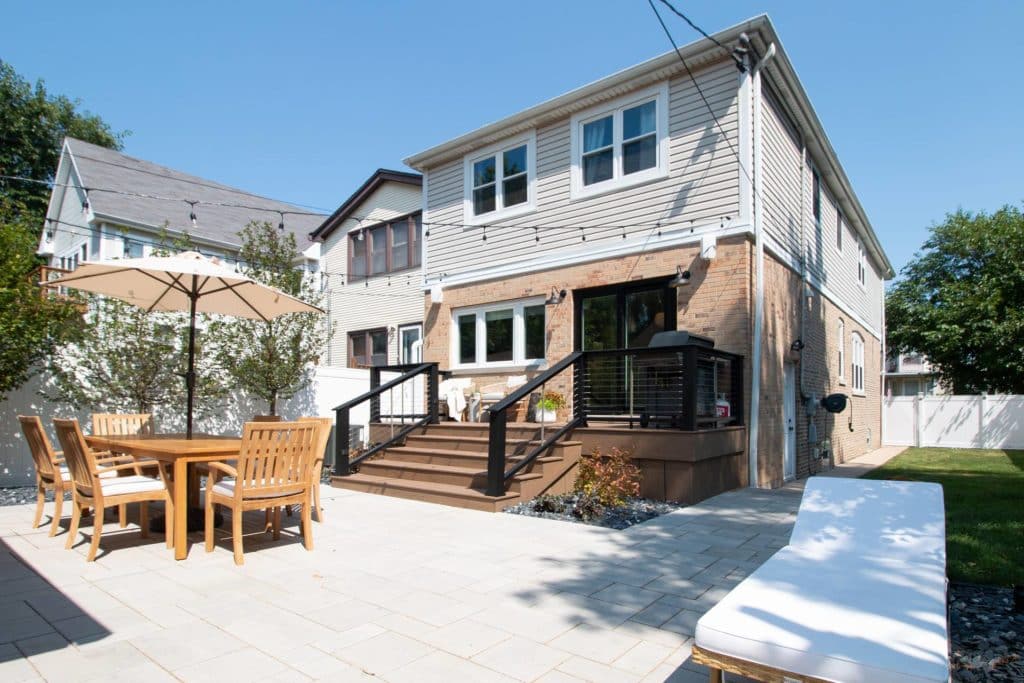 High-Impact Transformation for a Small Chicago Yard
For the family that lives here, outdoor space was a must for enjoying the months of beautiful weather in Chicago, so they turned to Yardzen to create an outdoor space that fits the needs for the whole family – lawn for the kids to run, a deck for grilling, an outdoor TV for date nights at home, and space to lay out and read.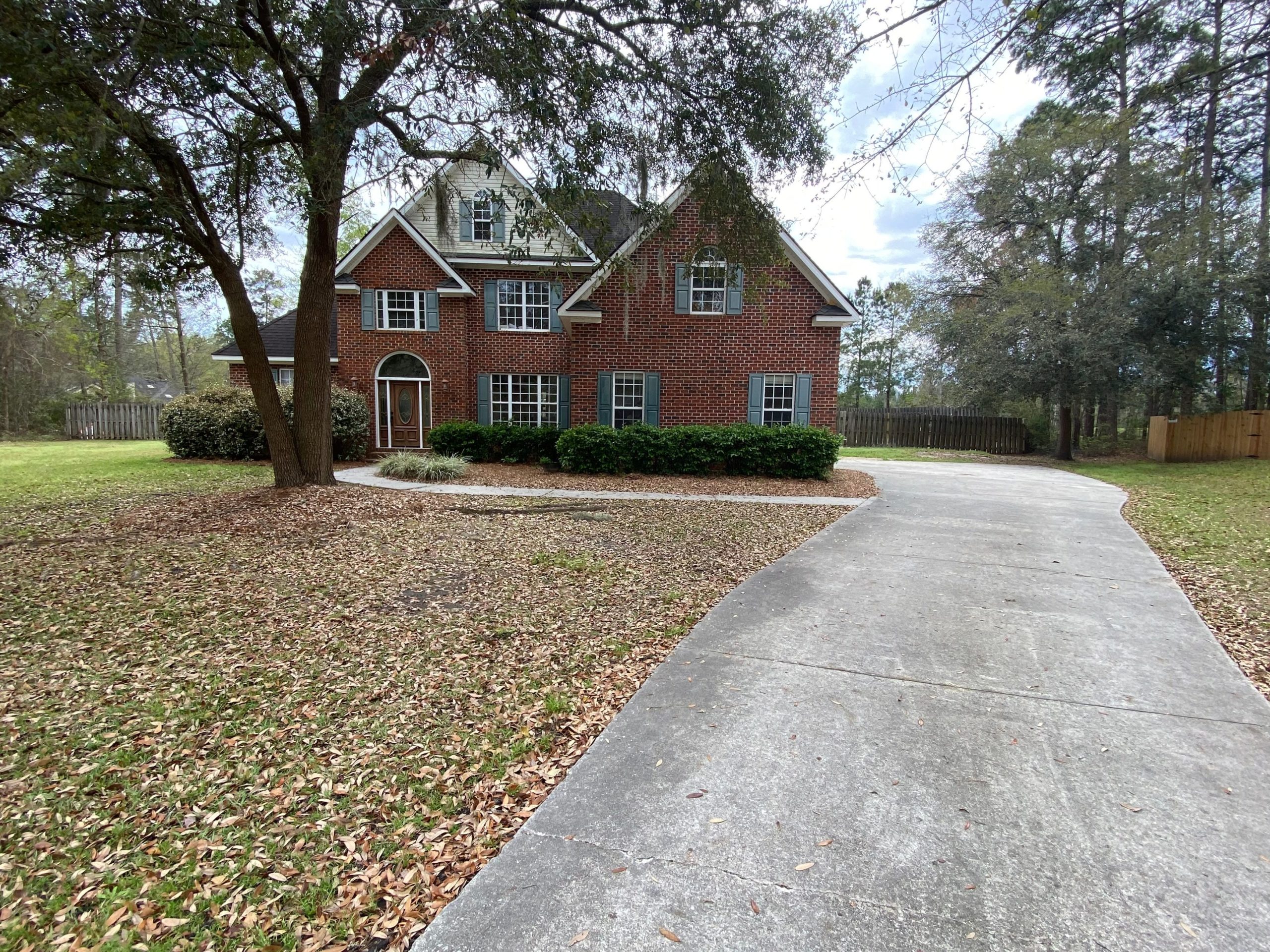 Exterior Transformation in Savannah, GA
A traditional brick home in Savannah, GA receives a Curb Appeal transformation, including new plants, refreshed mulch, and of course, white-painted brick for a beautiful, fresh look. Thank you to our client, Stephanie H., for sharing!
Classic, Contemporary Yard with Worldly Influences
A backyard fitting for a stately modern craftsman with elements in the yard that reflect the exterior choices of the house, including warm and dark woods and slate-colored concrete. In the yard, the addition of 50-year-old olive trees makes this whole space come alive, and the deep blue pool beckons.
Mid-Century Courtyard in the City
This backyard in Oakland, CA celebrates the beauty of indoor-outdoor living in this classic mid-century modern home. When designing their Yardzen yard, our clients wanted to maintain the architecture style of the home – clean lines, original details, and mixed metals. Plus, the vintage fire pit scored at a flea market!
A Desert Escape in Tucson, AZ
This backyard in Tucson, AZ has everything you need for a relaxing day and night outside – regardless of the heat. A plunge pool with a refreshing fountain and in-pool umbrella are where you'll find these homeowners most of the time, unless of course, they are enjoying their new outdoor kitchen, including a wine fridge and grill.
Lawn Replacement & Exterior Transformation in Dallas
The homeowners of this Dallas rancher were tired of the time, effort, and cost associated with their large front lawn. So, they turned to Yardzen to reimagine their yard with turf, eye-catching design elements, like DG and corten steel fencing, and room for seating. Plus new exterior paint! Learn more about lawn replacement rebates.
Woodsy Escape in Santa Barbara
A wood soaking tub is the centerpiece of this hillside Santa Barbara backyard. The terraced yard with climate-adapted coastal plants makes this craftsman home gives this home a unique charm with a distinctly tranquil feel.
Hillside Yard with Room for Entertaining
Yardzen's design and build teams transformed this steep Marin County property into a safe yard for hosting friends and family with a restored deck and view-through railing and new spaces for enjoying company.
Chic Bohemian Yard with Tropical Influences
This backyard is all about visual interest with stunning handmade tiles, a high-contrast deck, and an abundance of lush plantings. Walking through the vine-covered door feels like an escape to a wholly different place.
Entertainer's Yard in Texas Hill Country
Surrounded by vineyards and old growth trees, this home in Texas Hill Country is all about indoor-outdoor living, with multiple seating areas and a pool – complete with handmade tiles.
Entertaining Backyard in Fremont, CA
A modern backyard in the Bay Area created for alfresco entertaining, including a custom pergola, outdoor kitchen, and new deck. Thank you to ProNetwork contractors Empire Pavers for the photos!
Tropical Backyard with Plunge Pool in Santa Monica, CA
Yardzen reimagined this small Santa Monica yard into a tropical oasis with dense plantings and deep-blue plunge pool. The new, richly colored deck creates the perfect indoor-outdoor entry point for this special home. Thank you to our wonderful client, Adam B., for sharing!
Tiny Yard for a New Build Home
This newly built home for a young family in the Bay Area may have a small yard, but it doesn't skip on style or function! Our ProNetwork contractors added a custom pergola and outdoor kitchen and turf to make the most of this small space.
Modern Bohemian Backyard
This modern bohemian backyard feels like a vacation at home with ample room for relaxing and an outdoor bathtub! Plus, the warm in-ground, above, and on the tables–makes this yard transportive.
Elevated Mid-Century Home in Marina, CA
A modern, low-water front yard and elegant mid-century exterior in Marina, CA. The drought-tolerant grasses and shrubs will grow-in beautifully and pop against the custom horizontal fence. Thank you to our client David G. for sharing!