Yardzen's annual trend report compiles yearly trend data from homeowner requests and insights from our expert designers, signaling meaningful changes in landscaping style and functional needs. To date, Yardzen has collected responses from over one million homeowners across the United States, which makes this the most comprehensive outdoor design report available.
This year the data tells a story that homeowners are investing in outdoor projects that increase their enjoyment at home. With high interest rates, many homeowners are delaying an imminent move and investing in creating landscaping that makes them feel happy, whole, and connected.
A throughline in many of these trends is a fundamental shift in outdoor style – the clean lines of modernism give way to organic textures and forms, heavy on habitat-supporting and pollinator-loving plants and trees. This is good for the planet and good for the psyche – the emerging field of "green care" demonstrates the significant therapeutic benefits of being outdoors and around plants, further emphasizing the trend toward creating enjoyment at home through outdoor spaces.
Style
2023 Top Outdoor Style: Organic
The top trend in outdoor design is a feeling and a style. A movement away from the rigidity of modernism– clean lines, stark contrasts, orderly plantings–and a renewed appreciation for the joy of organic shapes and textures. Transitional in nature (neither contemporary or traditional), organic style draws on many of the hallmarks of the English cottage garden with abundant shrubs and flowers, gravel paths and patios, stone, interlacing pavers reminiscent of cobblestone, and antique-inspired decor. Think: any home in a Nancy Meyer movie.
The organic style is a reaction to the mechanization and hyper-connectivity of the twenty-first century. The naturalness of these spaces transports you, beckoning you to put down your phone and indulge in the simple pleasure of being outside. And, the great news is that organic style is inherently low-maintenance and habitat-supporting–it embraces a bit of the wildness of the natural world with the fluid movement of pollinator-loving flowers, grasses, shrubs, and trees.
In the Yardzen yard of @goldenbirddesign, above, organic style comes to life through the use of stone, gravel, grasses, climbing vines, and dimensional olive trees.
By the numbers
100% increase in requests for "cottage gardens" in Yardzen's proprietary style quiz
50% increase in cobblestone pavers
25% increase in gravel in designs
18% increase in garden benches
17% increase in flowers and blooming plants
Maximalist Plantings
As we head into 2023, Yardzen clients are gravitating to "full and lush" plantings opposed to "sparse" softscaping. This fits nicely with our top style, organic, which embraces untamed and dense plantings, although "full and lush" plants can translate across styles, from tropical to traditional. Building on our overarching theme of enjoyment in the yard, this natural exuberance of full plantings creates calm and relaxation. Plus, the more native and climate adapted plants, the better for the environment!
By the numbers
18% more designs with "full and lush" plantings (opposed to "sparse")
Immersive Yards: Designing on a Horizontal & Vertical Plane
A tried and true landscaping principle for drawing the gaze through the yard is to design on both the horizontal and vertical plane, think: pathways, arbors, trellises, and even gazebos for climbing vines. This year's data reflects this desire for playing with height in order to amplify the visual impact of the yard and immersing the viewer in the organic space.
By the numbers
40% of Yardzen clients requested a pergola
47% more designs with pathways
23% more designs with trellises
16% more designs with arbors
16% more designs with gazebos
Functionality
Yards for Wellness
Yardzen clients demonstrate an ever-increasing desire to use their yards for wellness, creating spaces devoted to relaxation and rejuvenation. Study after study shows that being outside is good for your health, plus, the backyard affords additional square footage for dedicated wellness elements. Yardzen clients are seeking out ways to transform their outdoor space into spa-like environments with saunas, cedar tubs, cold plunges, yoga platforms, and outdoor showers. This trend continues to grow especially as more remote workers find ways to achieve a "digital detox" in their own home and work space.
45% increase in request for saunas YoY
34% increase in requests for hot tubs
28% increase in requests for outdoor showers
13% increase in requests for wind chimes
The Plunge Pool
The plunge pool emerged as a top trend amongst Yardzen clients in 2022, and the trend continues with a 15% YoY increase in plunge pools in Yardzen designs. Plunge pools, which are less expensive, require less maintenance, and take up less space than a traditional swimming pool, are a top choice for clients who are eager for a contained water feature that looks beautiful in any yard. Explore more Yardzen Plunge Pools!
By the numbers
Requests for plunge pools up 15% YoY
"Size Up" At Home with Creative Use of Space
As homeowners hunker down in their current home, they are looking for creative solutions to expand their square footage. Many Yardzen clients are getting creative with space by adding sheds to their yard—the much less expensive option to an ADU. Tuff Shed is Yardzen's go-to with several customization options to create the perfect storage solution, home office, kid hangout, or gardening shed.
By the numbers
33% more designs with ADUs, sheds, and storage
Yardzen's award-winning online landscaping design is tailored to homeowners across the United States. Our design process begins with understanding your space and a discussion of your budget and vision to minimize surprises when it comes time to build.
Yards for Play
Over 70% of Yardzen clients are parents, and every year, these homeowners demonstrate an increasing desire to create a backyard for play. In keeping with our 2023 theme of enjoyment in the yard, parents want to create a yard that is not only beautiful, but fun and enriching for their kids, helping keep them off of screens and connecting with each other and finding joy outdoors.
By the numbers
14% increase in treehouses
85% increase in slides
28% increase in play structures
Get Your Hands Dirty
The pandemic ignited a desire for growing fruits and vegetables at home, and that trend is here to stay. Since 2020, we've seen requests for edible gardens and raised beds increase every year, and that trend is not showing any sign of stopping. Homeowners want to get their hands dirty and grow their own food (especially as produce prices soar).
By the numbers
30% of Yardzen clients request raised beds
43% increase in requests for a greenhouse
Day-to-Night Yards for the Outdoor Entertainer
One of the top requests amongst Yardzen clients is room to entertain, and among these homeowners, they want amenities in their yard that transition their outdoor spaces from day to night. This includes long dining tables for large groups, outdoor bars, pizza ovens, and heaters for memorable evenings under the stars.
65% increase in pizza ovens
68% increase in large outdoor dining tables for 8+
69% increase in outdoor bars
Over 60% of Yardzen clients request outdoor lighting and 56% request firepits
41% increase in outdoor heaters
The Outdoor Living Room
Fire pits have long been a favorite amongst Yardzen clients – almost 60% of Yardzen designs have a firepit in them. While fire pits remain a top request, there has been a notable spike in requests for outdoor fireplaces this year as more and more homeowners translate their favorite interior amenities to their outdoor rooms.
40% increase in designs with outdoor fireplaces
Climate-Responsible Yards
The New Lawn
There is no denying that sod lawns are a net-negative for the environment. The inputs required– water, fertilizer, gas-powered blowers and mowers– and the scant benefits to pollinators and habitat means that our design team is on a mission to reduce as much lawn as possible in our clients' yards. Of course, we understand that homeowners have real, unique needs for lawn for kids, pets, and as a regional style in areas with abundant precipitation, and so our stance on sod grass is nuanced: reduce as much lawn in your yard as you can.
Homeowners have headed this call, and the Yardzen data bears this out. Eager to lessen their environmental footprint, in the last year, 24% more Yardzen clients opted for artificial turf over sod grass, and 13% more requested to remove their lawn altogether (many cities have great rebates for lawn removal).
Explore our guide to Grass Alternatives, Low-Water Landscaping, and No-Grass Front Yards for inspiration.
By the numbers
13% increase in requests to remove lawn altogether
24% increase in request for artificial turf
40% opt for a balance between lawn and plantings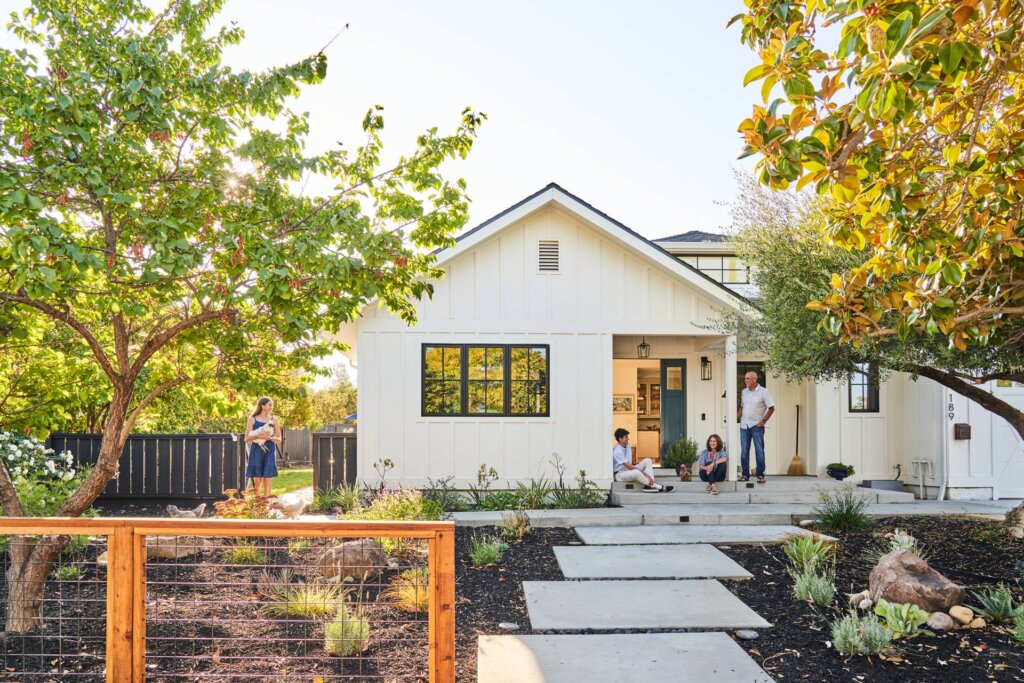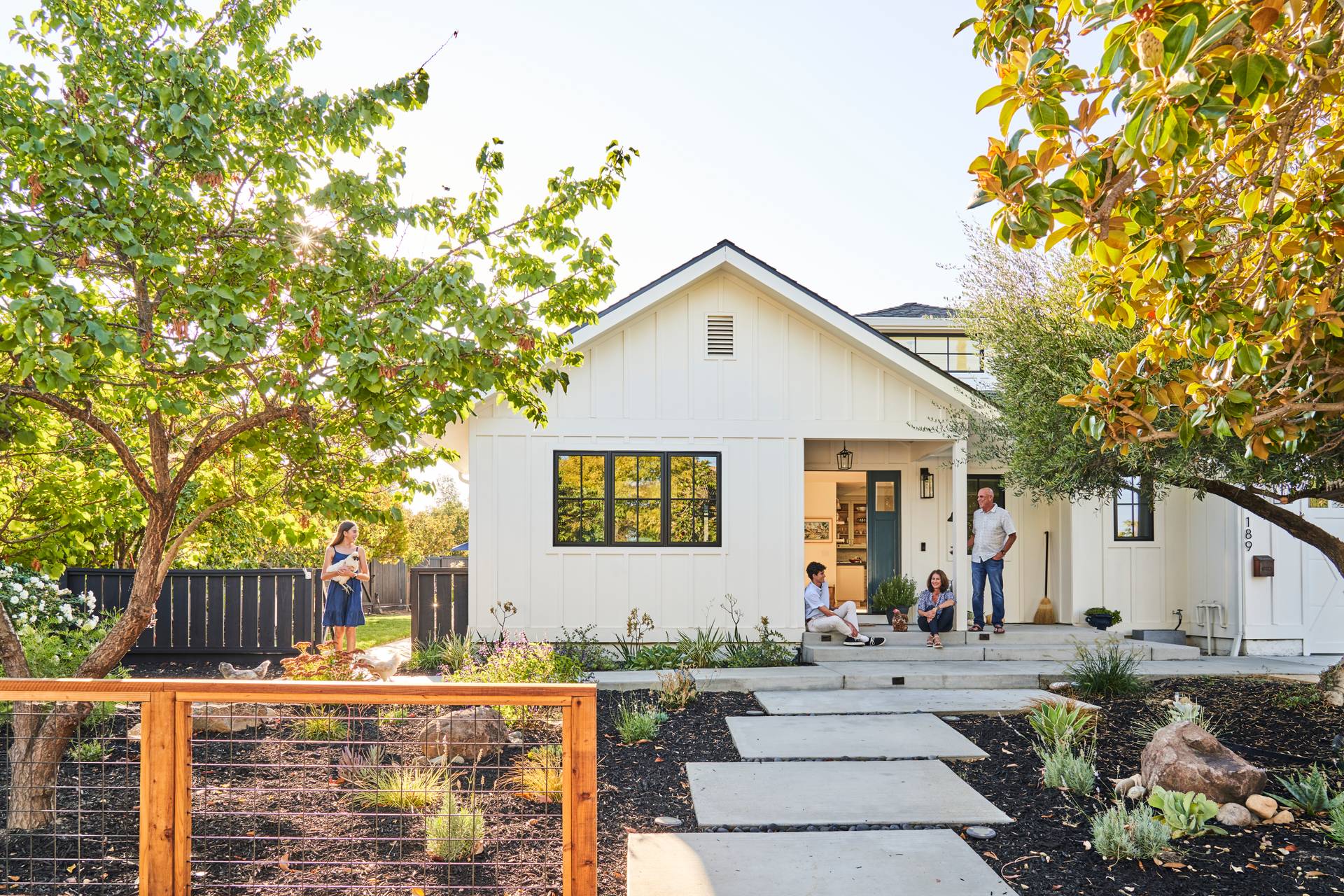 Designing for Drought
With extreme drought in the West and historic drought conditions through much of the country, homeowners nationwide are rethinking water usage in their yard. Even in areas with high rainfall, the thought of watering a lawn is becoming increasingly unpalatable as we think about a changing climate and the future of water resources worldwide.
By the numbers
17% increase in requests for drought-tolerant plants
Bring on the Trees!
Many trees are keystone species, which means that even adding one to a yard can exponentially improve the environmental impact of the landscape by creating habitat. We also know that trees are crucial for reducing climate-warming heat islands, and there is a growing body of research that indicates that trees create safer communities (University of Washington) and increase property values (Arbor Day Foundation). The function and aesthetics benefits of trees are numerous, too– they create privacy, act as "statement" specimens in a design, and add lushness and depth to a yard. Yardzen is proud that 47% of Yardzen clients request additional trees in their yard, which is up 12% year over year.
By the numbers
47% of Yardzen clients request additional trees in their yard, up 12% YoY
Exterior Design
Going Dutch
Over the last year, dutch doors have been a top request amongst Yardzen clients who are looking to add personality to their home's exterior and create a moment of indoor-outdoor living.
Make a Statement with Siding
Requests for exterior siding are up across the board (and batten). Siding adds richness to a home's facade and is a beautiful way to highlight architectural elements. Top siding requests include board and batten, stone, and lap, all of which can completely transform the look and feel of a home.
By the numbers
91% increase in board and batten
73% increase in stone siding
30% increase in lap siding
Top Exterior Paint Color: Benjamin Moore – Slate Blue
Yardzen's designers chose Benjamin Moore's Slate Gray, a dusty blue-green, as the top exterior paint color of 2023. This antiqued, French blue is perfect for both a home exterior and trim and pairs perfectly with the vibrant colors and textures of an organic-style yard.
Top Front Door Color: Black or Charcoal
As part of Yardzen's exterior design offering, many clients opt to increase their curb appeal by changing the color of their door – one of the easiest and most cost-efficient ways to transform the look of your home's front face. Among Yardzen clients and designers, timeless, high-gloss black or charcoal is a top-choice for front doors as it makes an immediate impact and pairs with many home styles – both modern and traditional.
30% of Yardzen clients change their front door color to black or dark charcoal
Window Embellishments are Back
Harkening back to the quaintness of "organic" style, we're seeing a renewed interest in window dressings, including window planters and shingles. Top styles of yesteryear, these classic elements add contrast and character to the home and create opportunity for seasonal zhuzhing.
41% increase in requests for window planters
54% increase in requests for shingles
Statement Front Porch
The front porch sets the tone of the home's exterior, creating space for seasonal decor and functional elements, like porch swings and statement doormats. One of Pinterest's top trends of 2023, too, the front of a home adds additional square footage for gathering, and it's a place to showcase a homeowner's style with house numbers and door knobs. Yardzen clients love working with their design team on reimagining this entry to their home.
By the numbers
14% increase designs with porch swings
15% increase in requests for house numbers
42% increase in requests for door knobs
Designing Your Custom Yard for Joy and Function
We want to make sure our team of professional landscape architects and designers can personalize your yard, delivering a vision that includes what's most important for your outdoor life, style, and unique environment while keeping costs within range. We do this by utilizing our in-house Build Team made up of former landscape contractors with years of experience and our Pro Network of vetted professional landscapers across the country.
Ready to level up your outdoor spaces with a professional landscape design? Yardzen can help. Create your design profile or explore our design packages today!