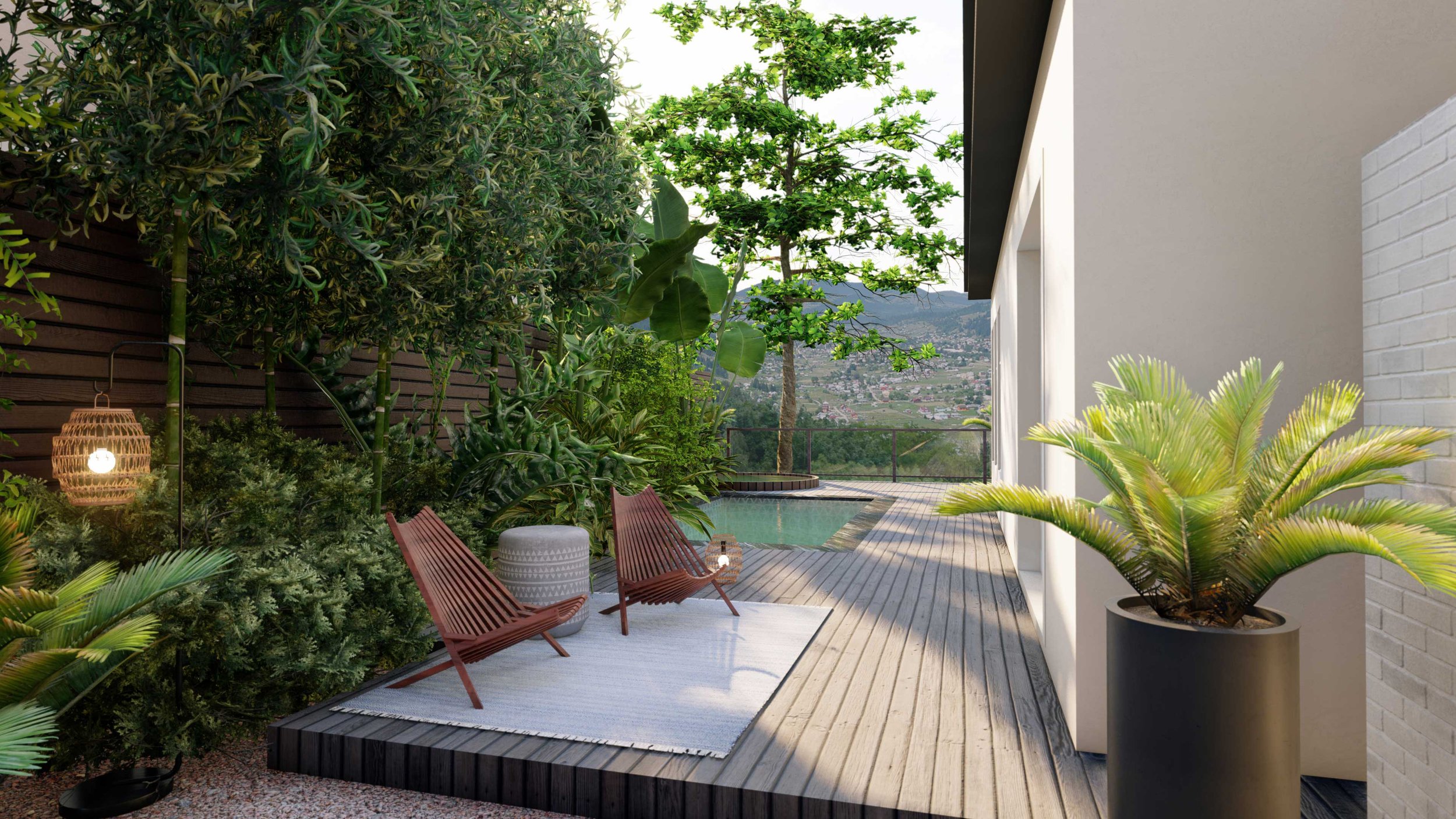 Ah, the side yard — the skinny, pass-through space along the side of your house where most homeowners store their trash cans and not much else. While there are constraints to designing a side yard that don't apply to front yard and backyard landscaping, limits like these are what fuel creativity and inspire the most delightfully surprising outdoor spaces. In other words, where others see an unusable space, we see unlimited potential.
Here are a few of our 3D renderings created for clients across the country filled with our favorite side yard design ideas to make this overlooked space work overtime for you and your family.
01 Side Yard Pools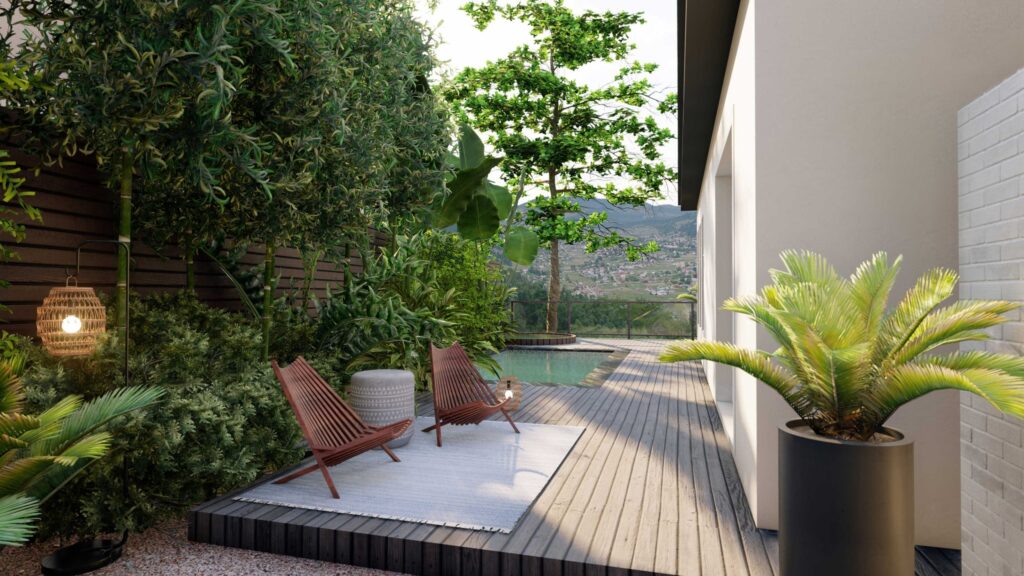 Who says you can't swim in the side yard? If all you need is a dip, a plunge or stock tank pool will do you just fine. This design smartly prioritizes the gorgeous mountain view, and leans into making a peaceful space for taking in the scenery.
A deck defines a distinct and upscale zone, while establishing a dark hardwood theme that repeats in the modern horizontal board fencing. On the deck, the layout and furnishings respect the narrow space, taking a minimalist approach to maintaining openness and easy circulation.
Abundant greenery heightens the sense of enclosure, creating a lush and private environment. This ramping up of the enclosure in turn ramps up the drama of the view, as the cozy yard gives way to the full panoramic width of the scenery.
02 Shady Side Yard Hideaway
This side yard packs a lot into a small space. The pergola is the big move, establishing an outdoor living space while maintaining critical sight lines to the back yard. By offering dappled shade and cooling breezes, the pergola creates a comfortable environment for the seating area. The sturdy frame also supports a hanging daybed, which begs to be lazed in.
Sticking to essential furnishings maintains room for comfortable circulation throughout the patio, while leaving plenty of space for a modern concrete paver path along the side of the house.
Material choices stitch everything together into a cohesive whole. Concrete, blonde wood, white cushions, and charcoal accents express a decidedly modern style that remains approachable (the giant cushions don't hurt, either!).
03 Space for Socializing in a Narrow Side Yard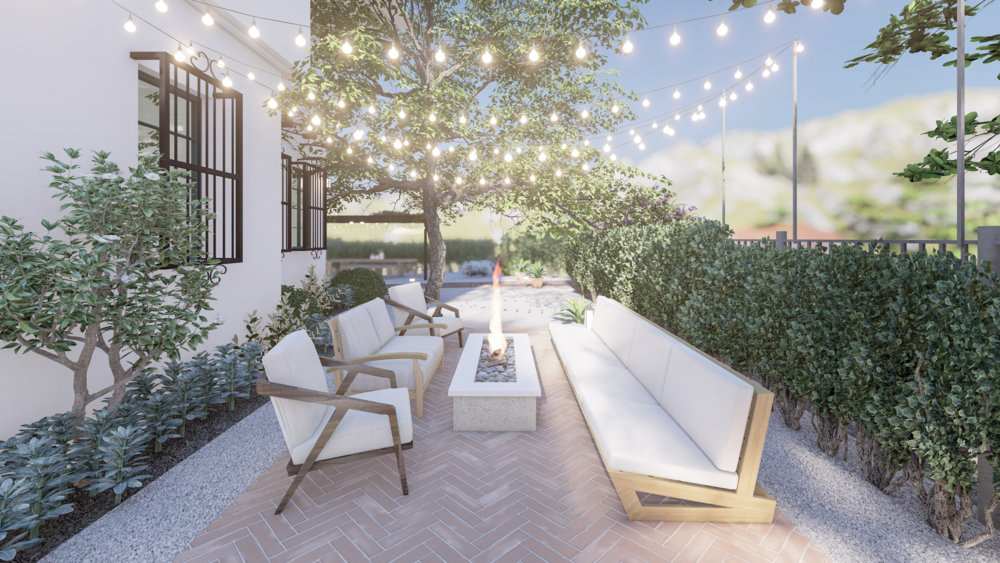 Side yards are long and skinny. This design follows suit with linear brick in a herringbone pattern, a slender rectangular fire pit, and an extra-wide low-profile couch.
A loose hedge on one side continues the linear theme, offering privacy and softness to this outdoor space. The garden bed along the house is similarly simple, with long patches of groundcover softening the edges of the space.
Pale hues abound, from bright wood, to faded brick, to soft gray gravel, to creamy walls and cushions. Taken together, it's like stepping into an old photograph. Restraint in the color palette lets the lights shine, literally and figuratively – the twinkle of bistro lights adds outsized charm and beckons you to have a seat by the fire.
04 Al Fresco Dining on a Side Yard Deck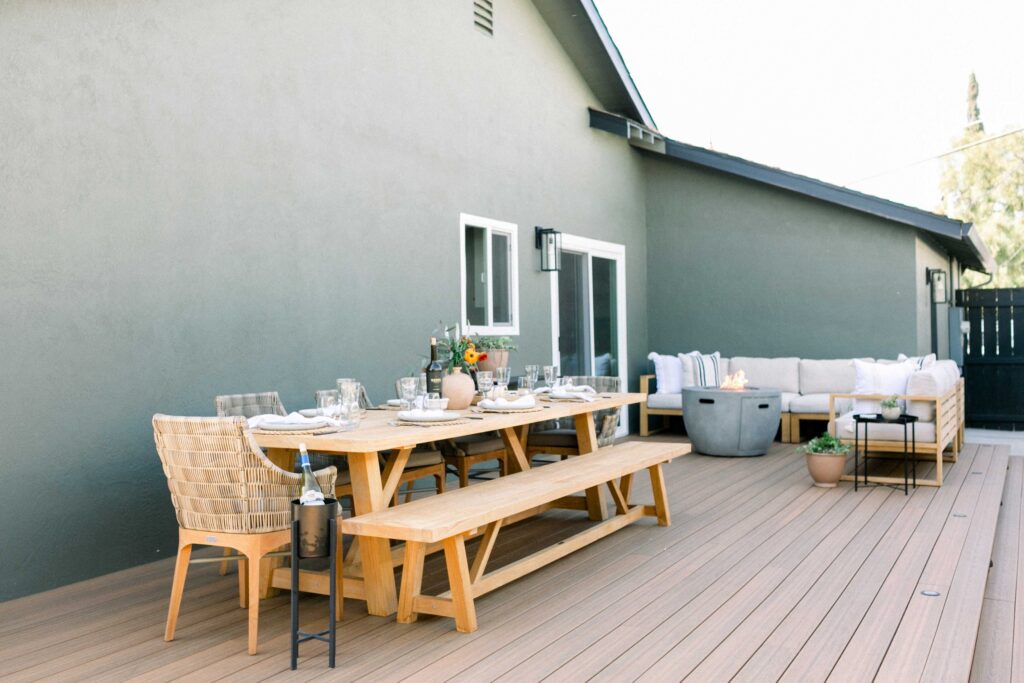 This design brings the inside outside. With a new deck set at interior floor elevation, a view from inside through the double glass doors gives the impression that the outdoor lounge area is an extension of the interior living room. The indoor/outdoor theme continues with a well-appointed dining area.
When it comes to style, the furnishings do heavy lifting, establishing a look that is upscale but eminently livable. The deck itself features a wrap-around stair and recessed lighting, cutting a modern figure while keeping things as open and free-flowing as possible.
Our favorite touch: the misty green house. It's hard not to feel calm while wrapped in this color, and it makes a great background for the bright neutrals of the furniture to pop against.
05 Outdoor "Zones" with Hardscape and Gravel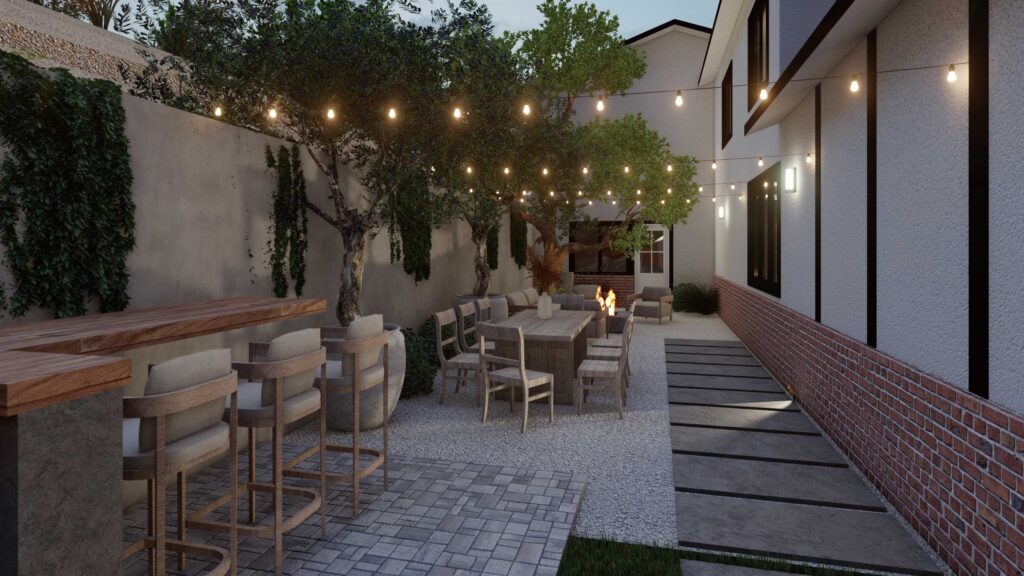 This design says no thanks to vertical barriers, relying instead on groundcover materials to define different zones. The result: a free-flowing sequence of spaces, each moving naturally into the other, with long, unobstructed views binding them into a single cohesive design.
Hardscape materials set the mood. At one end, concrete pavers offer a stable surface and polished feel for the kitchen/bar combo. Elsewhere, gravel lends the dining and fire pit zones a casual ambience. The dining zone gets an added Italian kick from giant potted olives and charming bistro lights. A path of modern oversized pavers traverses this gradient from formal to casual as you move across the yard.
Planting is sparse, bloom-less, and low maintenance, sticking to a palette of greens that softens the space without demanding attention.
06 Dense Planting in a Zen Side Yard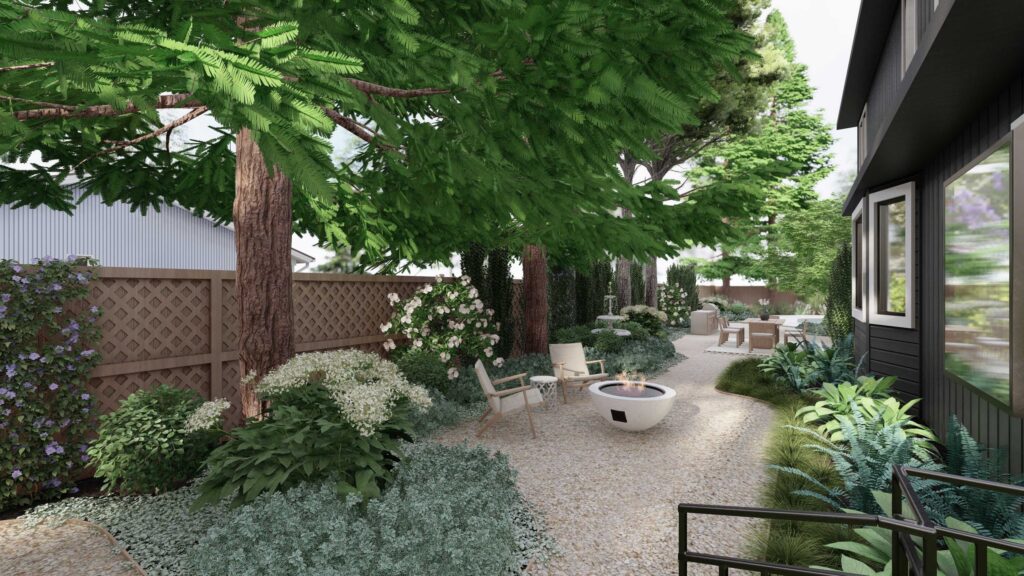 If you're looking for a meditative moment, it'd be tough to beat a seat in these chairs. Plants drive this design. Dense, layered planting in silvery blues and greens lends a soft and calm character to this private space. The texture-forward planting pairs nicely with the crunch and grit of gravel and concrete.
The organic edges of the planting beds push and pull, swinging fenceward far enough to make space for a modest but stylish fire pit and a couple comfy chairs. Existing pine trees compliment this moment with a swaying ceiling of branches.
Further back, a water feature adds a pleasant trickle to join the rustle of foliage in the breeze.
07 Side Yard Fairy Tale Garden Path
This design goes a step further, letting plants completely command the scene. The only furnishings – oversized clay planters – beat a rhythm along the left edge, and are themselves overwhelmed by the large olive trees they contain.
The formality of the planters contrasts with everything else: the massed planting, the abundant flowers, the path edges dissolved beneath foliage.
The effect, intended and achieved, is to embrace the side yard as a passageway. It's a floral fairy tale of a path, and it builds wonderful anticipation for what the backyard will reveal.
Not sure which package is right for you?
08 Functional Planters and Pavers in a Side Yard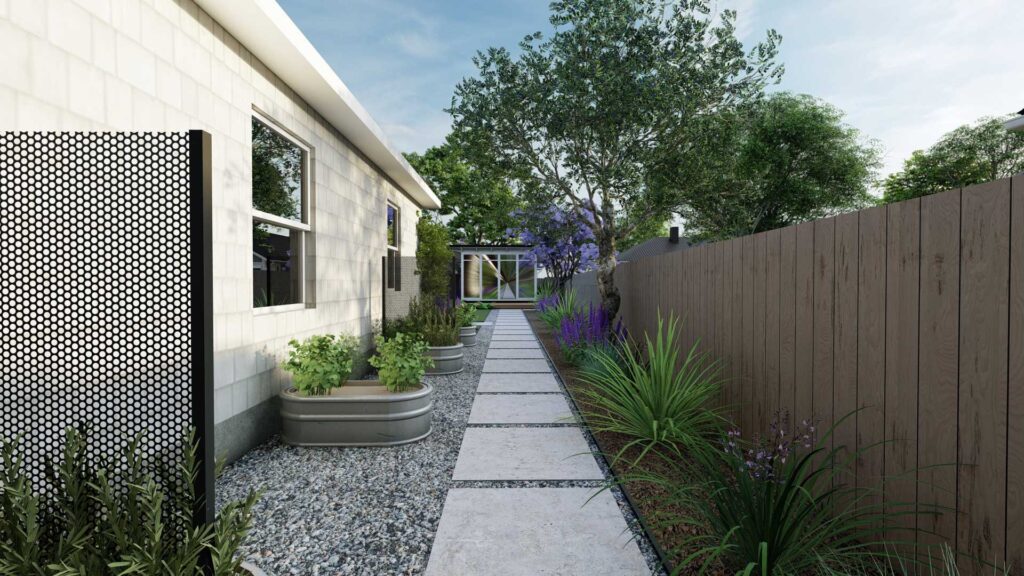 Fashion and function shake hands in this pragmatic but beautiful side yard. The design opts for a rustic flavor of modern design, where gravel and a small garden with galvanized trough planters pair up with crisp concrete pavers and a prefab metal privacy screen.
The decidedly informal feel is a nice counterbalance to the formal layout: planters and pavers set at steady intervals, a modern ADU stationed at the head of the axial path.
Along the fence, a planting bed of mixed perennials set in bark mulch keeps things casual, again playing with tension as a foil to the orderly planters across the path. The same function could be achieved with different design styles. A path using stepping stones or flagstone rather than concrete pavers would feel more traditional or organic, for example.
09 Container Garden Design in a Side Yard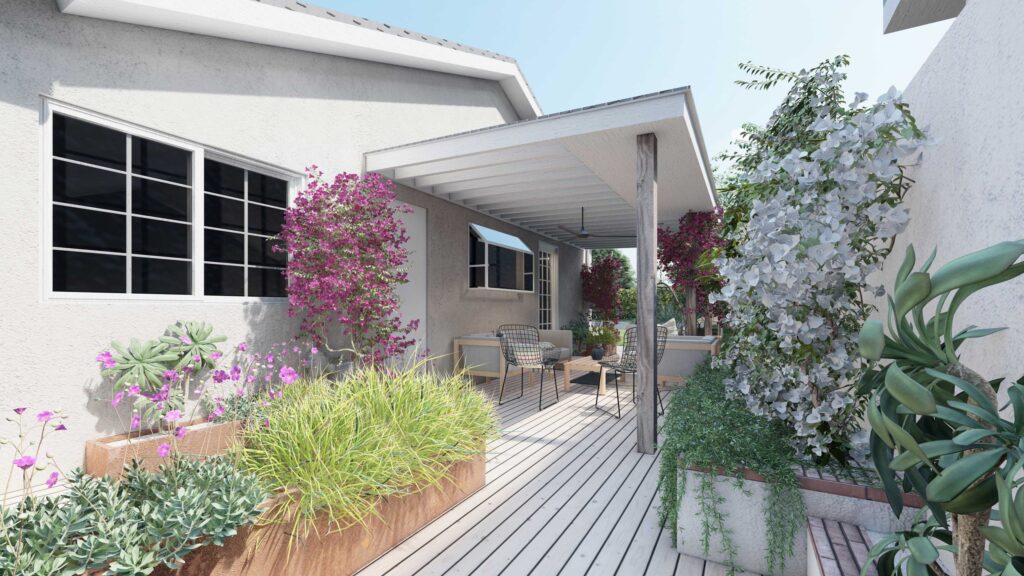 With a few zigs and zags, this container garden creates two distinct zones while maintaining a comfortable path across the deck. Nice trick!
The containers also amplify lushness, elevating plants near (and sometimes above) eye-level for those seated in the covered patio. Bursts of color from Calandrinia spectabilis (a Yardzen favorite!) lend warmth to the sunny west-facing wall, as do the rusty hues of prefab corten planters. Barbara Karst Bougainvillea repeats at pergola posts and house corners, a magenta punctuation mark knitting the disparate spaces together.
On the shadier east-facing wall, cool green planting establishes a calming backdrop to surround built-in bench seating.
10 Black and White in a River Rock Side Yard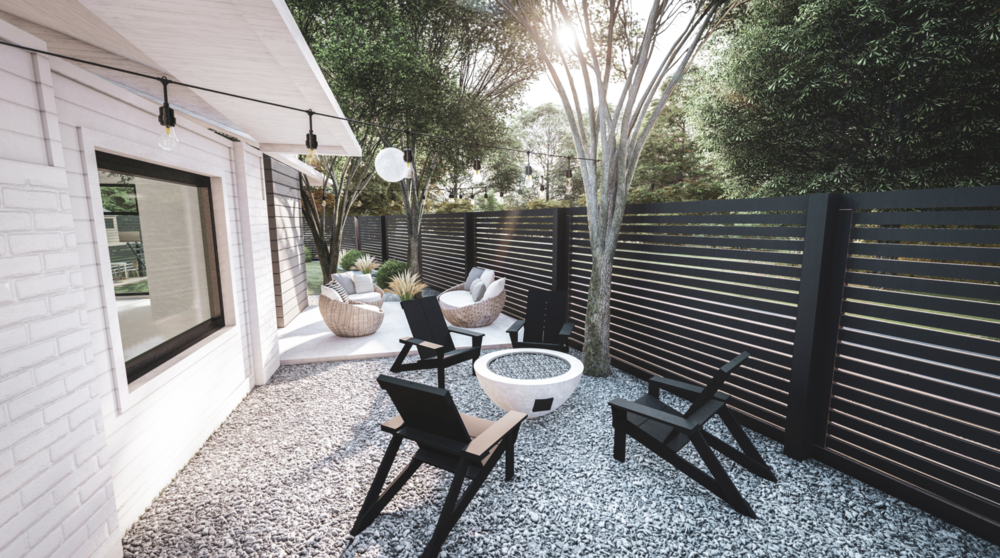 As themes go, black and white is hard to beat. A coat of paint elevates humble Adirondacks and a horizontal fence to sleek modernity, while bright tones from concrete paving, a circular fire pit, creamy cushions, and white walls set a consistent, clean theme across this side yard.
Mature trees offer pleasant dappled shade by day, while string lights gracefully outline the yard at night. Lest things get too coldly modern, the design incorporates limited but meaningful pops of warm organic materiality from wicker chairs and, further back, ornamental grasses.
11 Sloped Flower Bed Above Side Yard Patio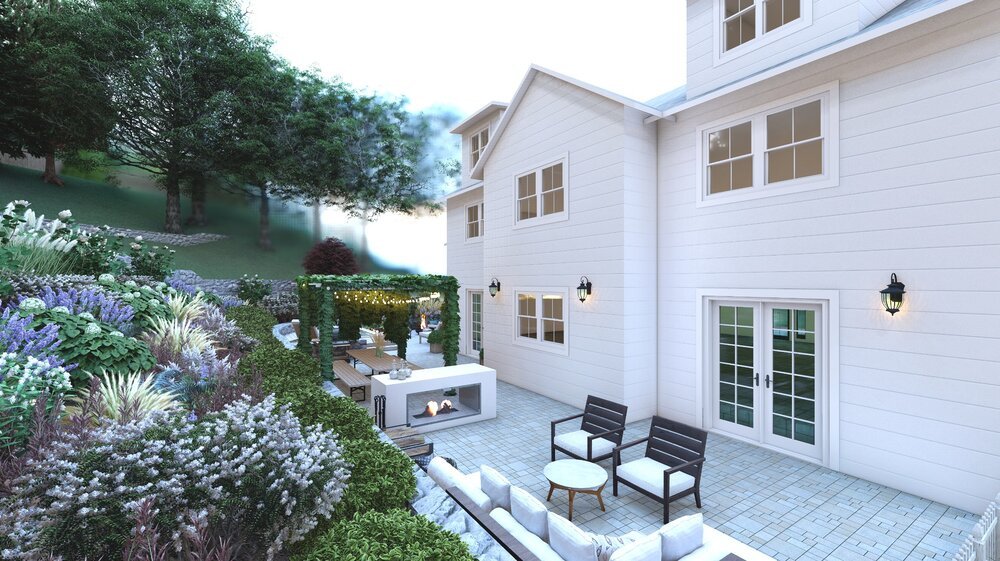 This New England design delivers on its promise to provide an elegant, all-purpose entertaining space. With more room to play with than your average side yard, the lounge zone in particular embraces an open feel. Movable chairs take in the densely planted slope above framed by a stone retaining wall, while the L-shaped couch directs attention back to the double-sided fireplace, which forms the focal core of the design.
Stately gray pavers in a multi-size pattern stitch each space into a common field, while a broad path along the house, punctuated by wall lanterns at regular intervals, encourages free-flowing circulation. A pergola shading the dining area doubles as a trellis for climbing vines, creating a stunning effect above string lights. There are few frills, just a sequence of attractive, comfortable spaces, nestled between a large white house and an even larger forested landscape.
Side Yard Landscaping FAQs
How can I make my dirt side yard look nice?

A dirt yard is a blank canvas. What you do with that canvas will depend on your project budget, functional goals, and style preferences.

Those looking to minimize expenses or complete a quick diy could rely on cost-effective groundcover materials like gravel and decomposed granite to establish distinct zones.
Key planting can help to emphasize spaces while avoiding barriers – vines on walls, upright screening plants, container plants positioned at corners, or (our favorite) small trees planted adjacent to seating areas are all tried and true solutions to lend character and definition to spaces without interrupting flow.

Prefabricated design elements, from furniture, to plant containers, to fire pits, also offer an affordable and flexible way to achieve a broad range of design goals. The movability of free-standing furniture helps to minimize barriers, maintaining openness in the limited space side yards typically offer.

When choosing prefab elements, aim for consistency – a unifying theme, be it a color, a texture, or some other repeated characteristic, helps a design look intentional.



What should I plant in my side yard instead of grass?

Great question! There is no shortage of options when you are looking for a lawn replacement.
Artificial turf or mulch are optimal for play surfaces, while gravel and decomposed granite are affordable and effective for utilitarian zones.

If you are looking to swap in new planting, the world is your oyster! While few plants can match grass's toughness underfoot, many groundcovers can handle limited foot traffic, including the floral blue star creeper and creeping thyme, and green favorites like Scotch moss and dwarf mondo grass.

Rather than simply replace lawn with a single massive groundcover planting, we look to create the biggest positive impact with the area occupied by the lawn. This could mean mixed planting, with trees and small scenes of perennials and shrubs interspersed with patches of groundcover planting. It could also mean new hardscape zones, for reading, eating, or entertaining. Usually it's some combination of a few things.



What pavers or walkway materials should I use in a side yard?

Side yards are often the least utilized space on a property. If your side yard will only be a passage to get from A to B, you should limit your investment in it, prioritizing spending on other higher impact areas of the yard instead. If you plan to do more with your side yard, we suggest investments can rise to support your goals.
Now apply this logic to paving.

For side yards that are seldom used, keep it cheap. Gravel is a great option, as is decomposed granite, but if you have existing paving, simply leaving it be may be your best bet.

One caveat: if you roll trash cans or wheelbarrows down your side yard regularly, you'll want a stable surface. DG will suffice, concrete is nicer. Whatever you do, avoid gaps in paving to avoid a bumpy roll.For side yards with grander intentions, you'll want to choose path materials in the same way that you do in other parts of the yard, considering style and function to make sure your path is easy to use, attractive, and cohesive with the rest of the design.



How do I make my side yard private?

Plants are our favorite tool to achieve privacy in a side yard. From monolithic hedges to mixed rows of canopy trees, there are many approaches you can take to block incoming views.

For narrow spaces, a row of slender, upright shrubs does the trick. Space them to allow a bit of growing room. Especially when budgets are tight, we prefer leafy species over dense evergreens – you can get away with buying fewer plants when you opt for leafier, broader species. We like the delicate, shiny leaves of Pittosporum 'Silver Sheen', which seems to visually impede on a space less than darker, more large-leaved species.

Whatever species you choose, we suggest leaving it in its natural form, unless you want an overtly formal look.
For those with a bit more space, small canopy trees can be wonderful for privacy. Taller trees can also block views from neighboring upper-story windows. Plant trees at a distance where canopies will just overlap throughout the zone requiring privacy, and layer in low- to mid-height planting below and between to create a layered planting composition.



How do I make my side yard functional?

When space is limited, as it usually is in side yards, you can maximize function by minimizing barriers and prioritizing openness.

Use groundcover materials to define different spaces like your garden, seating, or lounging areas. Avoid using vertical elements like walls, built-in seating, or rows of planting along the edges of spaces. By keeping edges clear, you permit circulation throughout the yard and fortify the sense of connection between spaces.

Use prefabricated seating and furniture. Pieces too heavy to move should stick to the perimeter, and out of the path of circulation. Lighter pieces that are easily moved can overlap with paths. The more movable the furniture, the more adaptable the space – for larger groups, simply clear out lightweight furniture to create more space.
Designing a Side Yard Landscape Tailored to Your Needs
Yardzen's award-winning online landscaping design is tailored to clients in all fifty states in the U.S. Our design process begins with understanding your space, your aesthetic preferences, and a discussion of your budget and vision to minimize surprises when it comes time to build.
Our top-notch designers then develop a personalized vision for your yard, shared through 3D renderings, 2D plan drawings, and plant and material lists. Your design will capture the look, feel, and function you are hoping for, all while keeping costs within range.
Once your design is complete, we'll help you connect with a local contractor from our Pro Network of vetted professional landscapers to install your new design.
Ready to level up your home improvement and curb appeal with a professional landscaping project for your backyard, side yard, or full yard? Create your design profile or explore our design packages today!