At Yardzen, we believe that outdoor living at home can happen year-round–if you plan for it! Whether you live in a particularly hot or cold climate, our expert design team has solutions for helping you enjoy time outside through all of the seasons. From planning tips to our favorite functional features, here are our top tips for designing your year-round yard.
Plan Accordingly
When designing your yard with Yardzen (explore design packages), you'll work closely with your design team to create a plan that accounts for sun, shade, and wind patterns, ensuring that you are comfortable outside throughout the seasons. For example, if you have a place in your yard that gets particularly wet and windy during the winter, your designer and horticulturist can suggest plants and structures, like a pergola, that will help protect you from the elements. The same goes for temperature extremes, which can be mitigated by the thoughtful placement of the functional features and furniture in your yard.
Smart Planting
Every Yardzen design team includes a horticulturist who will ensure that your planting plan achieves your outdoor living objectives. For many, that includes plants that protect against the elements. For example, trees for shade, ground cover for cooling, and hedges for protecting against the wind.
Pergolas & Shade Sails
Pergolas and shade sails are a great way to protect from the elements throughout the seasons. Many pergolas come with an option to create a sun- and rain-proof roof with cantilevered canopies. We especially like the waterproof wing top from Toja and shade canopies from Azek (Yardzen designs feature products from both brands).
Fire Pits & Fireplaces
Fire pits and fireplaces are the most requested features in Yardzen yards, and for good reason. They visually and functionally transition the yard from day to night and summer to winter, keeping everyone comfortable when the temperatures dips. A couple of our favorite fire pits include this Lulu & Georgia Fire Bowl, Solo Stove, and Terrain Chiminea.
Year-Round Interest
Adding an outdoor kitchen, pizza oven, or grill is a great way to encourage family and guests to gather outside even when temperatures cool.
Plunge Pools
The small size of a plunge pool makes it more affordable and energy efficient to heat and cool depending on the season. Many of our clients opt for prefabricated plunge pools, like Soake Pools, which double as a hot tub and cold pool. This Yardzen family (yard pictured above) uses solar to heat and cool their plunge pool throughout the year.
Light Up Your Yard
Light is a crucial yet often overlooked element for transitioning your yard from summer to winter and day to night. A simple lighting plan (included in all Yardzen design packages) can cozy up any outdoor living space. Discover our top lighting recommendations in our Guide to Landscaping Lighting.
Get Creative
Reimagine covered outdoor spaces into your new family hangout. For Yardzen's cofounders, Adam and Allison Messner, they transformed an unused carport into their outdoor living room (above) Same goes for covered porches and walkways!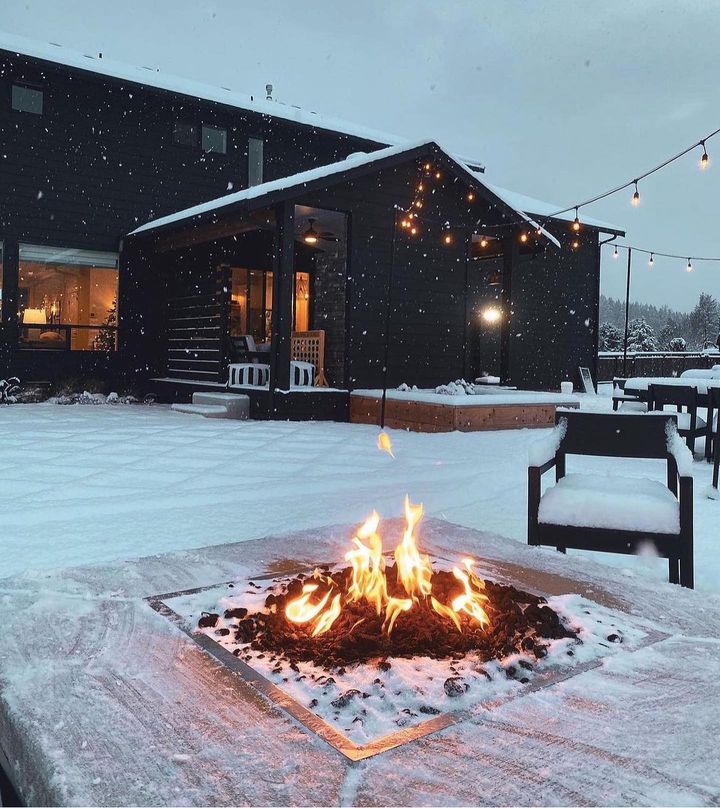 Embrace the Elements
This is sometimes easier said than done, but there is always a way to find magic and comfort in your outdoor living space. Just be sure to dress accordingly!