Landscape design & build for Thousand Oaks
Yardzen designs everywhere in the U.S. and the Thousand Oaks area is one of our favorites. Though both downtown LA and the Pacific Ocean lie within striking distance of Thousand Oaks, neither bears much impact on the feeling of the place.
EXPLORE DESIGN PACKAGES
Climate & Terrain
The experience of Thousand Oaks is driven by the landscape. Lying in the Conejo Valley and ringed by the Santa Monica and Conejo Mountains, it is a dramatic setting that offers residents that ideal Southern California climate of warm weather and abundant sunshine. And yes, there are a whole bunch of oak trees, some 50,000 to 60,000, according to to be exact.
Neighborhoods exist in both flatlands and hilly slopes, presenting a fun variety of topographical conditions for landscape designers. As with other parts of Southern California, wildfires are a reality of the region and should be taken into account when developing landscape designs in Thousand Oaks.
Design & Build
Whatever your landscape vision may be, Yardzen is ready to make it a reality, working with you to craft a landscape design that achieves the look, feel, and function you are dreaming of, then connecting you with a vetted contractor from Yardzen's Pro Network to get your design built.
TRUSTED BY THE EXPERTS


THOUSAND OAKS, CALIFORNIA DESIGN GALLERY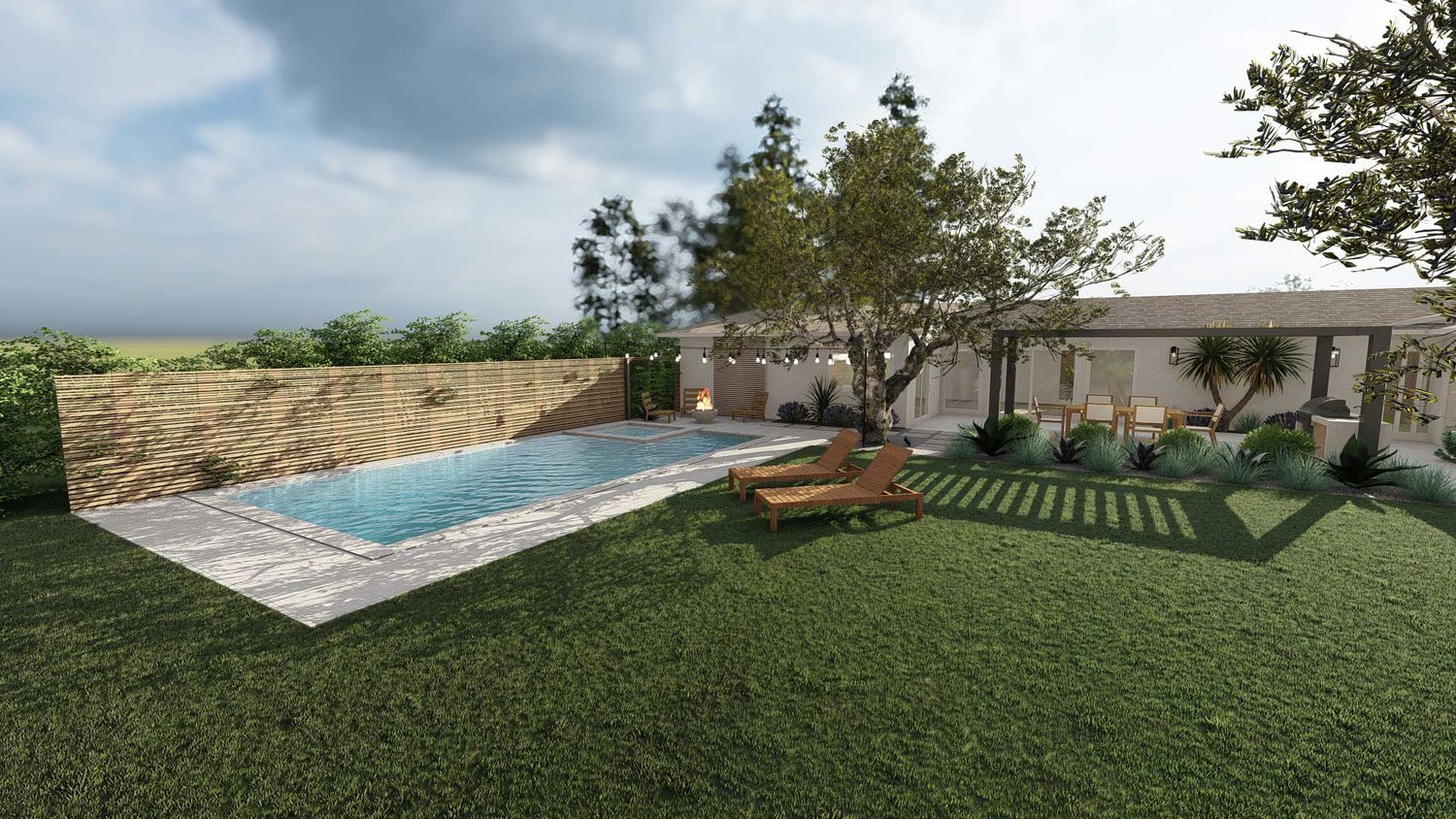 POPULAR AMENITIES IN THOUSAND OAKS YARDS
Simple and thorough online process
Take a style quiz, share videos and photos of your existing outdoor space, and learn about the costs in our Yard Builder™ tool. Our design team will help you at every step of the process.
GET STARTED >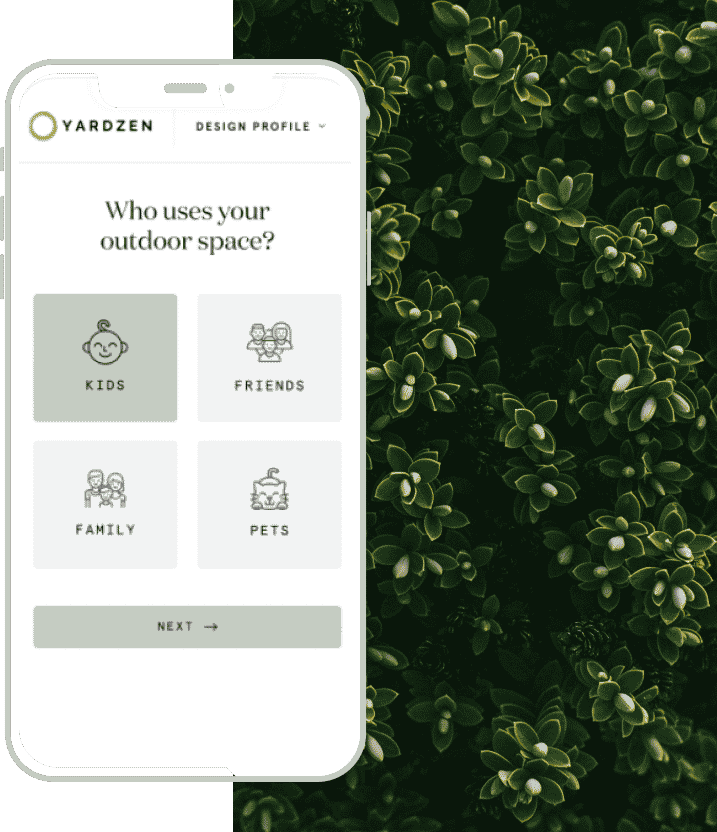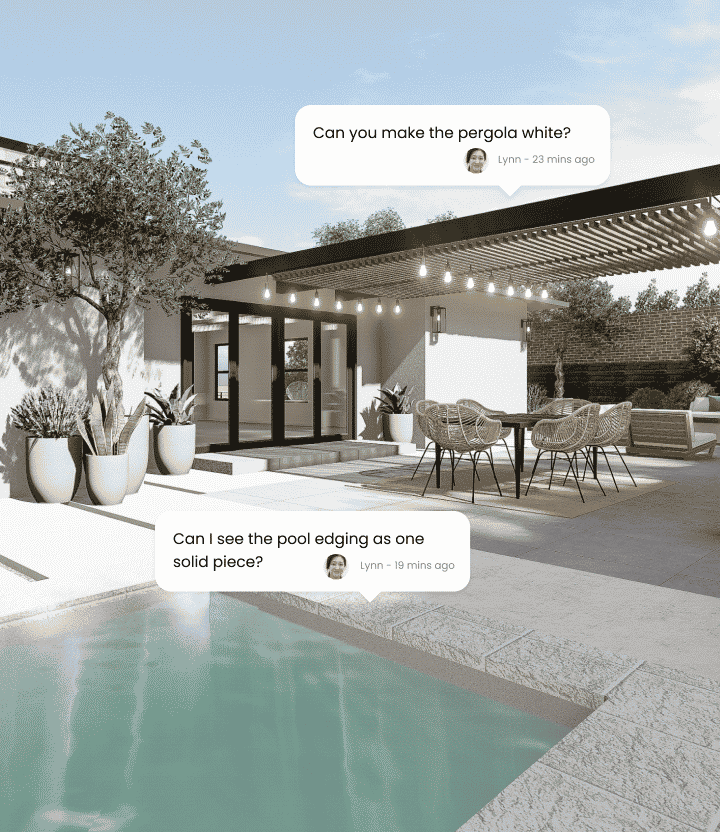 The easiest path to a final design you'll love
Review your first design in our online Feedback Studio. You'll be able to share feedback before we start incorporating your changes. A live design review call is also available to help get your project ready for installation.
GET STARTED >
Built by someone you (and Yardzen) trusts
We'll translate your 3D design concepts into a detailed CAD plan that's ready to install. Next, we'll connect you to a vetted, Thousand Oaks area landscape contractor who can bring your dream yard to life.
GET STARTED >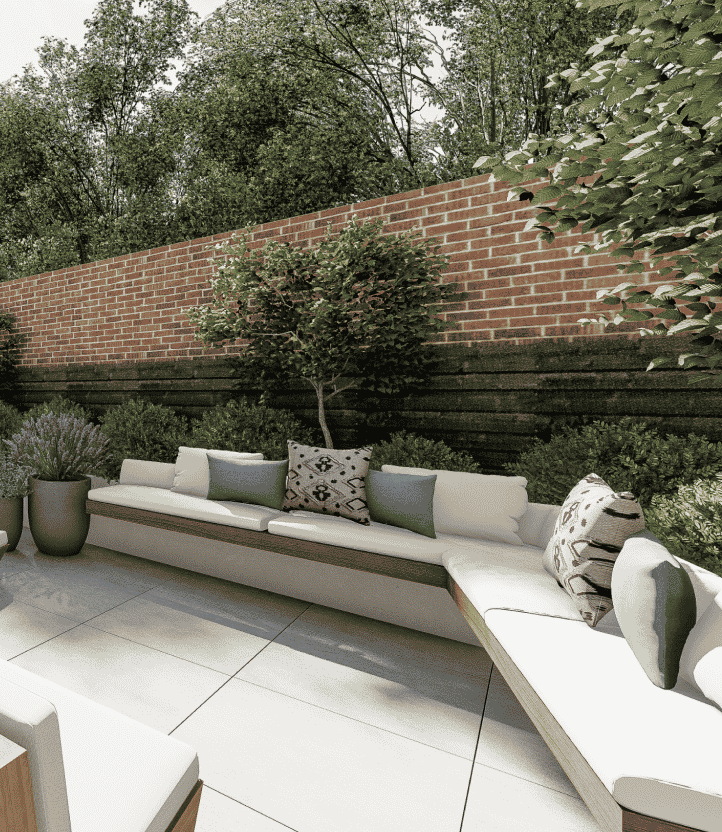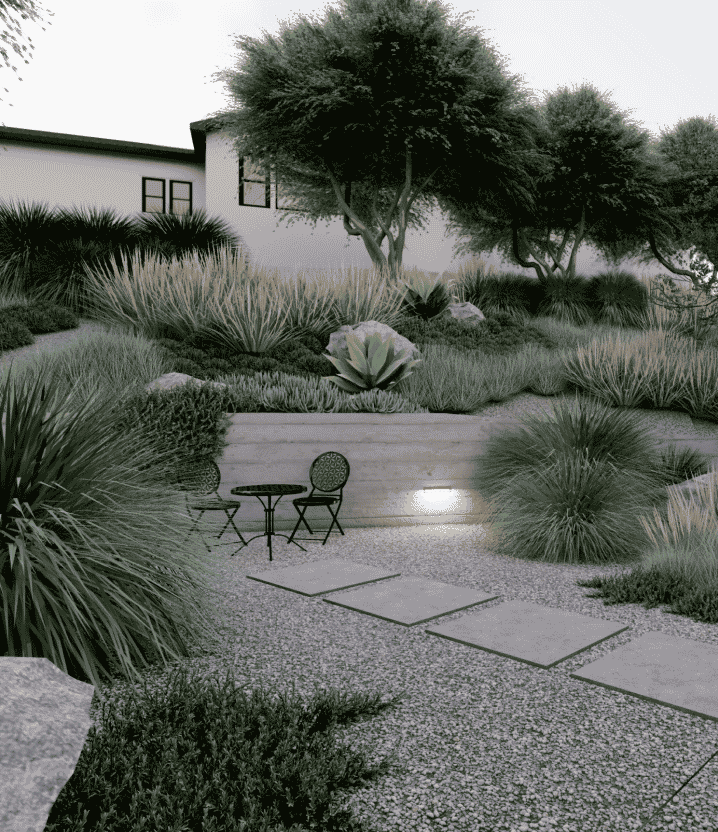 Custom designs for your unique outdoor space
We've built a database of plants, trees, and groundcovers that match to Thousand Oaks's planting zones, sun/shade/water requirements, aesthetic, and essential features like native plants. Using satellite and aerial imagery, coupled with your photo, video, and factoring in your details, we can create the outdoor space of your dreams.
GET STARTED >
WHICH YARDZEN PACKAGE IS RIGHT FOR YOU?
Take our YardBuilder quiz to find out.
GET STARTED

1. Tell us about your unique outdoor space

2. Answer a few questions about your dream yard

3. Get a personalized design package recommendation
WHAT YARDZEN CLIENTS ARE SAYING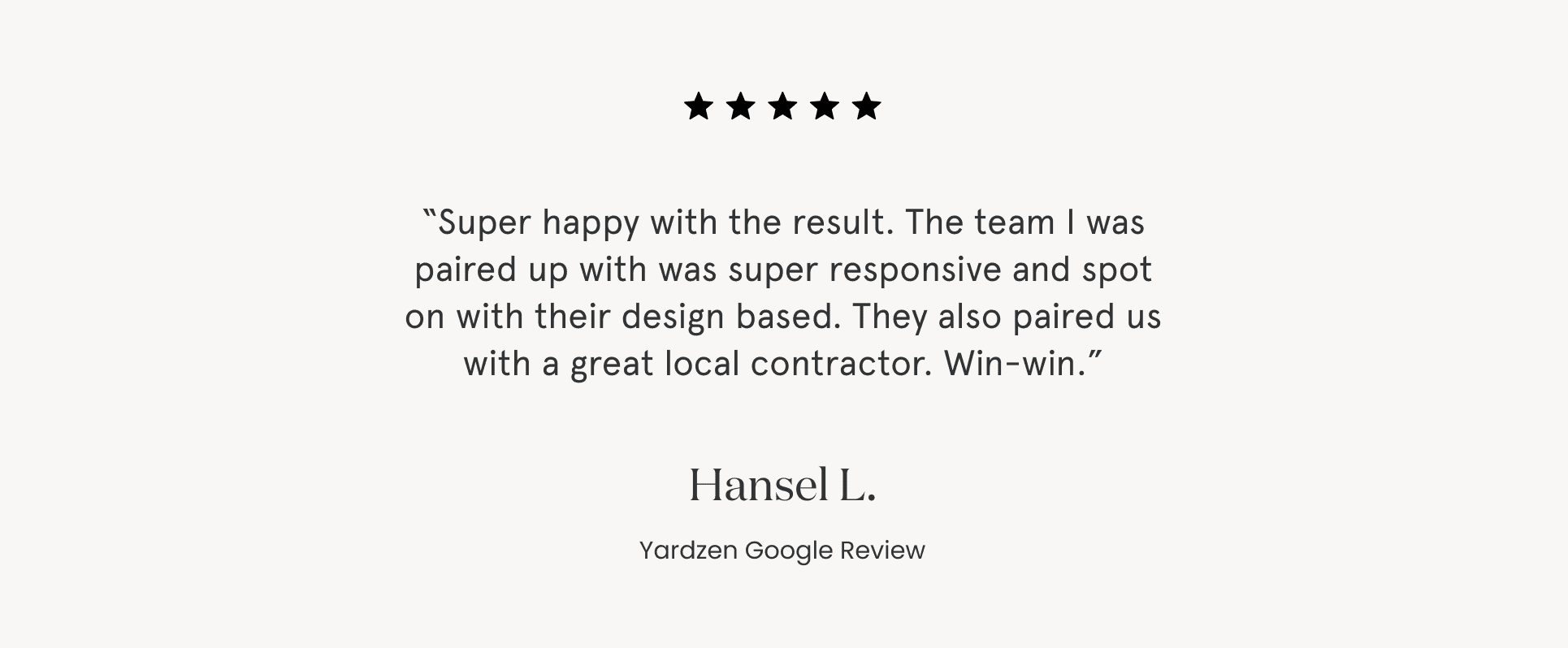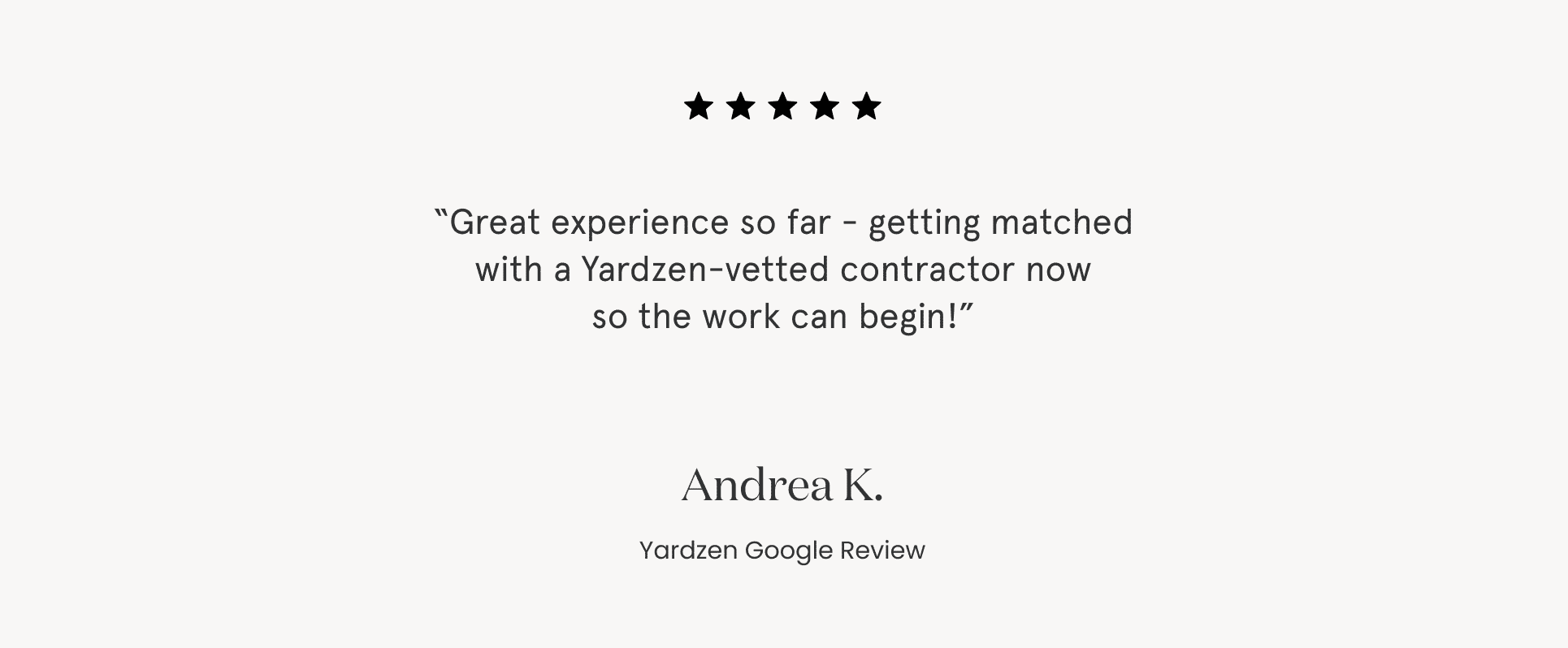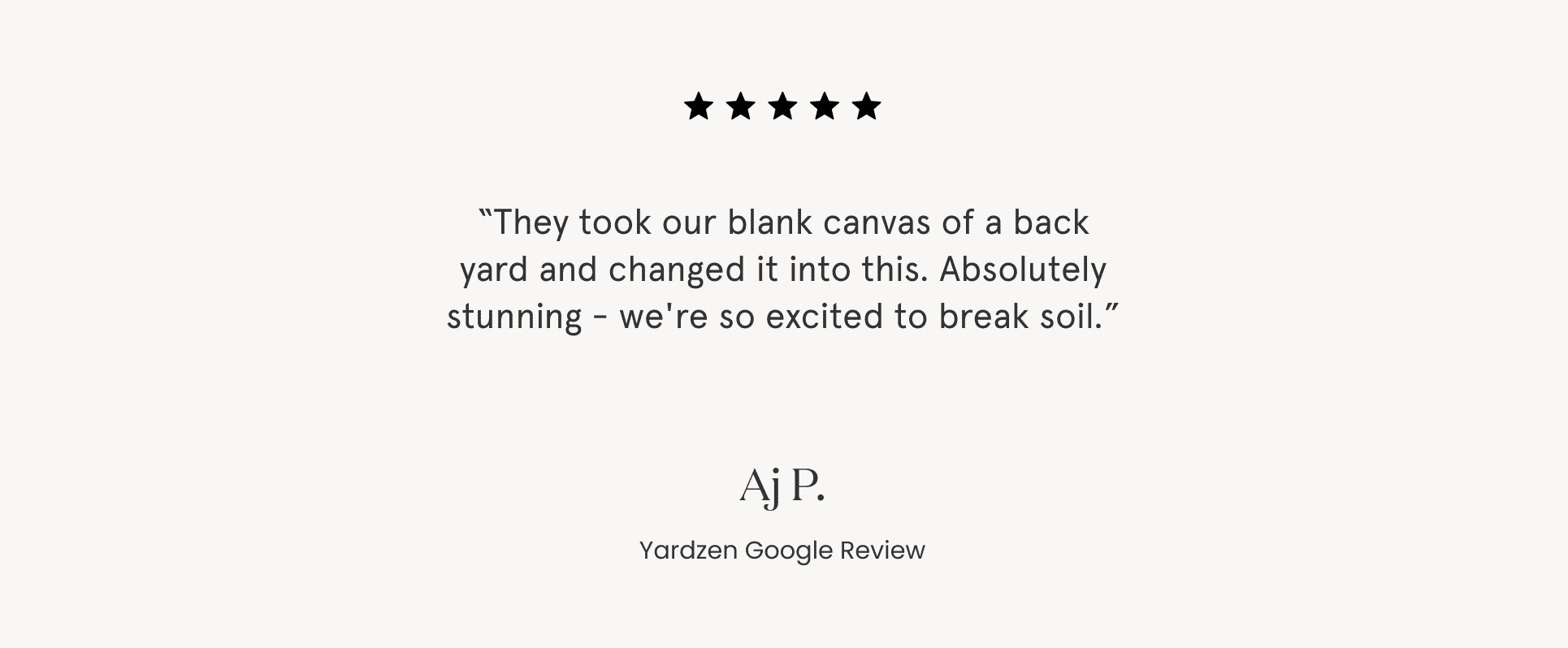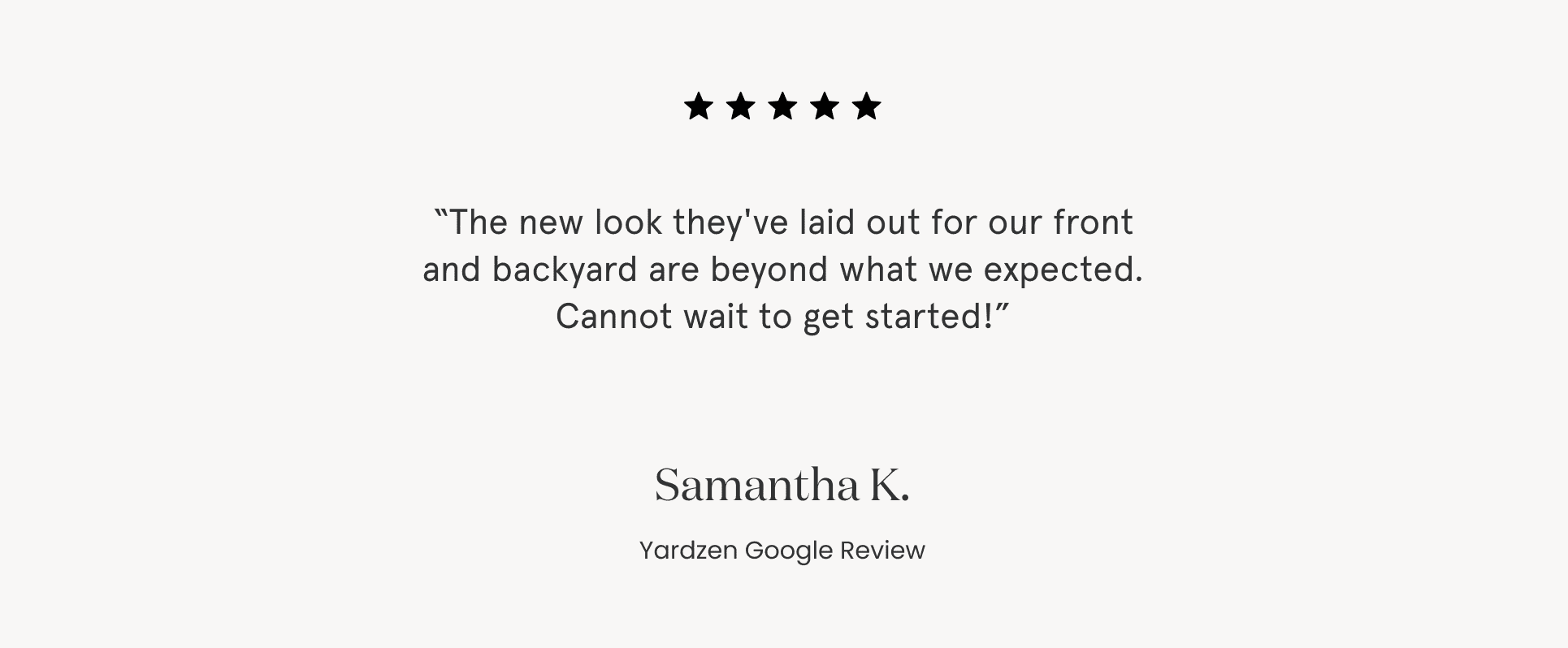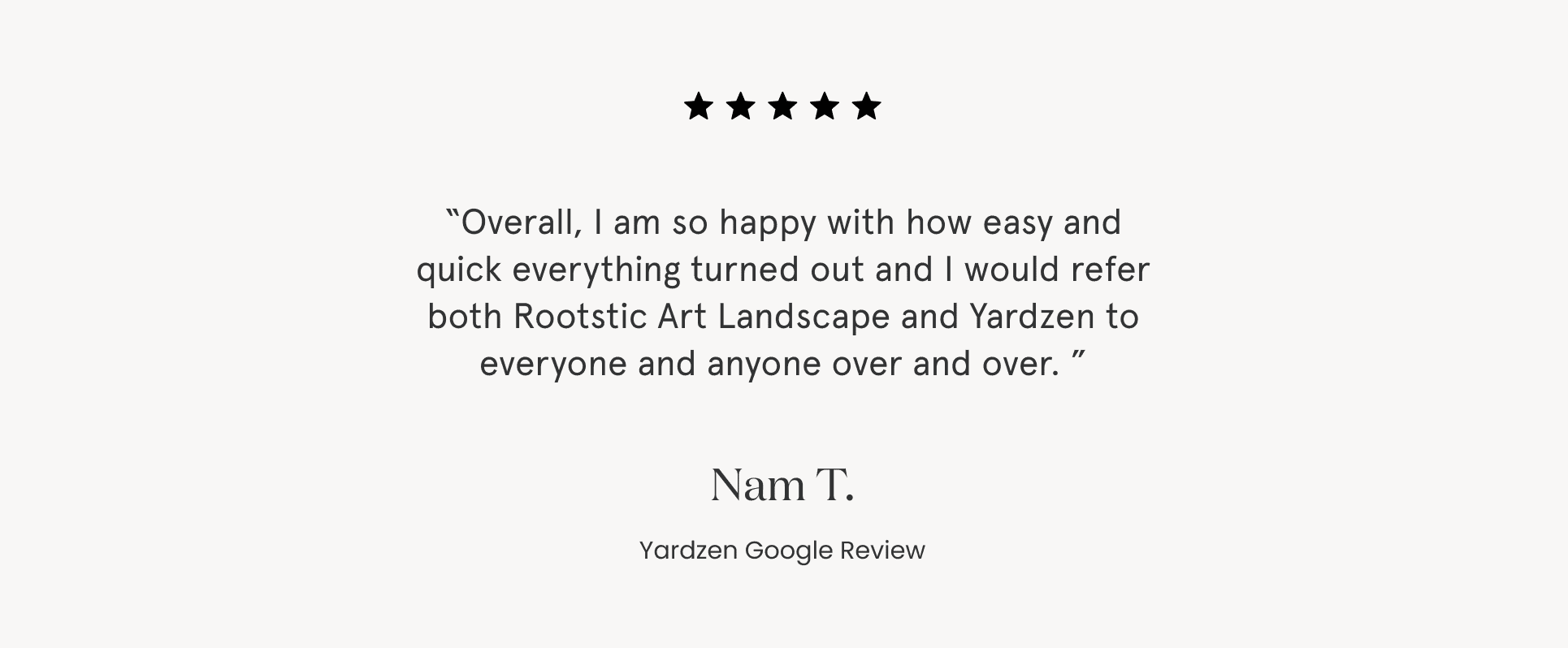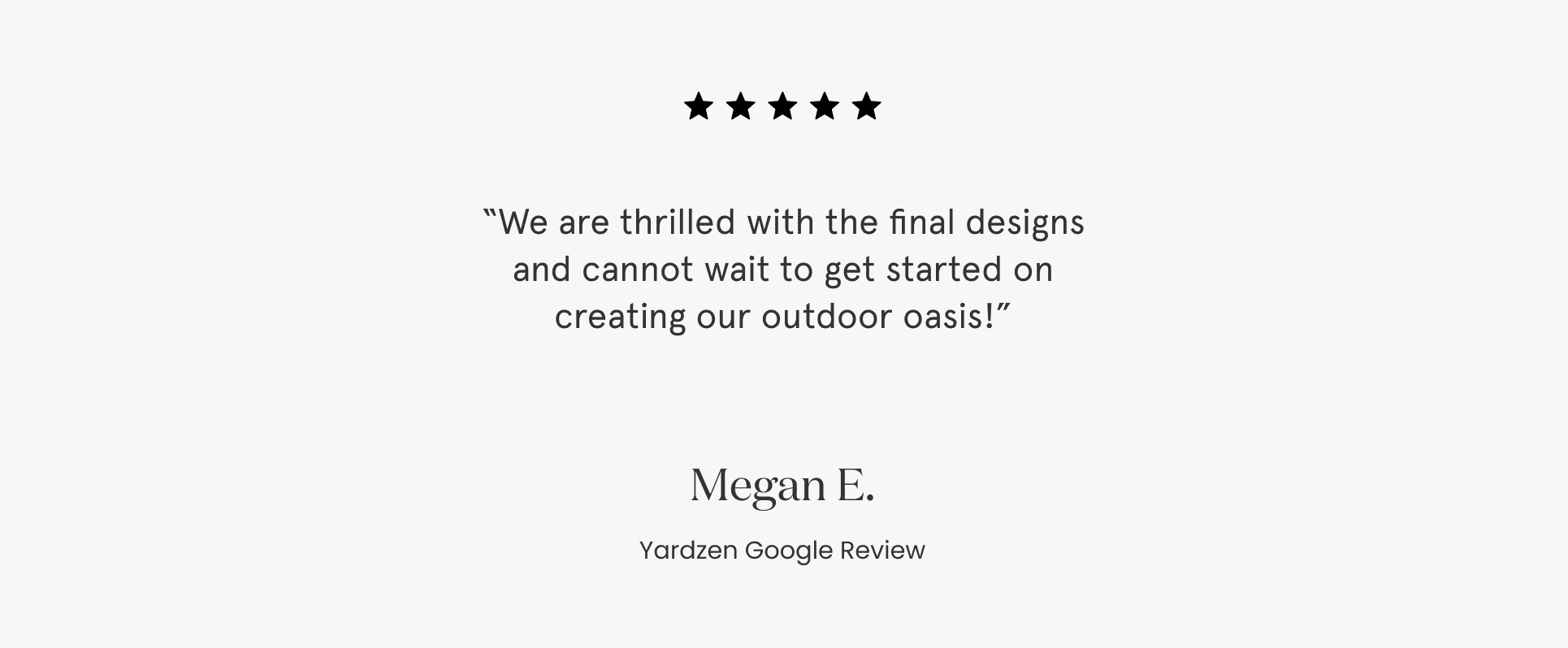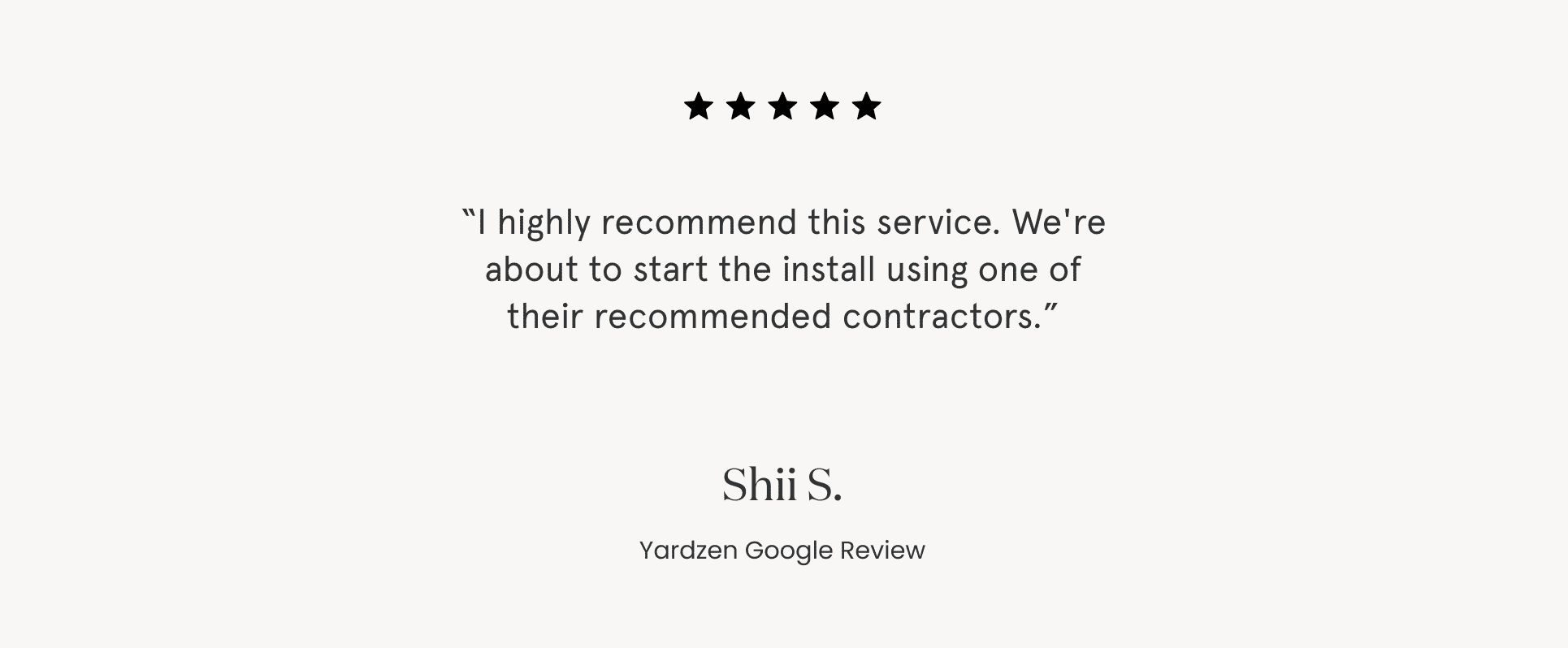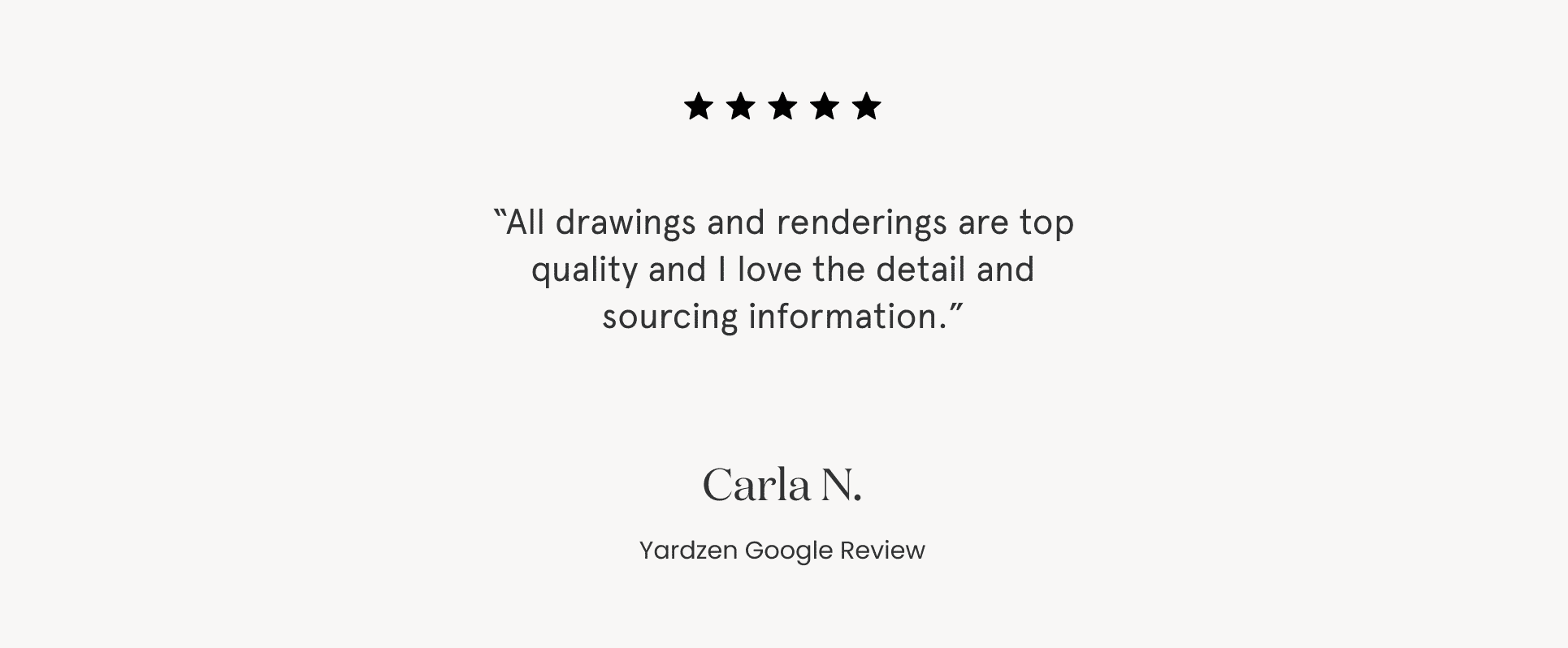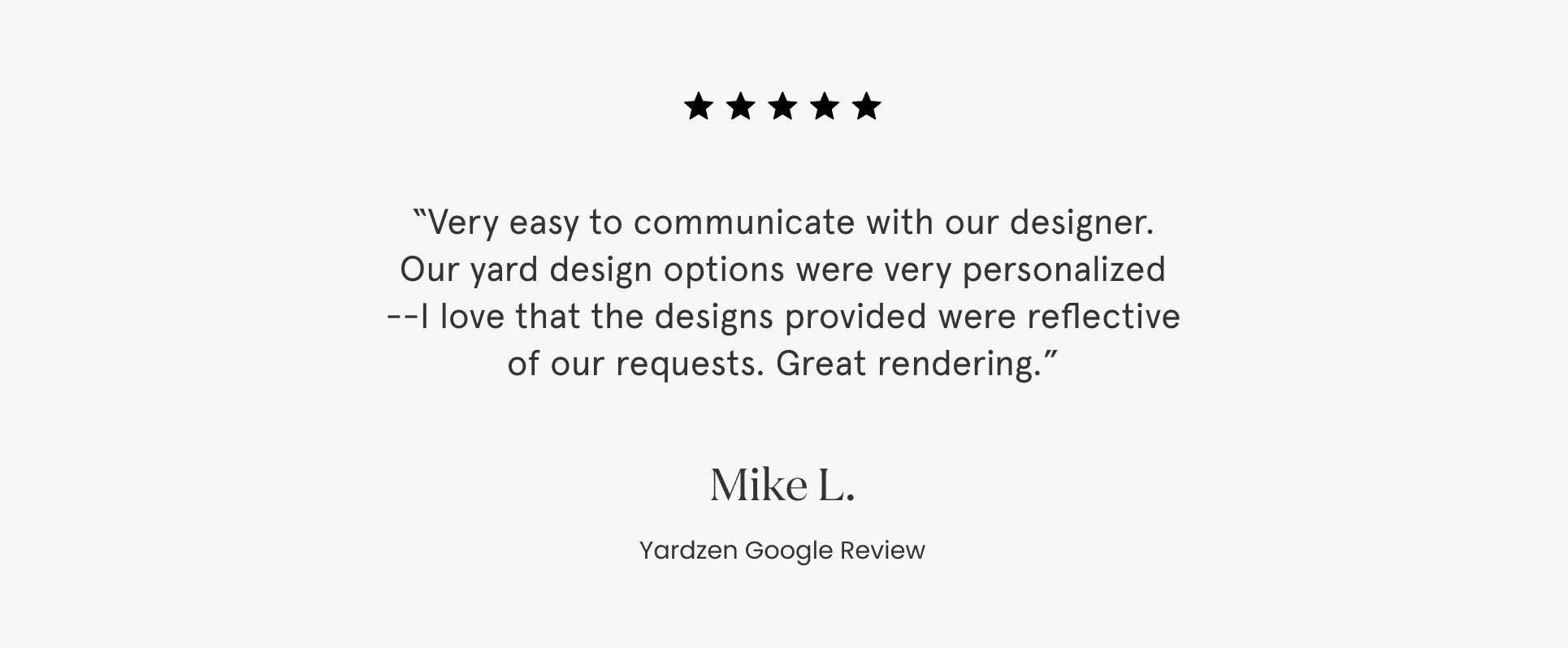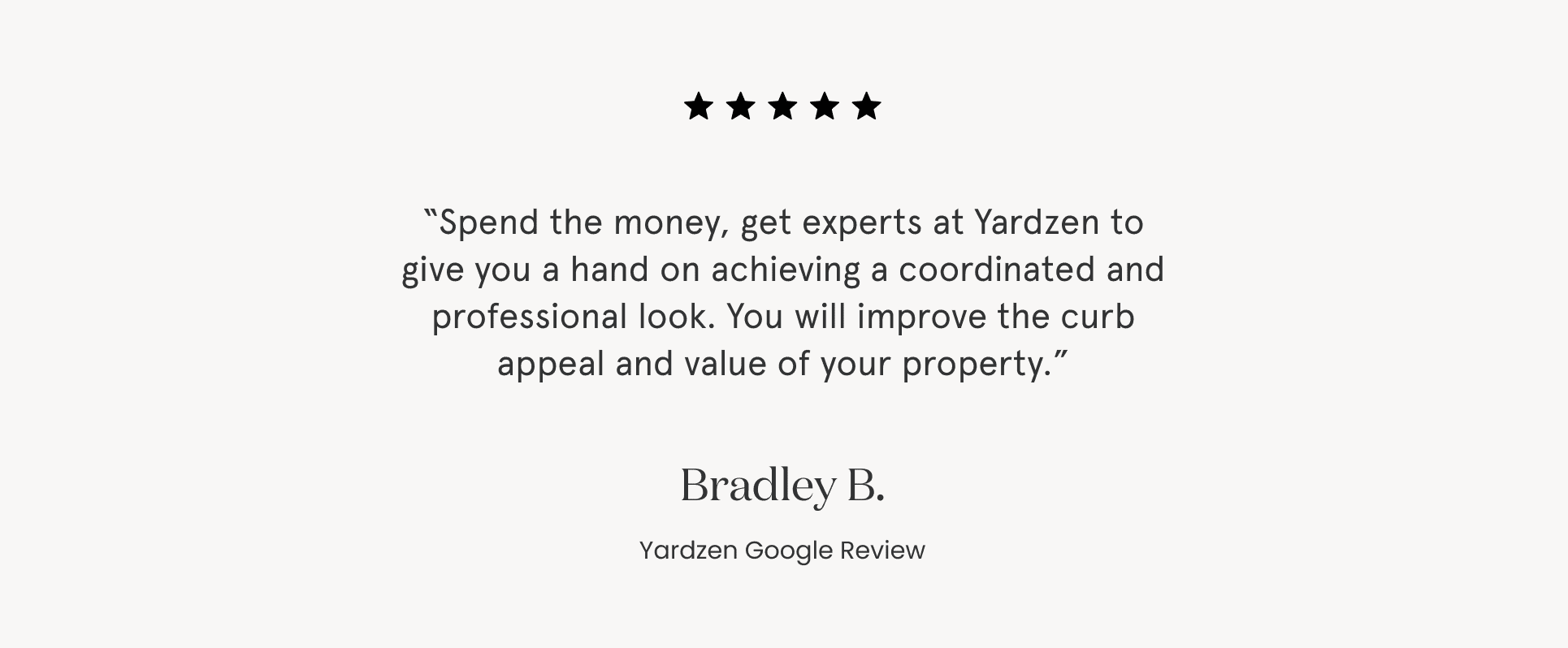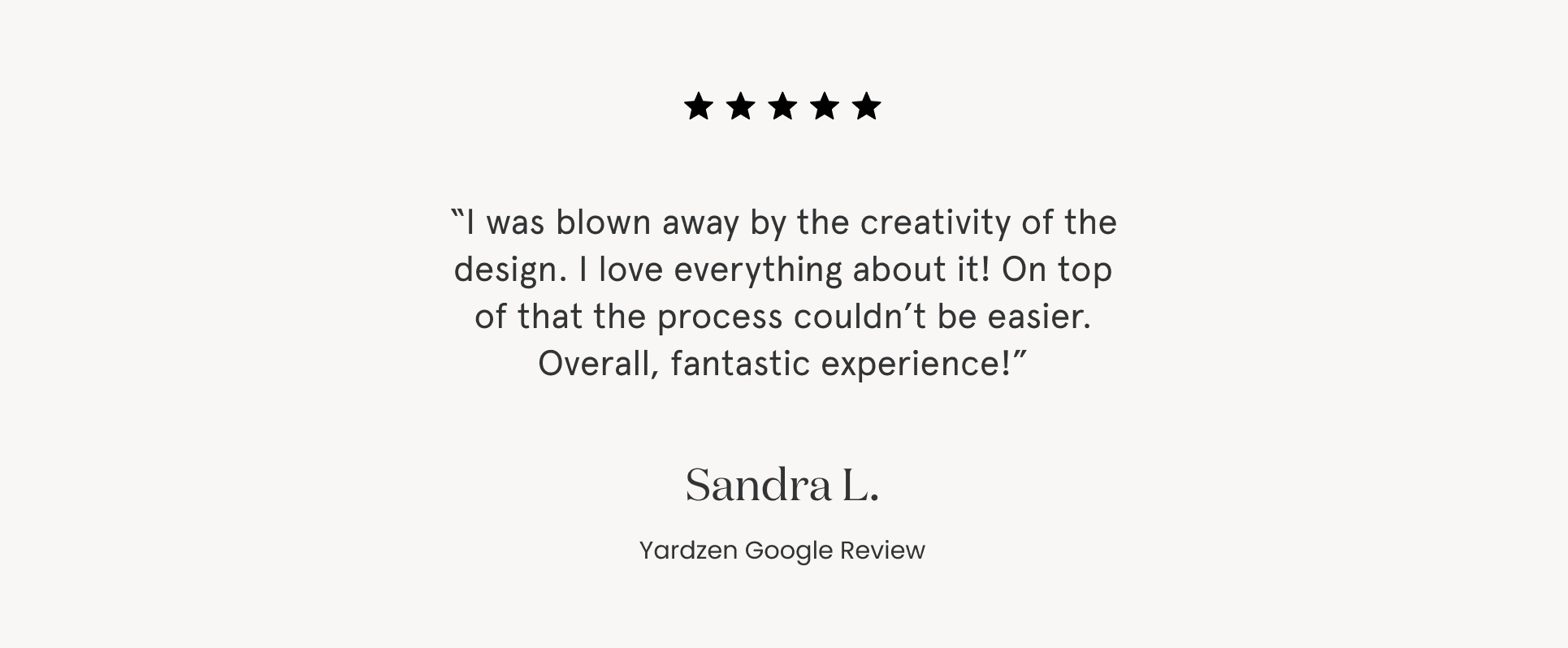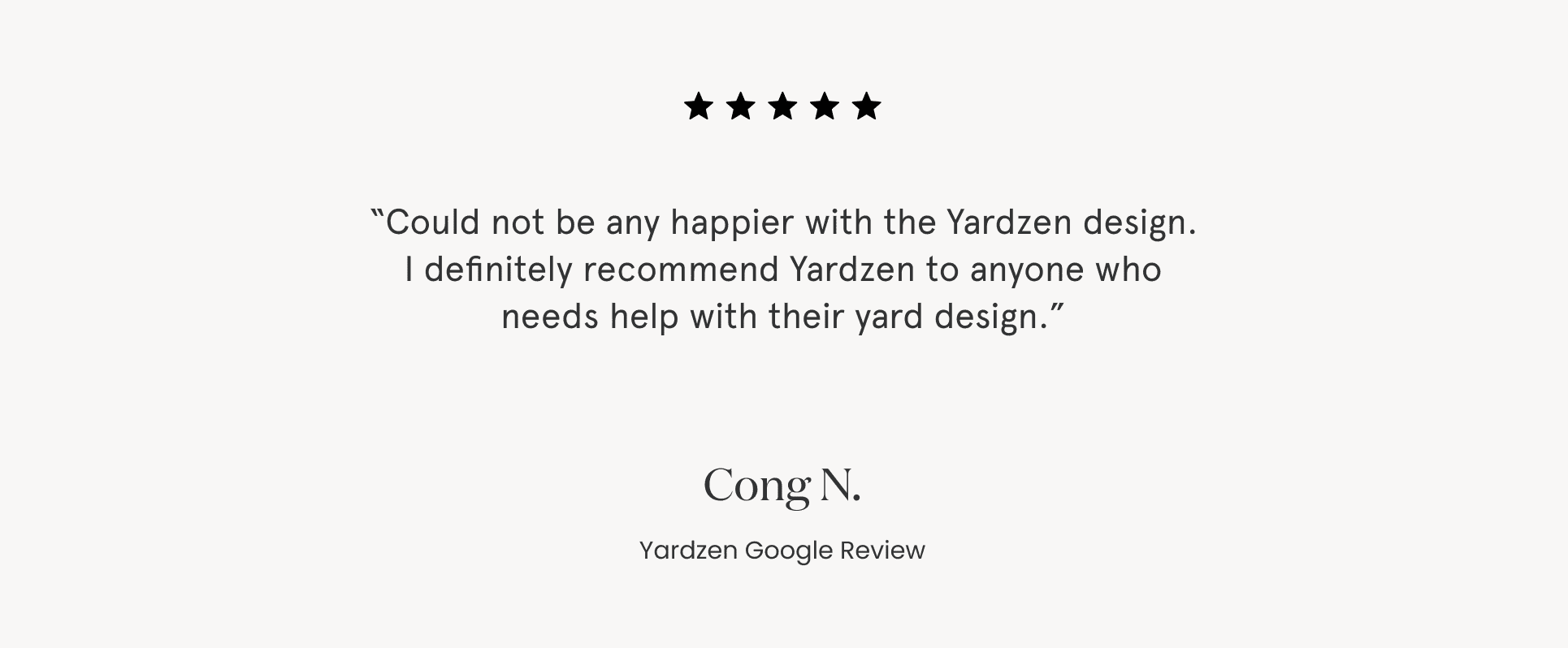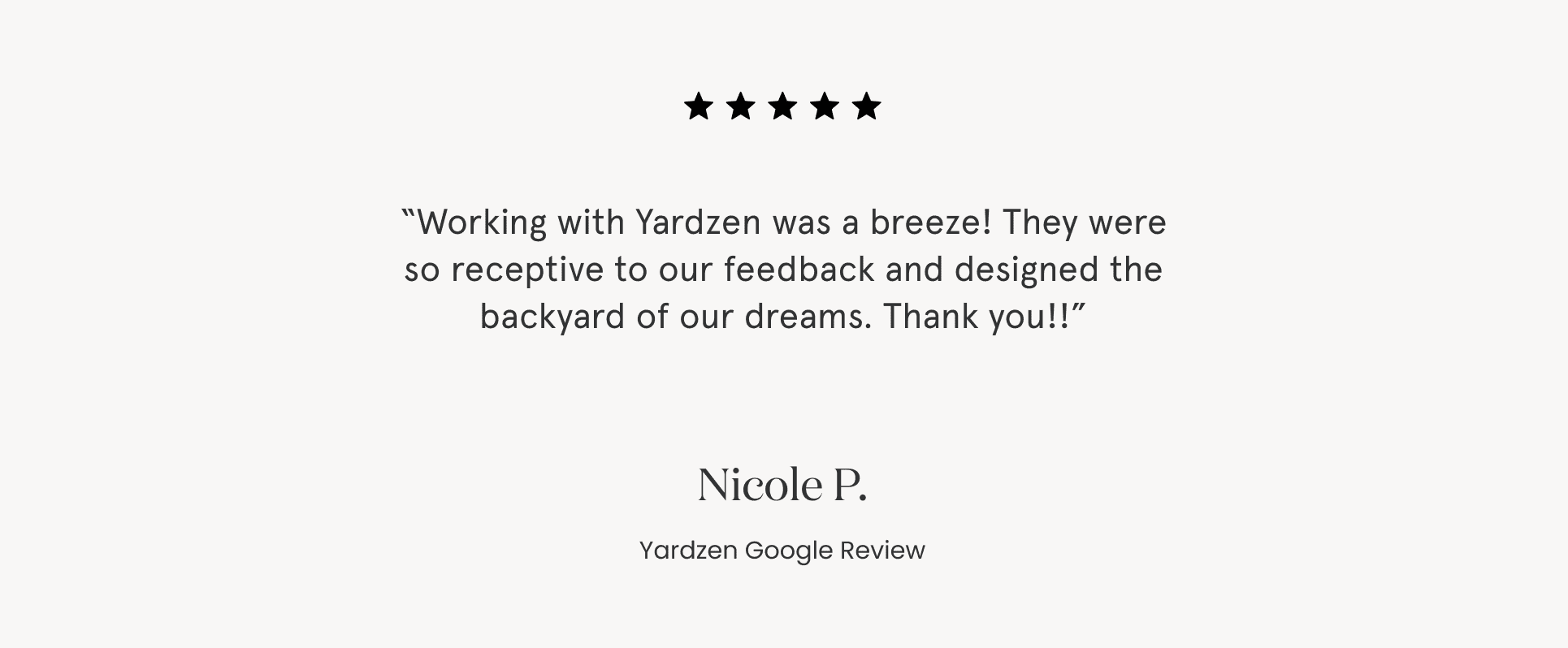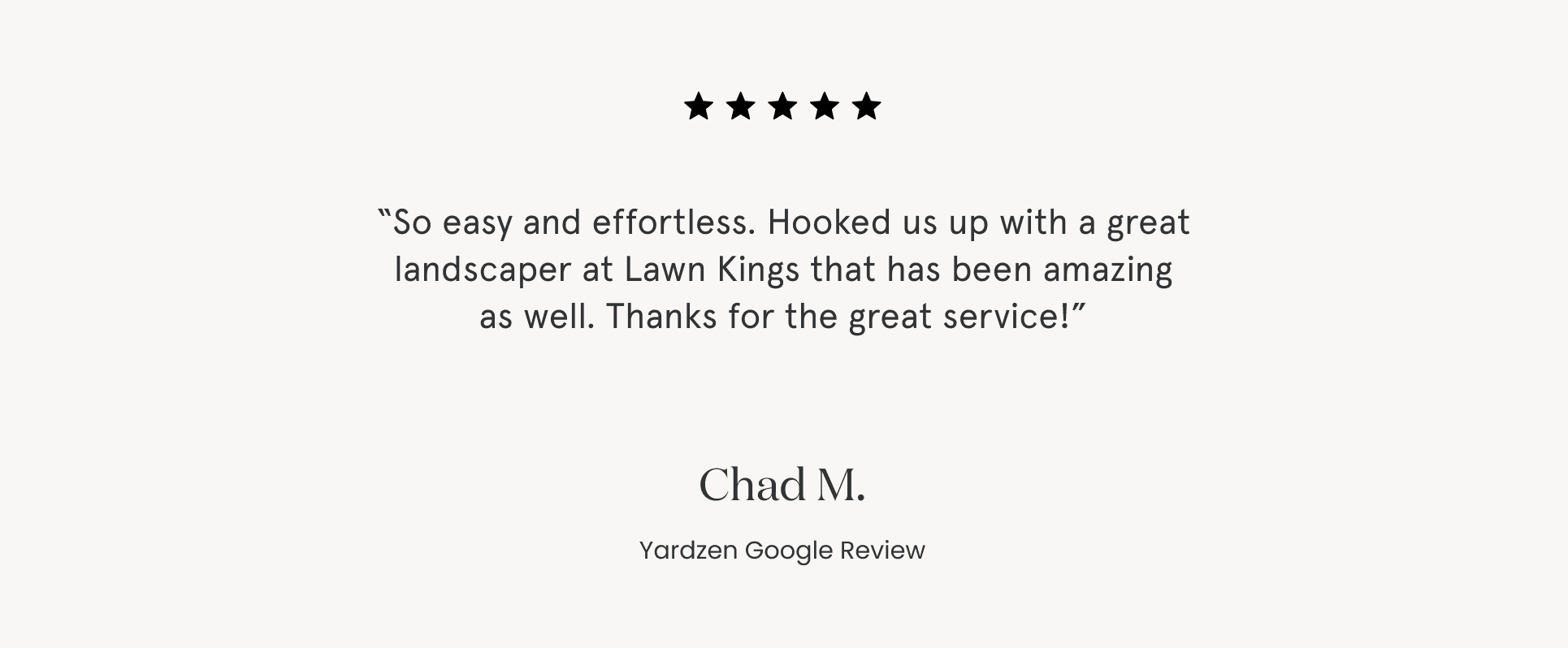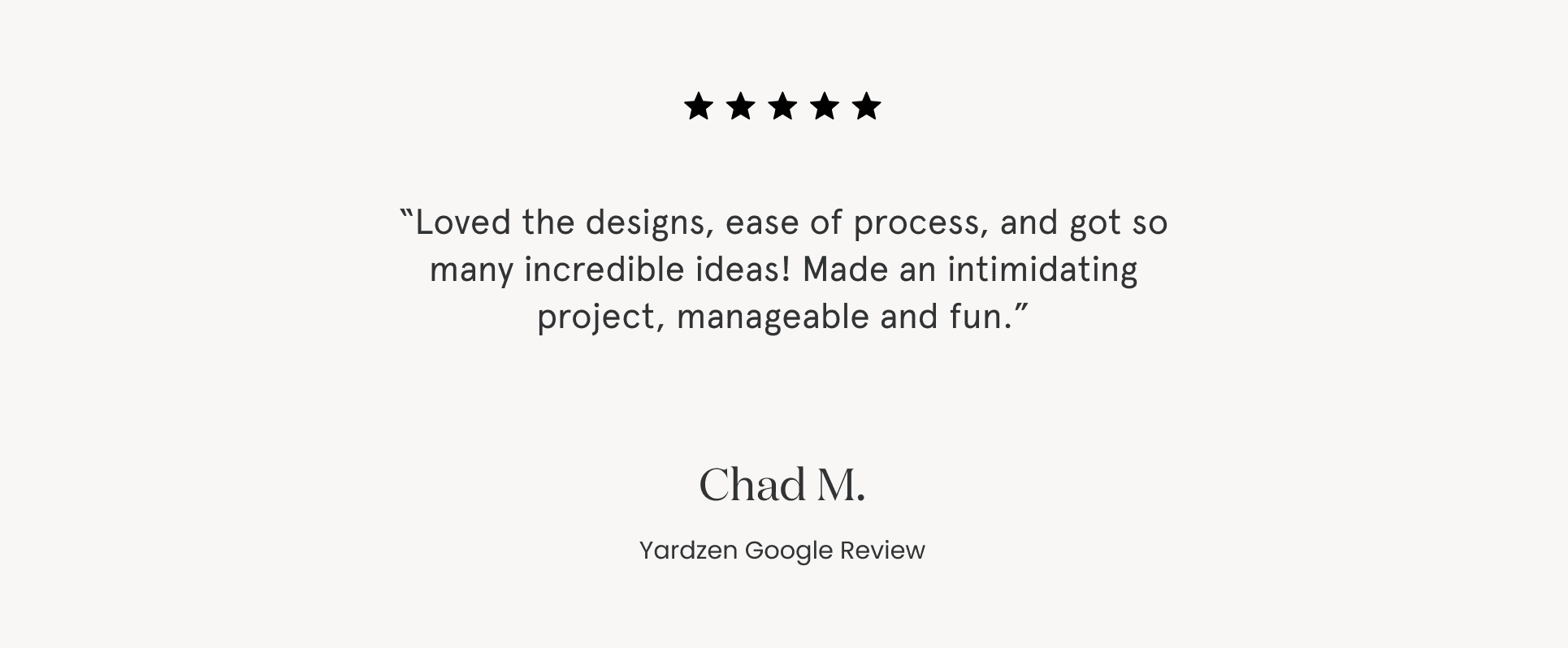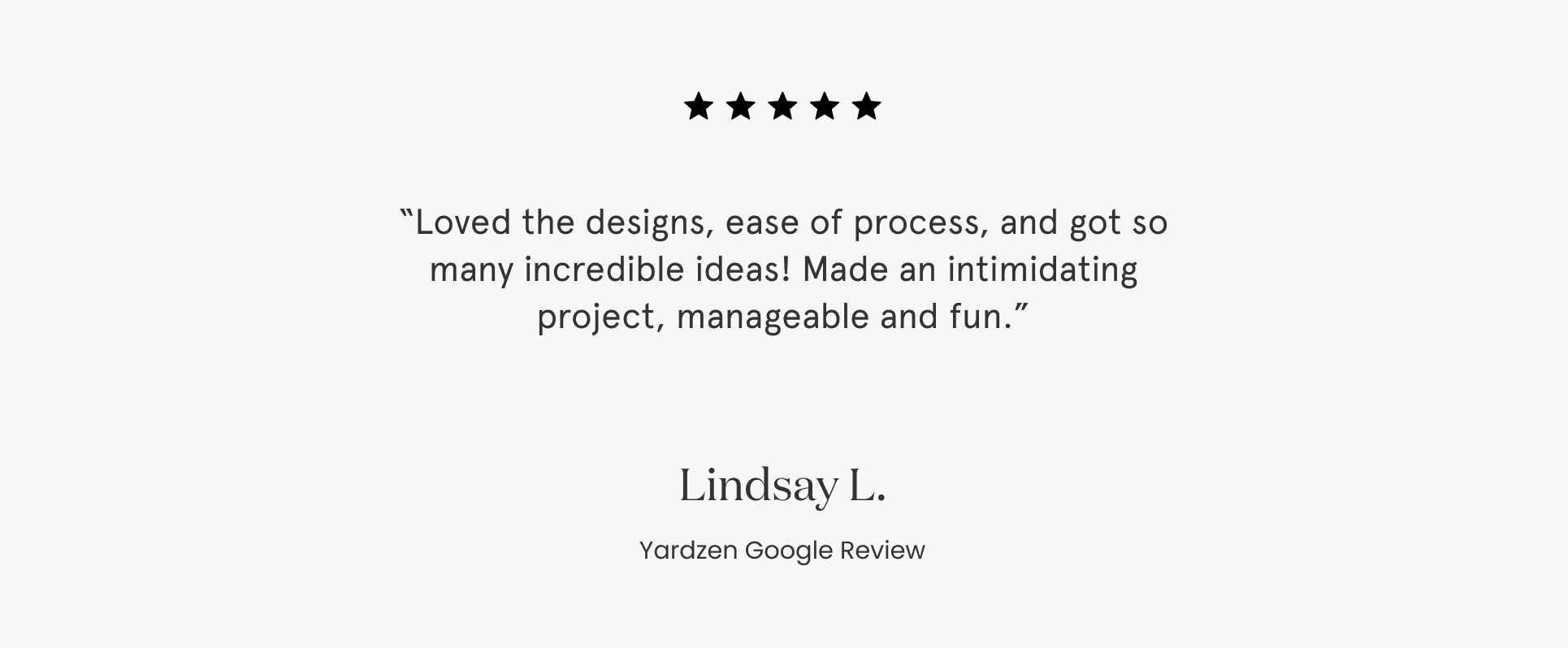 THOUSAND OAKS LANDSCAPING FAQS
What are popular design styles in Thousand Oaks?
Landscape design in Thousand Oaks often seeks an upscale look that is driven by outdoor living: kitchens, pools, pergolas, and the like are staples of backyards, and get plenty of use thanks to year-round warm weather.
Being a popular family community, low maintenance planting is particularly appealing to Thousand Oaks' busy parents. At the same time, low water planting is a must to meet the demands of the hot, dry climate.
With so much attention placed on the backyard as a hub for outdoor living, plants are also called upon to do the heavy lifting of providing shade and establishing a comfortable and attractive environment for residents and their guests to enjoy.
Planting styles range, with desert, Mediterranean, and Oak woodland aesthetics being dominant looks.
What are some favorite plant species in Thousand Oaks?
The best plant selection in Thousand Oaks foregrounds water conservation, habitat provision, and fire safety, while also achieving the look and feel a client is aiming for.
Oaks, naturally, are a fabulous choice, offering strong fire resistance, amazing habitat value, and unbeatable regional appropriateness.
Those favoring a desert aesthetic can opt for xerophytes like Agaves, Yuccas, or the lovely Echeveria elegans, along with dramatic specimens like Desert Museum Palo Verde.
Those wanting a greener feel can lean on drought tolerant, fire-resistant shrubs like pineapple guava, toyon, or, for those seeking something closer to a traditional hedge look, Pittosporum.
Drop in Kniphofia or Limonium perezii if you want some bold, chunky tropical blooms without excessive water needs.
What factors do I need to pay attention to with Thousand Oaks landscapes?
As with anywhere in California, water conservation is critical. Opt for low water plants that can tolerate Thousand Oaks' hot, dry climate and California's ongoing drought.
Properties with significant slopes should also consider the opportunities and challenges slopes present, from capitalizing on views to shoring up slopes for erosion control.
When should I get started on my landscape project?
Now! Any time of year is great to begin work on a landscape project.
Utilizing the winter to work through the design phase sets you up to get on contractors' books early in the build season, so you can have your design installed and ready to enjoy in time for summer.
Do you design for wildfires?
We are happy to work with clients to develop designs that meet their level of comfort around fire safety. Choosing fire-resistant plant species and following best practices for fire-safe landscape design are options that our designers are happy to employ at a client's request.
While design can help reduce your risk of fire damage, it's important to note, that there are no fire-proof plants, and maintenance is the most important determinant of a landscape's fire safety.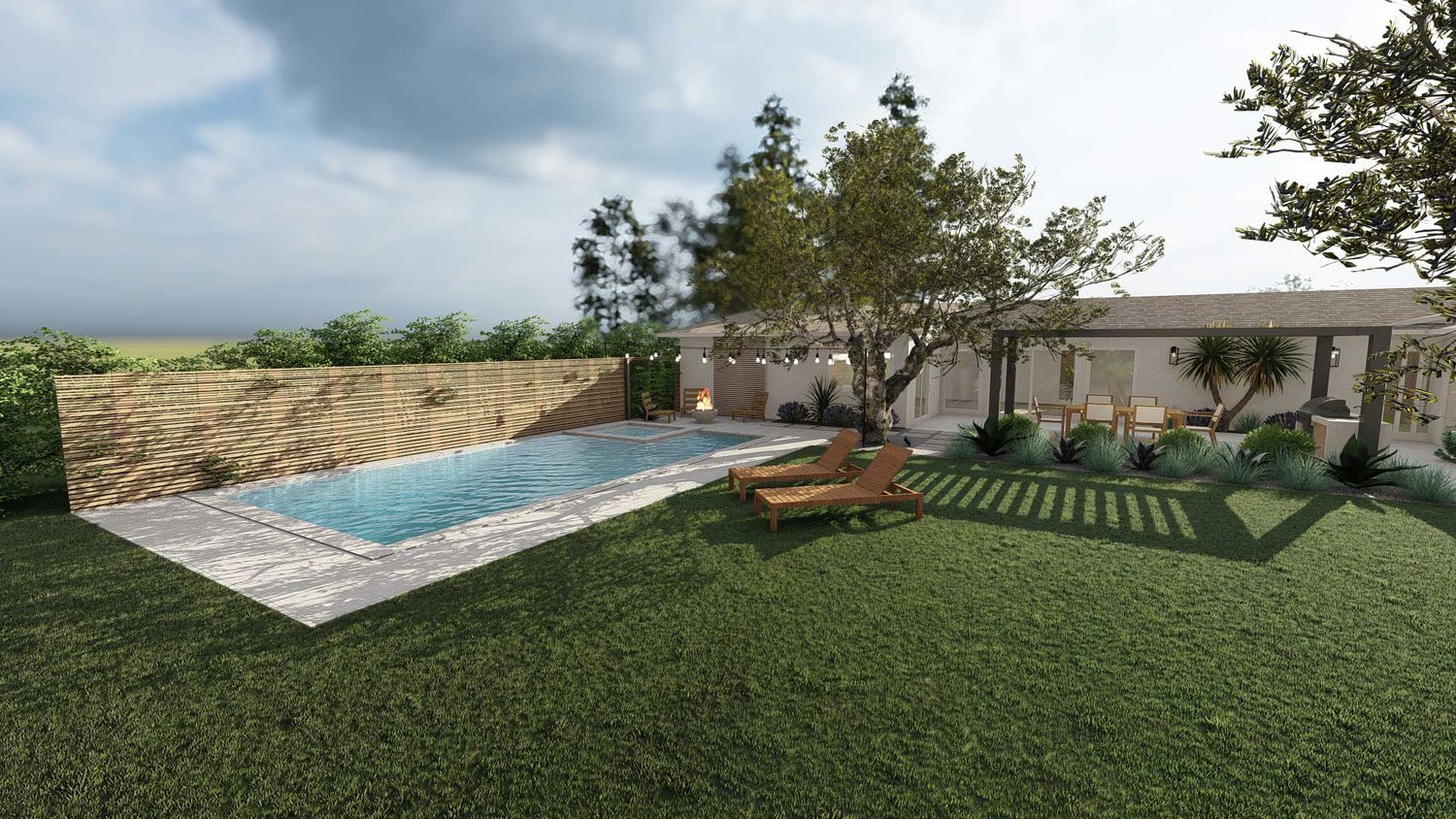 "Highly suggest Yardzen. The online process made everything super easy and efficient. Thank you to the entire Yardzen team."
Shannon M., Yardzen client
Yardzen creates local landscape designs in:
Camarillo, Fillmore, Moorpark, Newbury Park, Oak Park, Oak View, Ojai, Oxnard, Piru, Port Hueneme, Santa Paula, Simi Valley, Somis, Ventura, and Westlake Village.
Explore other California landscape designs by Yardzen
Huntington Beach, Los Angeles, Mill Valley, Napa, Oakland, Palo Alto, Sacramento, San Diego, San Jose, San Francisco, and Ventura