Landscape design & build for Mill Valley
Yardzen designs everywhere in the U.S. and the Mill Valley area is one of our favorites. With an outstanding climate, toes in the waters of the Bay, and abundant forested hills, Mill Valley is a dreamy place.
EXPLORE DESIGN PACKAGES
TERRAIN
Houses tuck amongst tall trees, whose canopies offer dappled light and a comforting enclosure to outdoor spaces. Many properties feature slopes, offering opportunities for dramatic perches and vistas. Simply put, it begs you to spend time outside. Yardzen is happy to help.
DESIGN & BUILD
Whatever your landscape vision may be, Yardzen is ready to make it a reality, working with you to craft a landscape design that achieves the look, feel, and function you are dreaming of, then connecting you with a vetted contractor from Yardzen's Pro Network to get your design built.
TRUSTED BY THE EXPERTS


MILL VALLEY, CALIFORNIA DESIGN GALLERY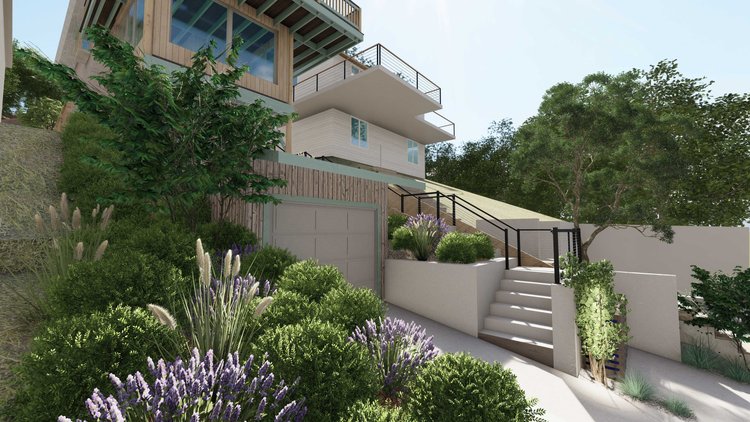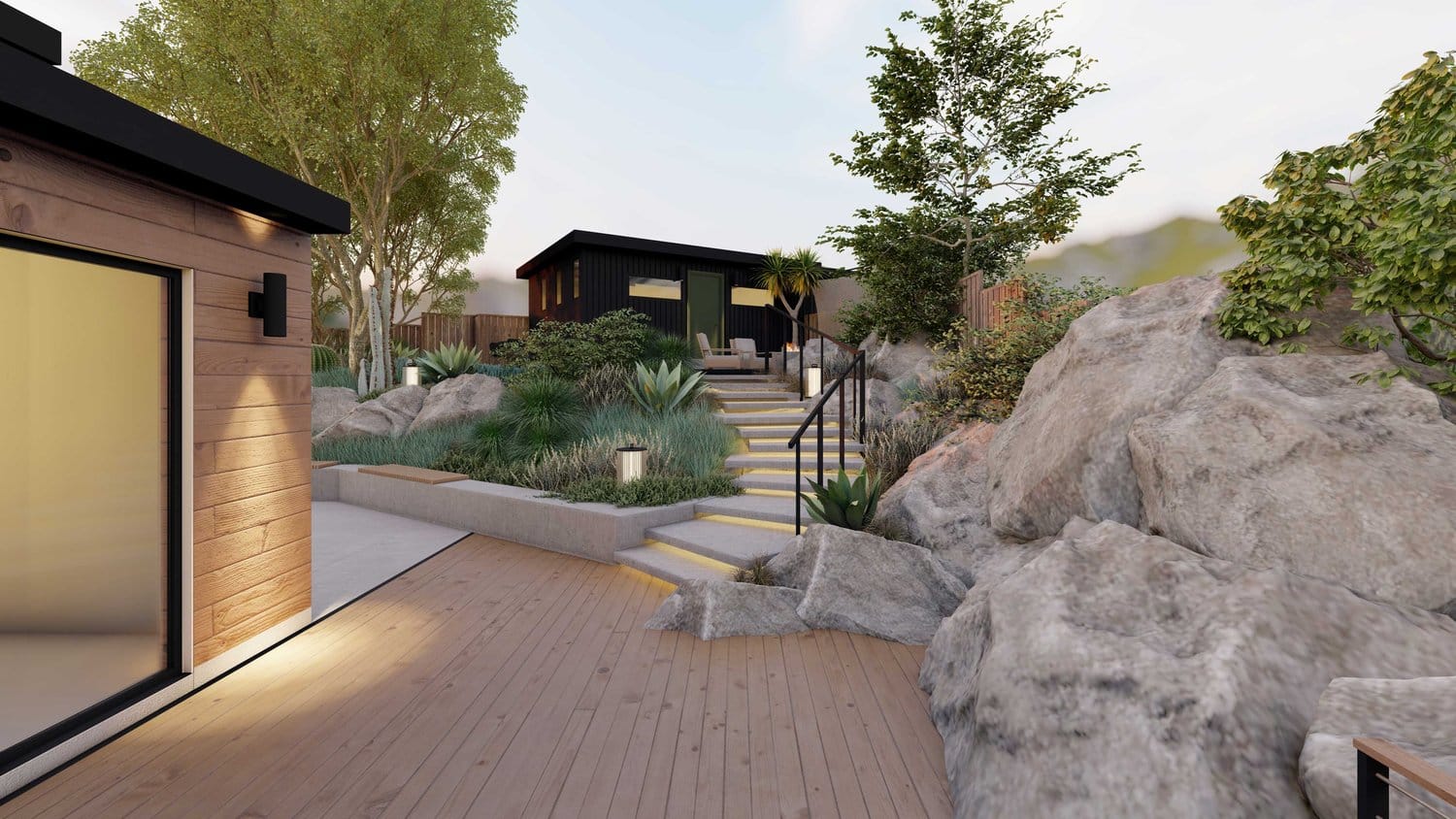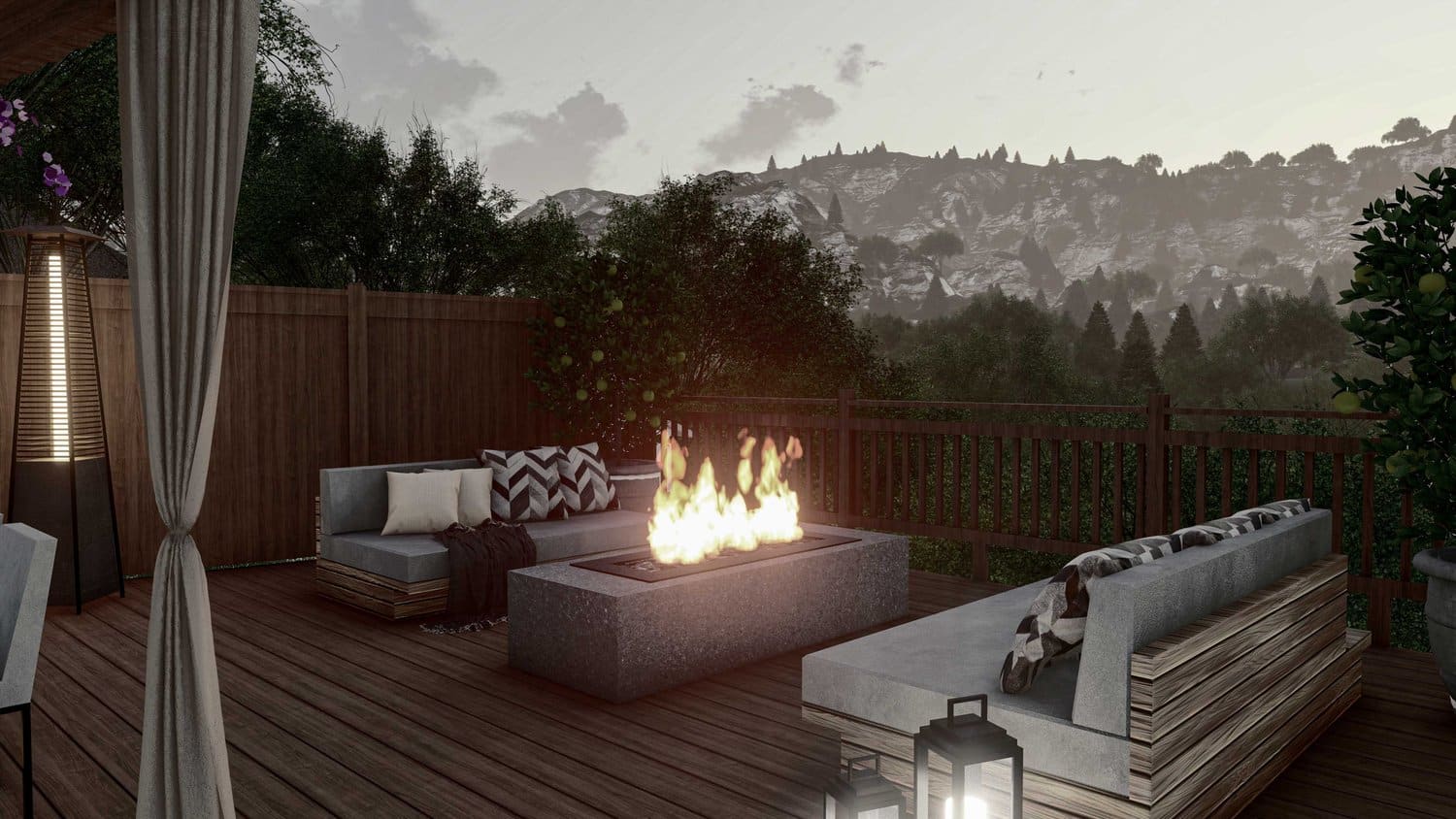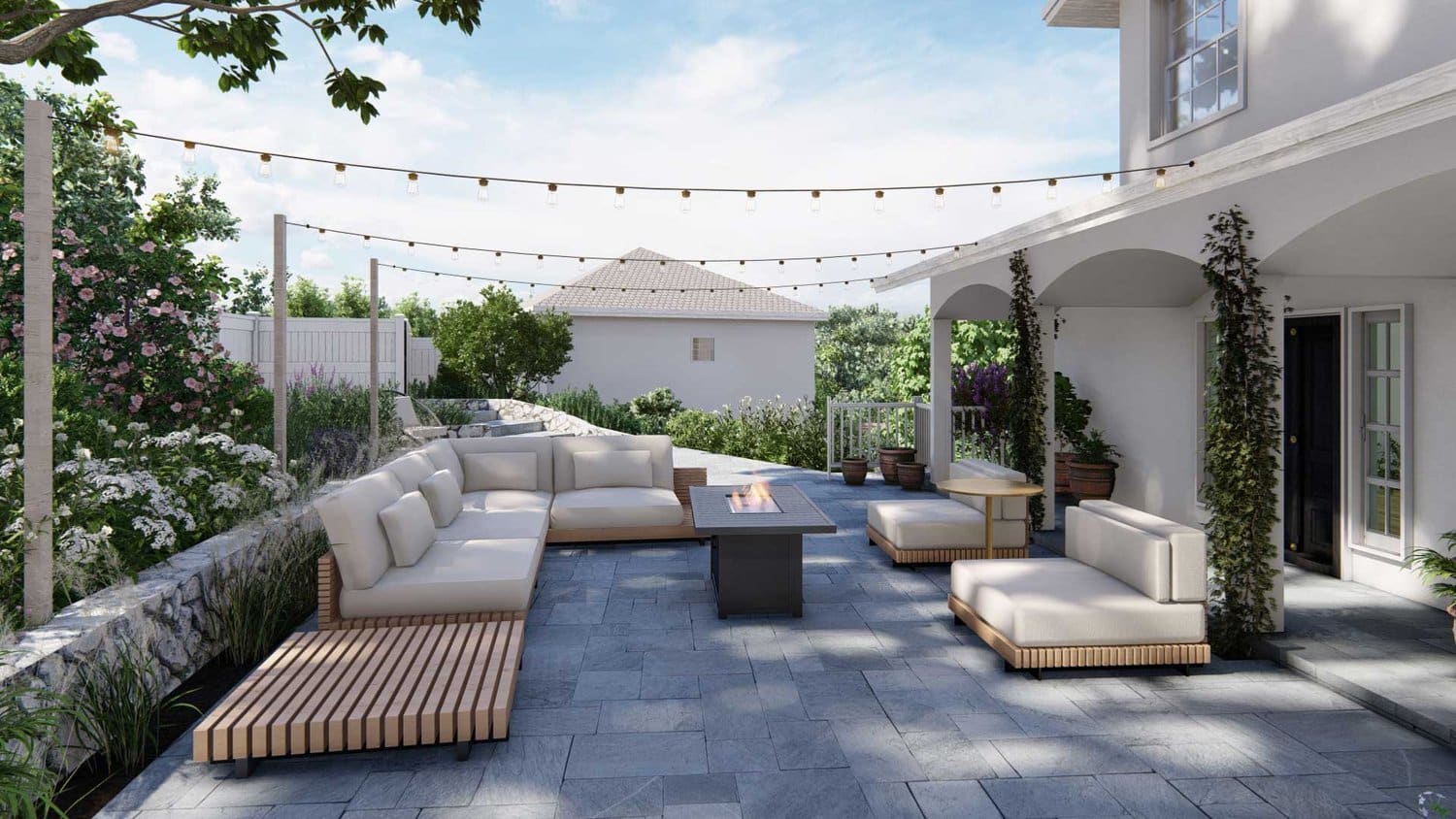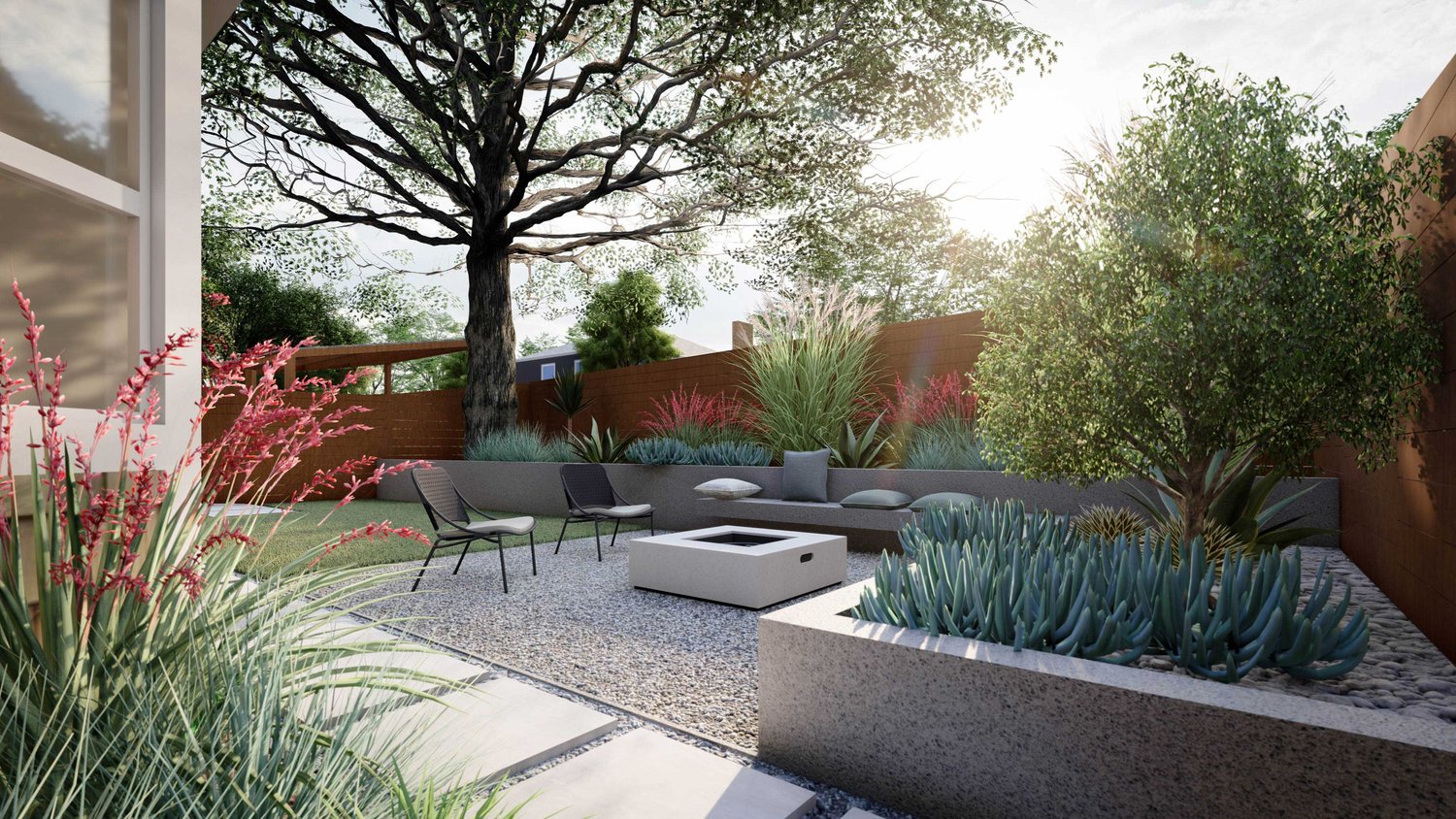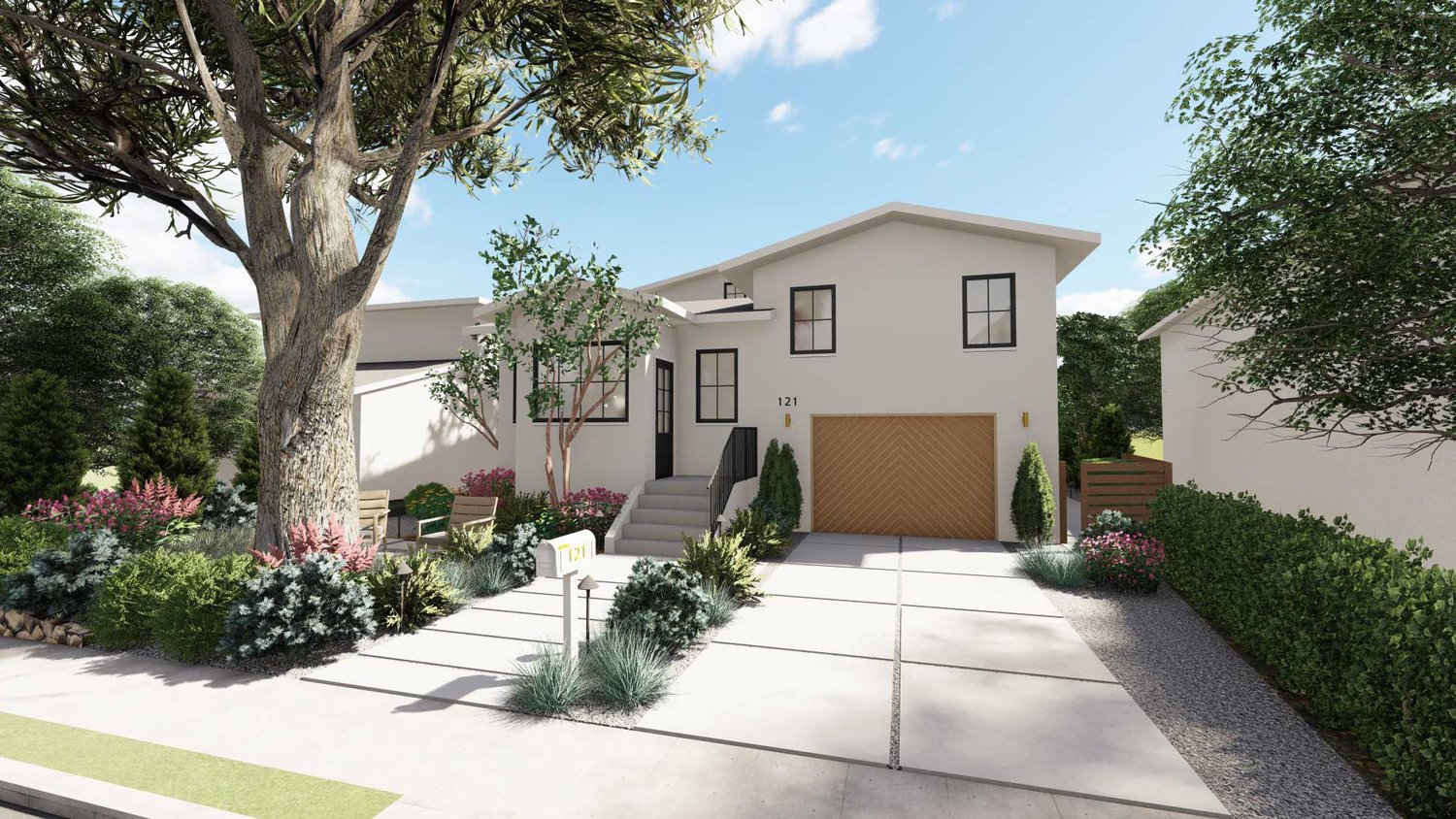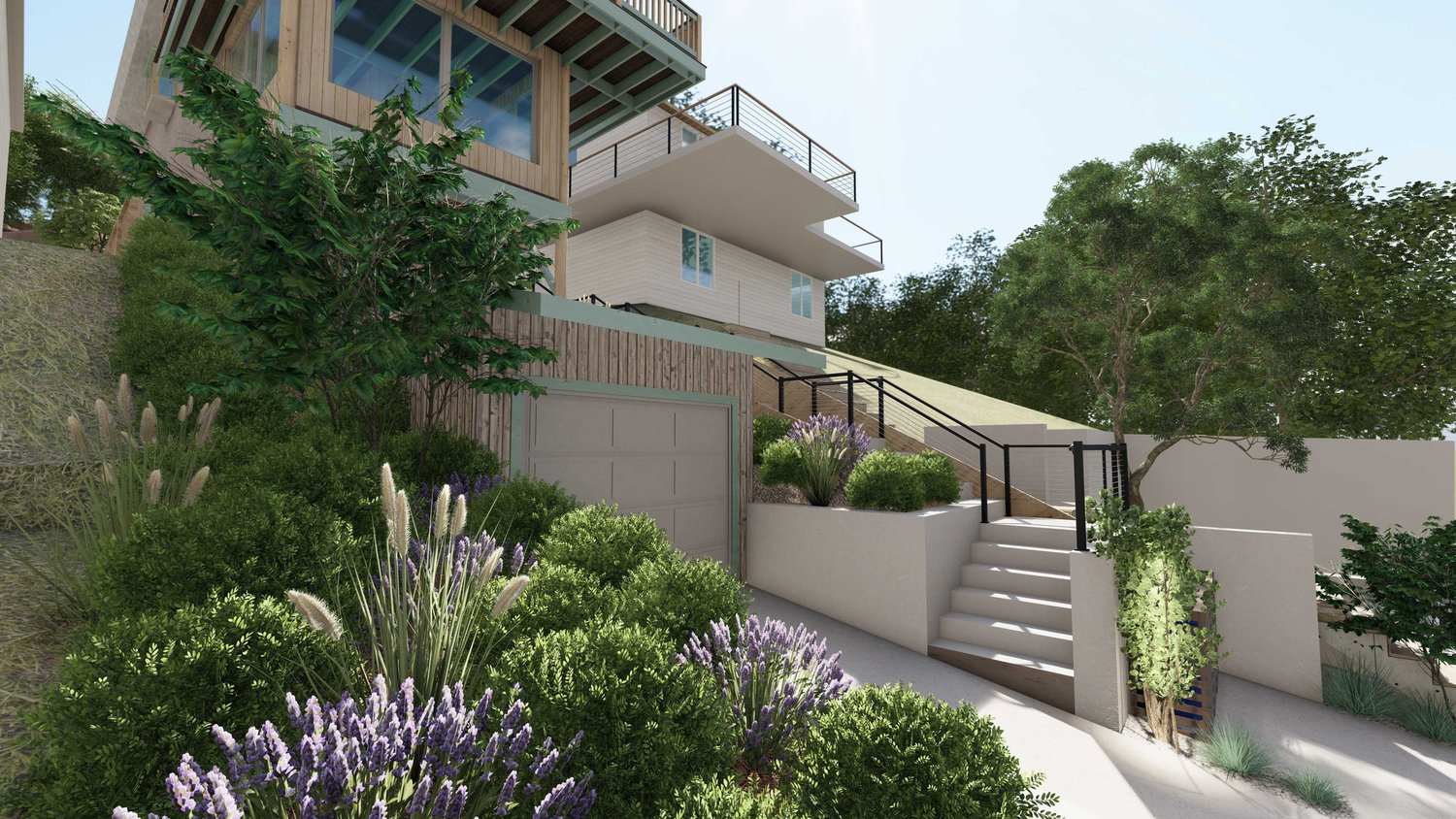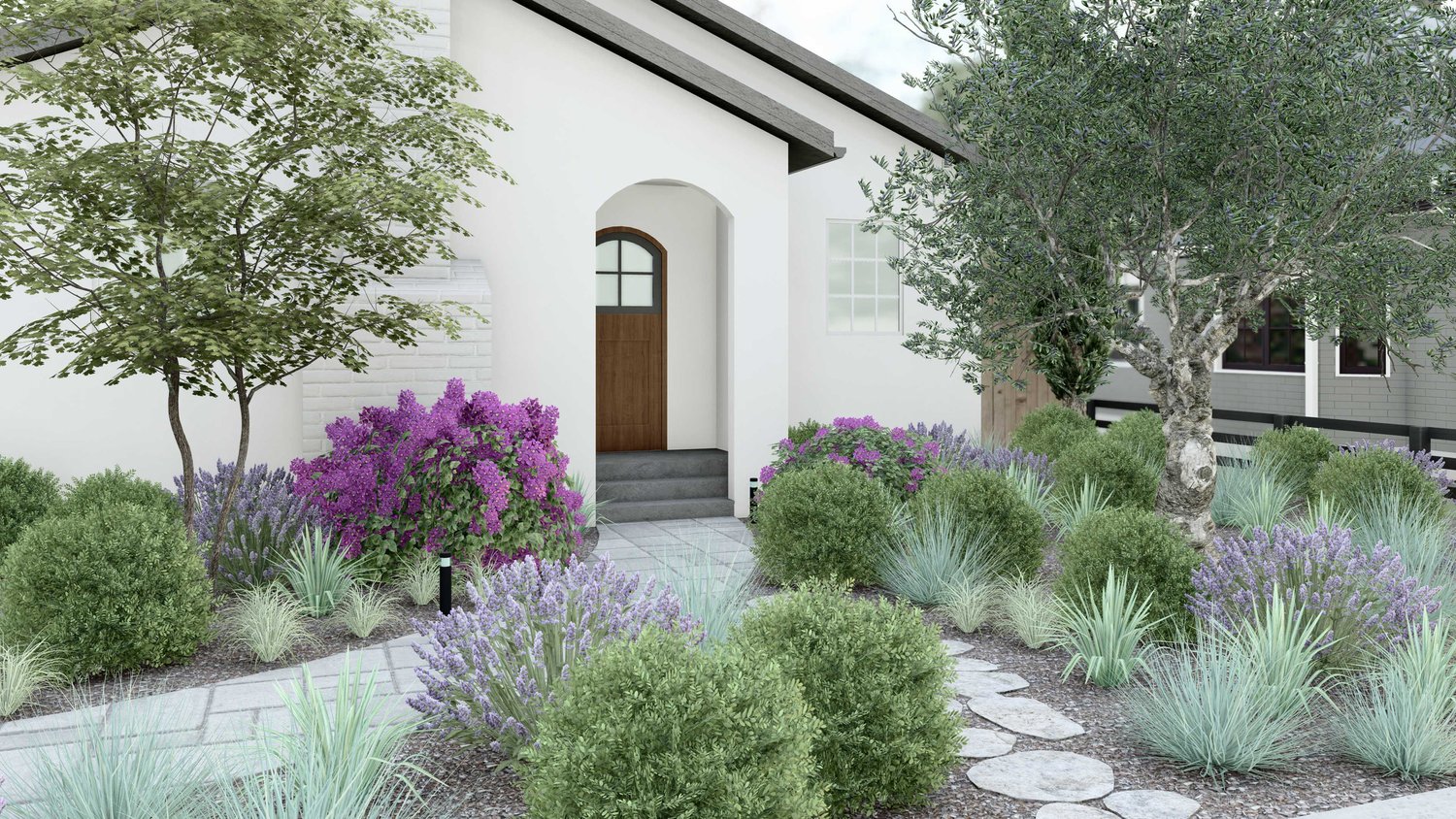 POPULAR AMENITIES IN MILL VALLEY YARDS
Simple and thorough online process
Take a style quiz, share videos and photos of your existing outdoor space, and learn about the costs in our Yard Builder™ tool. Our design team will help you at every step of the process.
GET STARTED >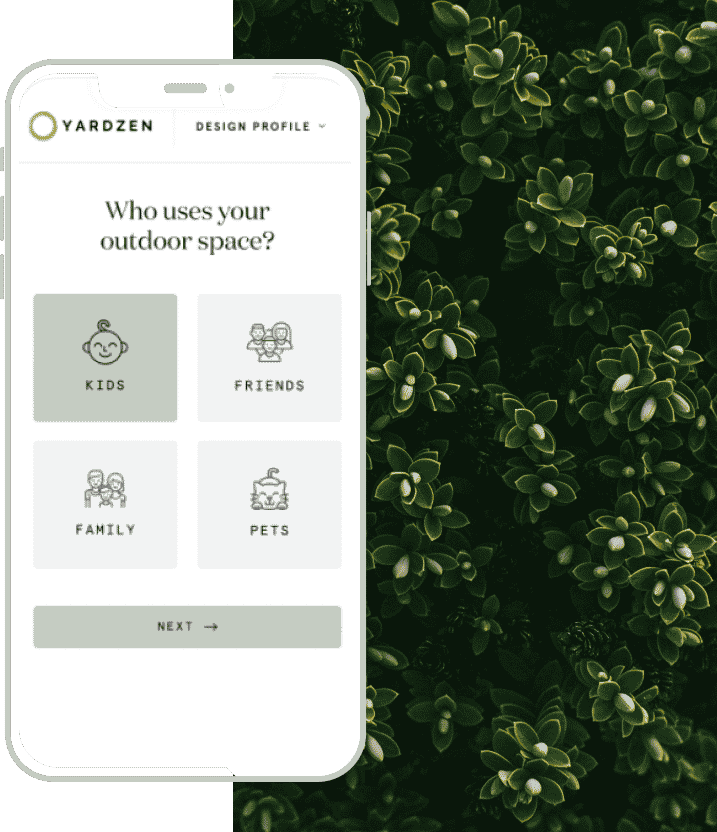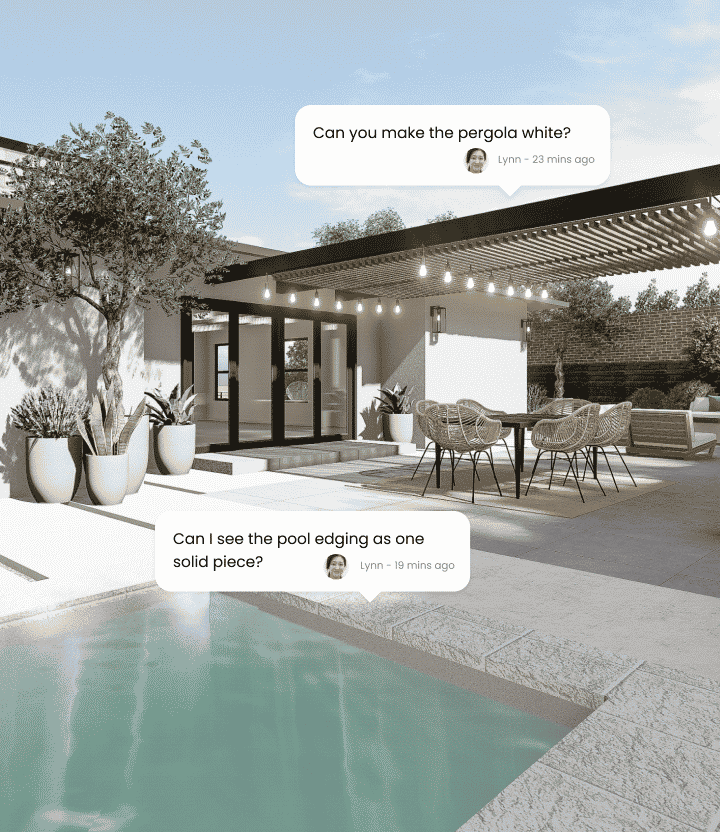 The easiest path to a final design you'll love
Review your first design in our online Feedback Studio. You'll be able to share feedback before we start incorporating your changes. A live design review call is also available to help get your project ready for installation.
GET STARTED >
Built by someone you (and Yardzen) trusts
We'll translate your 3D design concepts into a detailed CAD plan that's ready to install. Next, we'll connect you to a vetted, Mill Valley area landscape contractor who can bring your dream yard to life.
GET STARTED >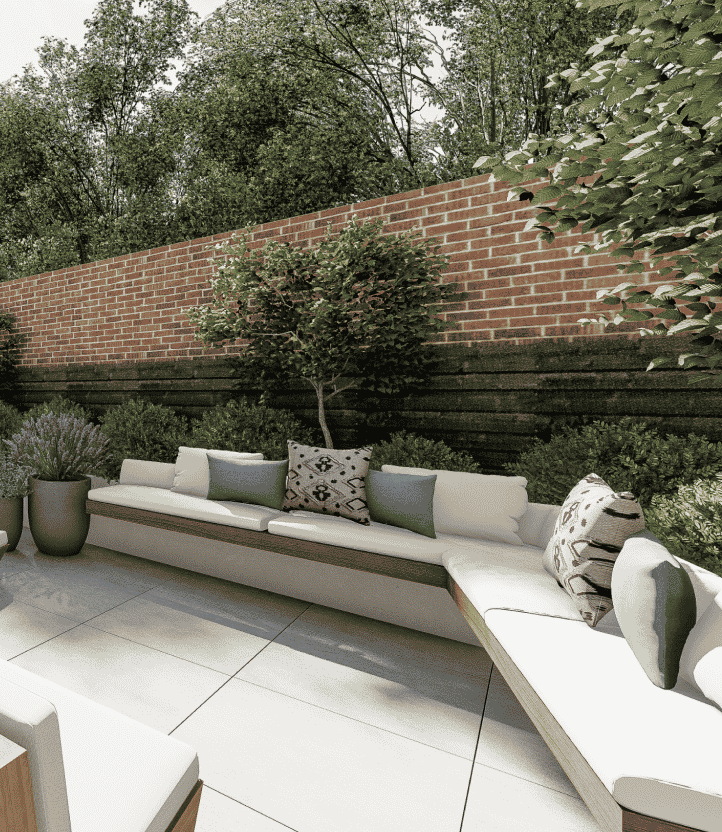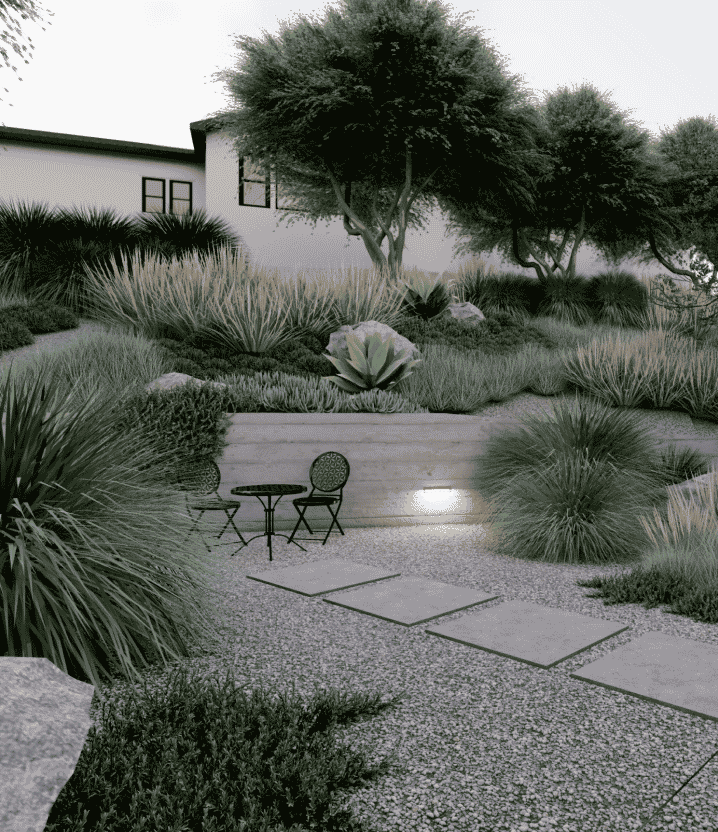 Custom designs for your unique outdoor space
We've built a database of plants, trees, and groundcovers that match to Mill Valley's planting zones, sun/shade/water requirements, aesthetic, and essential features like native plants. Using satellite and aerial imagery, coupled with your photo, video, and factoring in your details, we can create the outdoor space of your dreams.
GET STARTED >
WHICH YARDZEN PACKAGE IS RIGHT FOR YOU?
Take our YardBuilder quiz to find out.
GET STARTED

1. Tell us about your unique outdoor space

2. Answer a few questions about your dream yard

3. Get a personalized design package recommendation
WHAT YARDZEN CLIENTS ARE SAYING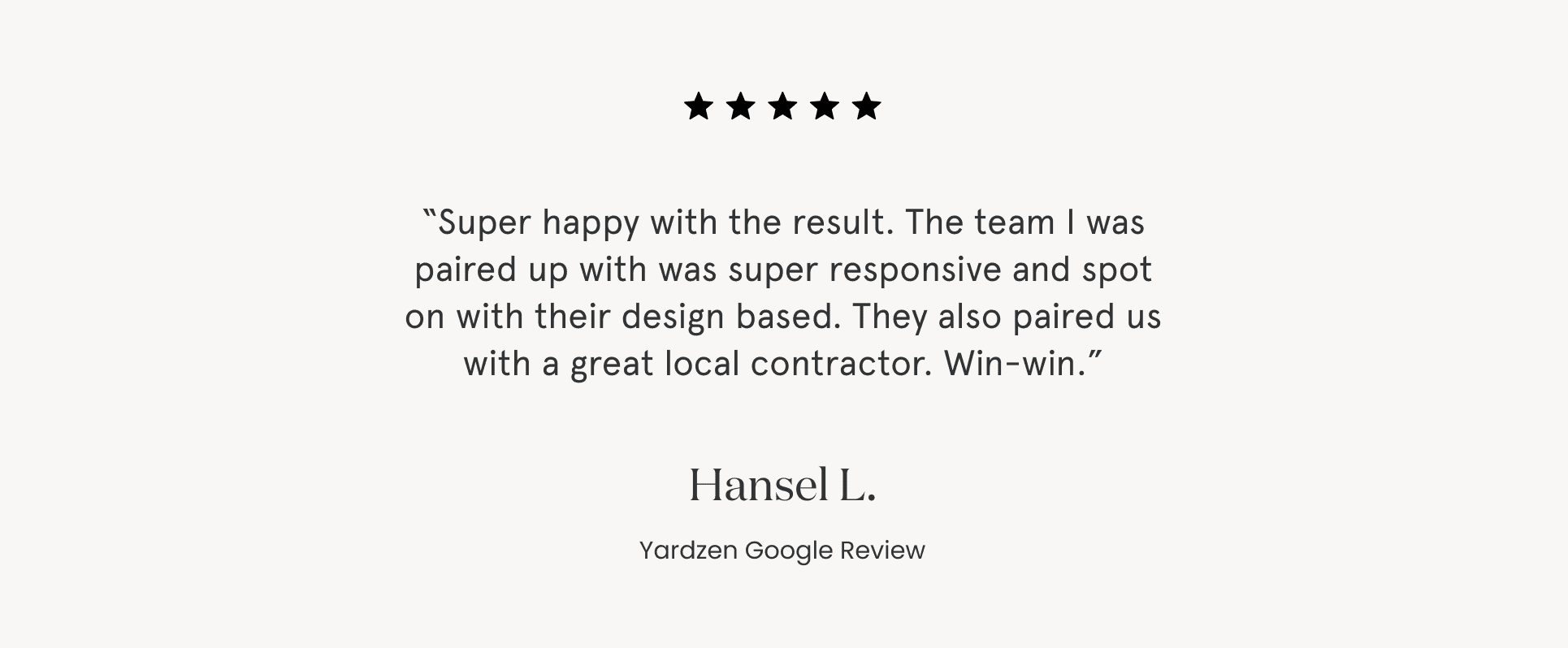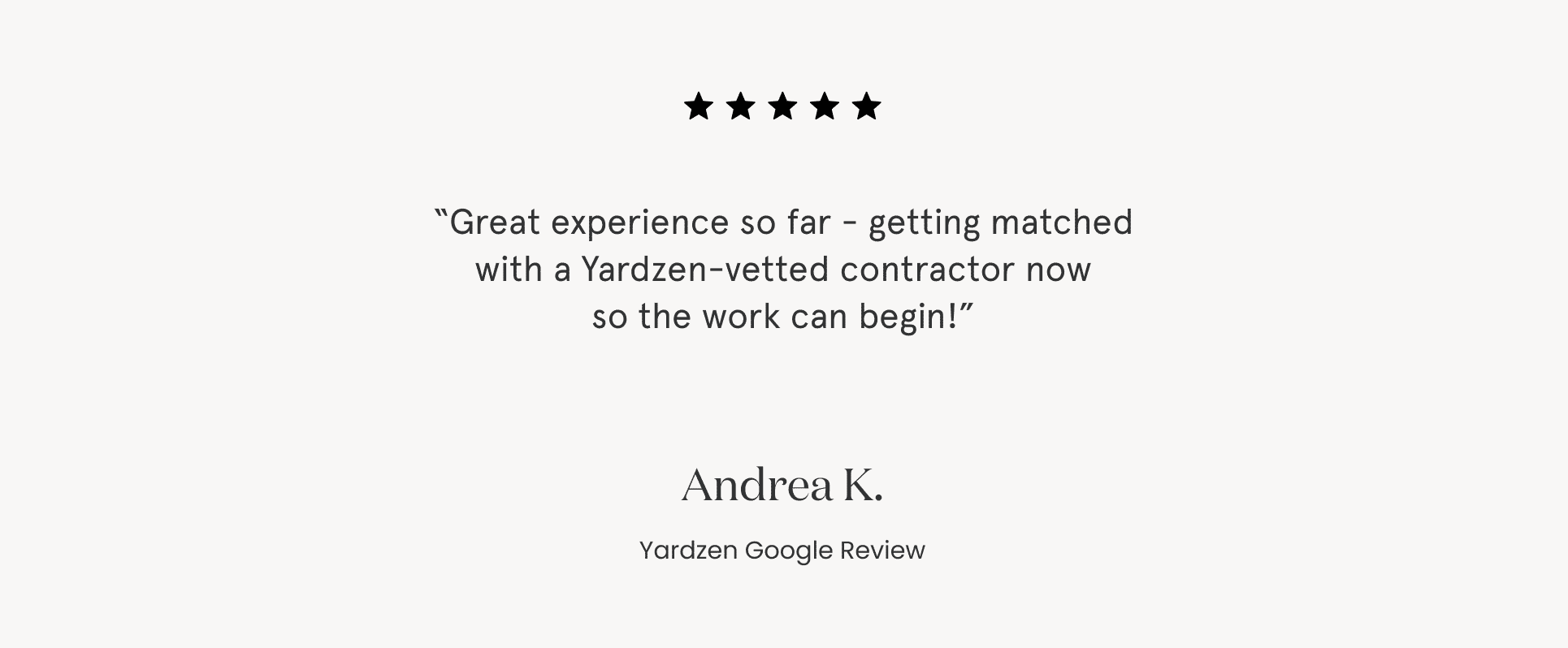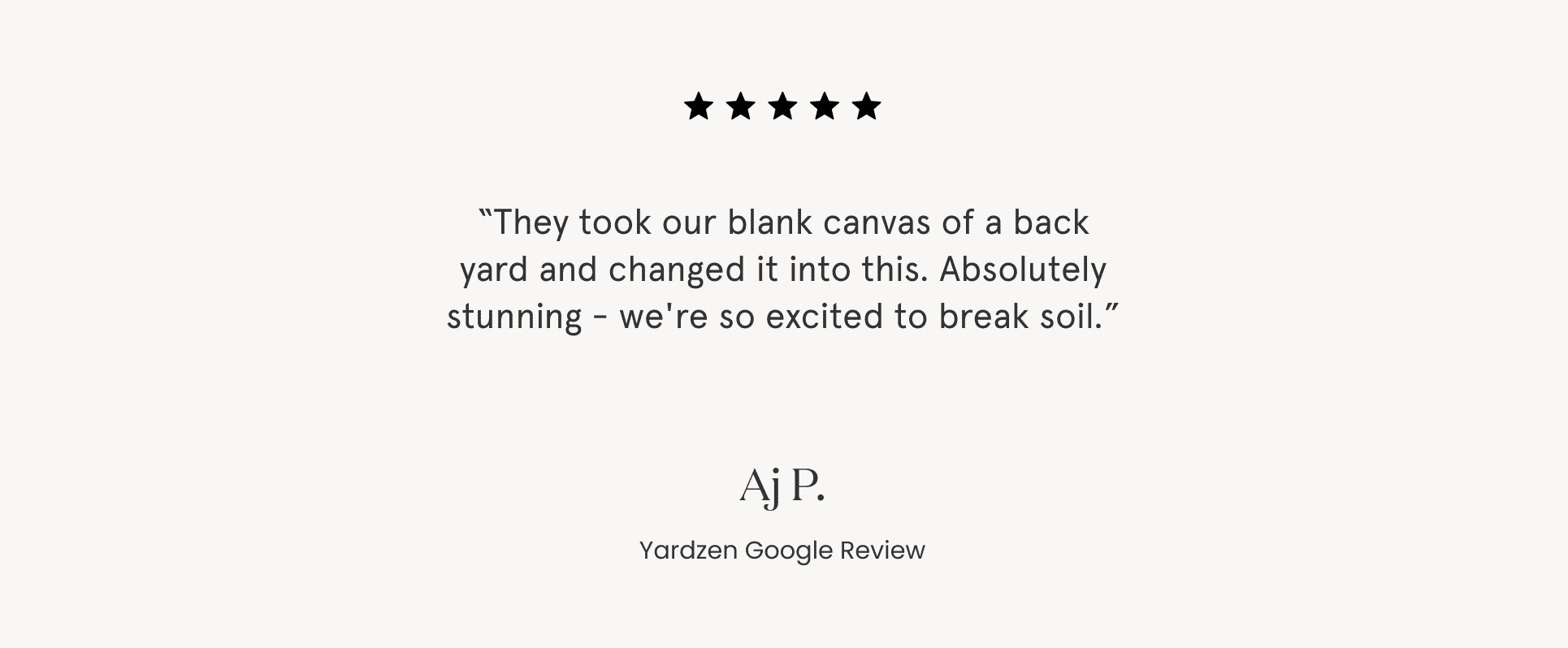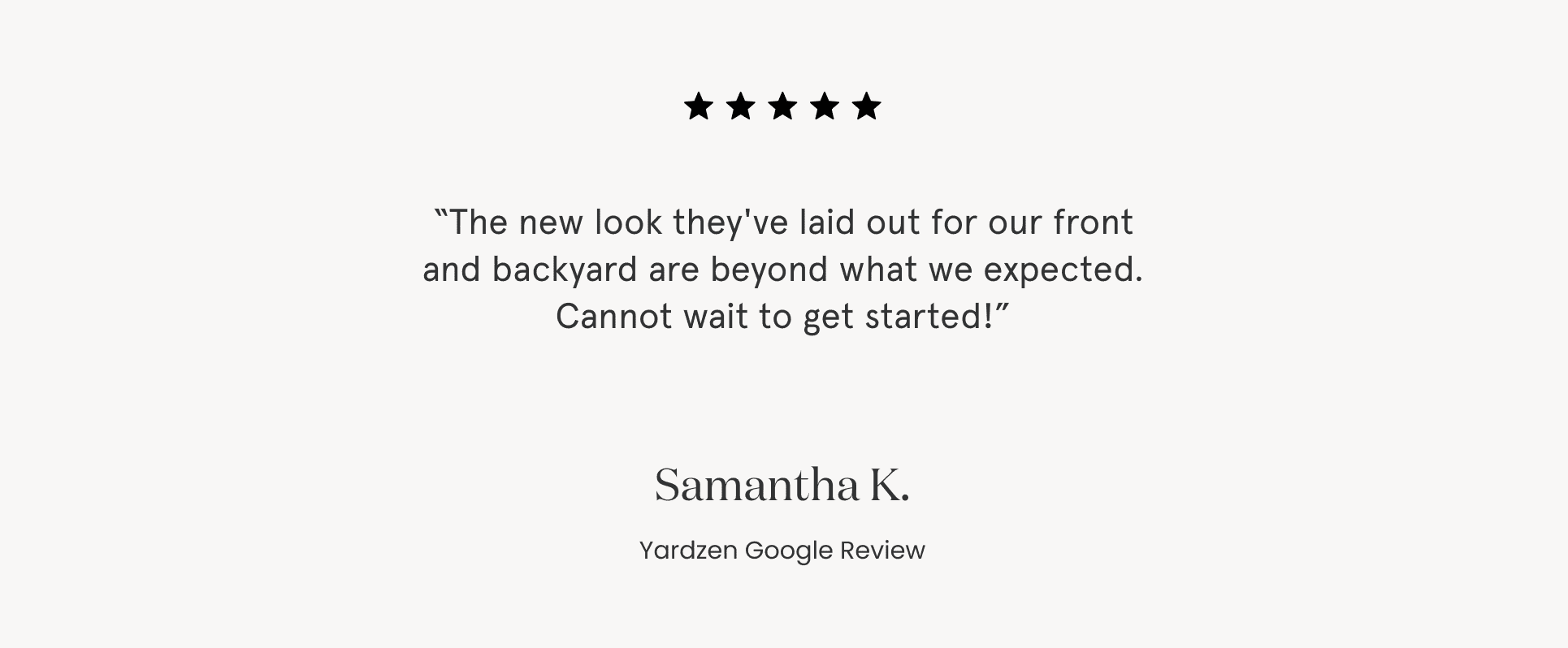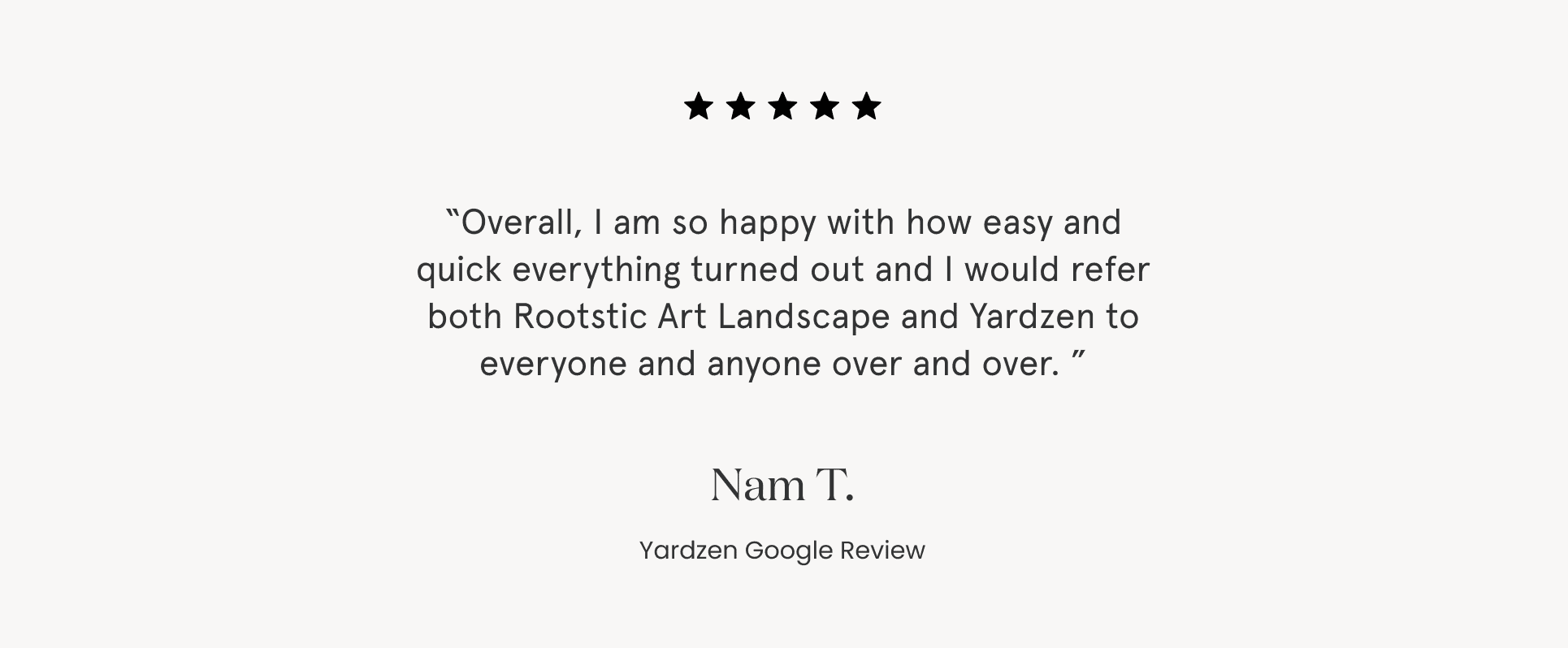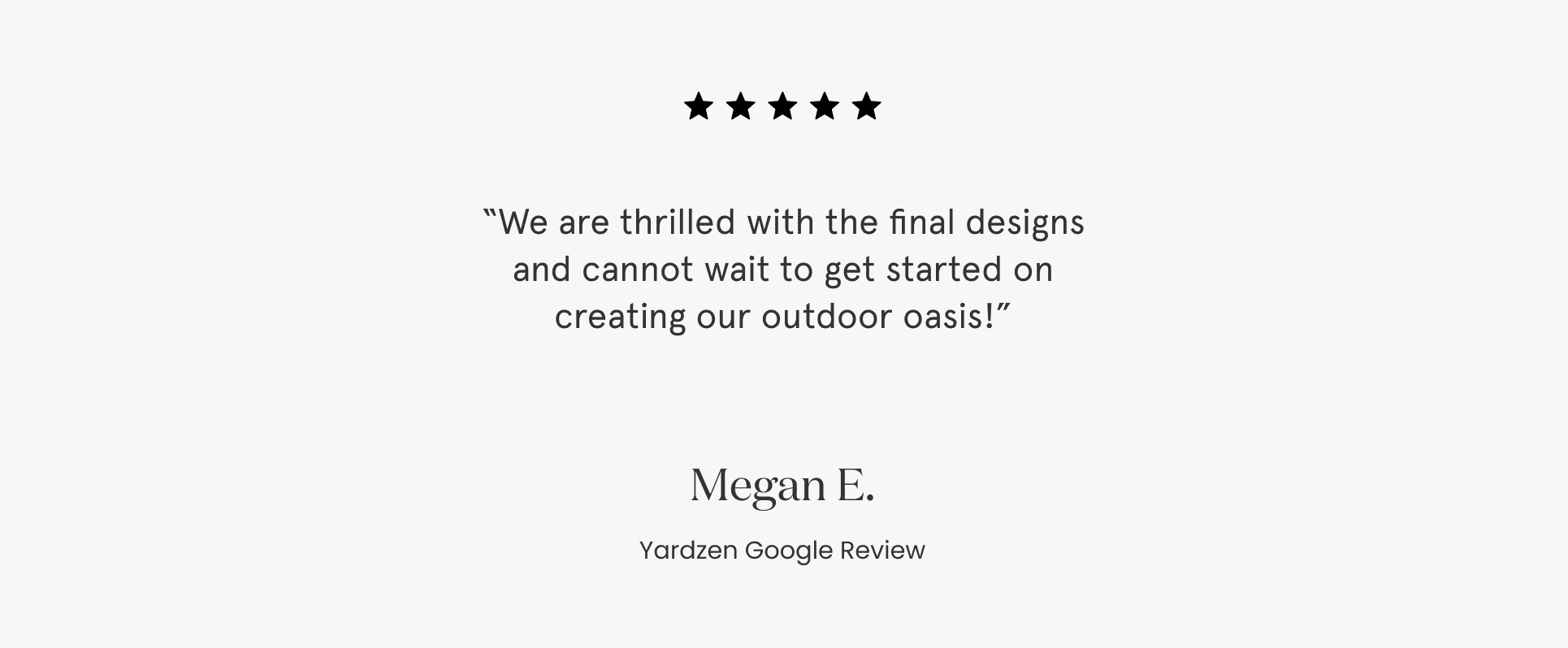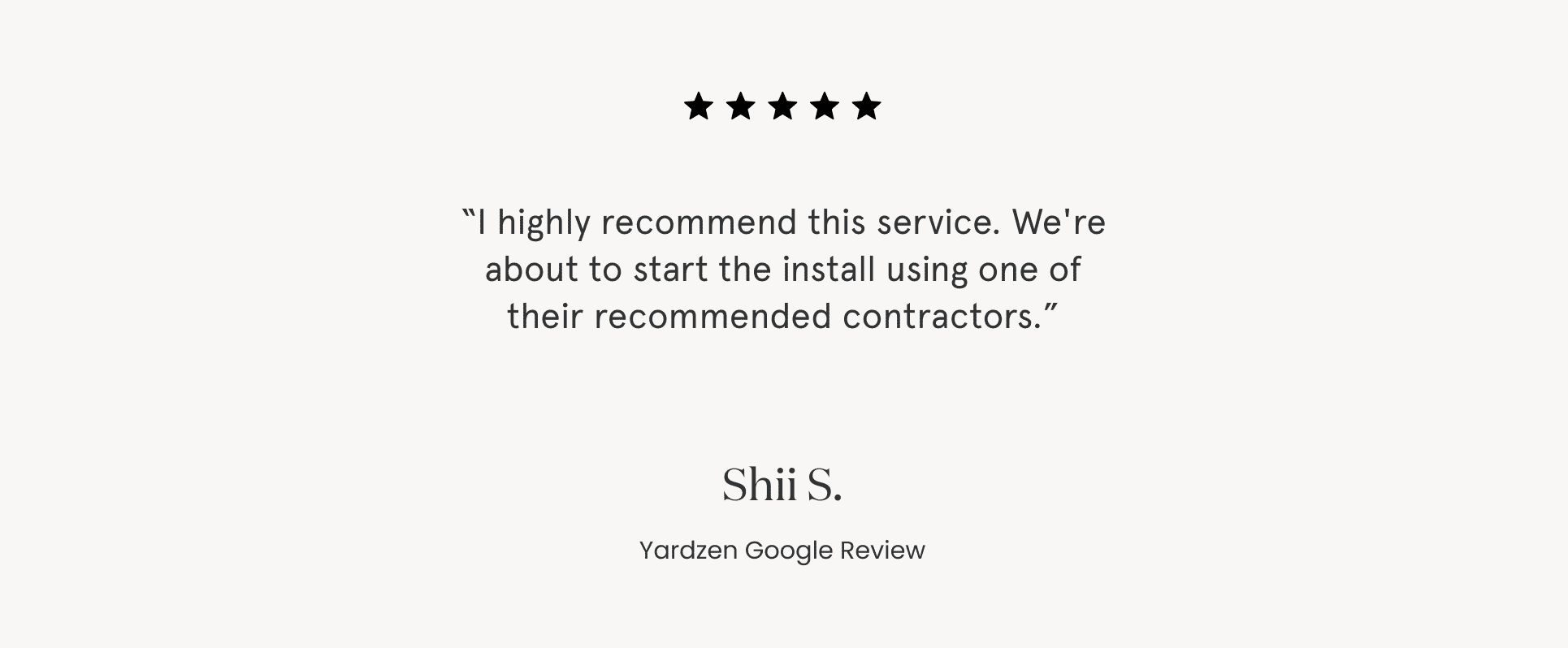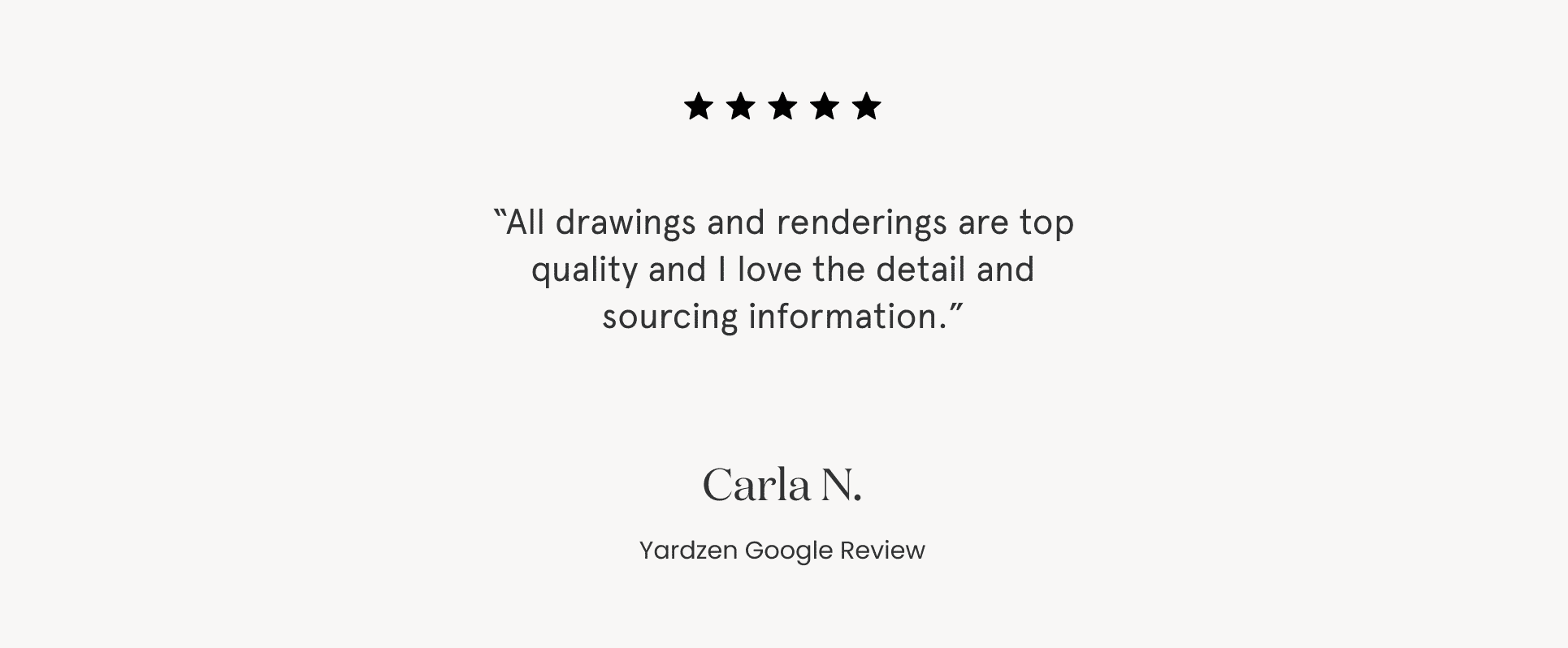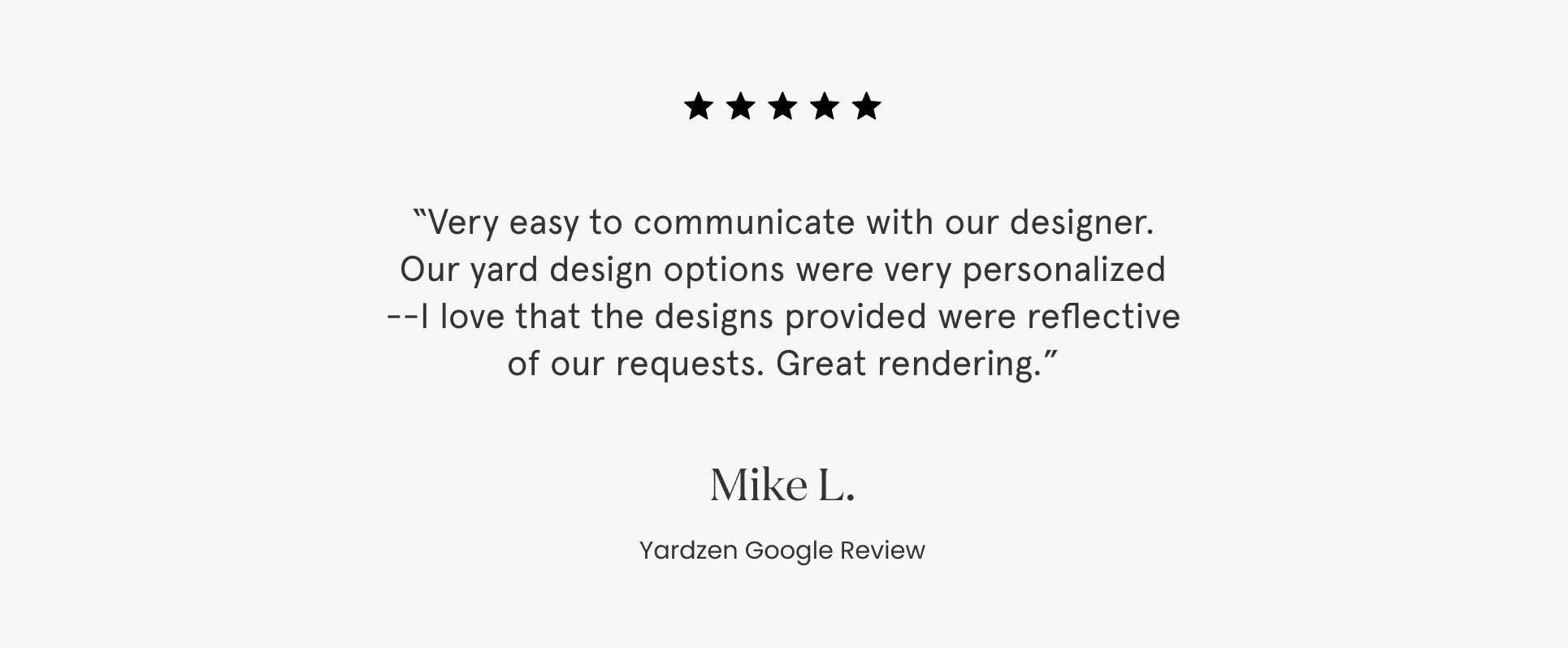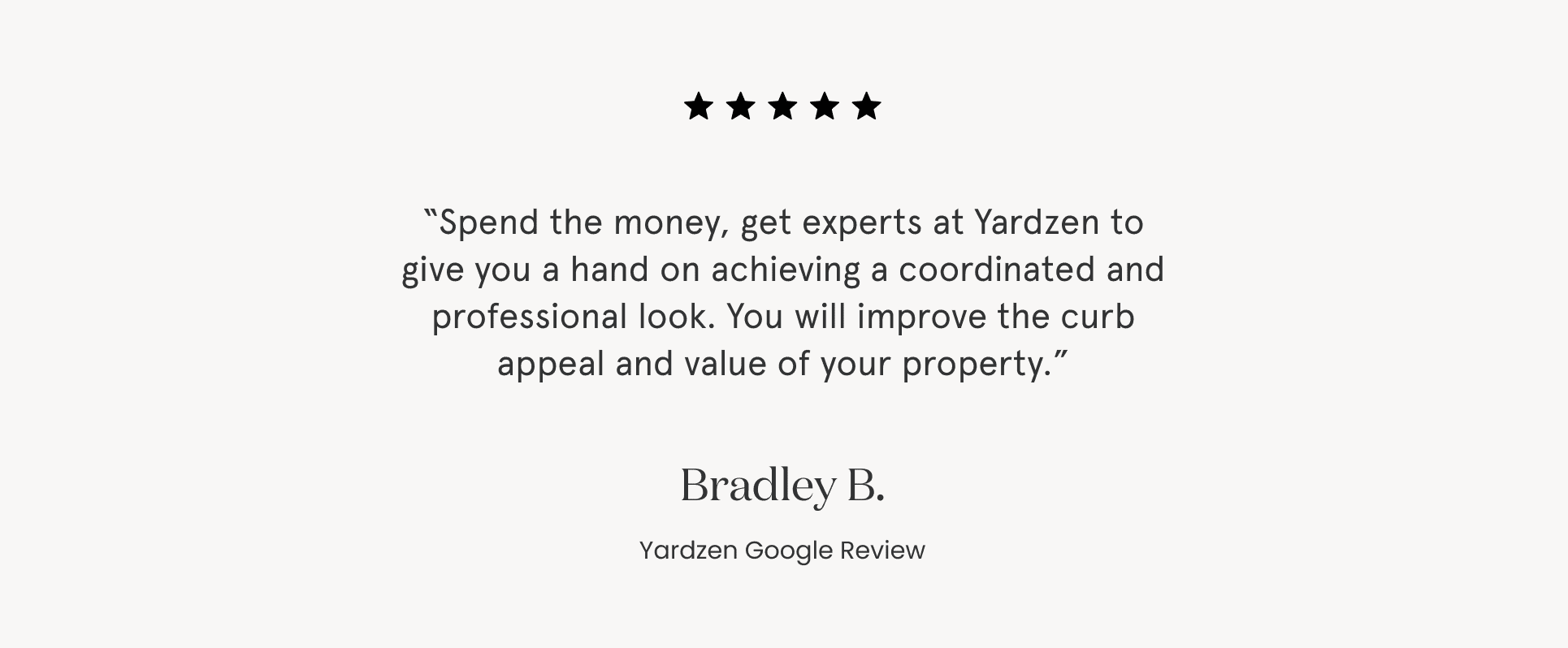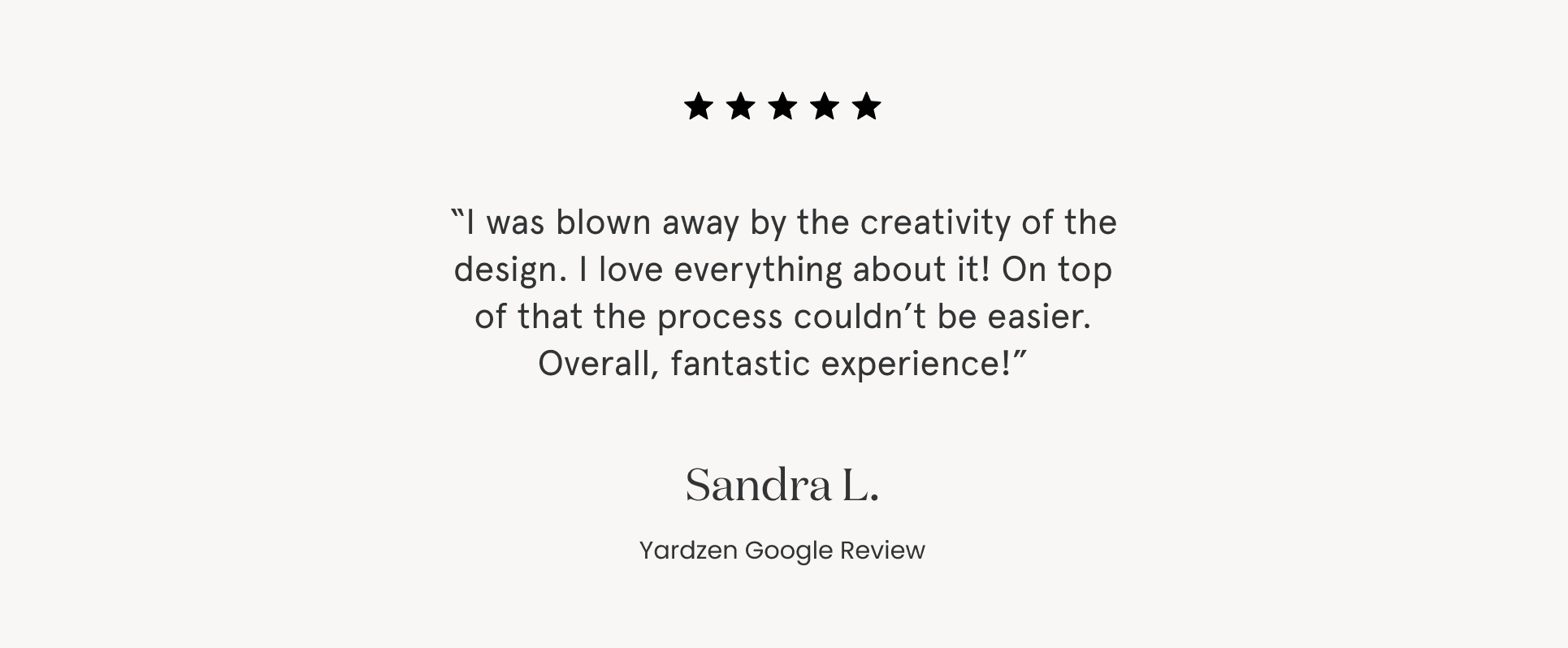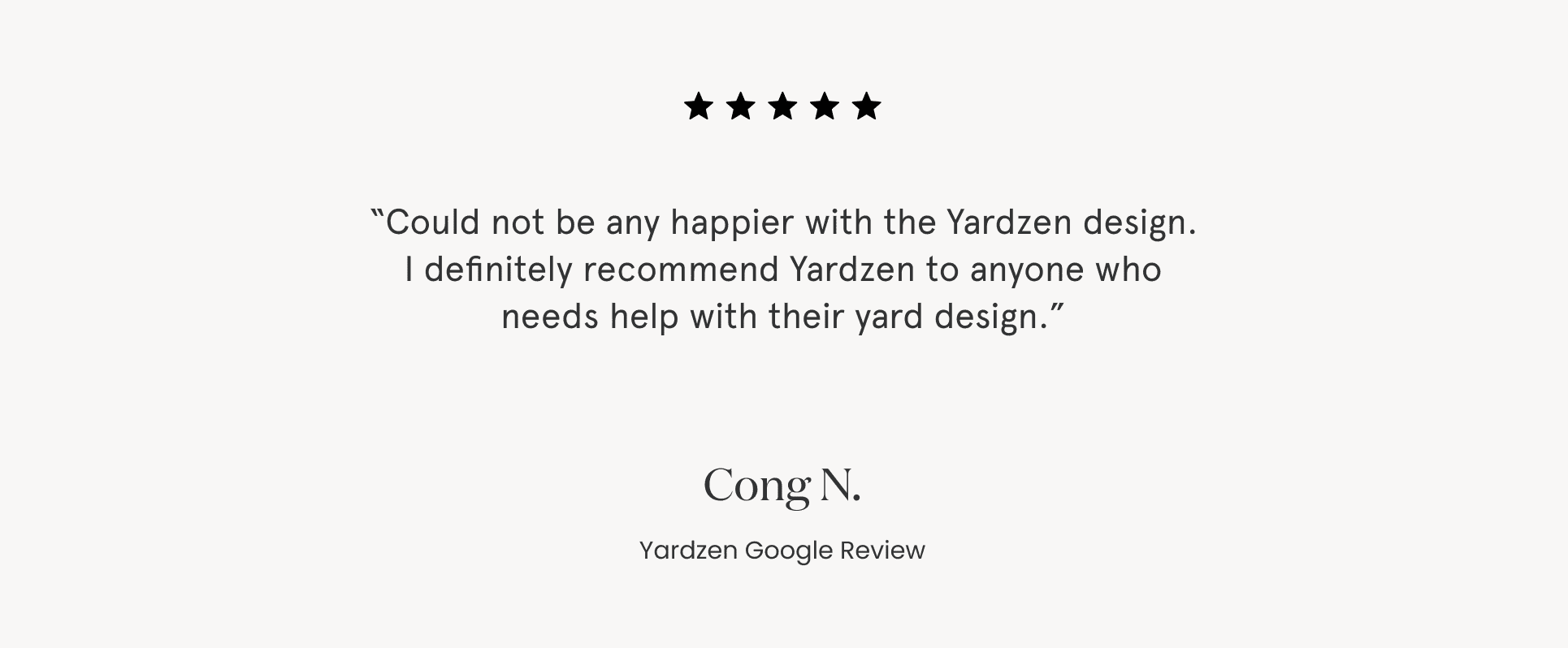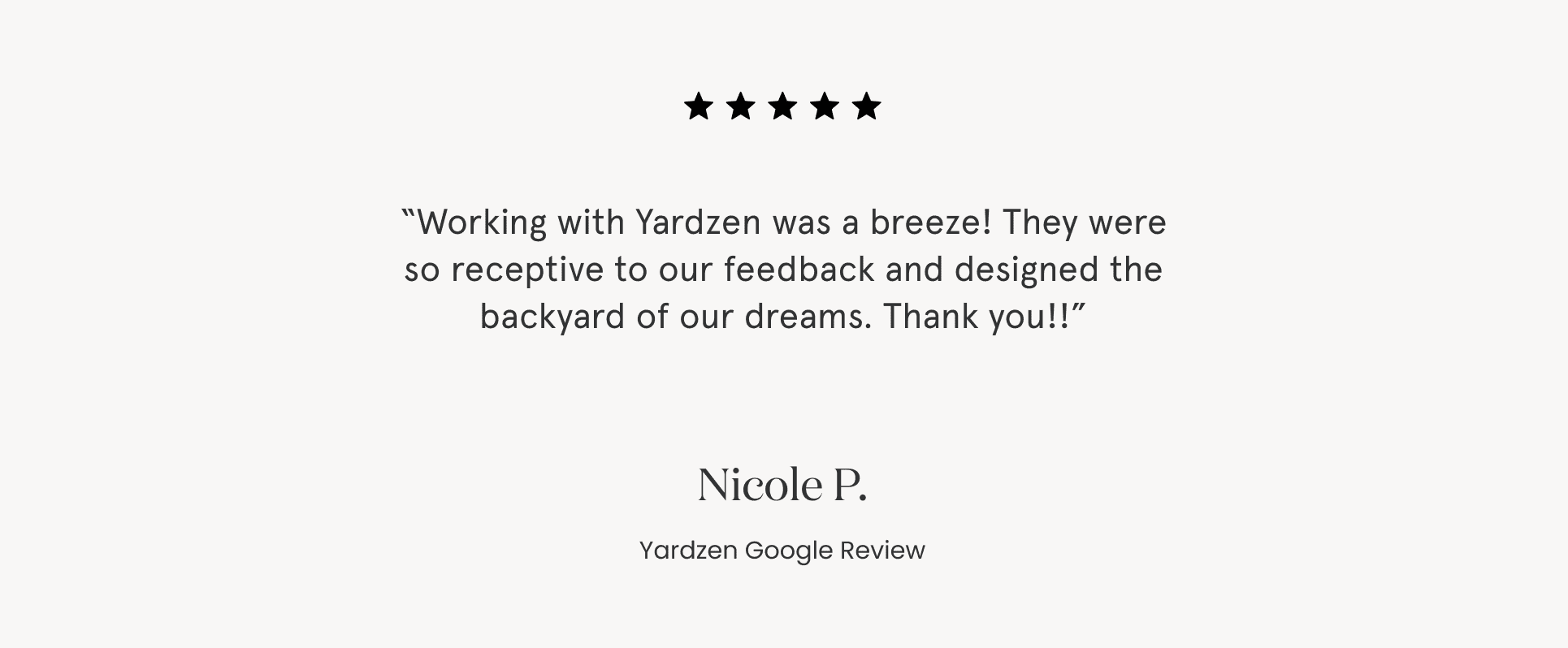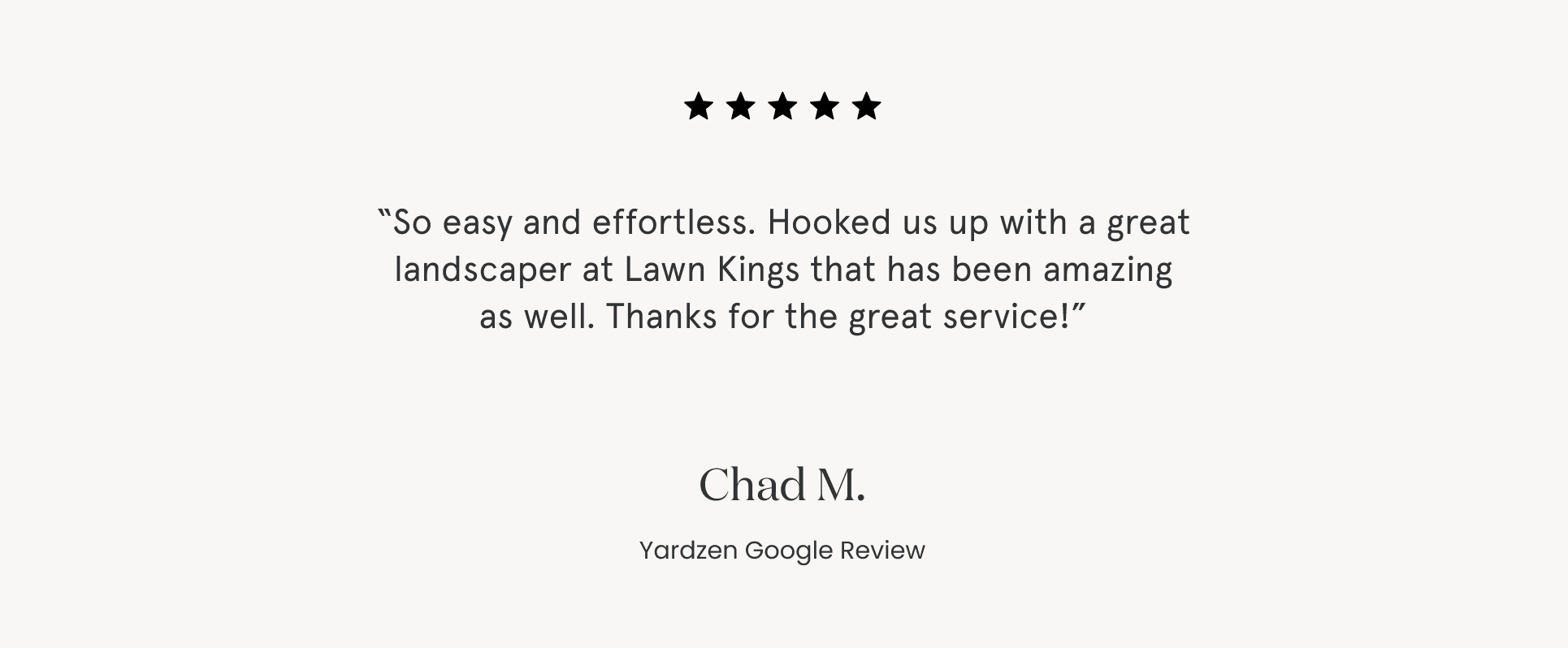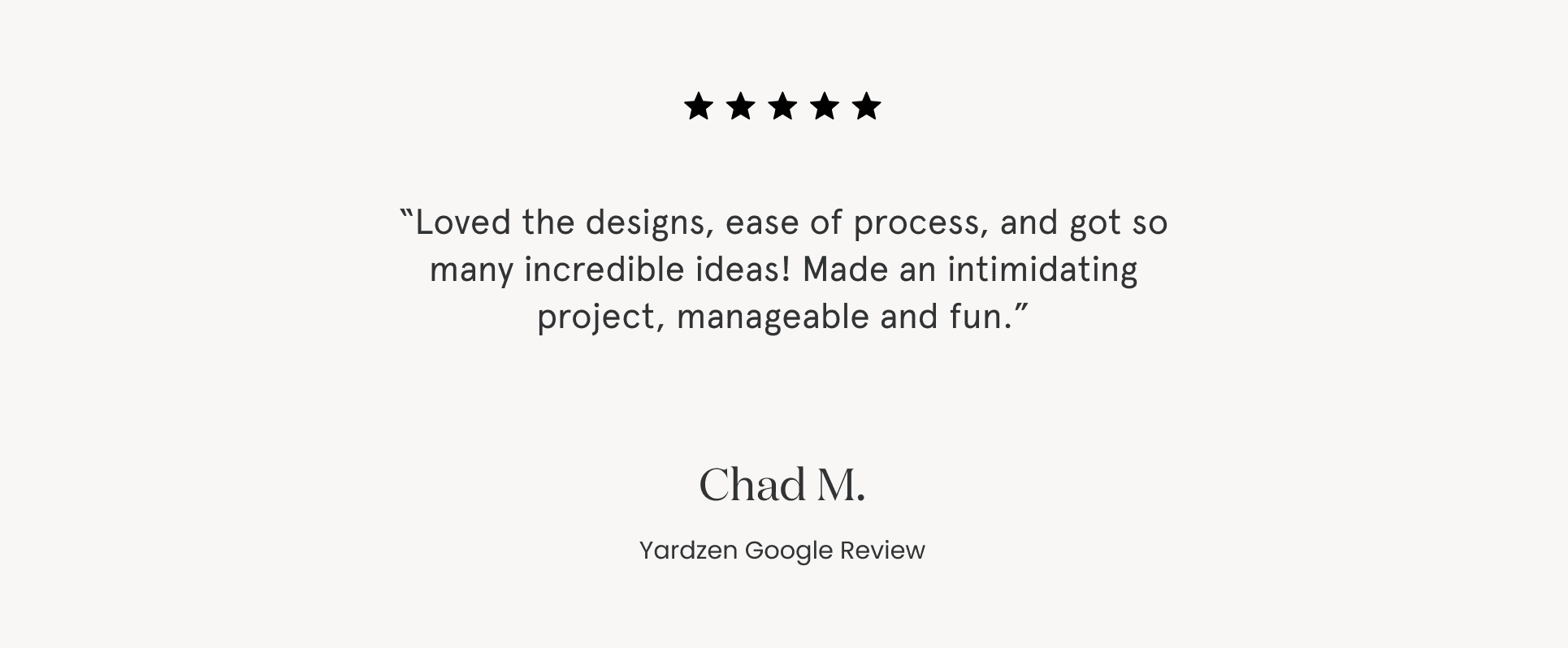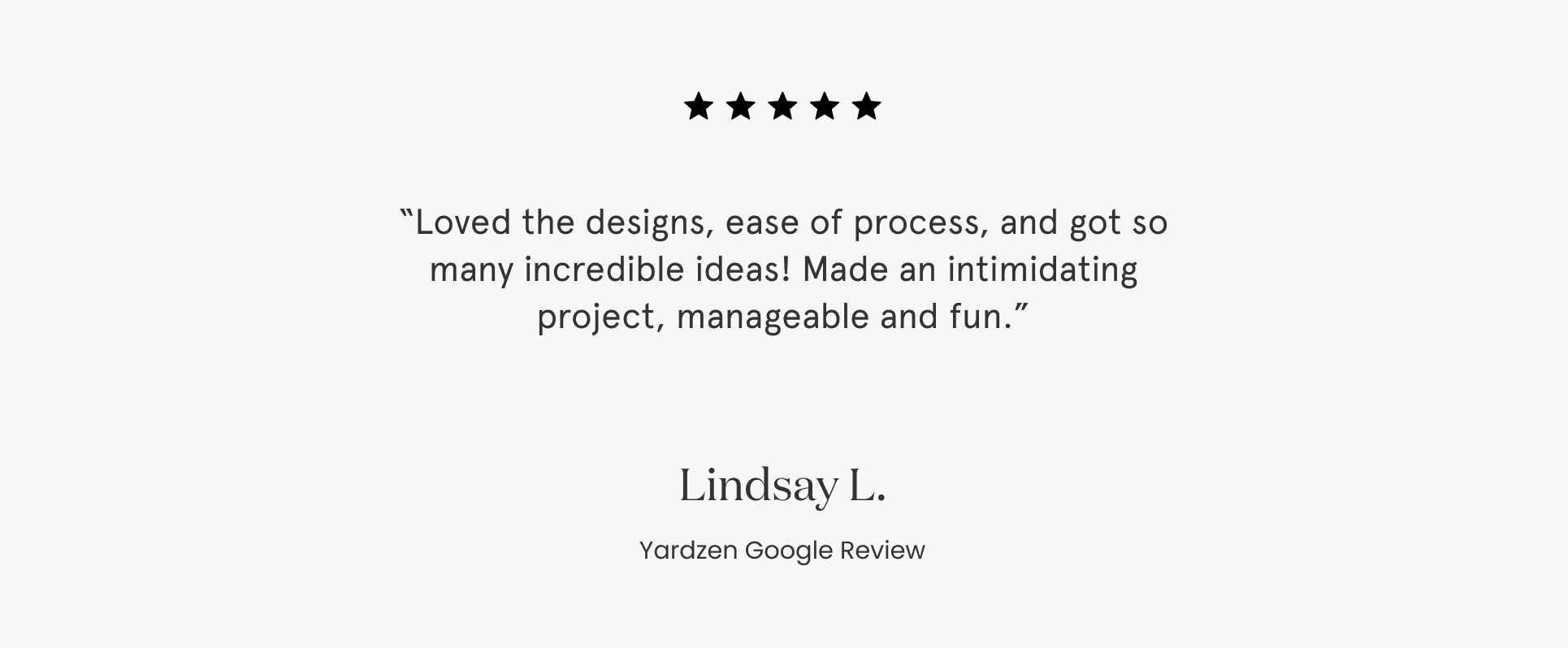 MILL VALLEY LANDSCAPING FAQS
What are popular design styles in Mill Valley?
We've designed a broad range of landscape styles for clients in Mill Valley, ranging from naturalistic havens to sleekly modern landscapes. A typical client seeks to balance the urban sophistication of nearby San Francisco with the wooded serenity of the native landscape.
Whatever the style, we prioritize a harmonious relationship with the surrounding landscape, capitalizing on the shade, views, and other unique opportunities each site offers.
What are some favorite plant species in Mill Valley?
Mill Valley's mild climate tolerates a wide variety of species, and we always recommend speaking with local nurseries for the best insight on local top performers.
This said Ceanothus, Manzanitas, Artemisia, and Salvias are all staple landscape plants in the area. Many species in these genera are native – this means they'll offer exceptional habitat value, and require less effort on your end to thrive.
For floral color, try Achillea or Epilobium canum. Muhlenbergia rigens and Festuca idahoensis are popular grass species, while ferns like Woodwardia fimbriata and Blechnum spicant work well in areas shaded by tree canopy. Speaking of trees, Madrone and Cercis occidentalis are great natives, though Olives and Japanese Maples are popular non-native tree choices in Mill Valley.
What factors do I need to pay attention to with Mill Valley landscapes?
With the shifting topography and extensive tree cover, microclimates are a huge factor when designing in Mill Valley. Climates range from dry, steep, south-facing hillsides to fully shaded canyons and creek bottoms. Shady redwood groves and sunny oak and grassland knolls can all be found within a small area. On the whole, it never gets too hot or too cold compared to other parts of Marin County, but the southwest side of town can see considerably more days of fog and wind than the east in Summer.
The hilly terrain also often presents issues having to do with drainage, stormwater management, and hillside stabilization.
When should I get started on my landscape project?
Now! Any time of year is great to begin work on a landscape project.
Utilizing the winter to work through the design phase sets you up to get on contractors' books early in the build season, so you can have your design installed and ready to enjoy in time for summer.
Do you design for wildfires?
We are happy to work with clients to develop designs that meet their level of comfort around fire safety. Choosing fire-resistant plant species and following best practices for fire-safe landscape design are options that our designers are happy to employ at a client's request.
While design can help reduce your risk of fire damage, it's important to note, that there are no fire-proof plants, and maintenance is the most important determinant of a landscape's fire safety.
Want to learn more? Check out Fire Safe Marin's plant recommendations.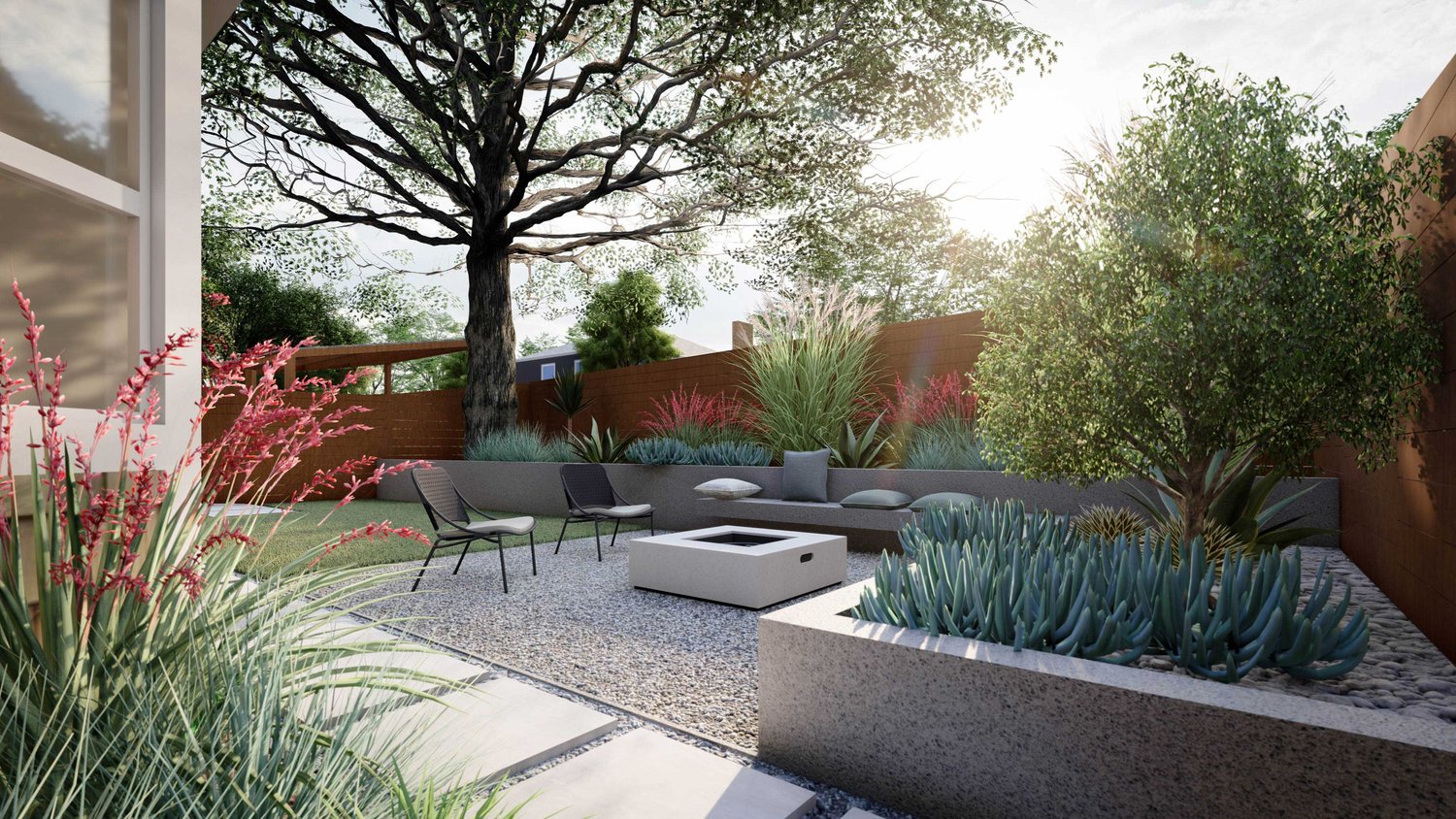 "Highly suggest Yardzen. The online process made everything super easy and efficient. Thank you to the entire Yardzen team."
Shannon M., Yardzen client
Yardzen creates local landscape designs in:
Bolinas, Corte Madera, Dillon Beach, Fairfax, Forest Knolls, Greenbrae, Inverness, Lagunitas, Larkspur, Marshall, Nicasio, Novato, Olema, Point Reyes Station, Ross, San Anselmo, San Geronimo, San Quentin, San Rafael, Sausalito, Stinson Beach, Tomales, and Woodacre.
Explore other California landscape designs by Yardzen
Huntington Beach, Los Angeles, Napa, Oakland, Palo Alto, Sacramento, San Diego, San Jose, Thousand Oaks, San Francisco, and Ventura