Landscape design & build for Washington, D.C.
Yardzen designs everywhere in the U.S. and the D.C. area is one of our favorites. Few places in America are as steeped in history as Washington D.C. From the serene Atlantic coastline to glowing deciduous forests, natural beauty weaves through the city and its environs, piling on to the area's charm (and offering no shortage of gorgeous native landscape plants, to boot).
EXPLORE DESIGN PACKAGES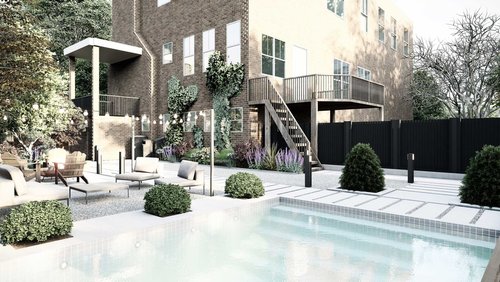 Climate
With mild springs and picturesque falls, gorgeous seasons await those looking to spend time outside in D.C. Be prepared, though: summers swelter with intense humidity and heat, and winters get their fair share of snow.
Outdoor Living
Landscape design can make the most of what D.C. has to offer: four-seasons, a plant-friendly climate, and abundant, wonderful green. Be it providing cool shade to survive the summers, creating flexible spaces for outdoor entertaining, or cutting back on yard work while boosting curb appeal, Yardzen has done it all for our D.C. clients.
Design & Build
Whatever your landscape vision may be, Yardzen is ready to make it a reality, working with you to craft a landscape design that achieves the look, feel, and function you are dreaming of, then connecting you with a vetted contractor from Yardzen's Pro Network to get your design built.
TRUSTED BY THE EXPERTS


WASHINGTON, D.C. LANDSCAPE DESIGN GALLERY
POPULAR AMENITIES IN WASHINGTON, D.C. YARDS
Simple and thorough online process
Take a style quiz, share videos and photos of your existing outdoor space, and learn about the costs in our Yard Builder™ tool. Our design team will help you at every step of the process.
GET STARTED >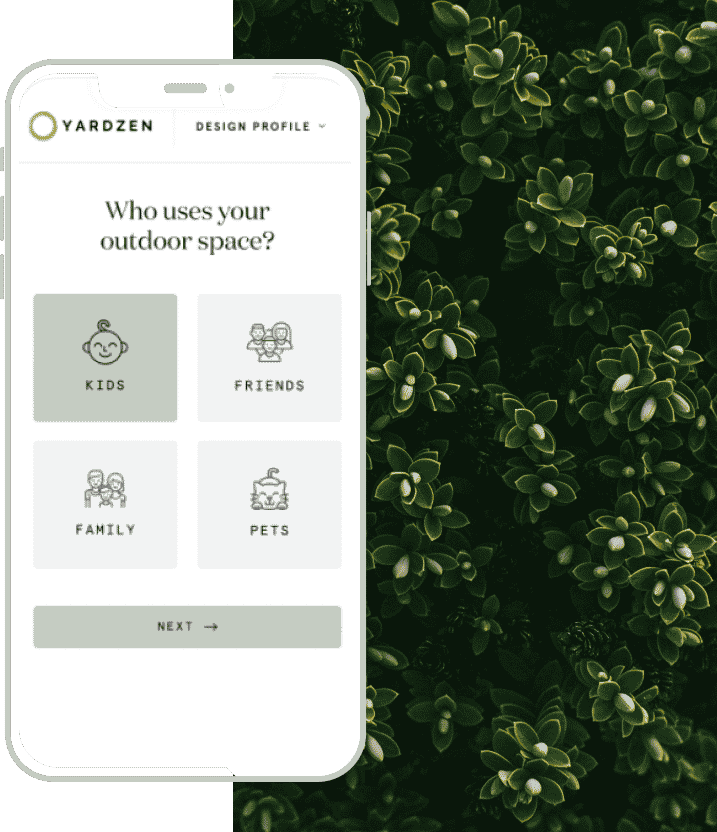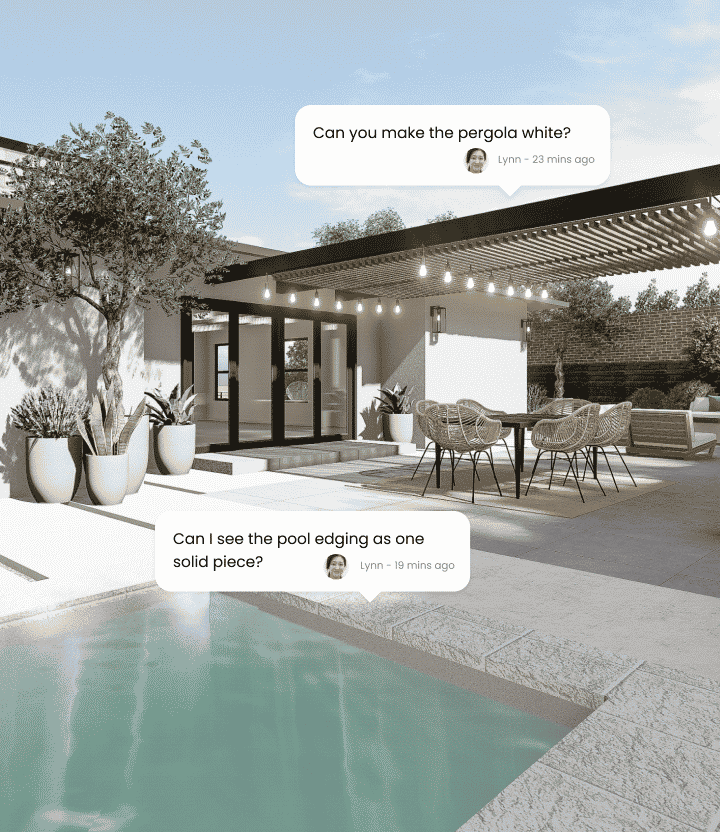 The easiest path to a final design you'll love
Review your first design in our online Feedback Studio. You'll be able to share feedback before we start incorporating your changes. A live design review call is also available to help get your project ready for installation.
GET STARTED >
Built by someone you (and Yardzen) trusts
We'll translate your 3D design concepts into a detailed CAD plan that's ready to install. Next, we'll connect you to a vetted, Washington area landscape contractor who can bring your dream yard to life.
GET STARTED >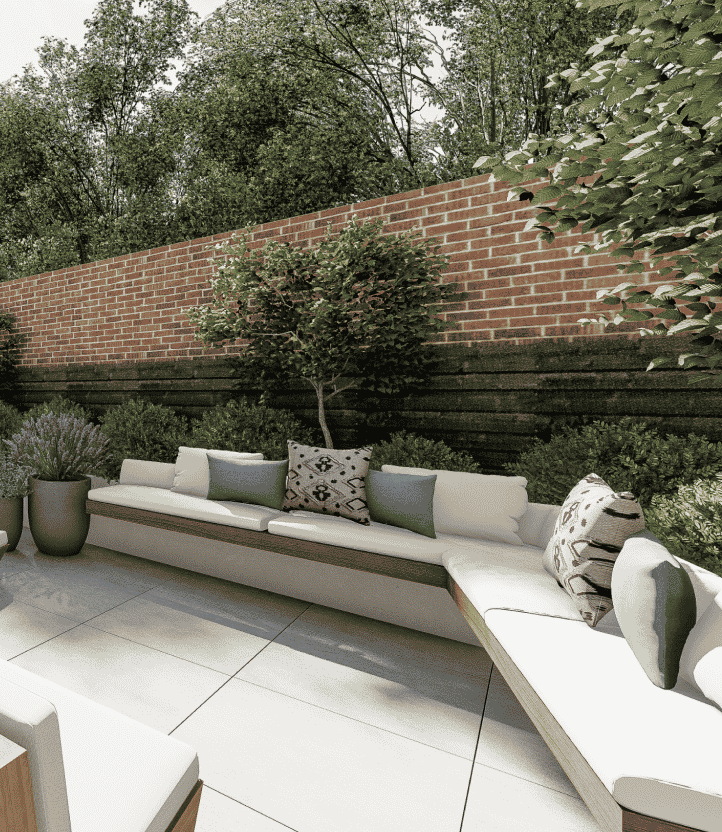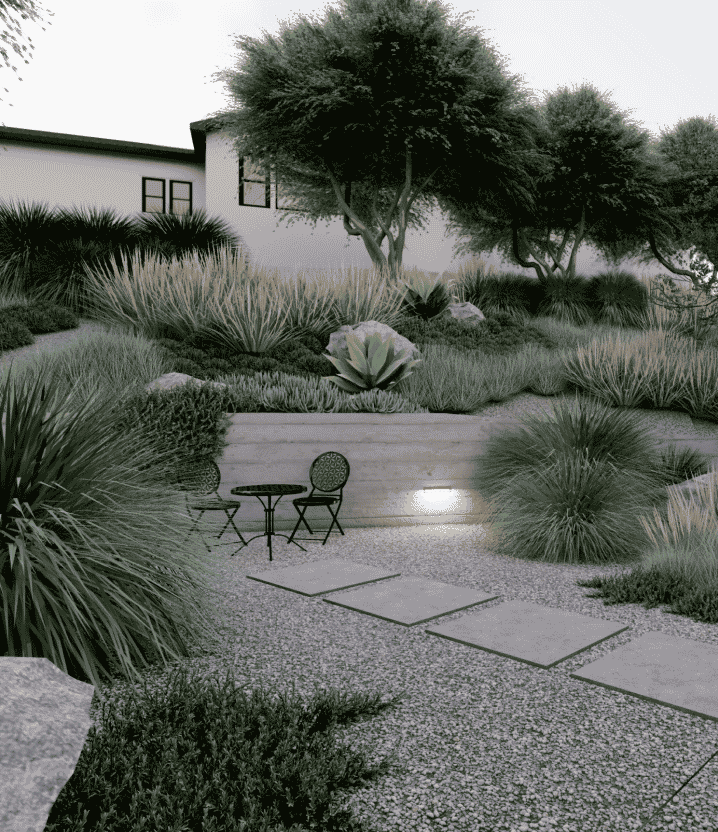 Custom designs for your unique outdoor space
We've built a database of plants, trees, and groundcovers that match to Washington's planting zones, sun/shade/water requirements, aesthetic, and essential features like native plants. Using satellite and aerial imagery, coupled with your photo, video, and factoring in your details, we can create the outdoor space of your dreams.
GET STARTED >
WHICH YARDZEN PACKAGE IS RIGHT FOR YOU?
Take our YardBuilder quiz to find out.
GET STARTED

1. Tell us about your unique outdoor space

2. Answer a few questions about your dream yard

3. Get a personalized design package recommendation
WHAT YARDZEN CLIENTS ARE SAYING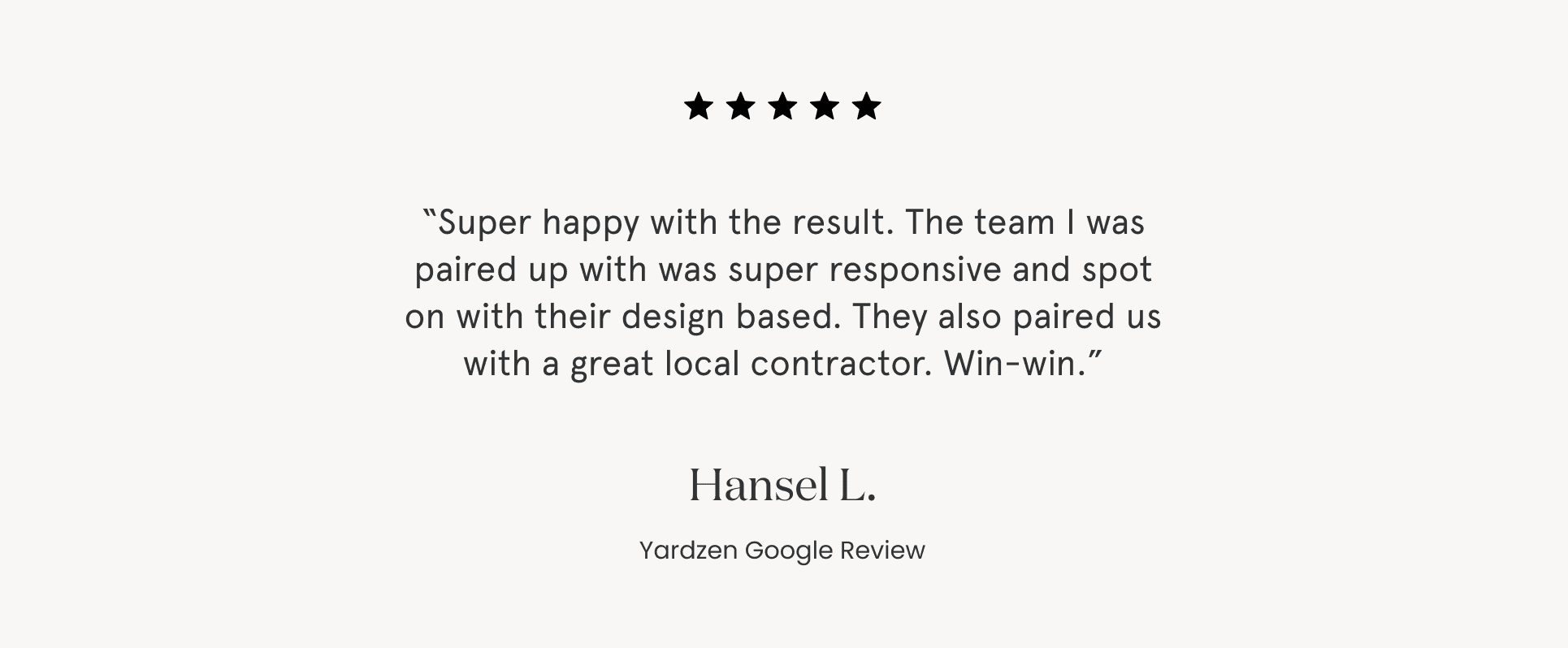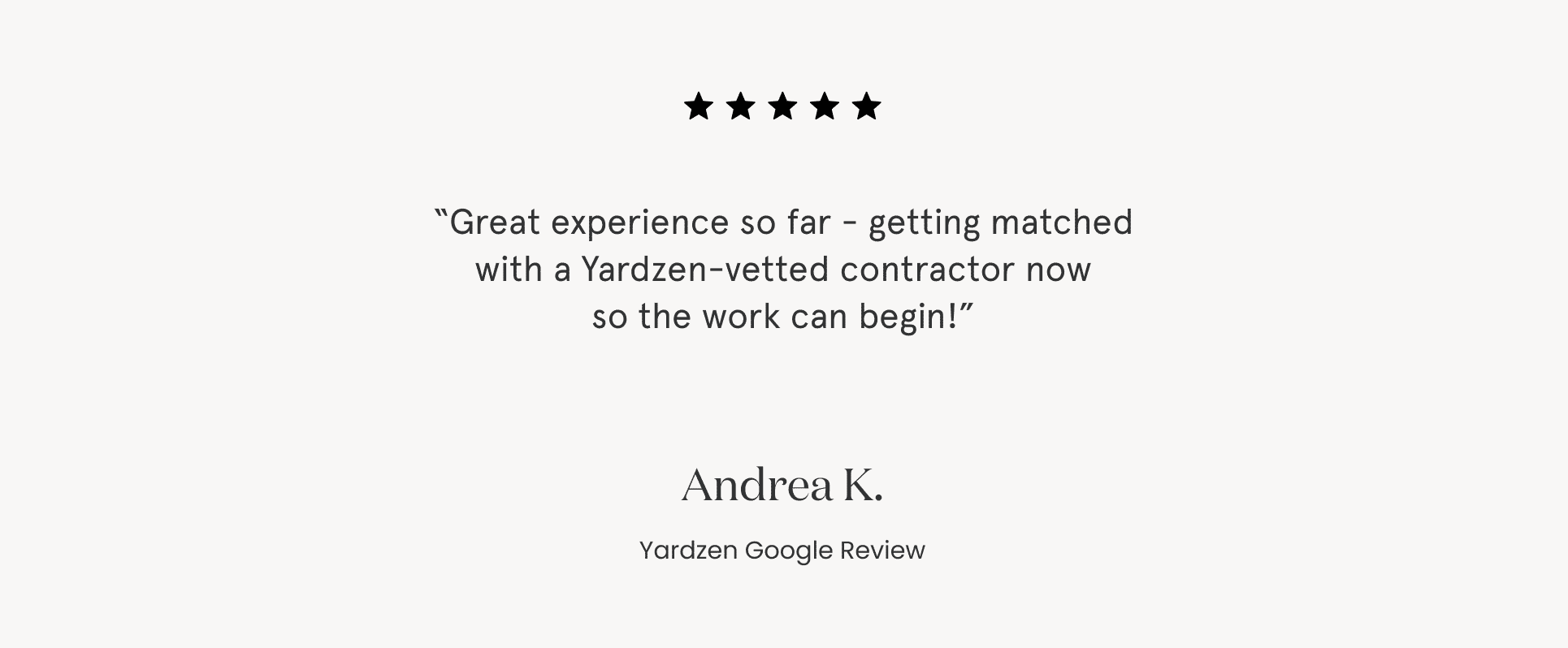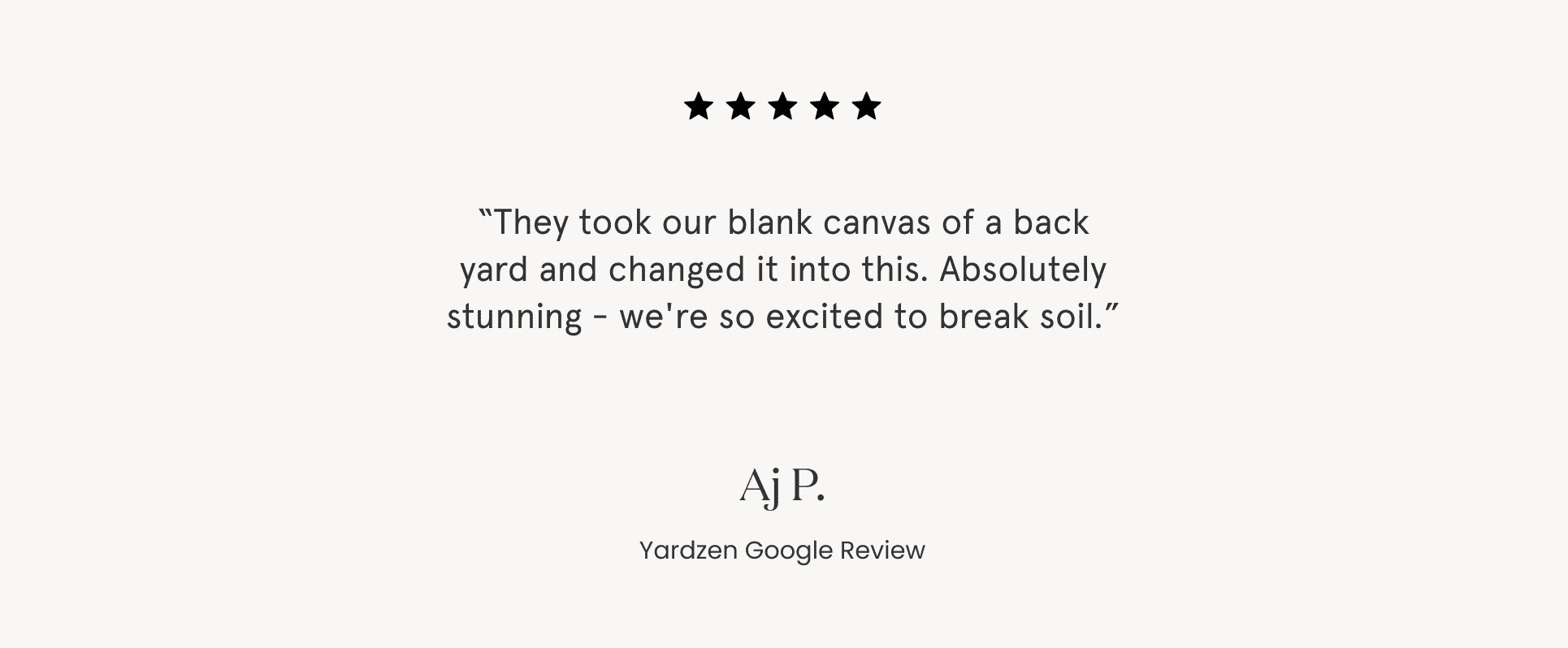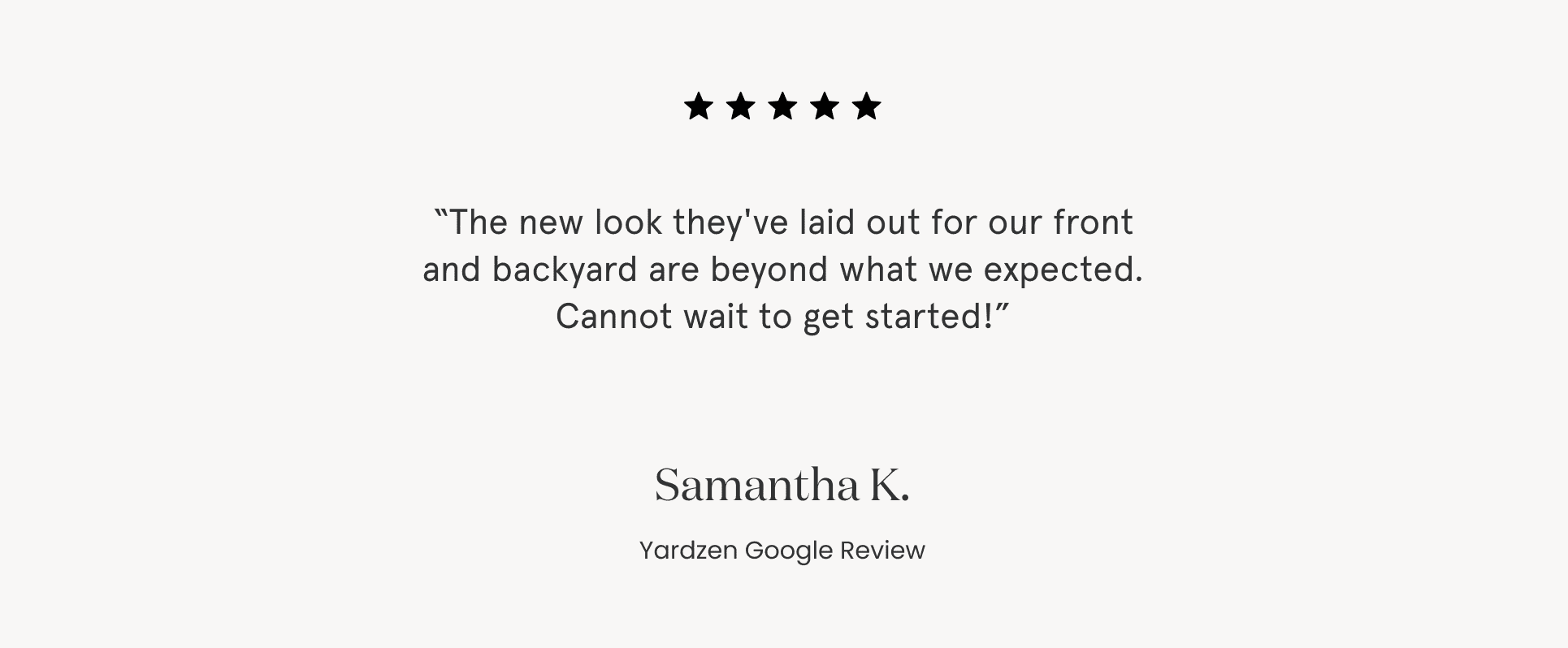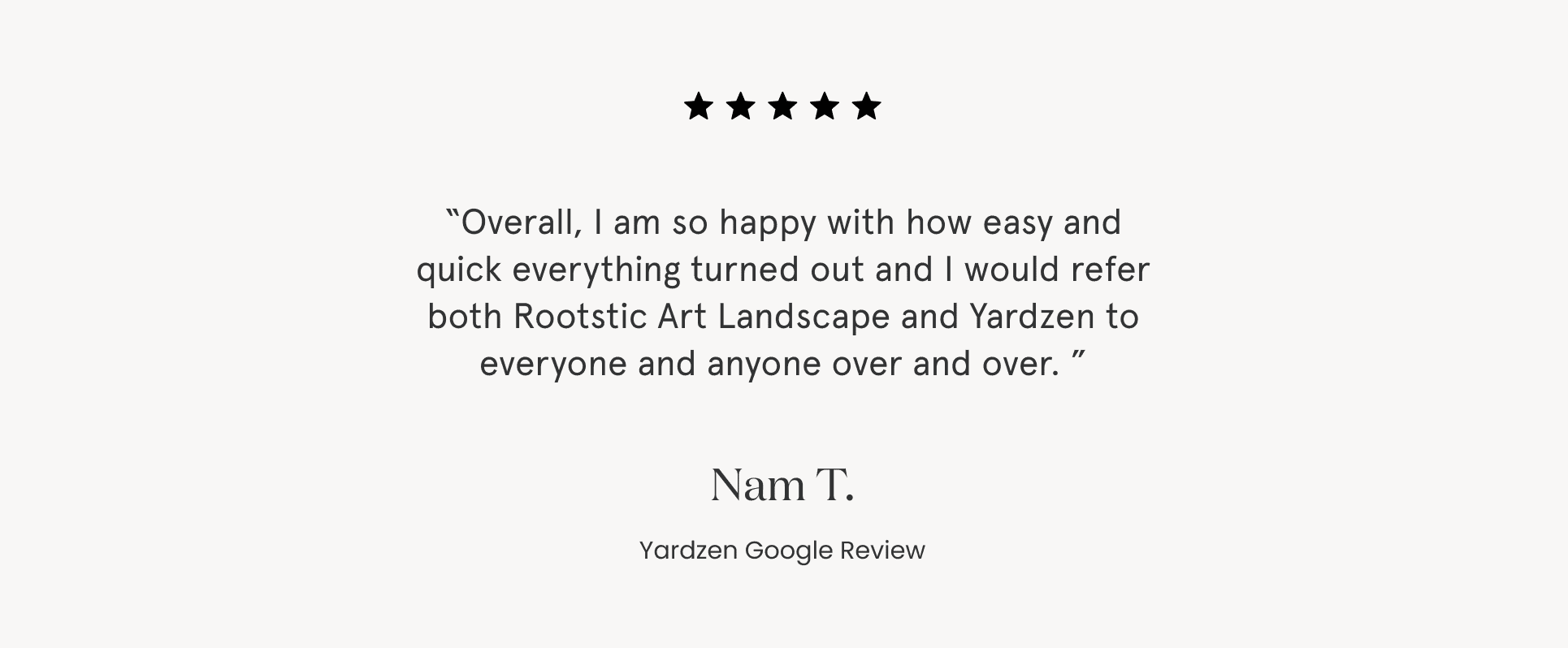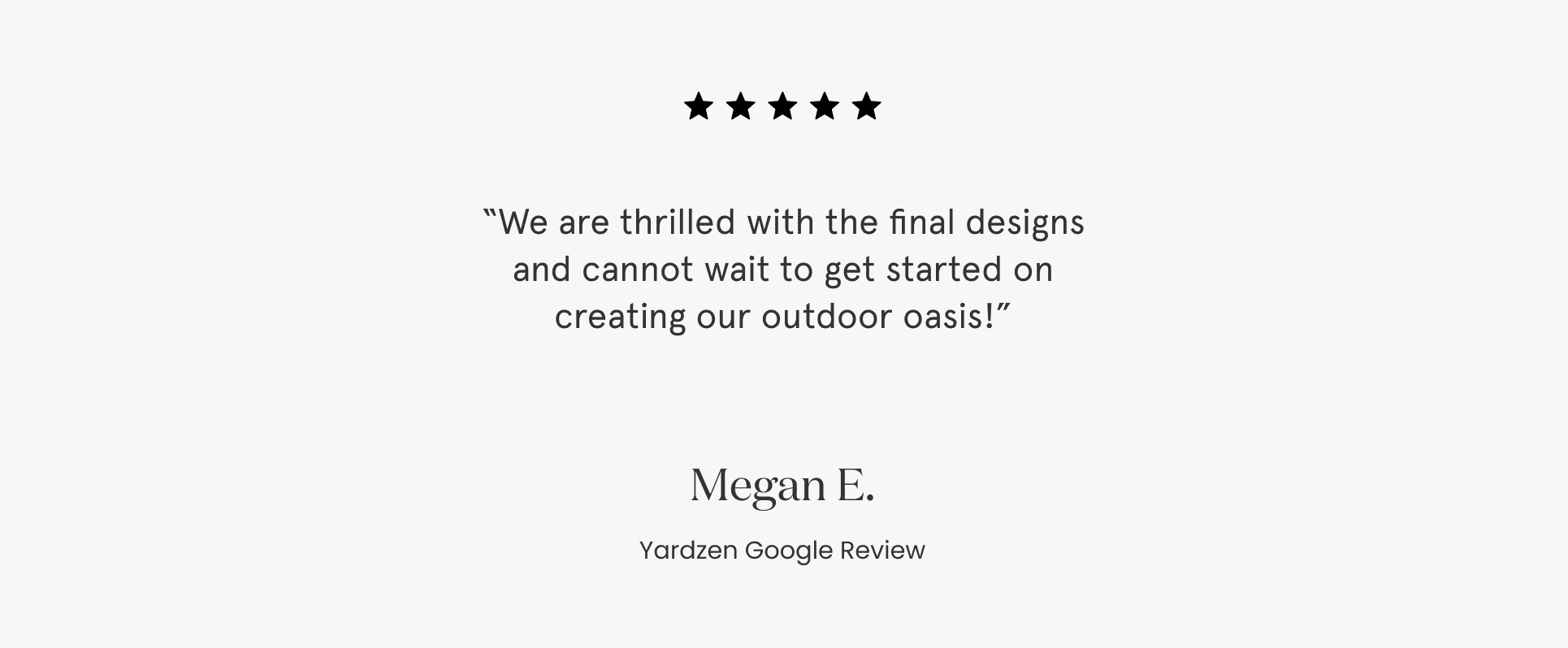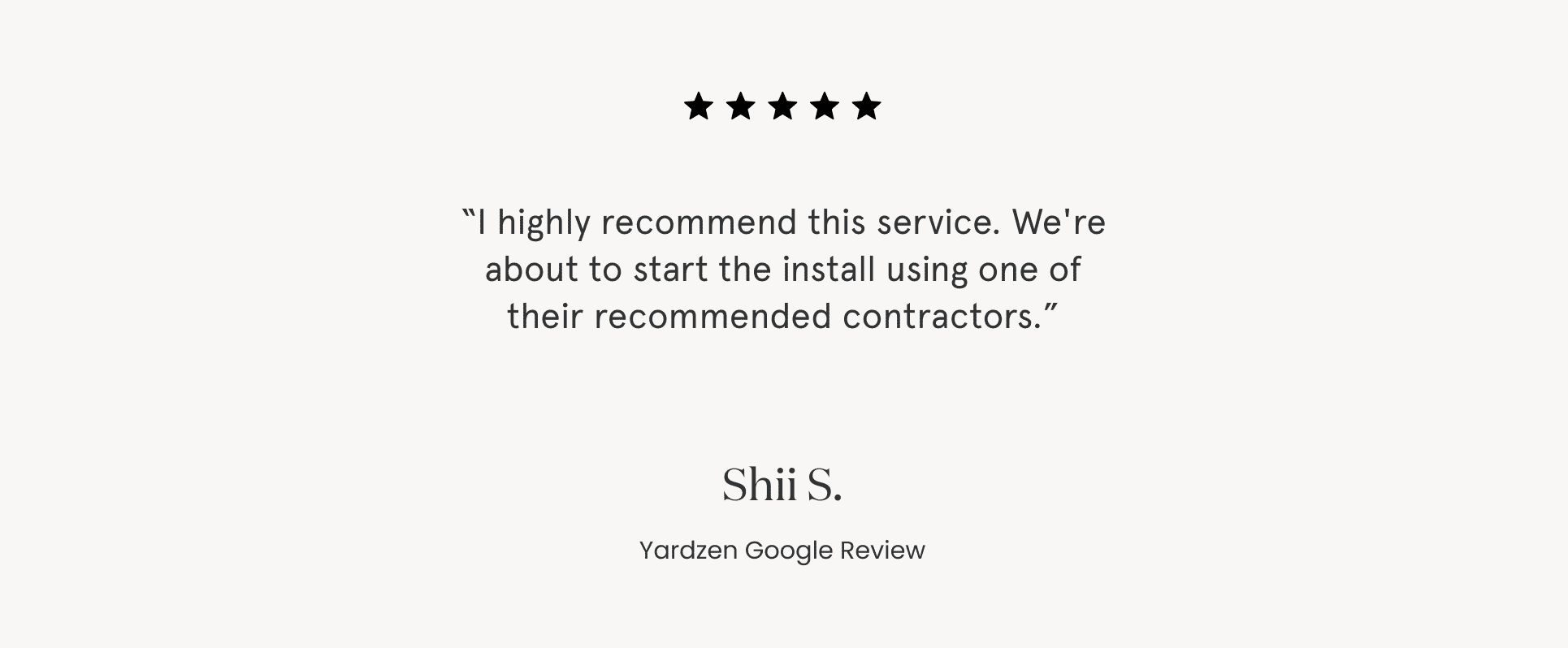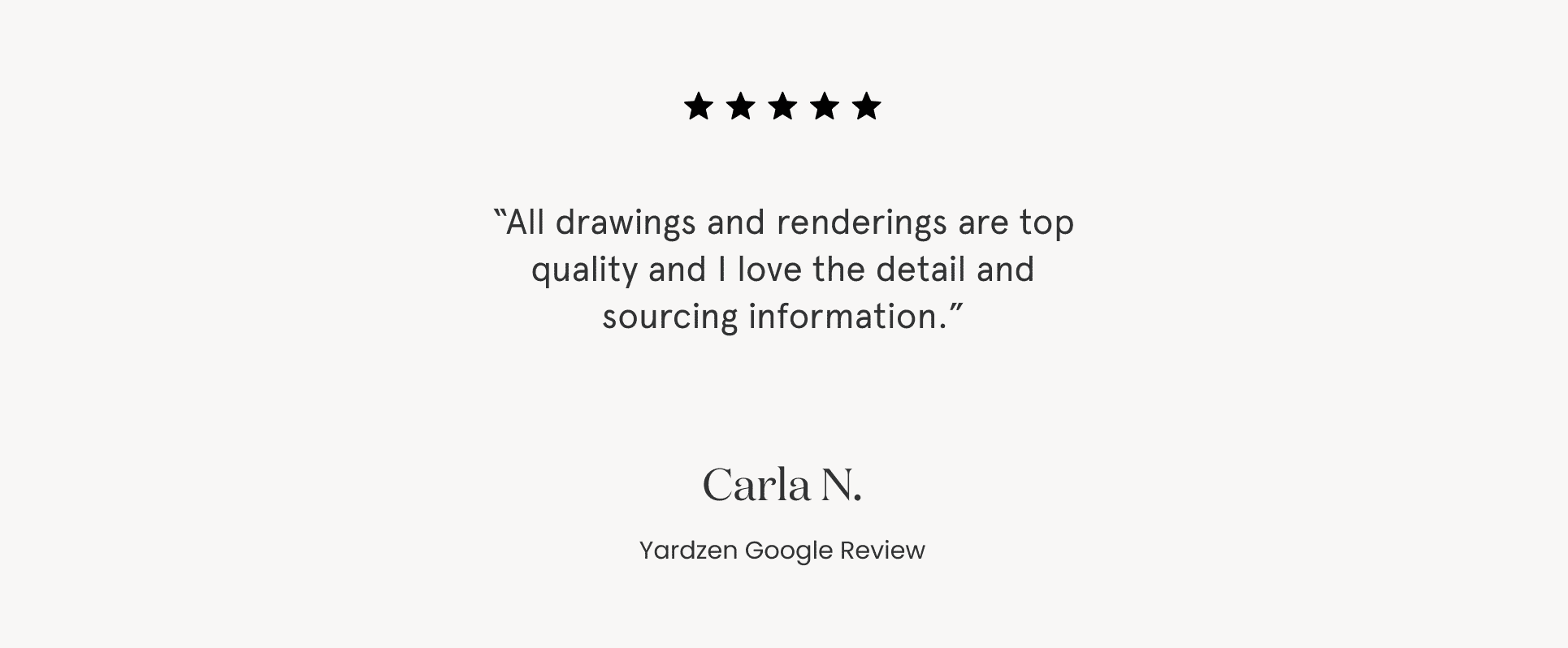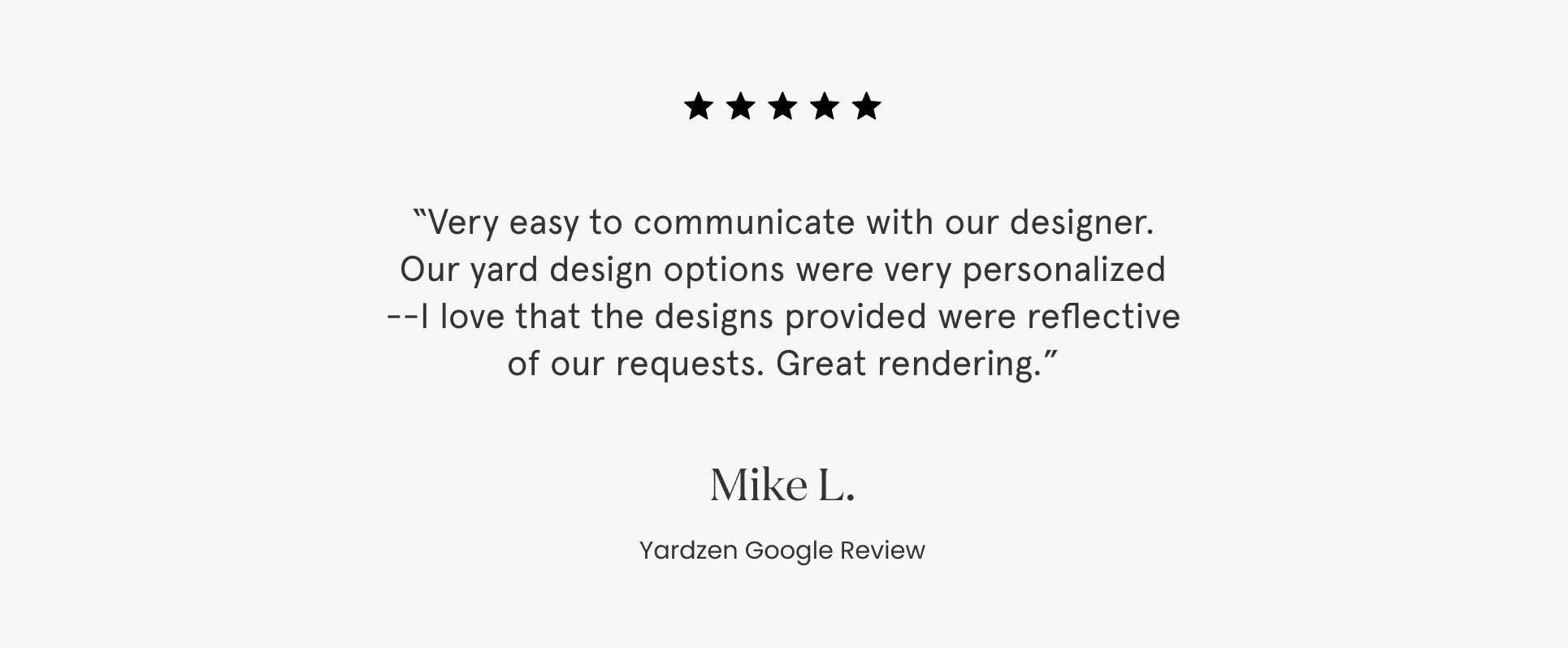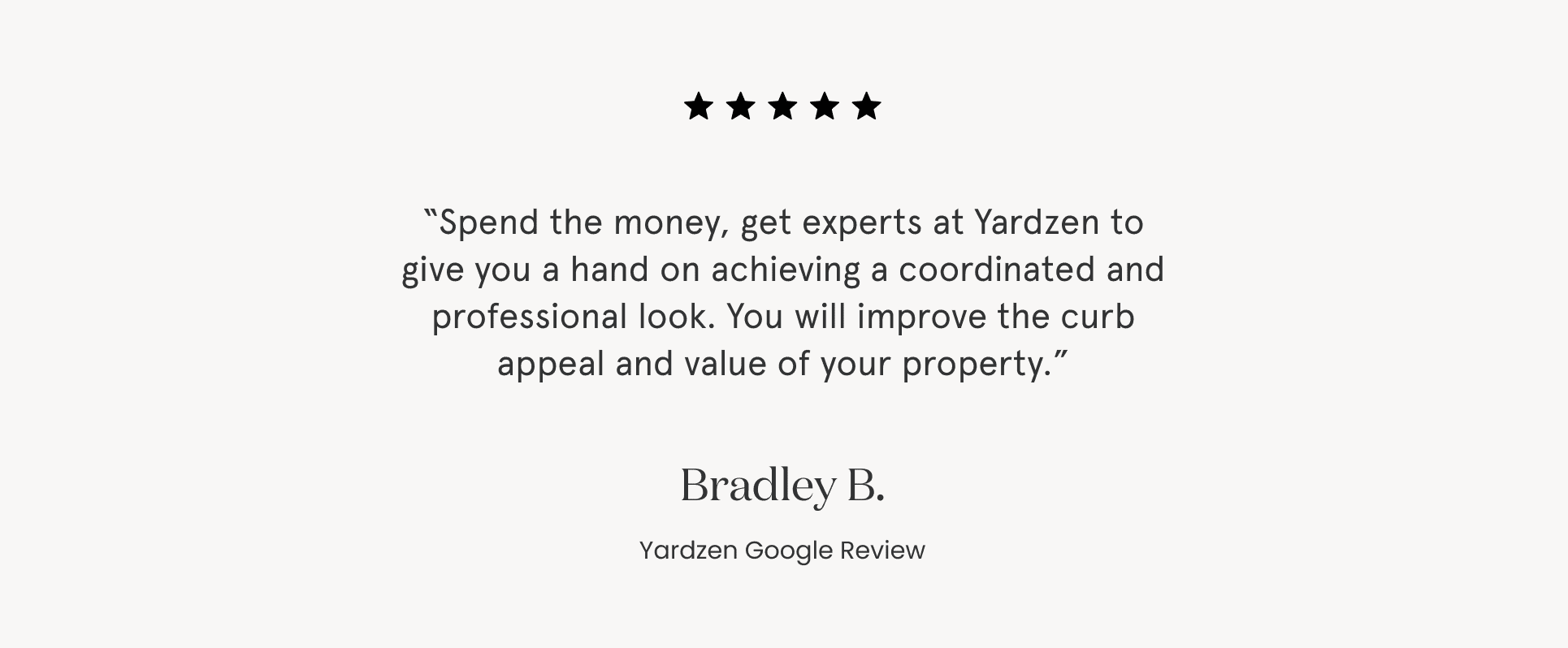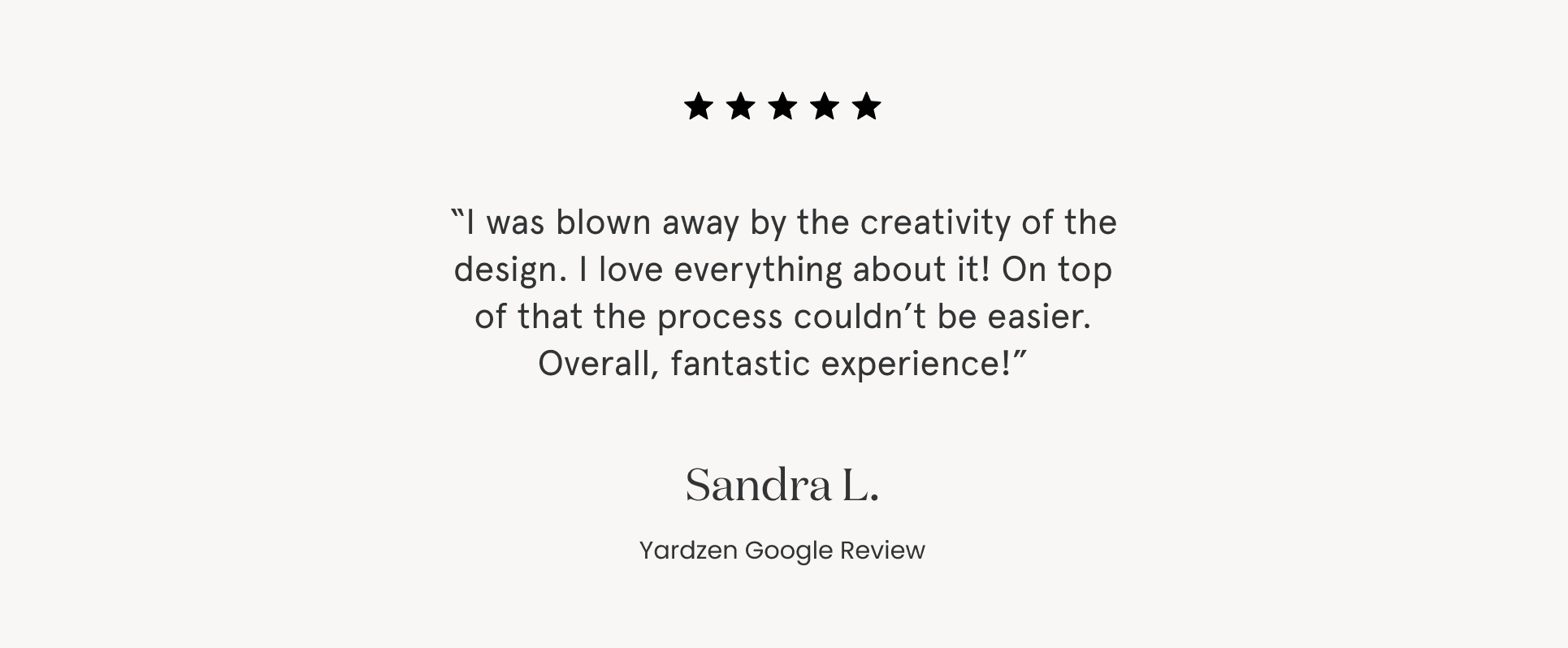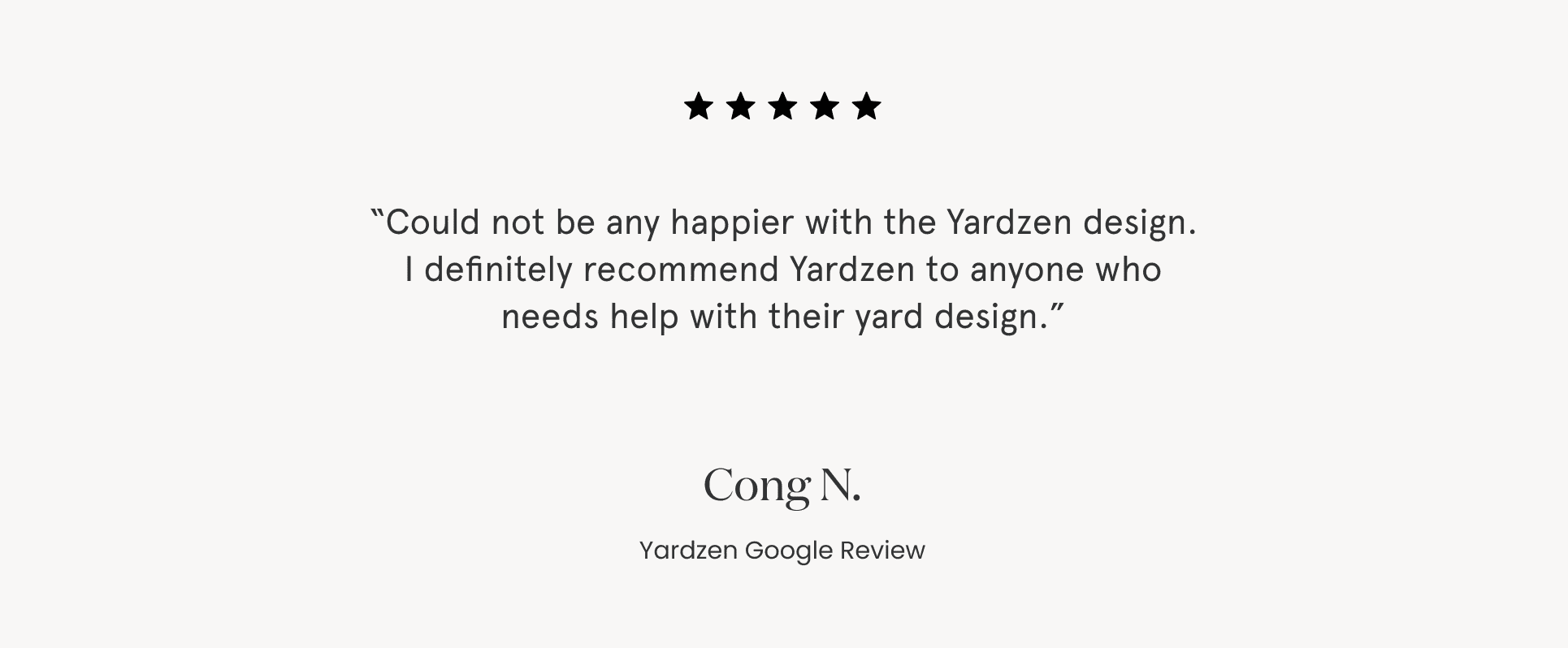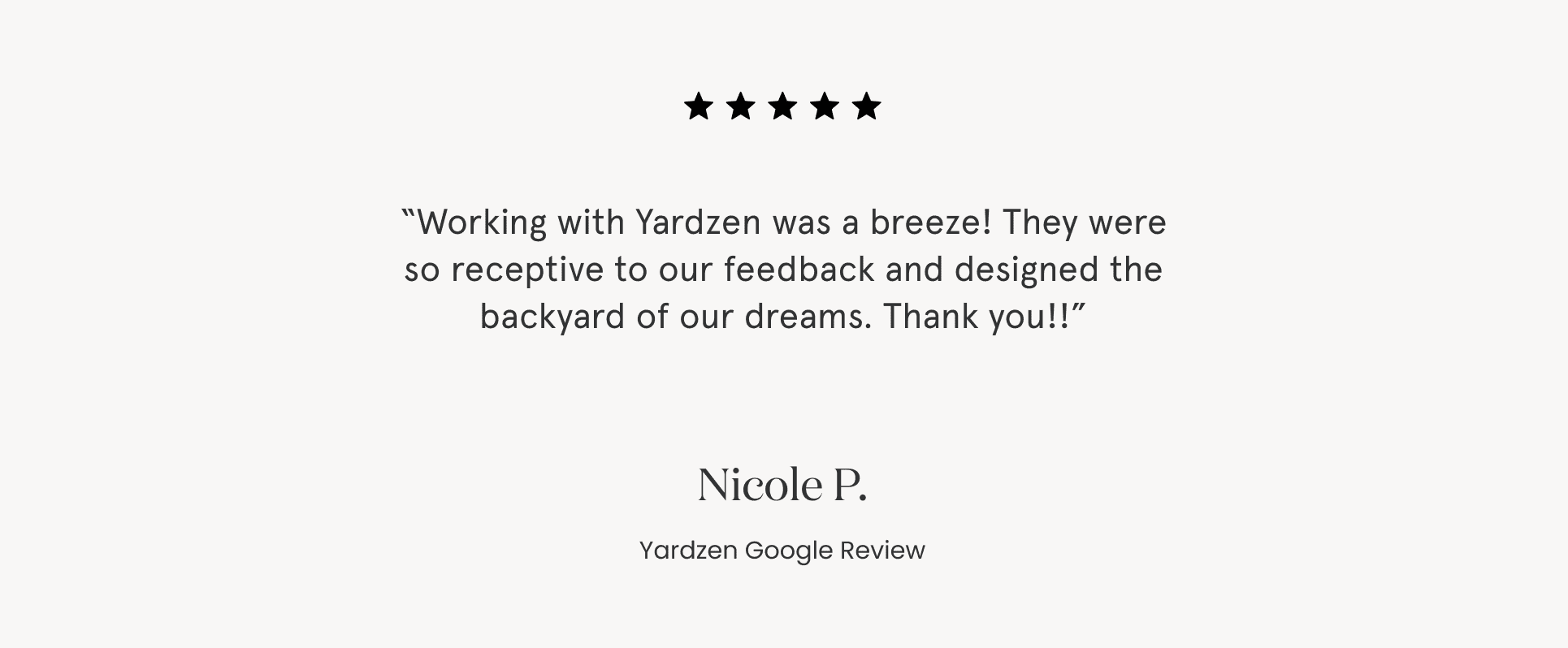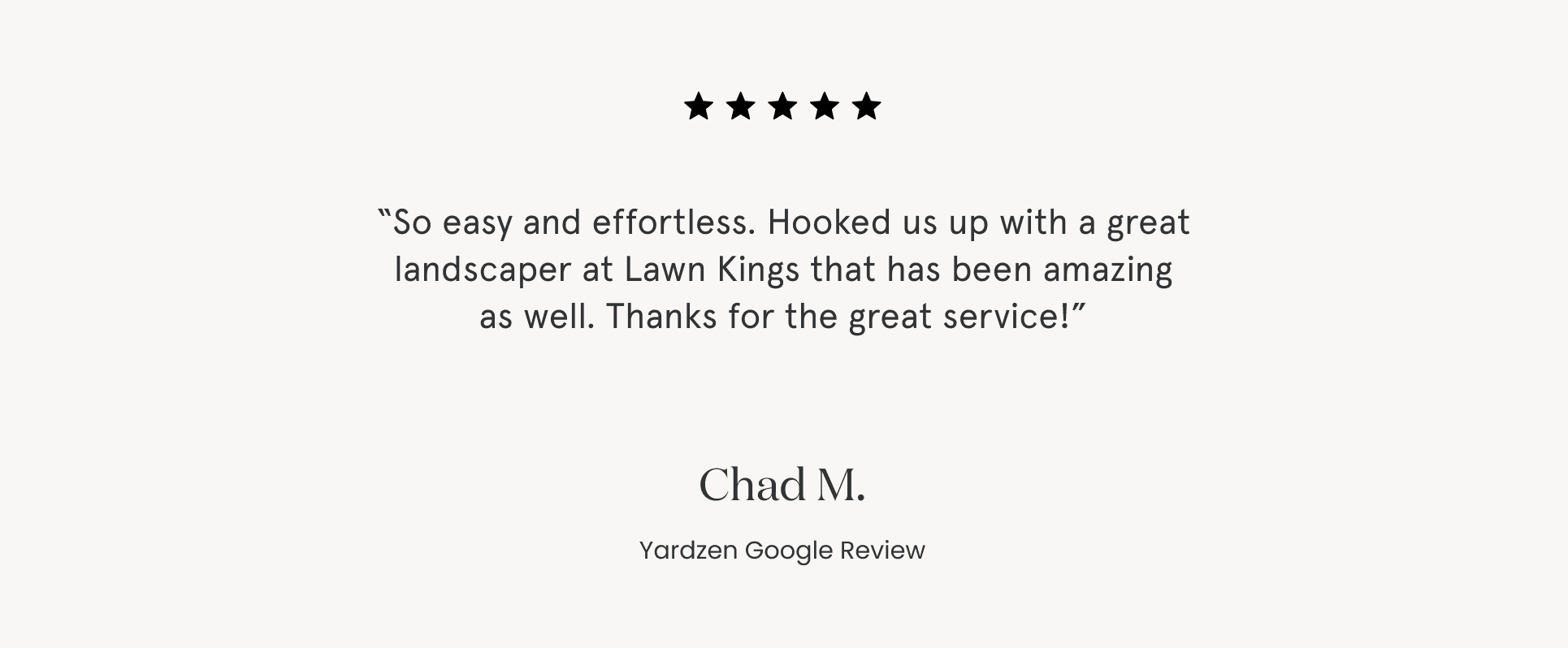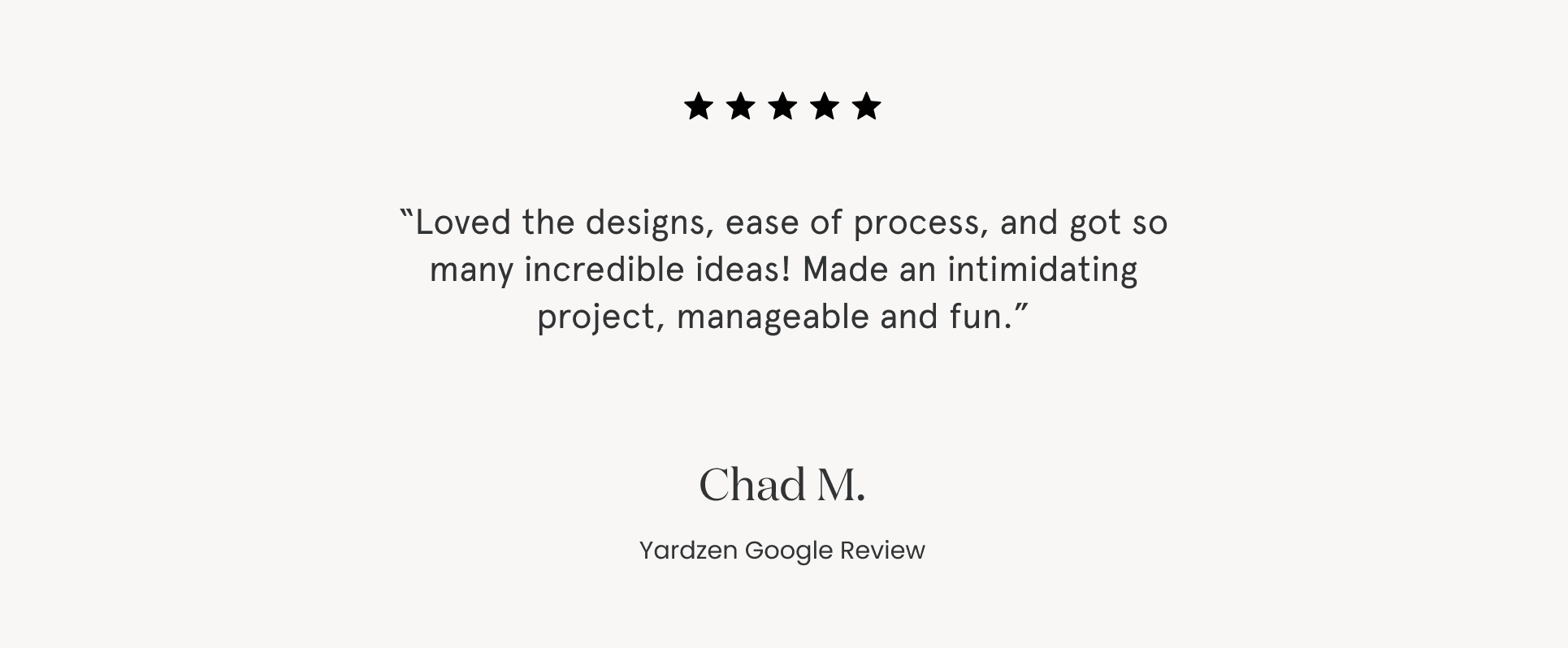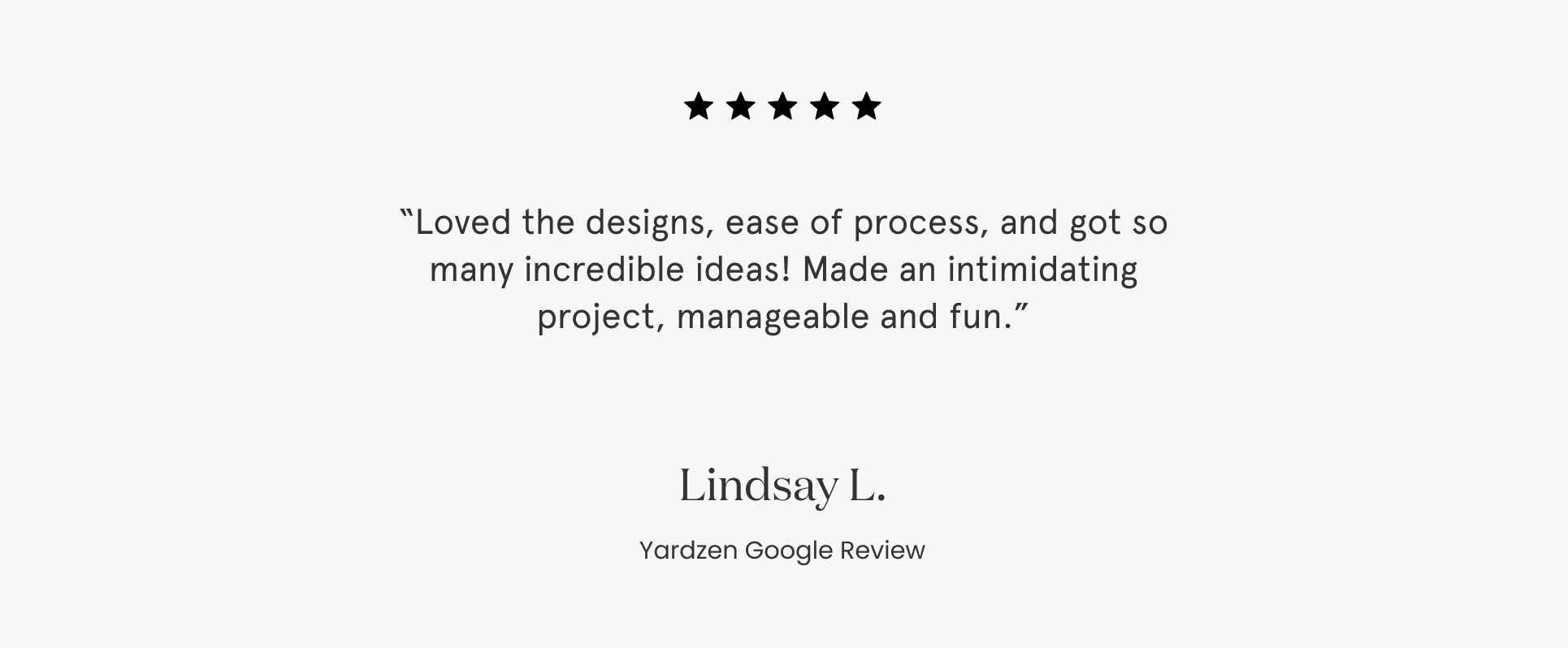 WASHINGTON D.C. LANDSCAPING FAQS
What design styles are popular with Washington, D.C. homeowners?
Landscape designs around D.C. overwhelmingly evoke the English colonial design tradition: expansive lawns, foundation planting, hedges, and orderly rows of colorful flowers, along with the occasional stately tree as a focal point.
Materials skew toward a traditional feel as well, with red brick, natural stone, or cobble-esque pavers dominating hardscape design.
What are popular features in Washington, D.C. landscapes?
Front yards around D.C. tend to focus on scenic value, leaving backyards to accommodate residents' functional needs.
Accordingly, backyards are often designed with outdoor living in mind. Outdoor kitchens, dining areas, and flexible lounge spaces for entertaining family and friends are all staples, as are pergolas, pools, and water features, each of which offer a cool and tranquil moment to keep you outside through the hot summer months.
Counterintuitively, handsome built-in fire pits are another popular heat-tolerance strategy. As with landscape lighting, fire pits create an enticing environment for enjoying cool evenings under the stars.
Should I use plants native to Washington, D.C. in my landscape?
No matter where you live, native plants are an excellent choice for your landscape. As lovers of the local climate, native plants typically require fewer inputs of water, fertilizer, and maintenance than species introduced from elsewhere. With natives, you'll get great plant performance with less expense and fuss.
At the same time, native plants offer unmatched habitat value for local wildlife, and help designed landscapes feel connected to the broader regional landscape.
Best of all, with the humid regional climate, D.C. is spoiled for options when it comes to native plants that are suitable for use in residential designs.
Looking for a few natives to get you started?
→ Serviceberry, flowering dogwood, and eastern redbud are all lovely small landscape trees that work equally well near gathering spaces or as distant focal points.
→ Red Maple is a larger tree with stunning fall foliage (and excellent habitat value).
→ Little bluestem is a reliable small ornamental grass, particularly good for those whose tastes skew modern or meadowy.
→ Coneflower, beebalm, and butterfly milkweed offer lovely flowers that will draw pollinators to your garden.
→ Blueberry bush and Virginia sweetspire are reliable shrubs favored by local birds.
→ Ilex opaca is a native holly that makes for a great structural shrub.
What are top considerations for Washington, D.C. landscapes?
Climate tolerance is the primary concern when selecting plants for a D.C. landscape. Plants must be able to tolerate the peak of summer heat and the depth of winter cold – no small feat. Natives are a safe bet, having evolved to thrive in the local climate.
Don't forget to consider winter interest. Look for plants that bloom late in the fall and early in the spring. Incorporate trees and shrubs with colorful or architectural branches. Be considerate with placement of evergreens such that they can command the scene when other plants are in winter dormancy.
When should I start my landscaping project?
Now! Any time of year is great to begin work on a landscape project.
When possible, we suggest utilizing the winter to work through the design phase – this sets you up to get on contractors' books early in the build season, so you can have your design installed and ready to enjoy in time for summer.
If winter has passed, don't worry, it's never too late in the year to begin work on a landscape design project.
"Highly suggest Yardzen. The online process made everything super easy and efficient. Thank you to the entire Yardzen team."
Shannon M., Yardzen client
Yardzen creates local landscape designs in:
Adams Morgan, American University Park, Barry Farms, Brentwood Village, Buena Vista, Buzzard Point, Capitol Hill, Cathedral Heights, Central Northeast, Chevy Chase, Chevy Chase Heights, Chinatown, Cloisters, Colony Hill, Cookes Park, Crestwood, Douglass Dwellings, Dupont Circle, Dupont Park, East Central, East End, East Washington Heights, Eastland Gardens, Edgewood, Edgewood Terrace, Embassy Park, Fairlawn, Farragut Square, Foggy Bottom, Forest Hills, Fort Davis, Fort Dupont, Foxhall, Foxhall Crescent, Foxhall Terrace, Franklin McPherson Square, Friendship Heights, Gateway, Giesboro, Hampshire Knolls, Indian Rock Terrace, Isherwood, Judiciary Square, Kalorama Heights, Kalorama Triangle, Kingman Park, Lanier Heights, Lincoln Heights, Lincoln Park, Little Indian Rock Terrace, Logan Circle, Marshall Heights, Massachusetts Avenue Heights, Mayfair-Parkside, Metropolis View, Michigan Park, Mount Vernon Square, North Cleveland Park, North Michigan Park, Northeast Boundary, Northwest Rectangle, Park Place, Park View, Penn Branch, Pennsylvania Avenue Hights, Pinehurst Circle, Randle Highlands, Reno, Riggs Park, Rock Creek Gardens, Rosedale, Scott Circle, Senate Heights, Shaw, Shepherd Park, Sheridan-Kalorama, Shipley Terrace, Southeast, Southwest, Stanton Park, Sutton Place, The Cloisters, Thomas Circle, Truxton Circle, University Heights, Varnum, Washington City, West End, West Over View, Westchester, Westminster, Westmoreland Terrace, Westover Place, and Woodland.