Landscape design & build for St. Charles
Yardzen designs everywhere in the U.S. and the St. Charles area is one of our favorites. Life is sweet in St. Charles – it's no wonder it has ranked as one of the 100 best places to live in the United States.
EXPLORE DESIGN PACKAGES
Local Style
As one of the oldest cities in Missouri, St. Charles prides itself on its history, which is rich with tales of frontier trading and westward exploration. Brick-lined historic Main Street capitalizes on that old-fashioned charm, hosting a variety of festivals throughout the year for residents and visitors to enjoy. A block away, the wide Missouri River glides by.
The city's fondness for history carries over to its residents' homes and yards. Brick paving and structures are common.
Climate
Being a humid climate, there's plenty of green to be had, from abundant tree cover to ubiquitous lawn, often linking one house to the next. It gets hot and cold, but manageably so, and much of the year is delightful for spending time outside.
Outdoor Living
Landscape design can make the most of what St. Charles has to offer. Be it providing cool shade to escape the summer heat, creating flexible spaces for indoor-outdoor living, or cutting back on yard work while boosting curb appeal, Yardzen has done it all for our St. Charles clients.
Design & Build
Whatever your landscape vision may be, Yardzen is ready to make it a reality, working with you to craft a landscape design that achieves the look, feel, and function you are dreaming of, then connecting you with a vetted contractor from Yardzen's Pro Network to get your design built.
TRUSTED BY THE EXPERTS


ST. CHARLES, MO LANDSCAPE DESIGN GALLERY
POPULAR AMENITIES IN ST. CHARLES YARDS
Simple and thorough online process
Take a style quiz, share videos and photos of your existing outdoor space, and learn about the costs in our Yard Builder™ tool. Our design team will help you at every step of the process.
GET STARTED >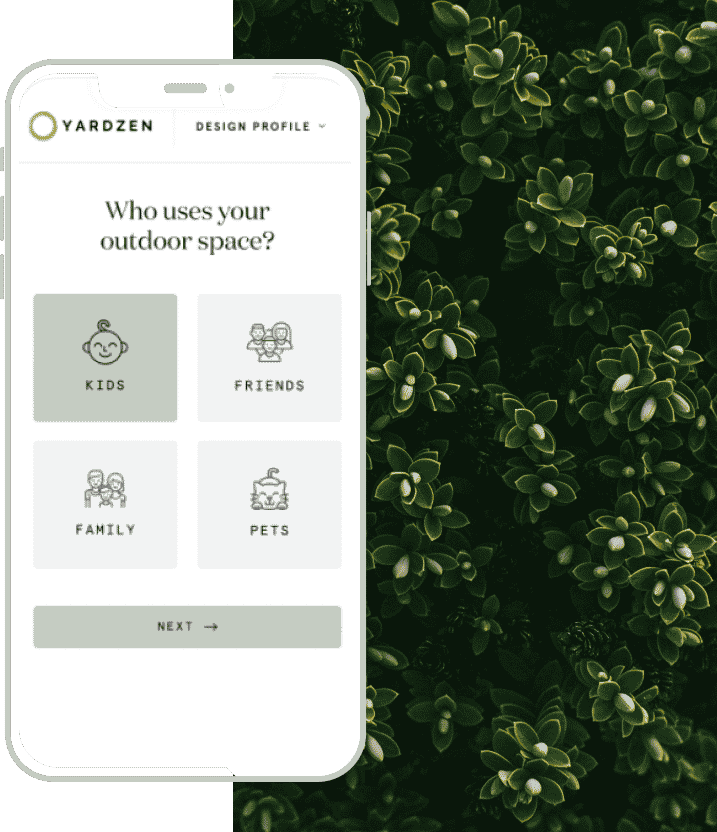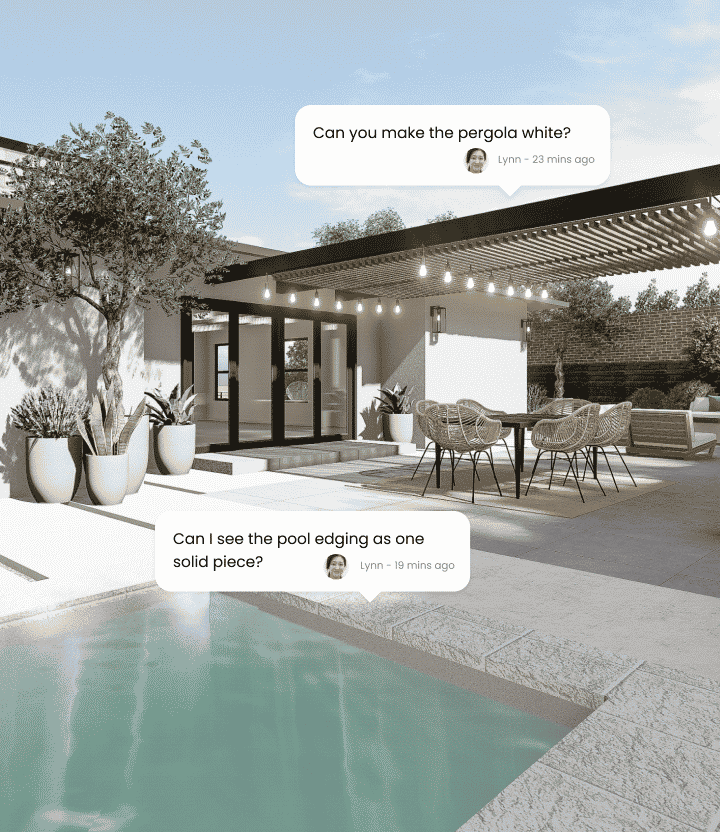 The easiest path to a final design you'll love
Review your first design in our online Feedback Studio. You'll be able to share feedback before we start incorporating your changes. A live design review call is also available to help get your project ready for installation.
GET STARTED >
Built by someone you (and Yardzen) trusts
We'll translate your 3D design concepts into a detailed CAD plan that's ready to install. Next, we'll connect you to a vetted, St. Charles area landscape contractor who can bring your dream yard to life.
GET STARTED >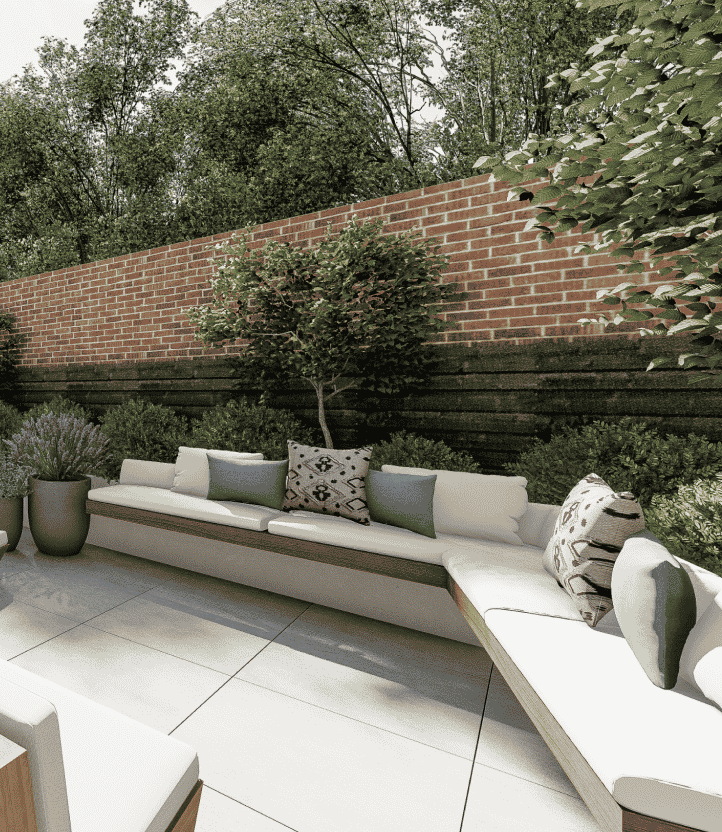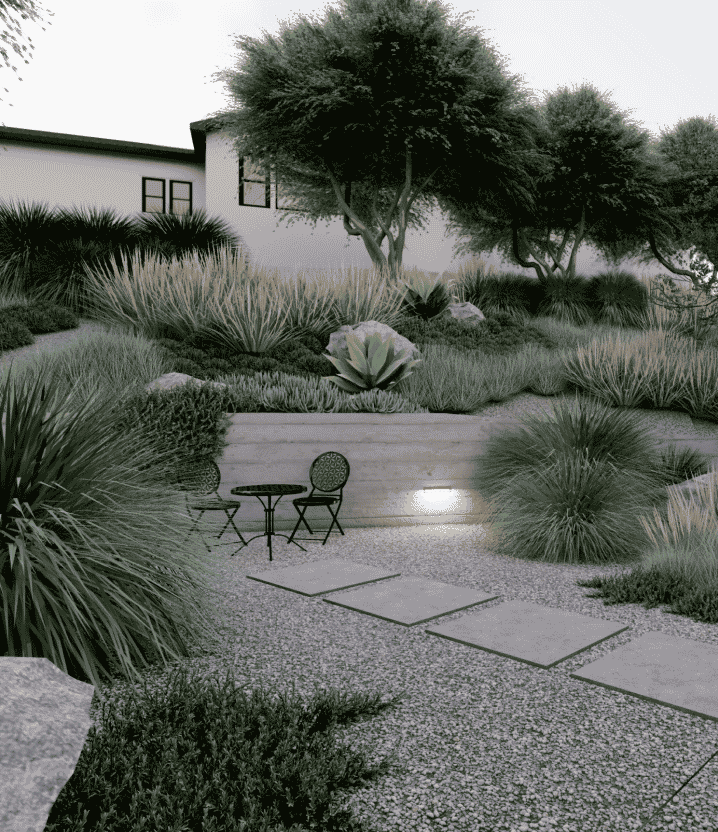 Custom designs for your unique outdoor space
We've built a database of plants, trees, and groundcovers that match to St. Charles's planting zones, sun/shade/water requirements, aesthetic, and essential features like native plants. Using satellite and aerial imagery, coupled with your photo, video, and factoring in your details, we can create the outdoor space of your dreams.
GET STARTED >
WHICH YARDZEN PACKAGE IS RIGHT FOR YOU?
Take our YardBuilder quiz to find out.
GET STARTED

1. Tell us about your unique outdoor space

2. Answer a few questions about your dream yard

3. Get a personalized design package recommendation
WHAT YARDZEN CLIENTS ARE SAYING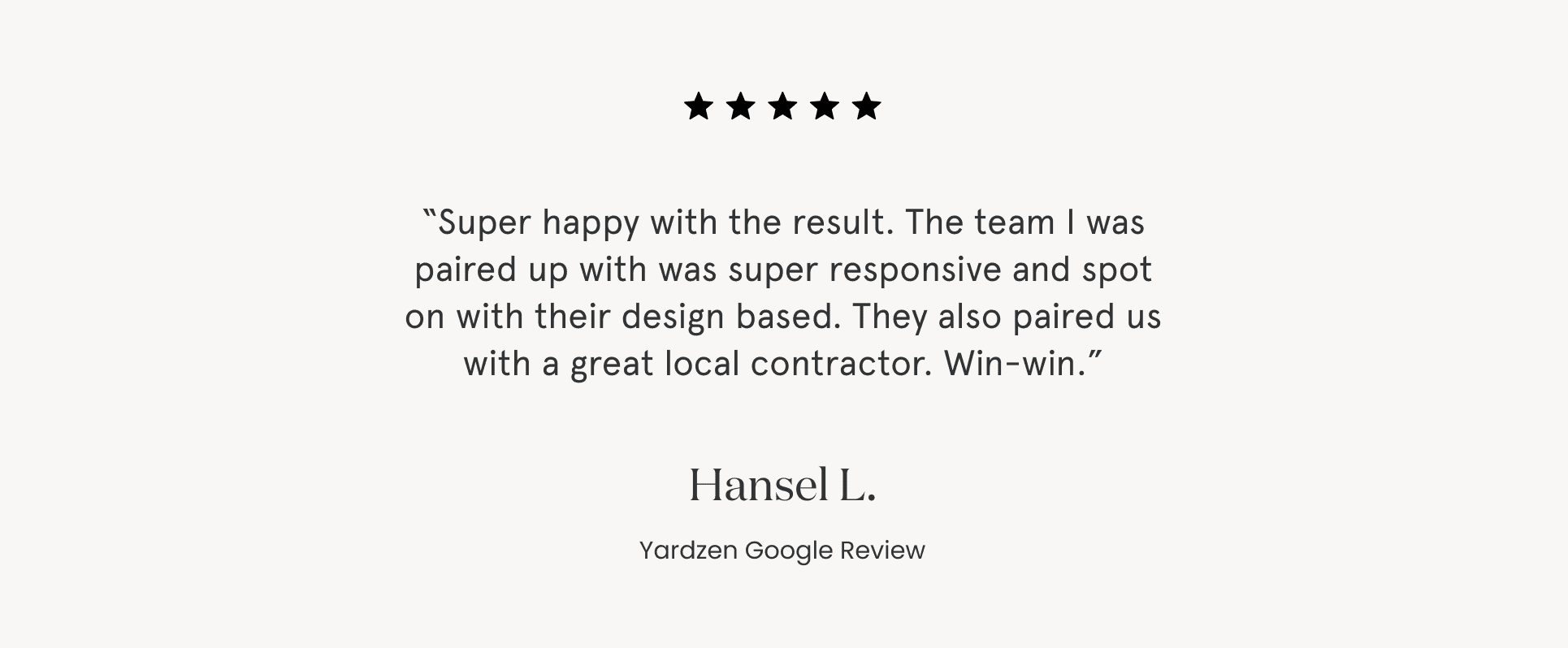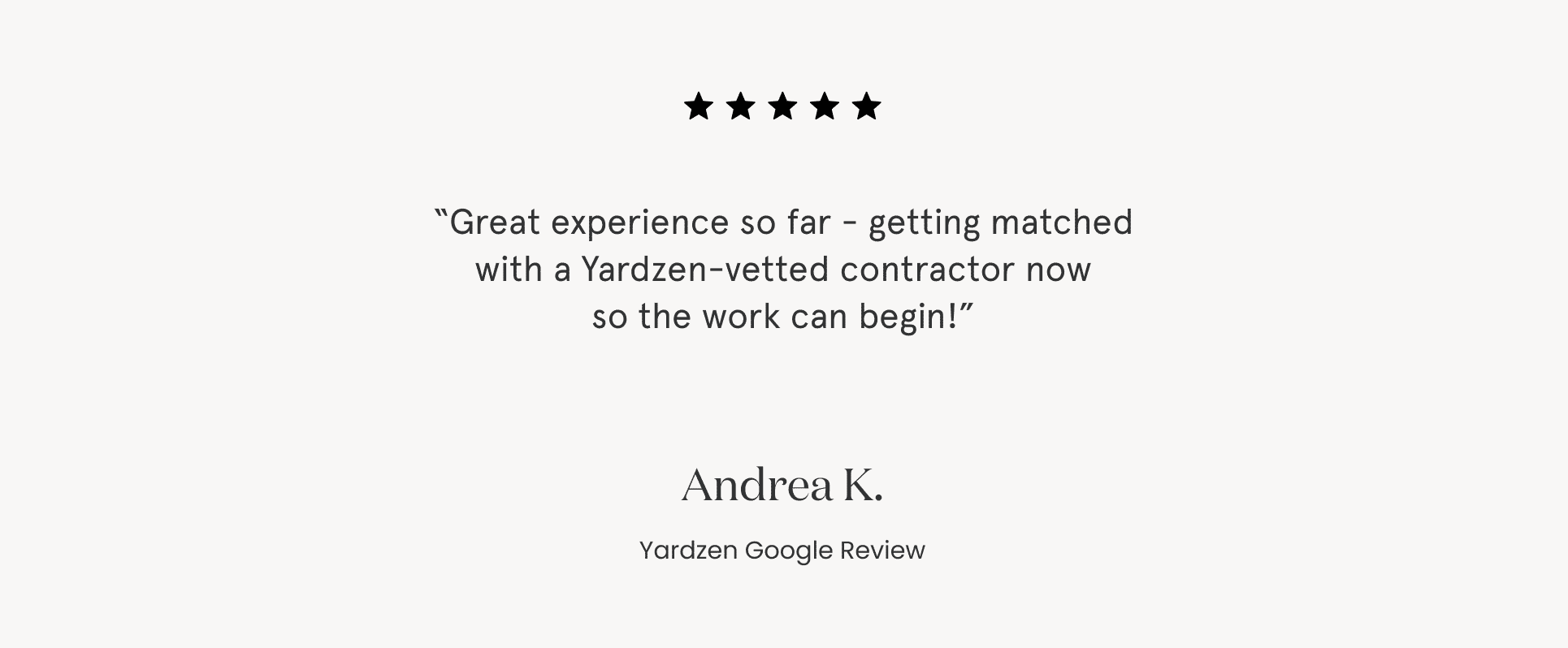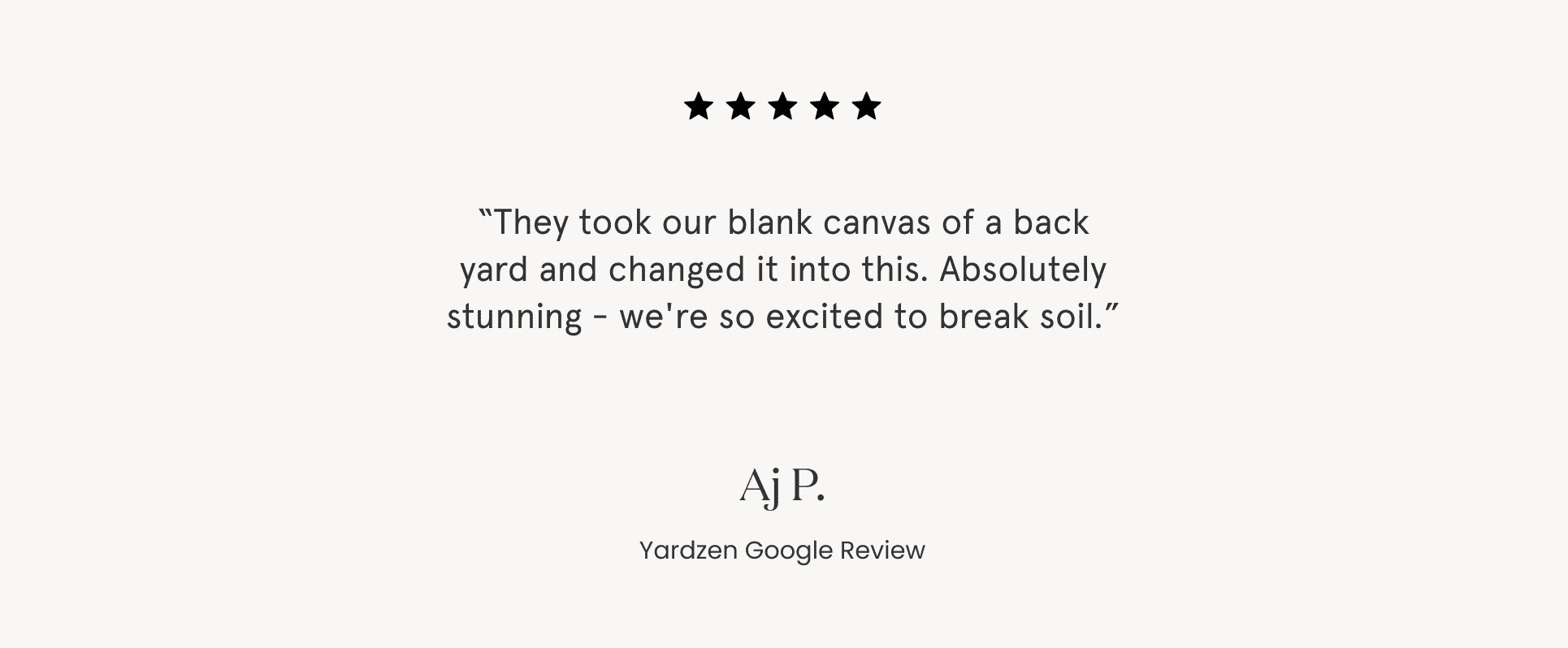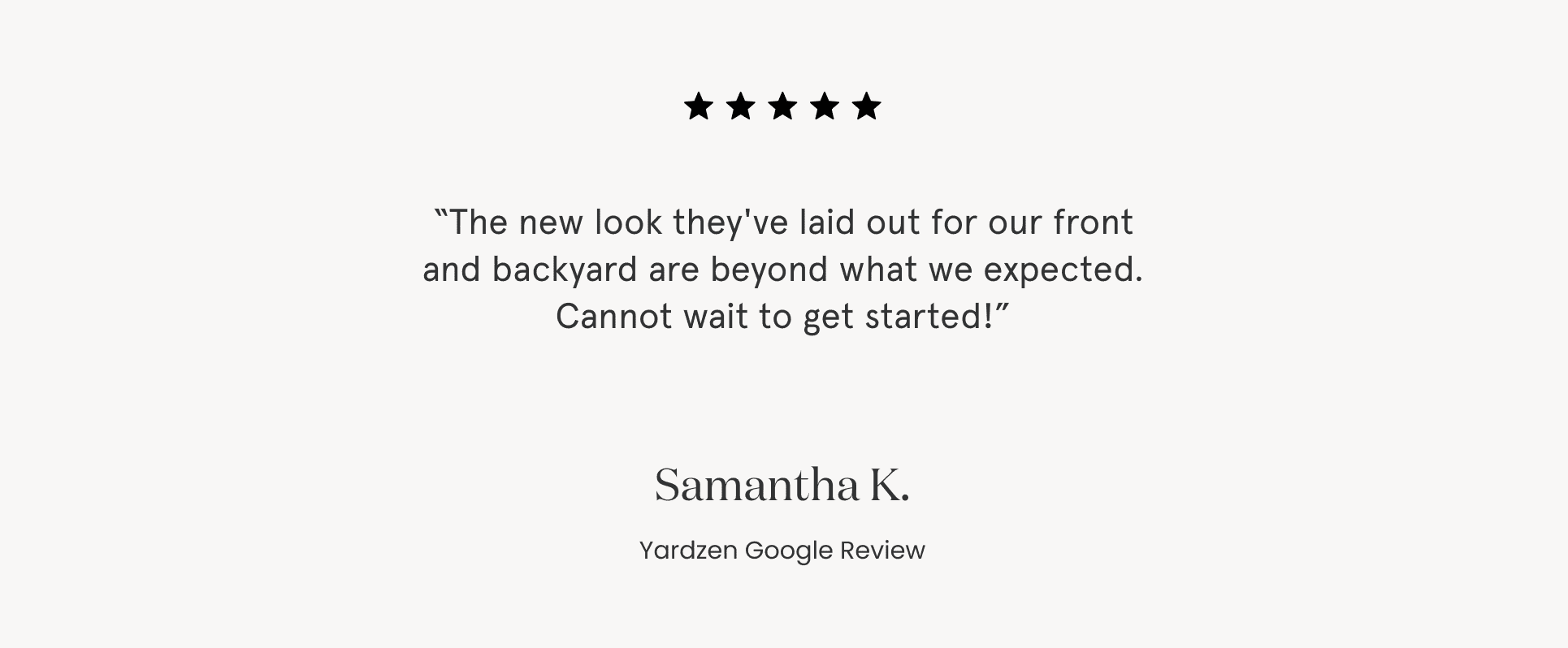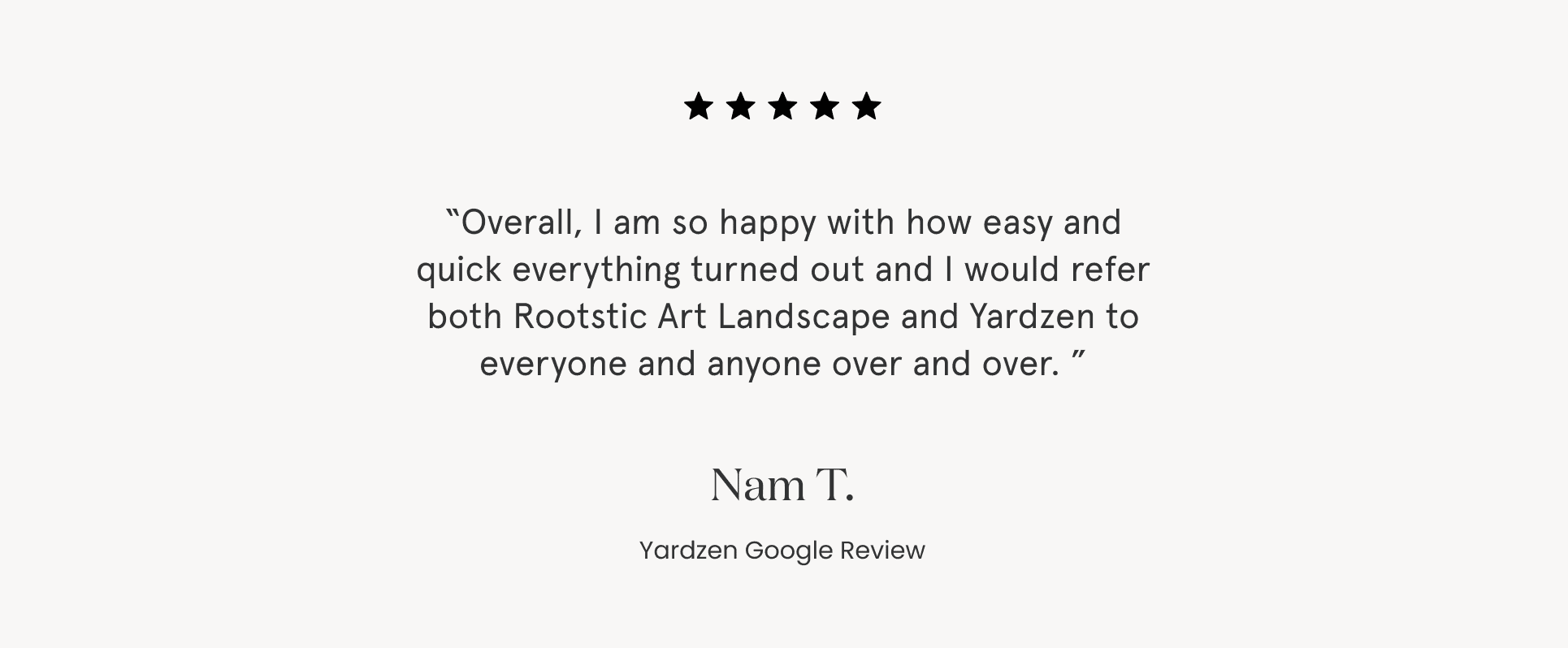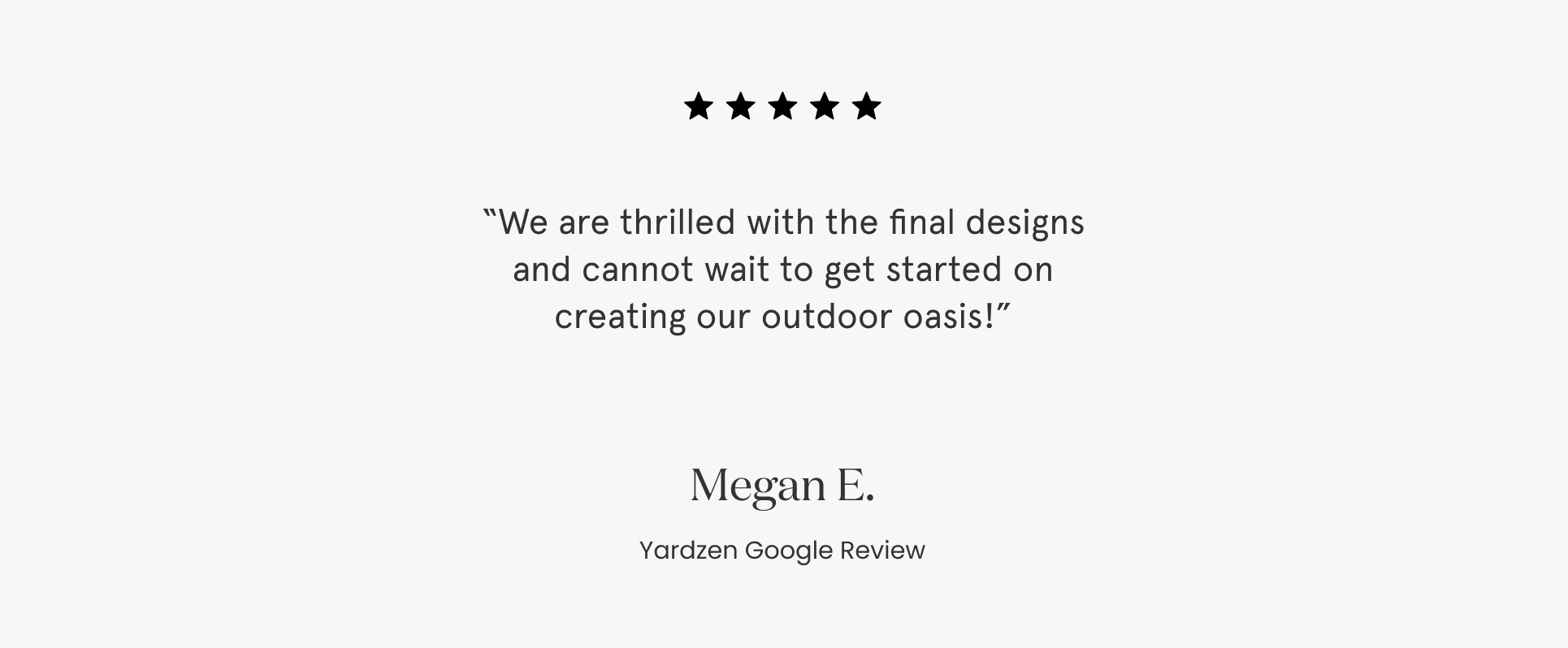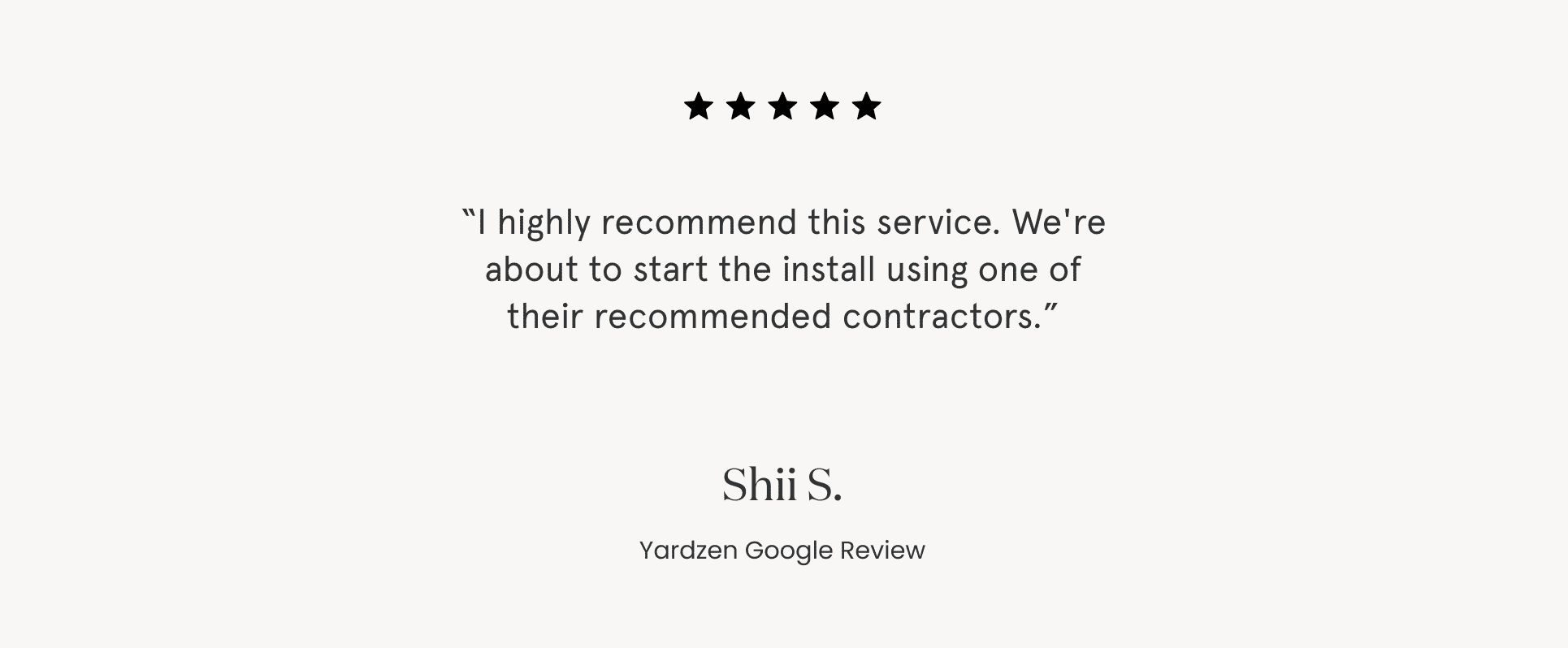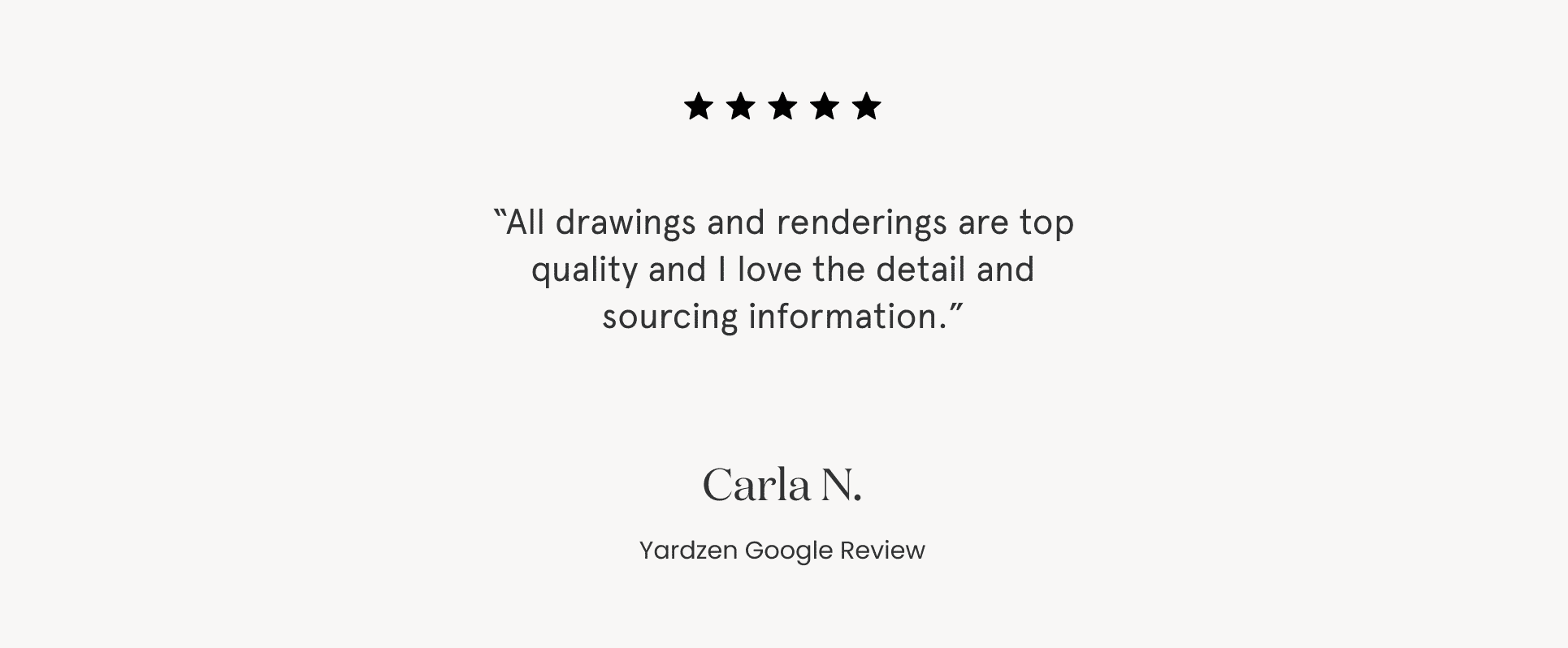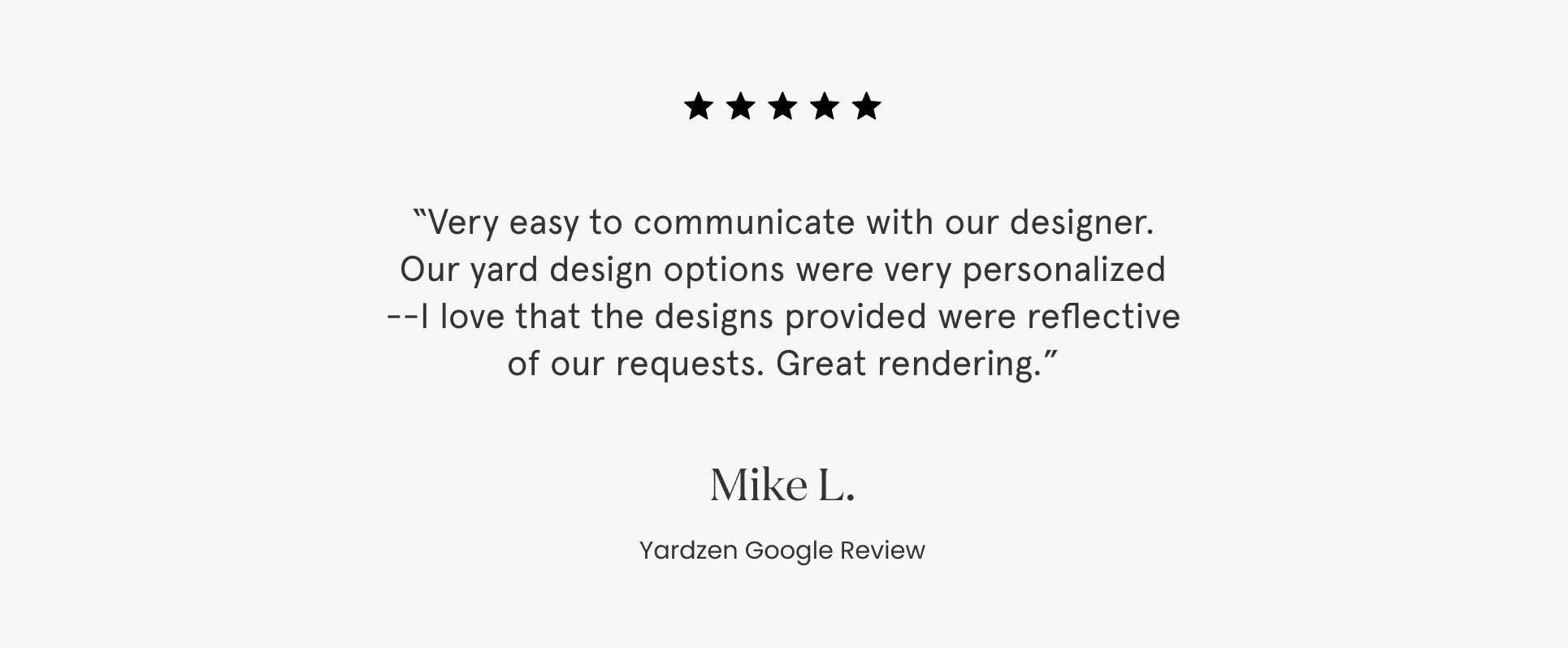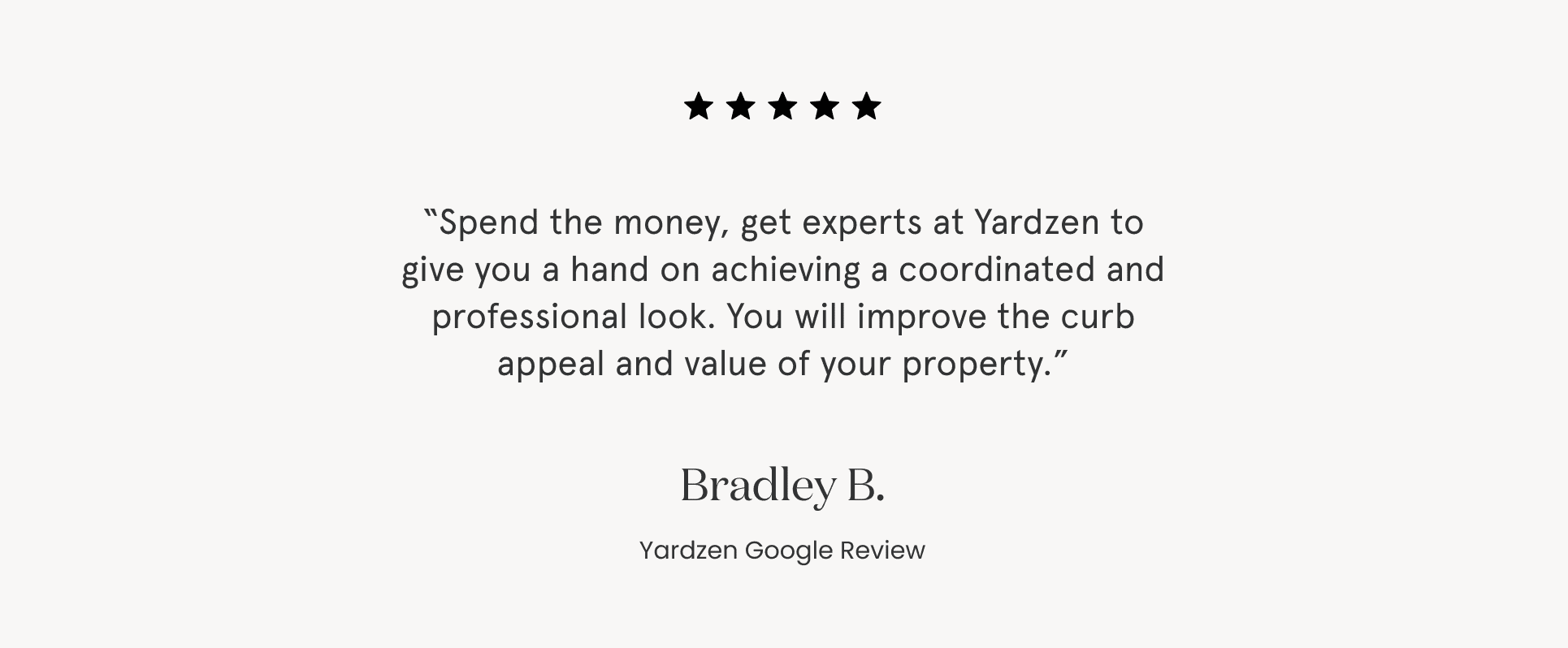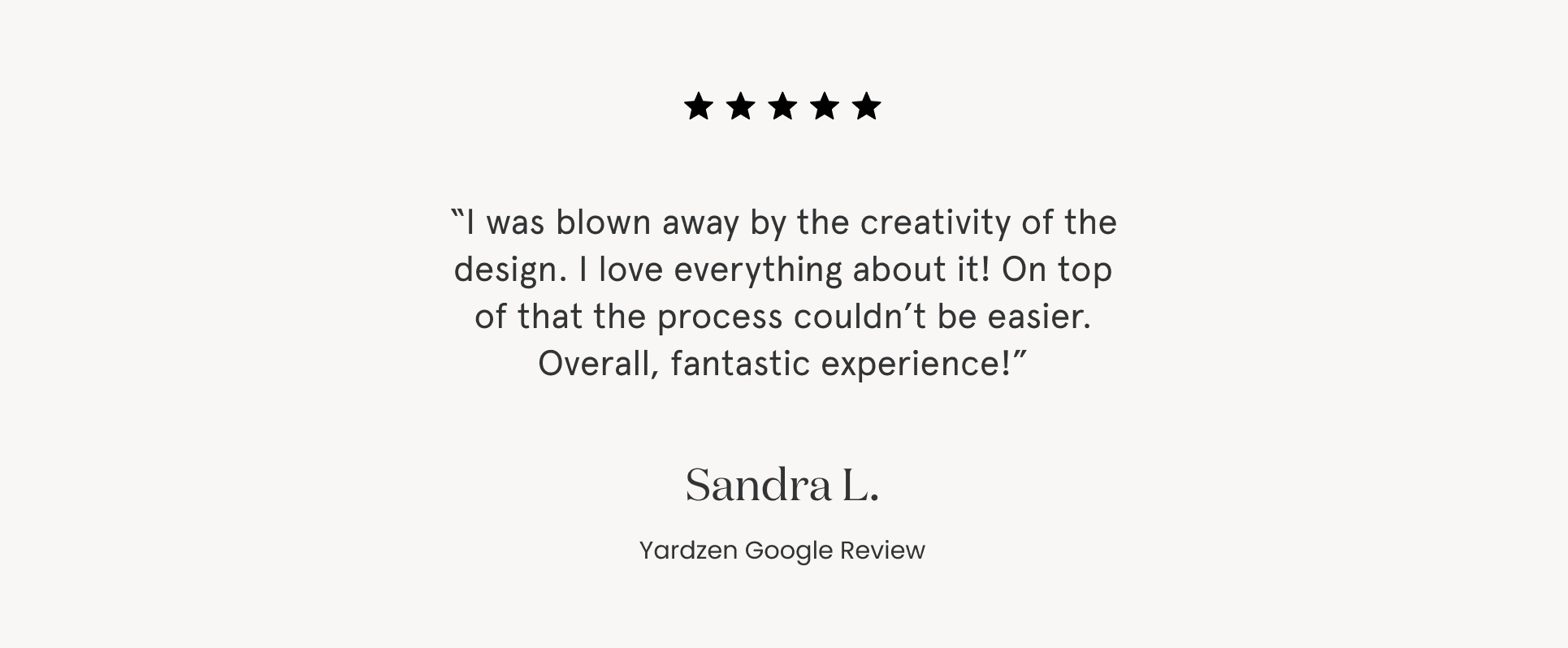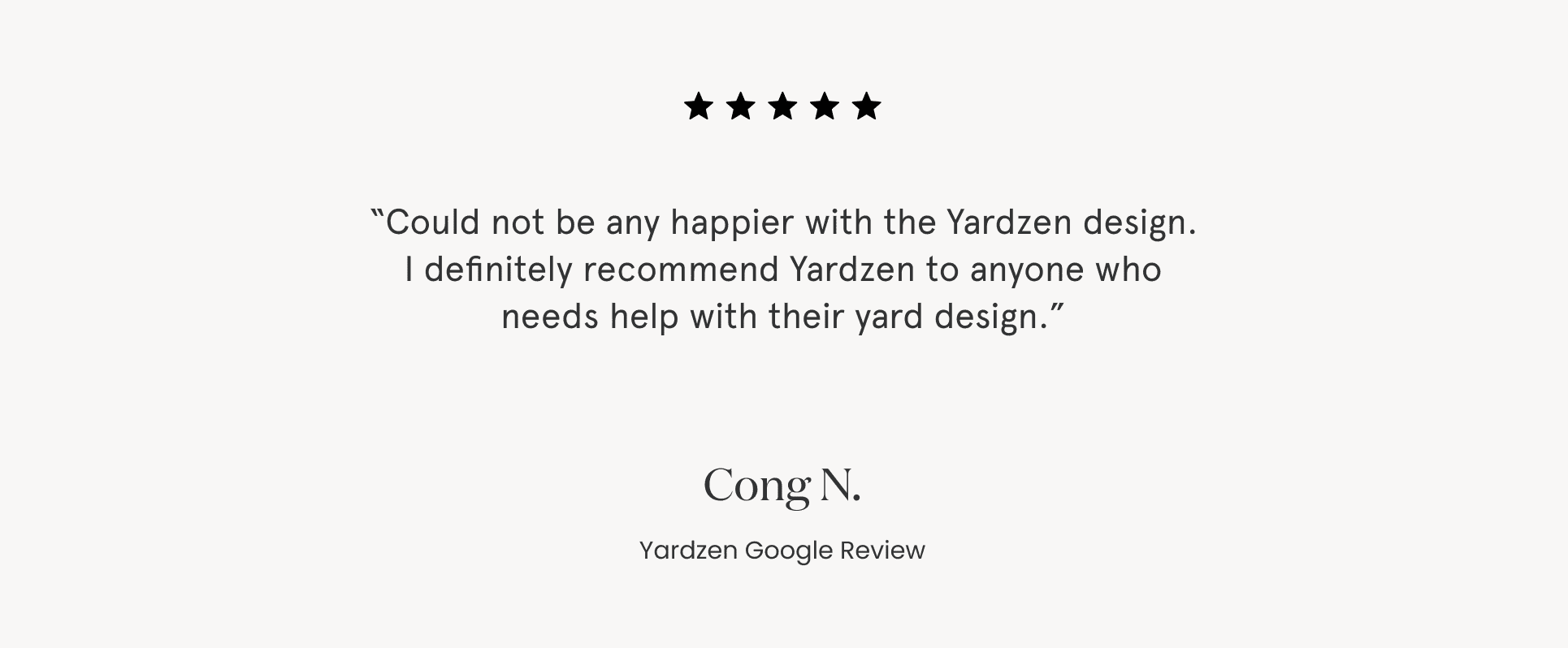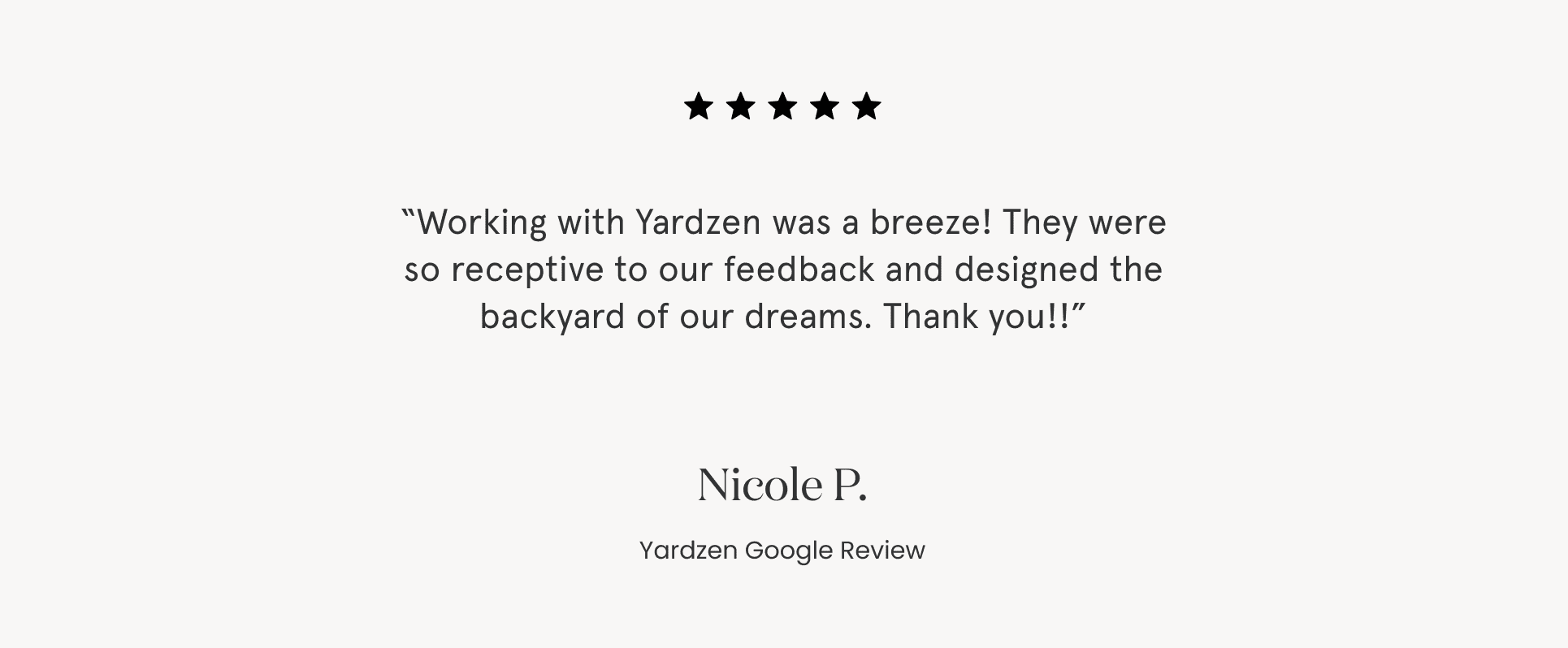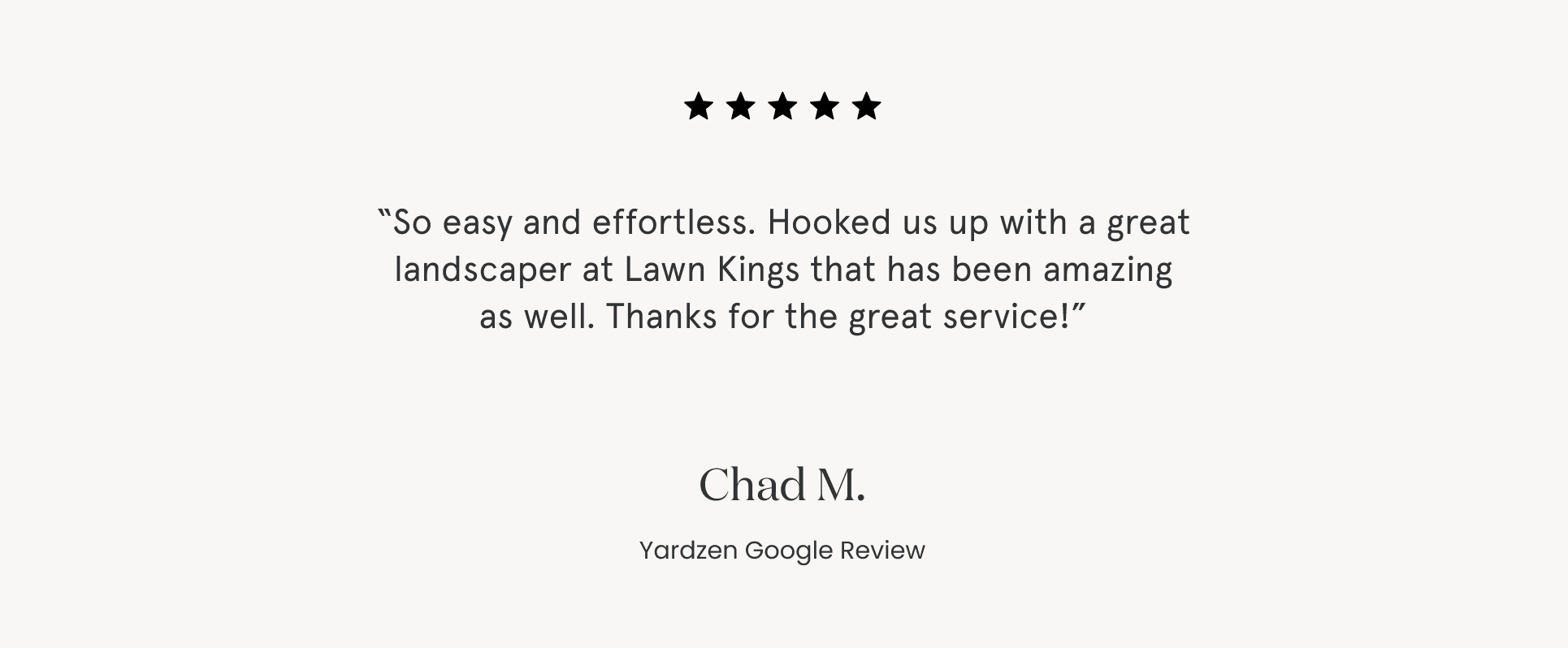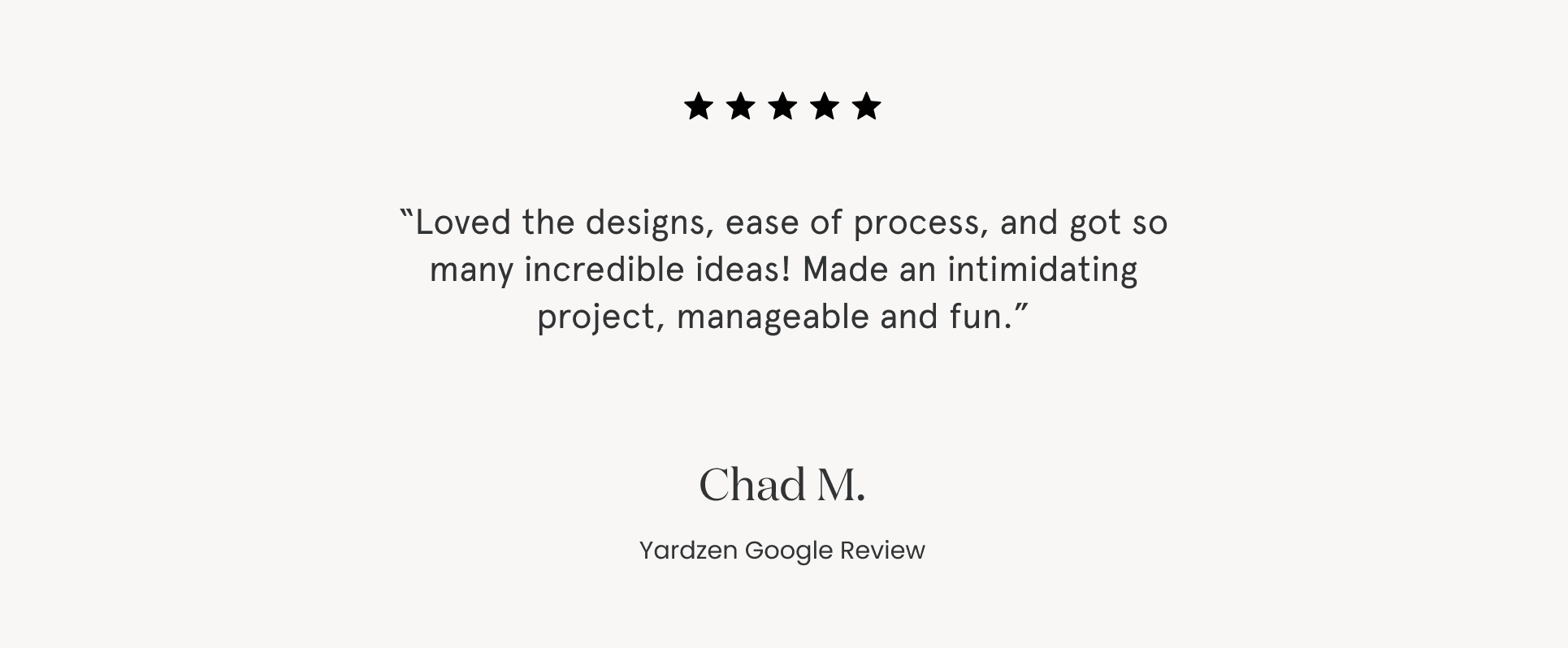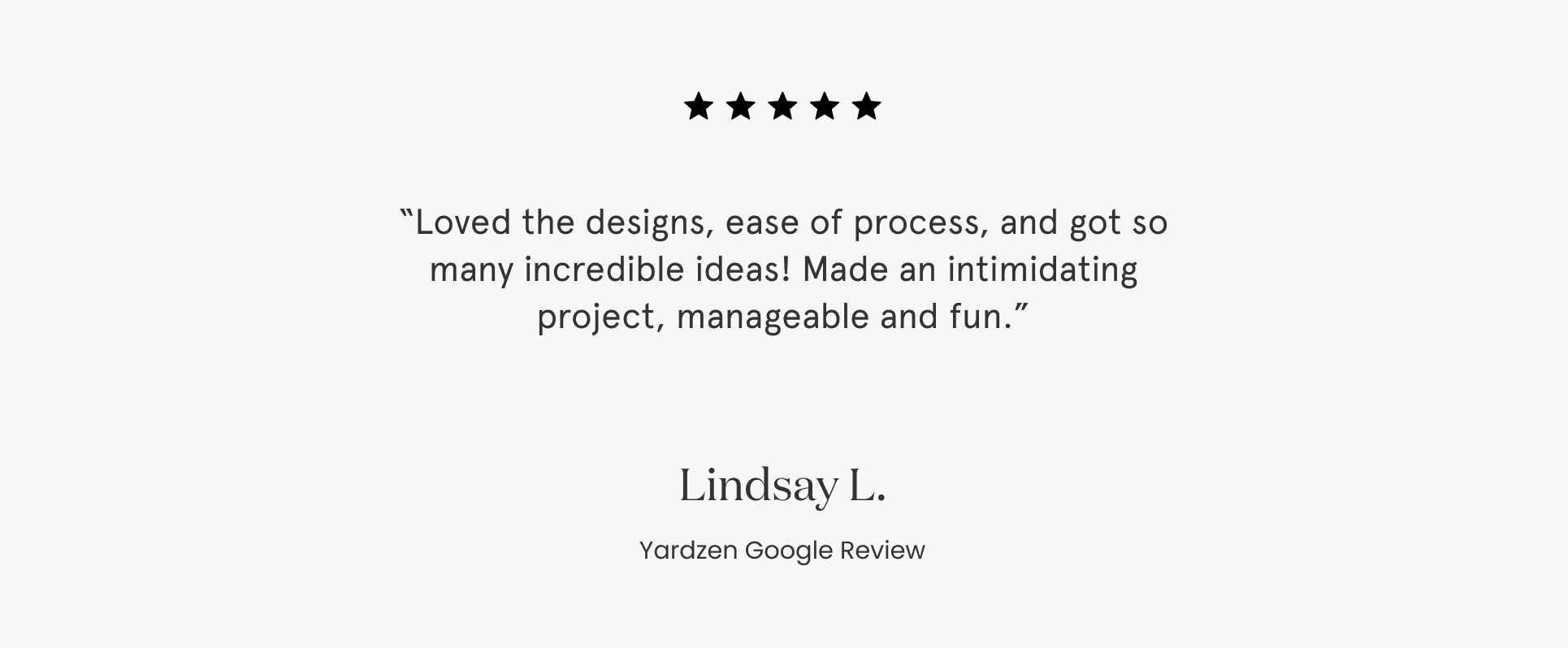 ST. CHARLES LANDSCAPING FAQS
What design styles are popular with St. Charles homeowners?
Variations on the classic English colonial landscape style are the norm for landscape designs in St. Charles. Large, manicured lawns are the standard, usually complemented by foundation plantings of stately shrubs and occasional pops of floral color. Big trees are common (and welcome!) additions to most landscapes, as are vertical evergreen accents used to frame doors, windows, and path entrances.
Both planting and hardscape areas tend to have gracefully curving boundaries. Hardscape spaces seek a traditional, inviting look, with well-appointed furnishings and stone paving in warm neutral tones.
What are popular features in St. Charles landscapes?
With front yards doing the scenic heavy lifting, backyards must accommodate residents' functional needs, and are designed with outdoor living in mind. St. Charles backyards regularly feature pergolas, outdoor kitchens and dining areas, flexible lounge spaces for entertaining family and friends, and handsome built-in fire pits for enjoying evenings under the stars.
Landscape lighting is another top request for similar reasons, helping to create a welcoming environment for comfortable evenings outside.
Decorative water features, from prefab fountains to custom rock bubblers, often complement planting designs while offering a cool and tranquil moment during warm summer days.
Should I use plants native to St. Charles in my landscape?
No matter where you live, native plants are an excellent choice for your landscape. As lovers of the local climate, native plants typically require fewer inputs of water, fertilizer, and maintenance than species introduced from elsewhere. With natives, you'll get great plant performance with less expense and fuss.
At the same time, native plants offer unmatched habitat value for local wildlife, and help designed landscapes feel connected to the broader regional landscape.
Looking for a few natives to get you started? Beautyberry, butterfly milkweed, aromatic aster, coneflower, prairie blazing star, and Eastern red cedar are popular local natives. Eastern redbud is an excellent small landscape trees with early spring blooms, and little bluestem is a reliable small ornamental grass that's great near hardscape edges.
What are top considerations for St. Charles landscapes?
Climate tolerance is the primary concern when selecting plants for a St. Charles landscape. Plants must be able to tolerate the peak of summer heat and the depth of winter cold. Natives are a safe bet, having evolved to thrive in the local climate.
Don't forget to consider winter interest. Look for plants that bloom late in the fall and early in the spring. Incorporate trees and shrubs with colorful or architectural branches. Be considerate with placement of evergreens such that they can command the scene when other plants are in winter dormancy.
When should I start my landscaping project?
Now! Any time of year is great to begin work on a landscape project.
When possible, we suggest utilizing the winter to work through the design phase – this sets you up to get on contractors' books early in the build season, so you can have your design installed and ready to enjoy in time for summer.
If winter has passed, don't worry, it's never too late in the year to begin work on a landscape design project.
"Highly suggest Yardzen. The online process made everything super easy and efficient. Thank you to the entire Yardzen team."
Shannon M., Yardzen client
Yardzen creates local landscape designs in:
Augusta, Cottleville, Dardenne Prairie, Defiance, Flint Hill, Foristell, Josephville, Lake Saint Louis, New Melle, OFallon Station, Portage Des Sioux, Saint Paul, Saint Peters, Weldon Spring, Weldon Spring Heights, Wentzville, and West Alton.