Landscape design & build for Roswell, GA
Yardzen designs everywhere in the U.S. and it's hard to out-charm Roswell. From its famed historic district and Southern soul, to its abundant parks system and natural beauty, to its great schools, safe streets, and easy access to Atlanta's bustle, it's no wonder Roswell's been chosen twice as the best place to live in the Atlanta metropolitan area.
EXPLORE DESIGN PACKAGES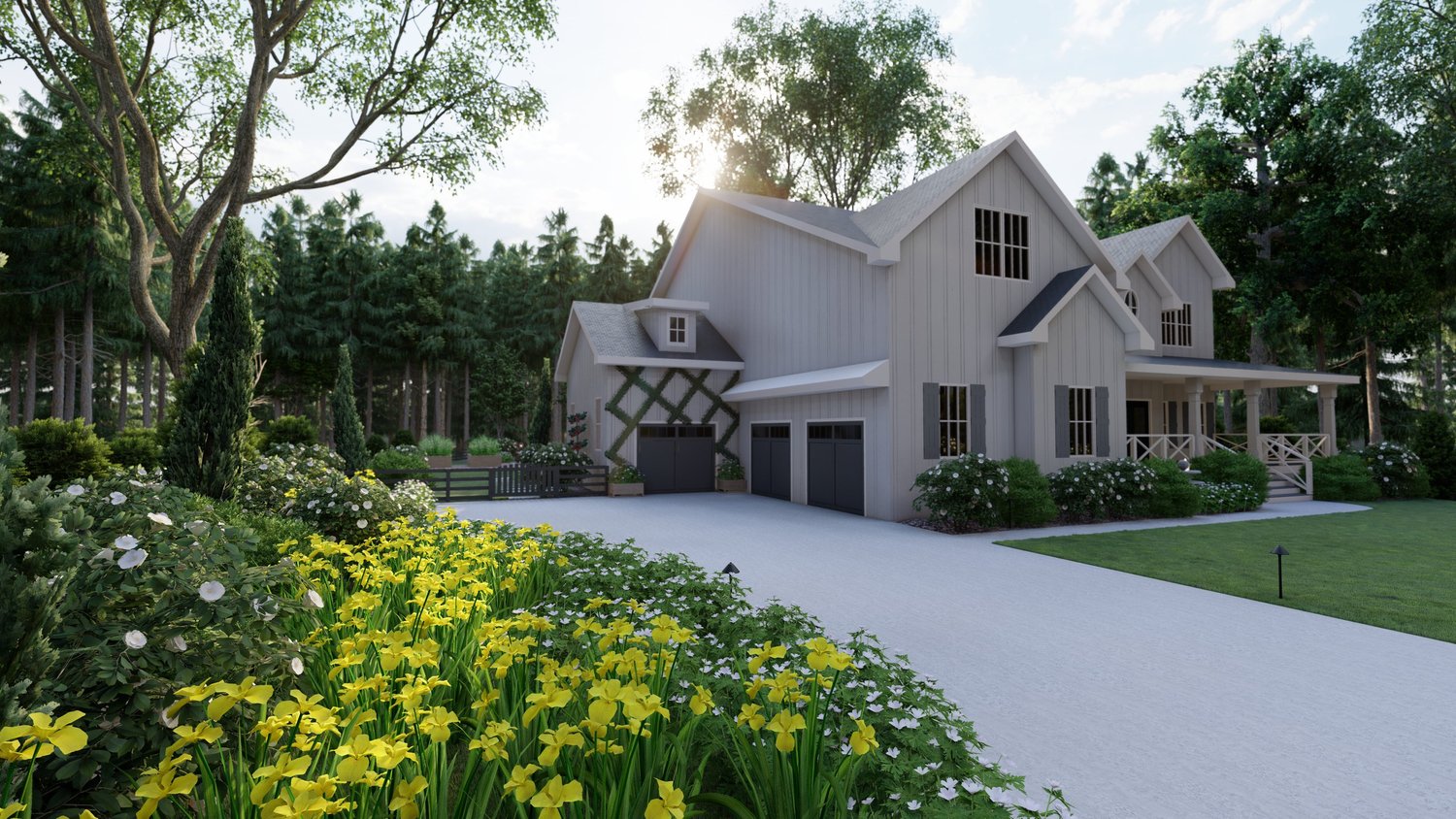 Region
Capacious yards and stately homes bear much responsibility for Roswell's charm. Residents treasure their city's history, and their homes show it.
Trees factor in as well. Year-round rain and high humidity make for happy plants, and Roswell benefits from generous tree cover across the city.
Climate
With sultry summers, chilly but manageable winters, and downright beautiful spring and fall seasons, conditions are ripe for outdoor living in Roswell, especially with the right landscape design.
Design & Build
Enter Yardzen. Whether you are looking to spend more time outside in your yard, need a better outdoor space to entertain family and friends, or are just in need of a planting or hardscape refresh, Yardzen can help you!
We'll work with you to develop a landscape design that gets you the look, feel, and function you are dreaming of for your yard, and then we'll connect you with a licensed, vetted contractor from the Yardzen Pro Network to get your design built and get you back outside enjoying the good life.
TRUSTED BY THE EXPERTS


ROSWELL, GA LANDSCAPE DESIGN GALLERY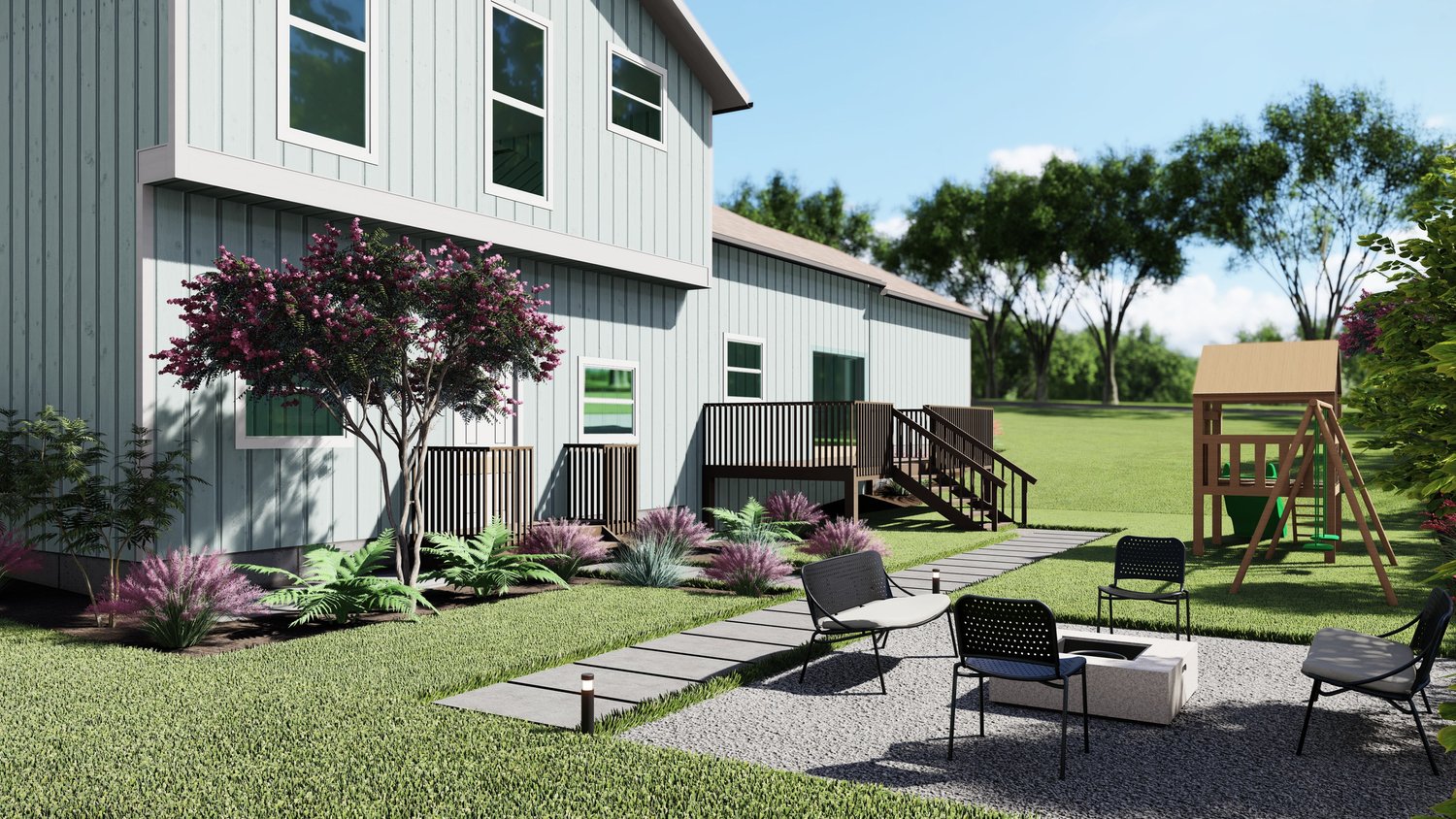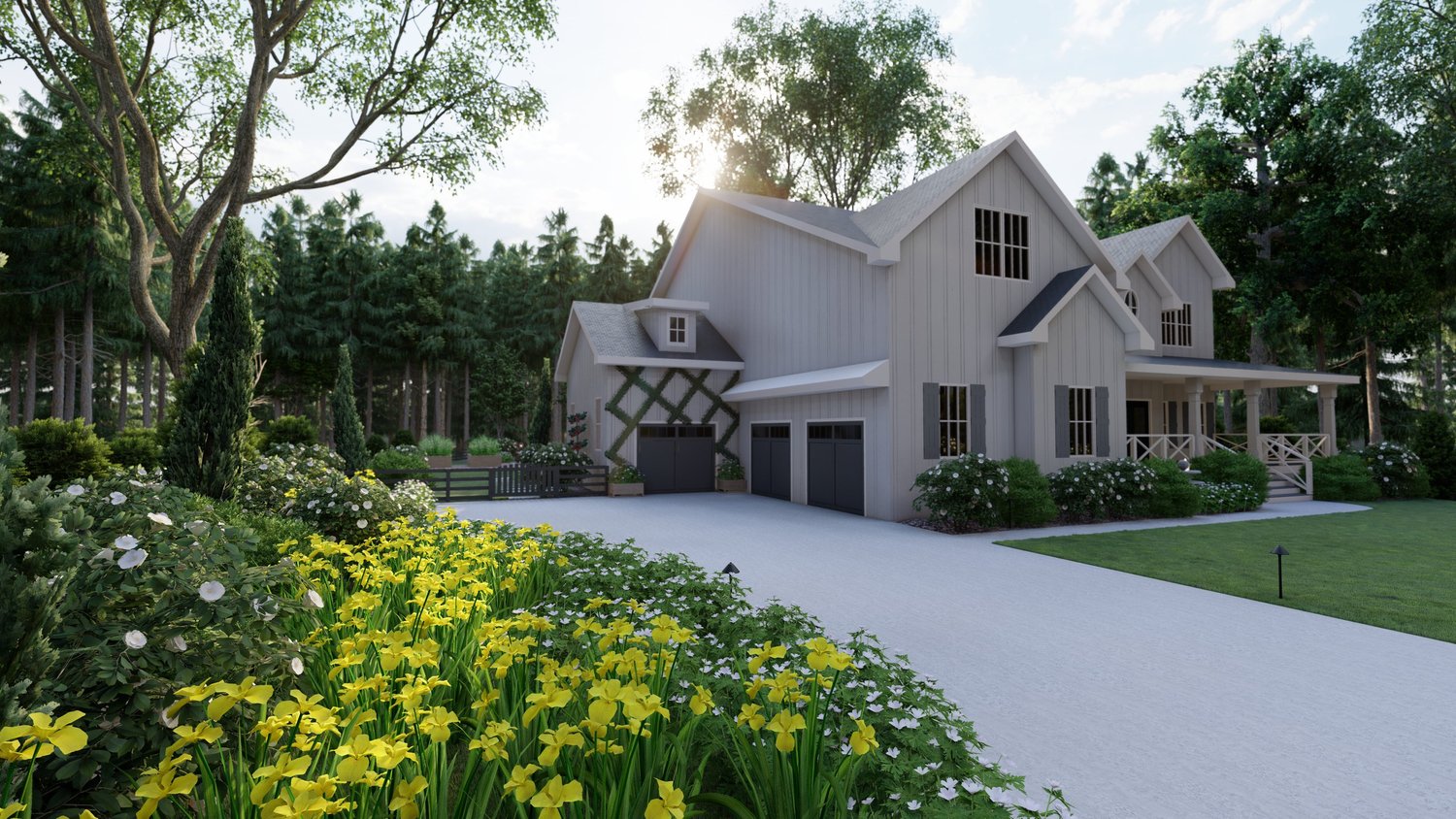 POPULAR AMENITIES IN ROSWELL YARDS
Simple and thorough online process
Take a style quiz, share videos and photos of your existing outdoor space, and learn about the costs in our Yard Builder™ tool. Our design team will help you at every step of the process.
GET STARTED >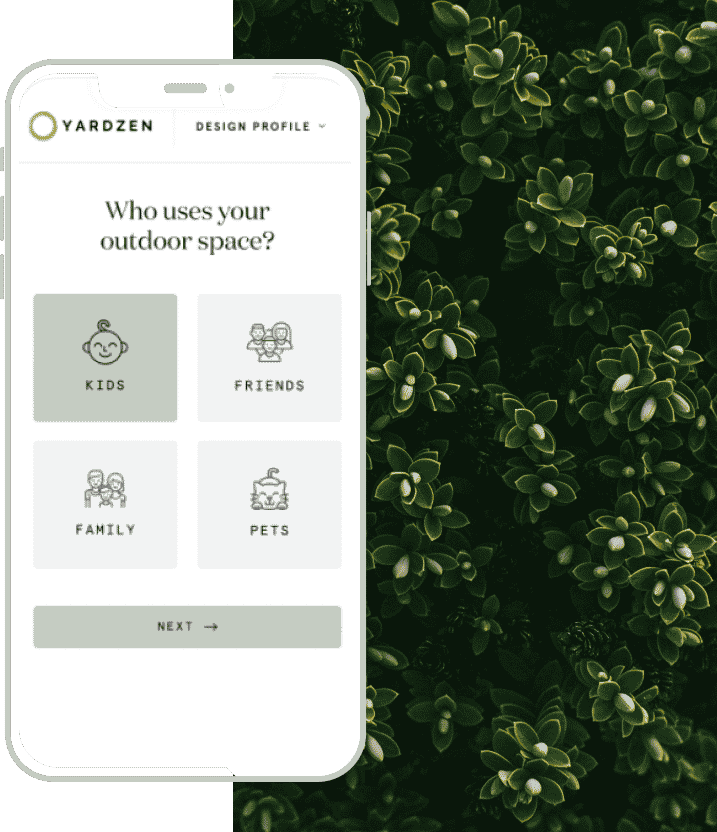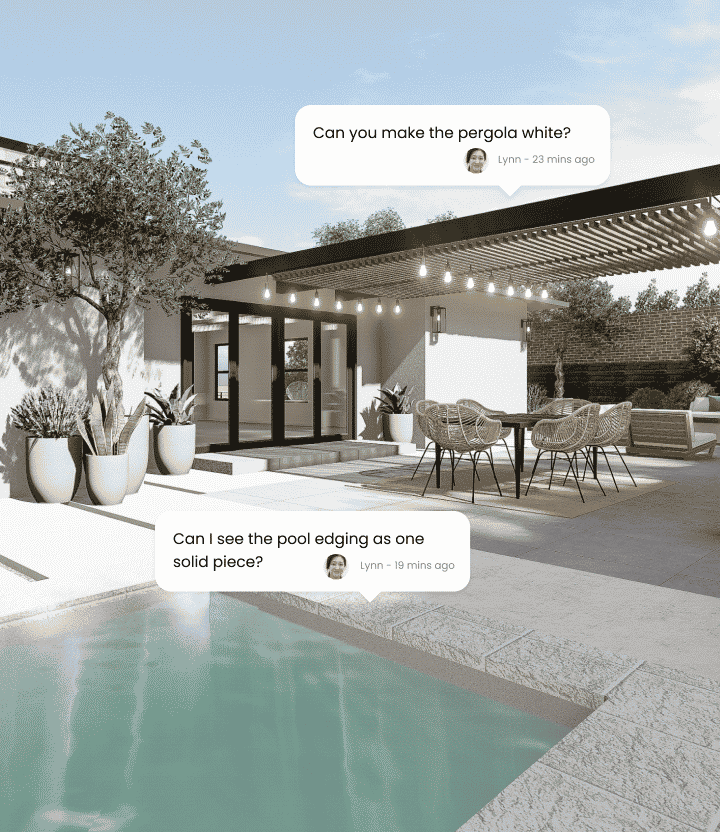 The easiest path to a final design you'll love
Review your first design in our online Feedback Studio. You'll be able to share feedback before we start incorporating your changes. A live design review call is also available to help get your project ready for installation.
GET STARTED >
Built by someone you (and Yardzen) trusts
We'll translate your 3D design concepts into a detailed CAD plan that's ready to install. Next, we'll connect you to a vetted, Roswell area landscape contractor who can bring your dream yard to life.
GET STARTED >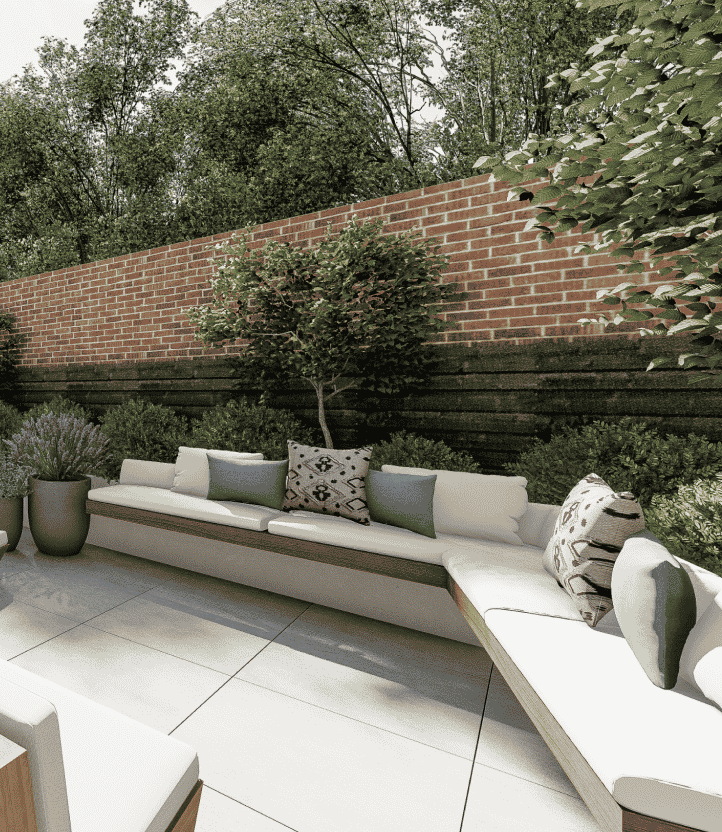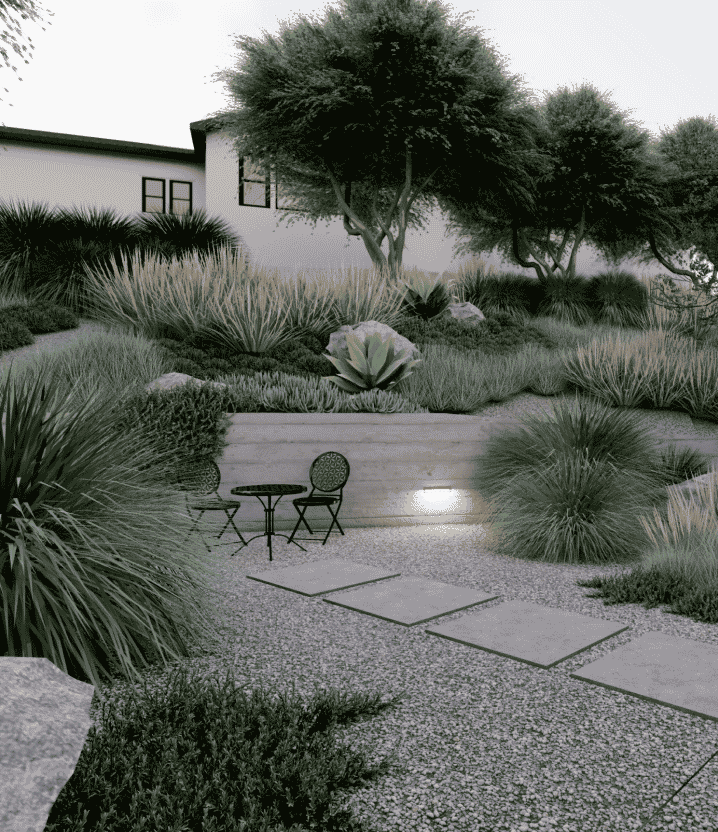 Custom designs for your unique outdoor space
We've built a database of plants, trees, and groundcovers that match to Roswell's planting zones, sun/shade/water requirements, aesthetic, and essential features like native plants. Using satellite and aerial imagery, coupled with your photo, video, and factoring in your details, we can create the outdoor space of your dreams.
GET STARTED >
WHICH YARDZEN PACKAGE IS RIGHT FOR YOU?
Take our YardBuilder quiz to find out.
GET STARTED

1. Tell us about your unique outdoor space

2. Answer a few questions about your dream yard

3. Get a personalized design package recommendation
WHAT YARDZEN CLIENTS ARE SAYING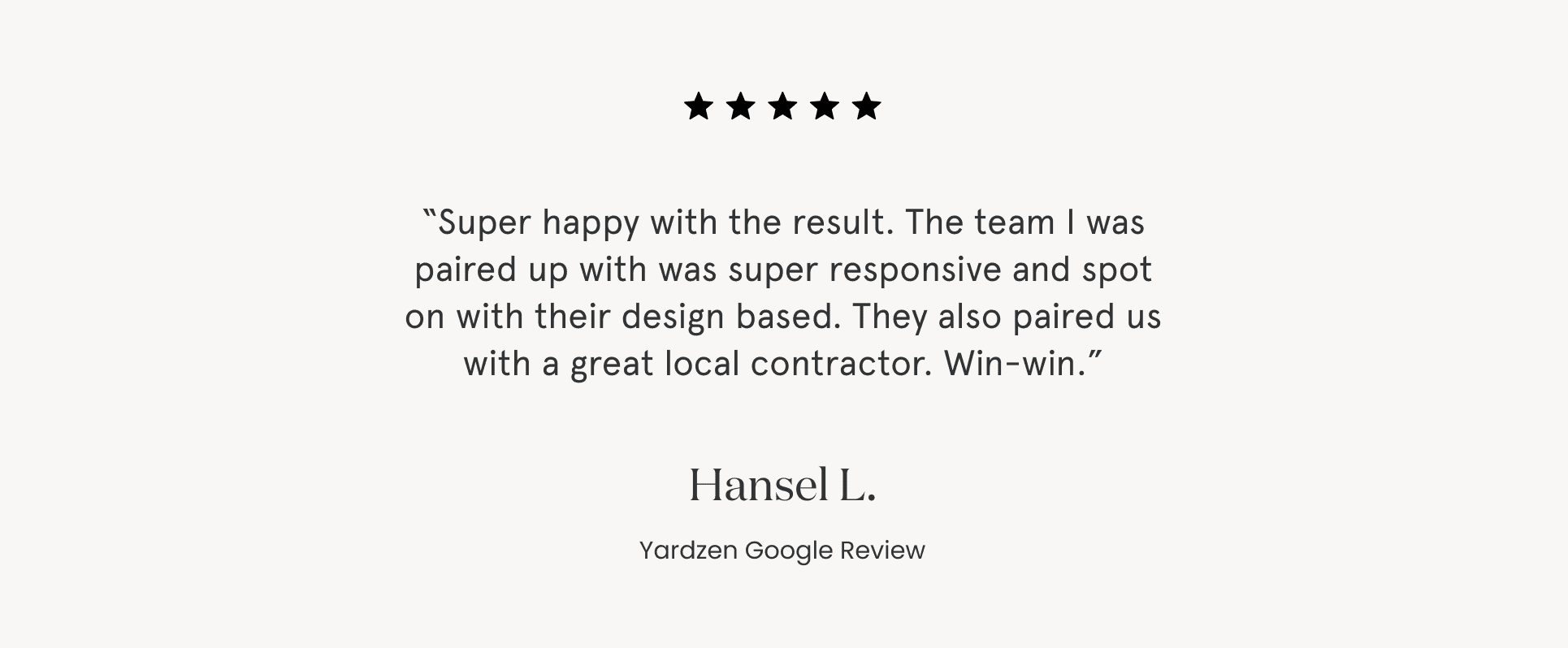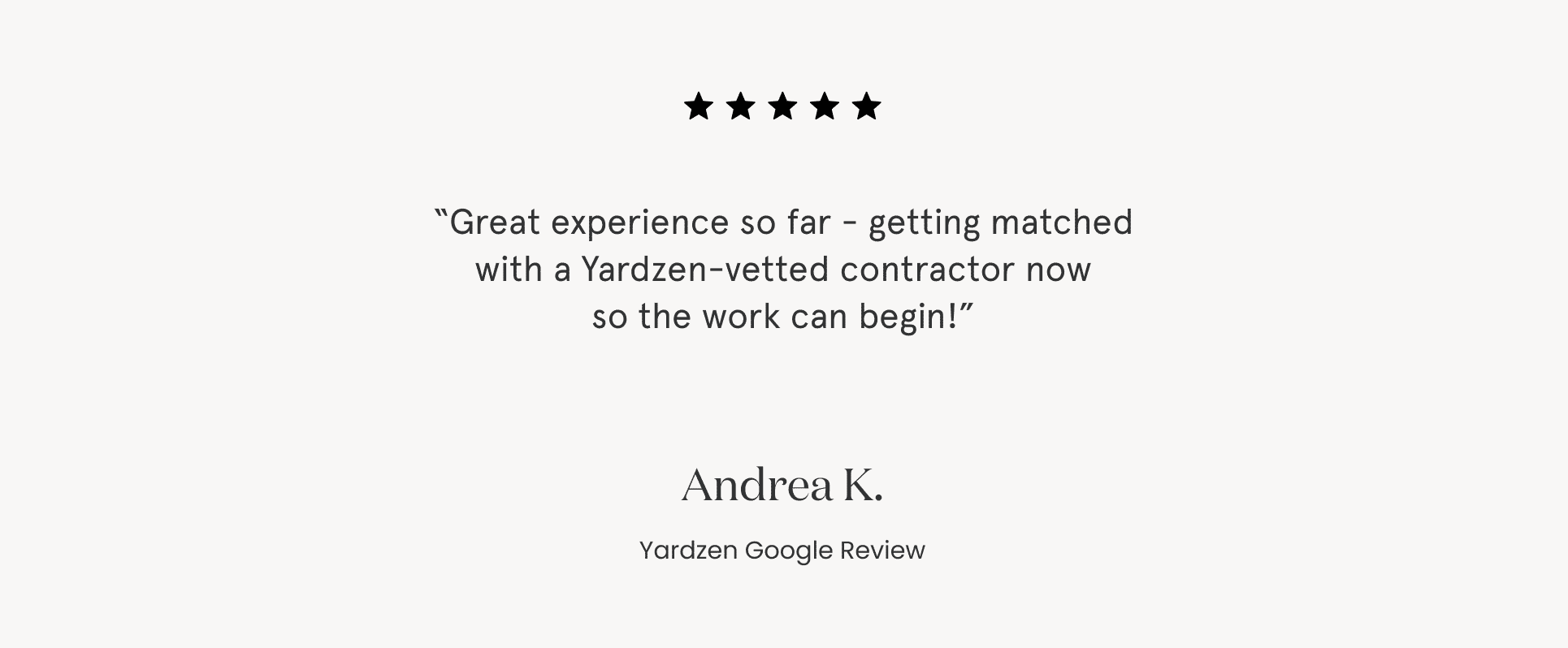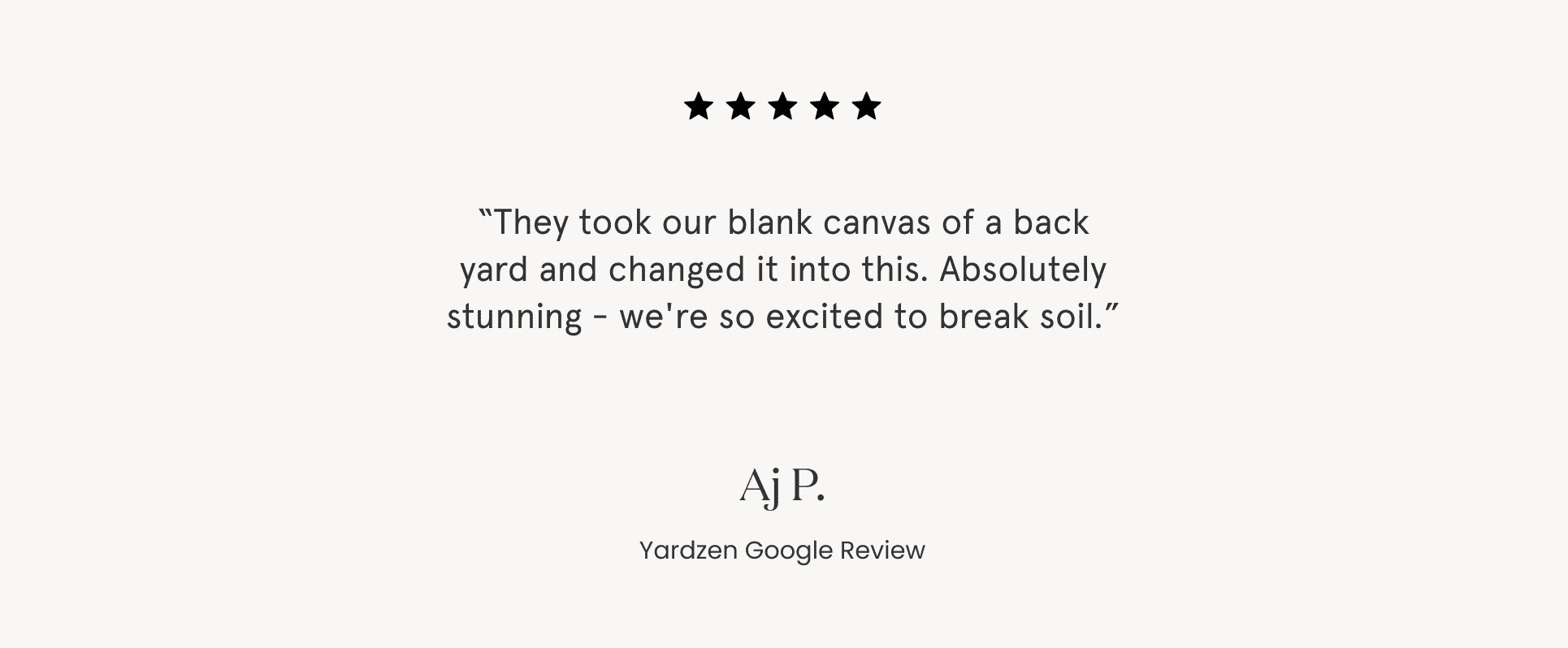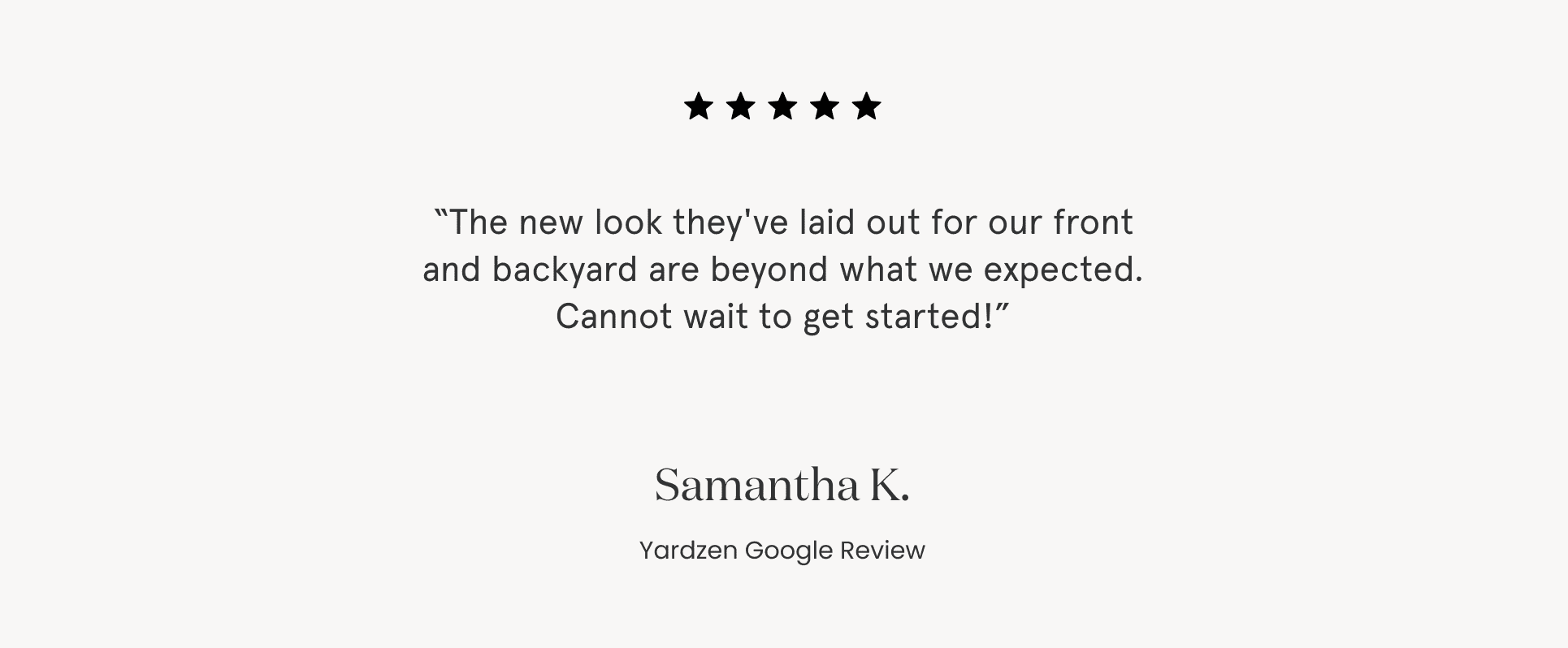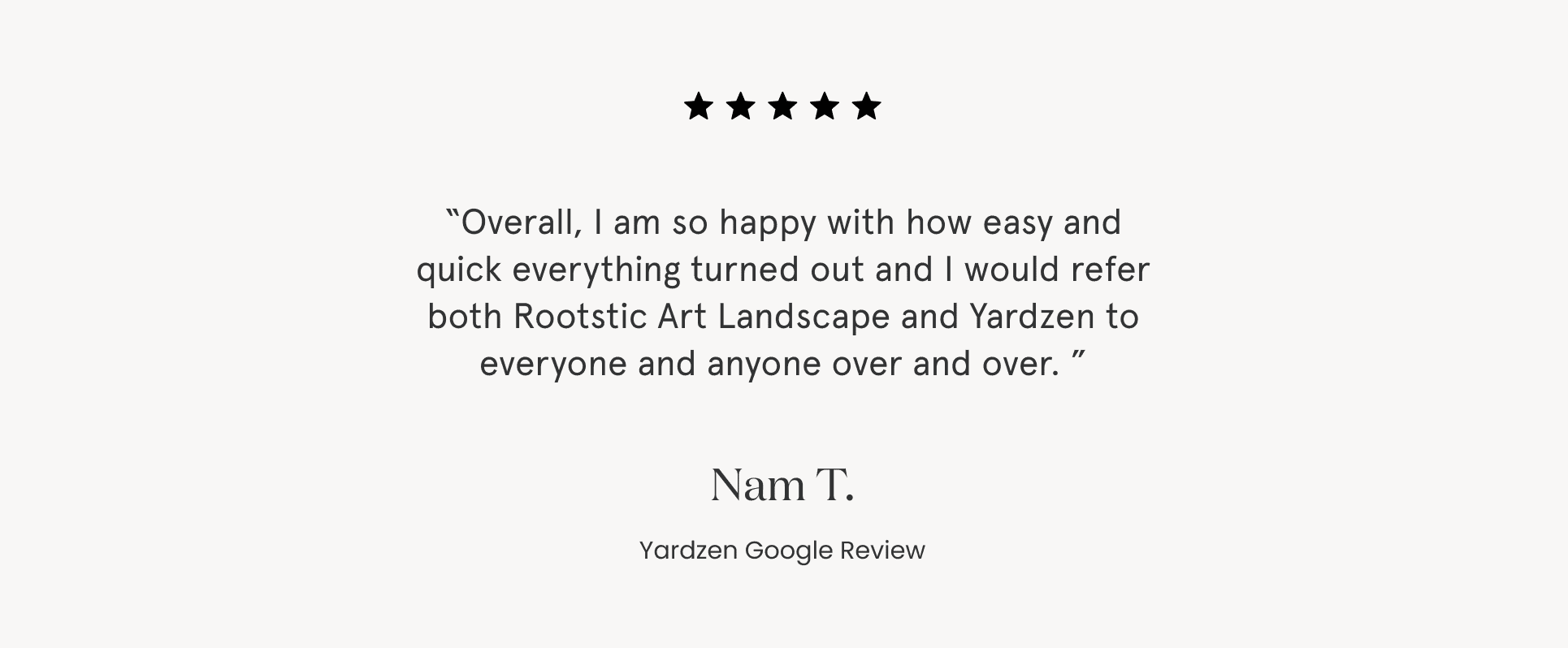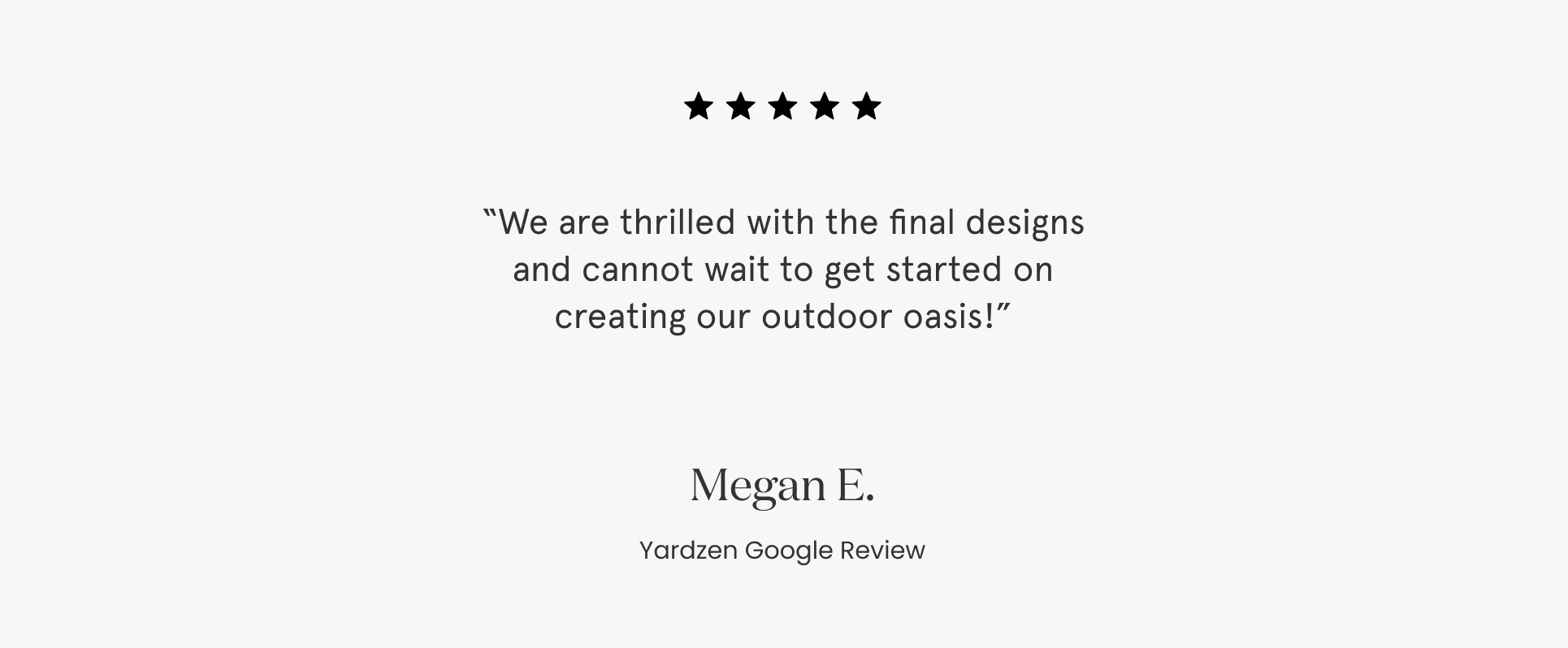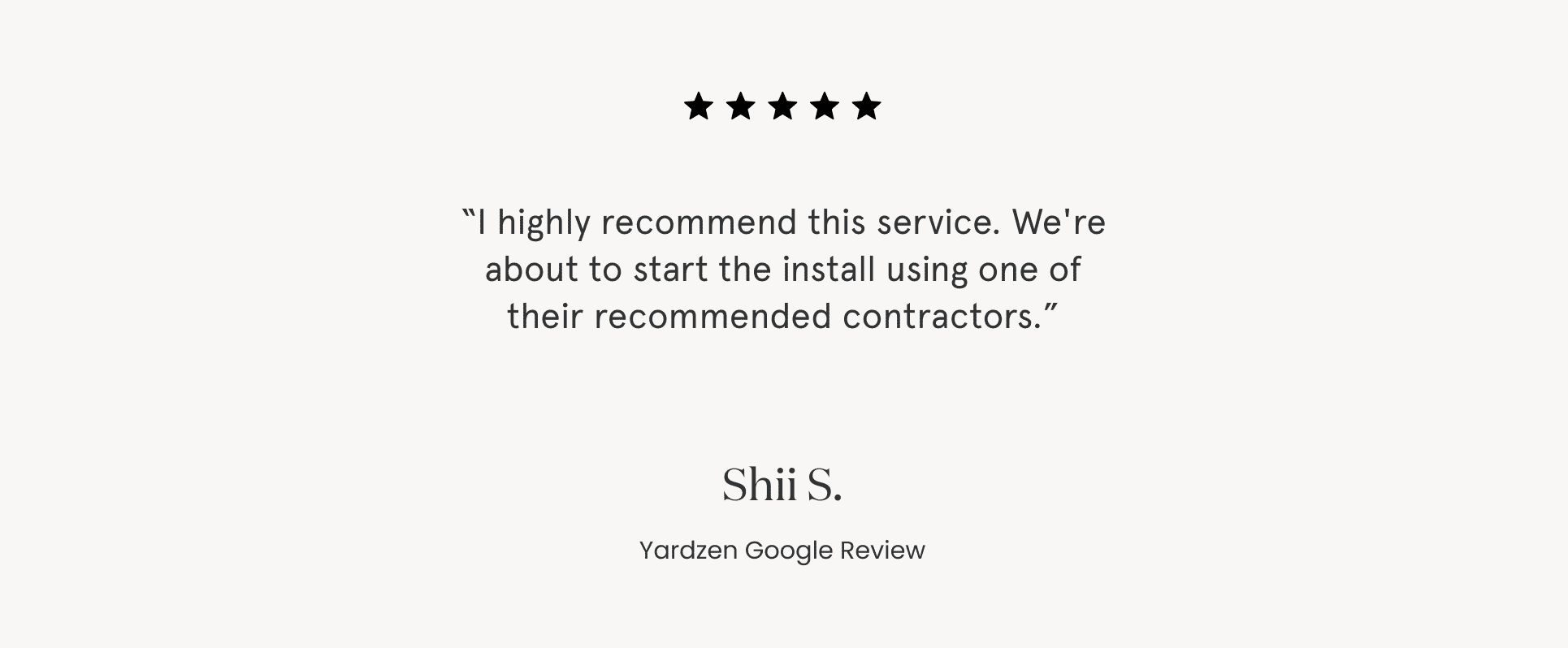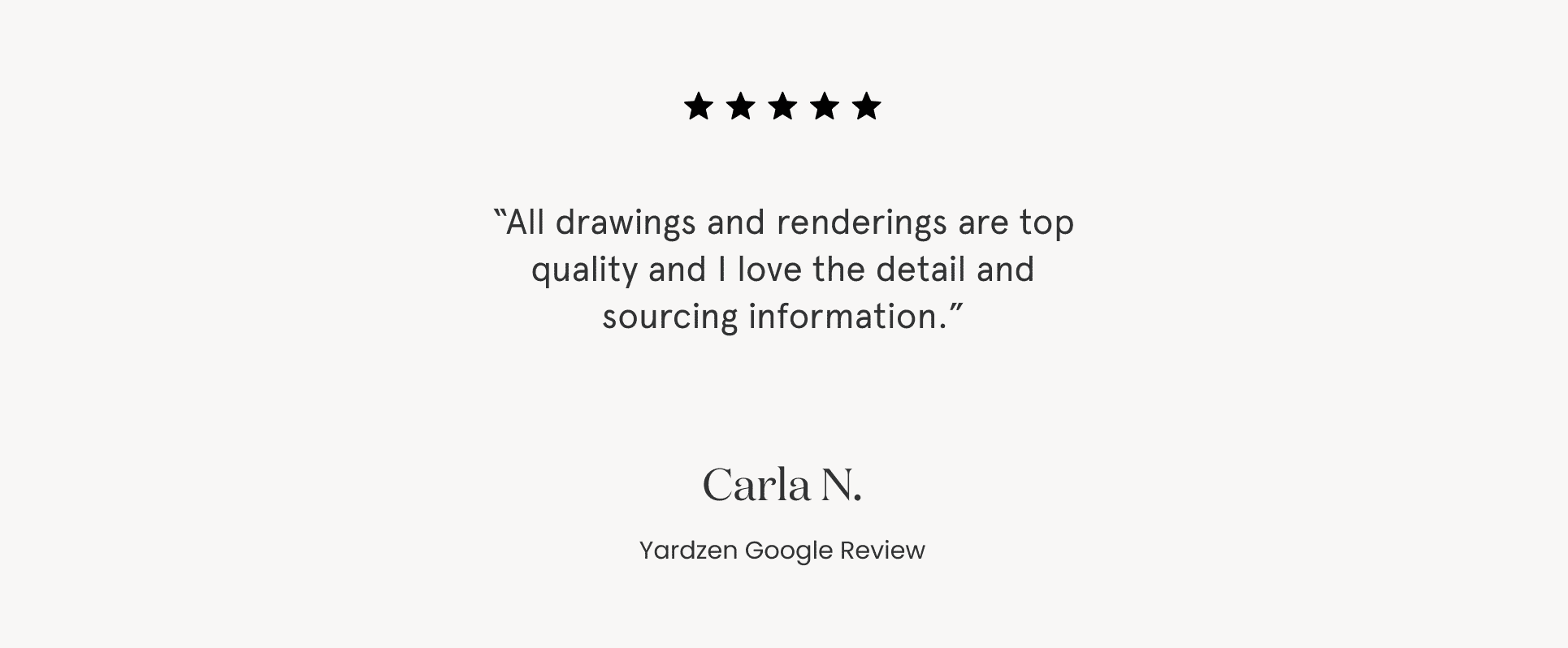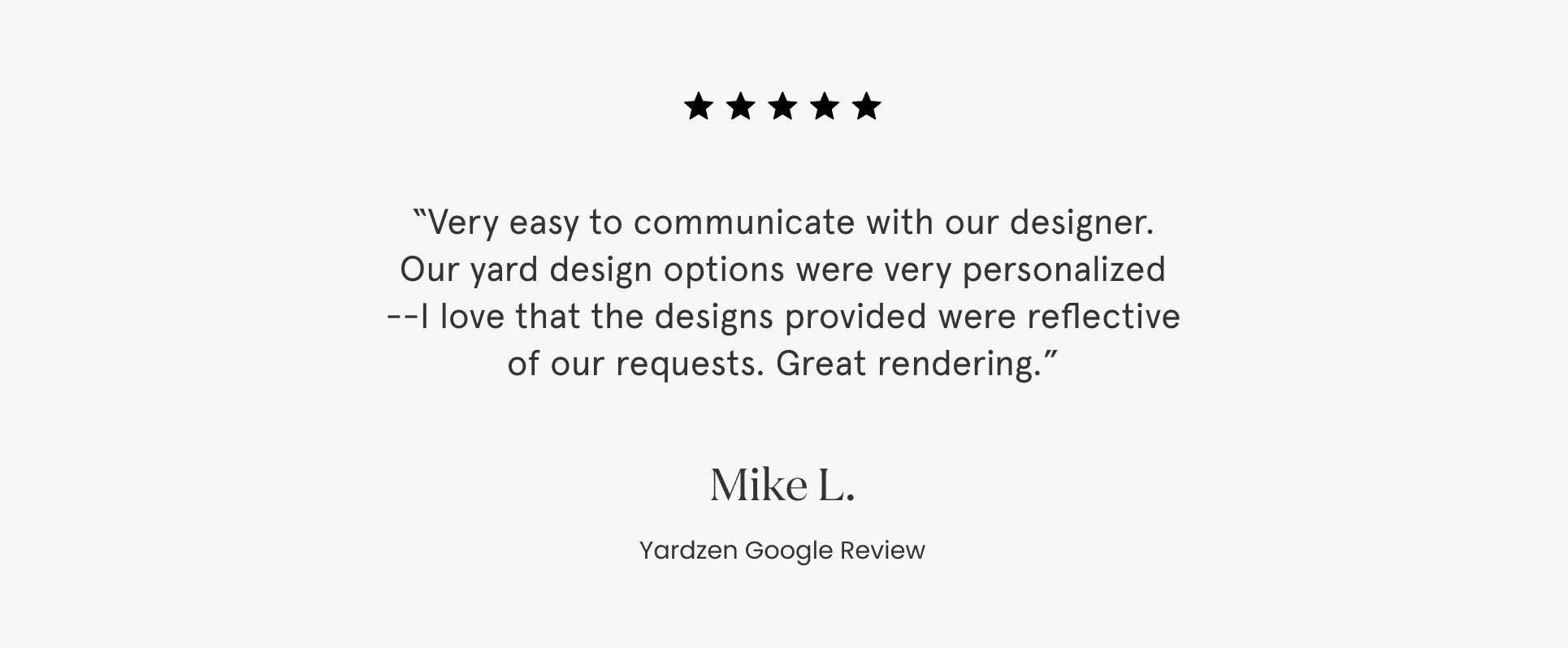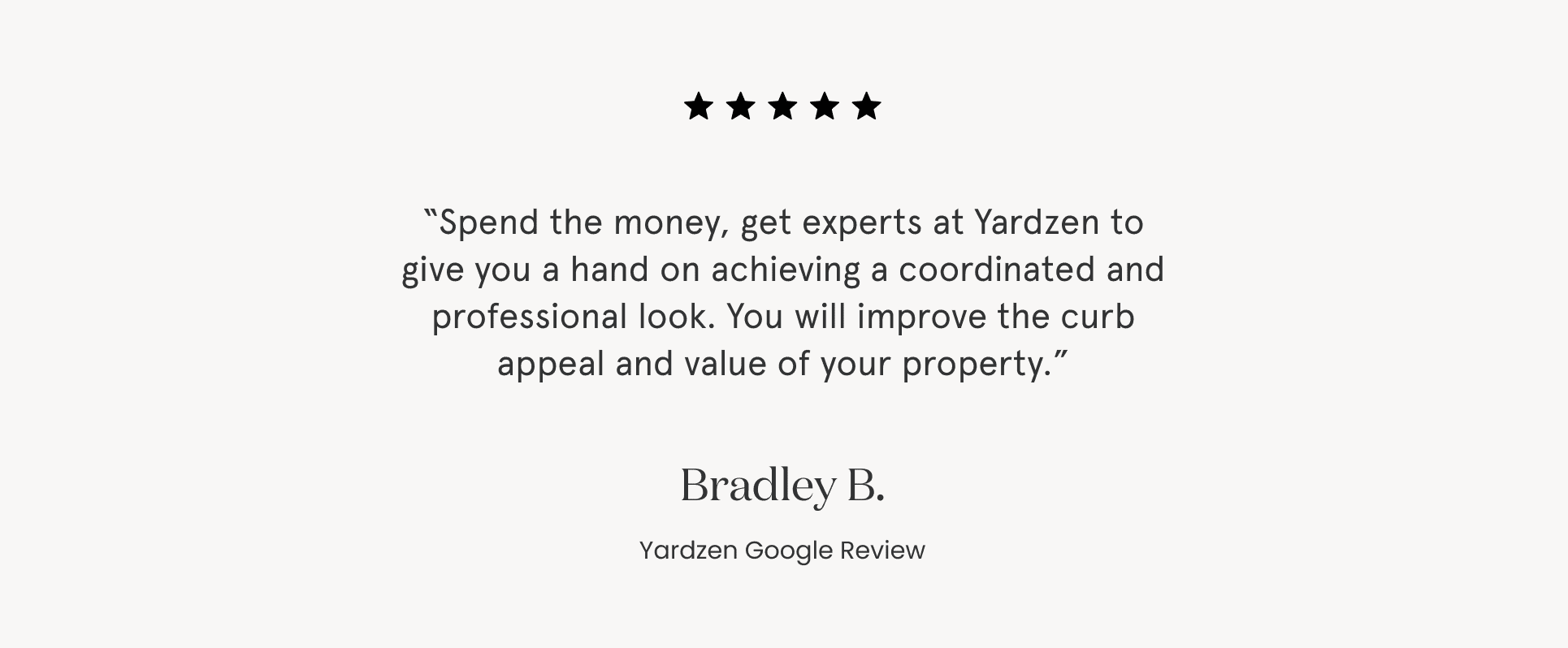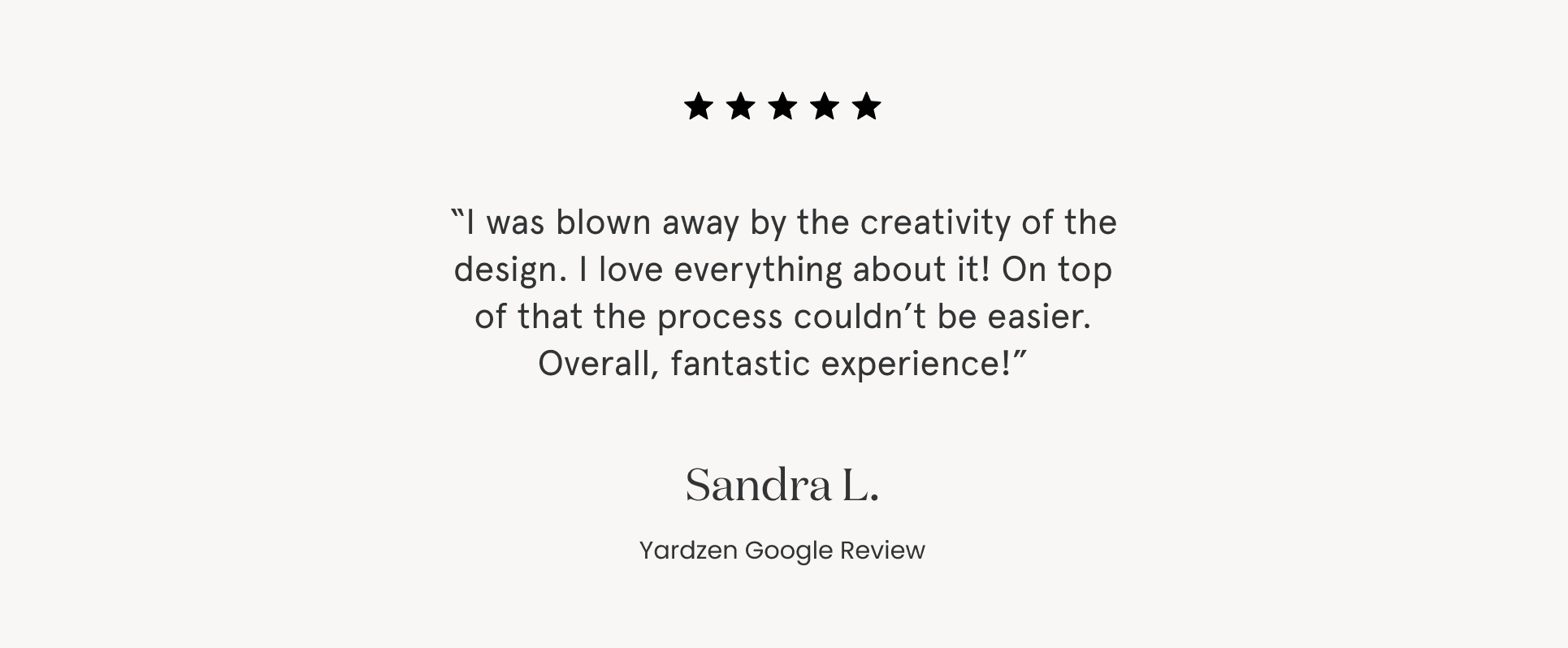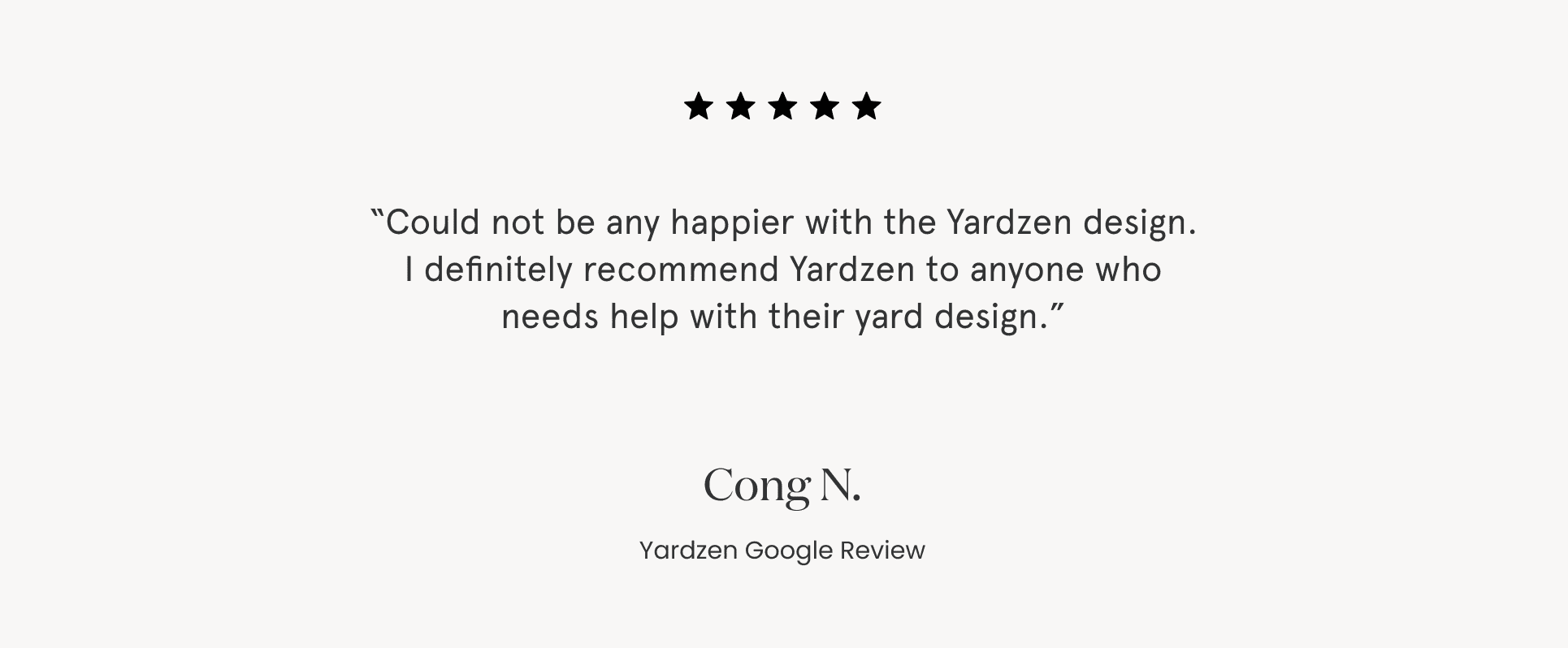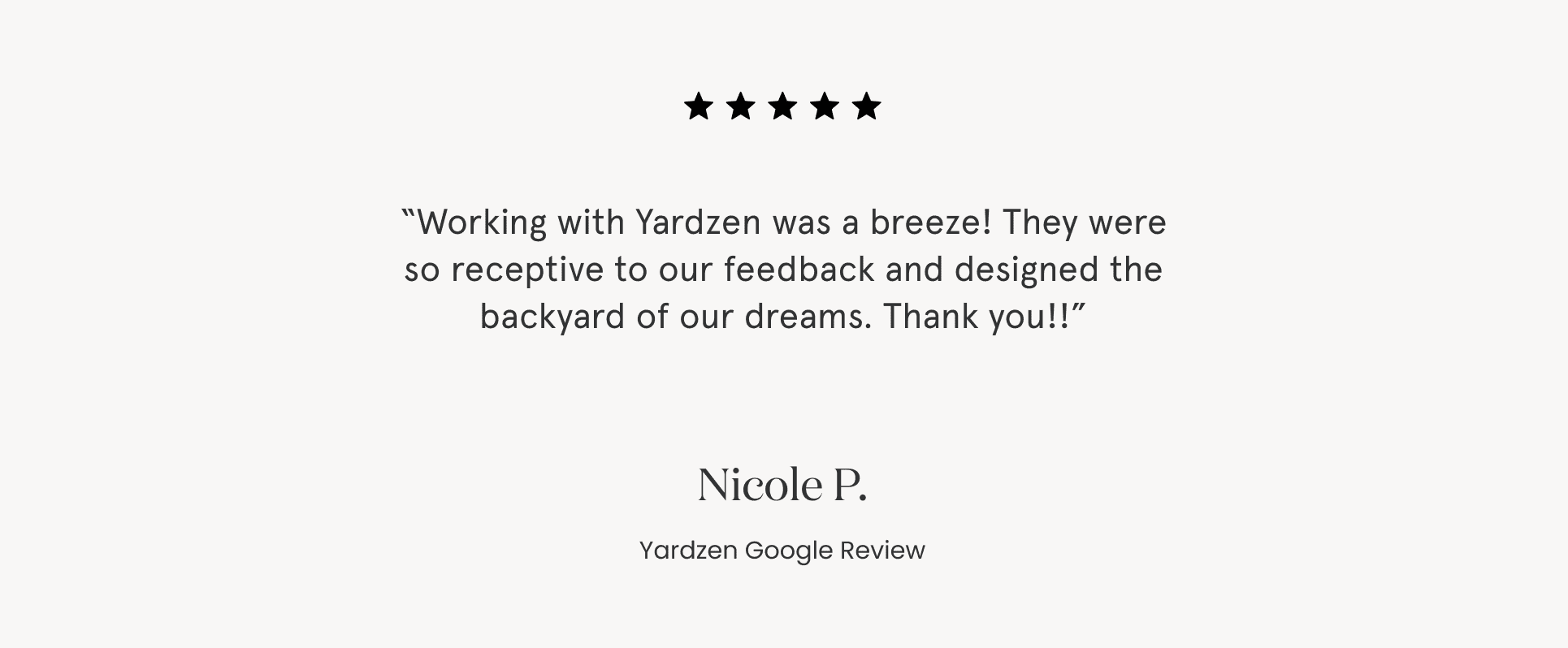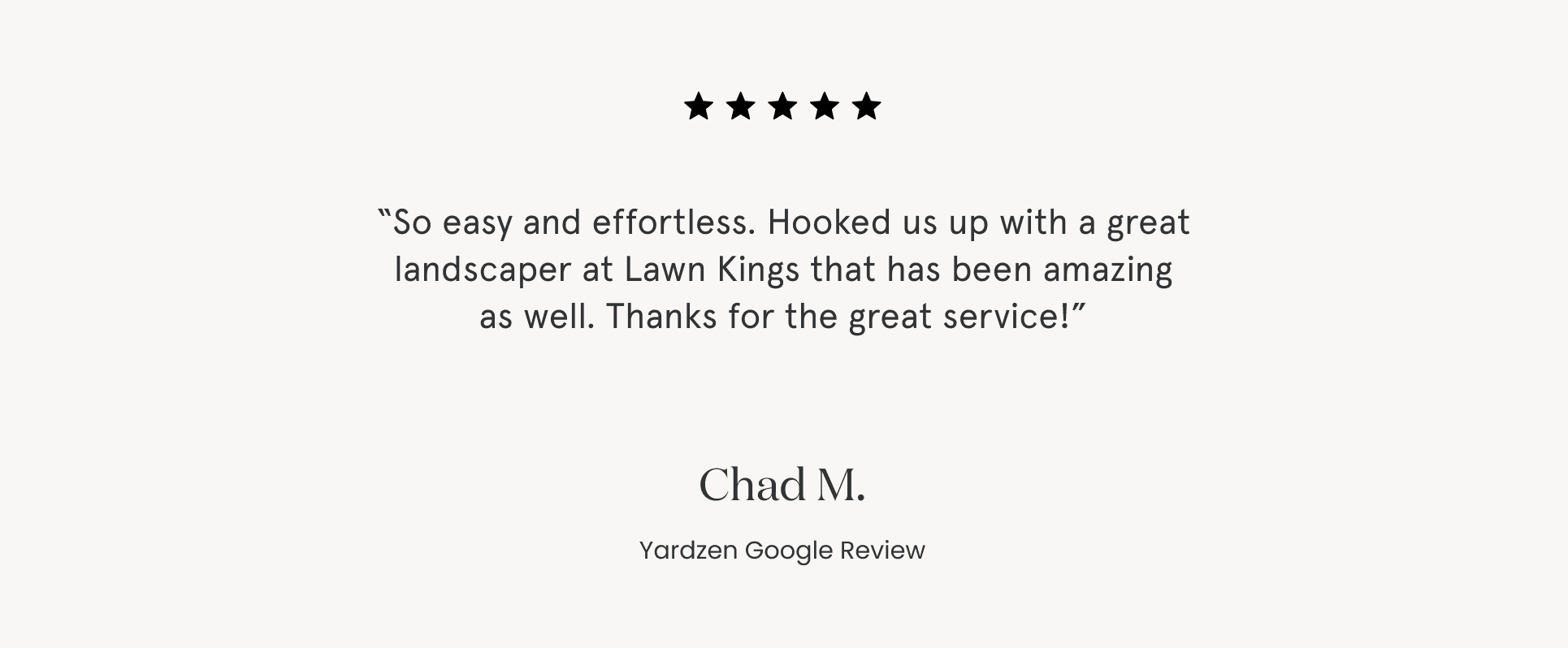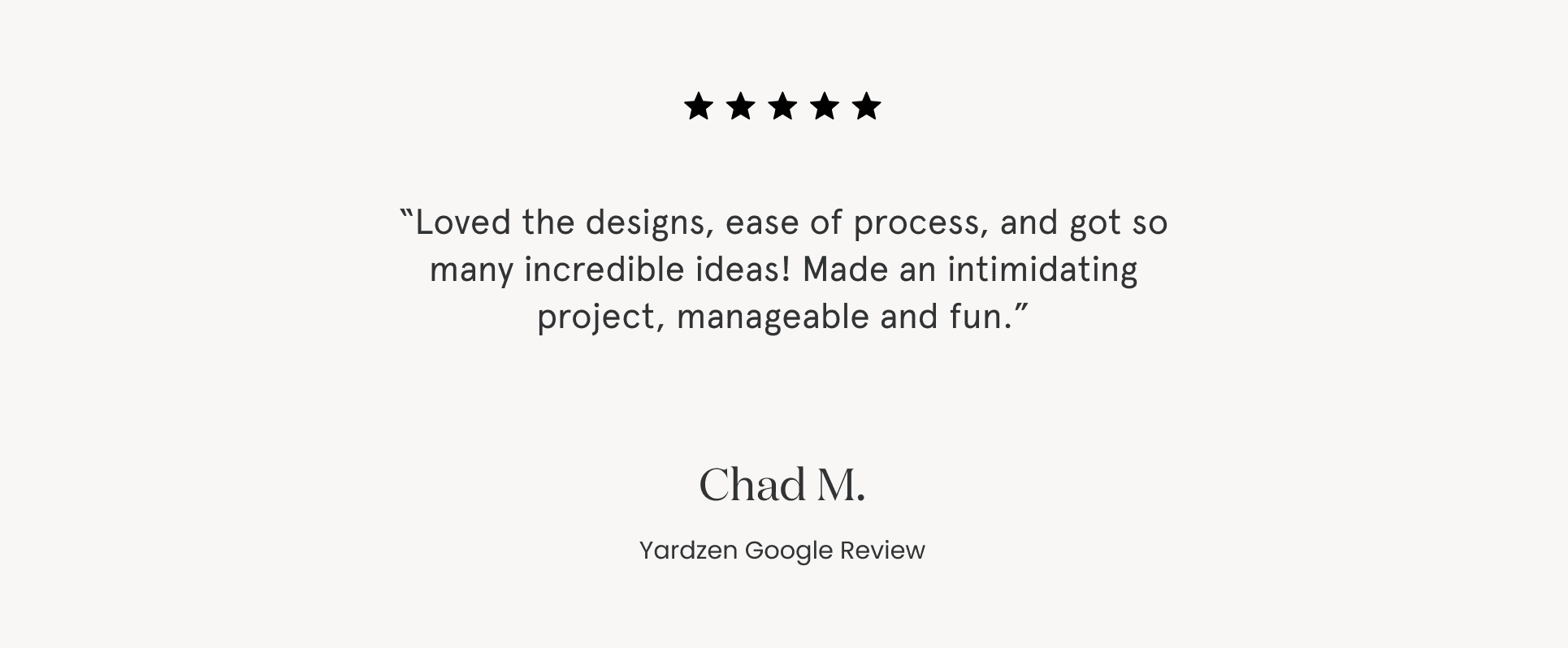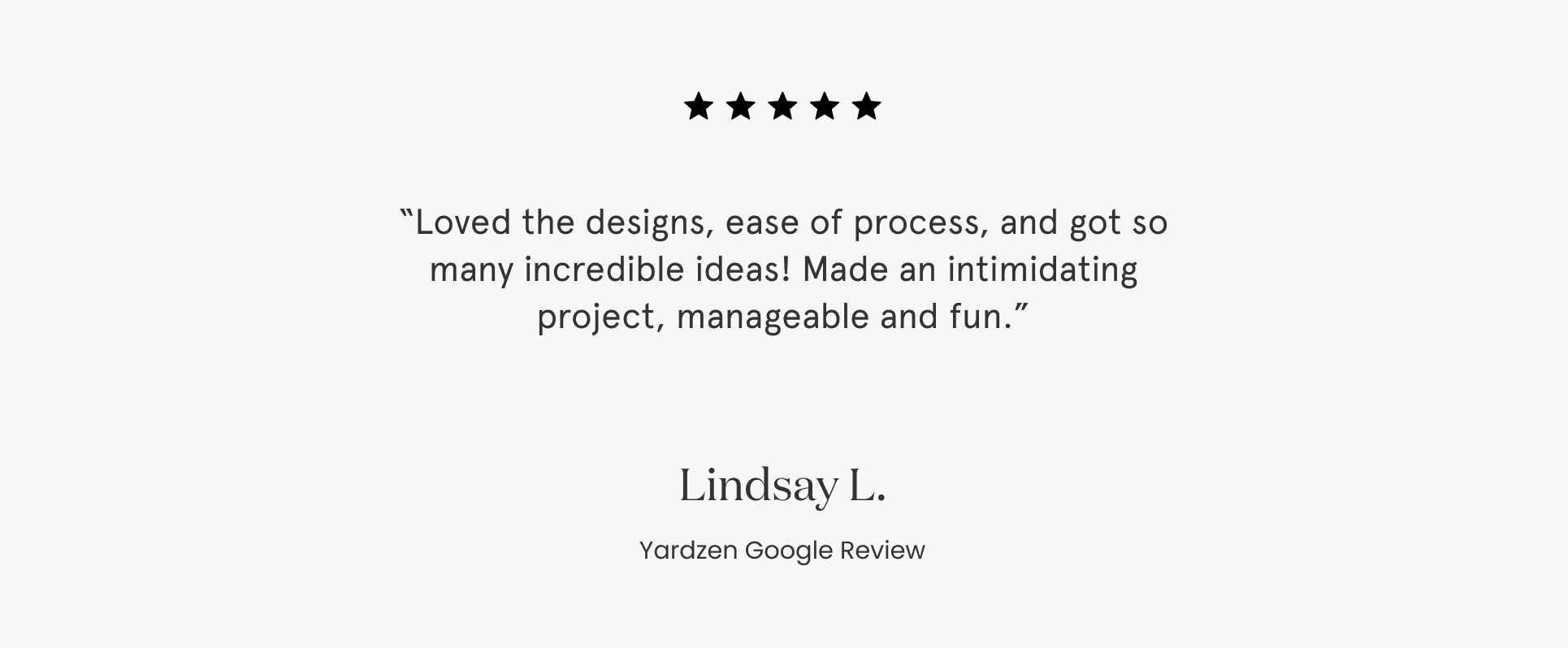 ROSWELL LANDSCAPING FAQS
What design styles are popular with Roswell homeowners?
Roswell homes favor traditional Southern architectural styles. Brick and white-painted wood are common building materials, and lawns are nearly ubiquitous in residential yards.
Landscapes embrace traditional design motifs, from formal axial paths, to flowing organic curves. Natural stone is popular for everything from edging to retaining walls to paving (tip: go with cut stone for a more formal look, natural-shaped stone for an earthier feel). In lieu of the cool grays of more modern looks, hardscape materials tend towards warm and bright neutrals.
Planting is overwhelmingly green. Part of that comes from lawns and hedge shrubs, but more so the green is a factor of the verdant landscape—plants love to grow in Roswell. Amid the green, bold pops of color from rows of annual and perennial flowers are a common design motif.
What are popular features in Roswell landscapes?
Roswell front yards tend to be primarily decorative, commonly featuring large lawns that carry the eye toward foundation planting at the base of the house, which usually comprises a mix of dense shrubs and bold flowering plants. Focal trees frequently add to front yard scenes.
Backyards are where the functional spaces for an outdoor living tend to concentrate. There, you'll find a range of amenities, including swimming pools, pergolas, outdoor kitchen and dining areas, and fire pits. These resources tend to cluster toward the house, while the peripheral reaches feature layered, lush planting designs, backdropped by canopy trees. The effect is not unlike having a private woodland retreat—not bad!
Should I use plants native to Roswell in my landscape?
No matter where you live, native plants are an excellent choice for your landscape. As lovers of the local climate, native plants typically require fewer inputs of water, fertilizer, and maintenance than species introduced from elsewhere. With natives, you can get great plant performance with less expense and fuss.
At the same time, native plants offer unmatched habitat value for local wildlife, and help designed landscapes feel connected to the broader regional landscape.
Looking for a few natives to get you started? Here are a few of the many local favorites:
→ Indiangrass (Sorghastrum nutans)
→ Scarlet Sage (Salvia coccinea)
→ Bloodroot (Sanguinaria canadensis)
→ Jewelweed (Impatiens capensis)
→ Cinderella's Pink Swamp Milkweed (Asclepias incarnata 'Cinderella')
→ Downy Serviceberry (Amelanchier arborea)
→ River Birch (Betula nigra)
→ Eastern Redbud (Cercis canadensis)
→ Flowering Dogwood (Cornus florida)
→ Southern Magnolia (Magnolia grandiflora)
Want to dig a little deeper? Take a peek at this excellent list of Native Georgia plants from the Lady Bird Johnson Wildflower Center.
If you're ready to buy, this list of Georgia native plant nurseries, courtesy of the UGA Botanical Garden, can help you find what you are looking for.
What are top considerations for Roswell landscapes?
Climate is a key consideration when designing a Roswell landscape. Gathering spaces require relief from summer heat and means to stay warm when the weather turns chilly. Pergolas, shade trees, and even pools can keep you cool, while fire pits, outdoor heaters, hot tubs, and deciduous trees that allow winter light to pass are excellent for warming spaces up.
Rain is another climate factor to consider. Yards must have good drainage, and sloped areas should be planted to resist erosion. Covered spaces are an excellent asset to enjoy time outside despite the rain.
Beyond climate issues, maintenance is a central concern. For most, a landscape should require minimal upkeep, so you can spend your precious free time enjoying your yard rather than working on it. Careful plant selection can make this possible.
Your own functional needs are also key considerations. Flexible outdoor spaces, designed to accommodate a variety of groups and activities, are a great investment, allowing your yard to adapt to your changing needs as years go by.
When should I start my landscaping project?
Now! Any time of year is great to begin work on a landscape project.
When possible, we suggest utilizing the winter to work through the design phase – this sets you up to get on contractors' books early in the build season, so you can have your design installed and ready to enjoy in time for summer.
If winter has passed, don't worry, it's never too late in the year to begin work on a landscape design project.
Backyard design for a Yardzen client in Roswell, GA
"Highly suggest Yardzen. The online process made everything super easy and efficient. Thank you to the entire Yardzen team."
Shannon M., Yardzen client
Yardzen creates local landscapes in and around Roswell:
Alpharetta, Atlanta, Chattahoochee Hills, College Park, East Point, Fairburn, Hapeville, Johns Creek, Milton, Mountain Park, Palmetto, Sandy Springs, South Fulton, and Union City.
Explore other Georgia landscape designs by Yardzen