Landscape design & build for Nashville
Yardzen designs everywhere in the U.S. and the Nashville area is one of our favorites. Ranked among the country's best places to live, Nashville is growing like a weed (or native perennial), both in and around the city.
EXPLORE DESIGN PACKAGES
Region
This should come as no surprise. With a competitive cost of living, strong economy, gorgeous regional landscape, great food, and even greater music, there is no shortage of reasons to call Nashville home.
Climate
Nashville enjoys that fabled Southern climate of hot, humid summers and cool winters with a sprinkling of snow. If you're the type who likes to be outside, Nashville has you covered, though you'll want a little help from your landscape to keep things pleasant.
Design & Build
Enter Yardzen. We'll work with you to develop a landscape design that gets you the look, feel, and function you are dreaming of. Yardzen will also connect you with a licensed, vetted contractor from the Yardzen Pro Network to get your design built and get you back to the business of outdoor living.
Whether you are looking to spend more time outside in your Nashville yard, or are just in need of a refresh for your plants and hardscape, Yardzen is ready to help you!
TRUSTED BY THE EXPERTS


NASHVILLE, TN LANDSCAPE DESIGN GALLERY
POPULAR AMENITIES IN NASHVILLE YARDS
Simple and thorough online process
Take a style quiz, share videos and photos of your existing outdoor space, and learn about the costs in our Yard Builder™ tool. Our design team will help you at every step of the process.
GET STARTED >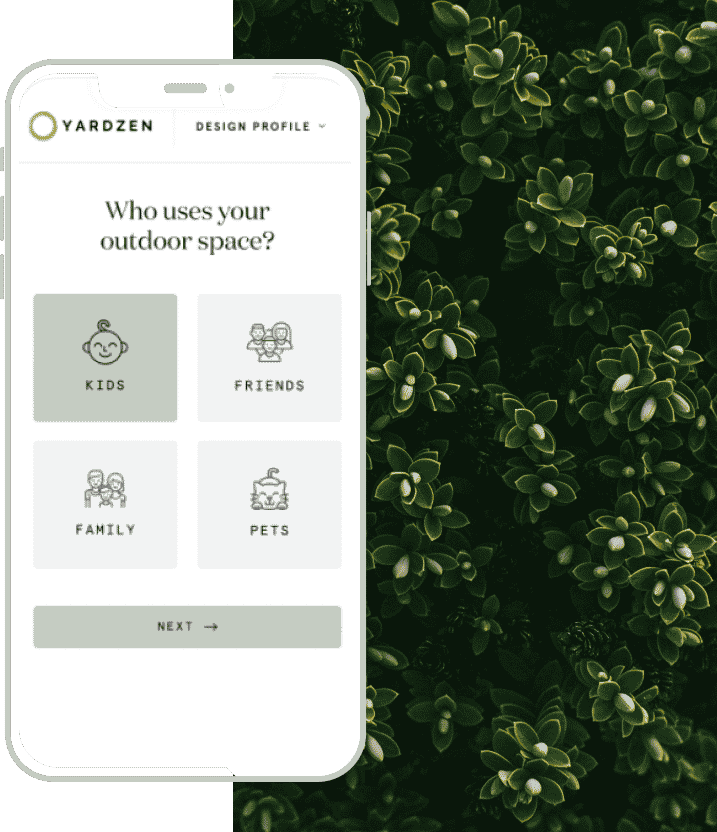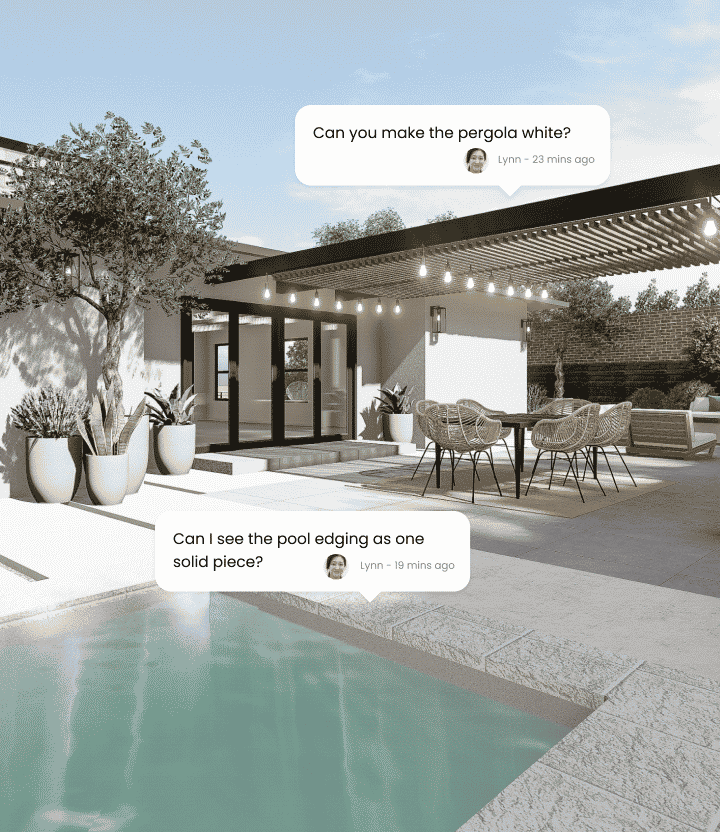 The easiest path to a final design you'll love
Review your first design in our online Feedback Studio. You'll be able to share feedback before we start incorporating your changes. A live design review call is also available to help get your project ready for installation.
GET STARTED >
Built by someone you (and Yardzen) trusts
We'll translate your 3D design concepts into a detailed CAD plan that's ready to install. Next, we'll connect you to a vetted, Nashville area landscape contractor who can bring your dream yard to life.
GET STARTED >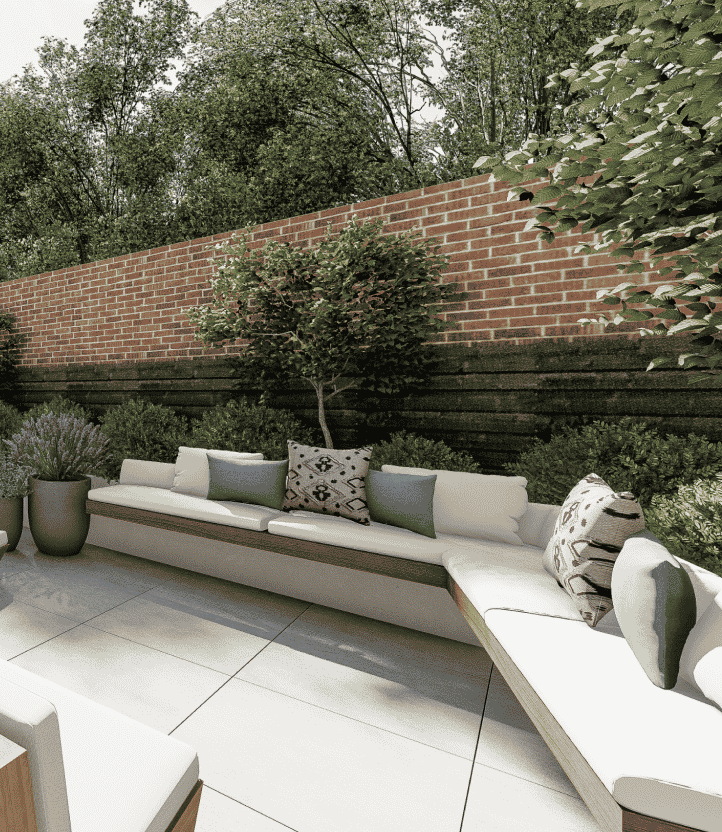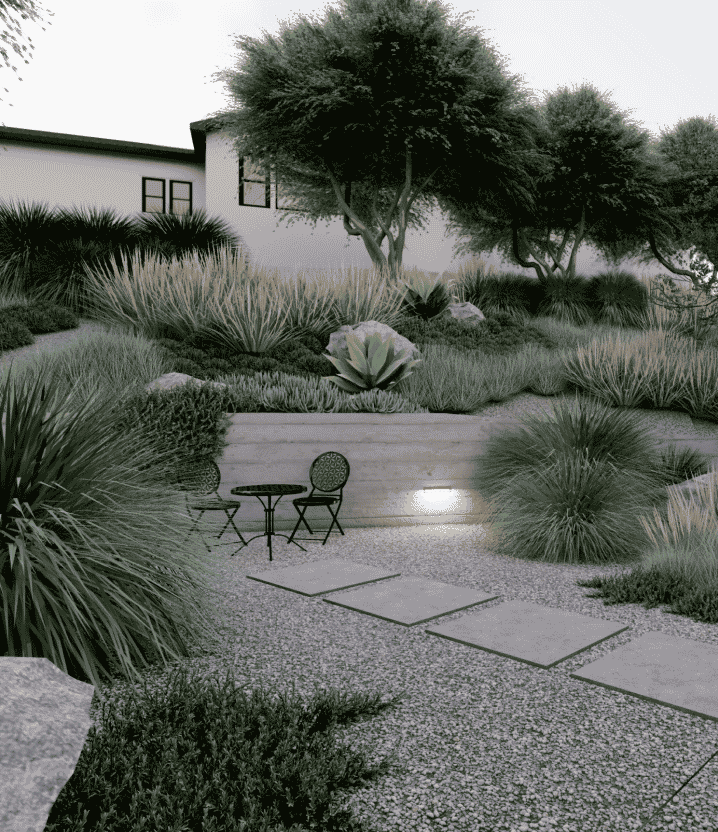 Custom designs for your unique outdoor space
We've built a database of plants, trees, and groundcovers that match to Nashville's planting zones, sun/shade/water requirements, aesthetic, and essential features like native plants. Using satellite and aerial imagery, coupled with your photo, video, and factoring in your details, we can create the outdoor space of your dreams.
GET STARTED >
WHICH YARDZEN PACKAGE IS RIGHT FOR YOU?
Take our YardBuilder quiz to find out.
GET STARTED

1. Tell us about your unique outdoor space

2. Answer a few questions about your dream yard

3. Get a personalized design package recommendation
WHAT YARDZEN CLIENTS ARE SAYING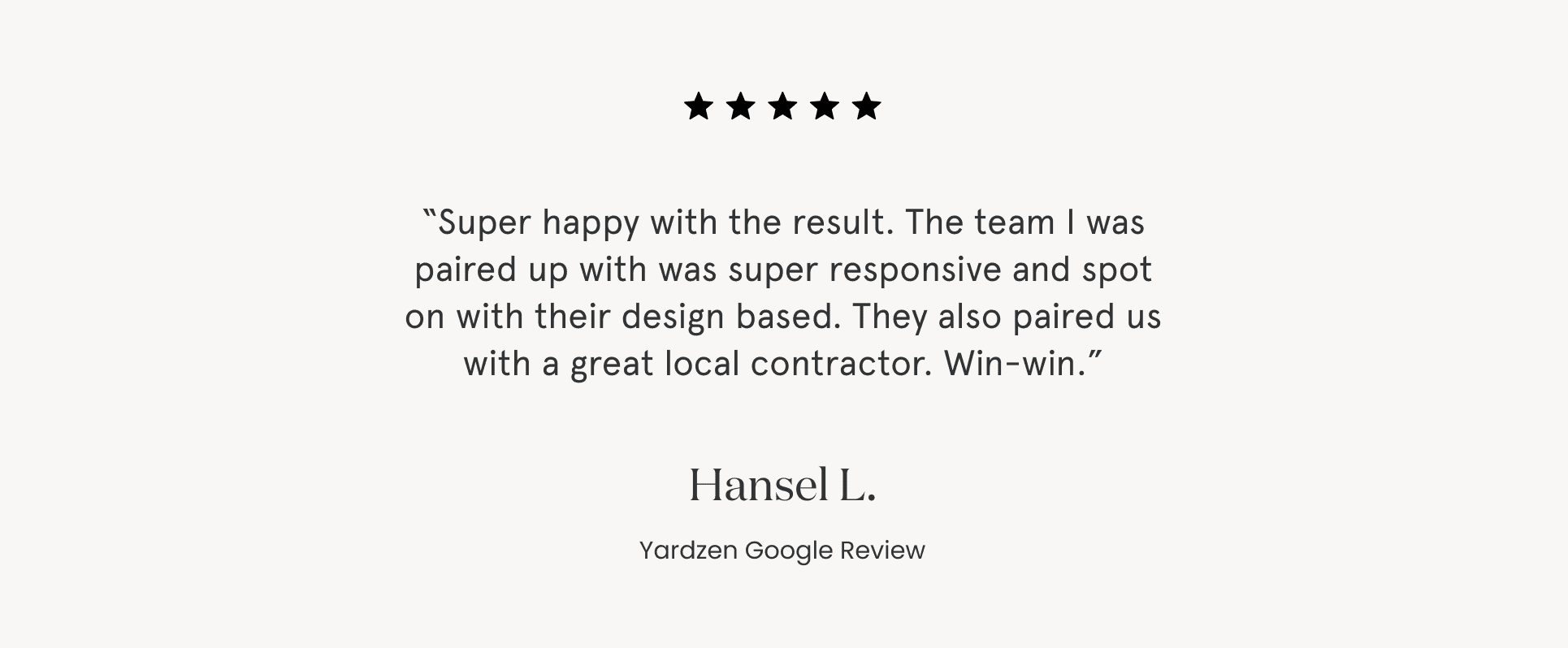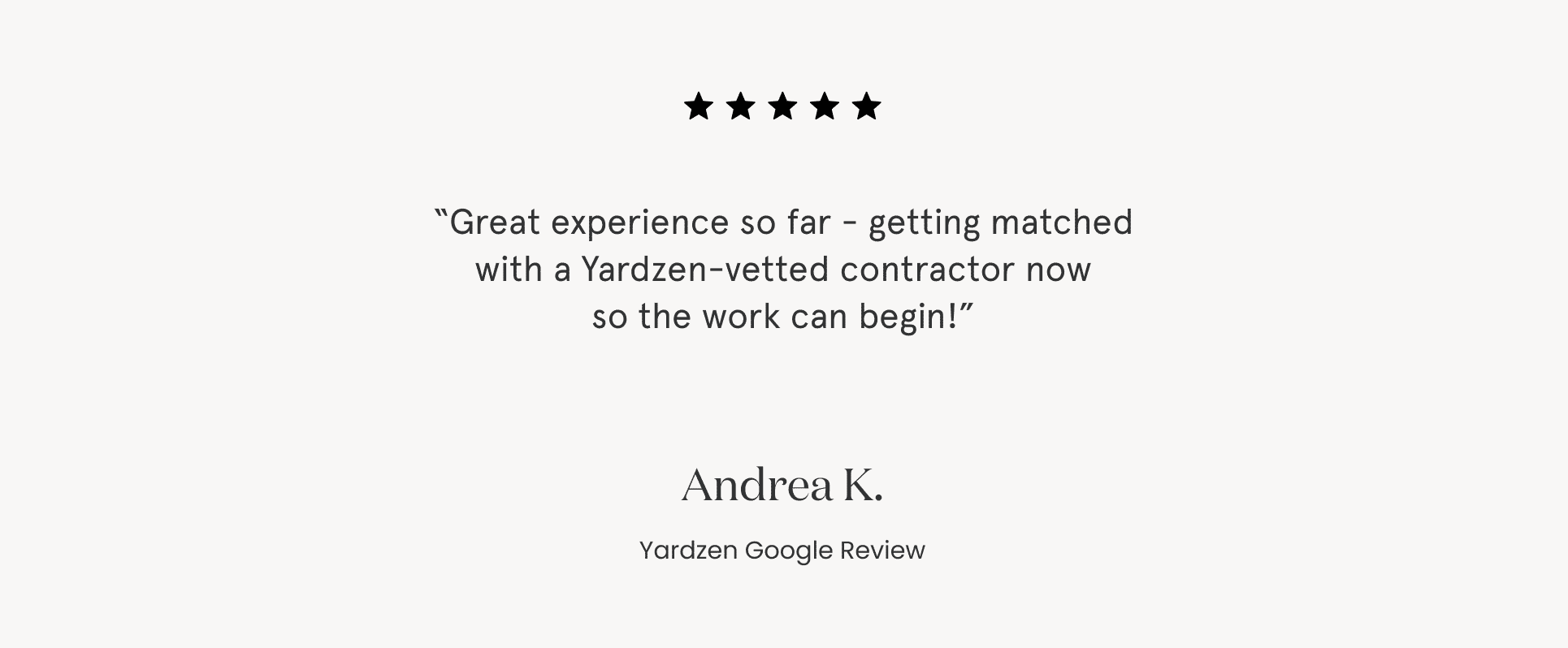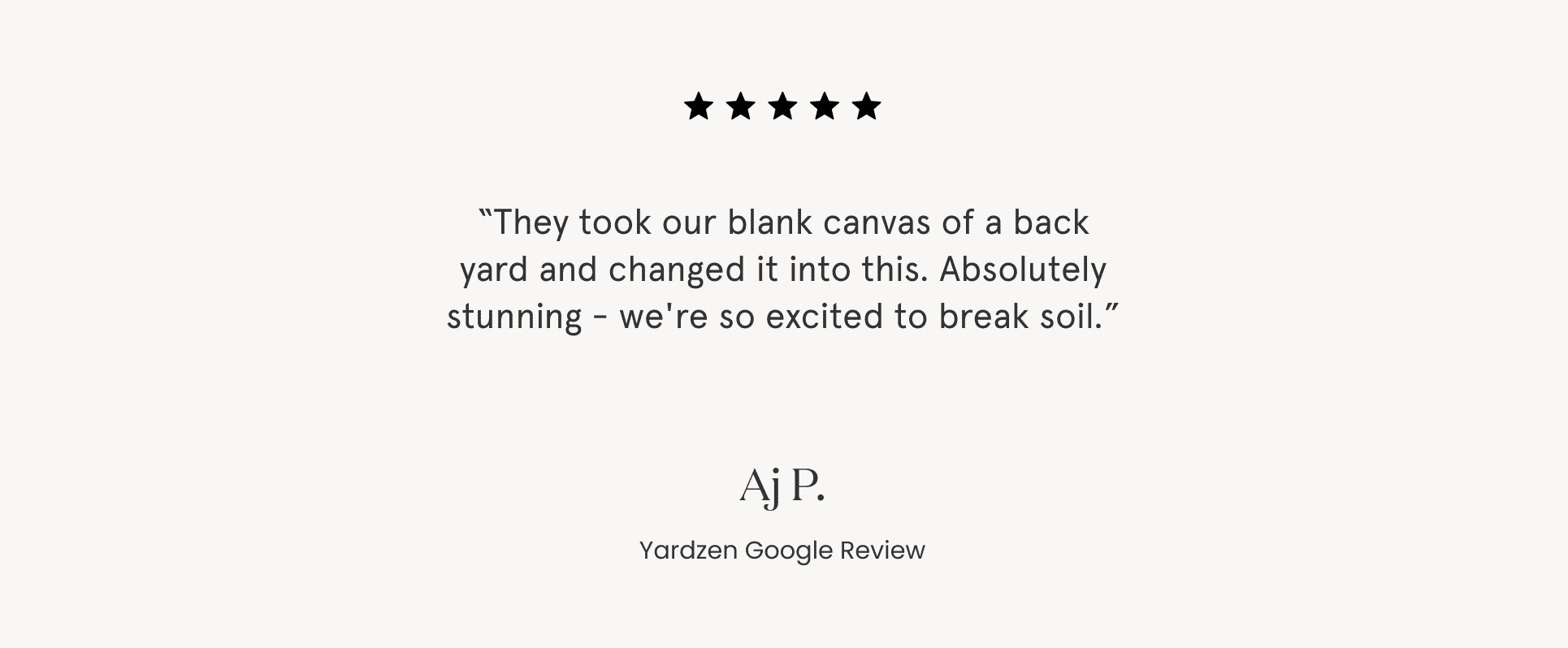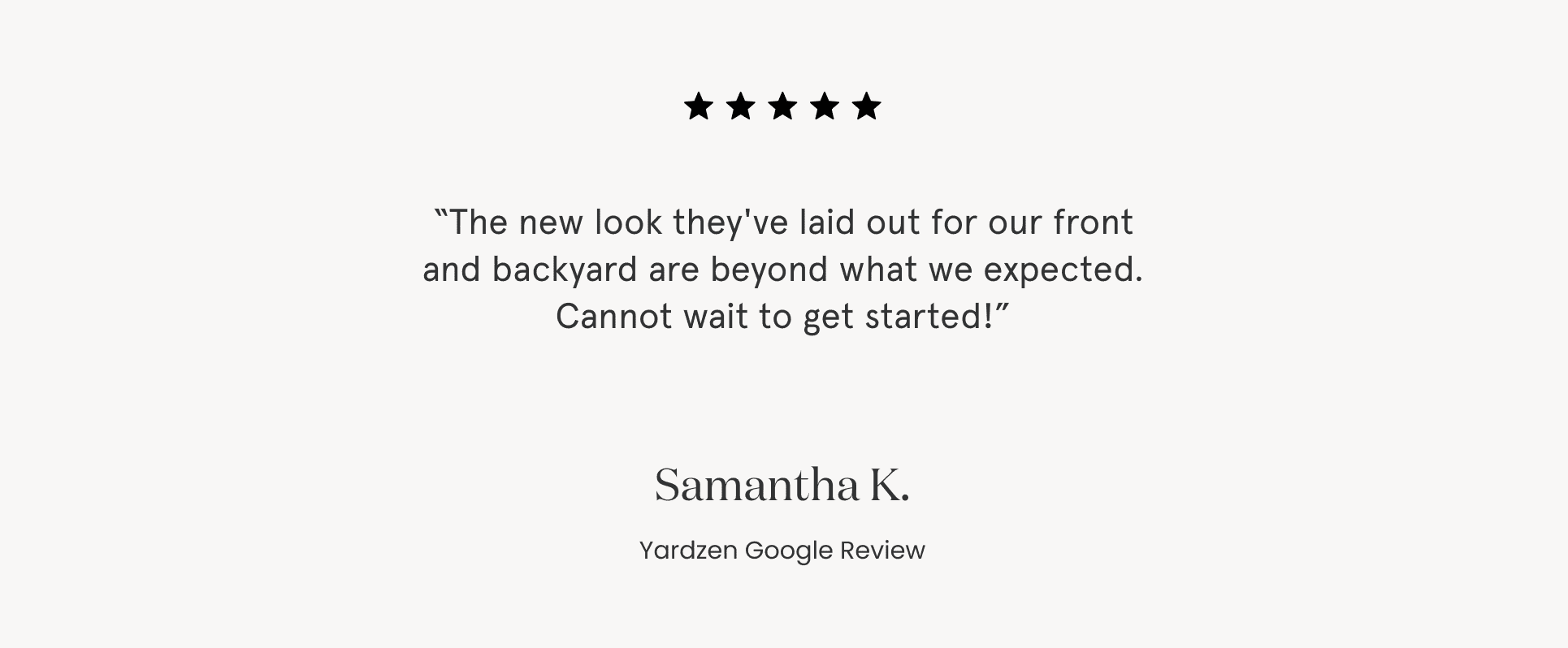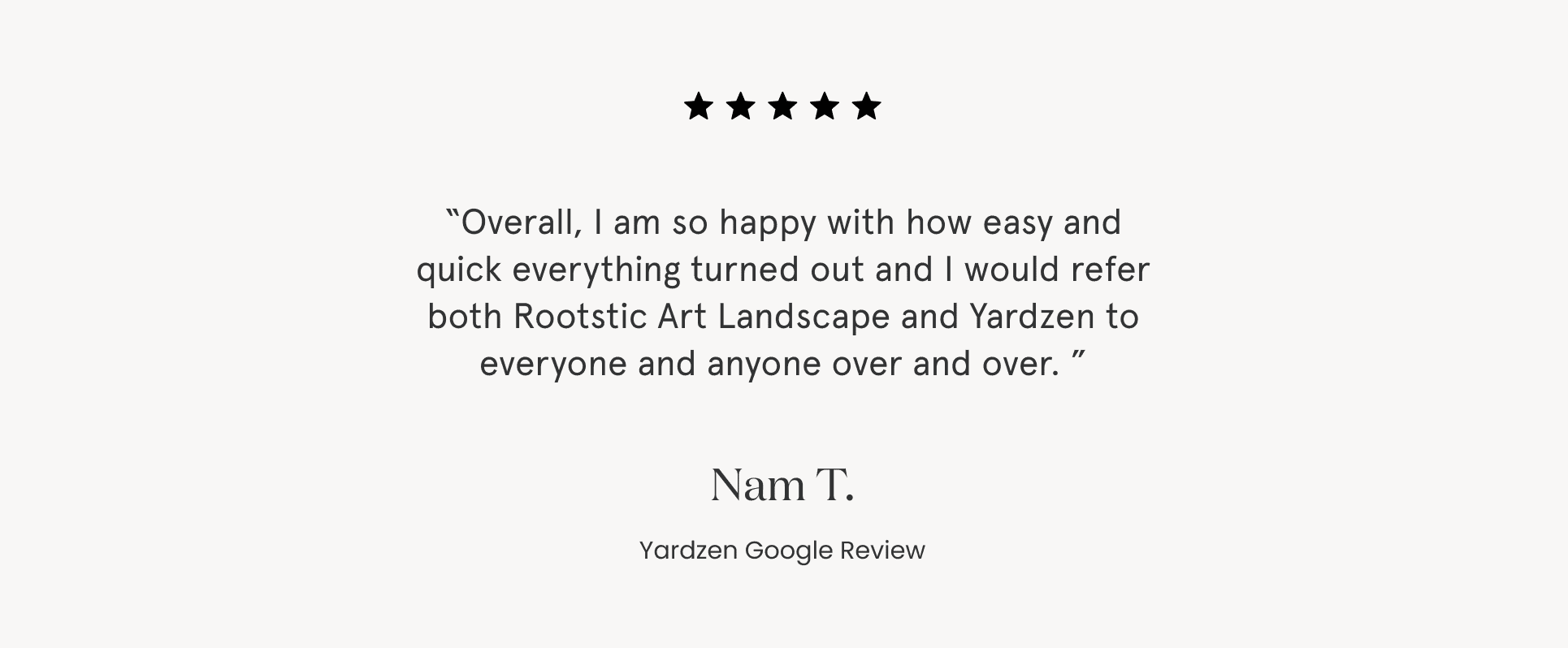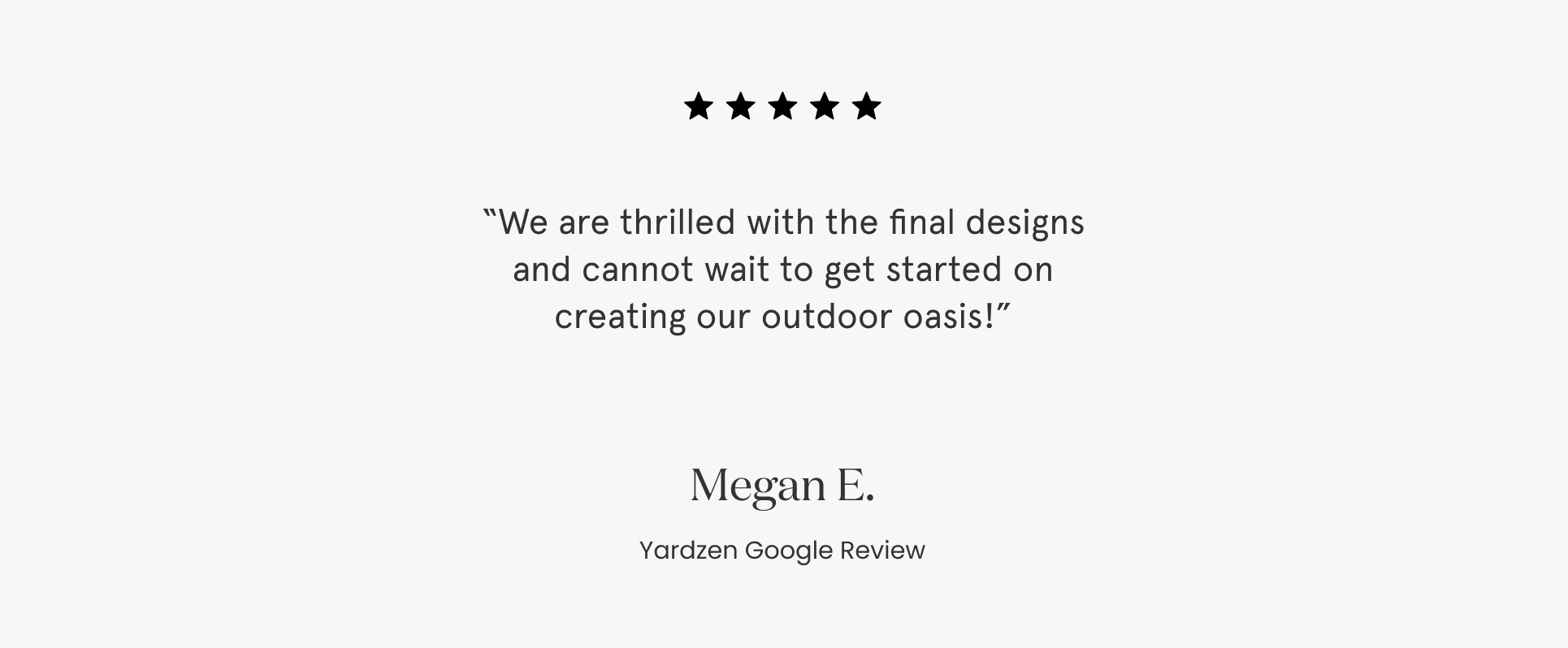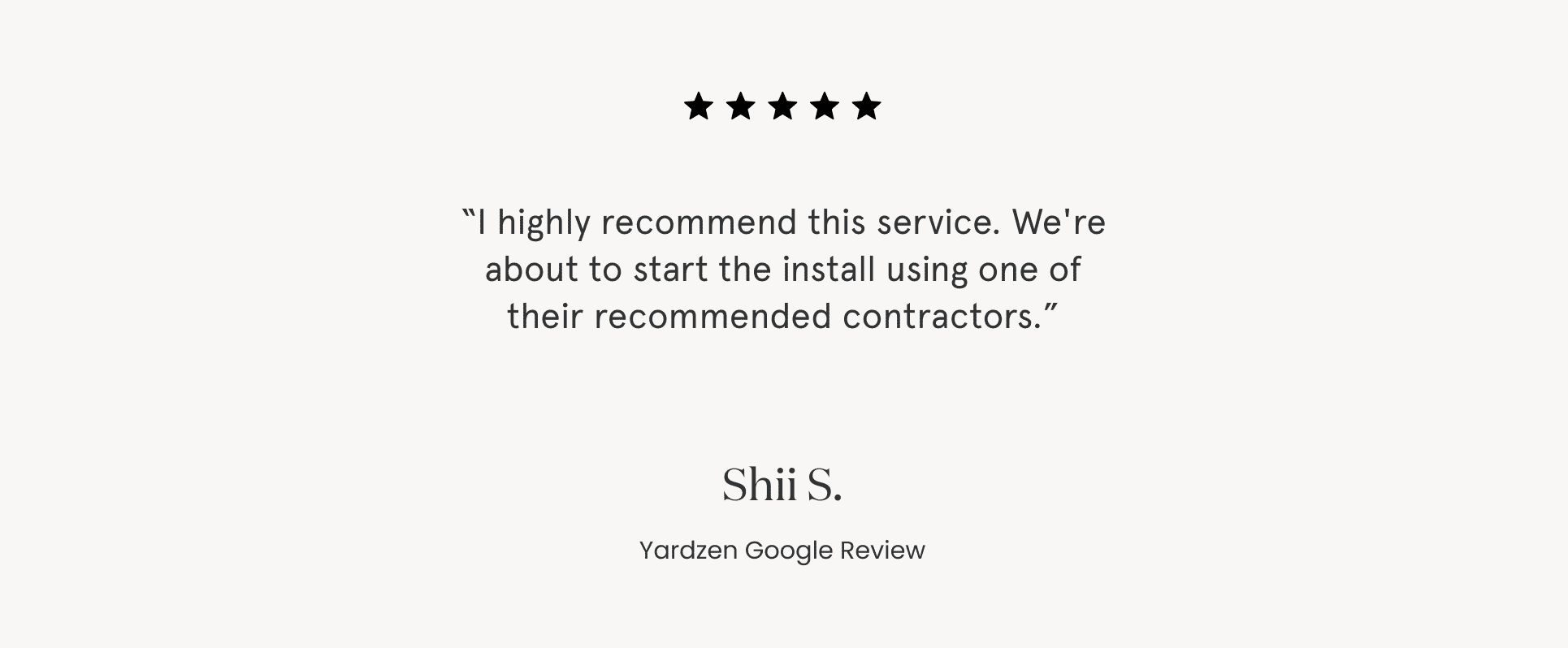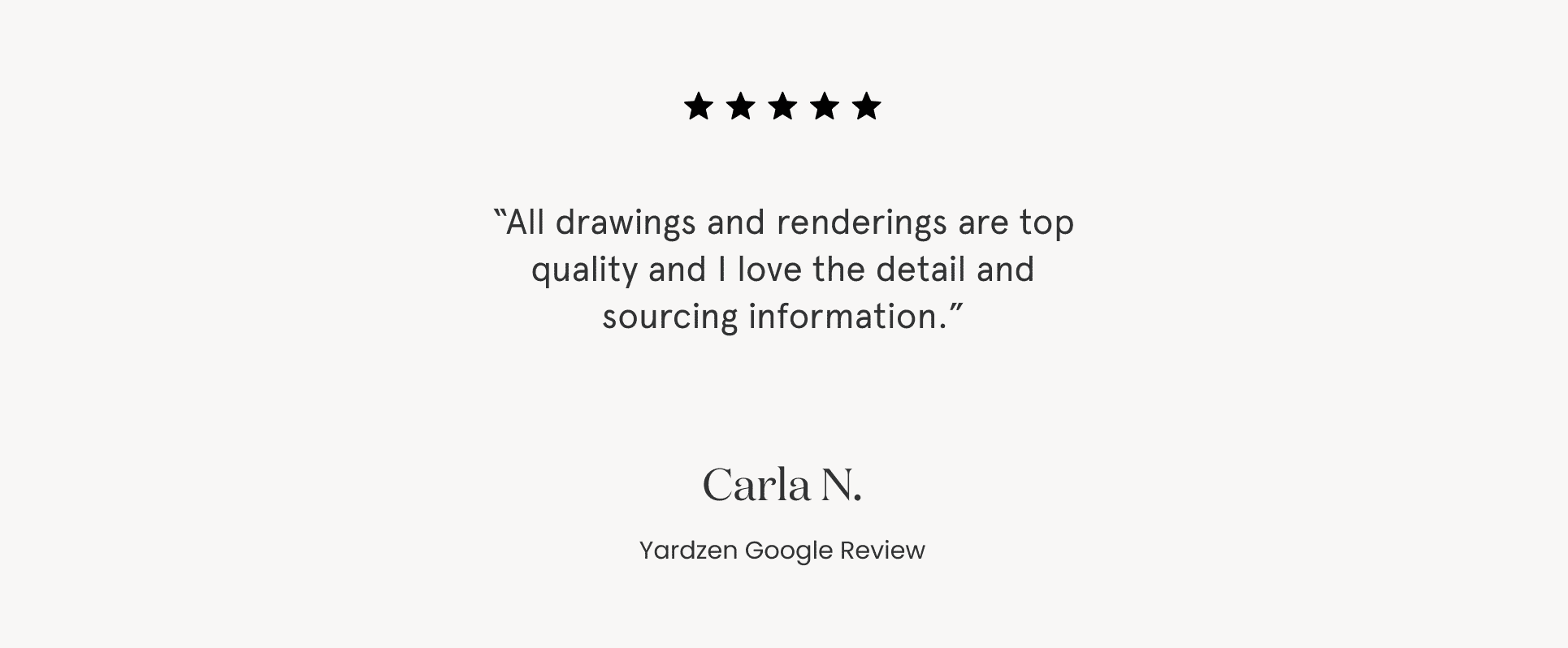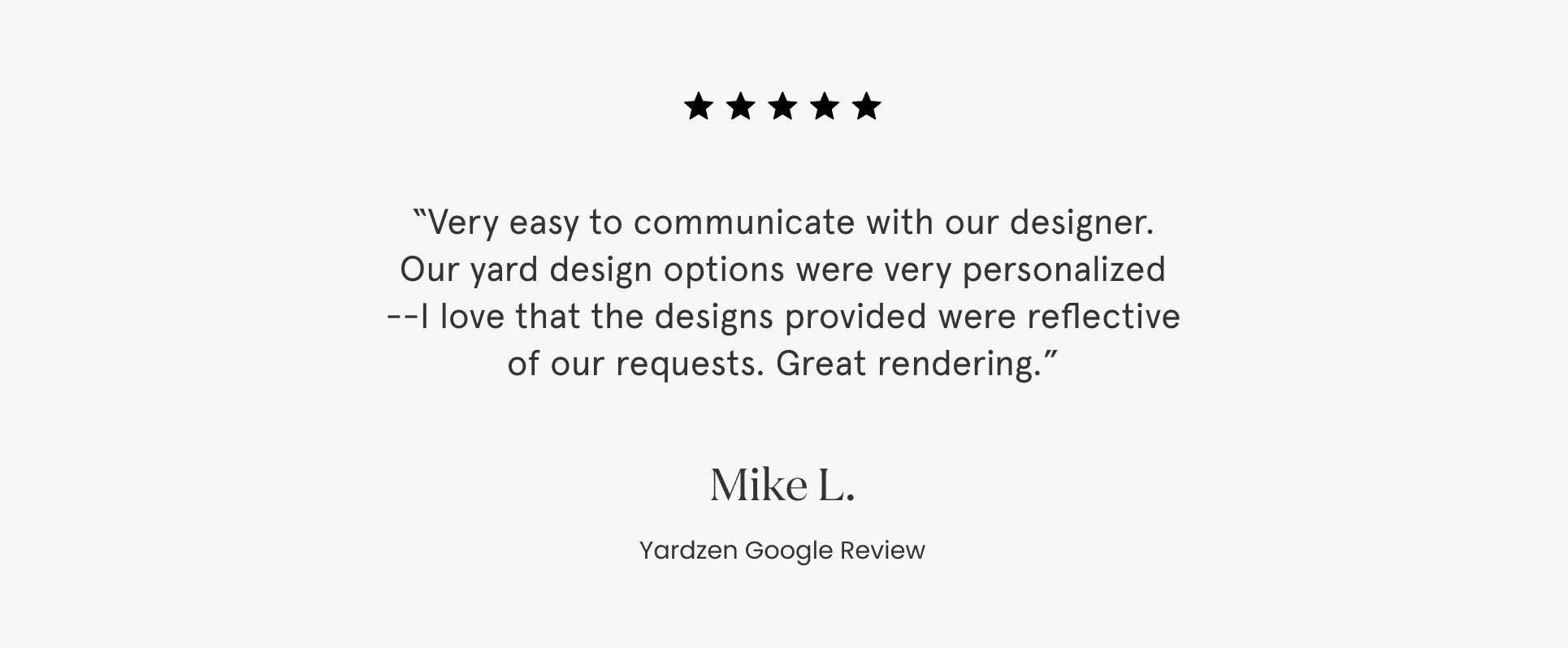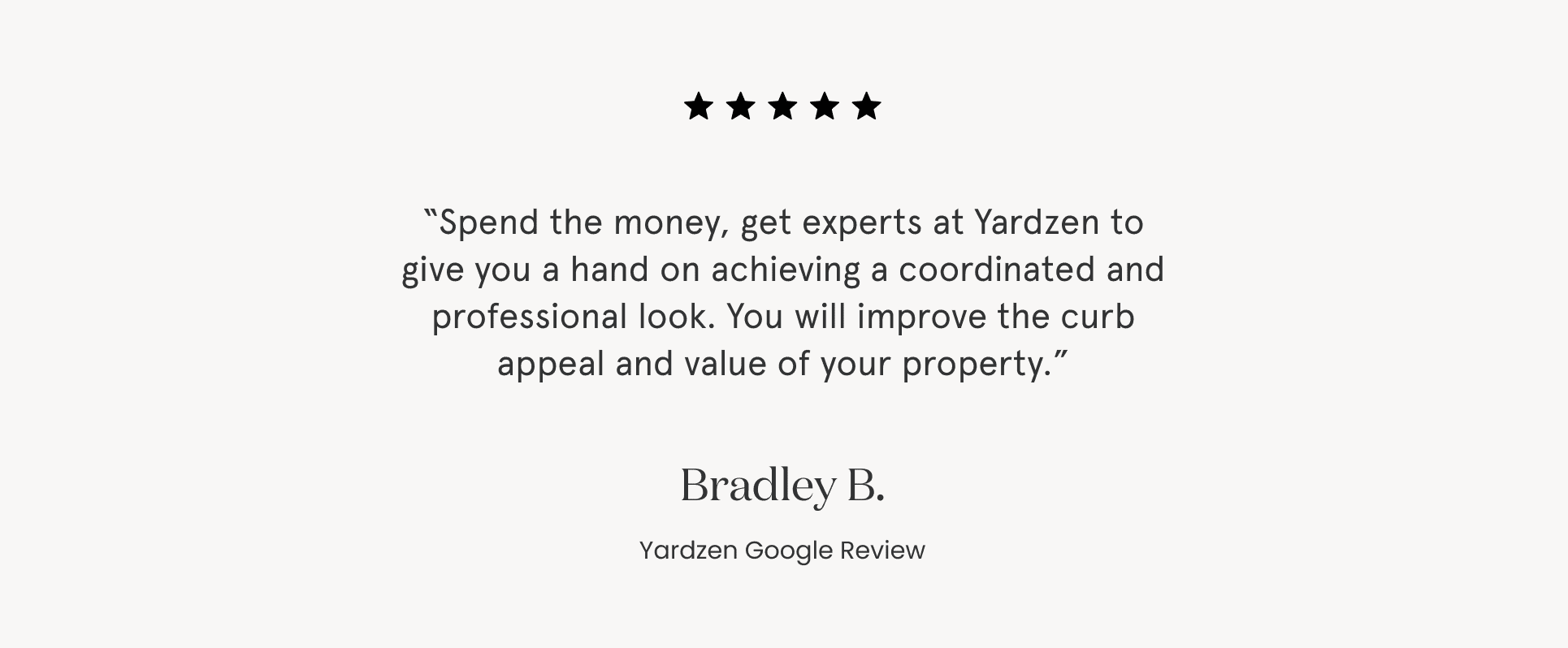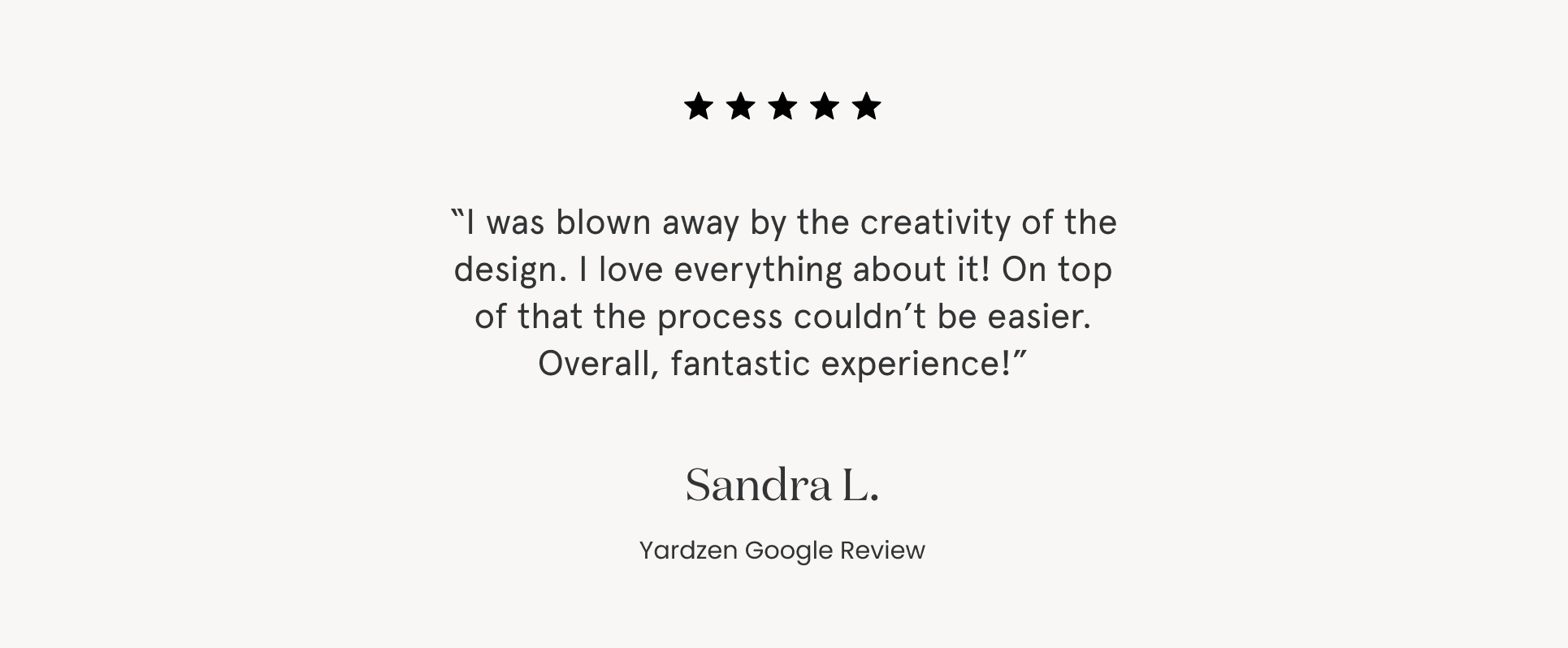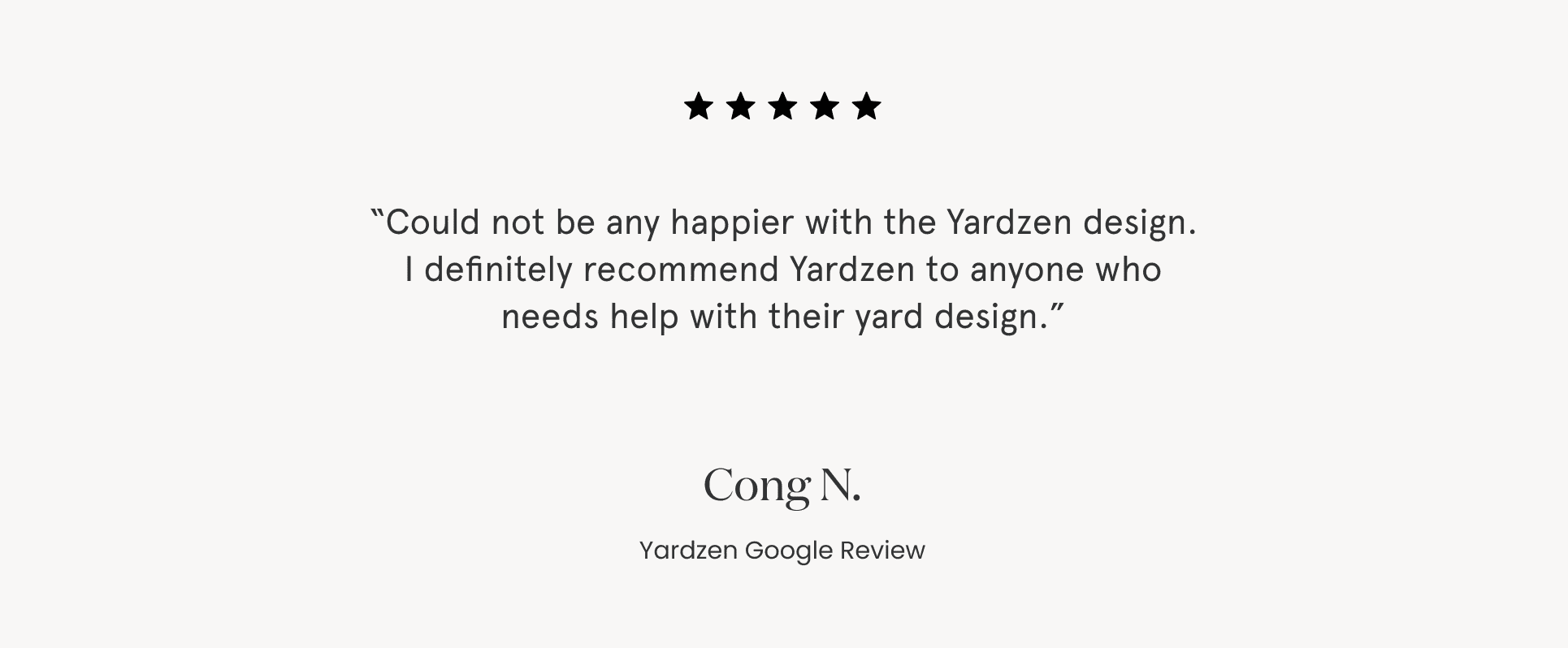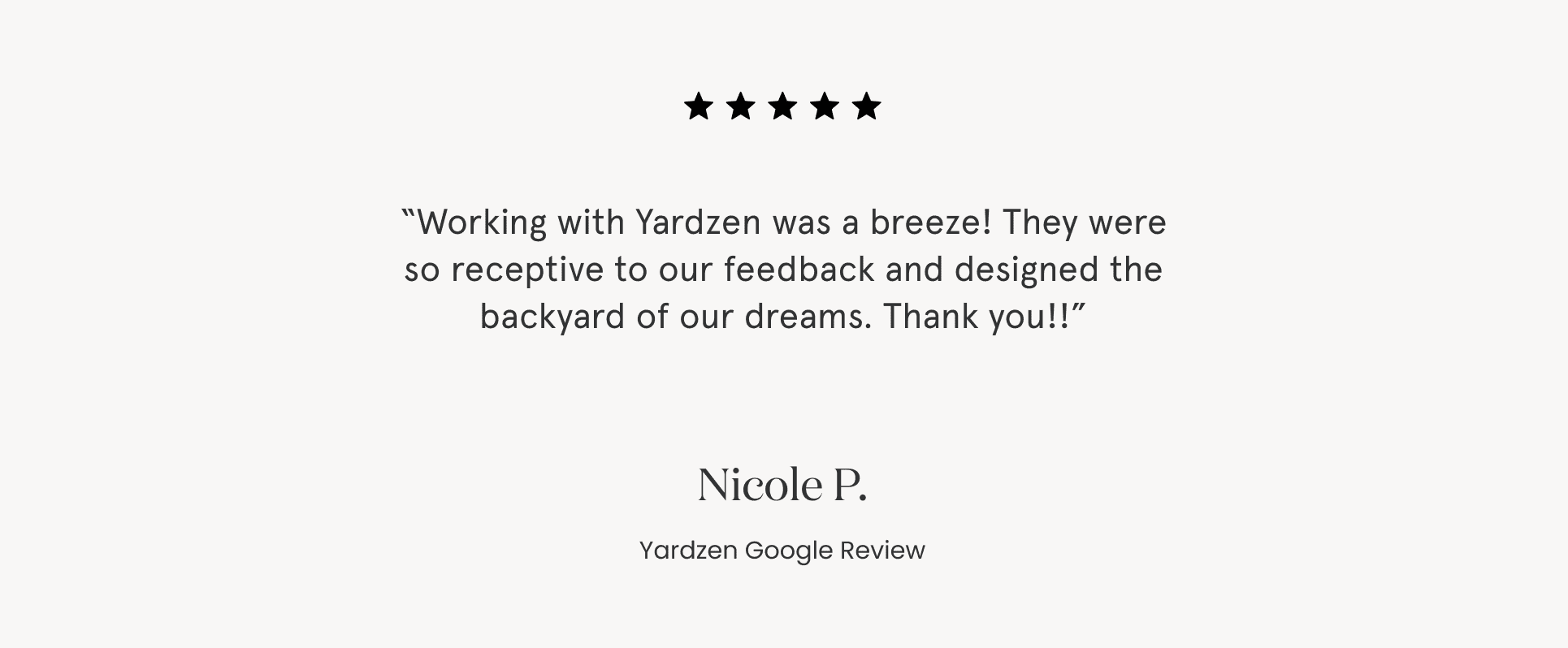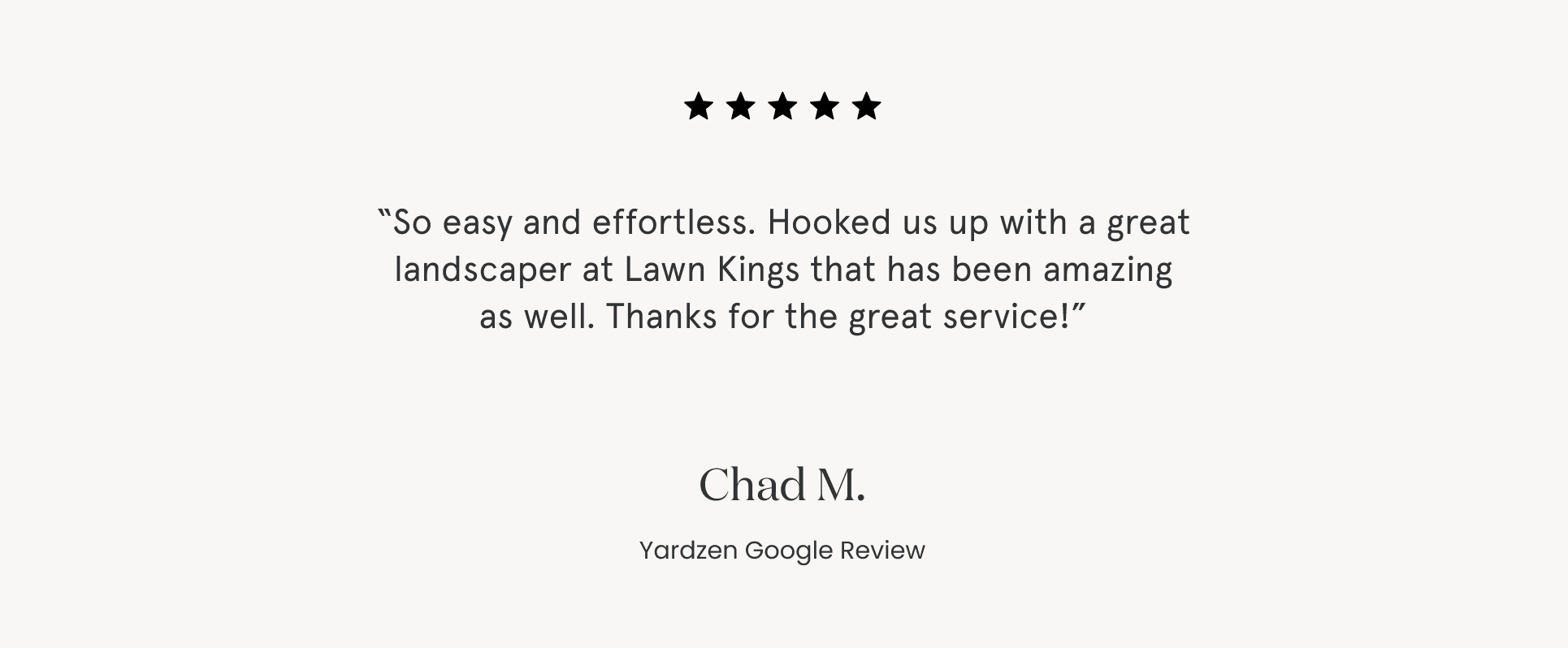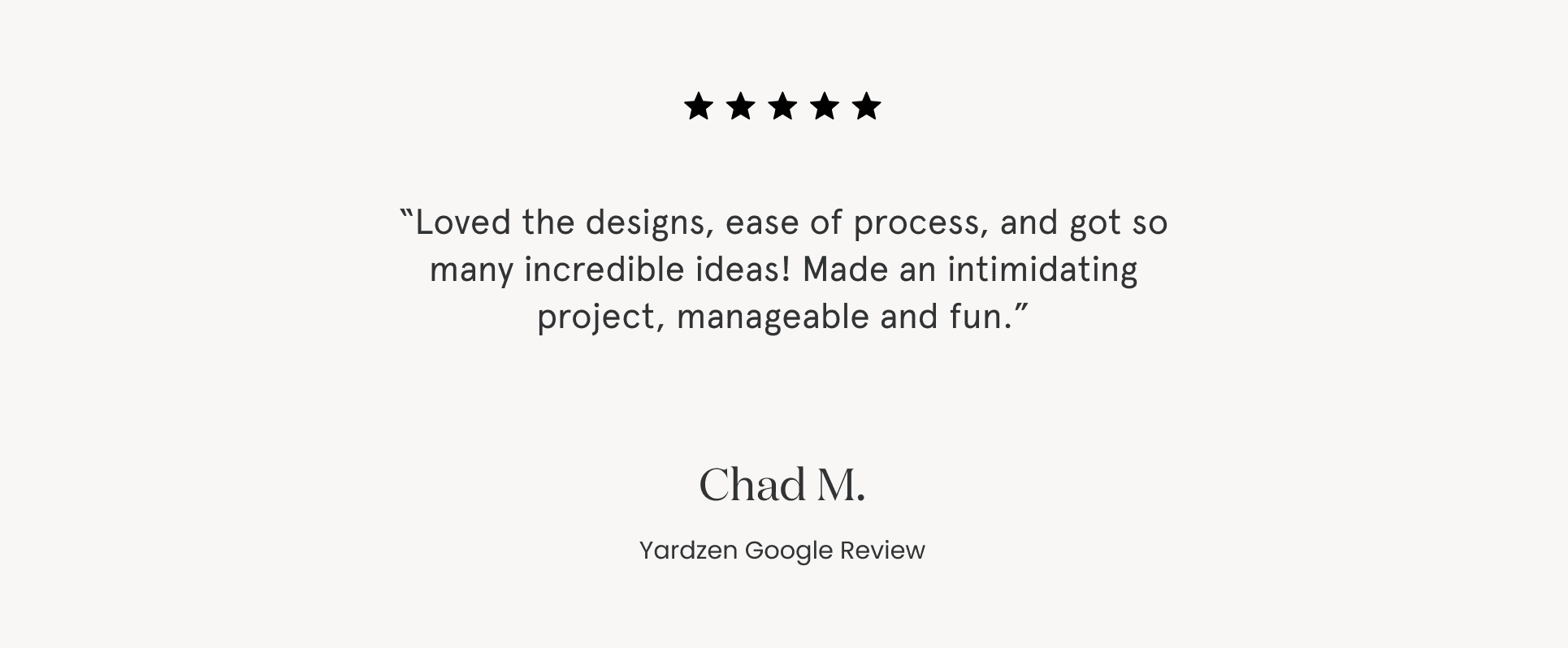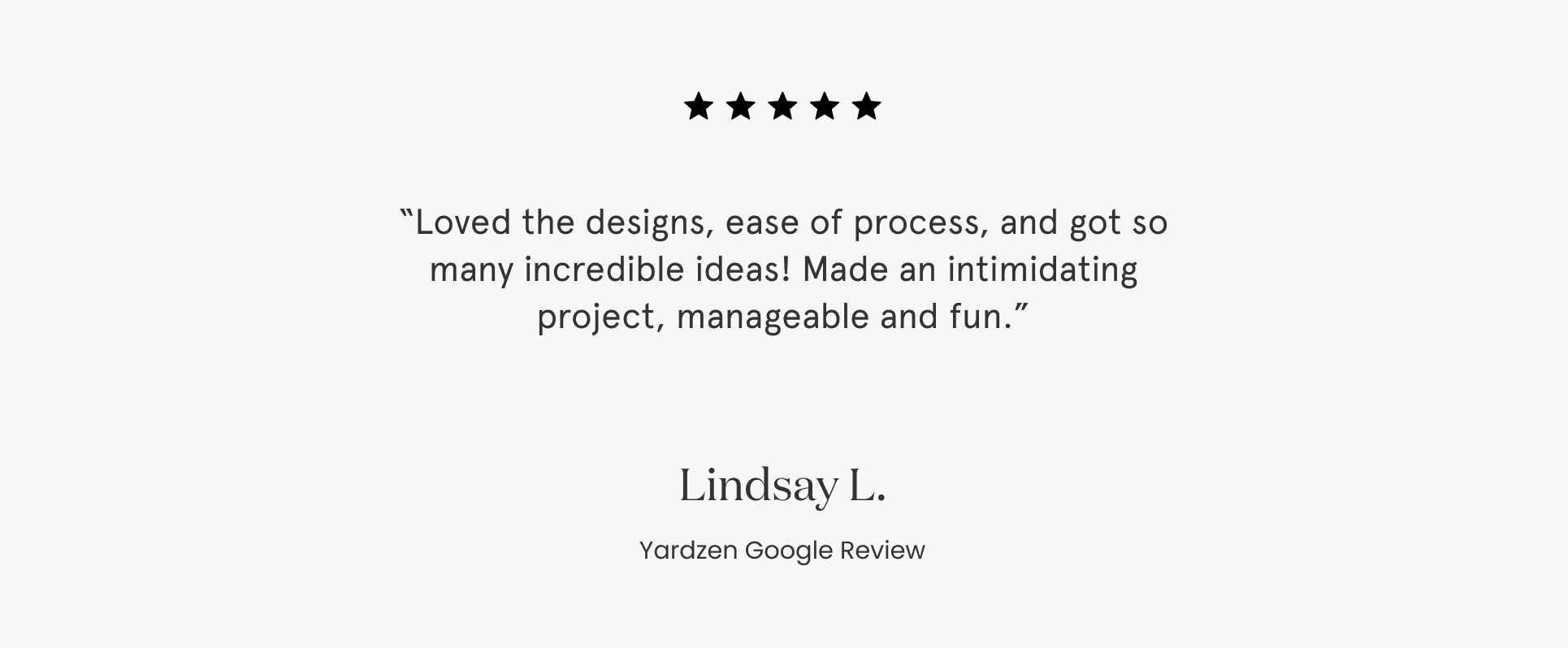 NASHVILLE LANDSCAPING FAQS
What design styles are popular with Nashville homeowners?
Nashville landscape designs run the gamut from traditional estate gardens, to homespun flower beds, to stylized modern hardscapes.
Bread and butter Nashville landscapes follow the archetypal 20th century suburban style: foundation planting, evergreen hedges, focal trees, and lawns, often very large ones.
Among younger homeowners in particular, you'll also see more recently popular styles. Pollinator-friendly planting designs that emulate the wild landscapes of the Nashville region are gaining steam. So are modern, urban-flavored designs, with straight rows of concrete pavers, blocks of ornamental grasses, and rectilinear layouts.
Increasingly, homeowners are prioritizing habitat value, incorporating a diverse array of native plants into designs of all styles. Not only do these yards offer better resources for local ecosystems, they require less work than maintenance-intensive lawns and exotic ornamentals.
When it comes to landscape styles, Yardzen has done it all. Whatever your style may be, our designers are ready to help you achieve it.
What are popular features in Nashville landscapes?
Nashville landscape designs balance beautiful planting with functional resources for outdoor living.
Planting areas frequently aim for a naturalistic look. Frequently, hardscape materials will aspire to this same organic feel by incorporating boulders, decorative rock. and natural stone paving.
Outdoor spaces are built to make it easy to spend time outdoors. Kitchens, dining areas, and flexible entertainment zones for spending time with family or friends are prominently featured in yards a cross the city. So are pergolas, shade trees, swimming pools, and water features, all of which contribute a cooling moment to mitigate the summer heat. Landscape lighting and fire pits also help people beat the heat by providing a pleasant environment to enjoy cool summer evenings.
When the weather turns chilly, pergolas (used to mount outdoor heaters) and fire pits work double duty, providing some extra warmth to keep you outside later in the year.
Should I use plants native to Nashville in my landscape?
No matter where you live, native plants are an excellent choice for your landscape. As lovers of the local climate, native plants typically require fewer inputs of water, fertilizer, and maintenance than species introduced from elsewhere. With natives, you'll get great plant performance with less expense and fuss.
At the same time, native plants offer unmatched habitat value for local wildlife, and help designed landscapes feel connected to the broader regional landscape.
Looking for a few natives to get you started? Here are a few of the many local favorites:
→ Switchgrass
→ Little Bluestem
→ Tennessee Coneflower
→ Bee Balm
→ Mountain Laurel
→ Flowering Dogwood
→ Red Maple
→ Sweetbay Magnolia
→ River Birch
What are top considerations for Nashville landscapes?
Nashville landscapes should account for the local climate. Choose plants that can take both the summer heat and the winter chill – natives are a great place to start, as they evolved to thrive in local conditions.
Accounting for the climate applies to hardscape too. Avoid surfaces that will cause a safety or maintenance issue in wet or snowy conditions. Stone and precast concrete paving are safe bets for surfaces that can take the cold and won't get mucky in the wet.
Outdoor spaces should be tailored to remain comfortable for as much of the year as possible. This can be simple, like providing places to store outdoor blankets or planting evergreen windbreaks, or more involved, like incorporating pergolas with infrared heaters and shade sails.
Seasonal interest is another climate factor to account for – landscapes ought to be dynamic, changing their appearance throughout the year. Careful plant selection can ensure an attractive display year-round by incorporating fall color, winter interest, and early spring blooms.
With beautiful natural landscapes within reach, wildlife herbivory, from deer in particular, is also a factor for Nashville landscapes. While no plants are outright deer-proof, landscape designs can prioritize species that stand better odds of being avoided by deer.
With plenty of precipitation, Nashville landscapes should factor in stormwater management best practices. Include plenty of permeable surfaces like planting areas and gravel paths – these will slow down and capture runoff, in turn reducing the risk of flooding, erosion, and water pollution.
When should I start my landscaping project?
Now! Any time of year is great to begin work on a landscape project.
When possible, we suggest utilizing the winter to work through the design phase – this sets you up to get on contractors' books early in the build season, so you can have your design installed and ready to enjoy in time for summer.
If winter has passed, don't worry, it's never too late in the year to begin work on a landscape design project.
"Highly suggest Yardzen. The online process made everything super easy and efficient. Thank you to the entire Yardzen team."
Shannon M., Yardzen client
Yardzen creates local landscape designs in:
Antioch, Goodlettsville, Hermitage, Joelton, Madison, Old Hickory, and Whites Creek