Budget & Build with Yardzen
How we help maximize your investment and bring your dream yard to life.
EXPLORE PACKAGES
How much will my yard renovation cost?
Yardzen's proprietary budget tool allows you to browse different elements with associated price tags, from pergolas to patios to pools, and everything in between. This will help you arrive at a budget and a vision for your space, which we'll share with your design and build teams. Not sure about your budget? There's room to explain that too.
LEARN ABOUT LANDSCAPING COSTS >
What will my budget get me?
One of the most frequent questions we receive is about what different budgets will afford our customers. "What will $10,000 get me? What will $50,000 get me?" So, we tapped one of our top designers to design one yard at six different budgets, from $10,000 to $80,000. As you'll see, money is used up very quickly in landscape design, but with smart design choices and resourceful thinking, you can make the most out of any budget!
COMPARE LANDSCAPES AT DIFFERENT BUDGETS >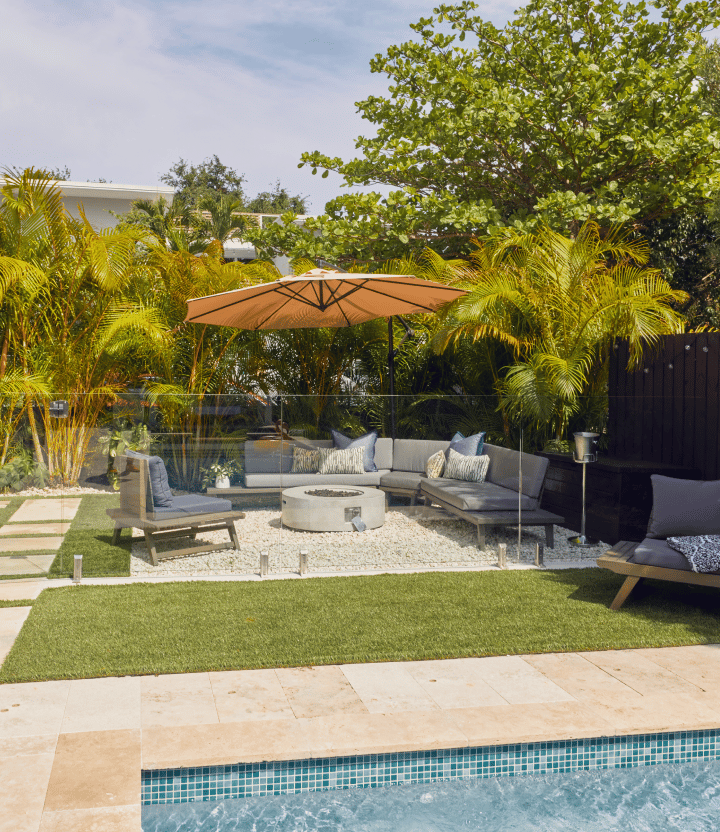 How can Yardzen help me hire a contractor?
Included in all Yardzen packages is an introduction to a vetted Yardzen Pro Network contractor near you, and support in connecting with the contractor, reviewing and evaluating their bid and any in-the-field design revisions you decide on with the contractor you hire (AZ, CA, CO, OR, TX, WA).
LEARN MORE ABOUT THE YARDZEN PRO NETWORK >
Which design choices will give me the best ROI?
From new patios to refreshing curb appeal, learn what yard elements produce the greatest return on your investment.
INVEST IN YOUR HOME WITH LANDSCAPING >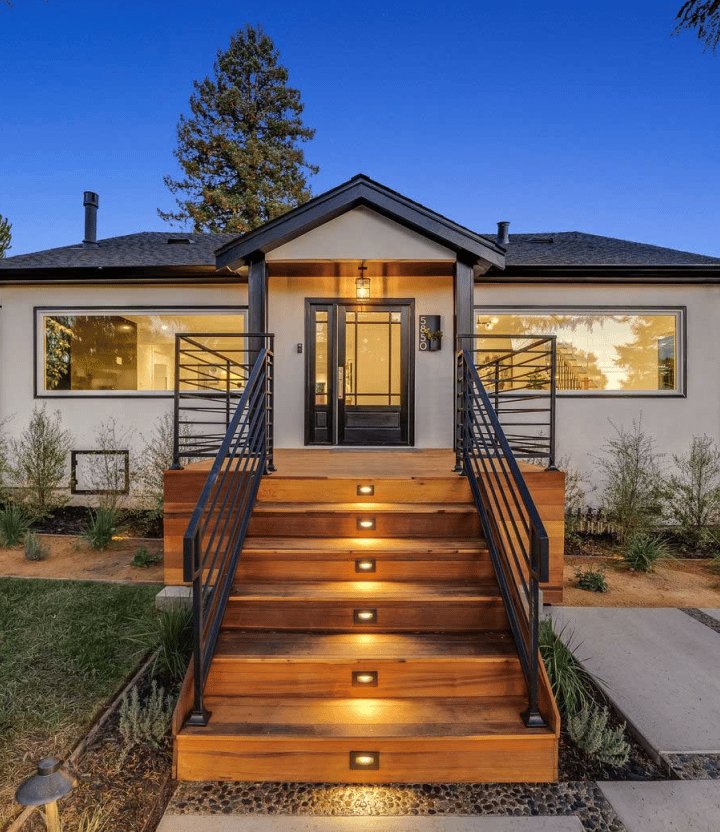 What financing options does Yardzen offer?
Yardzen is proud to partner with SoFi to offer financing solutions for our clients when bringing their dream yard to life.
LEARN MORE ABOUT YARDZEN + SOFI >
How does Yardzen save me money on my yard renovation?
Most homeowners in the U.S. start a yard renovation without a design, which can result in miscommunication with the contractor doing the work, misaligned outcomes and ultimately greater investment to get it right. Investing in a design upfront not only helps you focus on the areas that will offer the most return, but also ensures the outcome you want the first time, ultimately at a lesser cost.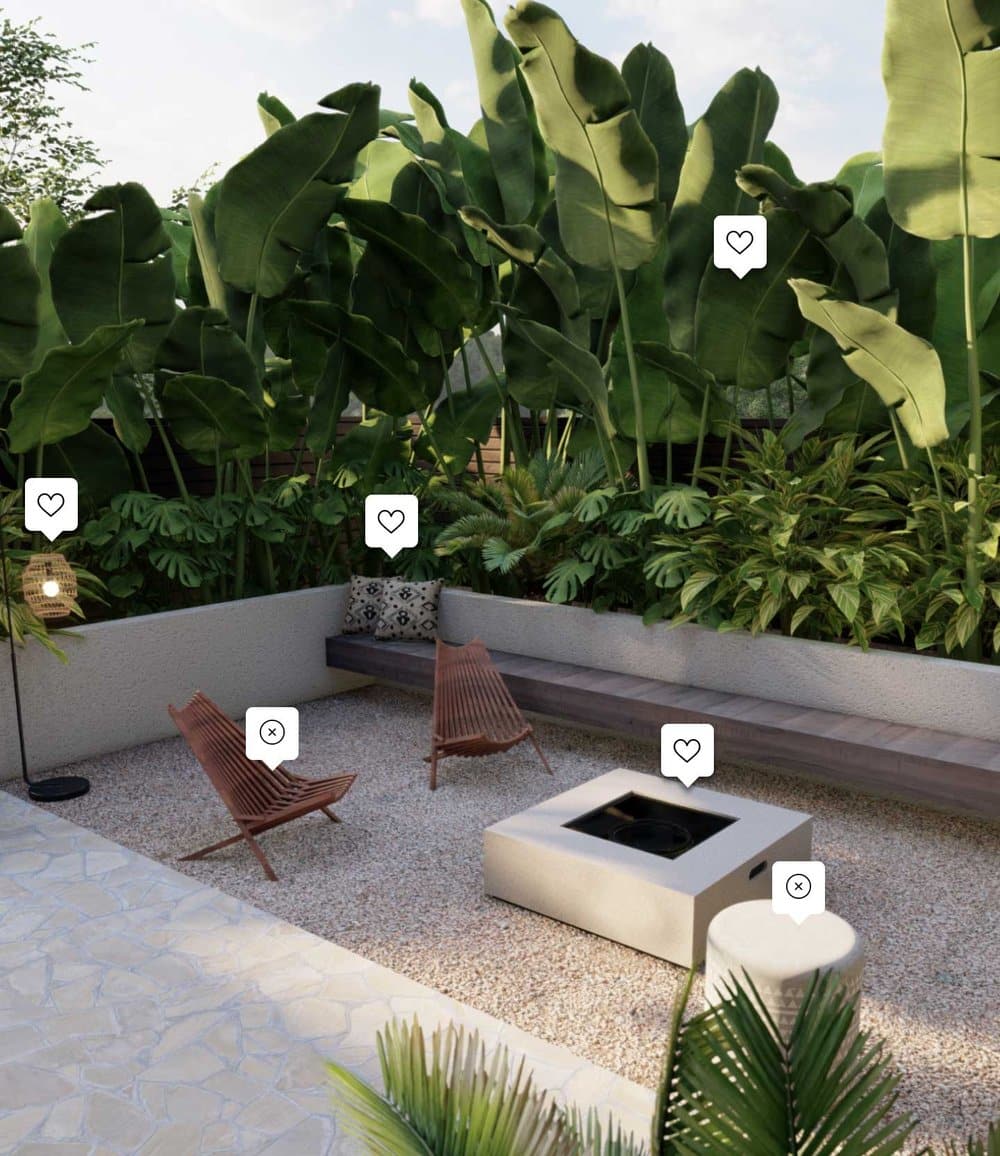 Start My Design
How do you design all online?
We use a combination of your photo and video, plant science, data science, and our proprietary style quiz to create a fully custom design without ever stepping foot on your property.
How do you design to my budget?
At the outset of the design process, we ask you for your all-in budget for your project. Your designer will create your design with that number in mind. However, it's important to keep in mind that there are always variables — like the materials and plant sizes you ultimately choose — that can bring down cost or ratchet it up. Our Build Team, composed of former landscape contractors with over 50 years of combined experience, will consult with you and your design team throughout the process to help ensure that you stay on budget.
How do you know my style?
At the beginning of the process, we'll ask for inspiration photos and guide you through a style quiz to get a very good sense of your style and how you want to use your yard. Across our team of world-class designers, we have specialists in every aesthetic, from very traditional to ultra-modern, and everywhere in between.
How do you know the right plants for my unique property?
We've built a database of plants, trees, and groundcovers that match to planting zones, sun/shade/water requirements, aesthetic, and essential features like "native," "deer-proof," "non-toxic for pets" and "year-round blooms." Additionally, we use satellite and aerial imagery, coupled with your photo, video, and responses to our questions, to assess sun and shade patterns at your property throughout the day. We rely heavily on this database, but we always have a horticulturist make the final calls when choosing your design's plant palette. After you show us your style and tell us how and who uses your outdoor space, we're well-equipped to choose your plants.
What can you tell me about the contractors you recommend?
In many ways, our deep contractor relationships are our secret sauce. The contractors in the Yardzen Pro Network are top-rated professionals. We partner only with the best, most responsive, and diligent contractors for our clients' projects. So why are they thrilled to work on Yardzen projects when you regularly find it hard to get an exceptional contractor to return a call? Because with Yardzen, every project starts with a design. They appreciate that we've already invested the work to help you arrive at a plan. So when they enter the picture, they can get to work. Win-win.
What are Yardzen's sustainability practices?
Our favorite topic! Our core ethos is that anyone who controls a patch of Earth has the potential to effect positive change. We're a team of landscape designers & LEED-certified architects, environmental consultants, conservationists, even beekeepers. We're here to empower people to make good decisions, which is why we'll lead you toward a low-water yard and educate you about rain catchment systems and why there are better choices than traditional sod. As a general rule, every Yardzen design includes pollinator-loving, climate-adapted plants that lay the groundwork for wildlife corridors. We believe that if we all do a little we can do a lot. Learn more about our sustainability commitment here: American Rewilding Project.
Talk with an expert about how Yardzen can work for your yard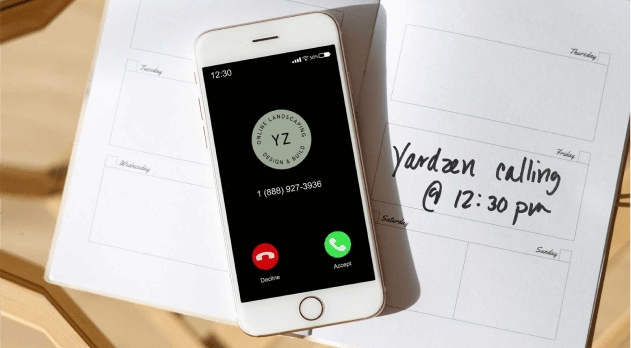 Schedule a free consult call
Book a 15-minute call with an expert from the Yardzen team to discuss your project and recommend the right package.
Book Now