Landscape design & build for Bridgeport
Yardzen designs everywhere in the U.S. and the Bridgeport area is one of our favorites. Landscapes in Bridgeport often favor the traditional: hedges, foundation planting, evergreen accents, and plenty of lawn space.
EXPLORE DESIGN PACKAGES
Style
These traditional features nod to the colonial history of the region, and complement the mostly traditional architecture found throughout Bridgeports' neighborhoods.
Plants
At the same time, you'll find individual expression voiced through plant selection in yards throughout the city. Plants love Bridgeport's humid climate and long growing season, and tropical species, including Southern Magnolias, Needle Palms, and Crape Myrtles, have been known to make appearances alongside evergreen shrubs and bold floral perennials.
Design & Build
Whatever your landscape vision may be, Yardzen is ready to make it a reality, working with you to craft a landscape design that achieves the look, feel, and function you are dreaming of, then connecting you with a vetted contractor from Yardzen's Pro Network to get your design built.
TRUSTED BY THE EXPERTS


BRIDGEPORT, CONNECTICUT DESIGN GALLERY
POPULAR AMENITIES IN BRIDGEPORT YARDS
Simple and thorough online process
Take a style quiz, share videos and photos of your existing outdoor space, and learn about the costs in our Yard Builder™ tool. Our design team will help you at every step of the process.
GET STARTED >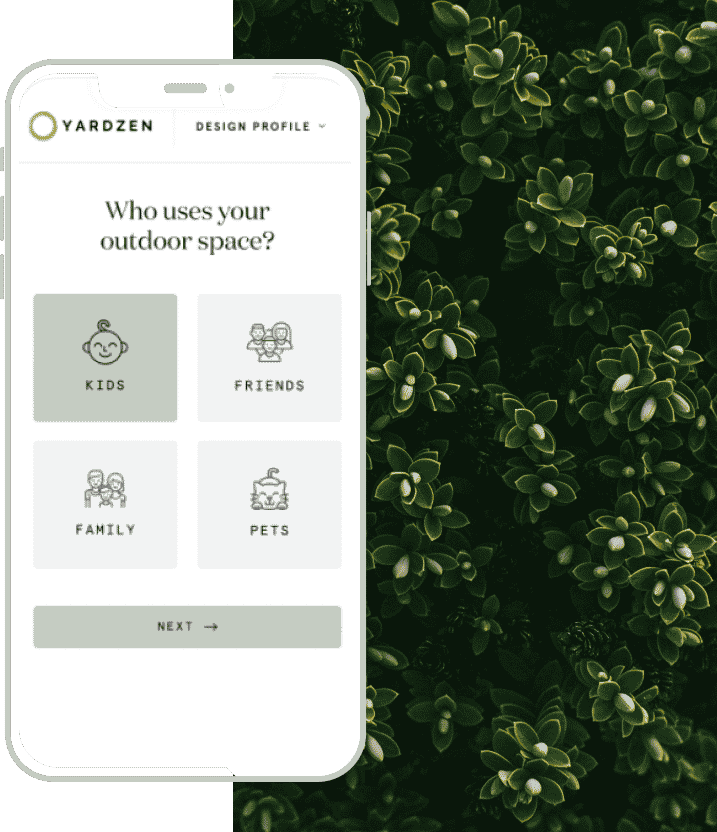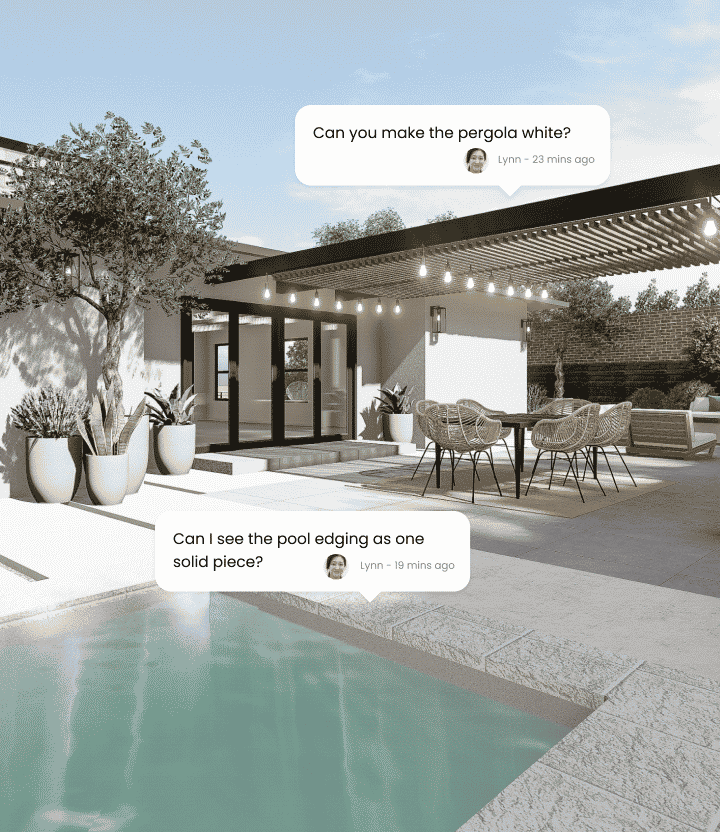 The easiest path to a final design you'll love
Review your first design in our online Feedback Studio. You'll be able to share feedback before we start incorporating your changes. A live design review call is also available to help get your project ready for installation.
GET STARTED >
Built by someone you (and Yardzen) trusts
We'll translate your 3D design concepts into a detailed CAD plan that's ready to install. Next, we'll connect you to a vetted, Bridgeport area landscape contractor who can bring your dream yard to life.
GET STARTED >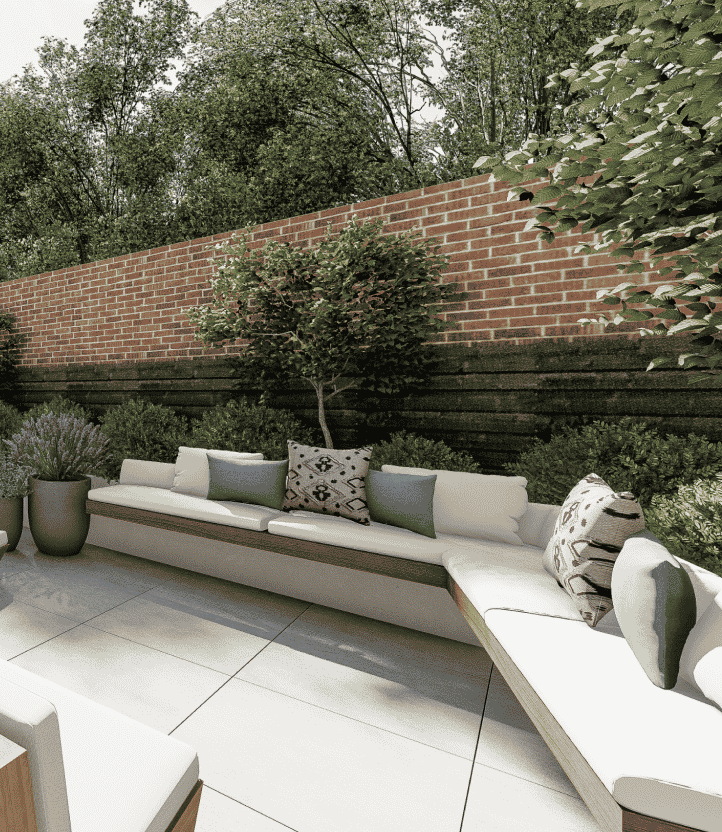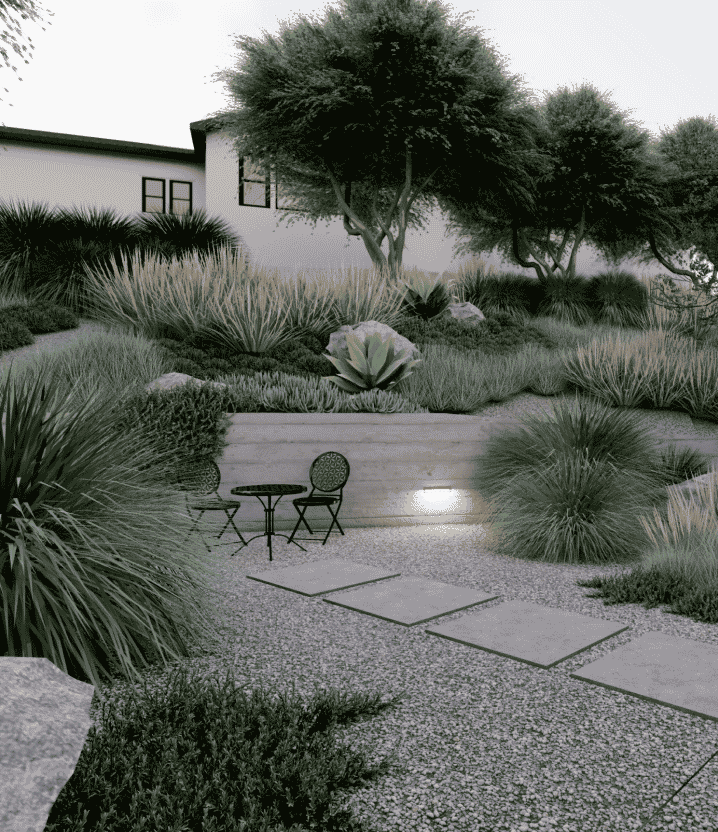 Custom designs for your unique outdoor space
We've built a database of plants, trees, and groundcovers that match to Bridgeport's planting zones, sun/shade/water requirements, aesthetic, and essential features like native plants. Using satellite and aerial imagery, coupled with your photo, video, and factoring in your details, we can create the outdoor space of your dreams.
GET STARTED >
WHICH YARDZEN PACKAGE IS RIGHT FOR YOU?
Take our YardBuilder quiz to find out.
GET STARTED

1. Tell us about your unique outdoor space

2. Answer a few questions about your dream yard

3. Get a personalized design package recommendation
WHAT YARDZEN CLIENTS ARE SAYING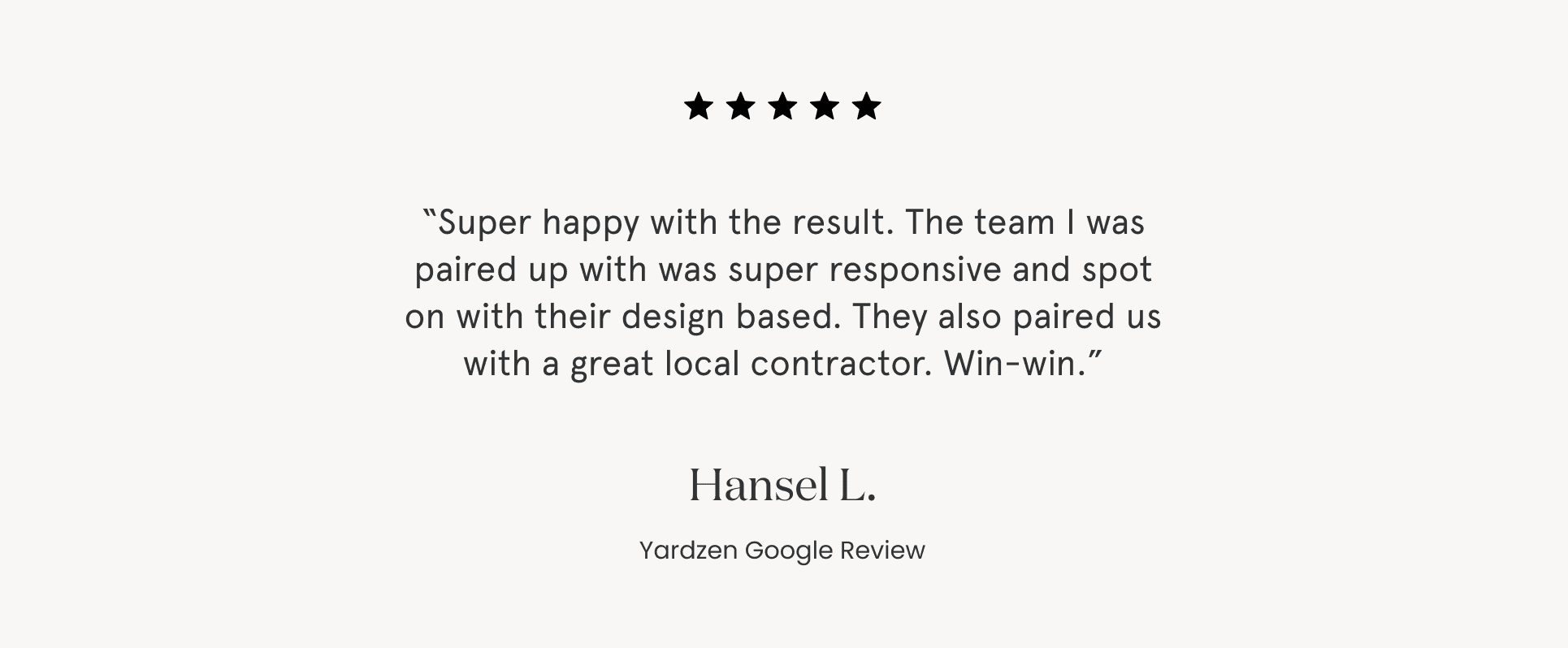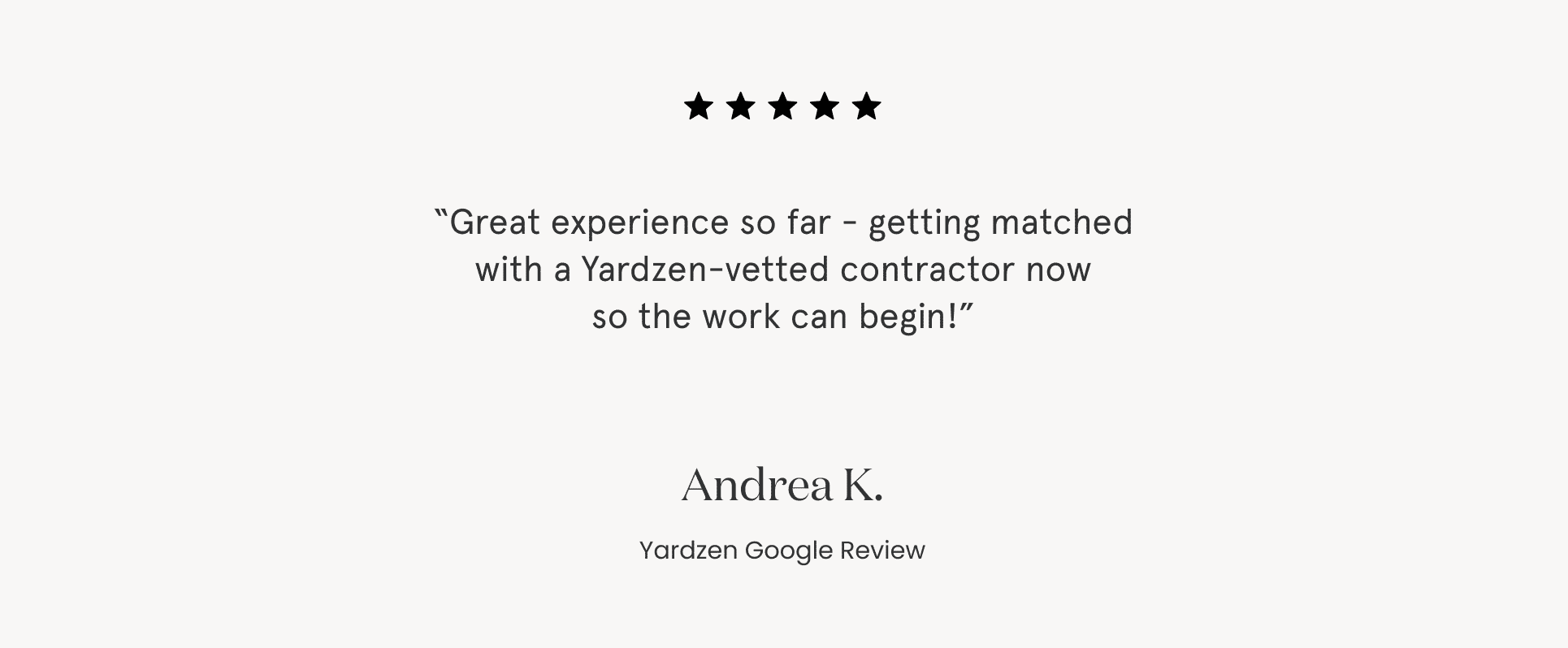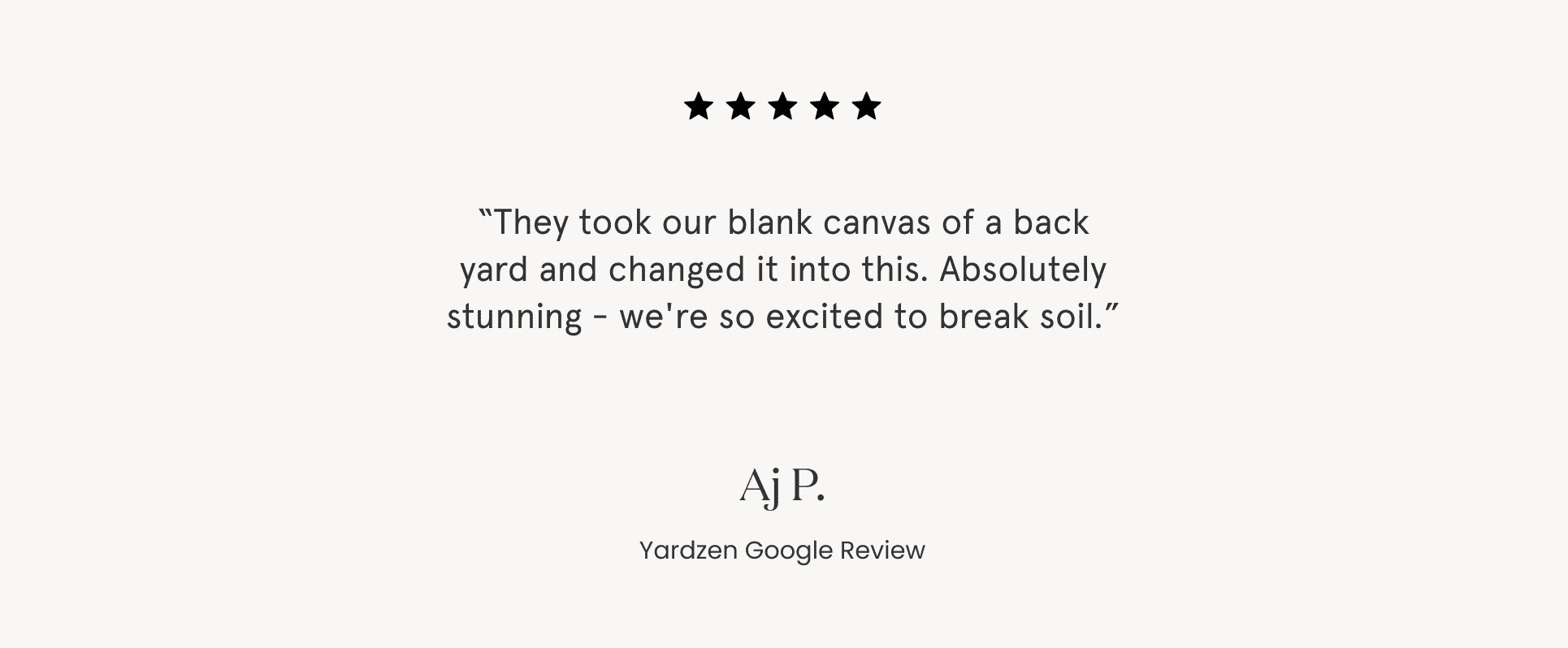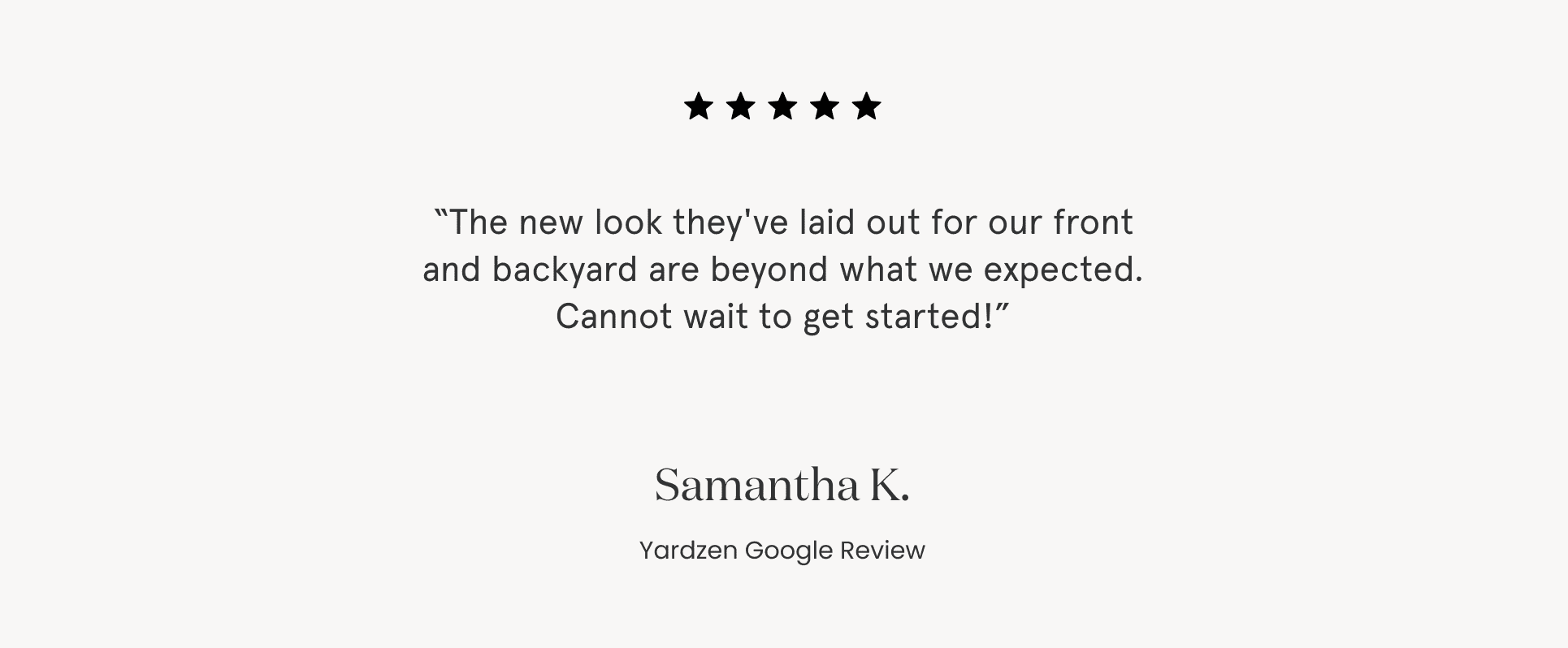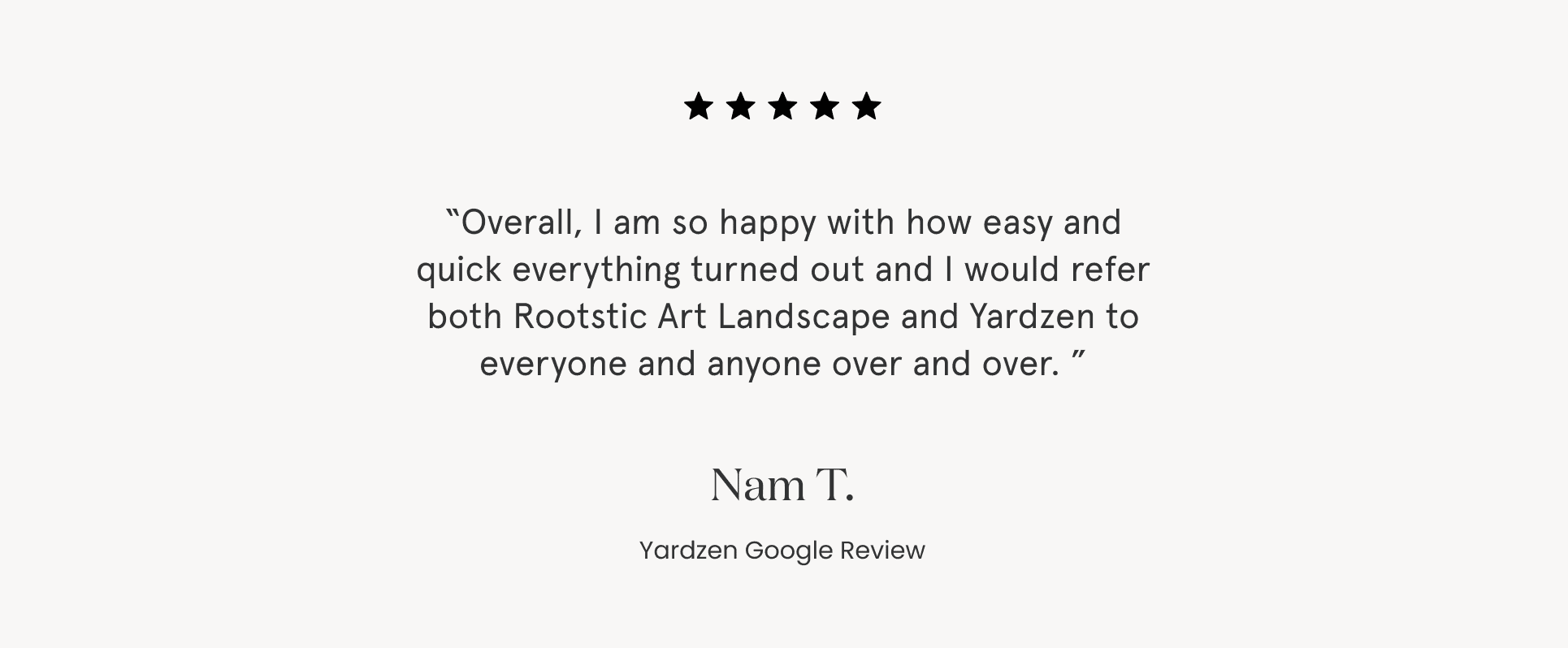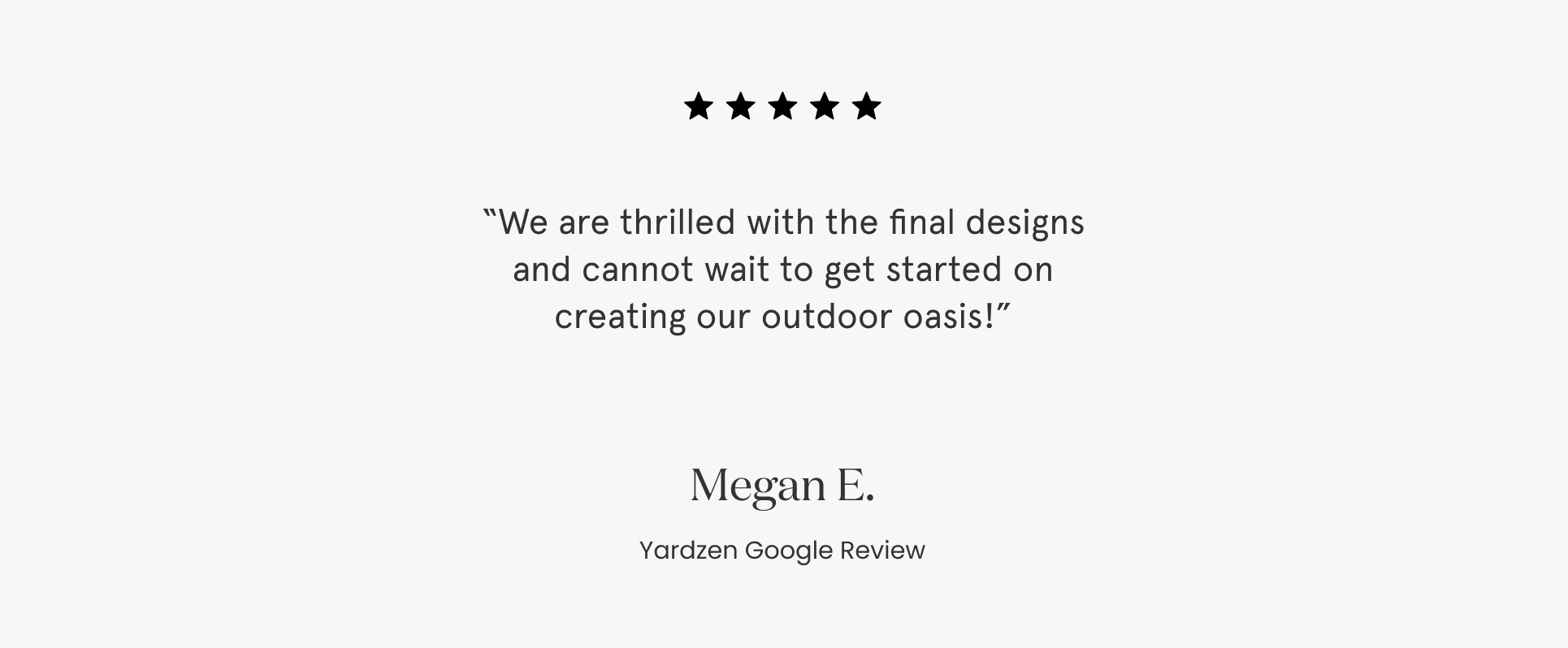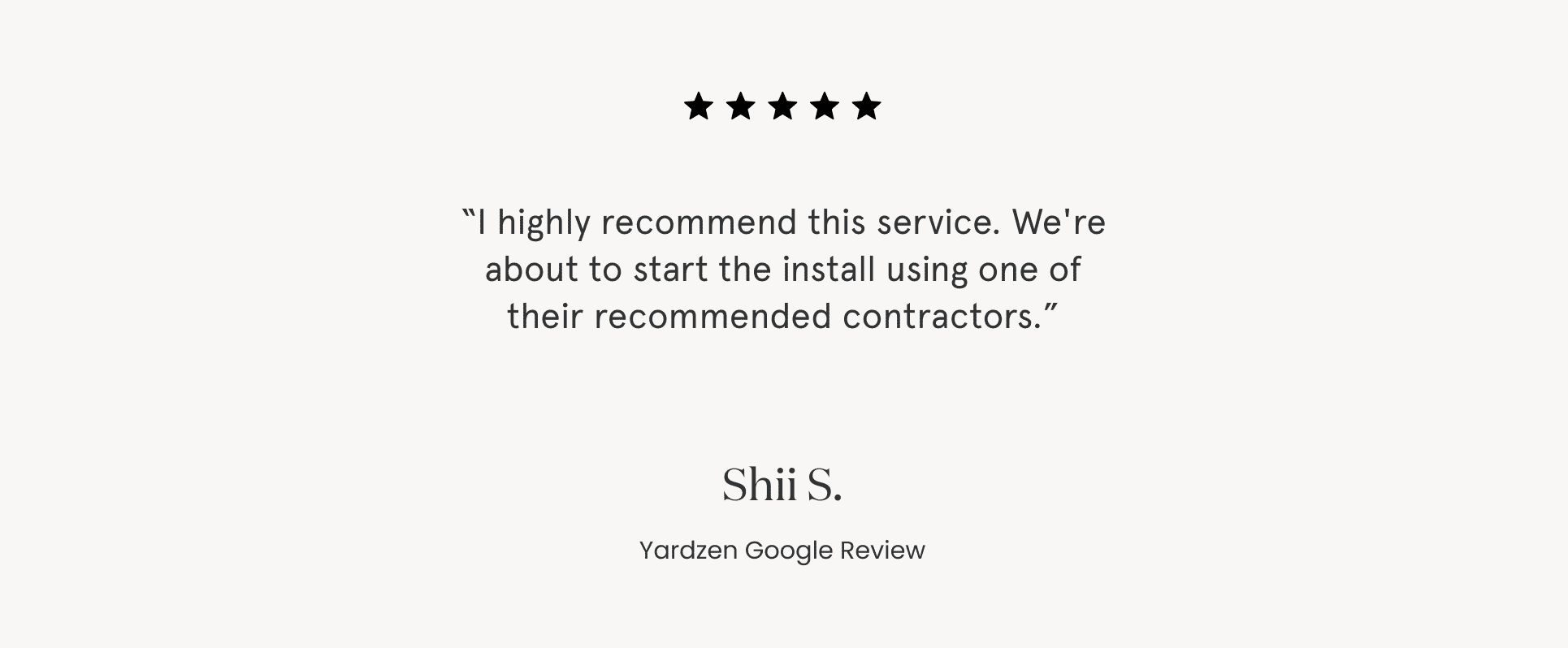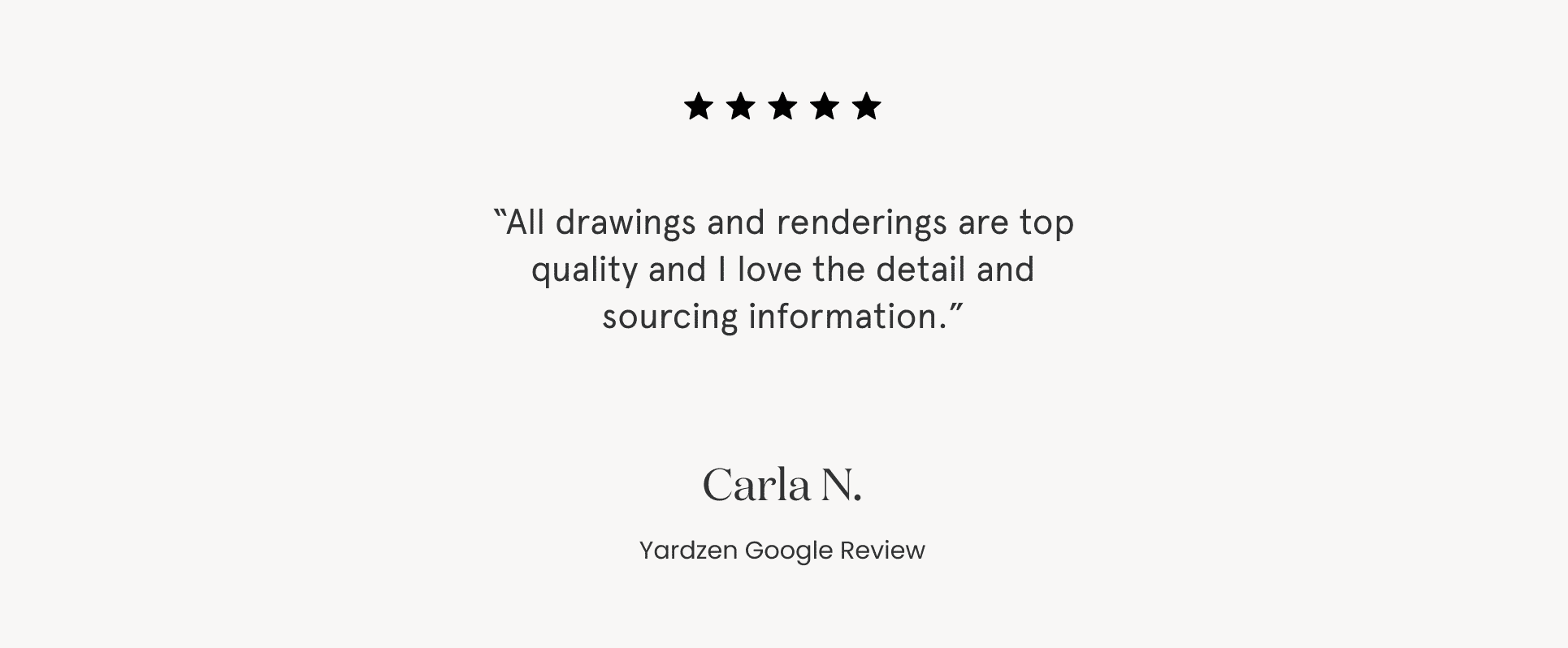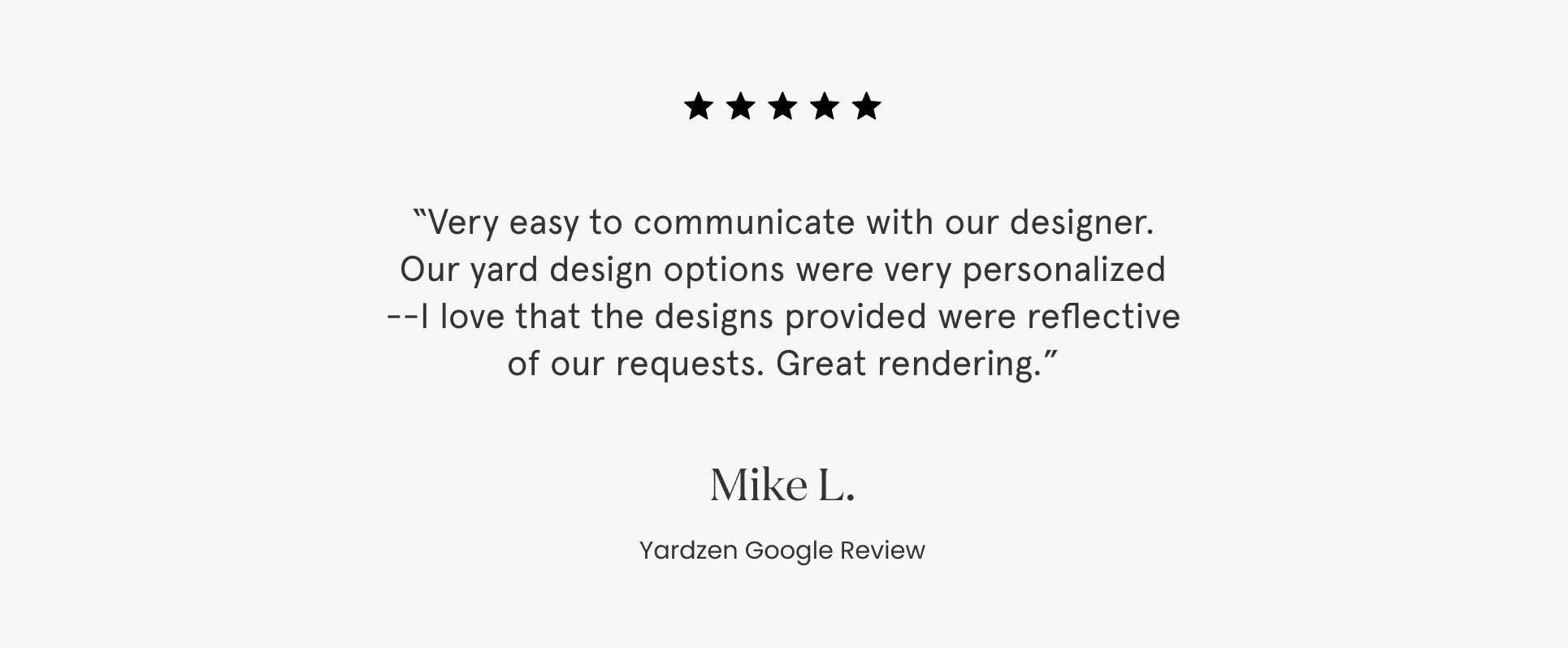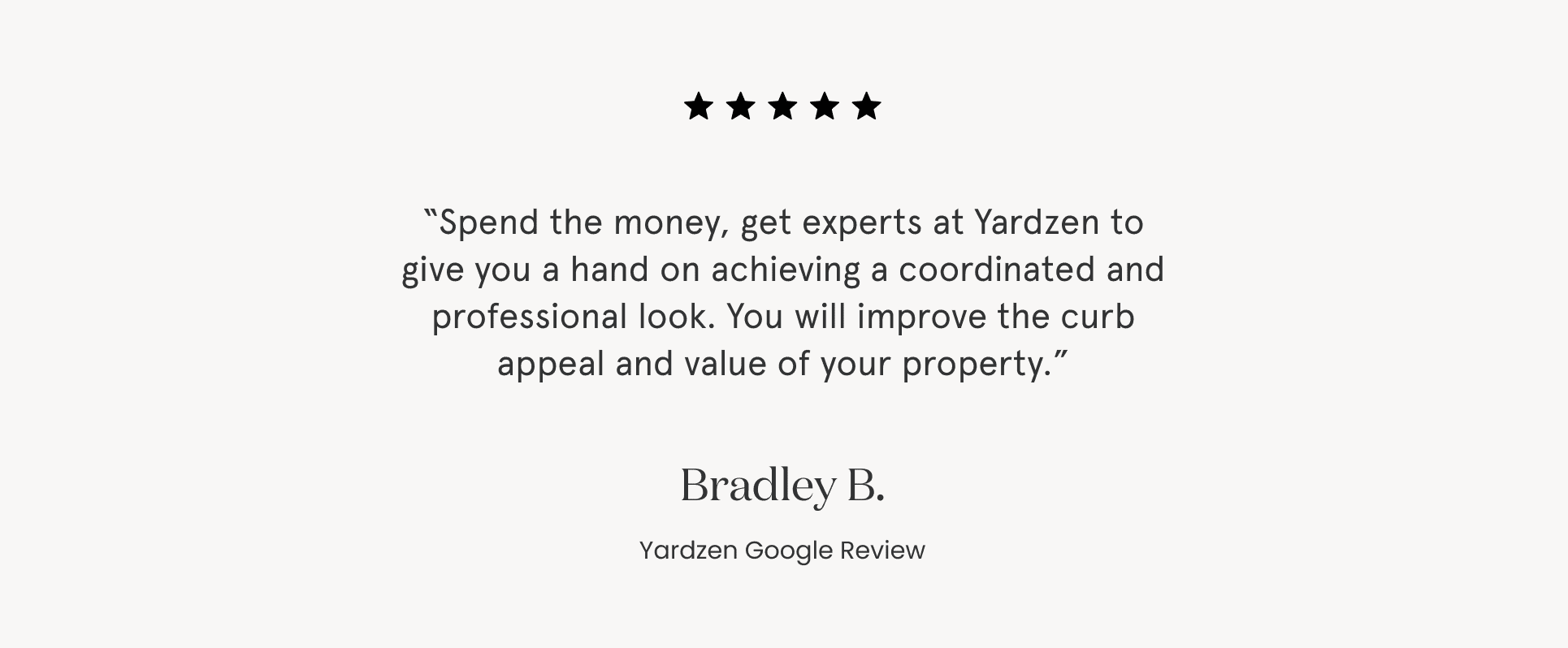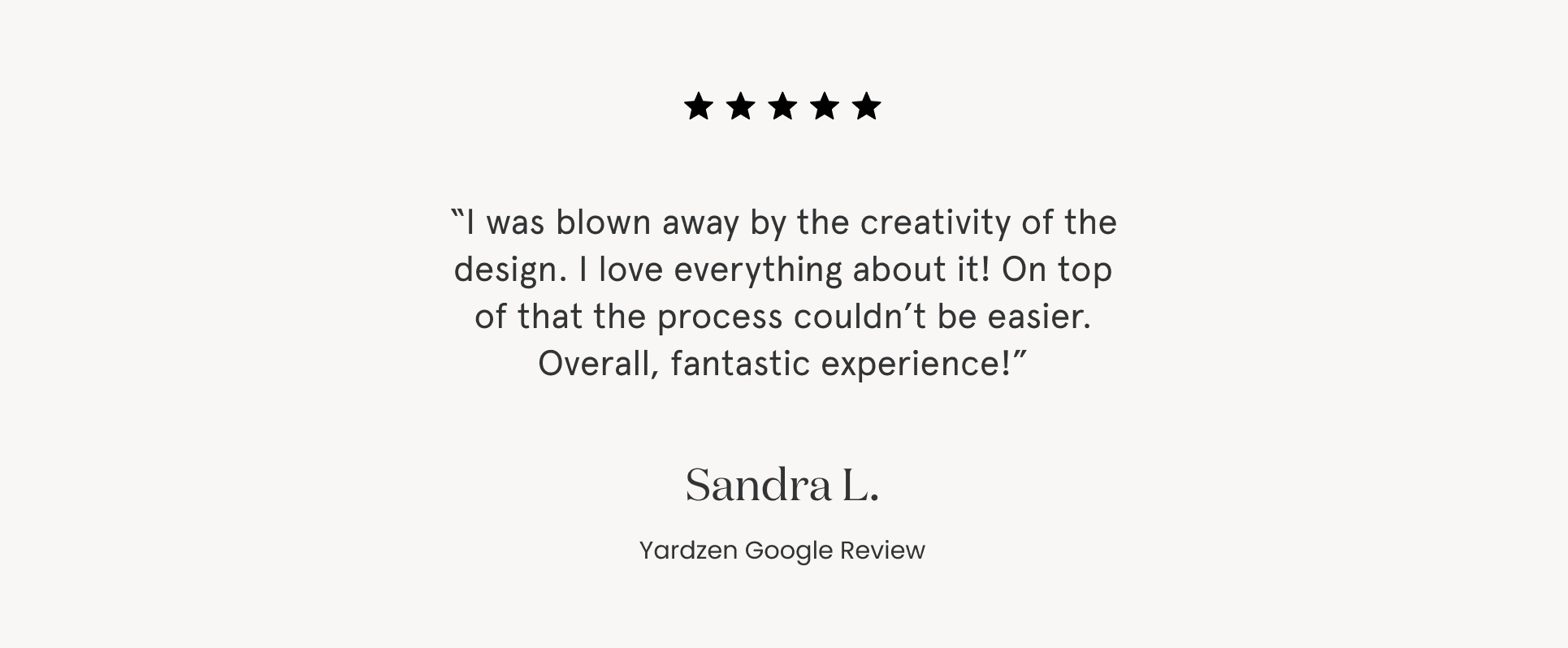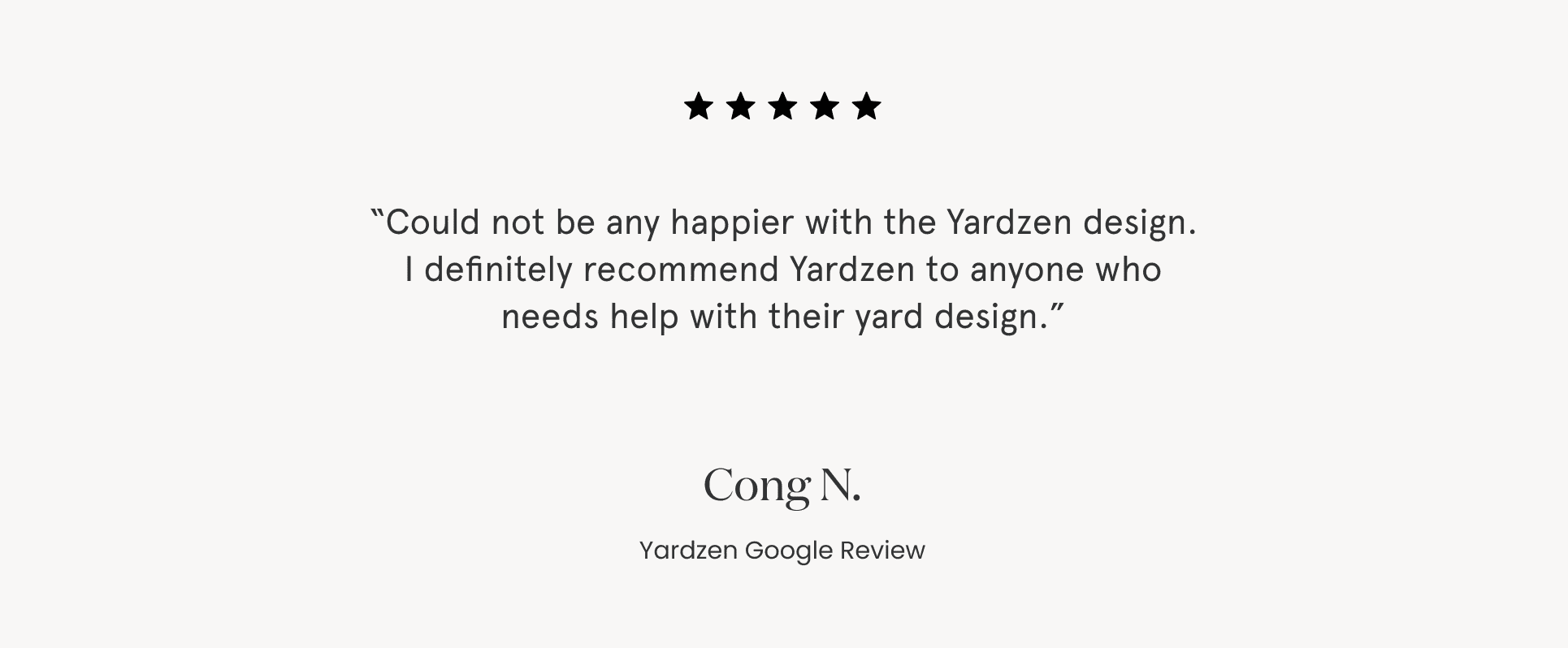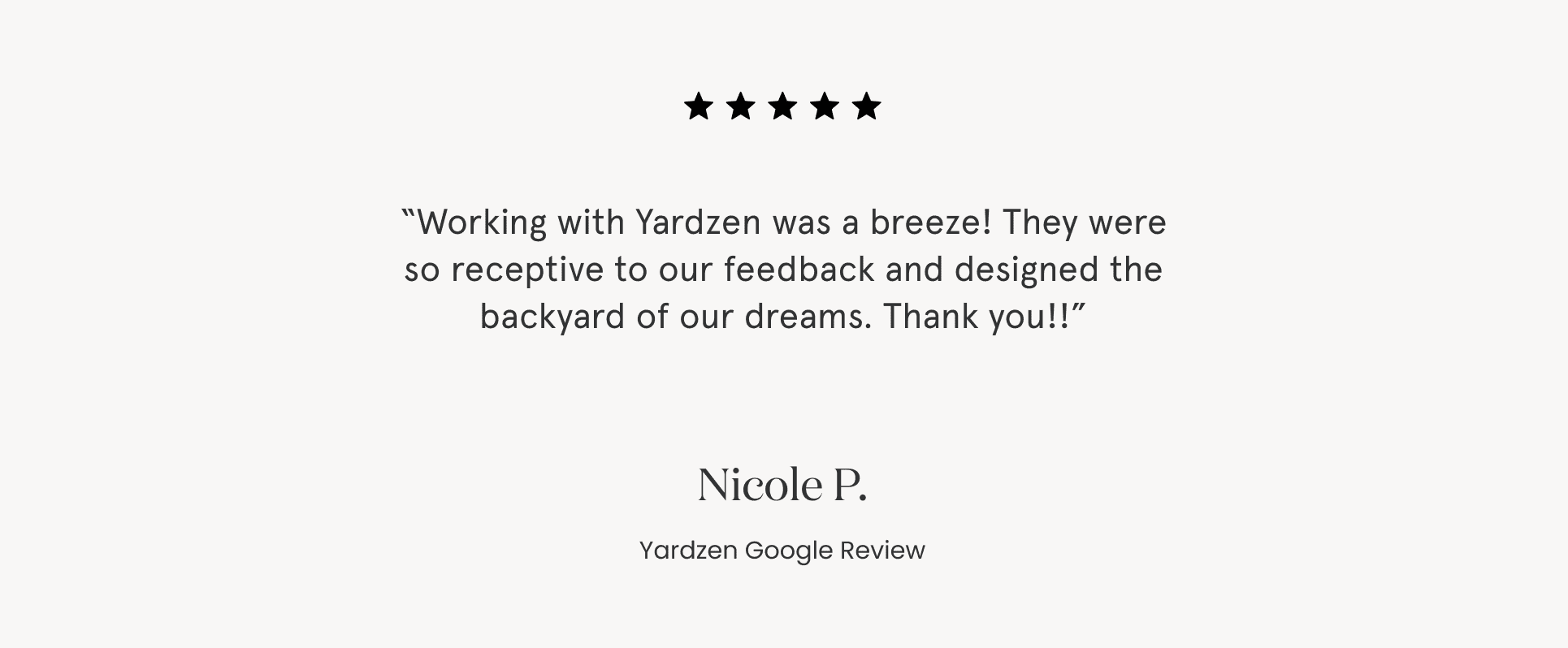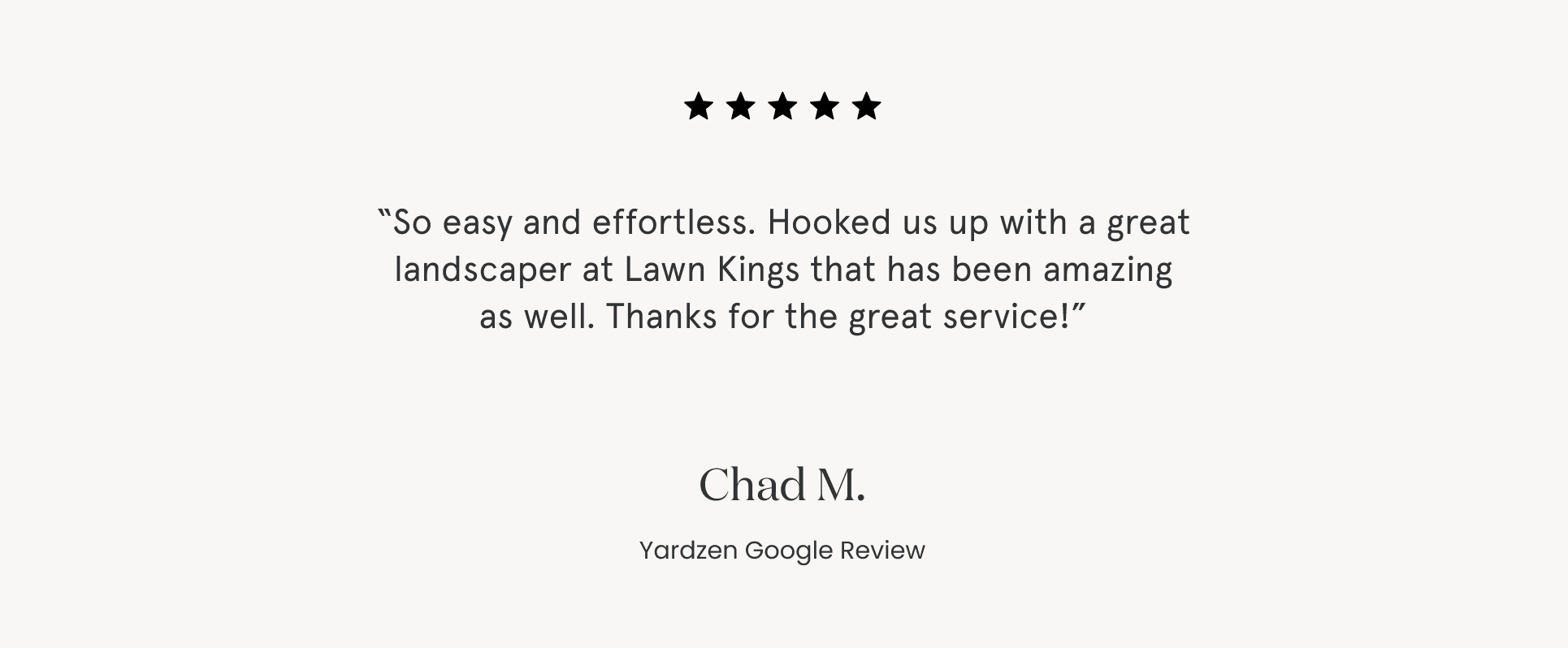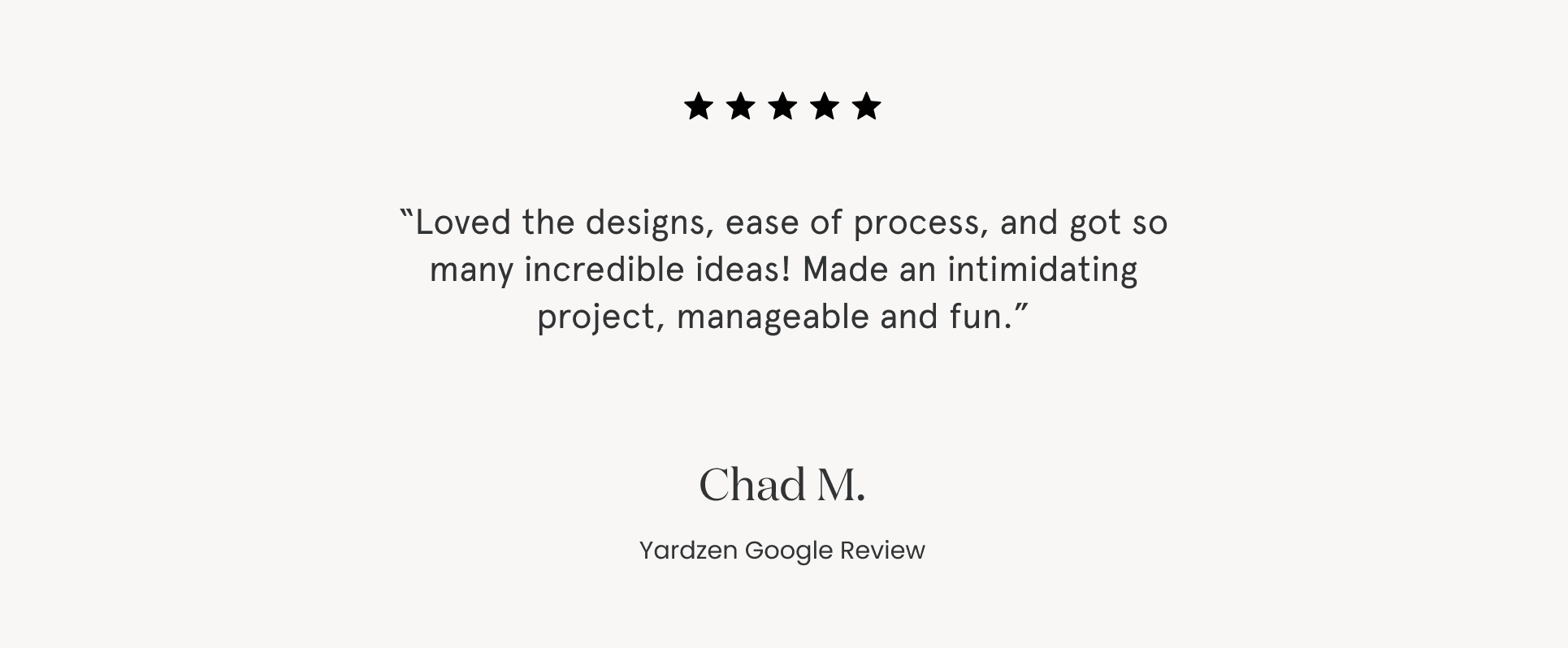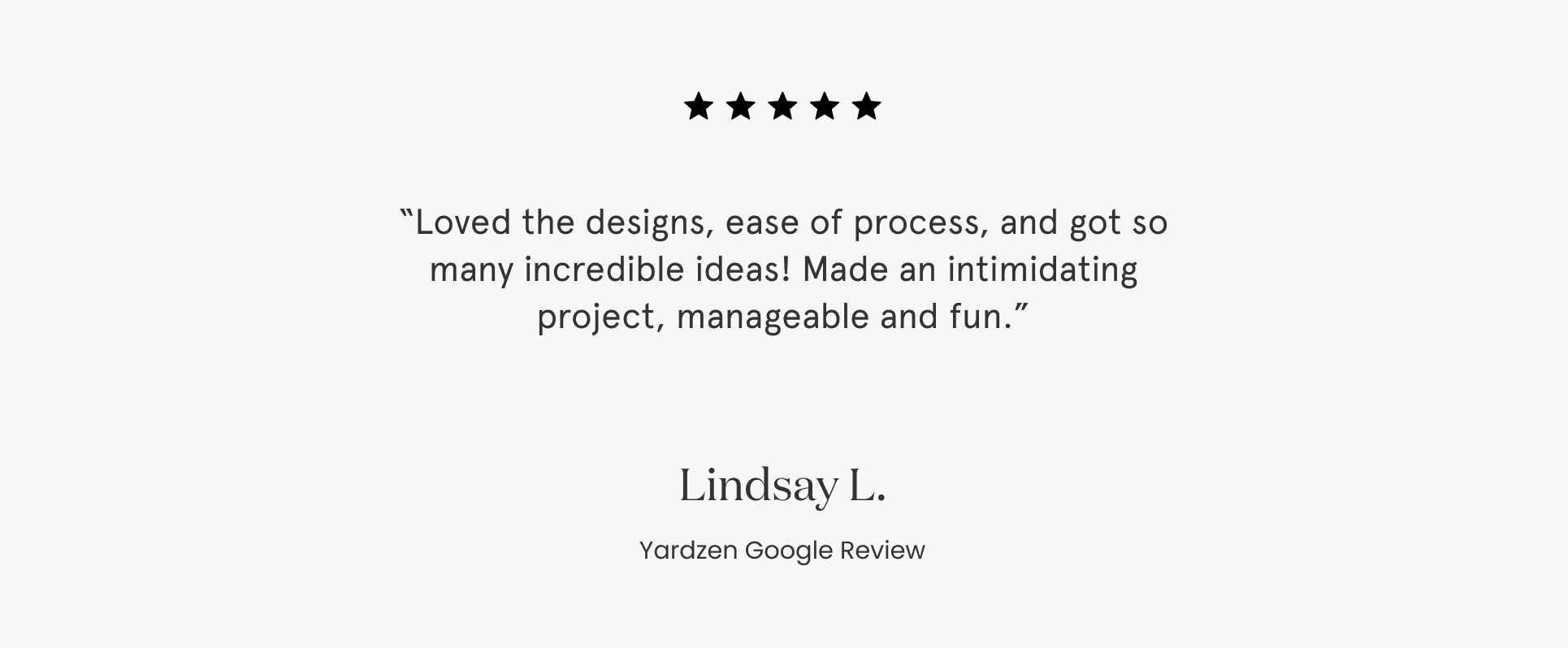 BRIDGEPORT LANDSCAPING FAQS
What are popular design styles in Bridgeport?
Bridgeport designs are traditional and no-nonsense, leaning heavily on English Colonial design features like hedges, large lawns, floral rows, and vertical shrubs. Planting is commonly used to frame doors and windows, and spacious lawns are a standard foreground to foundational planting arrangements.
What are some favorite plant species in Bridgeport?
Boxwoods are a staple, though we recommend inkberry (Ilex glabra) as a tough, native alternative that fares better in the Bridgeport climate. Little bluestem is a handsome native grass, while eastern purple coneflower, blue-stemmed goldenrod, and New England aster are all excellent native floral options. Serviceberry and witch hazel are solid options for large shrubs/small trees that can be positioned as focal points, particularly in yards where space may not allow for larger trees.
What factors do I need to pay attention to with Bridgeport landscapes?
Designers must take care to choose species that can handle Bridgeport's broad swing in temperature from summer's heat to winter's chill.
With frequent rain through the warm season, designs should offer shelter, welcoming in cooling southern breezes while keeping folks dry and shaded.
When should I get started on my landscape project?
Now! Any time of year is great to begin work on a landscape project.
Utilizing the winter to work through the design phase sets you up to get on contractors' books early in the build season, so you can have your design installed and ready to enjoy in time for summer.
"Highly suggest Yardzen. The online process made everything super easy and efficient. Thank you to the entire Yardzen team."
Shannon M., Yardzen client
Yardzen creates local landscape designs in and around:
Bethel, Brookfield, Cos Cob, Danbury, Darien, Easton, Fairfield, Georgetown, Greenwich, Hawleyville, Monroe, New Canaan, New Fairfield, Newtown, Norwalk, Old Greenwich, Redding, Redding Center, Redding Ridge, Ridgefield, Riverside, Sandy Hook, Shelton, Sherman, Southport, Stamford, Stratford, Trumbull, Weston, Westport, and Wilton.
Explore other Connecticut landscape designs by Yardzen