Landscape design & build for Atlanta
Yardzen designs everywhere in the U.S. and the Atlanta area is one of our favorites. Atlanta is the metropolis of the south, a bustling, vibrant place in an equally vibrant landscape.
EXPLORE DESIGN PACKAGES
Climate
With a humid climate and steady rain, Atlanta makes life easy for plants, which grow abundantly throughout the city and its environs. Atlanta enjoys four distinct seasons, with glowing falls, manageably chilly winters, and downright lovely springs. Being in the South, Atlanta gets hot and humid, with warm summer nights that are ideal for kicking your feet up and enjoying that indoor/outdoor lifestyle.
Outdoor Living
Landscape design can do much to make the most of what Atlanta's landscapes offer. Be it shade from summer sun, a stunning fall display, or a warm nook to make the outdoor season last a little longer, Yardzen has done it all for our Atlanta clients.
Design & Build
Whatever your landscape vision may be, Yardzen is ready to make it a reality, working with you to craft a landscape design that achieves the look, feel, and function you are dreaming of, then connecting you with a vetted contractor from Yardzen's Pro Network to get your design built.
TRUSTED BY THE EXPERTS


ATLANTA, GEORGIA DESIGN GALLERY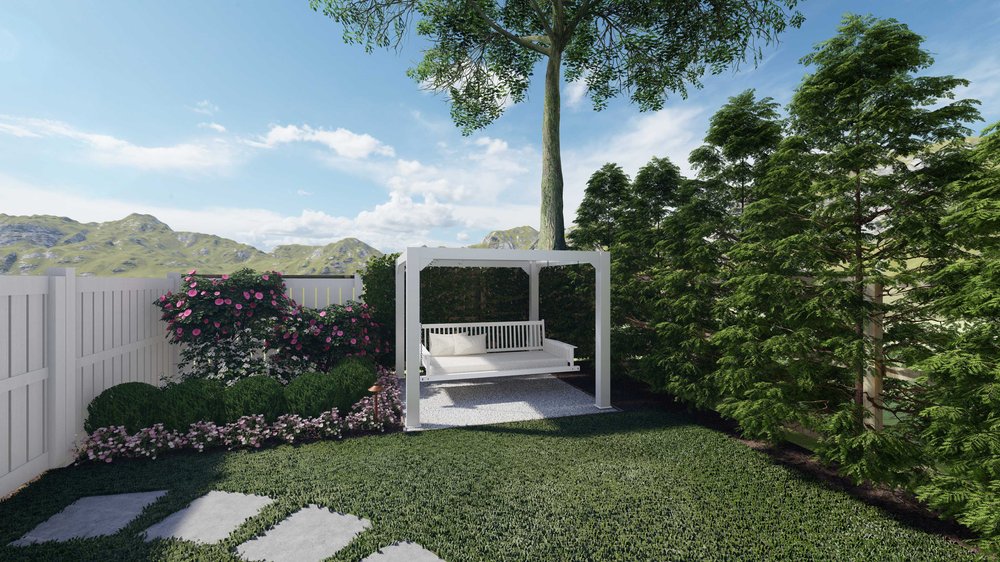 POPULAR AMENITIES IN ATLANTA YARDS
Simple and thorough online process
Take a style quiz, share videos and photos of your existing outdoor space, and learn about the costs in our Yard Builder™ tool. Our design team will help you at every step of the process.
GET STARTED >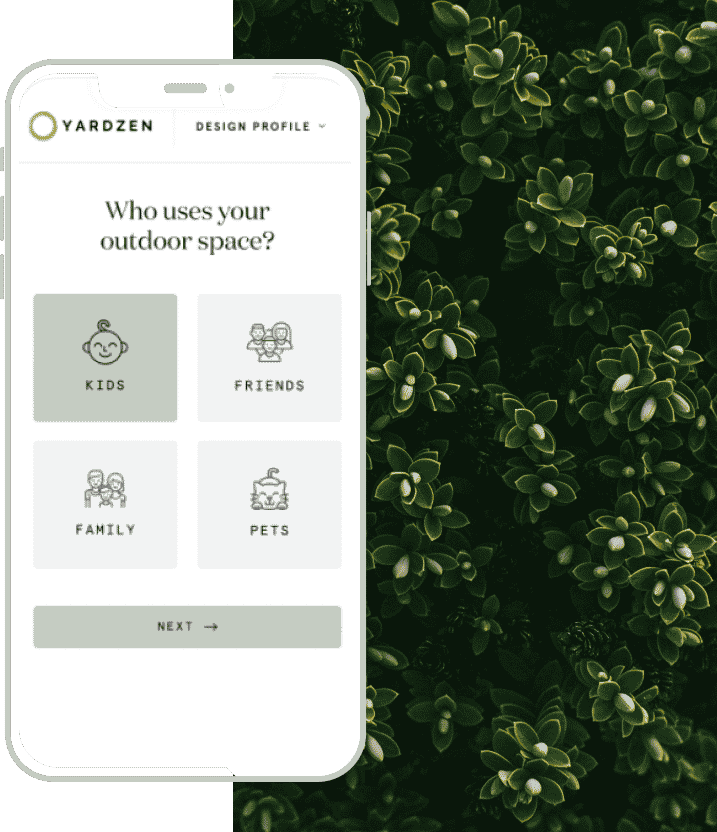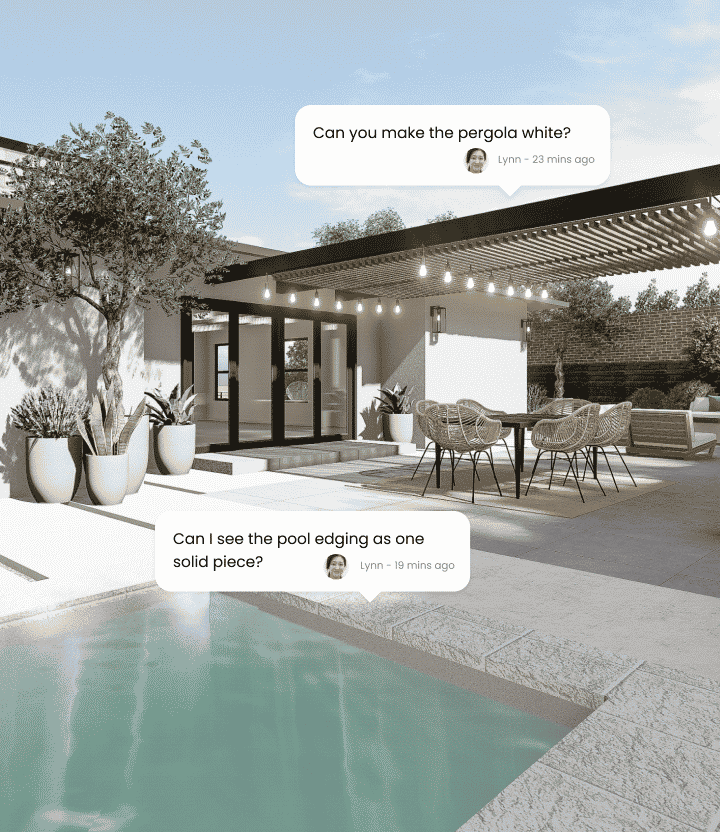 The easiest path to a final design you'll love
Review your first design in our online Feedback Studio. You'll be able to share feedback before we start incorporating your changes. A live design review call is also available to help get your project ready for installation.
GET STARTED >
Built by someone you (and Yardzen) trusts
We'll translate your 3D design concepts into a detailed CAD plan that's ready to install. Next, we'll connect you to a vetted, Atlanta area landscape contractor who can bring your dream yard to life.
GET STARTED >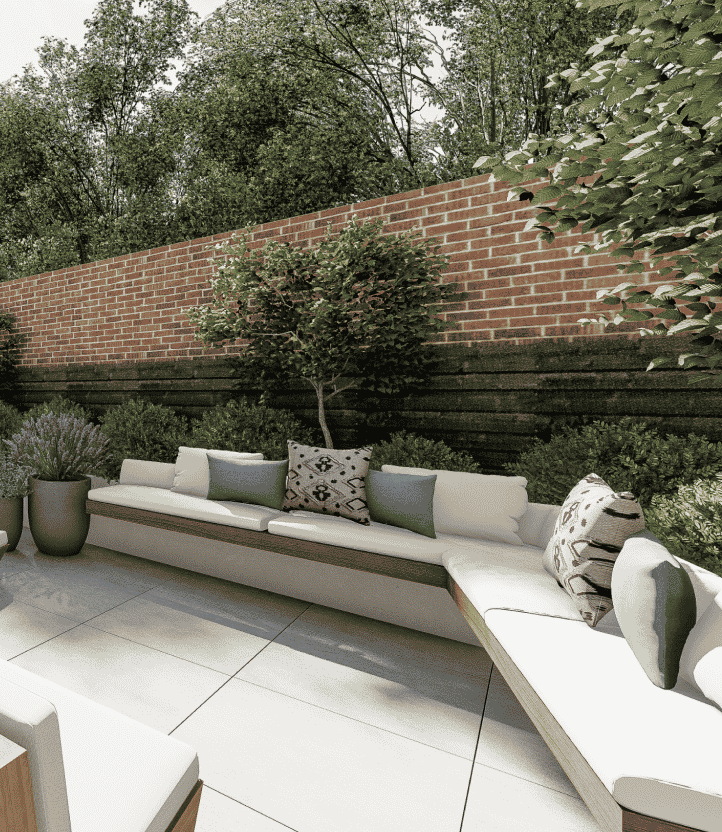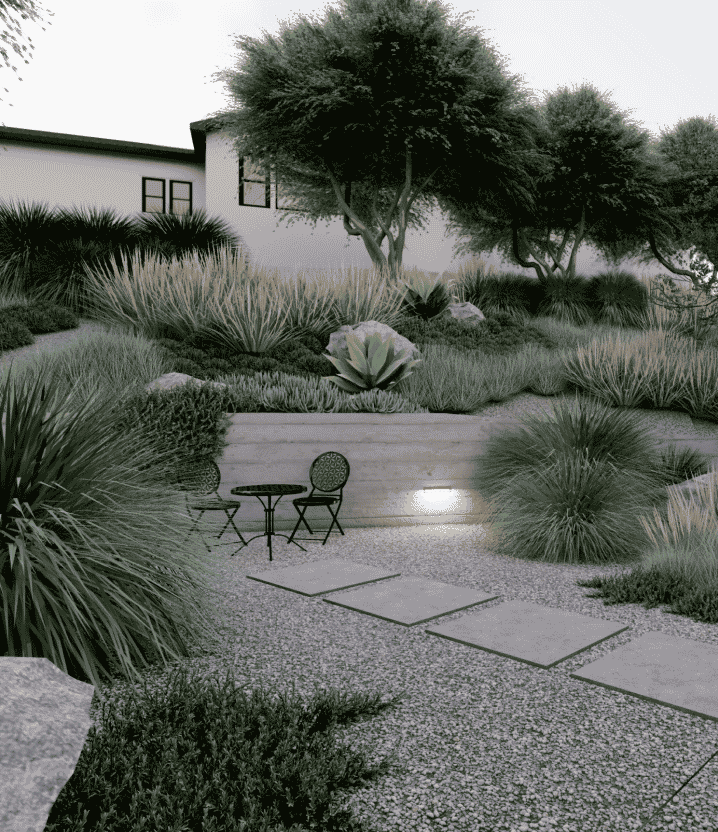 Custom designs for your unique outdoor space
We've built a database of plants, trees, and groundcovers that match to Atlanta's planting zones, sun/shade/water requirements, aesthetic, and essential features like native plants. Using satellite and aerial imagery, coupled with your photo, video, and factoring in your details, we can create the outdoor space of your dreams.
GET STARTED >
WHICH YARDZEN PACKAGE IS RIGHT FOR YOU?
Take our YardBuilder quiz to find out.
GET STARTED

1. Tell us about your unique outdoor space

2. Answer a few questions about your dream yard

3. Get a personalized design package recommendation
WHAT YARDZEN CLIENTS ARE SAYING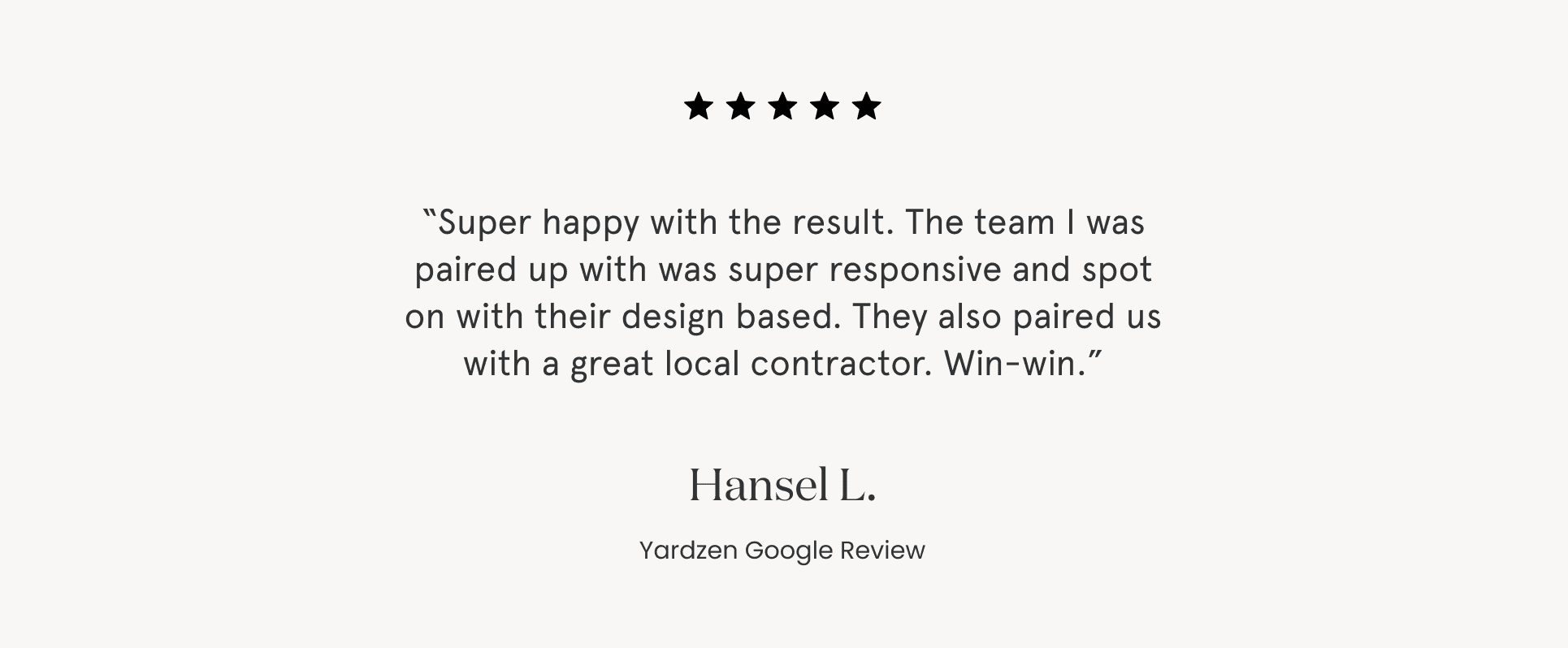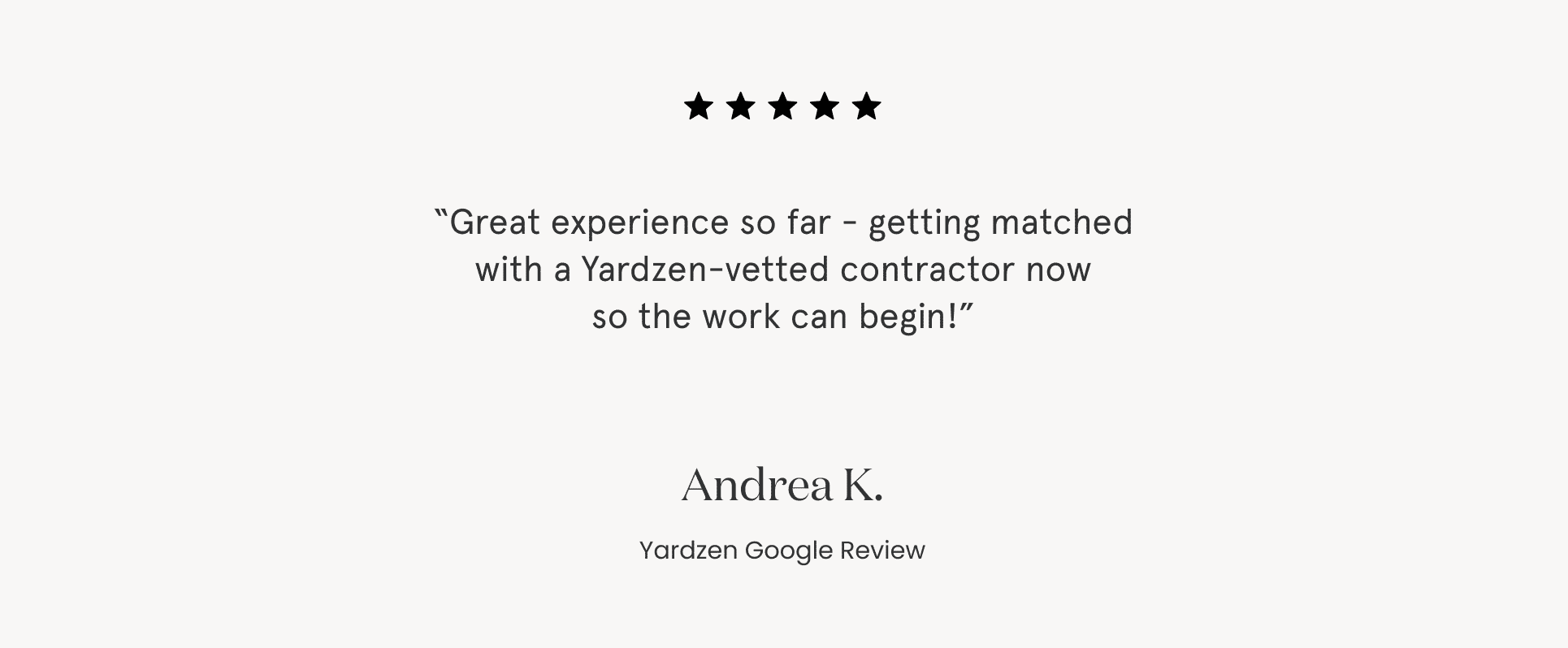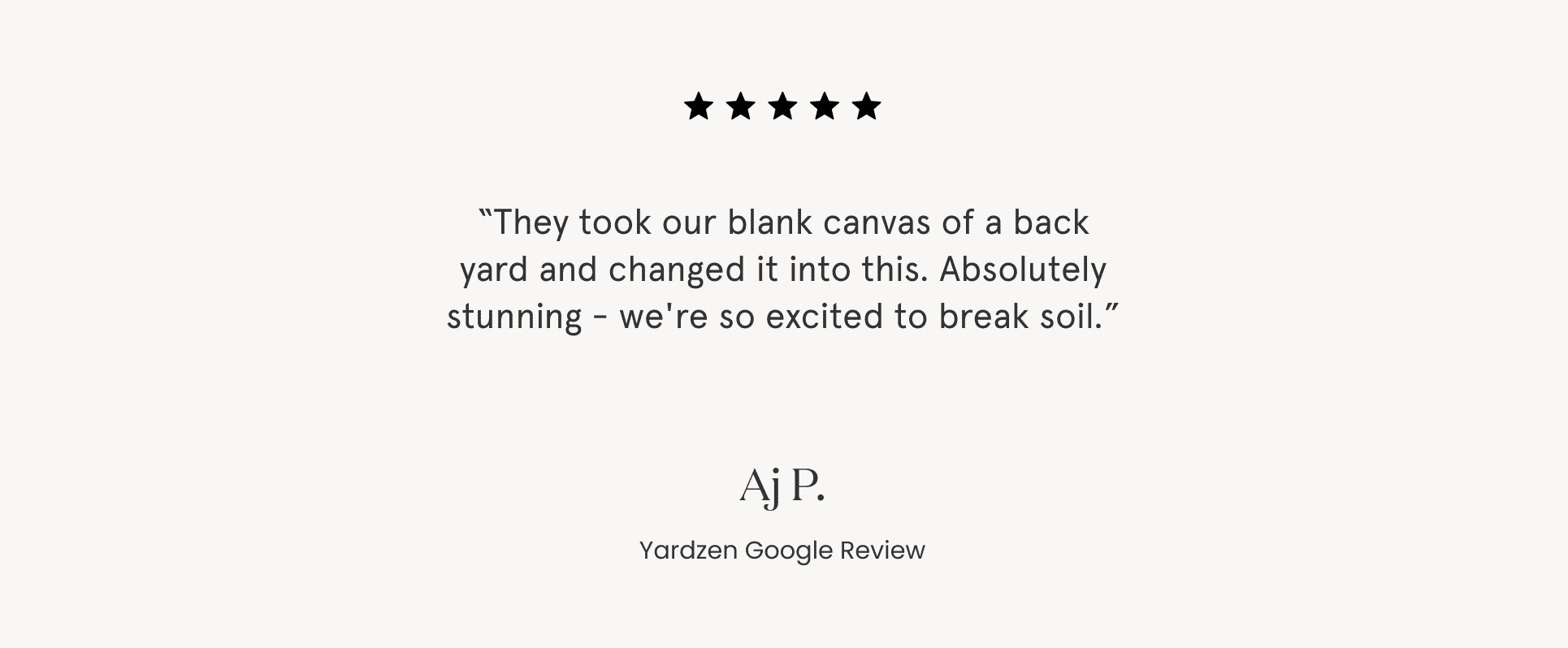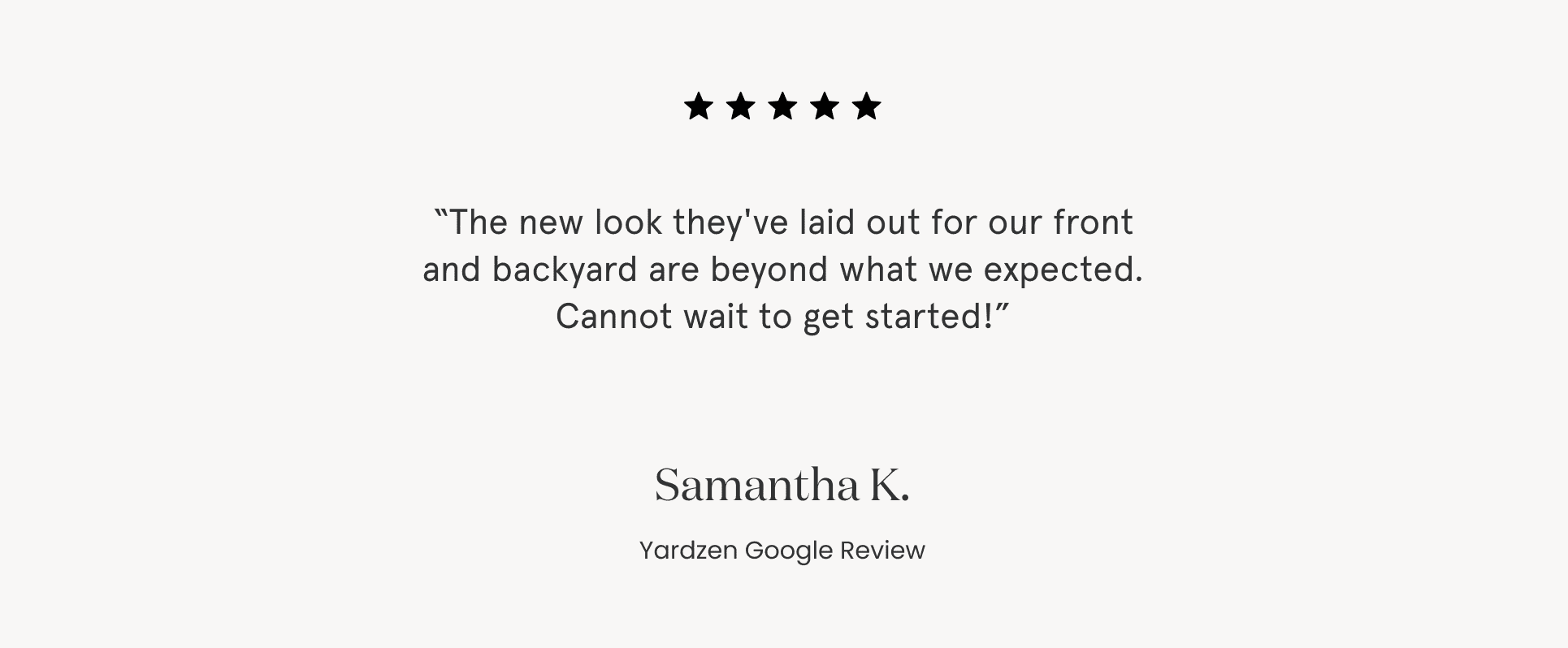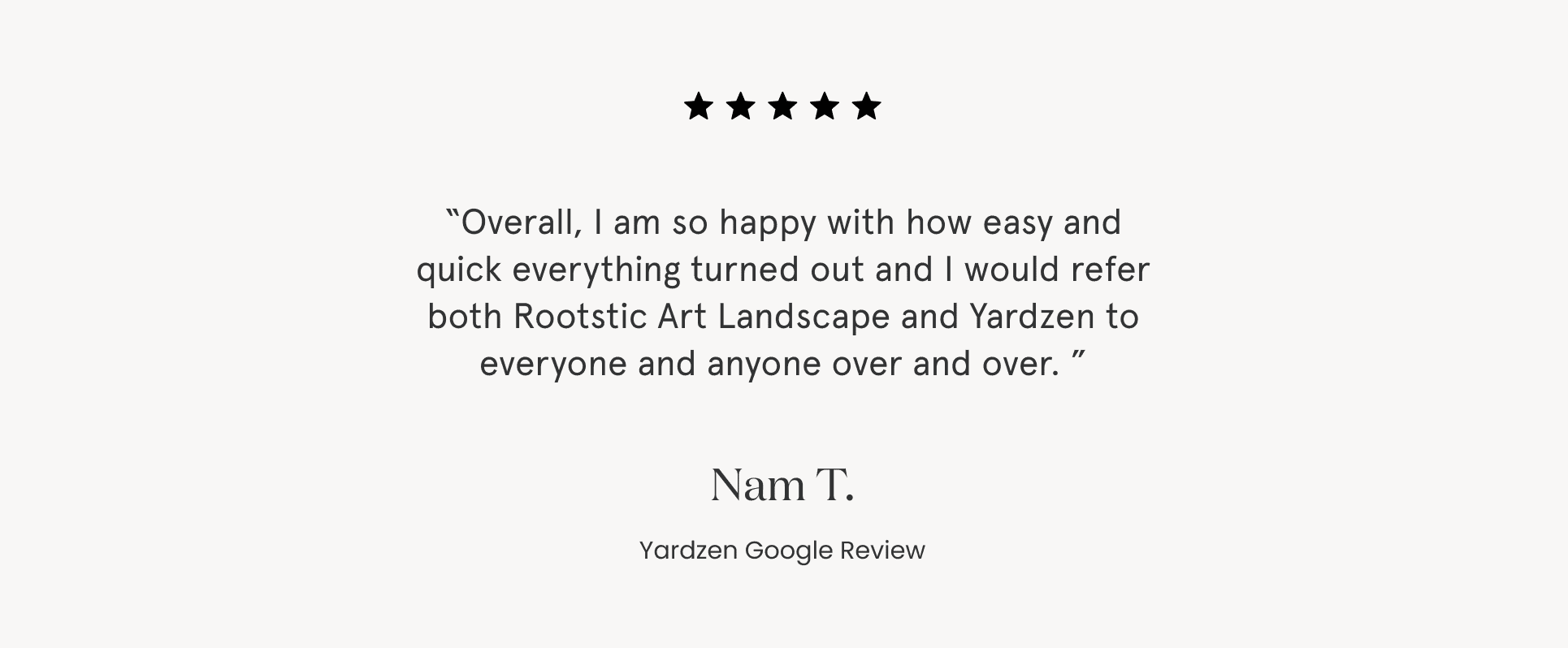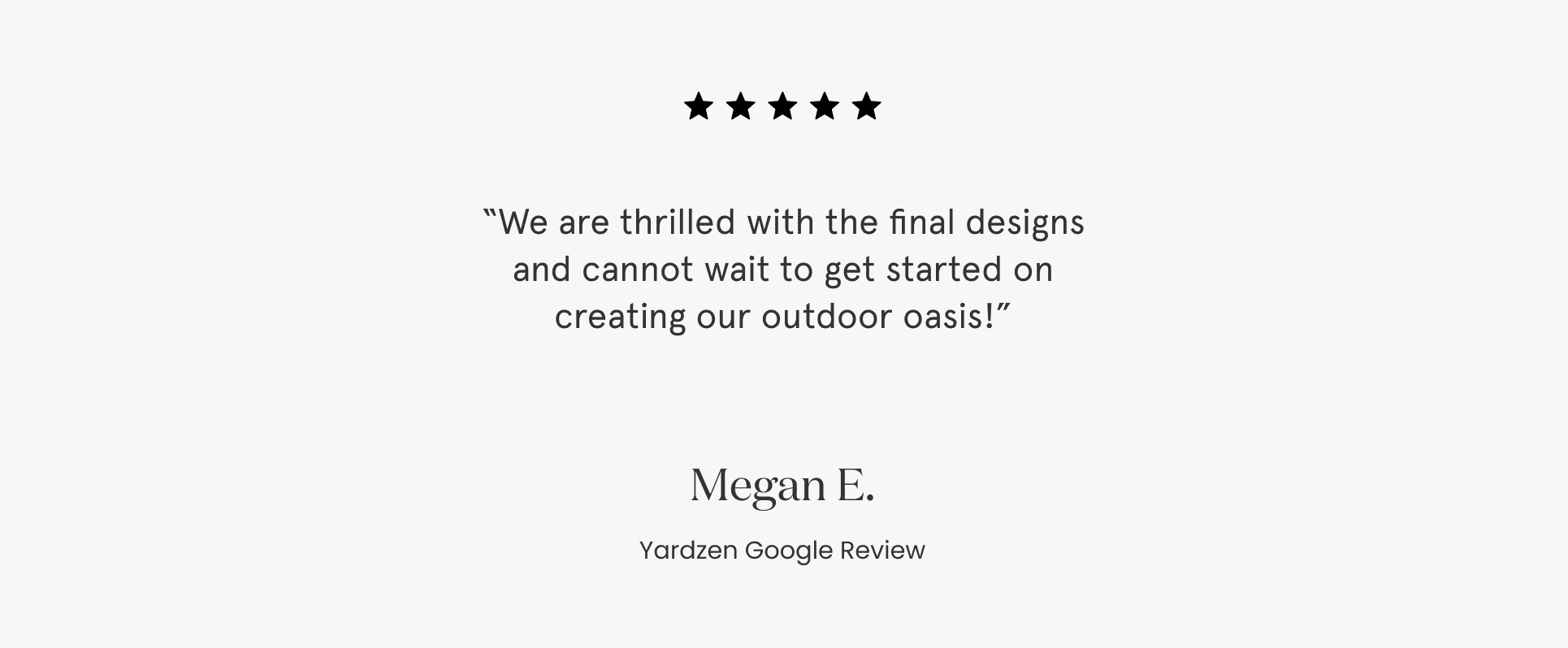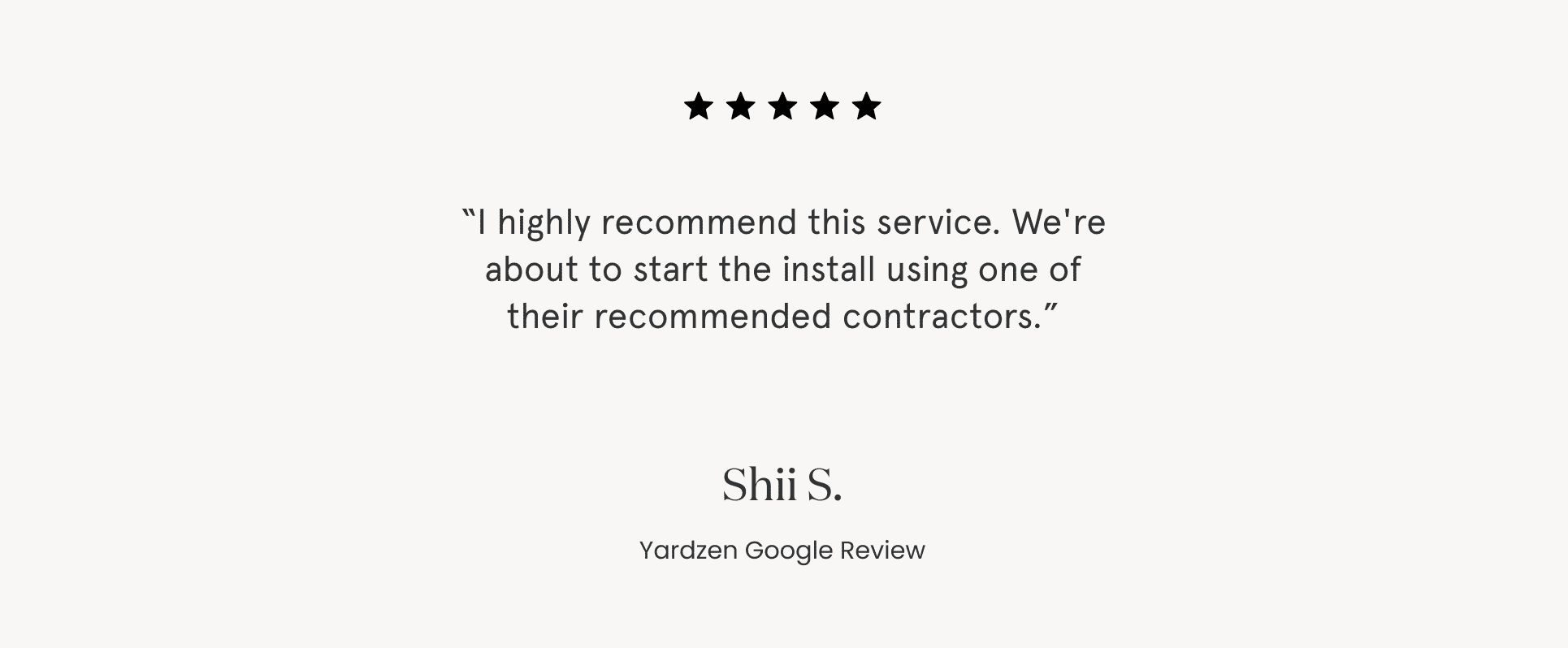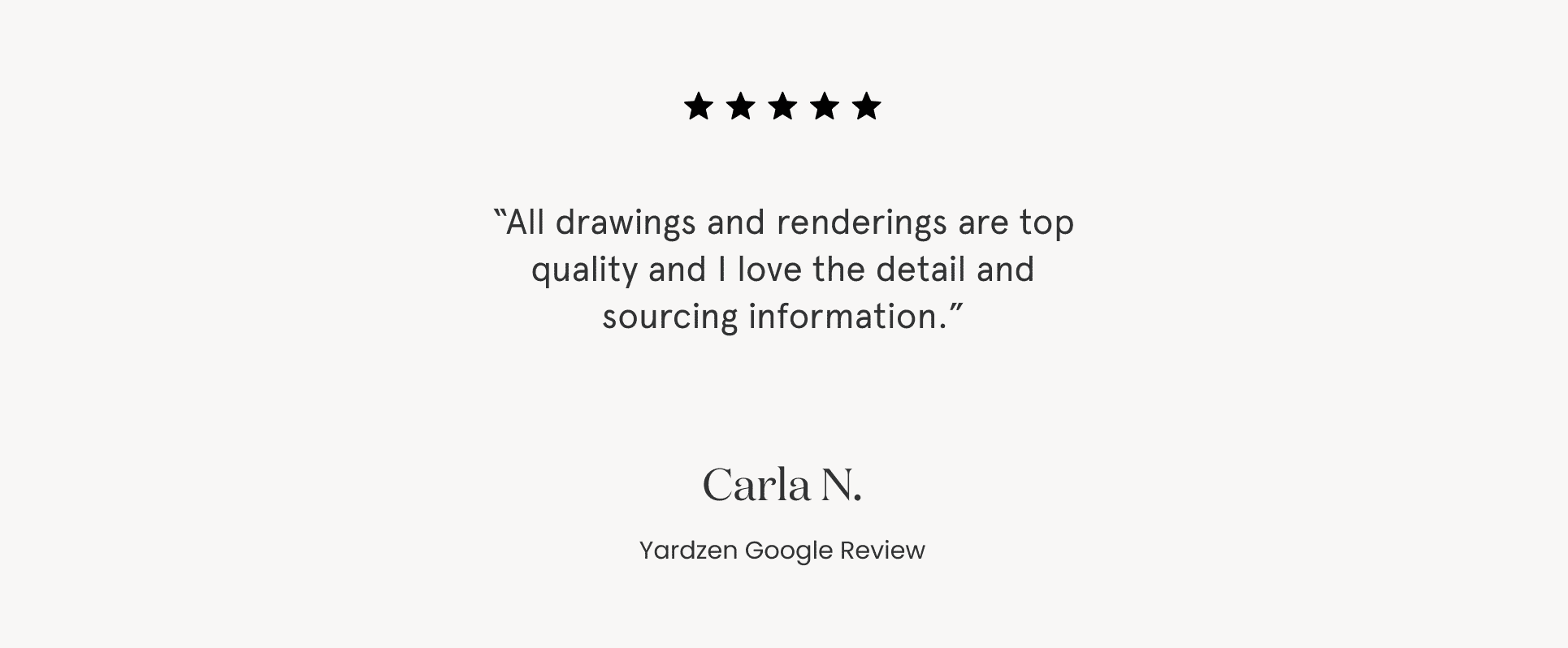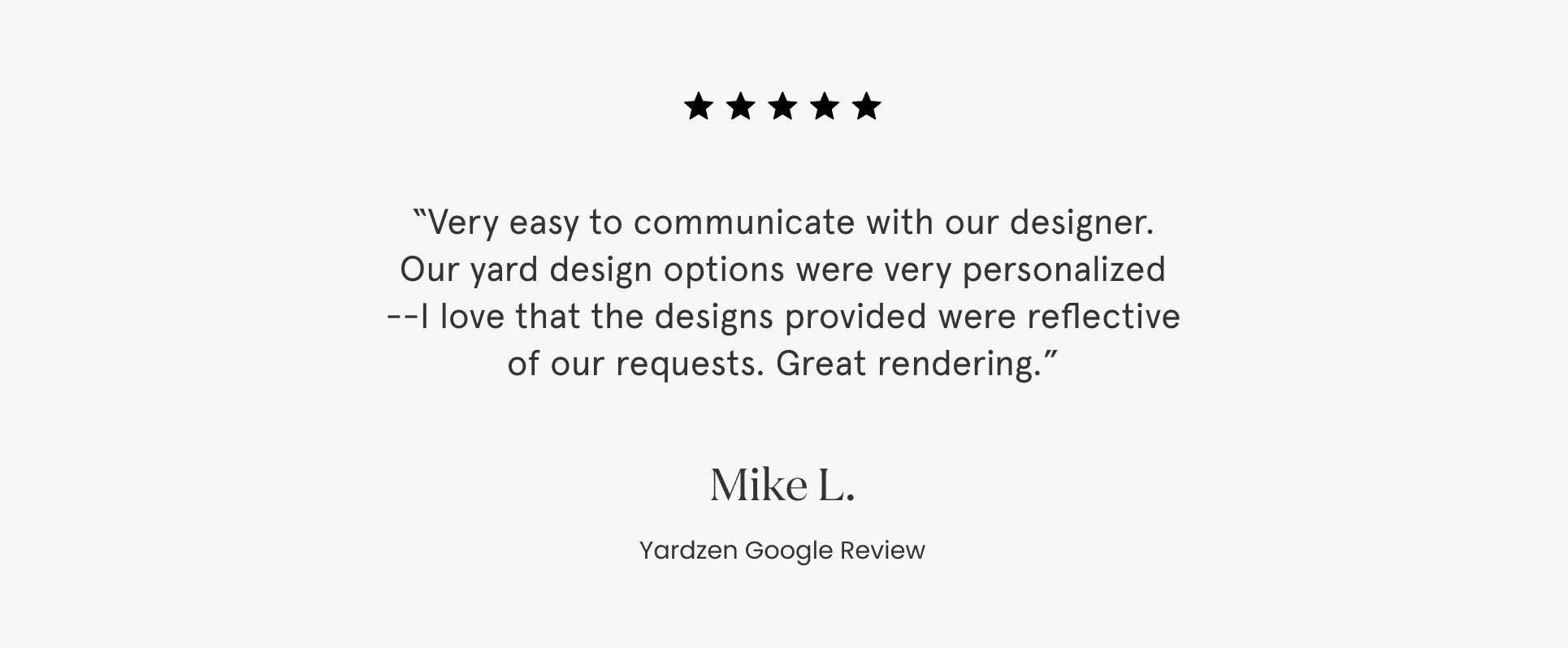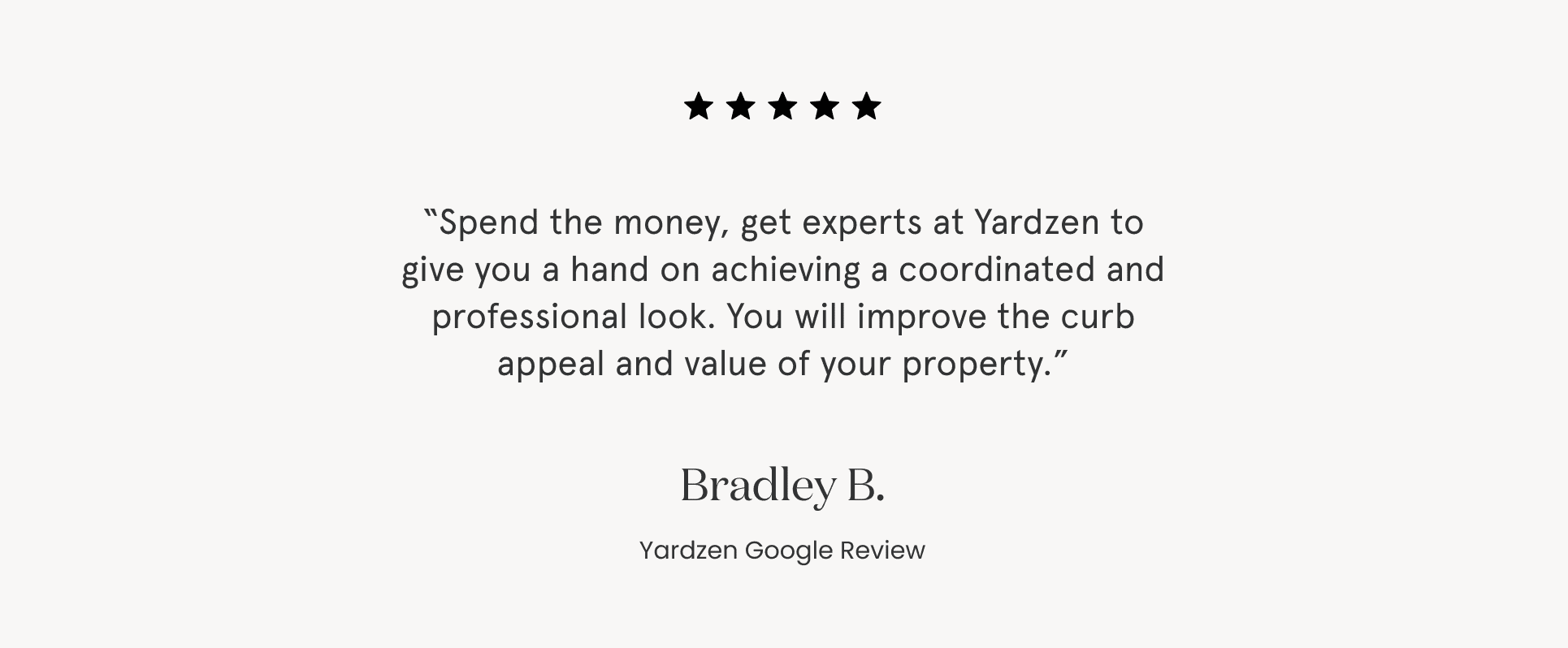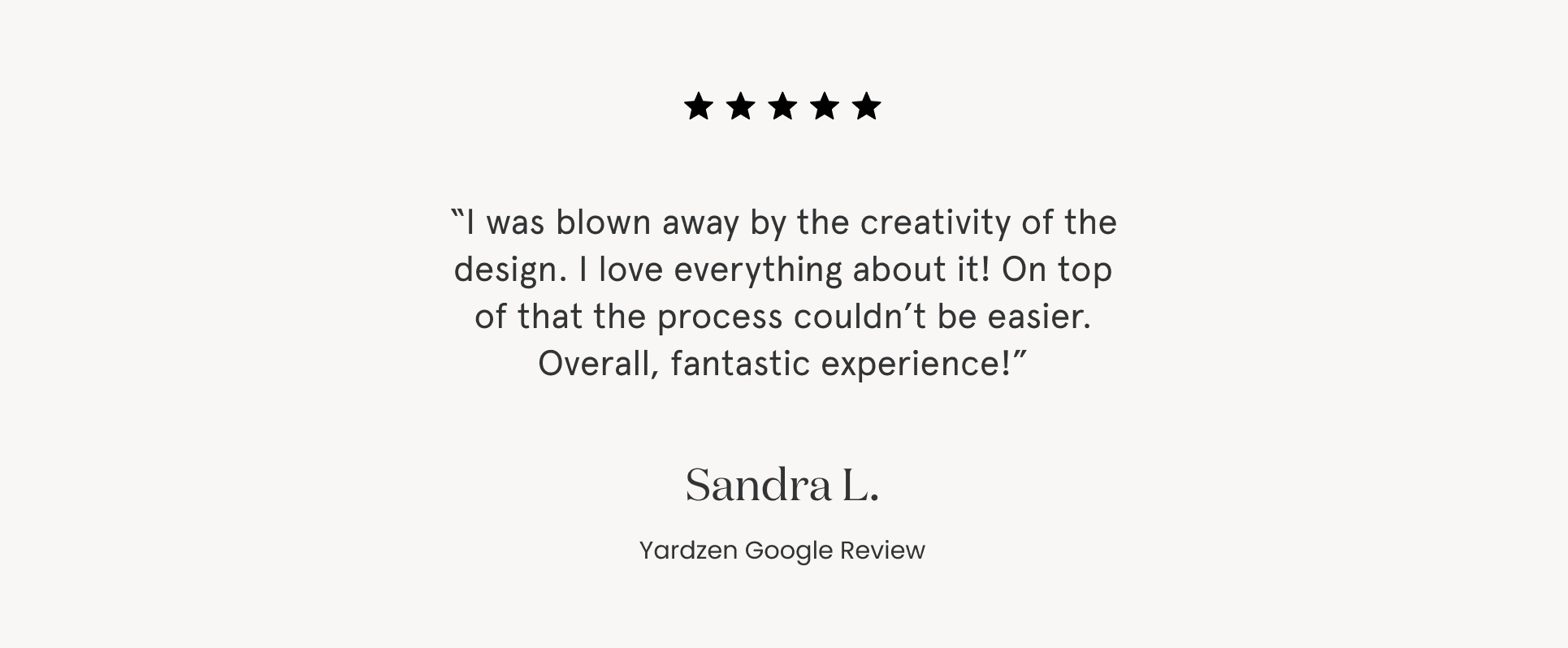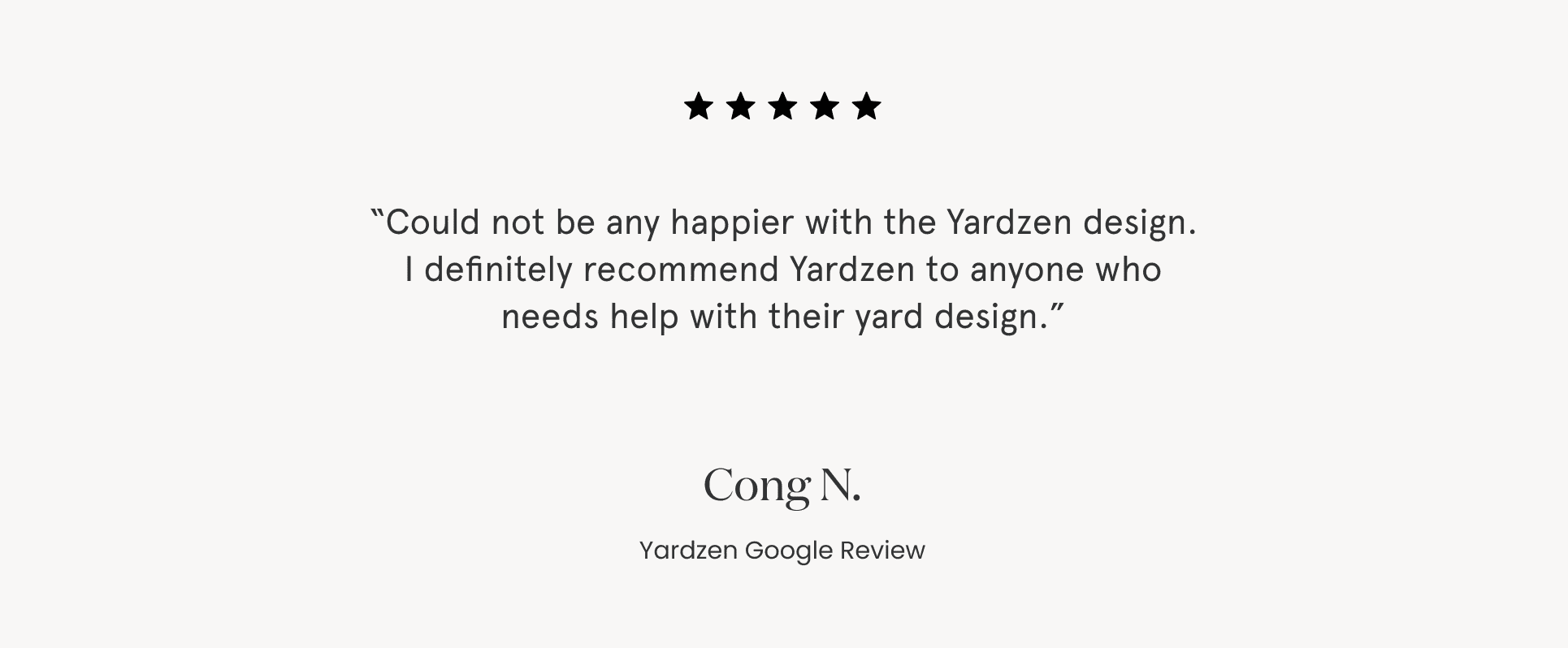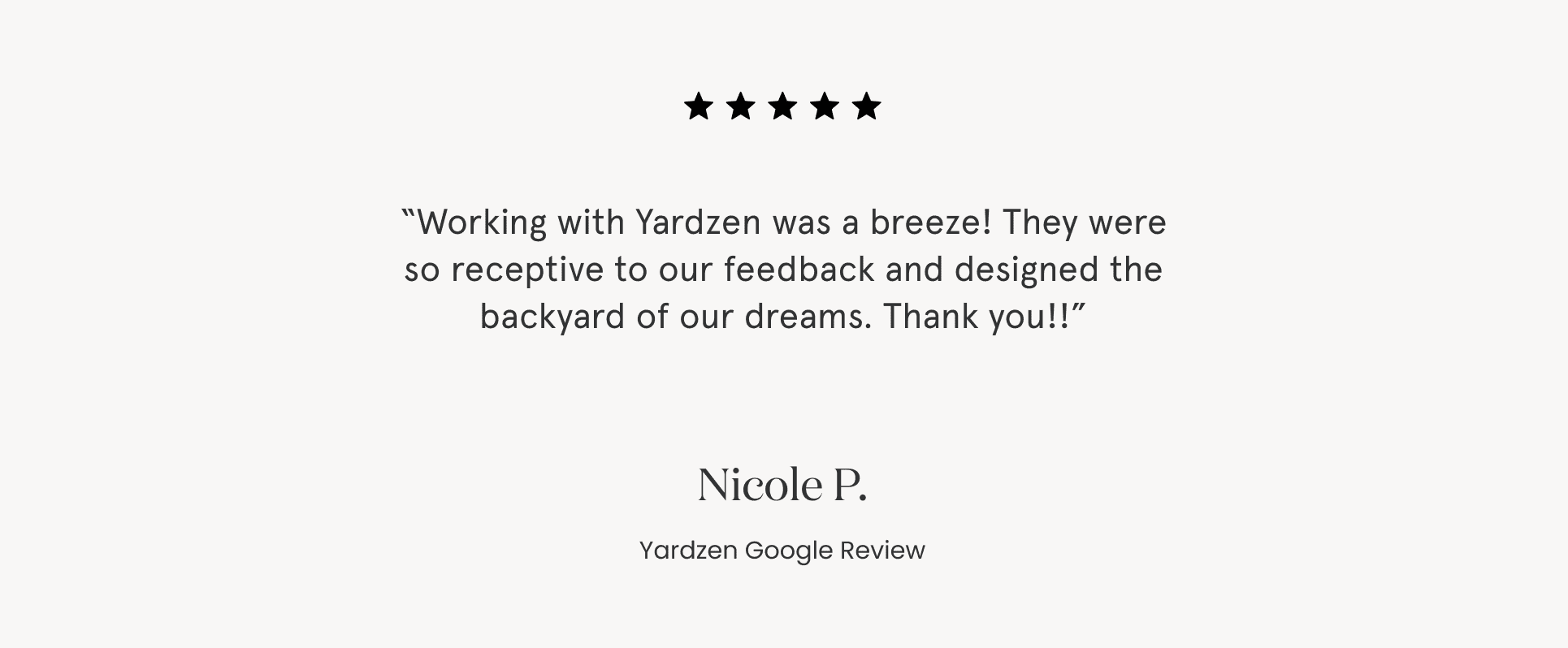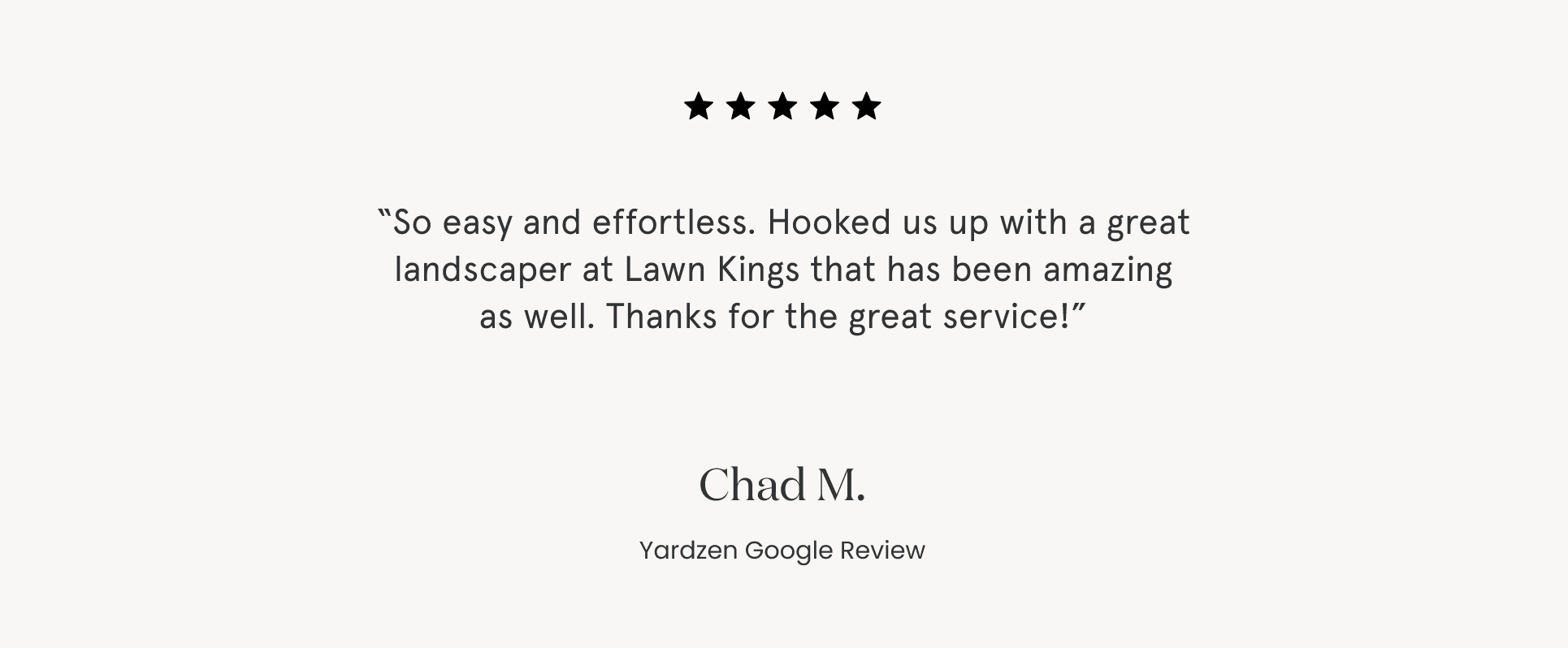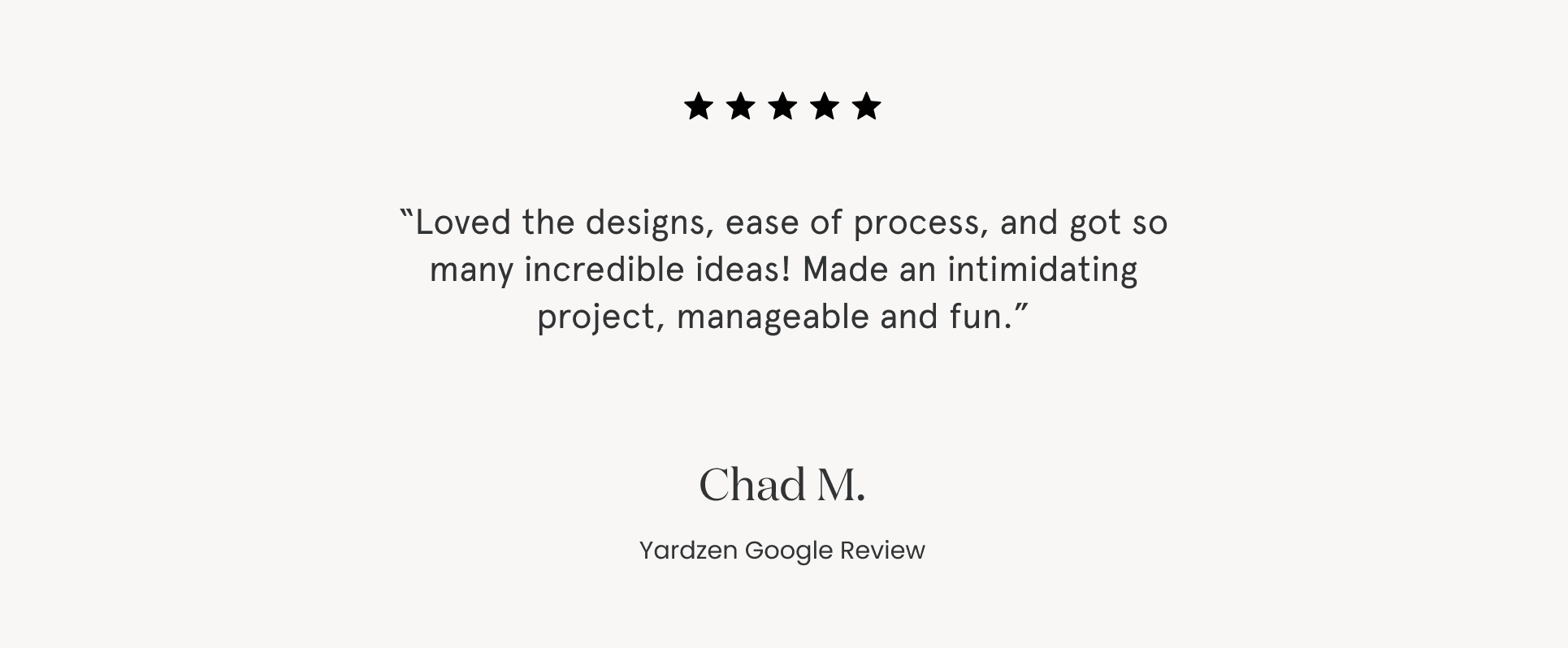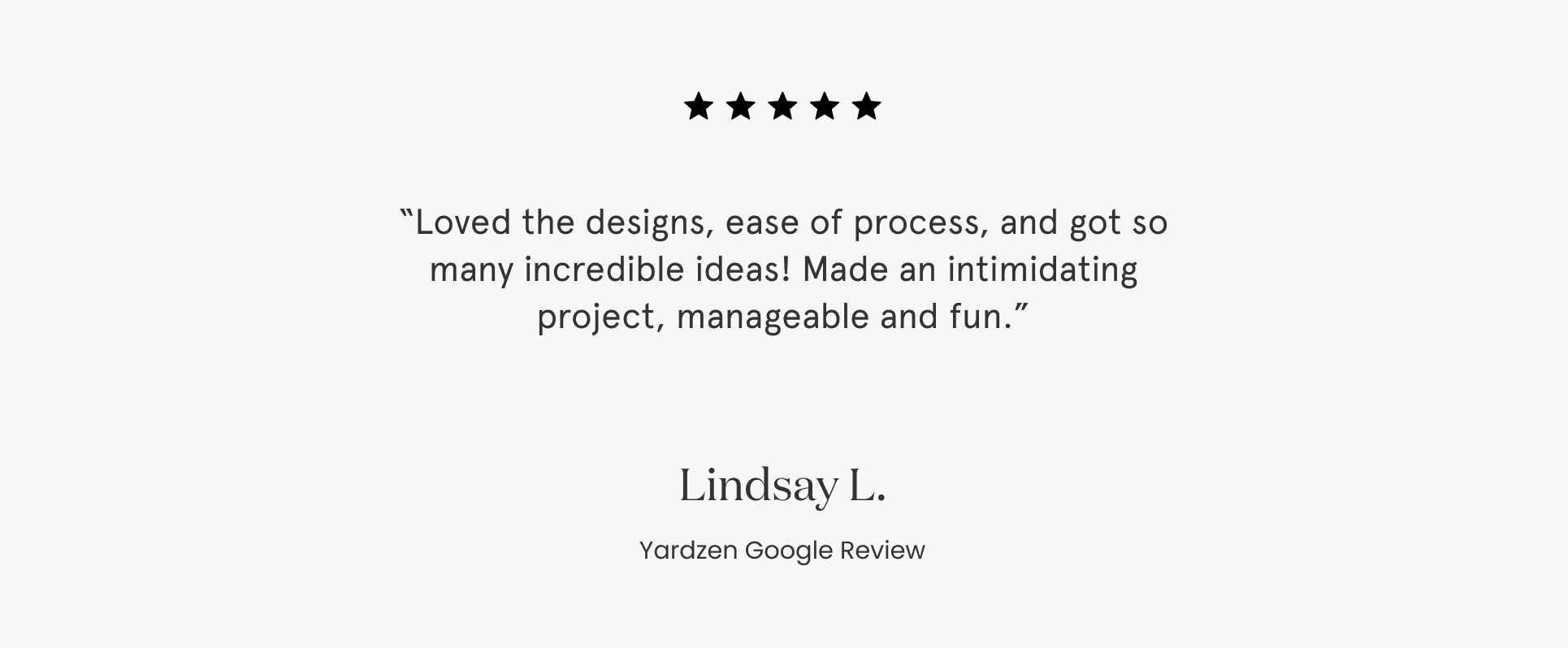 ATLANTA LANDSCAPING FAQS
What design styles are popular with Atlanta homeowners?
Being a major metropolitan region, Atlanta landscapes reflect the wonderful diversity of its population, spanning the stylistic spectrum from modern and minimal to rustic and full.
While you can find pretty much any style in Atlanta, designs tend to skew in the traditional direction. You'll commonly find yards with hedges, lawns, and tidy rows of flowering shrubs – a formal, English colonial look. You'll also find a more casual approach, with a blend of flowers, vines, shrubs, and ferns mingling within planting areas with swooping borders and rustic stone edging.
Whatever the style, every Atlanta landscape shares an abiding sense of "green-ness", thanks to the city's humid climate and abundant rainfall.
What are popular features in Atlanta landscapes?
Landscape designs in Atlanta embrace outdoor living, frequently featuring outdoor kitchens and dining, lounge spaces for entertaining friends, and even outdoor theaters for family movie nights.
Atlanta yards also include strategies to manage the hot weather. Pergolas and canopy trees make the most of shade and breezes, while pools (big and small) along with simpler decorative water features offer a cooling encounter, whether or not you actually get wet.
Surprisingly, fire pits and hot tubs – also popular landscape elements – are also great amenities for beating the heat, offering a fun activity for a cool outdoor evening. Fire pits do double-duty, providing a heat source to keep you outside when the weather starts to turn cold.
Should I use plants native to Atlanta in my landscape?
It's easy to grow plants in Atlanta, but you'll set yourself up for success if you begin by browsing native plant species.
Native plants evolved to thrive in the local climate. This means they tend to perform better while requiring fewer inputs of water and maintenance than non-native species. Beyond their promise of good performance, native plants also offer unbeatable habitat value for local wildlife.
Our advice? Plant a blend of natives and climate-adapted species, which should fare equally well in the Atlanta climate.
Looking for some suggestions? Oakleaf hydrangeas (try the 'Alice' cultivar) are stunning in a traditional landscape, as are bottlebrush buckeyes. If you want more color, try Geranium 'Rozanne', or the lower, bluer perennial plumbago. Red maple is a reliable choice for a fall color focal point, while river birch boasts handsome bark that makes for a great specimen tree all year long.
What are top considerations for Atlanta landscapes?
Atlanta landscapes should pay heed to the broad temperature range, intense summer heat, and wet conditions of the region. This means picking native and climate-adapted plants with a proven record of landscape performance. It also means designing for rain, maintaining plenty of permeable surfaces to slow runoff and capture water onsite.
With such natural beauty, landscape designs should be a resource for outdoor living in any season, keeping you cool in summer, warm in winter, and able to accommodate a variety of outdoor activities, from cooking and dining, to playing, to working, to relaxing with family and friends.
When should I start my landscaping project?
Now! Any time of year is great to begin work on a landscape project.
When possible, we suggest utilizing the winter to work through the design phase – this sets you up to get on contractors' books early in the build season, so you can have your design installed and ready to enjoy in time for summer.
If winter has passed, don't worry, it's never too late in the year to begin work on a landscape design project.
"Highly suggest Yardzen. The online process made everything super easy and efficient. Thank you to the entire Yardzen team."
Shannon M., Yardzen client
Yardzen creates local landscape designs around Atlanta in:
Alpharetta, Duluth, Fairburn, Palmetto, Red Oak, Roswell, and Union City.
Explore other Georgia landscape designs by Yardzen