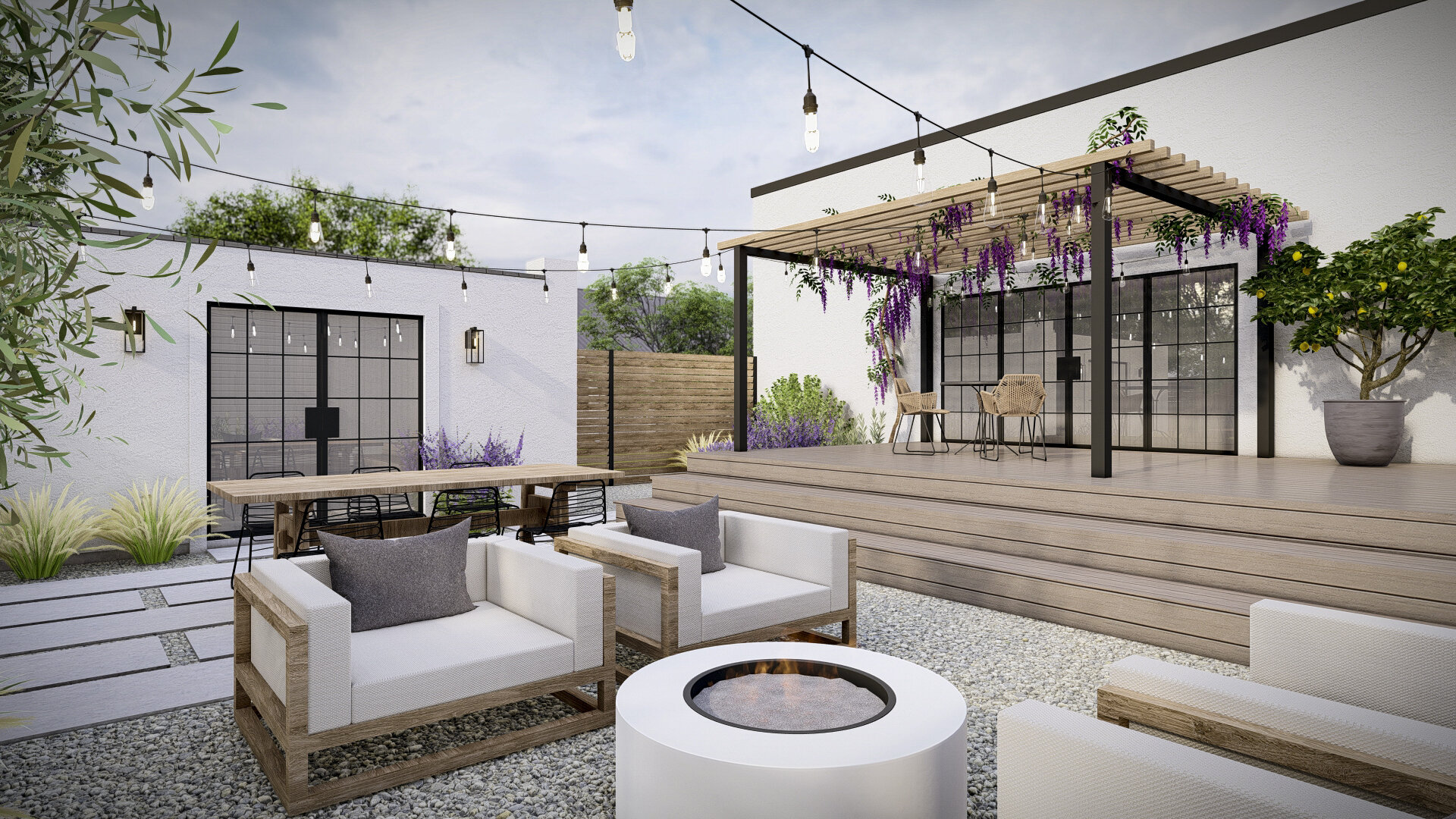 Homeowners Chris and Heather purchased their 1926 bungalow in Berkeley, CA for the home's interior charm. But, the front and backyards left much to desire: lawn in the front and outdated concrete and toxic trumpet trees in the back.
Chris, a developer, and Heather, an ICU nurse, are avid runners and love to spend as much time as possible outside with their two kids and their dog—at home and on the trails throughout the Bay Area. When they purchased their home in 2017, they knew that they would first have to tackle their crumbling foundation, which they quickly checked off the list, but they dreamed of renovating their backyard one day to extend the footprint of their 1,200-square-foot home.
This summer, Chris and Heather started to think about transforming their outdoor space. After 18 months of living at home, they knew the importance of an alfresco living room where they could work, dine, entertain, and relax.
Heather discovered Yardzen through another nurse at work, and due to her and Chris's busy schedules, she opted for the ease of online landscaping and exterior design. Their top priorities for their new backyard:
Creating cohesion between home and yard with a deck that prioritizes indoor-outdoor living

Sustainable materials and habitat-supporting plants throughout

Exterior Design: Reimagining their home office with french doors to allow light in and removing plastic siding.

Low-maintenance everything

Design aesthetic: California casual with neutrals, purples, and greens
The Yardzen team got to work reimagining this Berkeley backyard, taking into account all of Chris and Heather's priorities. The result: an outdoor space that epitomizes the beauty of indoor-outdoor living in California, including eco-friendly materials, like sustainably sourced decking and water-smart hardscaping, and habitat-supporting plants, like salvia and lavender.
Here are some of the key components of this beautiful design.
Indoor-Outdoor Living
Using Yardzen's new Outdoor Transformation package, our talented team created a new backyard and exterior facade that epitomizes indoor-outdoor California living. The key to this flow between home and yard was adding a deck that connects them. Once a steep and slippery step is now a long-lasting TimberTech®  deck with waterfall stairs. The deck also made the french doors off the back possible, adding beauty and light to the interior.
Sustainable Hardscaping Throughout
Because of the homeowner's commitment to sustainable materials in their outdoor space, Yardzen's design team opted for high performance decking from TimberTech, an outdoor living brand that manufactures decking products containing up to 80% recycled content. (The AZEK Company, parent to TimberTech, diverted approximately 400 million pounds of waste and scrap from landfills in 2020, with ambitions to reach one billion pounds annually by the end of 2026.)
Another sustainability-minded decision in this backyard is the mix of gravel and pavers. Neither requires water, which is incredibly important for California. And, together, they create a permeable surface for water absorption, which offsets the water needs of plants in the space. Mixing gravel and pavers is a water-smart decision for many regions throughout the country.
Habitat-Supporting Plants
In Yardzen's onboarding, Chris and Heather told us to "bring on the bees and butterflies" as a way to do their part to support habitat on their small patch of earth. Included in this design are several native and climate-adapted plants, like Verbena, Salvia, and Yarrow. Plus, plenty of Lavender (Heather's favorite).
Exterior Details
Chris and Heather opted for Yardzen's Outdoor Transformation package, which includes paint, siding, windows, and doors, in addition to landscape design. For this space, it was impossible to reimagine the landscaping without first removing the outdated plastic clapboard and resurfacing the facade to match the period-appropriate stucco on the rest of the home. Plus, they removed the dilapidated shed to make room for a wrap-around deck. They also added french doors on the home and garage to optimize the indoor-outdoor living flow and enhance natural lighting in once-dark spaces. Last but not least, they painted the exterior white and added black trim to brighten up the home and yard.
California Casual Style
Chris and Heather purchased their home because of the rich neutrals throughout, from the cream-colored plastered walls to the mahogany trim, all of which recalls the beautiful simplicity of California's Mediterranean origins. They wanted to bring that look and feel into their outdoor spaces with textured hardscaping in neutrals. In the foreground of the design is a mix of pea gravel and poured concrete pavers. In the background is TimberTech's Vintage Collection® in Coastline®, which is a rich greige that works beautifully with the pea gravel and the home's exterior.
The Finishing Touches
To complete the look of the backyard, Yardzen's team selected comfortable pieces in elevated neutrals from some of Yardzen's favorite outdoor living companies. The lounge chairs are from Neighbor, the dining table is from Rejuvenation, the dining chairs are from West Elm, and the bistro table is from Crate & Barrel.