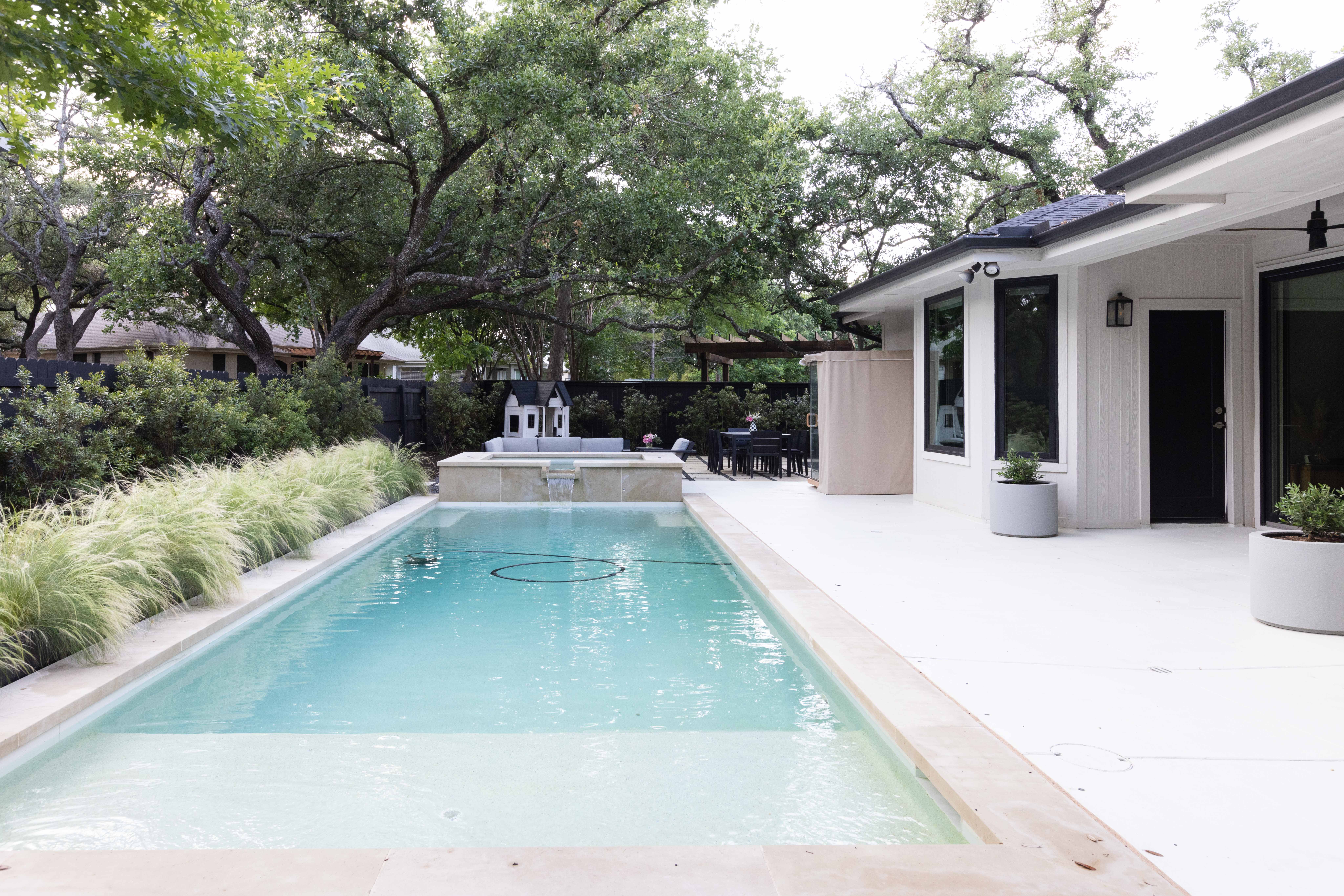 What is a Plunge Pool?
Our current obsession: the plunge pool. The small backyard's (or any outdoor space's) alternative to a traditional pool. Also called a cocktail pool, these are small, deep water features that are perfect for a dip and a float if you have limited space!
Plunge pools are popular not only because they allow backyard pool lounging on smaller lots—they are also commonly used for at-home fitness since they are the perfect size for someone to practice water aerobics or other low-impact workouts on your own from home. If you're into getting fit in the water, but aren't a distance swimmer looking for a lap pool, a smaller pool like a plunge pool is perfect.
Another reason many homeowners prefer a plunge pool is that obviously, they use less water. This is especially compelling for areas affected by drought where cutting gallons of water used by a regular pool is top-of-mind.
Lastly, plunge pools typically cost less than traditional swimming pools. Both for the initial installation, and the cost of ongoing maintenance.
What Types of Plunge Pools are There?
Plunge pools come in many shapes, sizes, and configurations, but options range from concrete, vinyl, or fiberglass in-ground or above ground swimming pools to alternatives including stock tank pools and higher-end hot tubs.
Our Favorite Plunge Pool Designs
Here we've gathered our favorite landscape designs completed for real Yardzen clients that include plunge pools of all types.
Ground Plunge Pool Designs
This in-ground cocktail pool is absolutely gorgeous! It provides the perfect place to cool off without taking up the entirety of this smaller backyard. It is important to keep in mind that in-ground plunge pools are expensive—generally topping out around $40,000 – $50,000.
An absolutely stunning plunge pool is the star of this Santa Cruz, CA backyard.
This custom, in-ground plunge pool carries a higher price tag, but it looks incredible in this tranquil backyard—serving as both a place to cool off and a water feature.
This cocktail pool in Austin utilizes a pre-fab, one-piece fiberglass insert— a great option for a lower-cost, in-ground pool. We love how our designers made use of the awkwardly shaped yard. The long rectangular shape of this cocktail pool still provides plenty of room for splashing and floating.
This traditional landscape design for a backyard in Shaker Heights, OH includes an in-ground concrete plunge pool with paved lounge seating area and surrounding lawn.
An Oceanside, CA backyard design uses fun tile in a custom ground plunge pool to complement tropical plantings.
An Altadena, CA backyard design that makes the most of limited space with natural stone hardscaping around a tiled plunge pool.
In-Deck Plunge Pool Designs
This in-deck plunge pool on a steep slope is the epitome of modern cool.
For this backyard, we enclosed an above-ground pool in a simple wood deck, which creates an elegant, custom look at more affordable price point.
This Playa Del Rey, CA backyard makes space for a modern in-deck cocktail pool flanked by easy-care potted plants and turf.
A small backyard in San Diego, CA makes the most use of space with an in-deck plunge pool nestled between planter boxes and a paved dining area.
Above Ground Plunge Pool and Hot Tub Designs
This Connecticut backyard utilizes a Soake Pool, one of our favorite companies for small pools. Soake Pools are precast above-ground concrete plunge pools and can be the most expensive above-ground option starting at $24,500. However, this pool gives you the best of all worlds—they have heaters so they play double duty as a plunge pool on warm days and a Jacuzzi-alternative during chilly days or evenings!
This zen backyard utilizes an above-ground cedar hot tub. We absolutely love the different models from Gordon & Grant—the smell of the wood and the heat of the water will instantly transport you to your favorite spa. There are also wood-heated cedar tubs out there, too!
Another example of a cedar tub!
This backyard design for a Yardzen client in Katy, TX has a plunge-sized hot tub with wood deck surround for seating while soaking your feet.
An above-ground stock tank pool, like the one pictured above, is an easy, affordable option for adding the functionality of a plunge pool to your yard. Made out of a galvanized drum (used to water cattle!), they can be purchased at retailers like Tractor Supply Company, hardware stores, and H20 Tank Avenue.
To keep the water fresh, consider adding a filtration system—we love this filter DIY from our friend Ashley Petrone.
Work with a Yardzen designer to create a vision for your dream backyard
Yardzen's award-winning online landscape design is tailored to clients in all fifty states in the US.
Our design process begins with understanding your space, your aesthetic preferences, and a discussion of your budget and vision to minimize surprises when it comes time to build.
Our top-notch designers then develop a personalized vision for your yard, shared through 3D renderings, 2D plan drawings, and plant and material lists. Your design will capture the look, feel, and function you are hoping for, all while keeping costs within range.
Once your design is complete, we'll help you connect with a local contractor from our Pro Network of vetted professional landscapers to install your new design.
Ready to see a plunge pool in your dream backyard? Create your design profile or explore our design packages today!