Before & After
Yardzen's new series exploring Yardzen transformations across the country.
Explore real Yardzen yards across the country
Joshua Tree, CA • Jean Luis C.
Desert Glow Up in Joshua Tree
Several outdoor rooms, including a fire pit, hot tub, and covered dining room for maximum outdoor enjoyment
Low-maintenance gravel landscaping
Lighting throughout the yard for all-seasons, day-to-night enjoyment
Concrete retaining walls fortify this sloped yard and add beautiful texture and dimension
Alligator, MS • Rachel B.
An Outdoor Thanksgiving
Added evergreen plantings to the front yard for year-round color and texture
Created a backyard bocce court that doubles as an outdoor dining room
Backyard fire pit for friends and family gatherings
Los Angeles, CA • Jose P.
A Carport Transformed into an Outdoor Dining Room
Expanded the size and function of the yard by transforming the carport
Added high-design elements to match the exterior, including custom concrete pavers
Worked with the horticulture team to add climate-adapted, fast-growing hedges
Increased the home's value by adding livable square footage to the yard
A Carport Transformed into an Outdoor Dining Room
Los Angeles, CA • Jose P.
A Classically Styled Fall Yard in the Midwest
Cleveland, OH • Bre B.
Tropical Spanish-Style Oasis in Tampa
Tampa, FL • Jenna L.
Modern Mountain Escape in Colorado
Boulder, CO • Carrie M.
Charming Low-Maintenance Backyard
Austin, TX • Stacey and Sean M.
Exterior Design for an Interior Designer
New Jersey • Julieta A.
Elegant Edible Landscaping in the Hudson Valley
Hudson Valley • Sarah C.
Design, Dream, Build with Yardzen.
Sign up for our newsletter our take our quiz for more before and afters.
#MyYardzen
Photos of clients enjoying their Yardzen yards.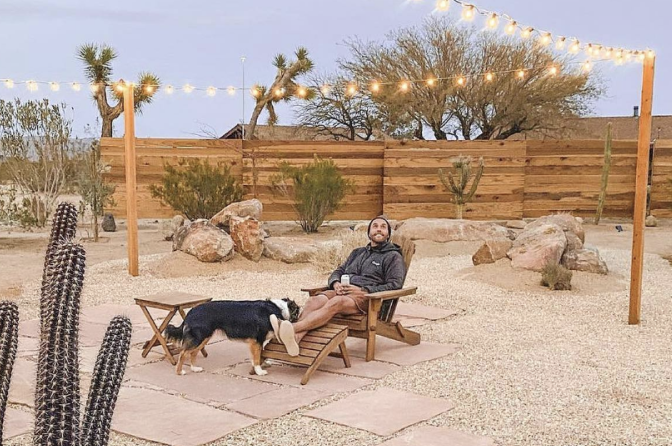 Joshua Tree, CA
Houston, TX
Summerville, SC
Cleveland, OH
West Hampton, NY
Atlanta, GA
Lake Oswego, OR
Loveland, CO