Landscape design & build for Tampa
Yardzen designs everywhere in the U.S. and the Tampa area is one of our favorites. Sun and heat are a way of life in Tampa, the bustling hub of Florida's Gulf Coast.
EXPLORE DESIGN PACKAGES
Climate
Summers in Tampa are sultry, with high humidity, 90-plus temperatures, and frequent afternoon rainstorms (a welcome relief!). Winters dry out and cool off, but "cool" is a relative term – it's comfortable outside virtually all year long, provided you have some shade to escape to during the peak of summer.
Outdoor Living
Landscape design can make the most of what Tampa has to offer. Be it providing ways to beat the summer heat, creating flexible spaces for time outside with family and friends, or developing planting designs tailored to the subtropical climate, Yardzen has done it all for our Tampa clients.
Design & Build
Whatever your landscape vision may be, Yardzen is ready to make it a reality, working with you to craft a landscape design that achieves the look, feel, and function you are dreaming of, then connecting you with a vetted contractor from Yardzen's Pro Network to get your design built.
TRUSTED BY THE EXPERTS


TAMPA, FLORIDA LANDSCAPE DESIGN GALLERY
POPULAR LANDSCAPE AMENITIES IN TAMPA YARDS
Simple and thorough online process
Take a style quiz, share videos and photos of your existing outdoor space, and learn about the costs in our Yard Builder™ tool. Our design team will help you at every step of the process.
GET STARTED >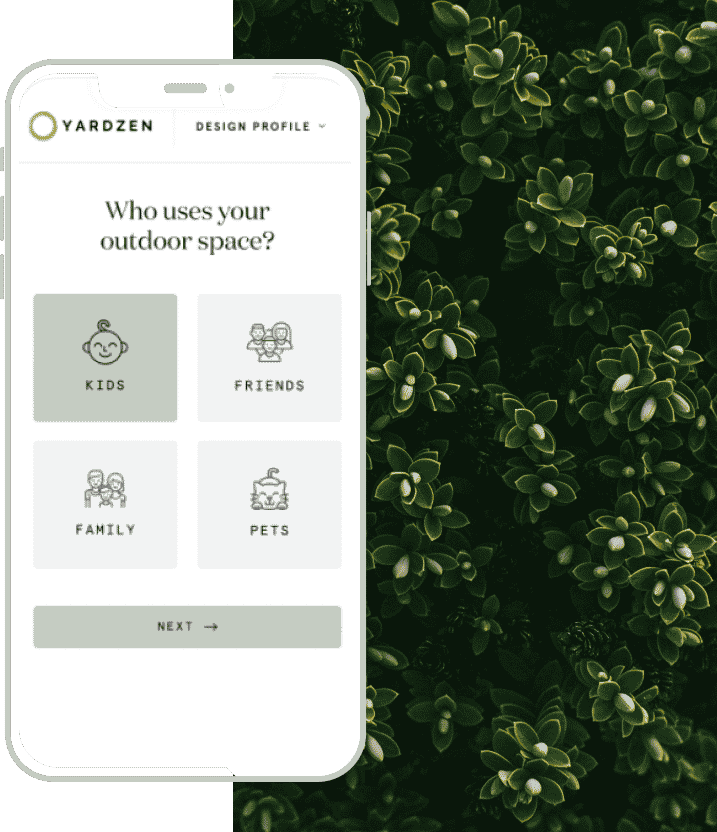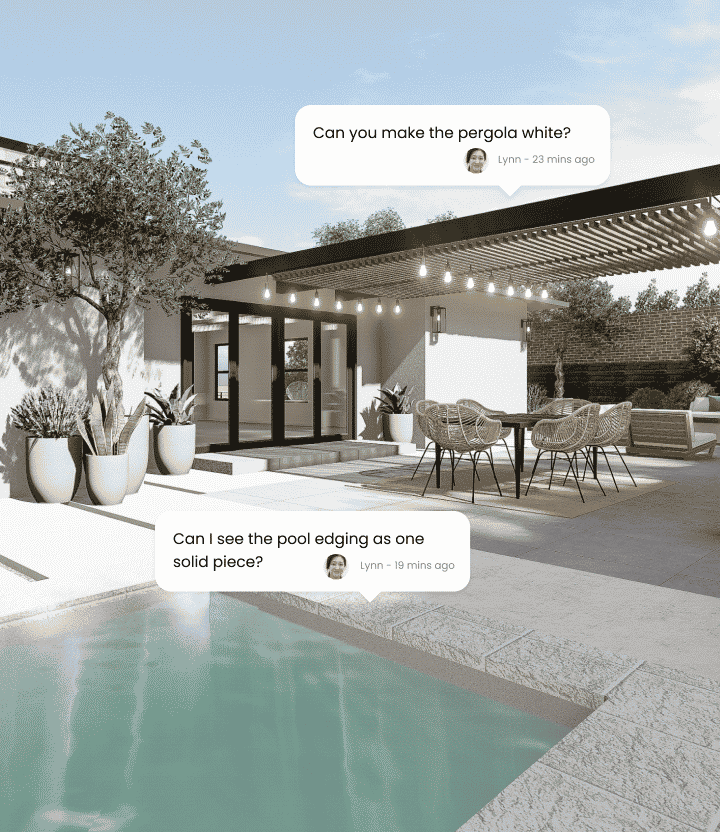 The easiest path to a final design you'll love
Review your first design in our online Feedback Studio. You'll be able to share feedback before we start incorporating your changes. A live design review call is also available to help get your project ready for installation.
GET STARTED >
Built by someone you (and Yardzen) trusts
We'll translate your 3D design concepts into a detailed CAD plan that's ready to install. Next, we'll connect you to a vetted, Tampa area landscape contractor who can bring your dream yard to life.
GET STARTED >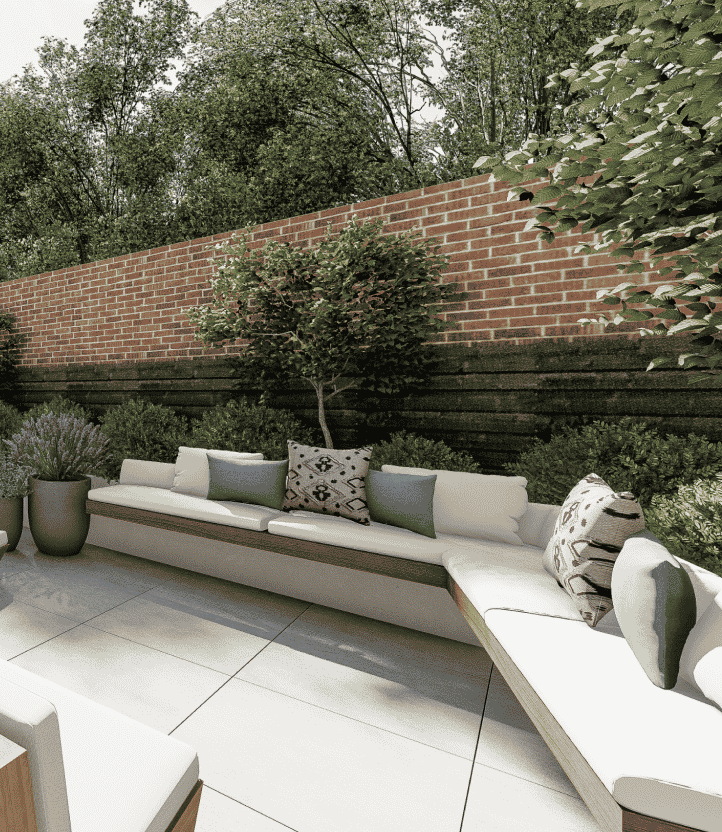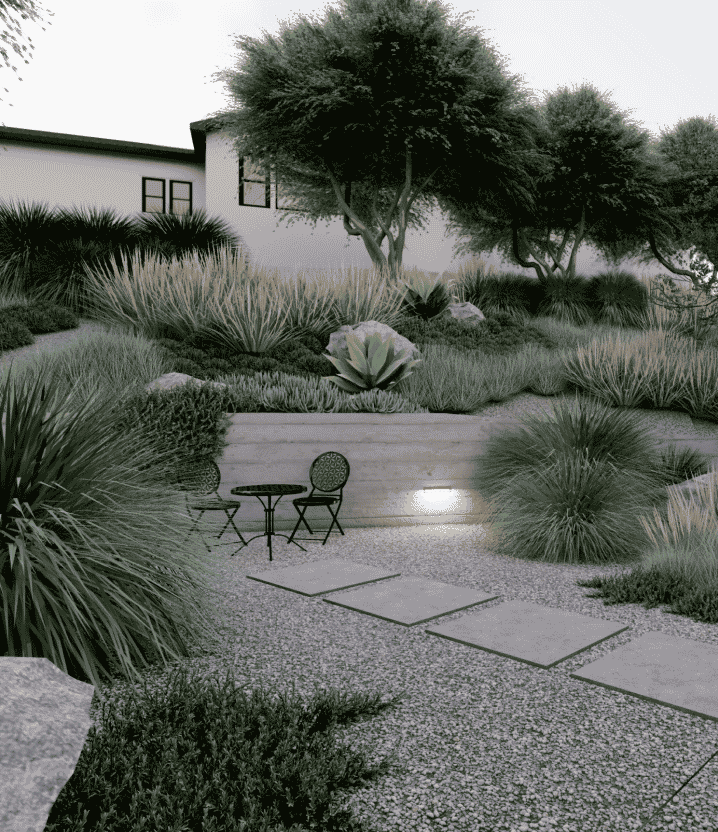 Custom designs for your unique outdoor space
We've built a database of plants, trees, and groundcovers that match to Tampa's planting zones, sun/shade/water requirements, aesthetic, and essential features like native plants. Using satellite and aerial imagery, coupled with your photo, video, and factoring in your details, we can create the outdoor space of your dreams.
GET STARTED >
WHICH YARDZEN PACKAGE IS RIGHT FOR YOU?
Take our YardBuilder quiz to find out.
GET STARTED

1. Tell us about your unique outdoor space

2. Answer a few questions about your dream yard

3. Get a personalized design package recommendation
WHAT YARDZEN CLIENTS ARE SAYING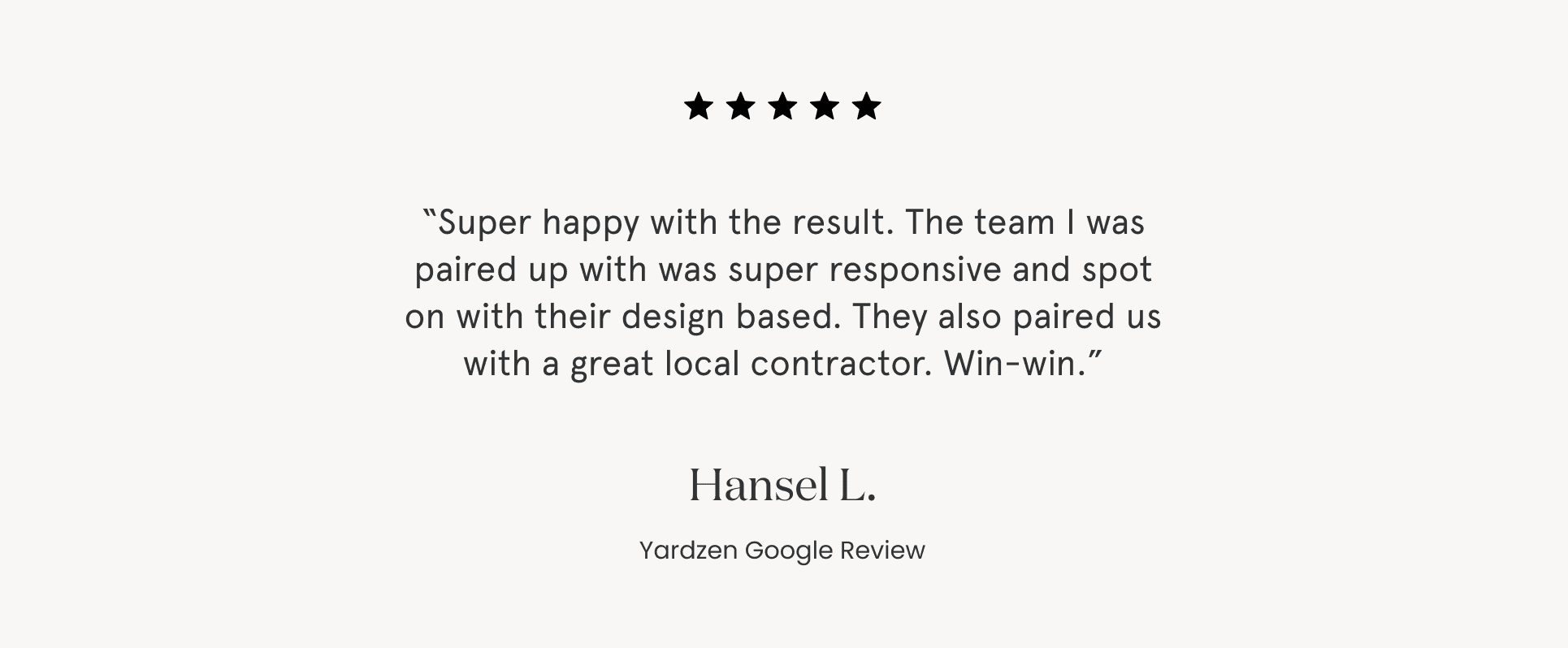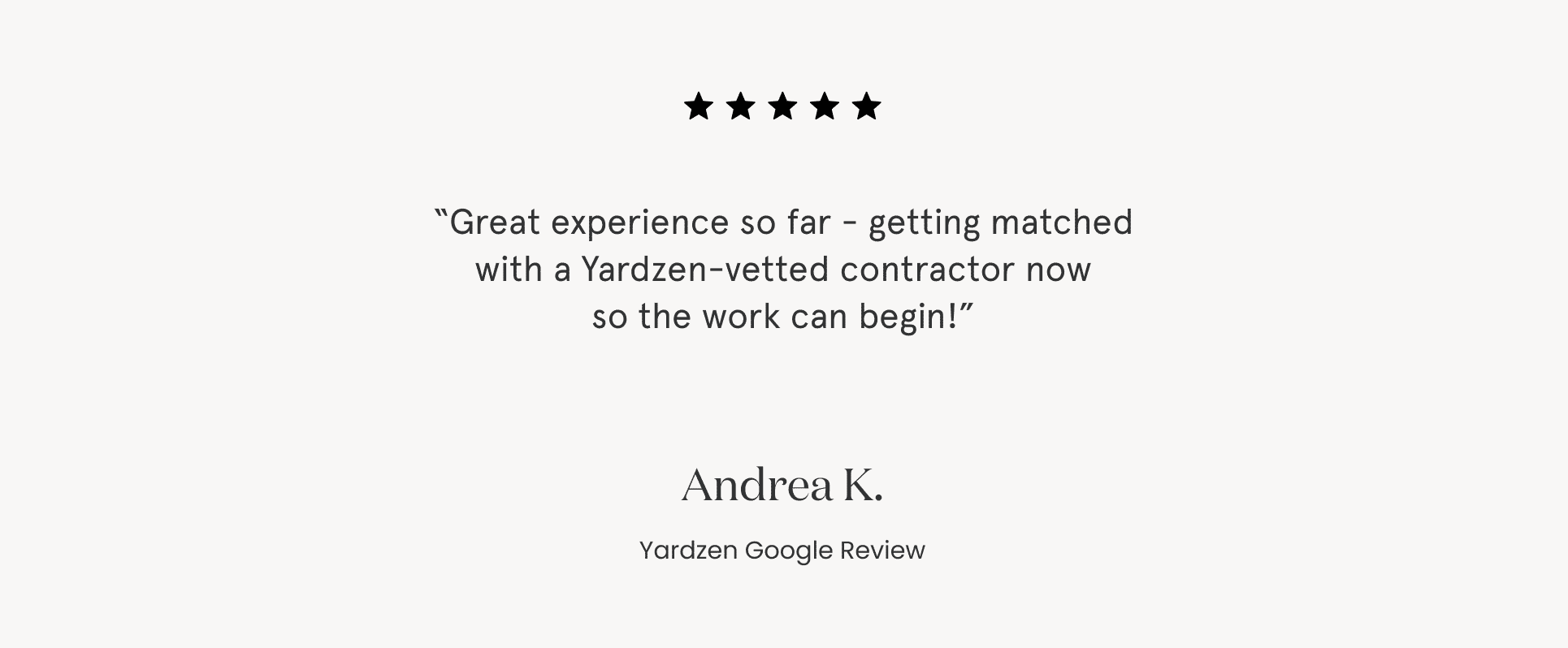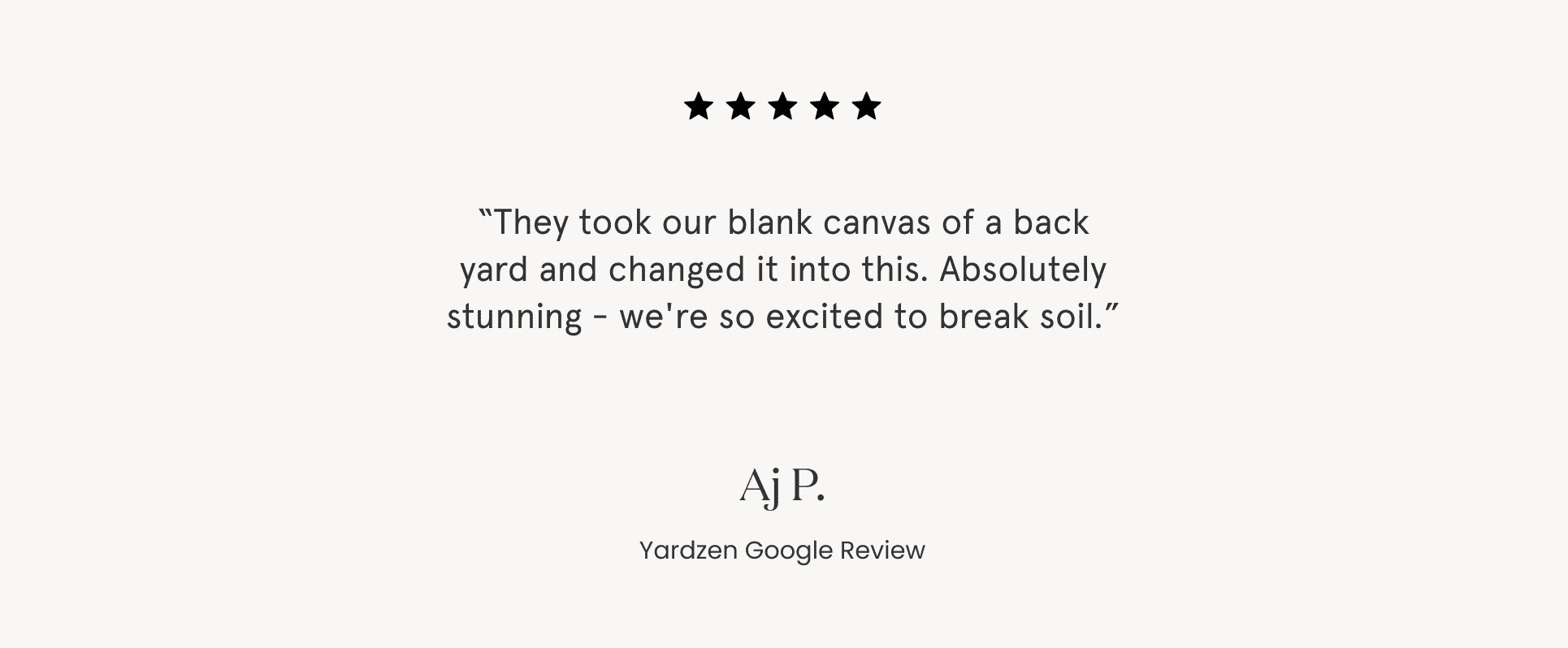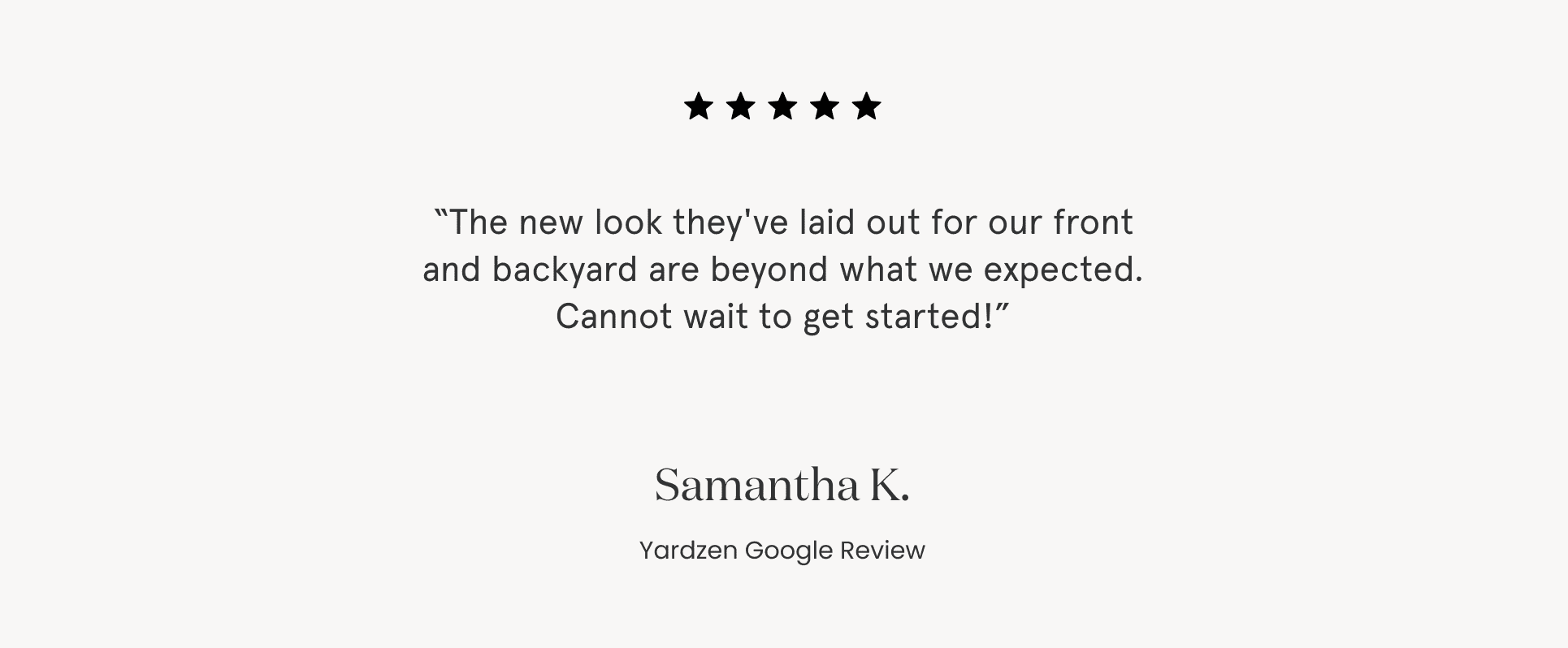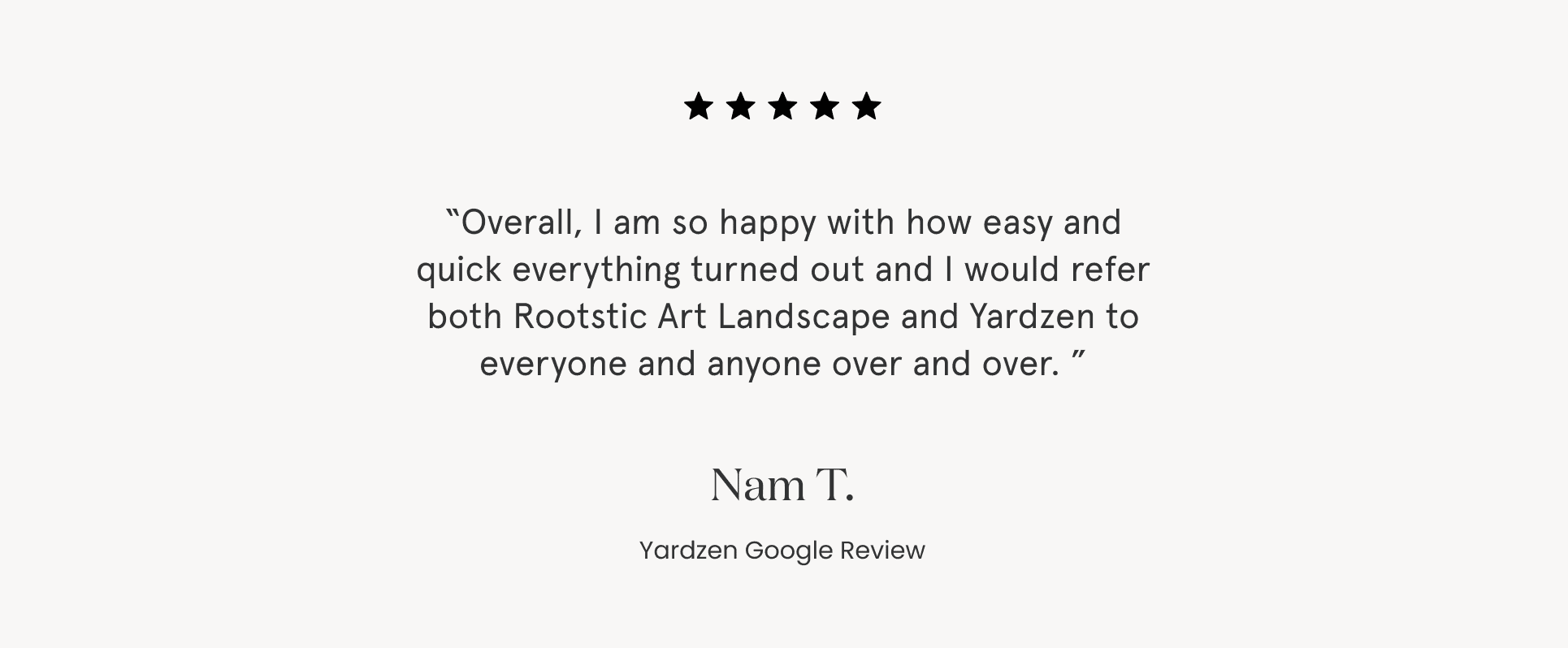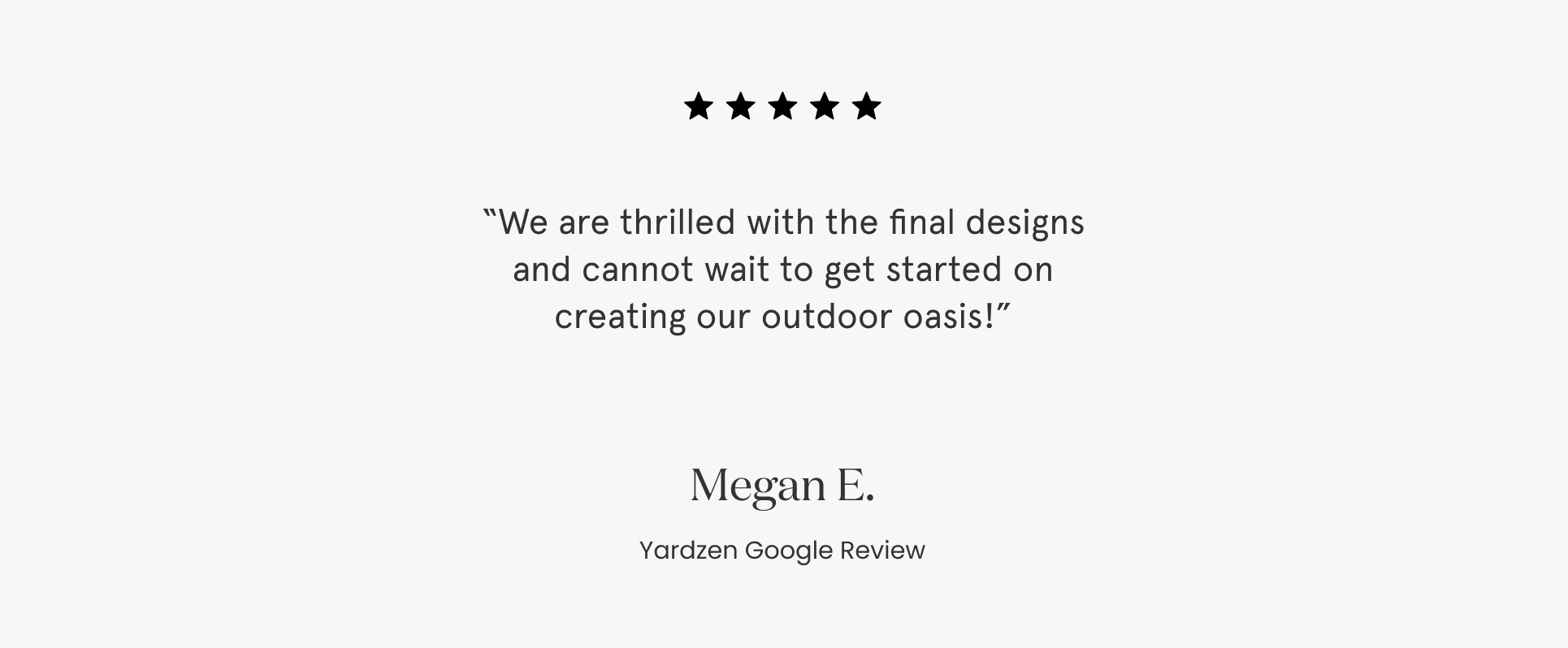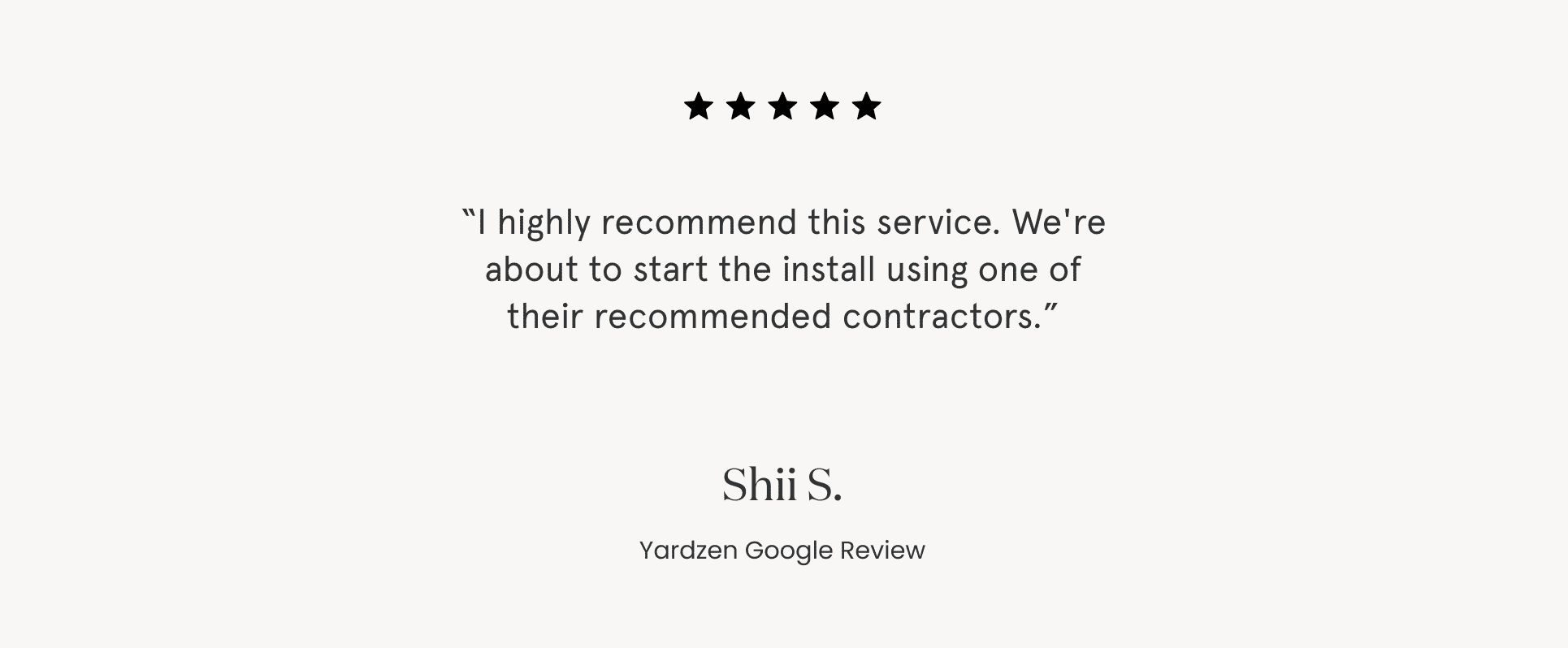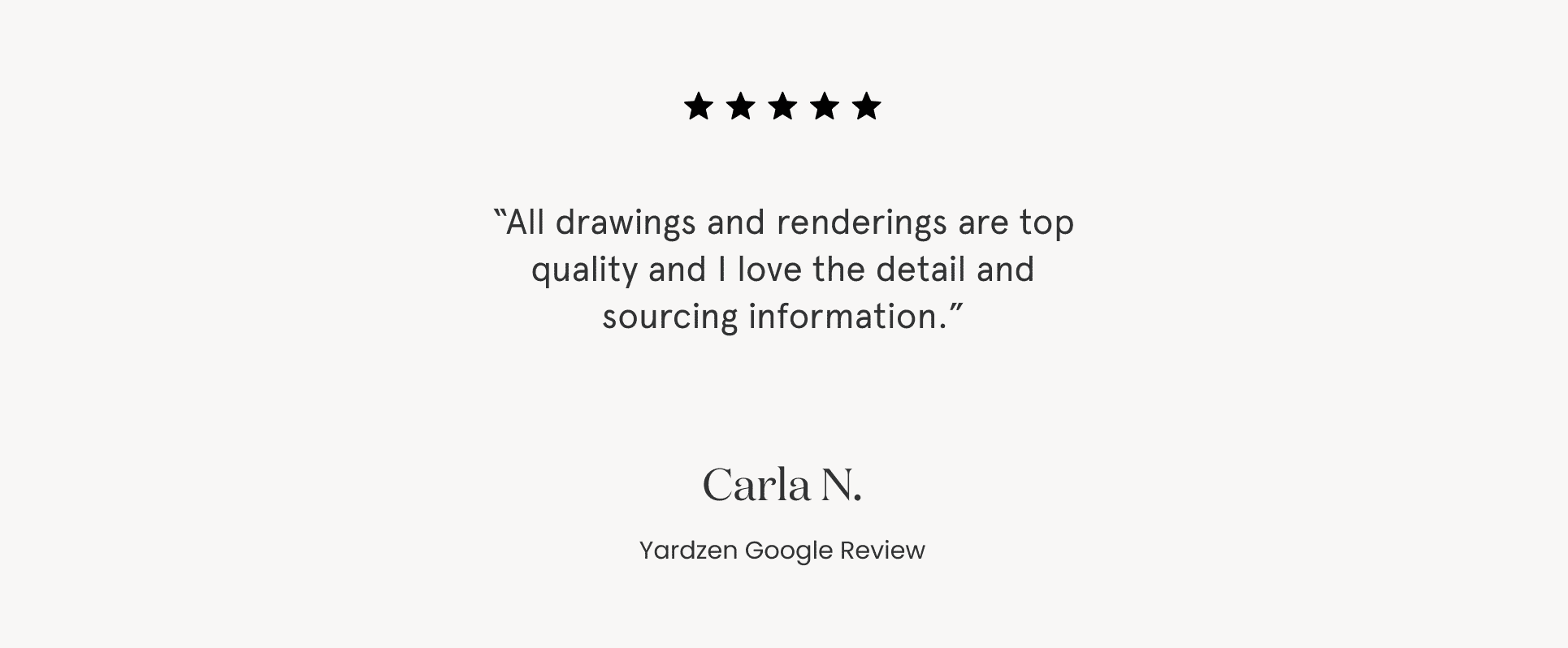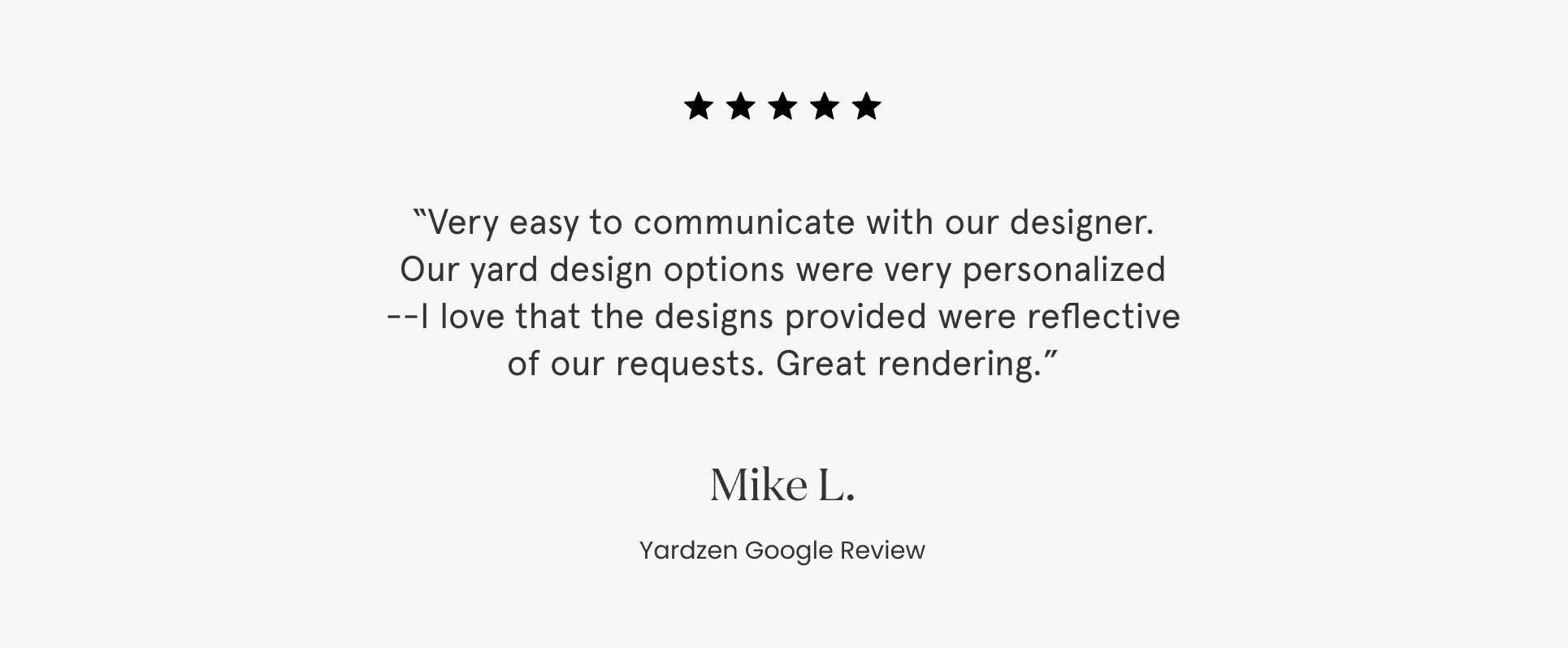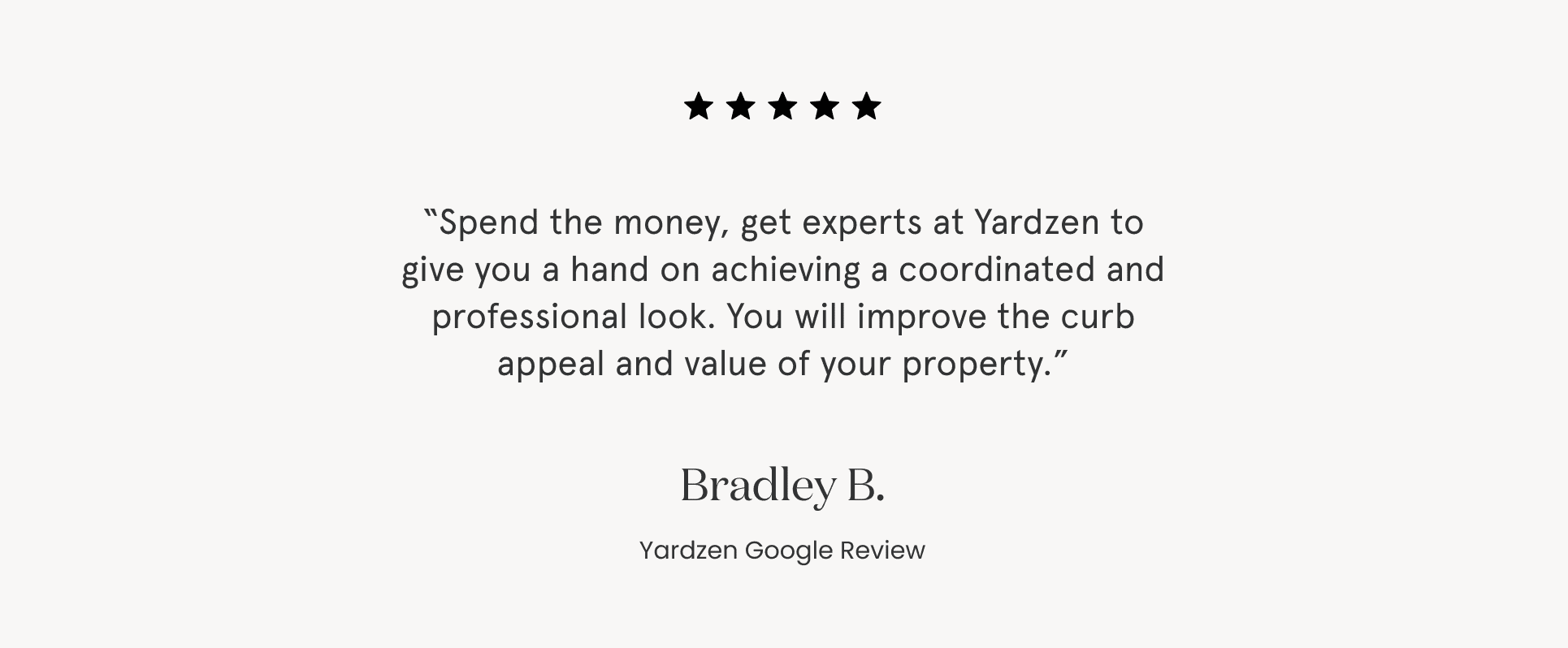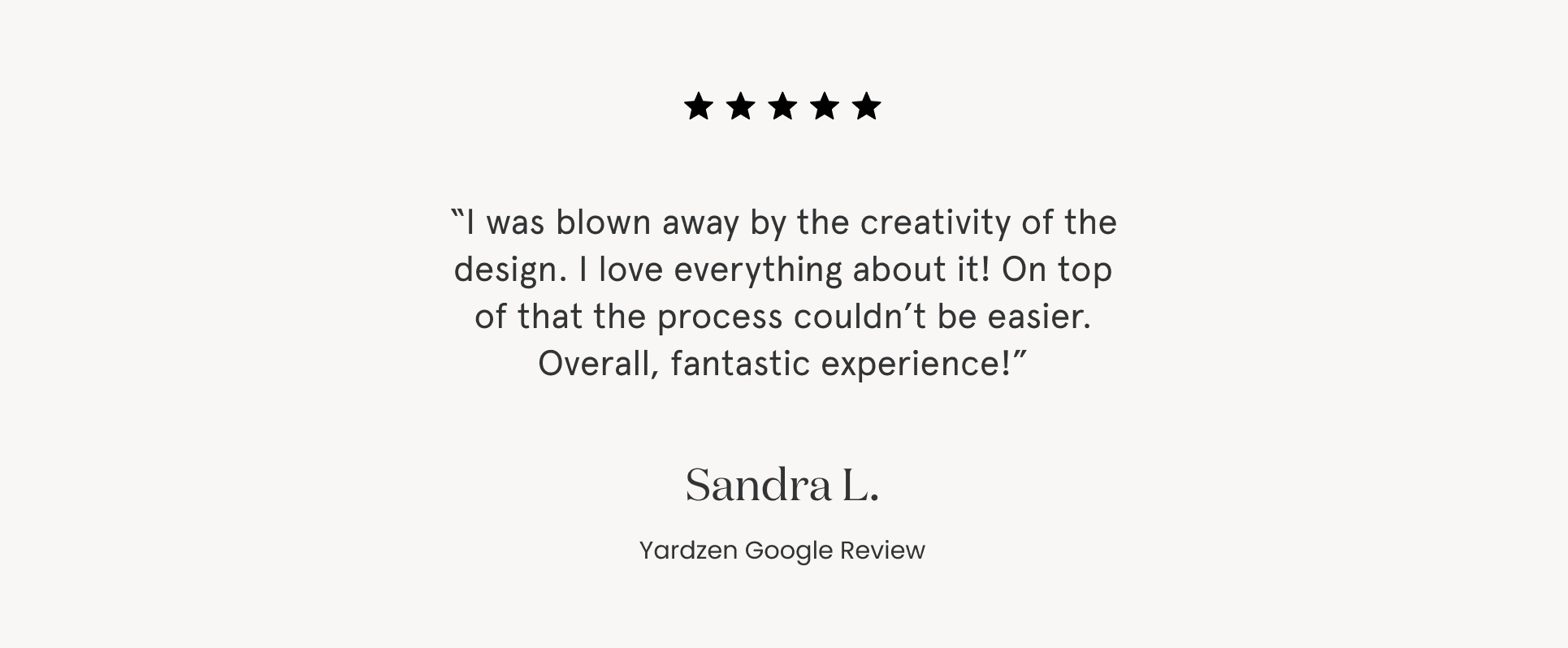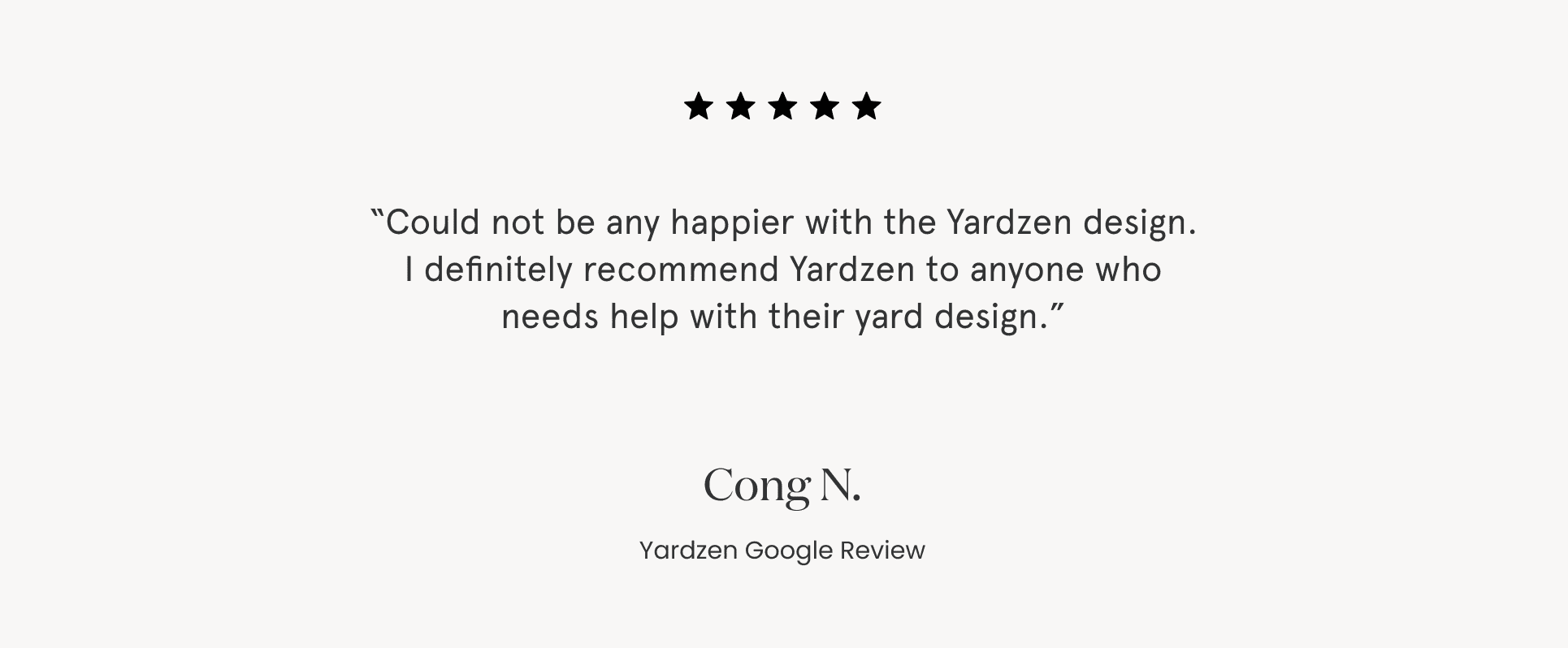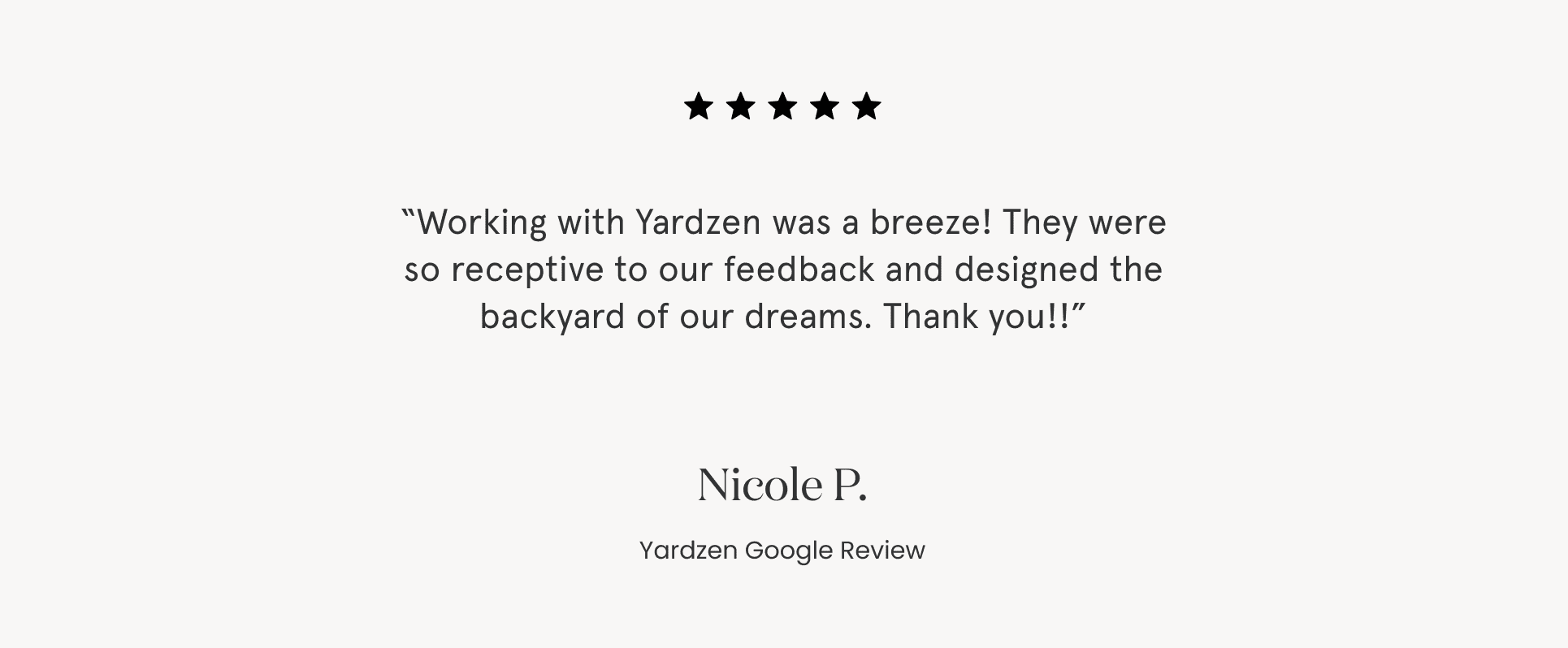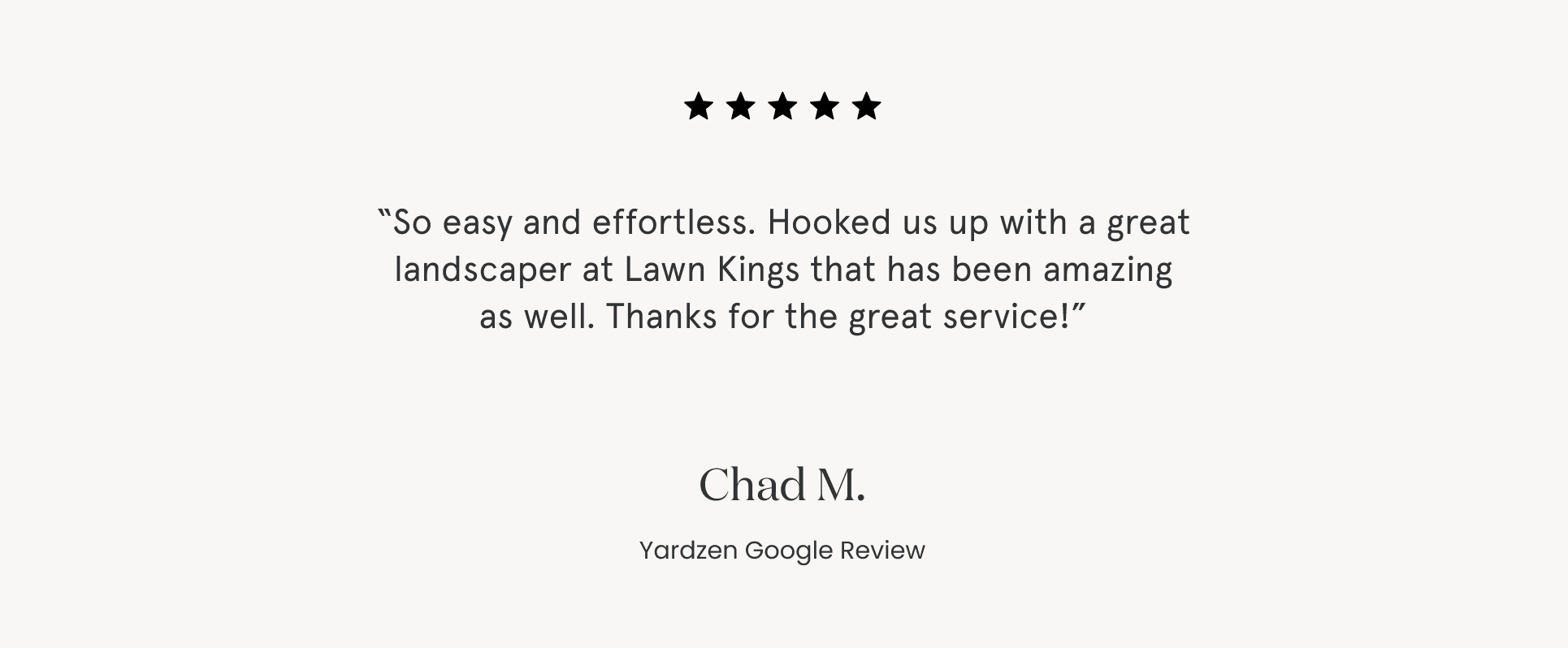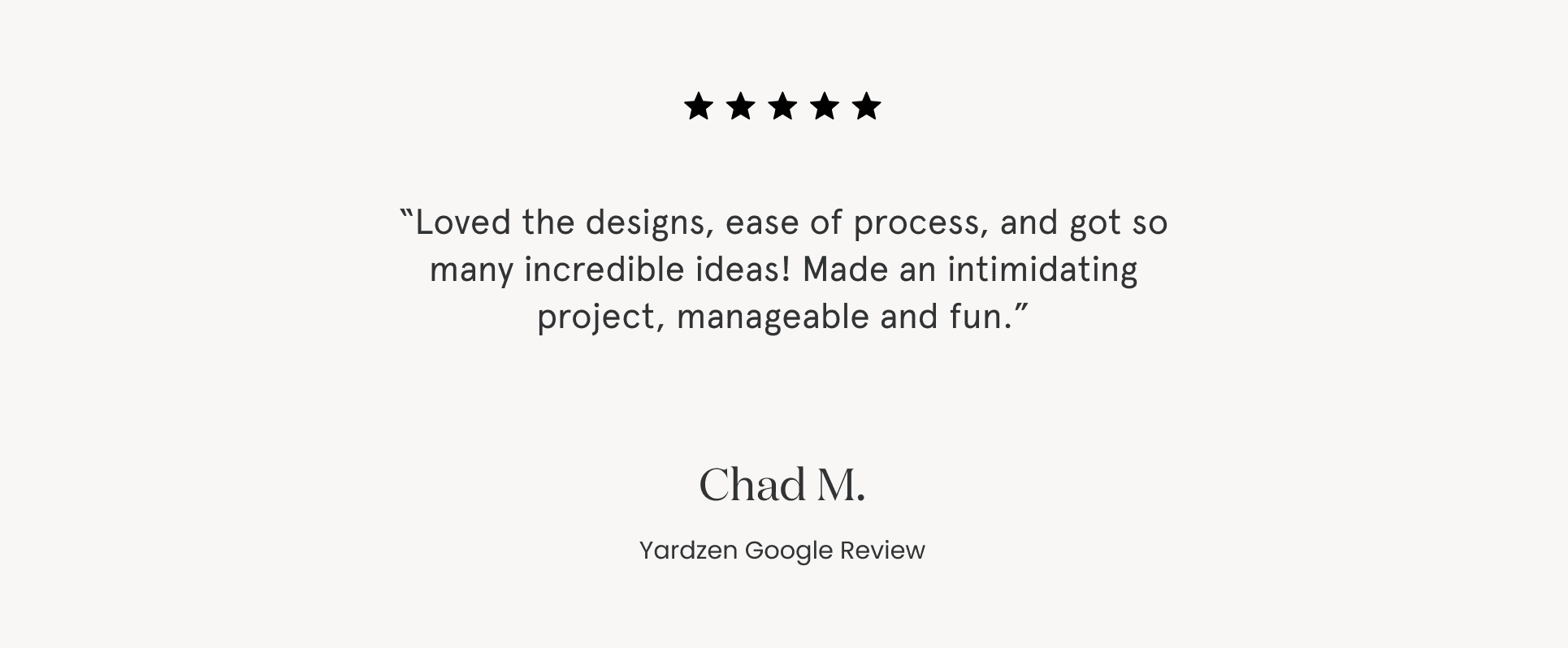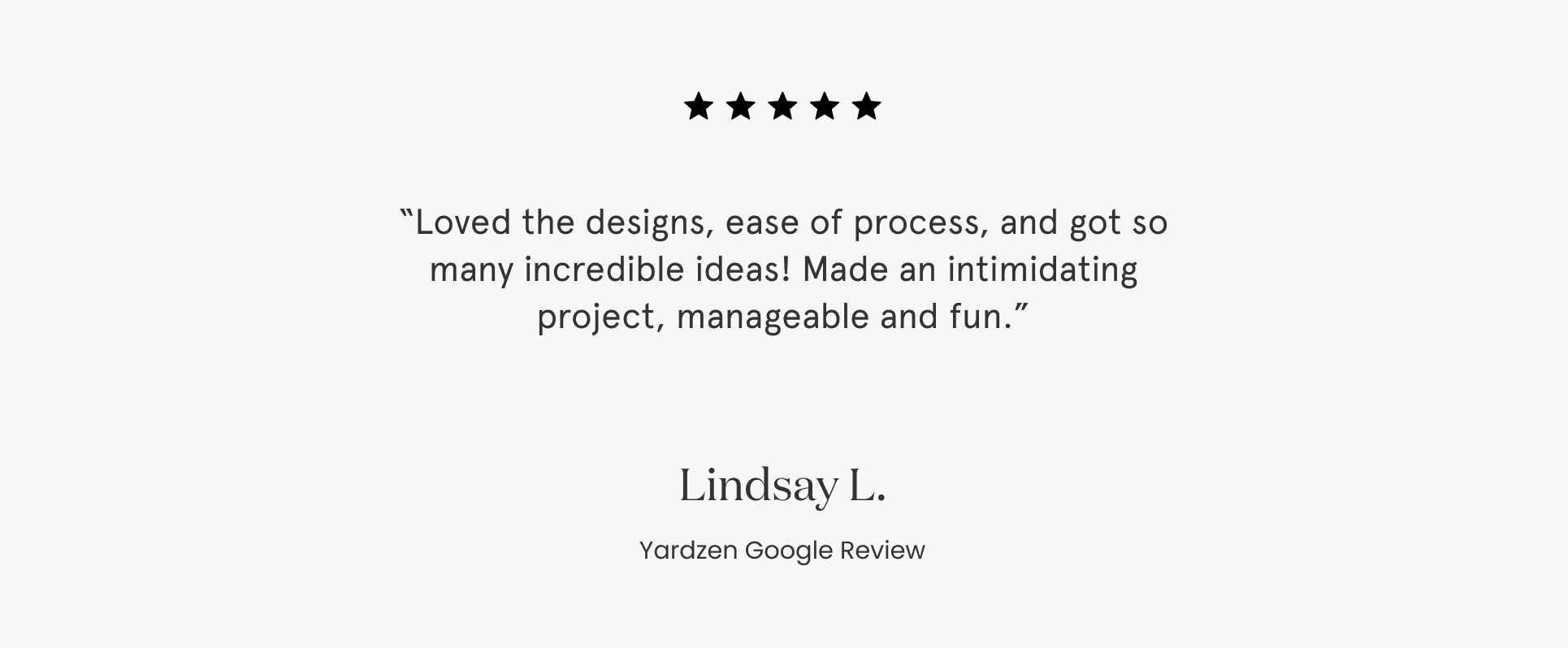 TAMPA LANDSCAPING FAQS
What design styles are popular with Tampa homeowners?
Landscape designs in Tampa season the hedge-and-lawn backbone of traditional English colonial designs with a healthy dash of tropical flavor. Palms, big-leafed evergreens, and ferns are staples, commonly juxtaposed with boxwoods (or boxwood-esque shrubs, like the Natal Plum).
Boldly colored flowers and accent plants like Cordyline and Croton also feature heavily. Lushness and rich coloration are the default, appropriately evoking the humid, verdant character of the regional landscape.
Modern minimalism has less of a hold here than in the west – rather, we see undulating lines, luxurious stone paving, warm neutral hardscape tones, and traditional flourishes like tiered water features.
What are popular features in Tampa landscapes?
Tampa landscapes are built for outdoor living, regularly featuring outdoor kitchens and dining areas, flexible lounge spaces for entertaining family and friends, and even outdoor showers.
Swimming pools of all sizes along with simpler decorative water features are popular and effective choices for keeping cool, whether or not you actually get wet. Shade trees, shade sails, umbrellas, and pergolas are also frequent requests. Pergolas are particularly popular for their multifunctionality, creating breezy outdoor rooms that double as ready-made focal points.
Surprisingly, fire pits and hot tubs – also popular landscape elements – are also great amenities to beat the summer heat, offering a fun activity to get you outside during the cooler evening hours. Fire pits and hot tubs work double-duty, providing a heat source to keep you outside through the odd cold snap that hits the city.
Landscape lighting is a top request for similar reasons, helping to create a welcoming environment for comfortable evenings outside.
Should I use plants native to Tampa in my landscape?
Regardless of where you live, native plants are a fabulous choice for your landscape. Having evolved to thrive in the local climate, native plants typically require fewer inputs of water, fertilizer, and maintenance than species introduced from elsewhere. If you're looking for great plant performance with less expense and fuss, natives are a great place to start.
At the same time, native plants offer unrivaled habitat value for local wildlife. They also help designed landscapes feel connected to the broader regional landscape.
Looking for a few natives to get you started? Beautyberry, the sabal palm, firebush, wild lantana, and bald cypress trees are all excellent landscape plants with a strong regional identity. And for those looking for hedges, the Southern wax myrtle makes for a great native option.
What are top considerations for Tampa landscapes?
Despite the wet summers, drought can be a serious issue in Central Florida, including the Tampa Bay region. Drought tolerant plants, especially drought tolerant natives, can withstand dry spells and will save money on irrigation to boot. Sabal palm, passion flower, and pink Muhly grass are a few of many drought-tolerant natives available for landscapes in the Tampa area.
Wind and salt tolerance are other factors to consider. To avoid damage to your planting designs, opt for plants like beautyberry, which can withstand hurricane winds, or sea grape and sea-oxeye daisy, which have high salt tolerance.
Heavy rains also can raise drainage challenges. Utilizing proper stormwater management techniques can capture water in desirable locations, recharging groundwater while minimizing the mess that unchecked stormwater can spread across a property.
Given the abundant heat and sunshine, solar exposure should be accounted for – avoid exposing outdoor spaces to harsh afternoon light by positioning shade trees or structures to their south and (especially) west.
When should I start my landscaping project?
Now! Any time of year is great to begin work on a landscape project.
When possible, we suggest utilizing the winter to work through the design phase – this sets you up to get on contractors' books early in the build season, so you can have your design installed and ready to enjoy in time for summer.
If winter has passed, don't worry, it's never too late in the year to begin work on a landscape design project.
Tampa Back Yard Landscape Design with Concrete Paver Patio, Plunge Pool, and Deck with Seating Area and Hot Tub
"Highly suggest Yardzen. The online process made everything super easy and efficient. Thank you to the entire Yardzen team."
Shannon M., Yardzen client
Yardzen creates local landscape designs in:
Apollo Beach, Balm, Brandon, Dover, Durant, Gibsonton, Lithia, Lutz, Mango, Odessa, Plant City, Riverview, Ruskin, Seffner, Sun City, Sun City Center, Sydney, Thonotosassa, Valrico, and Wimauma.
Explore other Florida landscape designs by Yardzen