Landscape design & build for Portland
Yardzen designs everywhere in the U.S. and the Portland area is one of our favorites. Urban cool, riverfront views, and that abundant Northwestern green – Portland has a lot going for it.
EXPLORE DESIGN PACKAGES
Climate
For much of the year, you can enjoy Portland's mild climate with little more than a jacket. Summers are gorgeous and mild, albeit rather brief. Rain is a regular visitor, as are cloudy skies, but gray weather suits the place, bathing the landscape in that soft light that photographers dream of.
Plants
Plants grow abundantly in Portland. It's the kind of place designers love to work in, ourselves included. Landscape design can help Portland residents get the most from their outdoor spaces. Be it areas for hosting family and friends, a warm nook to keep you outside through the cooler seasons, or simply a stronger sense of connection with the gorgeous surrounding landscape, Yardzen has done it all for our Portland clients.
Design & Build
Whatever your landscape vision may be, Yardzen is ready to make it a reality, working with you to craft a landscape design that achieves the look, feel, and function you are dreaming of, then connecting you with a vetted contractor from Yardzen's Pro Network to get your design built.
TRUSTED BY THE EXPERTS


PORTLAND, OREGON DESIGN GALLERY
POPULAR AMENITIES IN PORTLAND YARDS
Simple and thorough online process
Take a style quiz, share videos and photos of your existing outdoor space, and learn about the costs in our Yard Builder™ tool. Our design team will help you at every step of the process.
GET STARTED >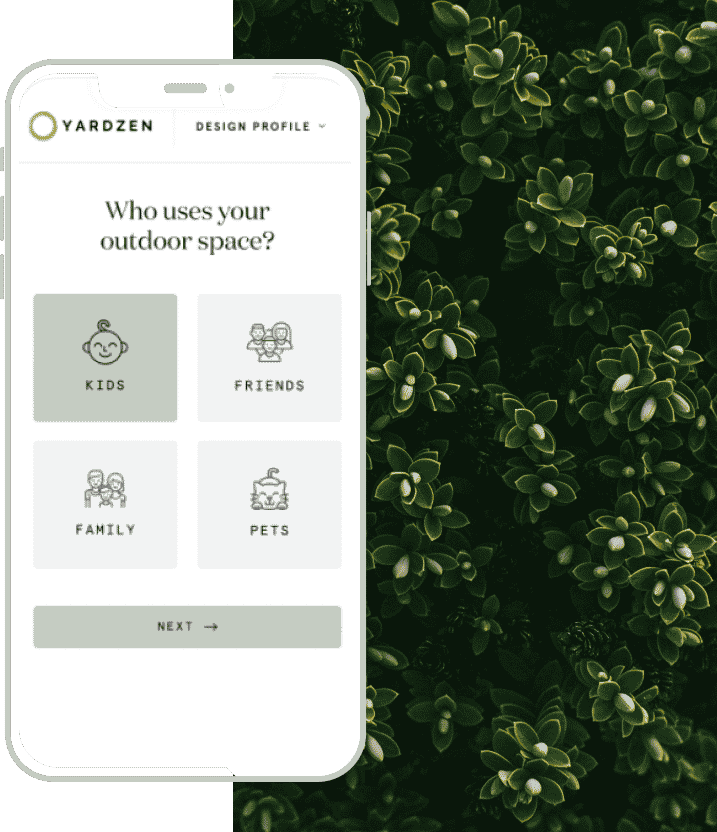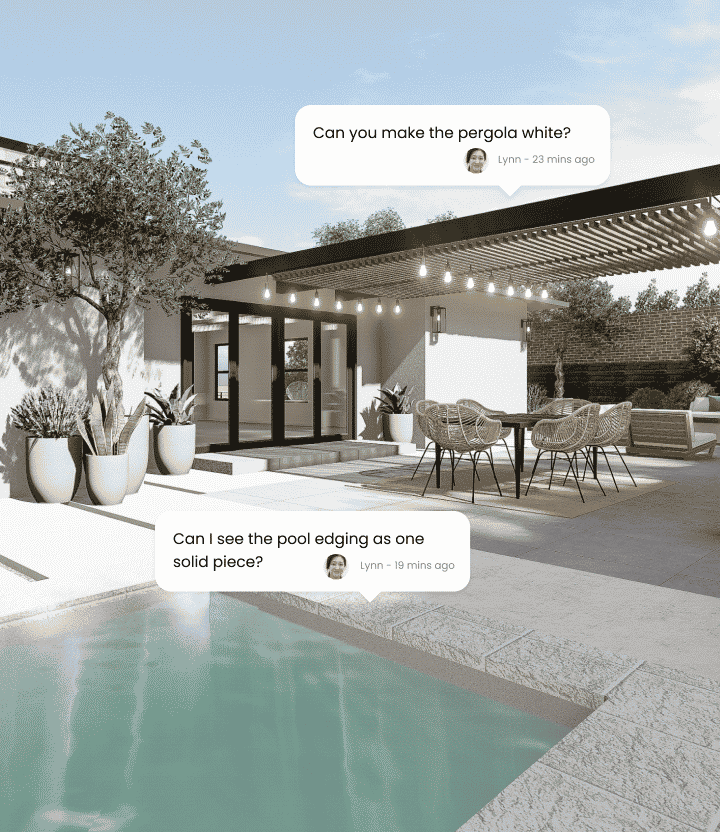 The easiest path to a final design you'll love
Review your first design in our online Feedback Studio. You'll be able to share feedback before we start incorporating your changes. A live design review call is also available to help get your project ready for installation.
GET STARTED >
Built by someone you (and Yardzen) trusts
We'll translate your 3D design concepts into a detailed CAD plan that's ready to install. Next, we'll connect you to a vetted, Portland area landscape contractor who can bring your dream yard to life.
GET STARTED >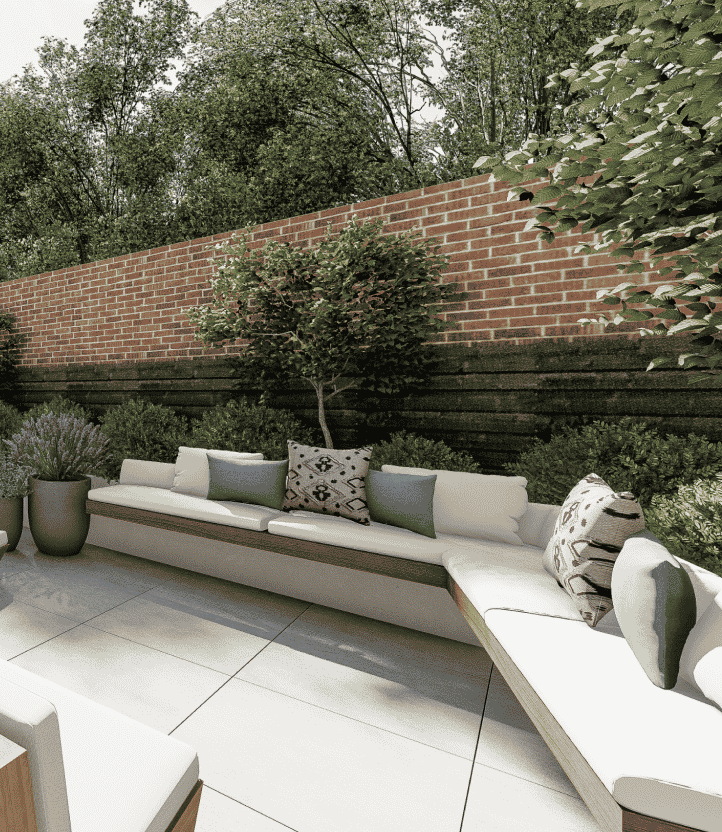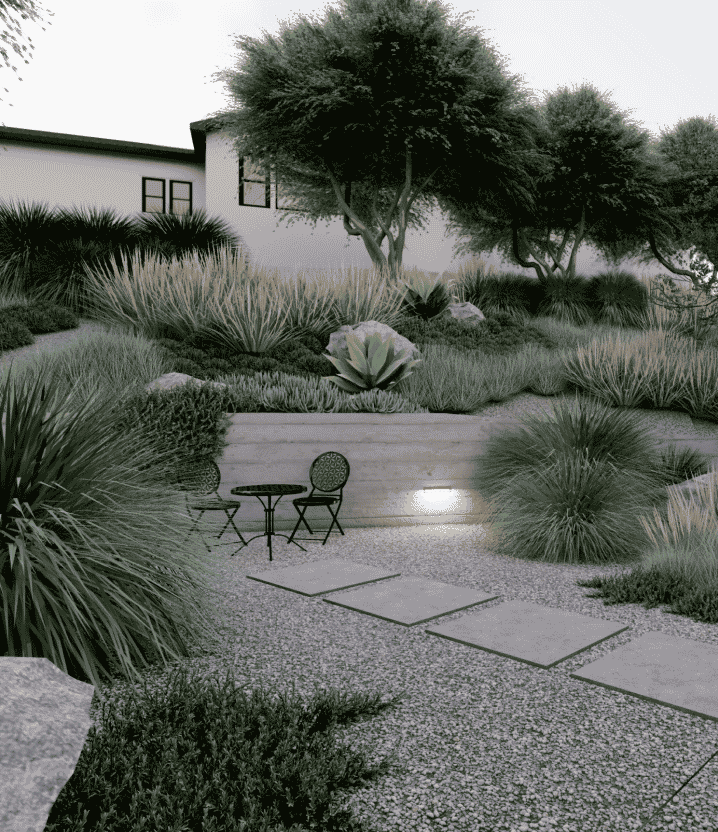 Custom designs for your unique outdoor space
We've built a database of plants, trees, and groundcovers that match to Portland's planting zones, sun/shade/water requirements, aesthetic, and essential features like native plants. Using satellite and aerial imagery, coupled with your photo, video, and factoring in your details, we can create the outdoor space of your dreams.
GET STARTED >
WHICH YARDZEN PACKAGE IS RIGHT FOR YOU?
Take our YardBuilder quiz to find out.
GET STARTED

1. Tell us about your unique outdoor space

2. Answer a few questions about your dream yard

3. Get a personalized design package recommendation
WHAT YARDZEN CLIENTS ARE SAYING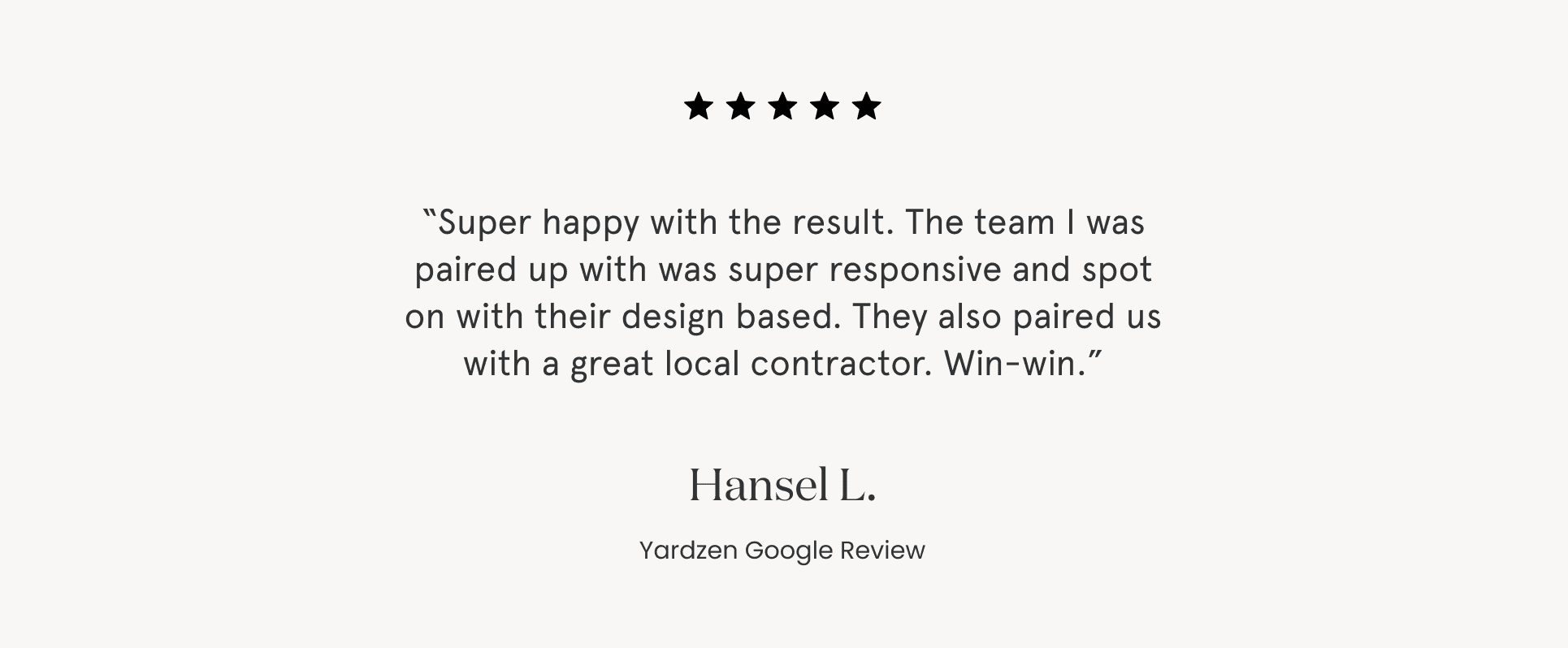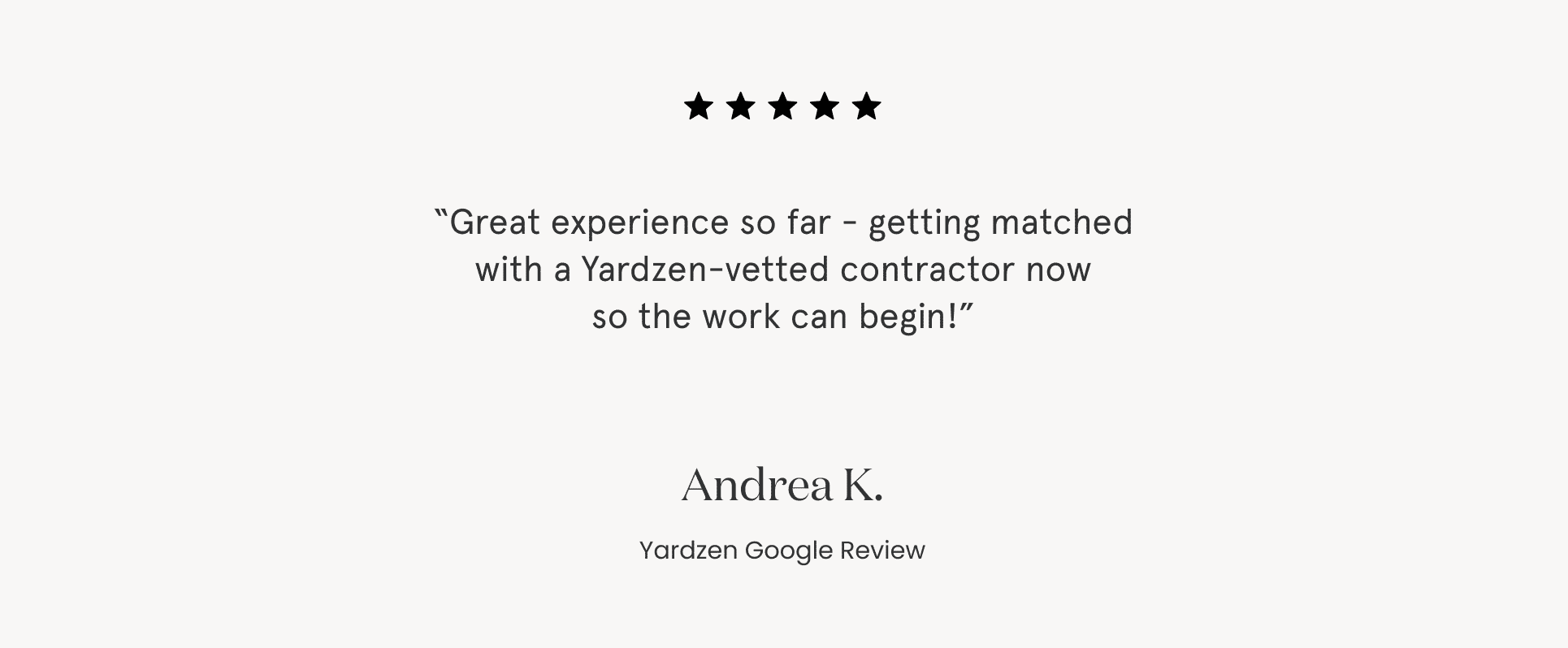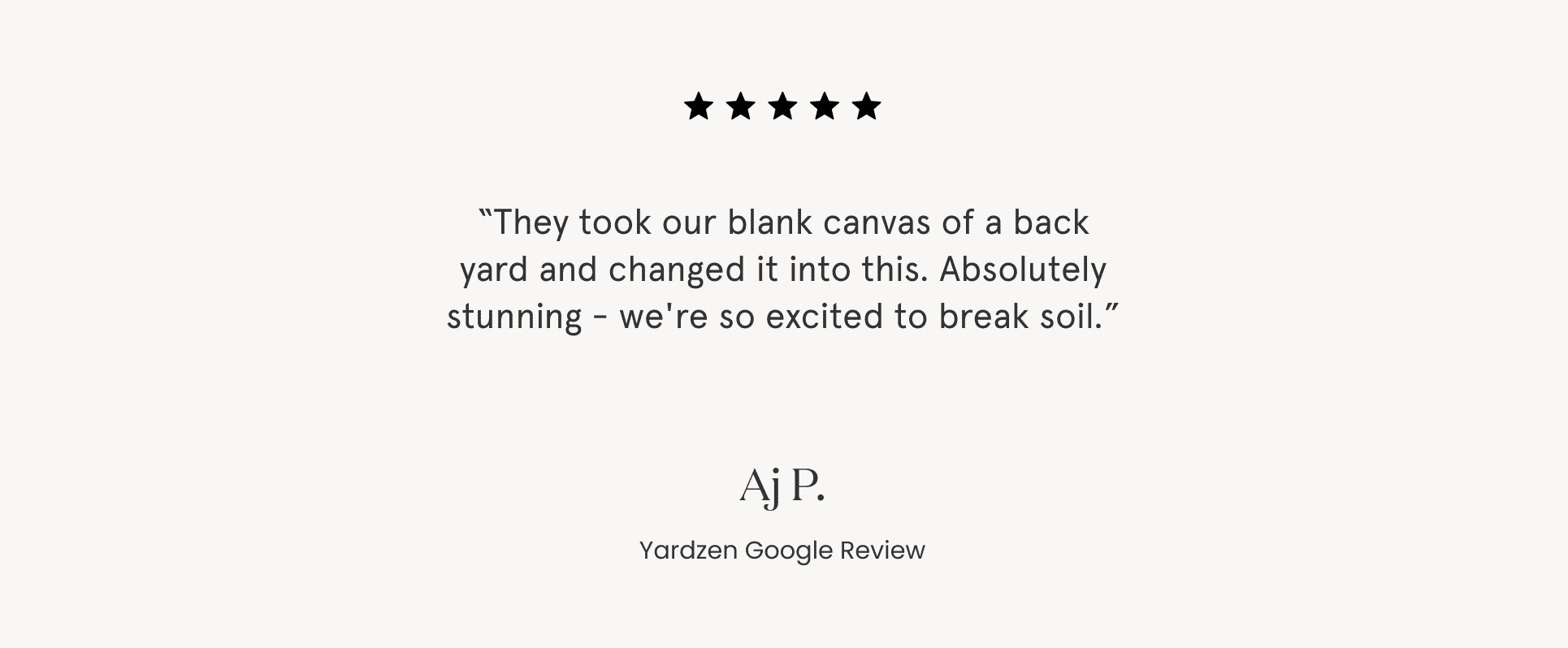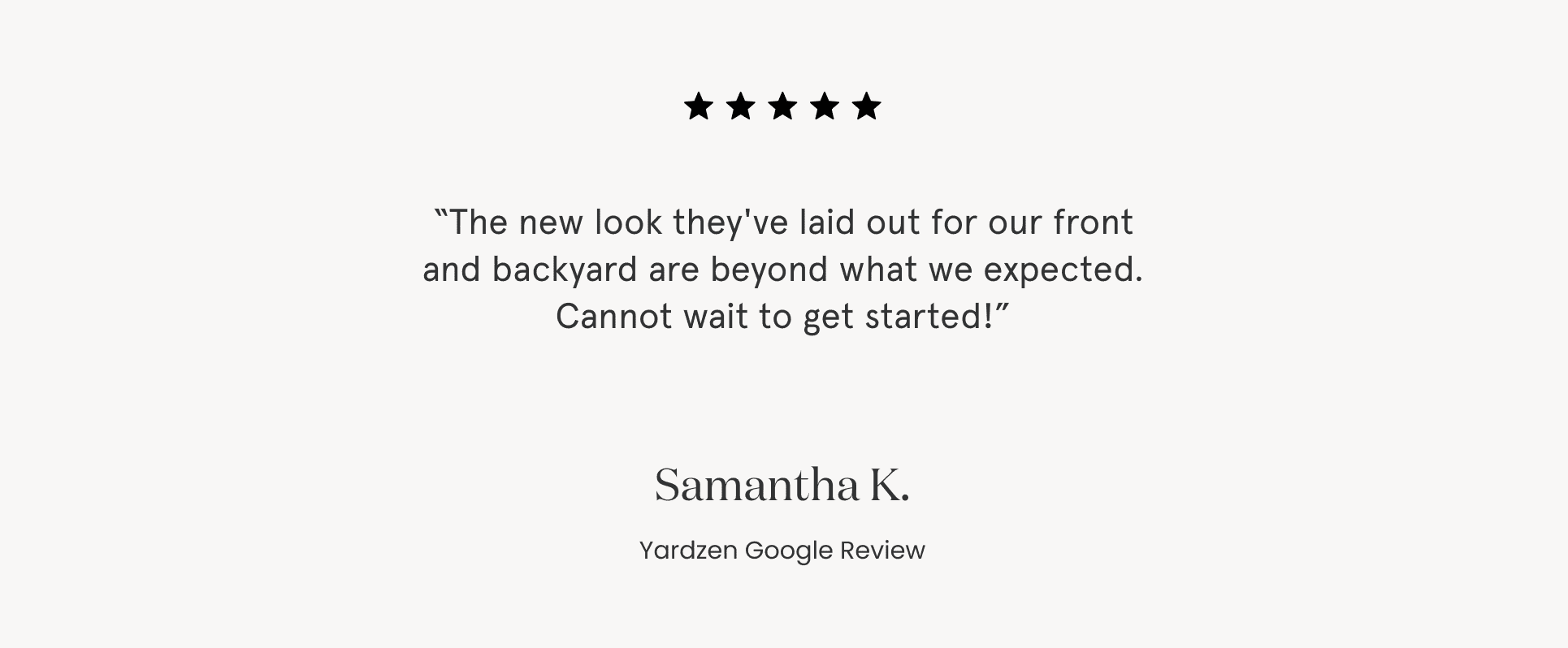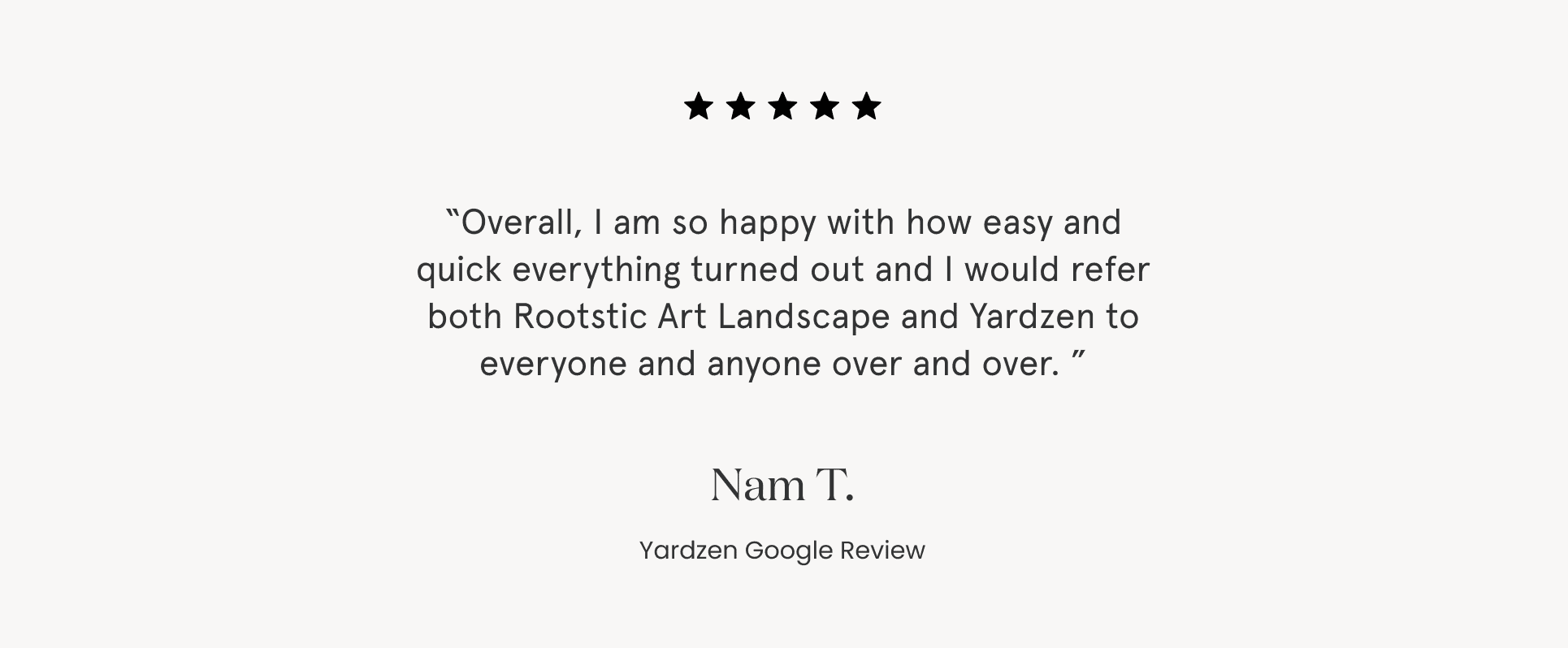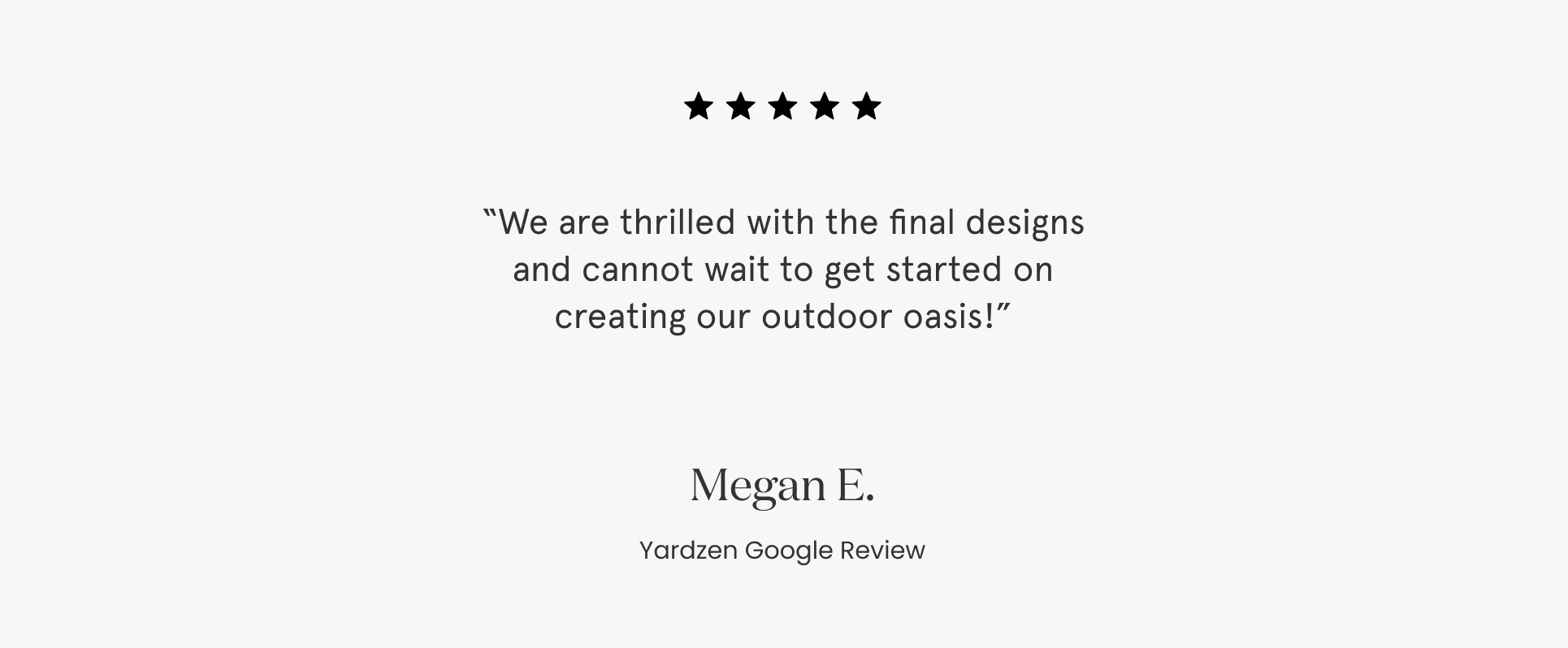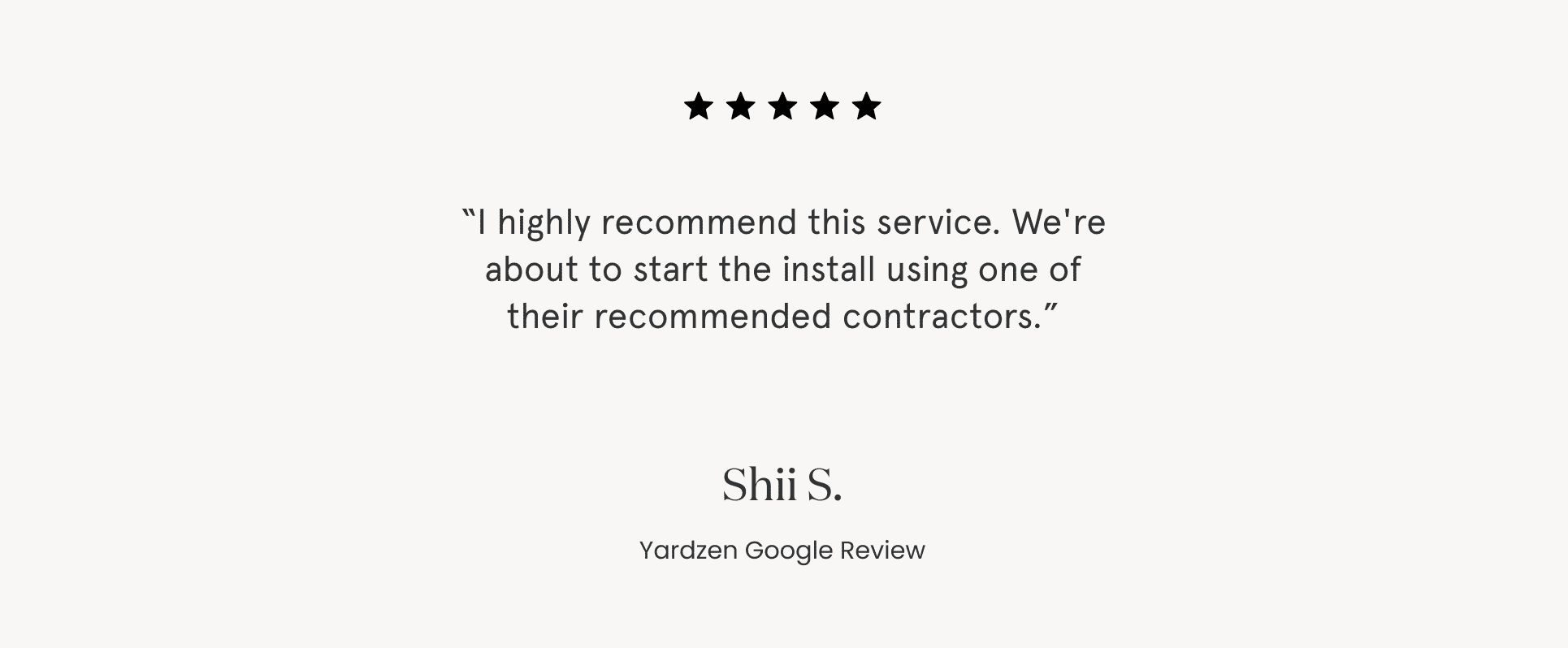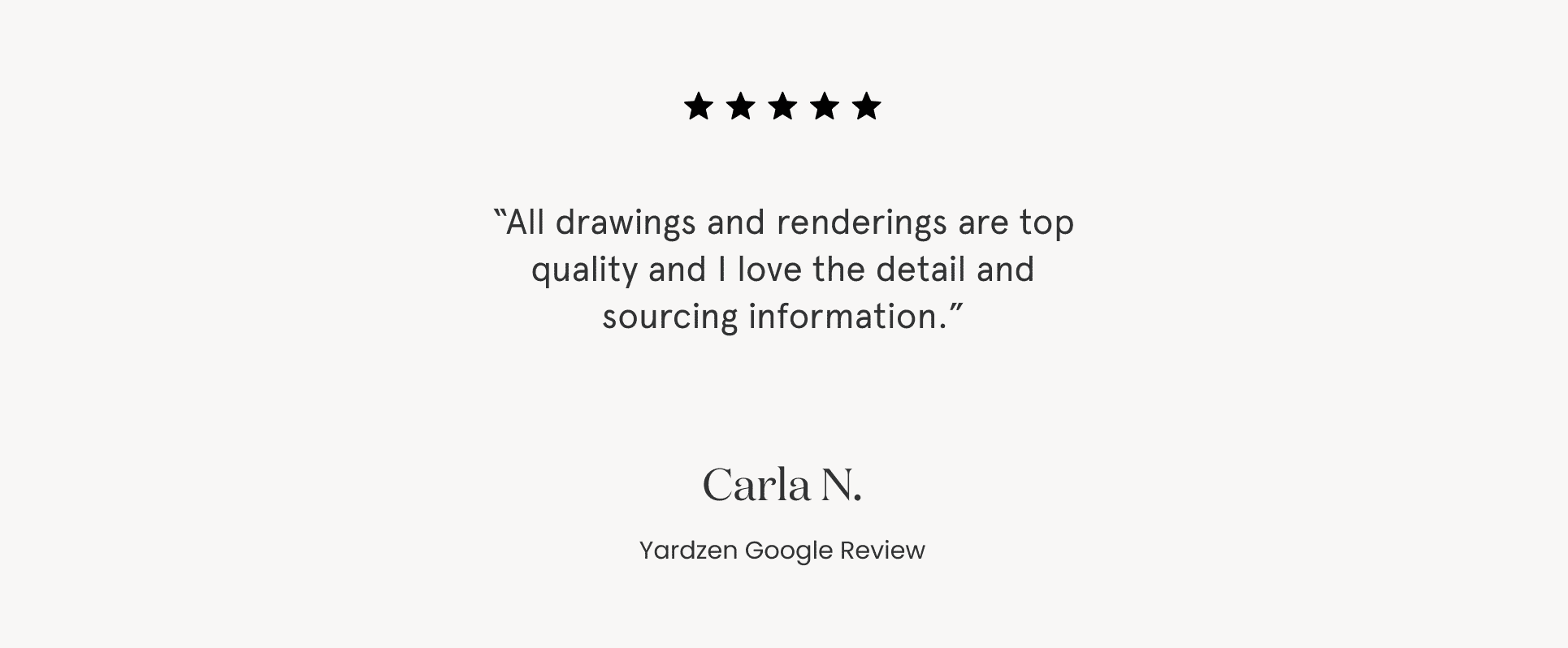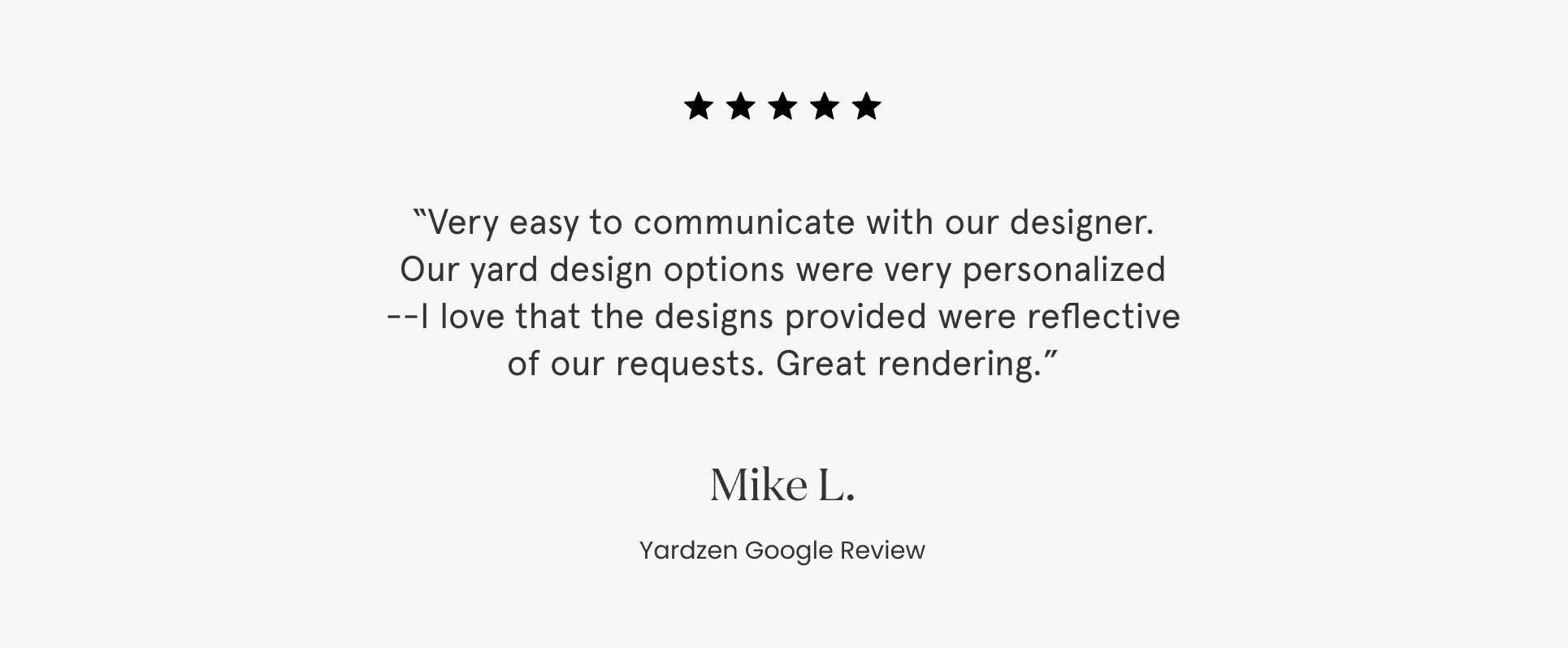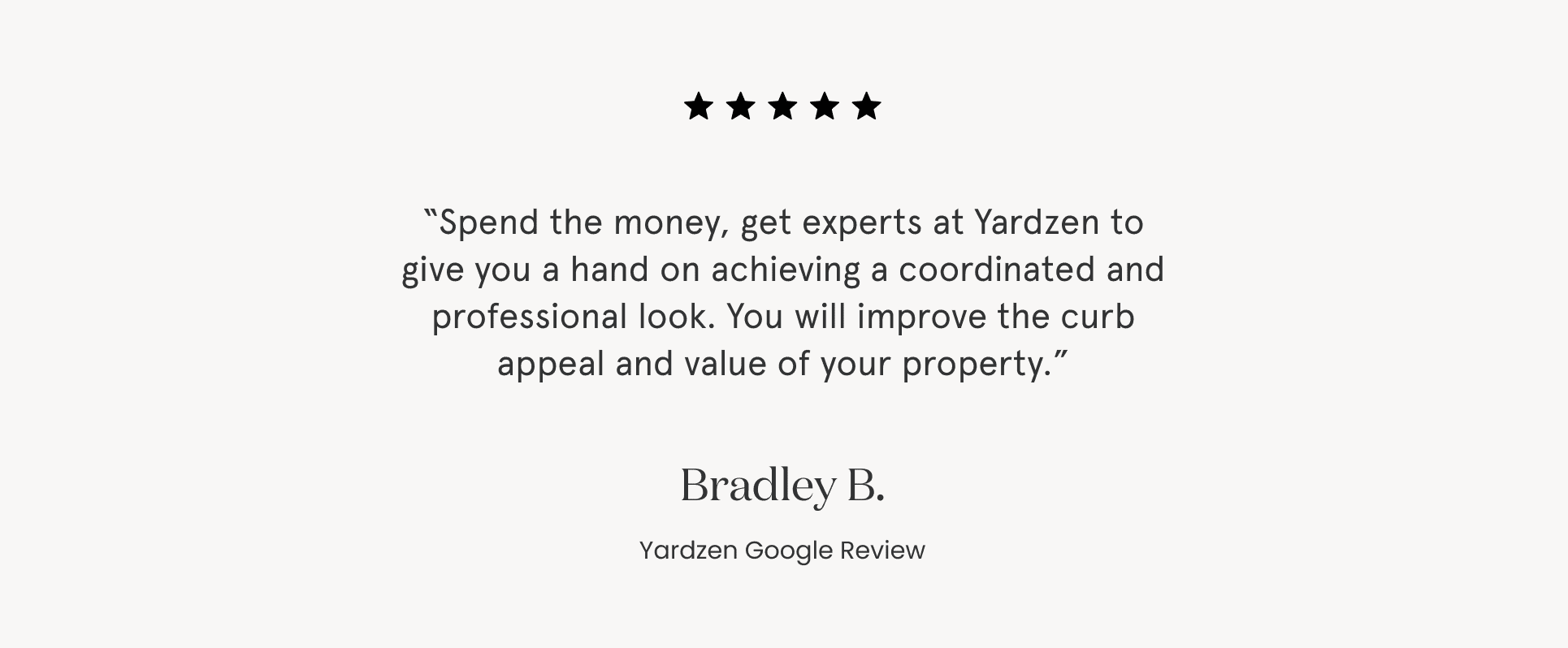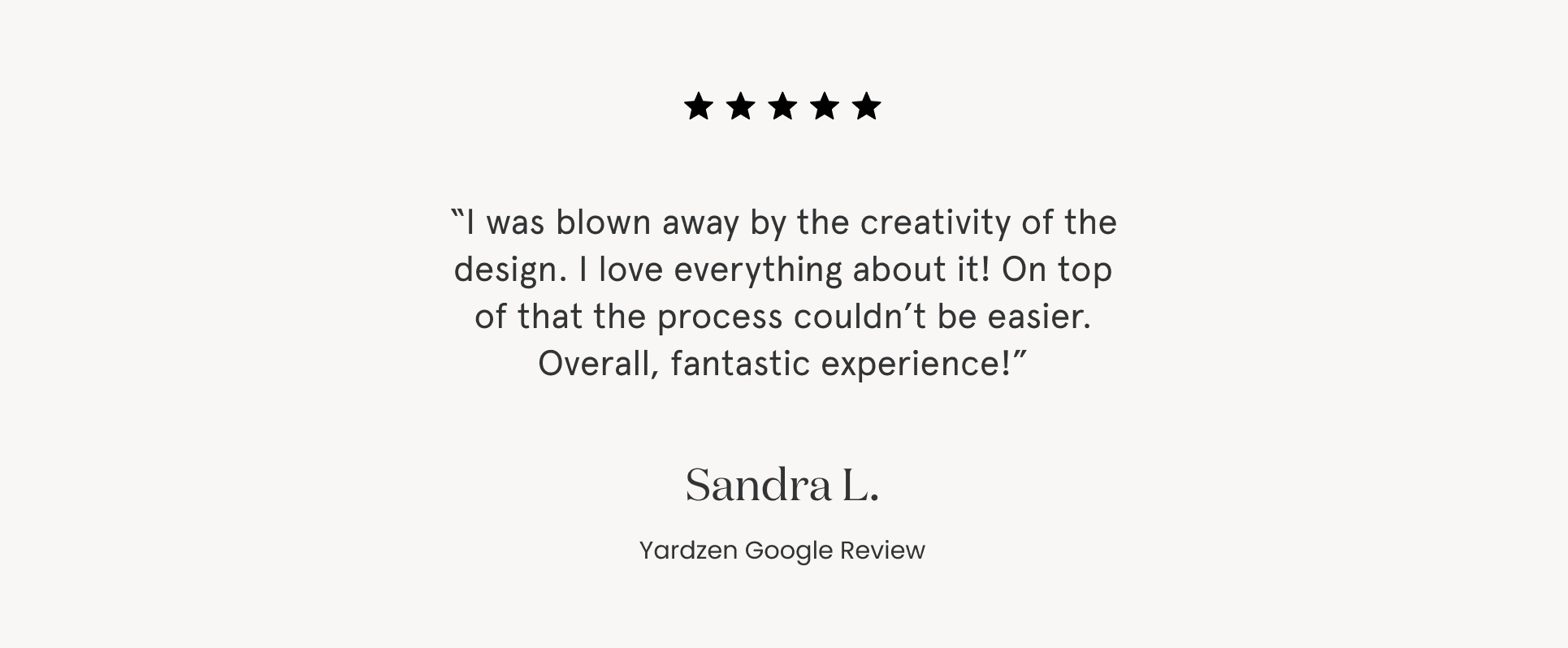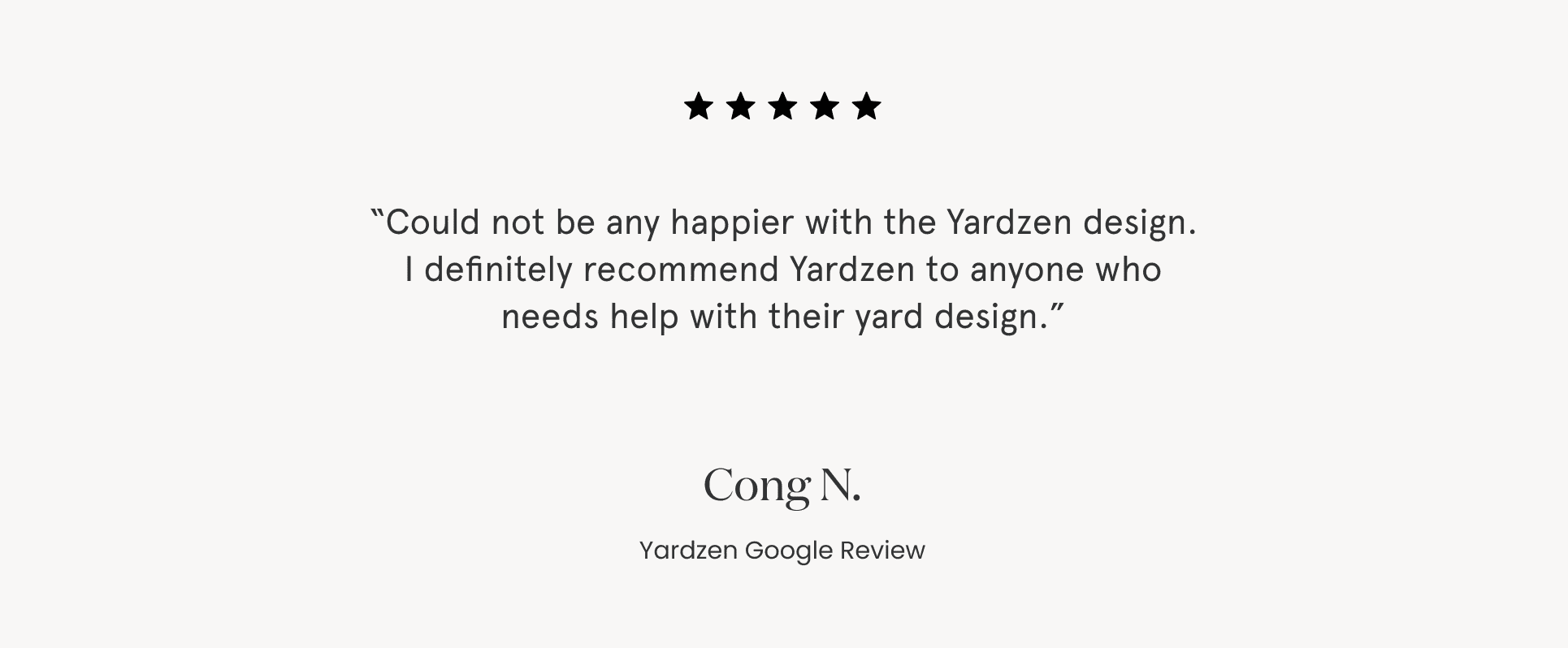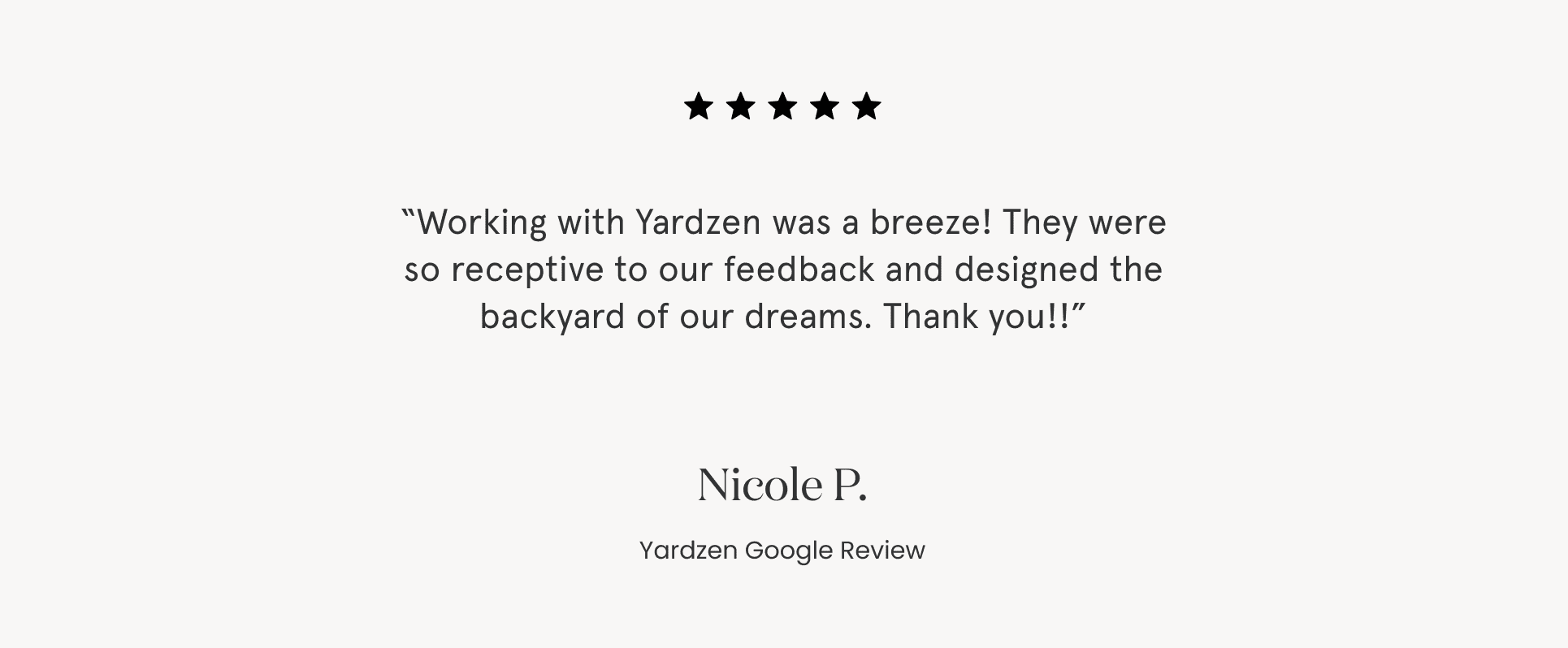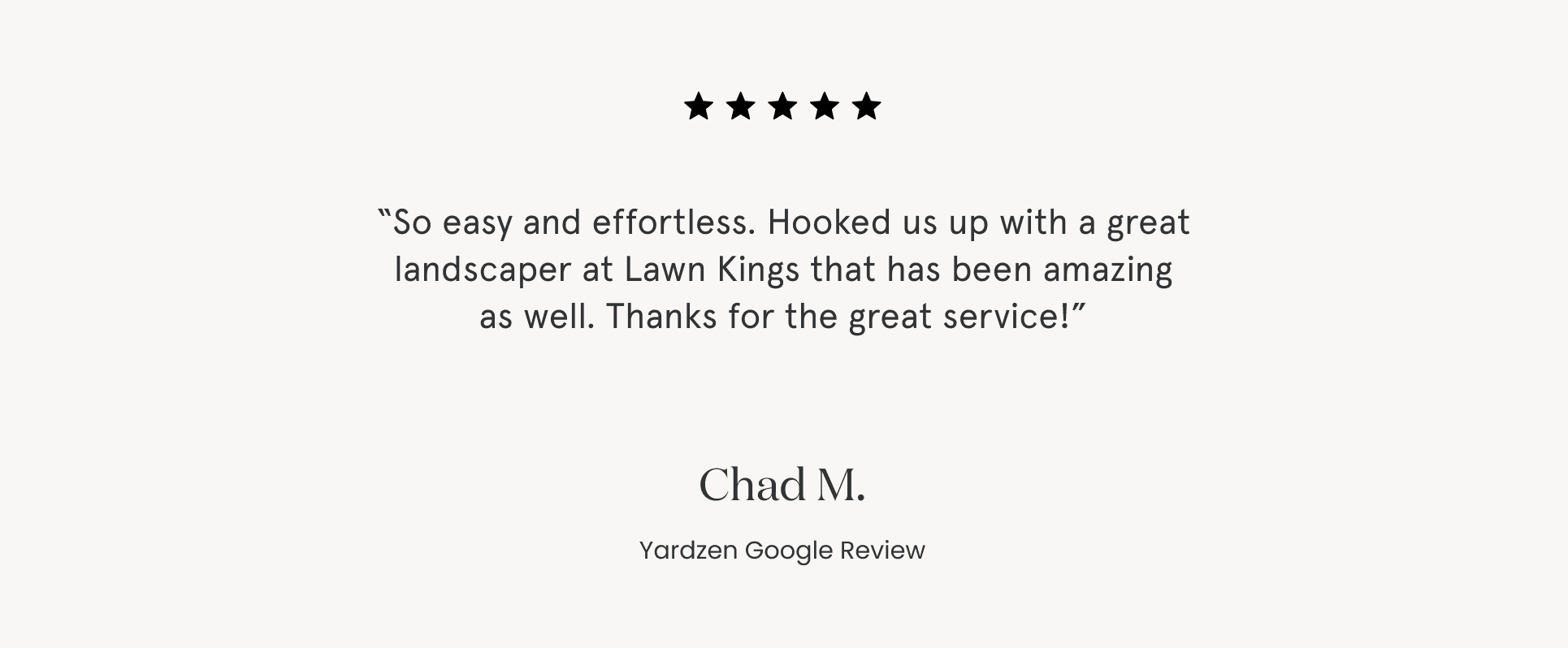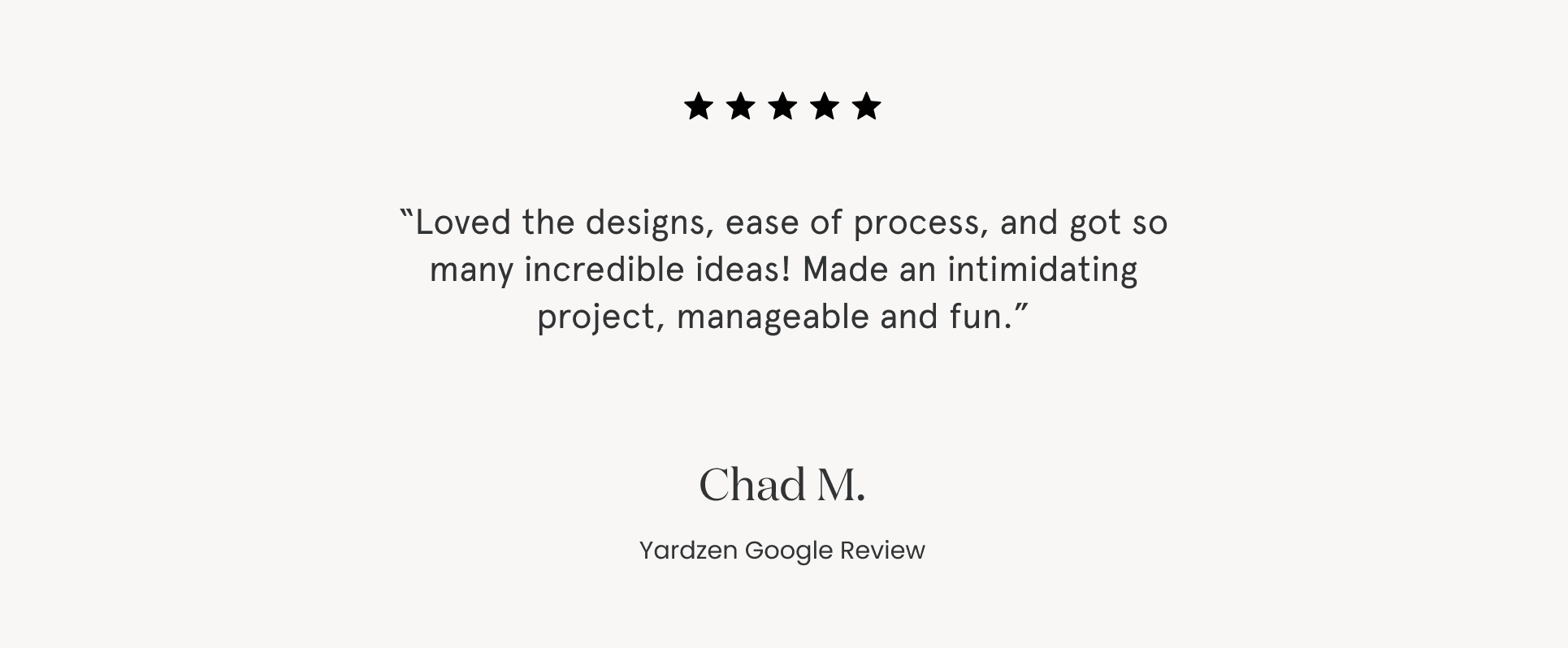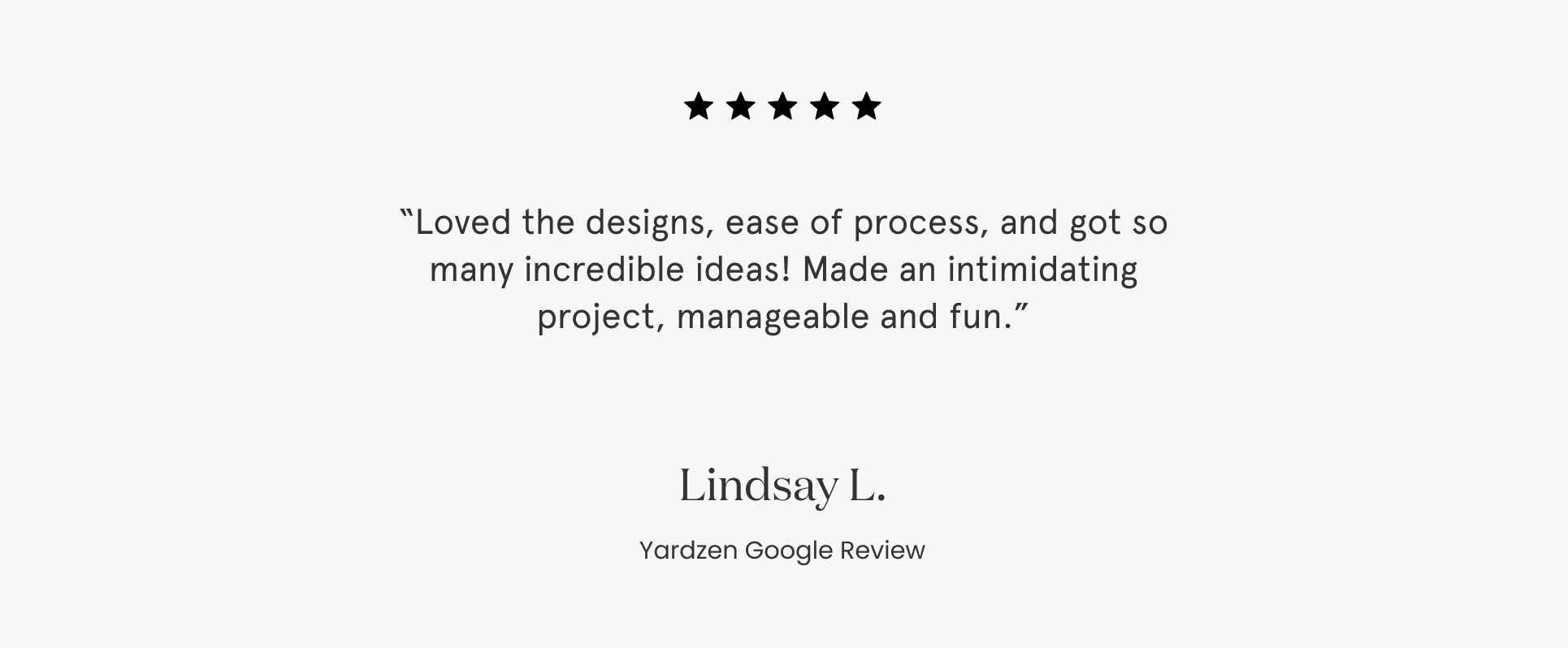 PORTLAND LANDSCAPING FAQS
What design styles are popular with Portland homeowners?
Among Portland landscapes you'll find a broad range of styles, from modern minimalism to botanical explosions, but newer designs aspire to balance contemporary cool with Northwestern naturalism.
Japanese maples thrive in Portland, and the moist, gray climate lends a handsome sheen to gravel and decorative stones and boulders. Perhaps for these reasons, let alone the undeniable beauty of the style, Japanese gardens tend to be popular among the locals.
Hardscape design frequently features modern design characteristics: straight edges, cool grays, concrete, and wood. Juxtapose these clean hardscape features with massed, naturalistic planting, and you get an organic modern look that is popular in commercial spaces as well as residential yards.
What are popular features in Portland landscapes?
Portland landscapes commonly feature amenities for outdoor living, from outdoor kitchens and dining areas, to pergolas, particularly those with adjustable louvers or retractable waterproof coverings, which can offer dappled shade in nice weather and dry shelter in wet weather.
In keeping with the local focus on sustainability, as well as the need to manage stormwater, landscape stone is a popular feature. From modern charcoal gravel patios to cobble creekbeds to sculptural boulders, stones are versatile and common features across the style spectrum.
Landscape lighting is a popular option, along with fire pits and hot tubs. Each amenity contributes to a pleasant outdoor experience after the sun has gone down.
How is sustainability practiced in Portland landscapes?
Portland is uniquely dedicated to sustainable landscaping.
Designs commonly feature plants native to the Portland region, along with climate-adapted species suitable for the local climate. This reduces water consumption and helps to support local biodiversity.
With the frequent rain, designs often include stormwater management features like swales and rain gardens, capturing water on site to reduce flooding and erosion, recharge groundwater supplies, and block pollutants from entering local waterways.
Edible gardening is also a hit in Portland, offering a fun and sustainable way to source food. From vertical gardens to traditional raised beds, there is an edible gardening solution for virtually any yard – or even homes with no yard at all!
Should I use plants native to Portland in my landscape?
You bet! While climate-adapted species hailing from the Mediterranean or other similar plant communities and climate zones can play a key role in a water-wise landscape, nothing beats native plants for creating habitat and supporting biodiversity.
Having evolved to thrive in local conditions, natives tend to require fewer inputs of water, fertilizer, and maintenance than introduced species. Low maintenance and sustainable – hard to argue with.
For those wanting to go the extra mile, try planting keystone native species like oak and cherry trees, woodland strawberry groundcover, cool-flowered lupines, or silvery sagebrush. Keystones comprise just 5% of native species, but offer 75% of native habitat value – when it comes to supporting biodiversity, nothing beats them.
What are top considerations for Portland landscapes?
Portland landscapes should be designed to offer something for residents in all types of weather. That means sheltered spaces to enjoy the rain while staying dry, and flexible zones that can adapt to different functions and group sizes, depending on what the season or occasion dictates.
With frequent rain, stormwater management is a chief concern. By offering plenty of permeable surfaces, water can be captured on-site, reducing erosion, flooding, and pollution while recharging groundwater supplies.
Being the in the West, landscapes in Portland should also prioritize water conservation, leaning heavily on native and climate-adapted plants to minimize water consumption.
When should I start my landscaping project?
Now! Any time of year is great to begin work on a landscape project.
When possible, we suggest utilizing the winter to work through the design phase – this sets you up to get on contractors' books early in the build season, so you can have your design installed and ready to enjoy in time for summer.
If winter has passed, don't worry, it's never too late in the year to begin work on a landscape design project.
"Highly suggest Yardzen. The online process made everything super easy and efficient. Thank you to the entire Yardzen team."
Shannon M., Yardzen client
Yardzen creates local landscape designs in and around:
Vancouver, Beaverton, Gresham, Hillsboro, Milwaukie, Lake Oswego, Oregon City, Fairview, Wood Village, Troutdale, Tualatin, Tigard, West Linn, Battle Ground, Camas, and Washougal