Landscape design & build for Houston
Yardzen designs everywhere in the U.S. and the Houston area is one of our favorites. Houston is a world unto itself, at once a massive city and a series of distinct communities sprawling across a pancake flat landscape
EXPLORE DESIGN PACKAGES
Climate
Summers are steamy, winters are mild, spring and fall are enviable. When it rains, it pours with thunderous drama, thanks to storms making their way north from the Gulf of Mexico. Outdoor living peaks in the mild shoulder seasons, though it's common to see neighborhoods come alive in the morning and evening hours during the hottest weeks of summer.
Plants
Given the humid, sub-tropical climate, plants are happy in Houston, and grow easily. Trees are abundant in many areas, providing much needed shade, pleasant birdsong, and a welcome dose of height to the landscape.
Outdoor Living
Landscape design can help Houston residents get the most from their outdoor spaces. Looking for that indoor/outdoor lifestyle? Yardzen's designed it all, from outdoor kitchen and dining rooms, to work areas, to entertainment and lounge zones. Want to beat the heat? Landscape design can help, with shade trees, breezy pergolas, or space-efficient plunge pools all offering a chance to cool down and enjoy your outdoor spaces.
Design & Build
Yardzen can help you enjoy all that Houston has to offer, working with you to develop a landscape design for your yard that gets you the look, feel, and function you are dreaming of, then connecting you with a licensed, vetted contractor from the Yardzen Pro Network to get your design built.
TRUSTED BY THE EXPERTS


HOUSTON, TEXAS LANSCAPE DESIGN GALLERY
POPULAR LANDSCAPE AMENITIES IN HOUSTON YARDS
Simple and thorough online process
Take a style quiz, share videos and photos of your existing outdoor space, and learn about the costs in our Yard Builder™ tool. Our design team will help you at every step of the process.
GET STARTED >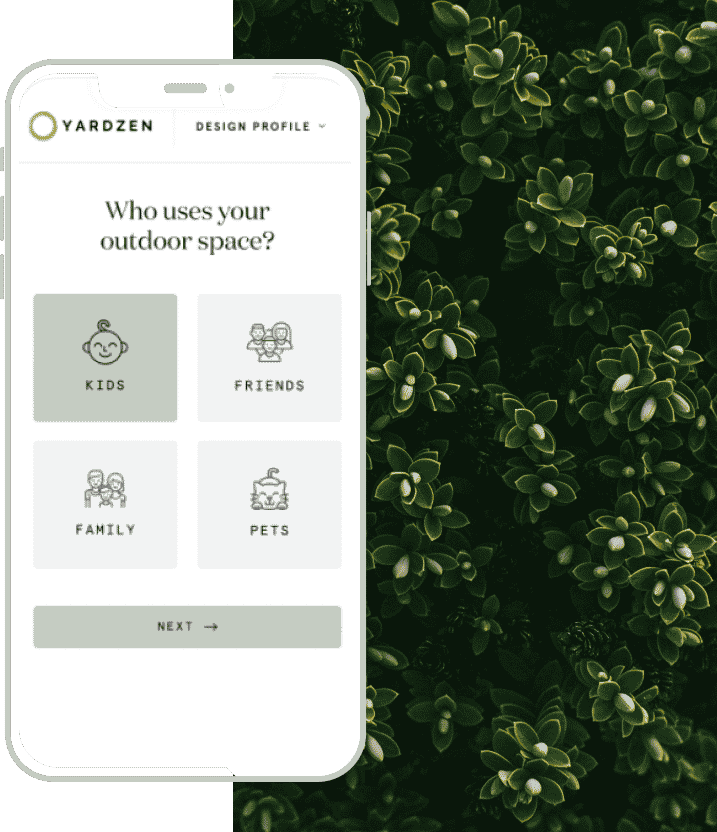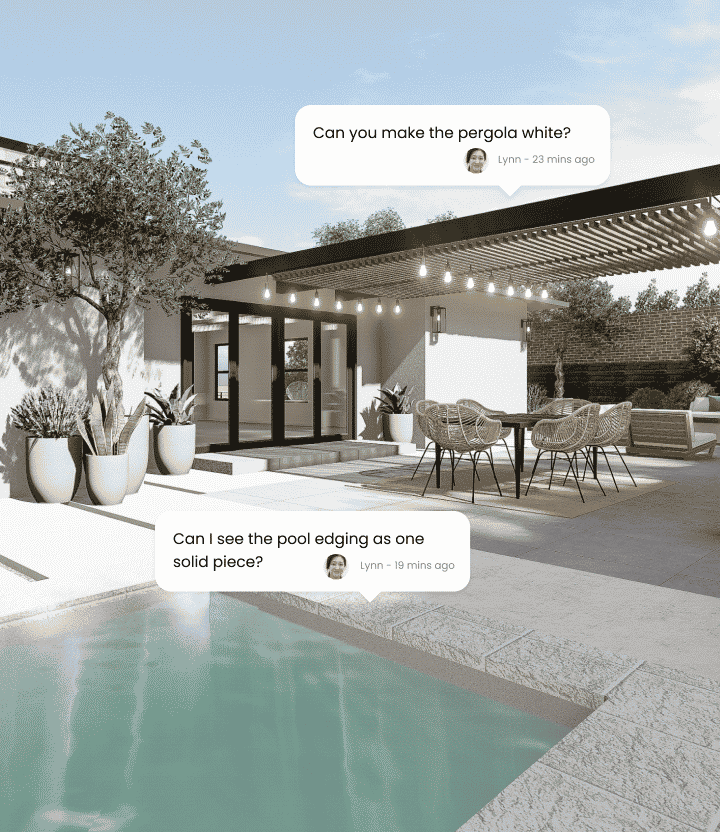 The easiest path to a final design you'll love
Review your first design in our online Feedback Studio. You'll be able to share feedback before we start incorporating your changes. A live design review call is also available to help get your project ready for installation.
GET STARTED >
Built by someone you (and Yardzen) trusts
We'll translate your 3D design concepts into a detailed CAD plan that's ready to install. Next, we'll connect you to a vetted, Houston area landscape contractor who can bring your dream yard to life.
GET STARTED >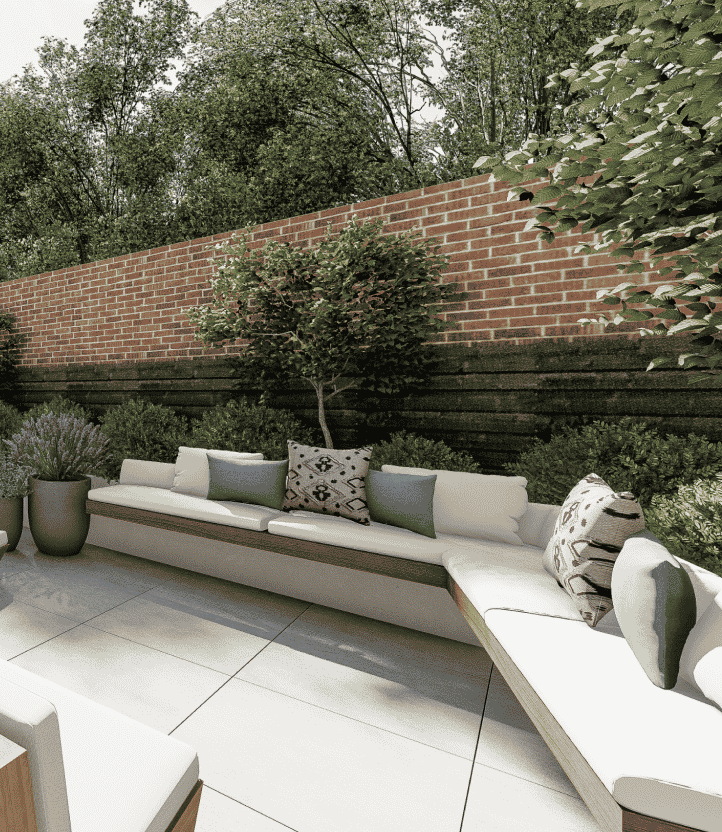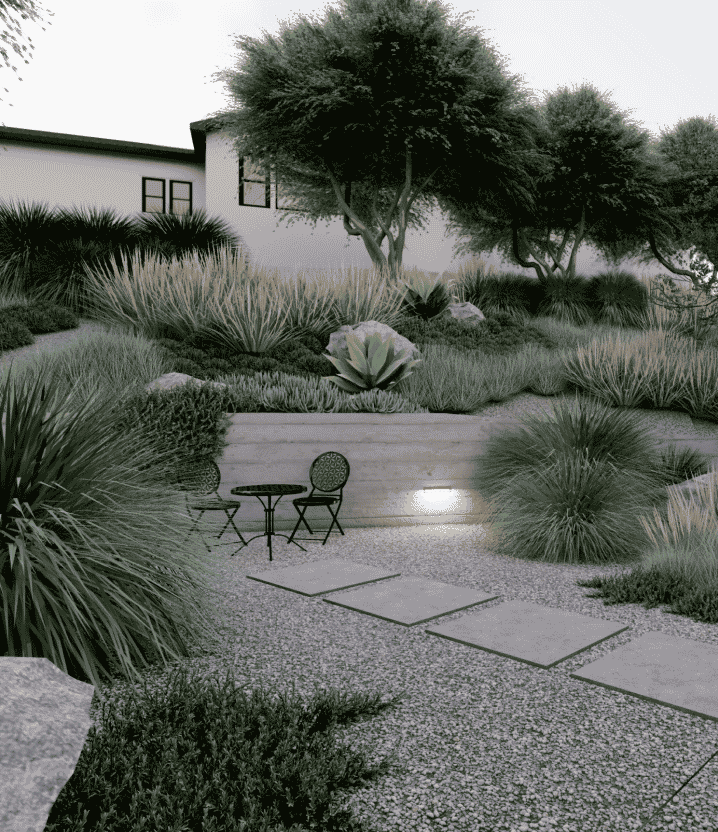 Custom designs for your unique outdoor space
We've built a database of plants, trees, and groundcovers that match to Houston's planting zones, sun/shade/water requirements, aesthetic, and essential features like native plants. Using satellite and aerial imagery, coupled with your photo, video, and factoring in your details, we can create the outdoor space of your dreams.
GET STARTED >
WHICH YARDZEN PACKAGE IS RIGHT FOR YOU?
Take our YardBuilder quiz to find out.
GET STARTED

1. Tell us about your unique outdoor space

2. Answer a few questions about your dream yard

3. Get a personalized design package recommendation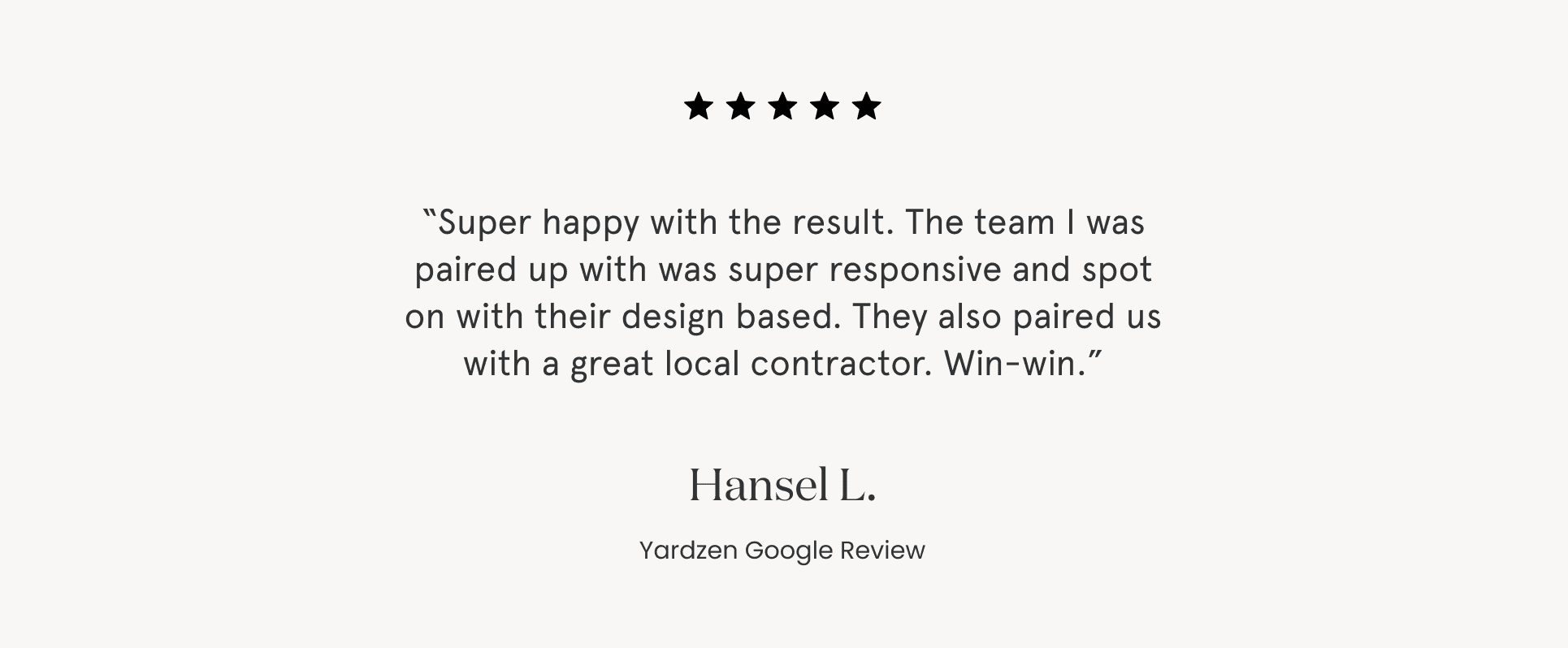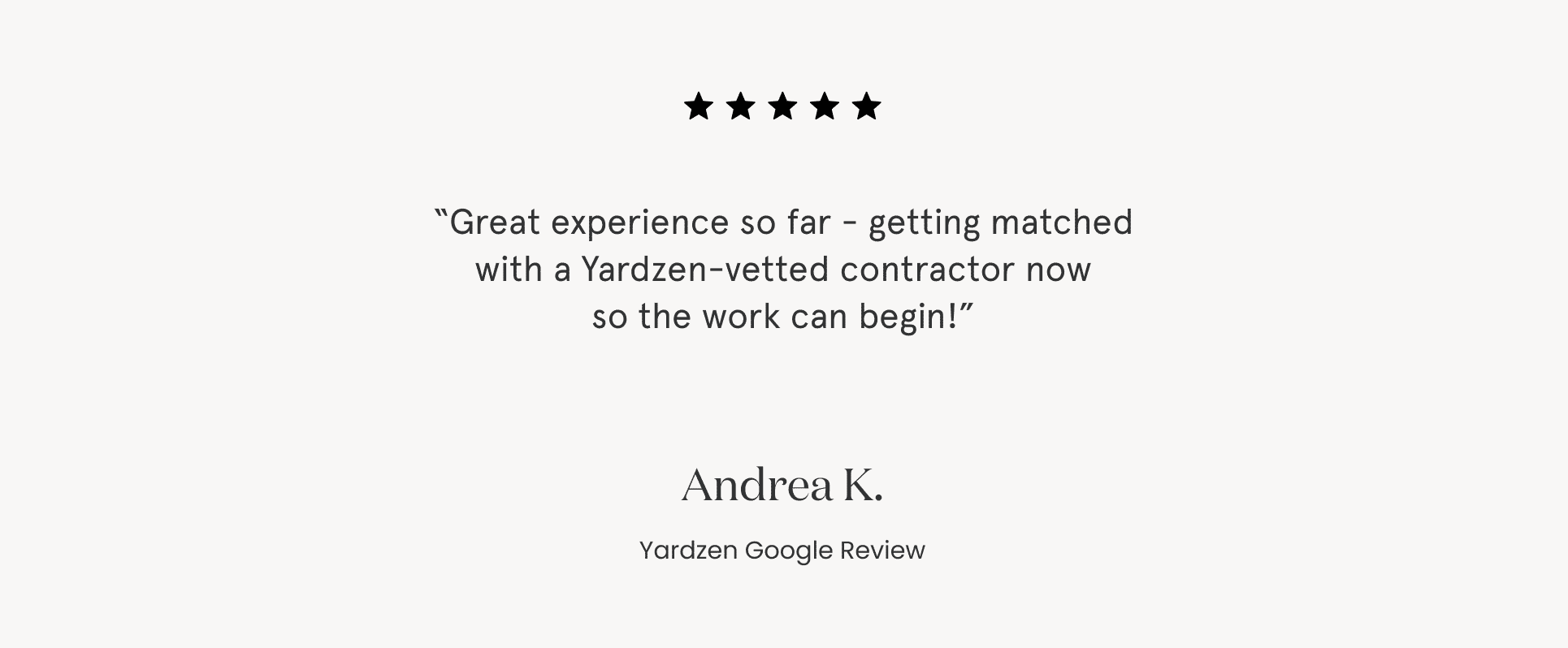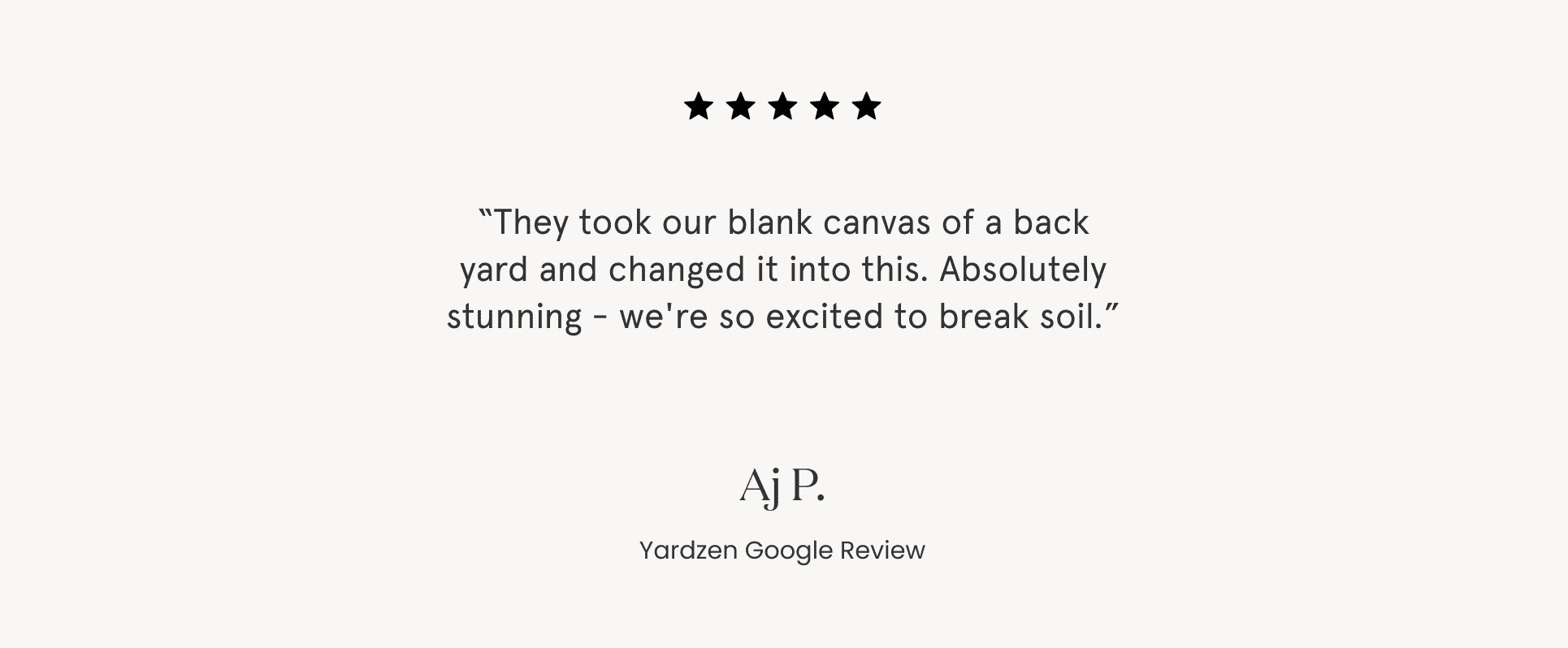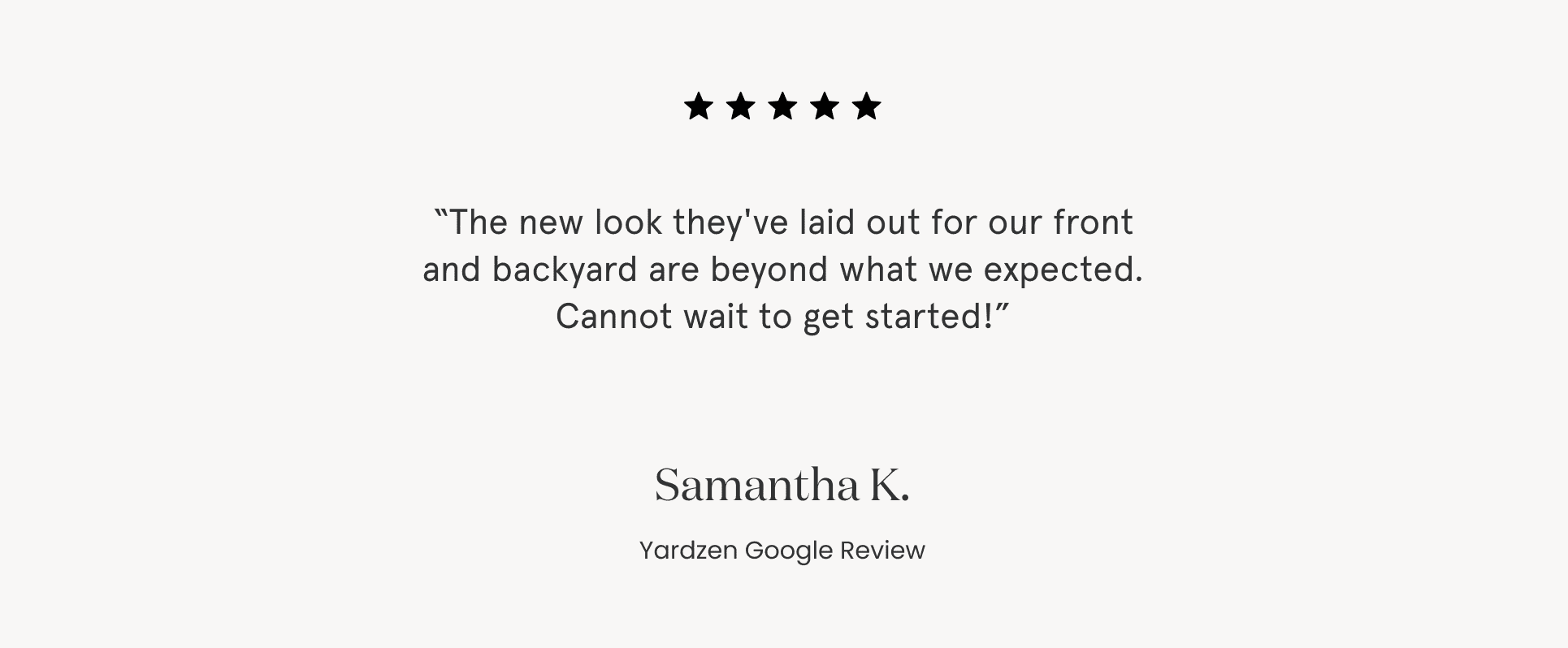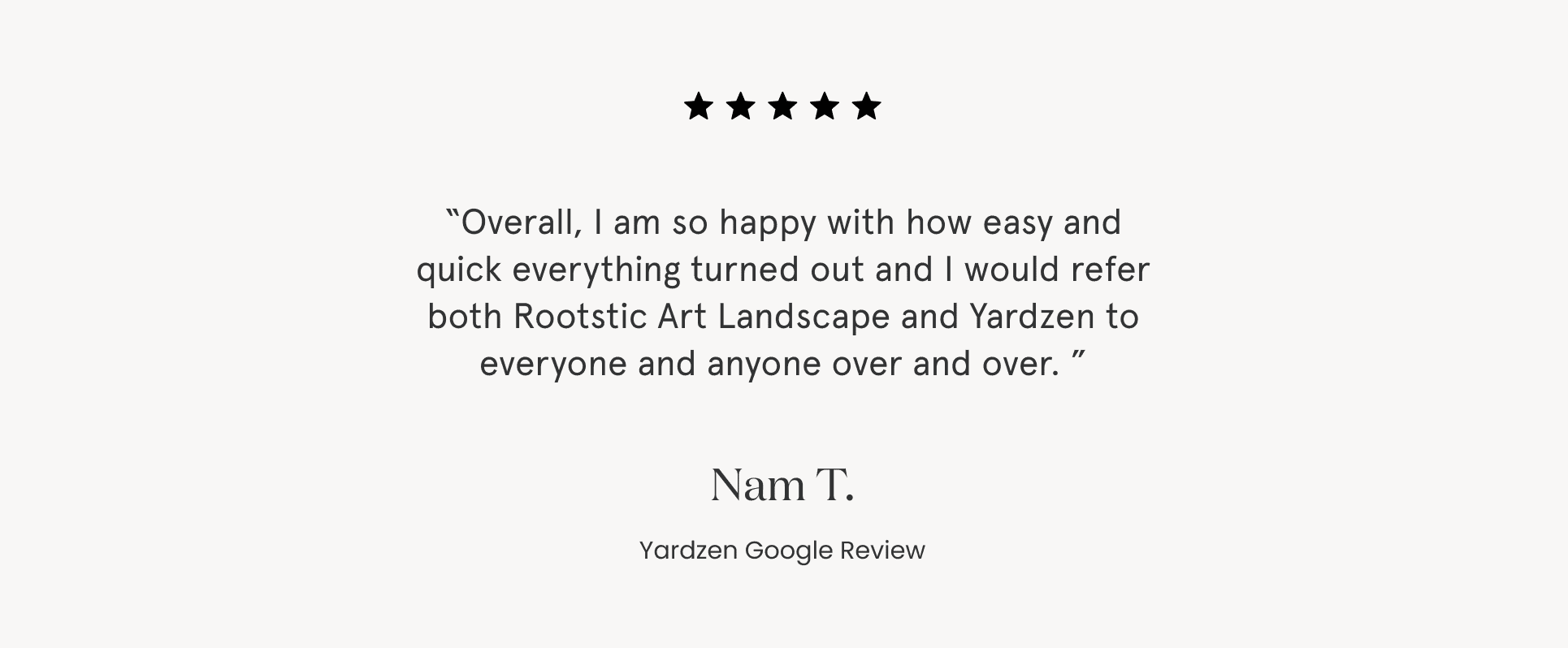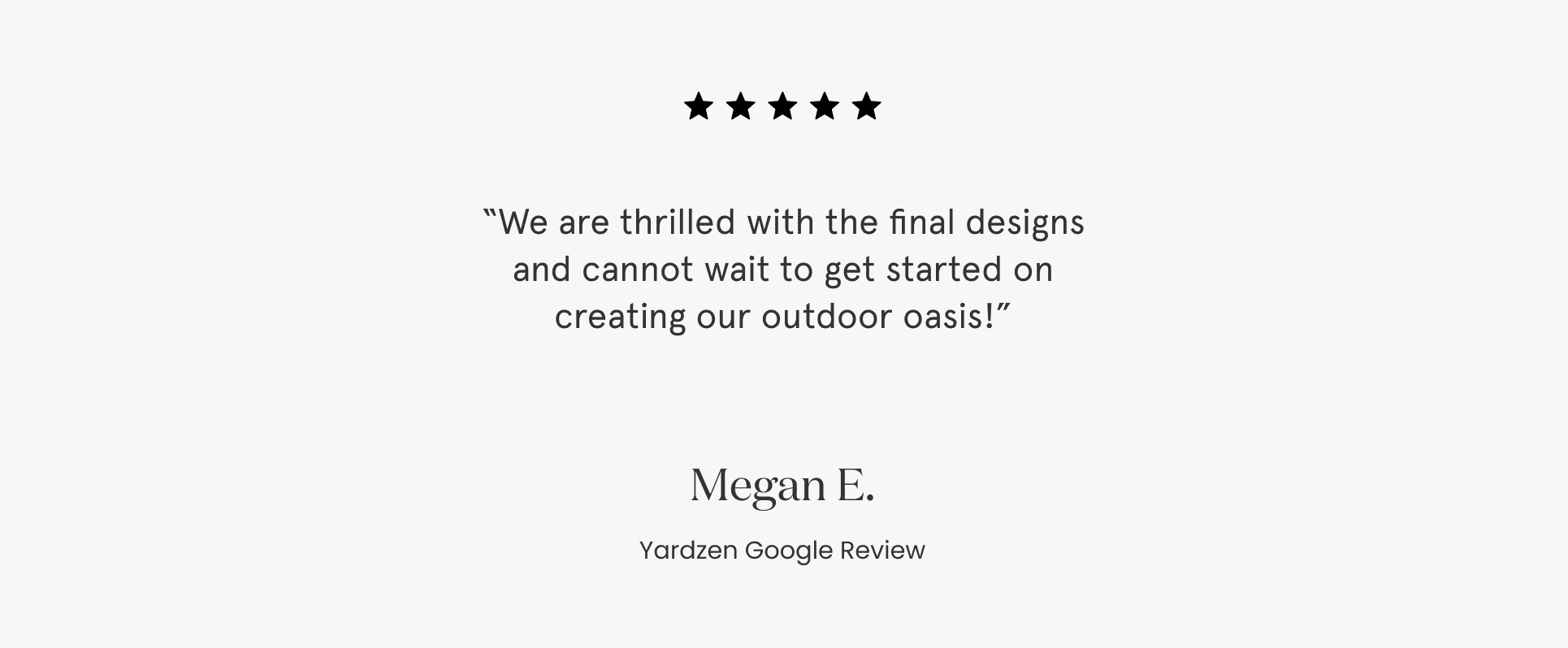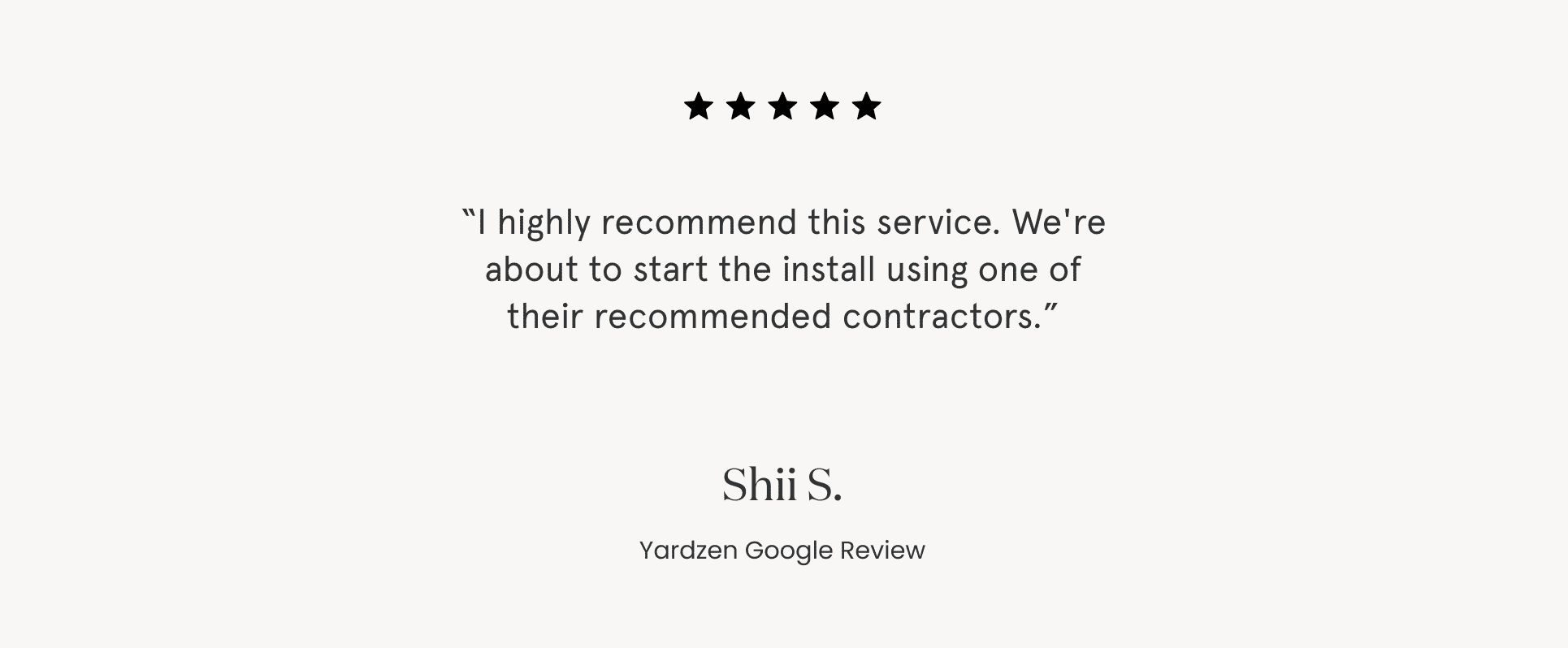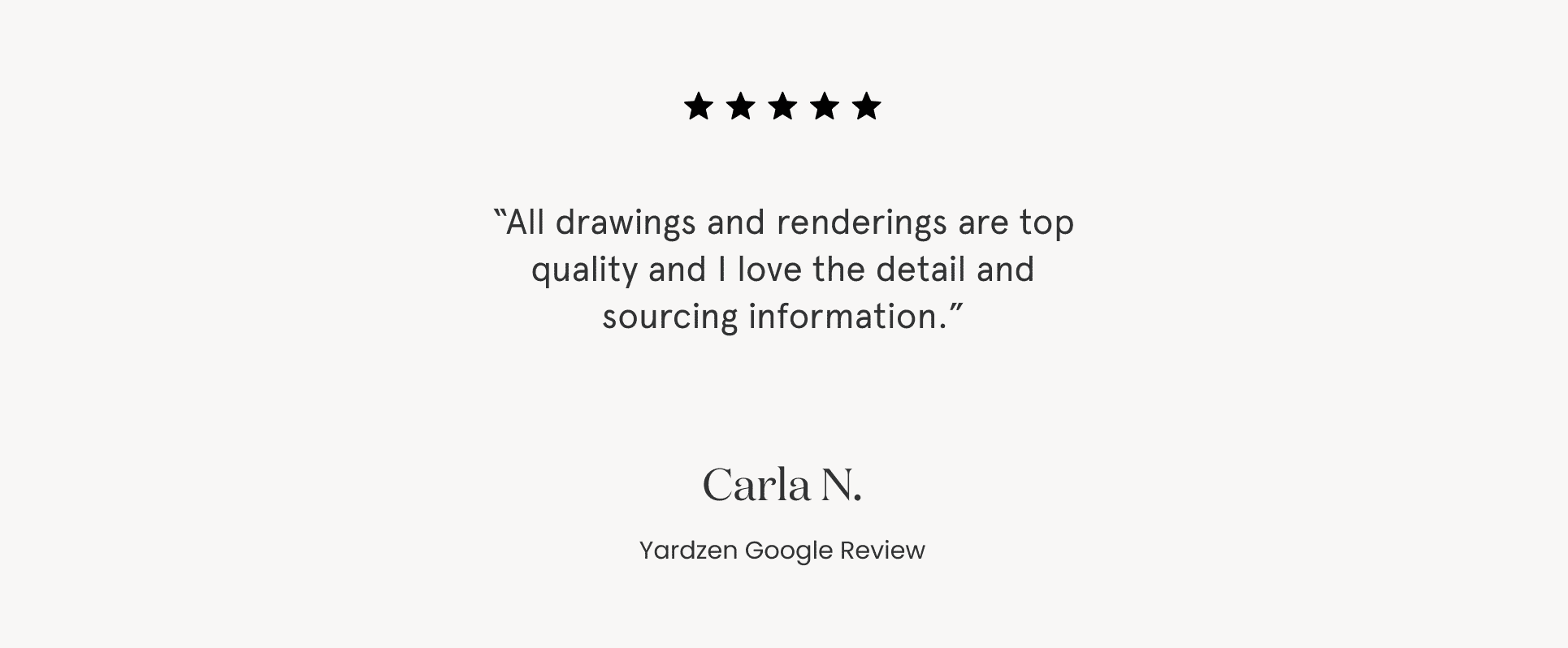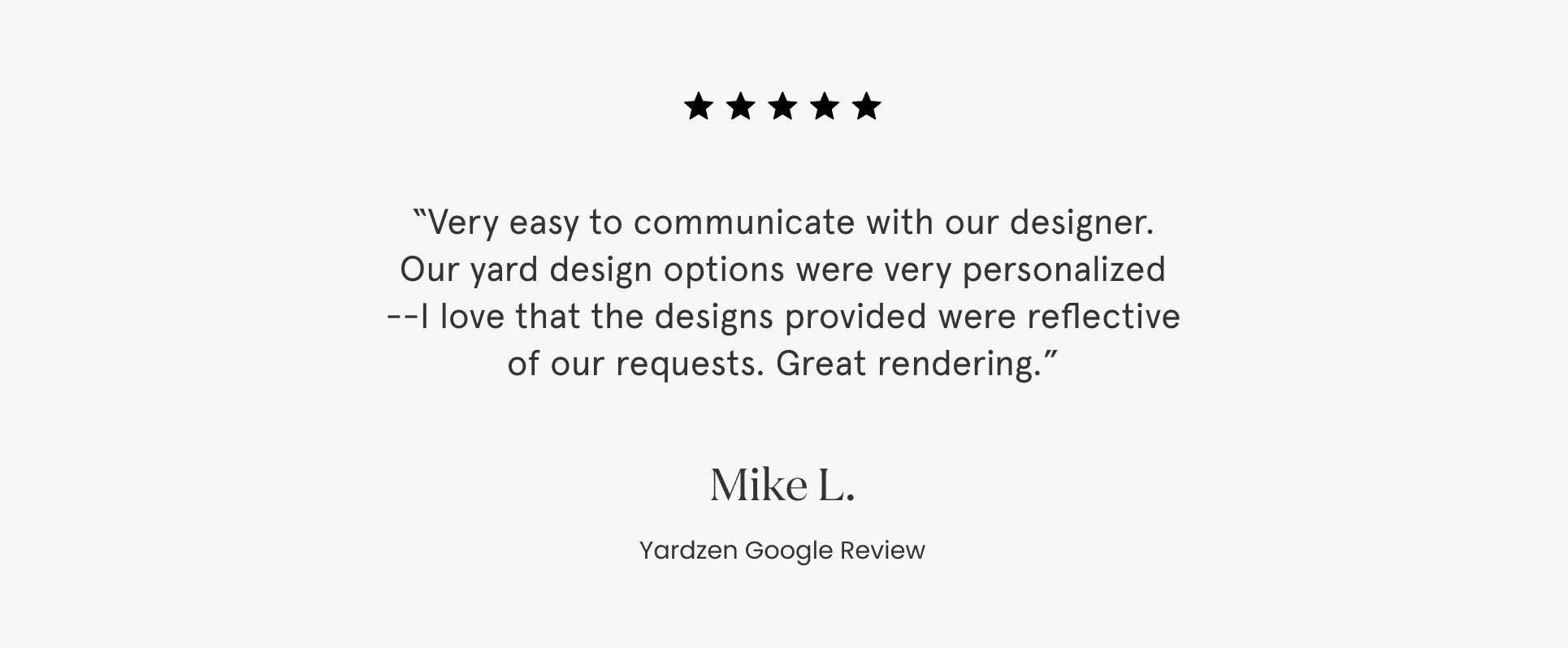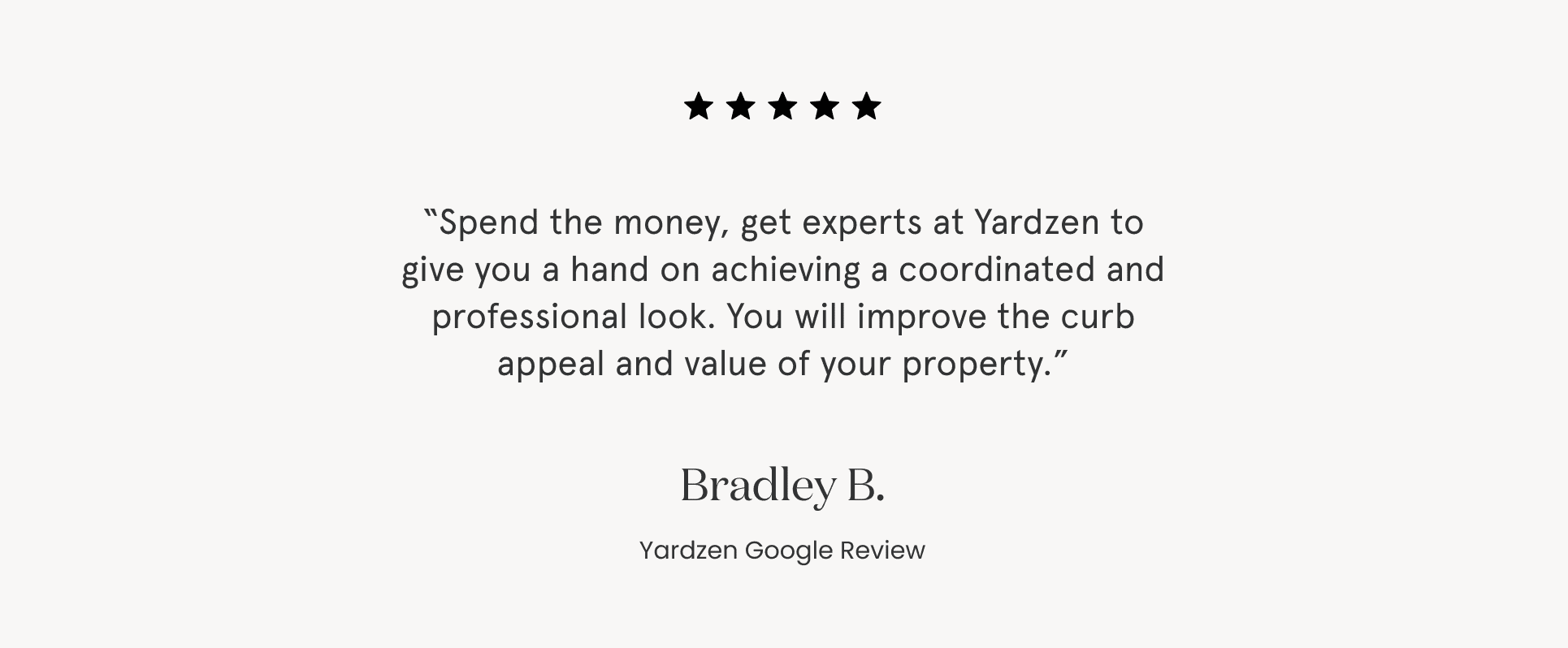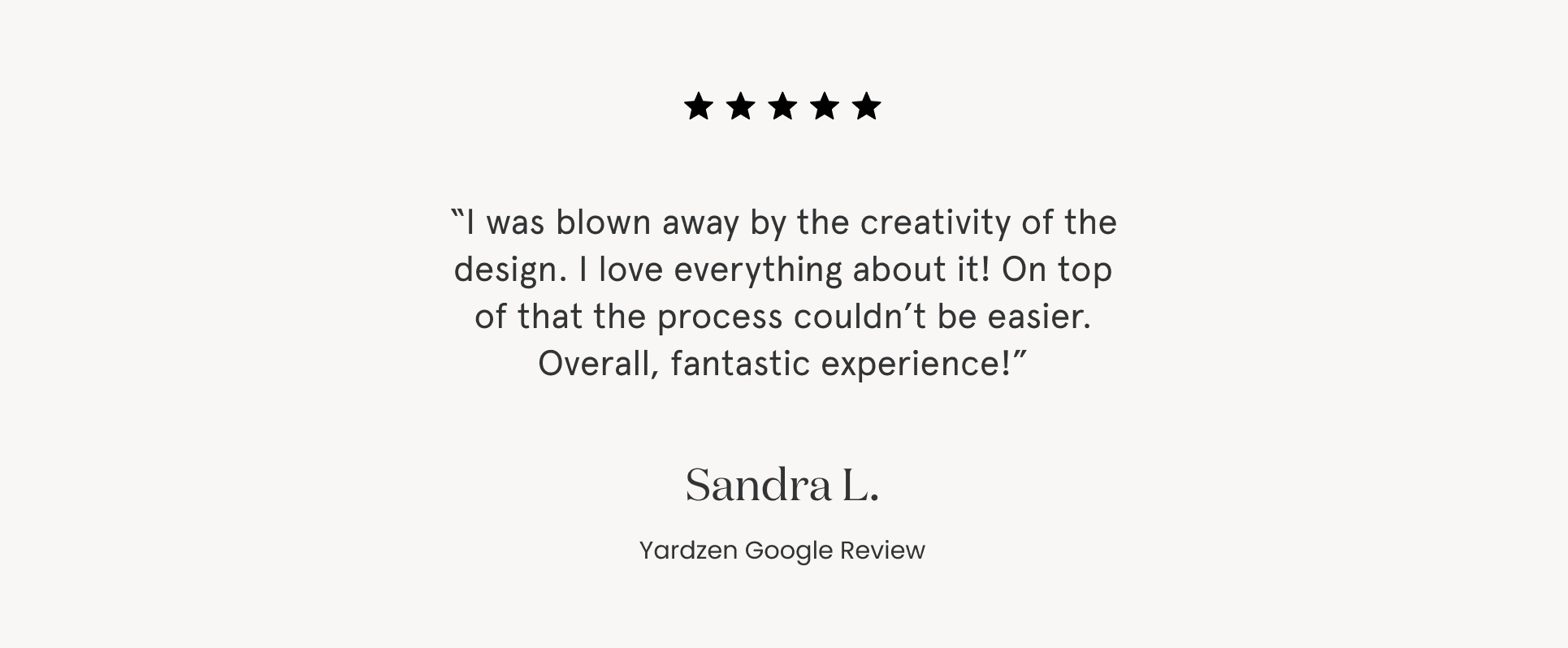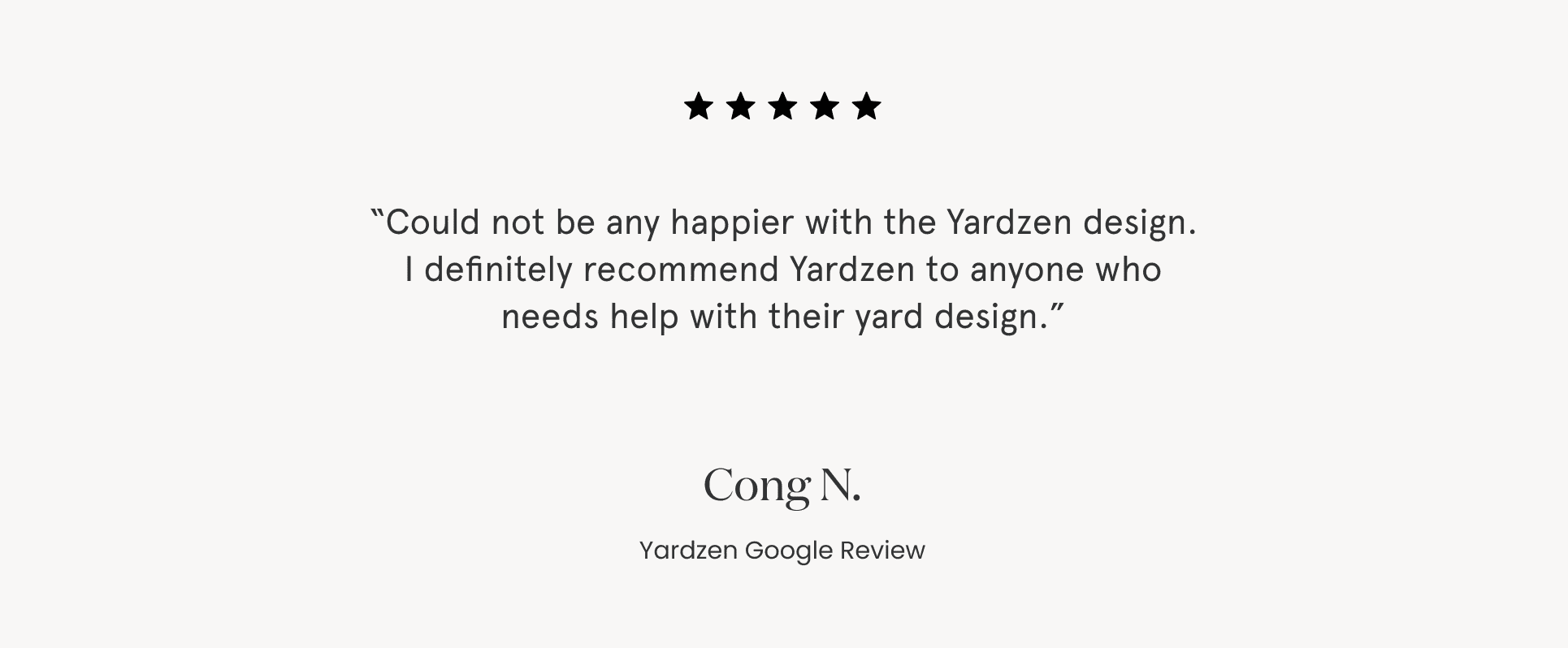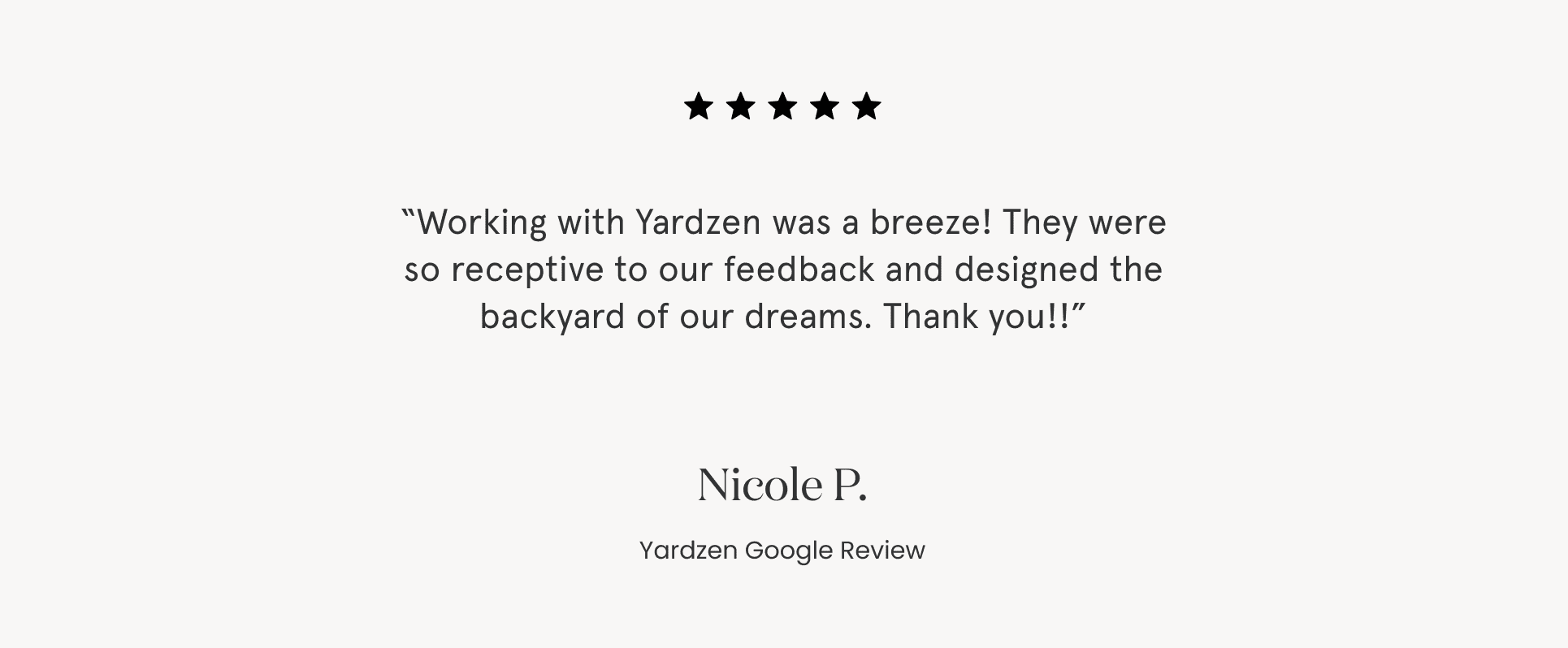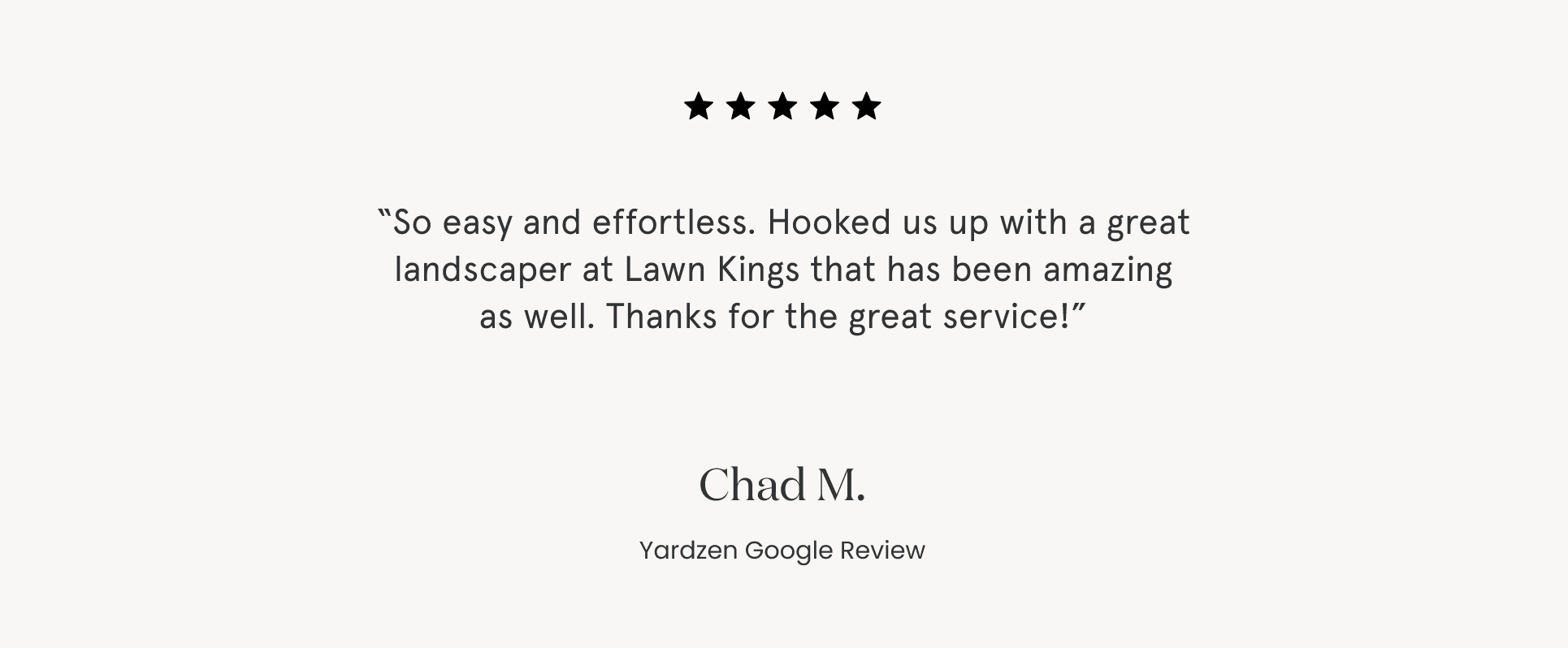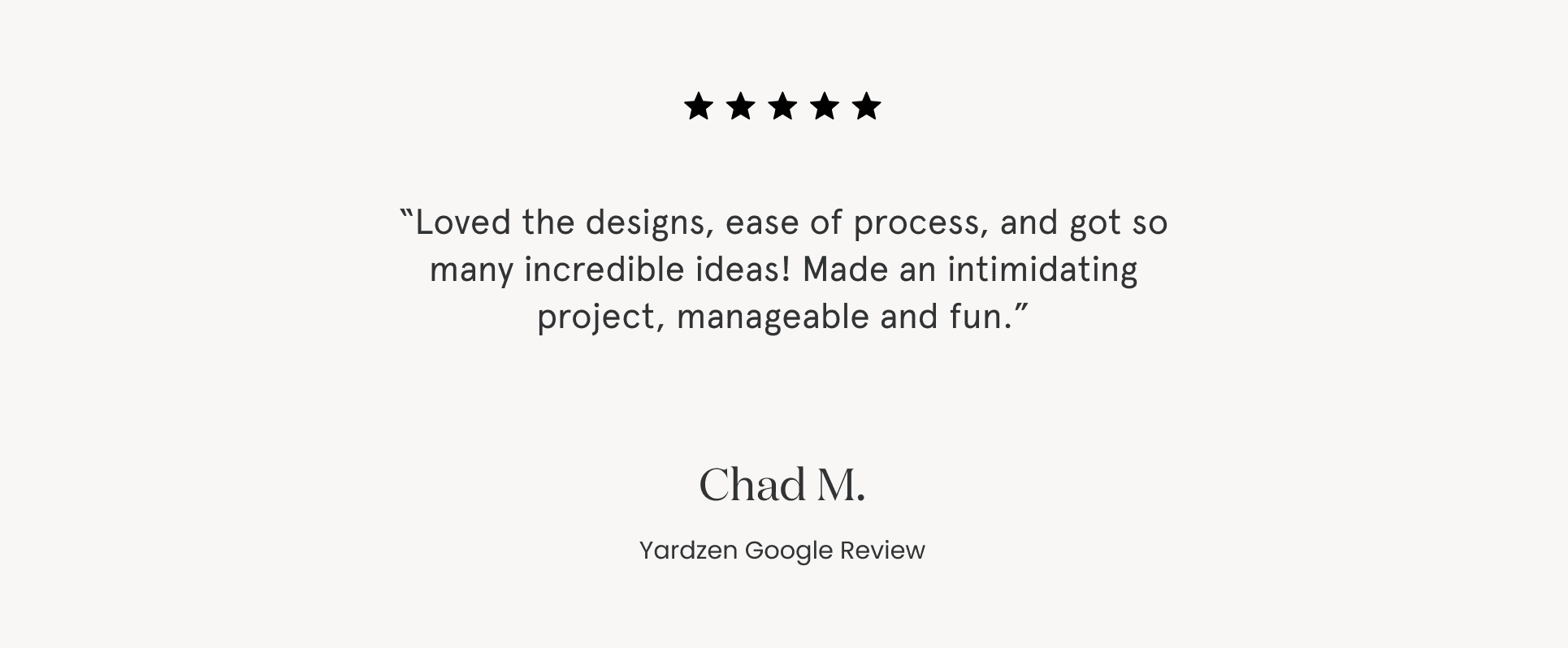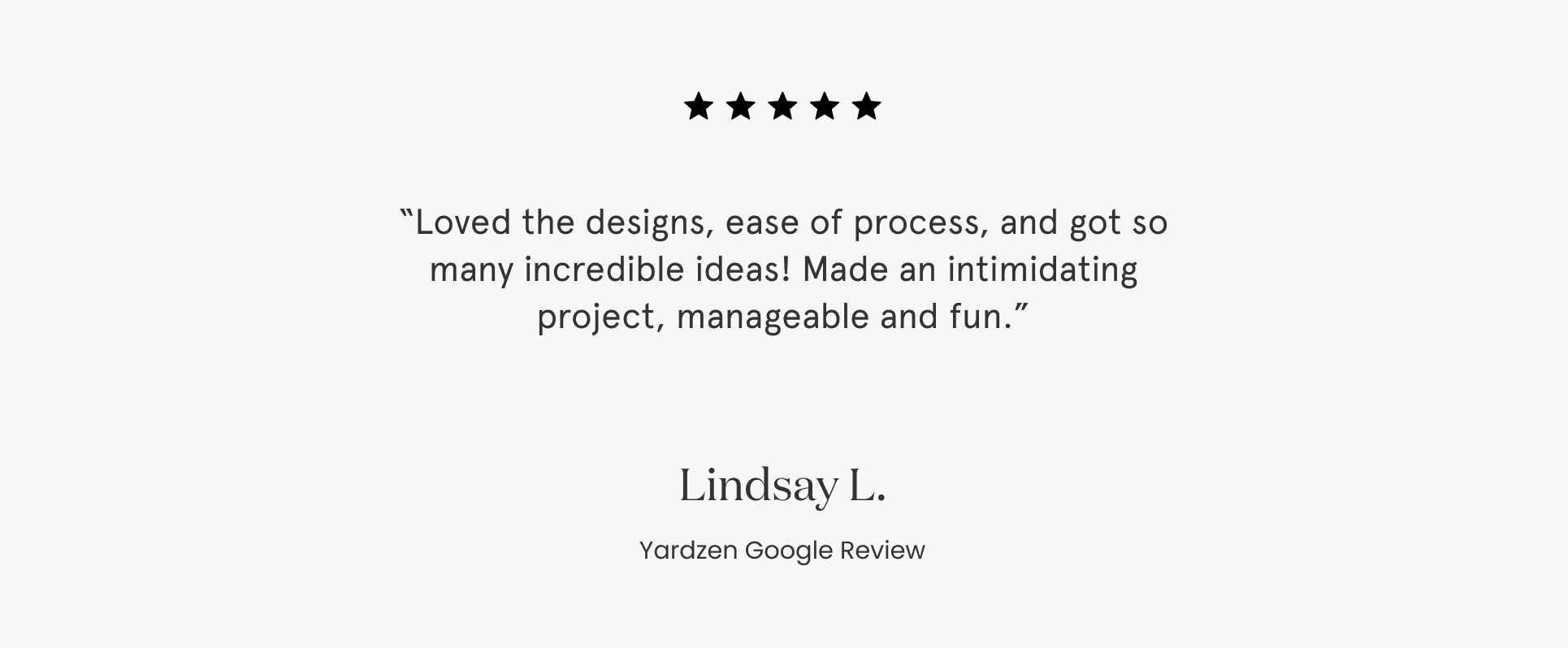 HOUSTON LANDSCAPING FAQS
What design styles are popular with Houston homeowners?
You can find any landscape style in Houston. Lawns, hedges and flowering borders typical of the English colonial style are very common. Less prevalent but on the rise are hip-looking modern designs, with giant concrete pavers, horizontal wood fences, and big blocks of ornamental grasses. Between these poles, you'll often find yards that update traditional design tropes with modern aesthetics – brick ranch houses painted white, wood fences draped in vines, front porches with exposed wood beams and railing-free edges.
What are popular features in Houston landscapes?
While preferences for planting and material style run the gamut, Houston homeowners commonly seek the same functional goals: outdoor cooking, dining, and lounging, with plenty of space remaining for kids and dogs to play.
Pools are tremendously popular with families, offering a viable way to keep the kids out of mom and dad's hair throughout the summer.
Front yards, traditionally for show, are increasingly being used as additional space to play and socialize.
Should I use plants native to Houston in my landscape?
You can grow a lot of things in a place like Houston, but you'll set yourself up for success if you begin by browsing native plant species.
Native plants evolved to thrive in the local climate, and are apt to perform better while requiring fewer inputs of water and maintenance than species introduced from other parts of the world. Not only do natives promise good performance, they also offer unbeatable habitat value for local wildlife. Black-eyed Susan, purple coneflower, Texas olive, Texas lantana, and the wildly popular, pink-blooming Gulf Coast Muhly grass are just a handful of the many wonderful native plants available for Houston landscapes.
Our advice? Absolutely include natives in your Houston design, though it's just fine to also include a healthy dose of climate-adapted species, which should fare equally well in the Houston area.
What are top considerations for Houston landscapes?
Houston landscapes must accommodate the city's sub-tropical climate. This means tolerance of heat, humidity, strong winds and pounding rain, not to mention some fairly dramatic temperature swings.
Decomposed granite is not typically recommended due to its propensity for puddling. Gravel and decorative stone is best in larger sizes and/or angular forms, to hold in place when inundated by rain (tall edging to hold rock in place doesn't hurt, either).
In general, landscapes should seek to maintain a high percentage of permeable surfaces, which help to reduce flood risks by soaking water back into the ground.
To keep outdoor spaces comfortable in warmer seasons, shade and breezes should be prioritized. Overhead structures like pergolas and covered patios are valuable infrastructure, providing a framework to hang ceiling fans and shade screens, not to mention lighting for enjoying the more pleasant temperature of the evening hours.
When should I start my landscaping project?
Now! Any time of year is great to begin work on a landscape project.
When possible, we suggest utilizing the winter to work through the design phase – this sets you up to get on contractors' books early in the build season, so you can have your design installed and ready to enjoy in time for summer.
If winter has passed, don't worry, it's never too late in the year to begin work on a landscape design project.
Houston Front Yard Design for a Yardzen Client
"Highly suggest Yardzen. The online process made everything super easy and efficient. Thank you to the entire Yardzen team."
Shannon M., Yardzen client
Yardzen creates local landscape designs in and around Houston:
Baytown, Bellaire, Channelview, Crosby, Cypress, Deer Park, Galena Park, Highlands, Hockley, Huffman, Hufsmith, Humble, Katy, Kingwood, La Porte, Pasadena, Seabrook, South Houston, Spring, Tomball, Waller, and Webster.
Explore other landscape designs in Texas: